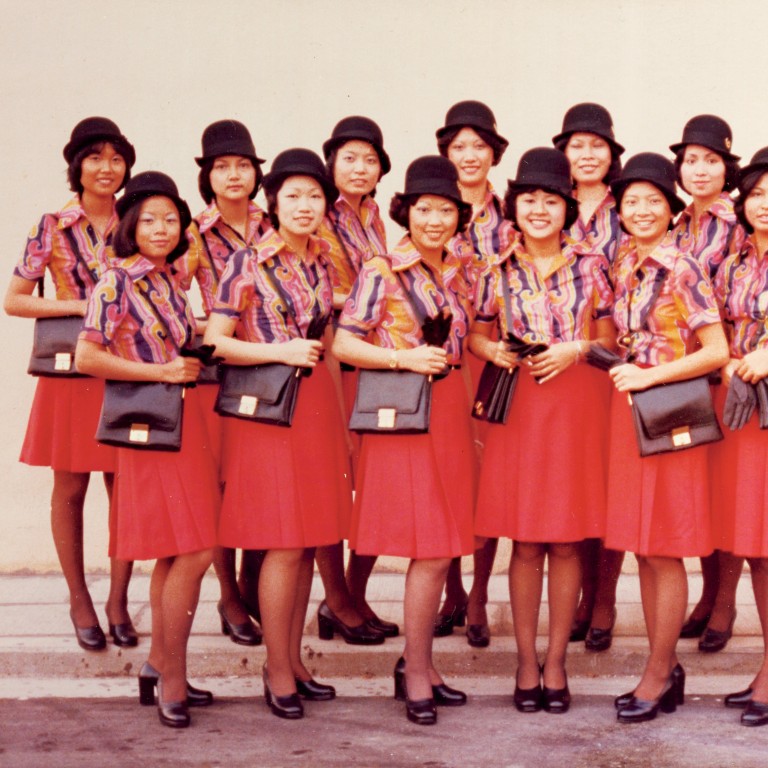 Veteran Hong Kong protester Becky Kwan on her struggles as leader of Cathay Pacific union
As chairwoman of the Hong Kong airline's Flight Attendants Union, Kwan fought tooth and nail for employee rights and against managerial injustices.
She earned herself a reputation as a fearless thorn in the side of executives
Lost somewhere in the crowds swarming the streets of Hong Kong every weekend through a
long, hot summer of unrest
is the diminutive figure of a veteran protester who understands better than most the importance of per­severance in fighting what appear to be lost causes.
"Like everybody,
I am devastated about what has happened
," says Becky Kwan Siu-wa. "I have been on every march, but I can only support them with my feet. I cannot allow myself to be in a situation where it will endanger my safety.
"We must not give up. We must have faith in righteous­ness and justice. The most important thing is to keep up the positive energy. That is what gives us the strength, the hope, the clear direction, the wisdom, the confidence and the power to face the challenges life throws at us."
As the fiery five-foot two-inch former chairwoman of the Flight Attendants Union (FAU), Kwan, 62, has the battle scars to back up her fighting talk. It was 20 years ago when, in a different kind of struggle, she delivered a humbling lesson to the generously paid executives of
Cathay Pacific
: big trouble sometimes comes in small packages.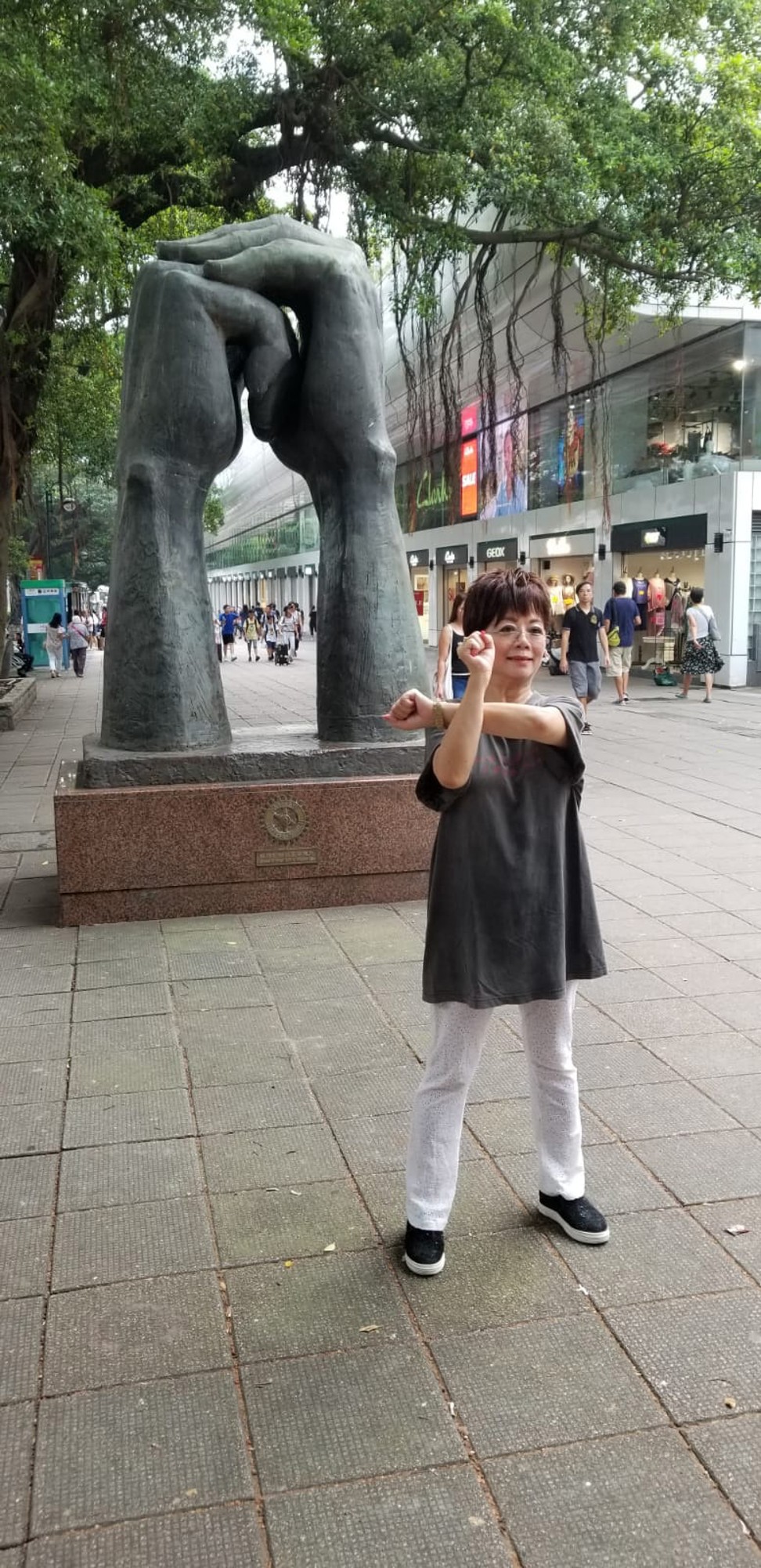 Back in 1999, amid tumbling profits and falling passen­ger numbers, Cathay Pacific gave its flight attend­ants these options: work four extra hours a month to earn a 3.5 per cent pay rise; stay on the same pay for the same hours for another year; or sign up for voluntary redundancy.
The ultimatum presented the 4,500-strong union with a dilemma: help the airline through dark days, or fight it, and risk seeing their fellow cabin crew lose their livelihoods.
"It was during the Asian financial crisis and people were scared of losing their jobs," recalls Kwan, "so industrial action was out of the question."
Instead, she says, a novel idea came out of a union committee meeting. To convey their unhappiness at what they saw as management bullying, flight attendants, the most public face of the airline that, at the time, promised passengers "warm and friendly service straight from the heart", would embark on a no-smile campaign.
For an hour of each Cathay flight, cabin crew would remain stony-faced.
"Our contracts do not say we have to smile," Kwan declared at the time.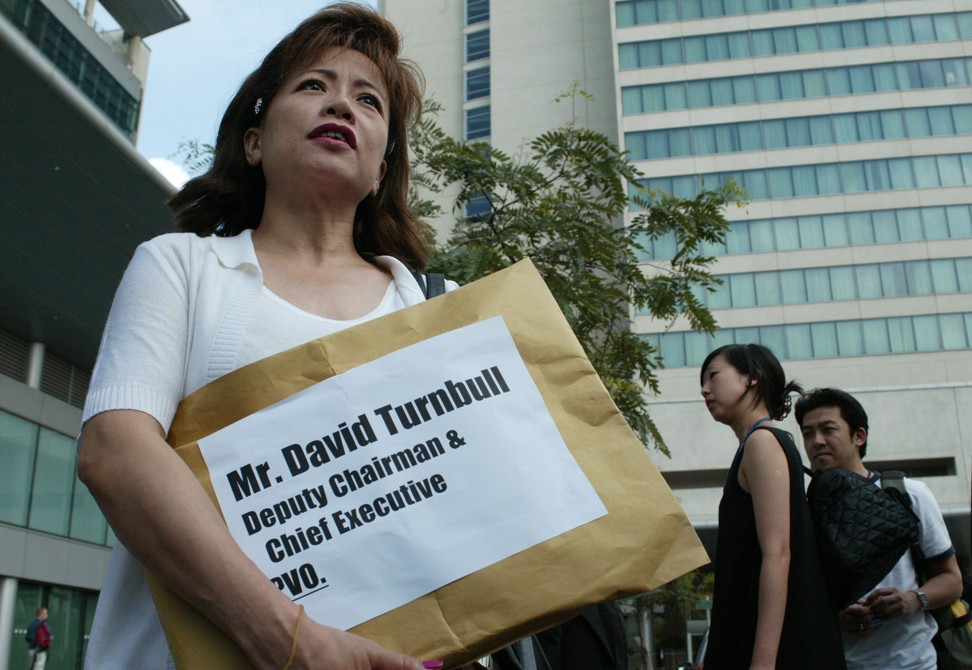 Twenty years later and eight into retirement, the woman exudes, now as much as then, a fierceness barely contained in her slight frame.
"They didn't know how to deal with me and they didn't understand why I had so much tenacity," says Kwan, who has just released an autobiography charting her battles with Cathay executives, The Little Big Fighter.
"They tried everything," she says, "dinners and drink sessions, told me, 'A lot of things can be sorted outside the meeting room more productively.' They tried to figure out if they could do anything to change me. But I just wouldn't budge […] I wouldn't sell my members out."
The no-smile plan never took off, and the dispute would drag messily on to an unhappy compromise, but the audaci­ous suggestion spread worldwide as Kwan gave interviews to newspapers and broadcasters including the BBC and CNN.
"It's not fair to passengers," one Cathay Pacific executive spluttered at the time. "Our company is service-oriented. Since they're in the service industry, [flight attend­ants] should understand what good service is."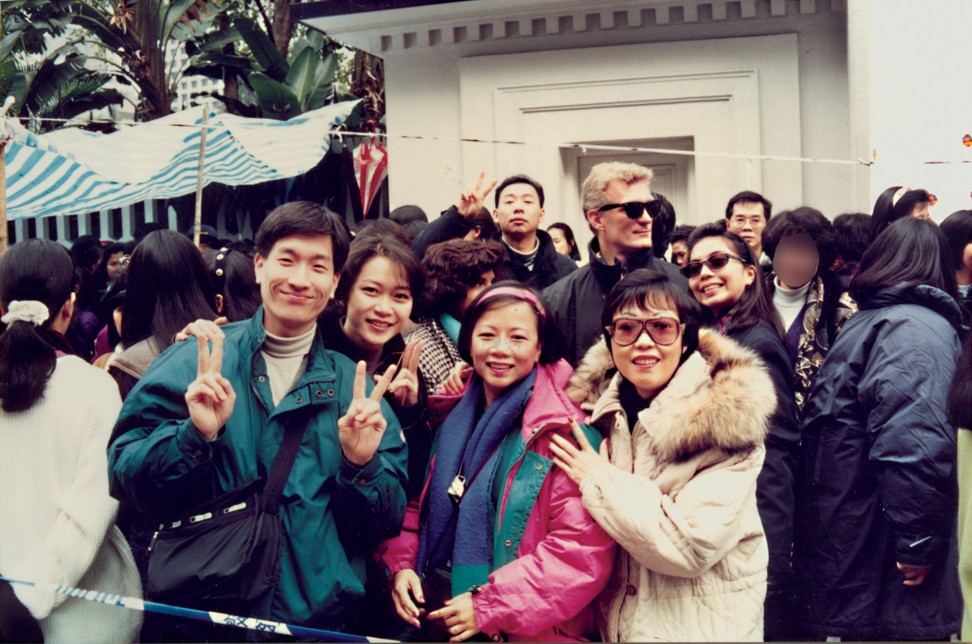 At one point, Kwan recalls, a former classmate and traffic officer for the airline joined the Cathay management team after "his talents were discover­ed when he was on the com­mittee of the local staff union".
"Sudden­ly, he was person­nel director for the whole of Cathay," she says. "I was very close to his sister; we were best friends in primary school. Maybe he claimed to manage­ment he could handle me.
"When he was appointed, I said to him, 'How can you be promoted so fast, like an escalator, which in Cantonese is an 'up-and-down machine'? He told me that wasn't a good metaphor and I replied, 'What goes up must come down.'"
Kwan's famously sharp tongue wasn't reserved for only Cathay management. In 2005, she also hit out at the pilots' union, the Hong Kong Aircrew Officers Association, allegedly calling its members "selfish and balls-less" for withdrawing legal funding from a group of sacked colleagues known as the 49ers.
When the association's then-president, Murray Gardner, called her remarks "offensive and impertinent" and cut off relations with the FAU, Kwan described his letter as "high-handed, colonial and grossly inappropriate" and replied, "We are of the opinion that your small Hitlerian rhetoric is a failed attempt at managerial posturing."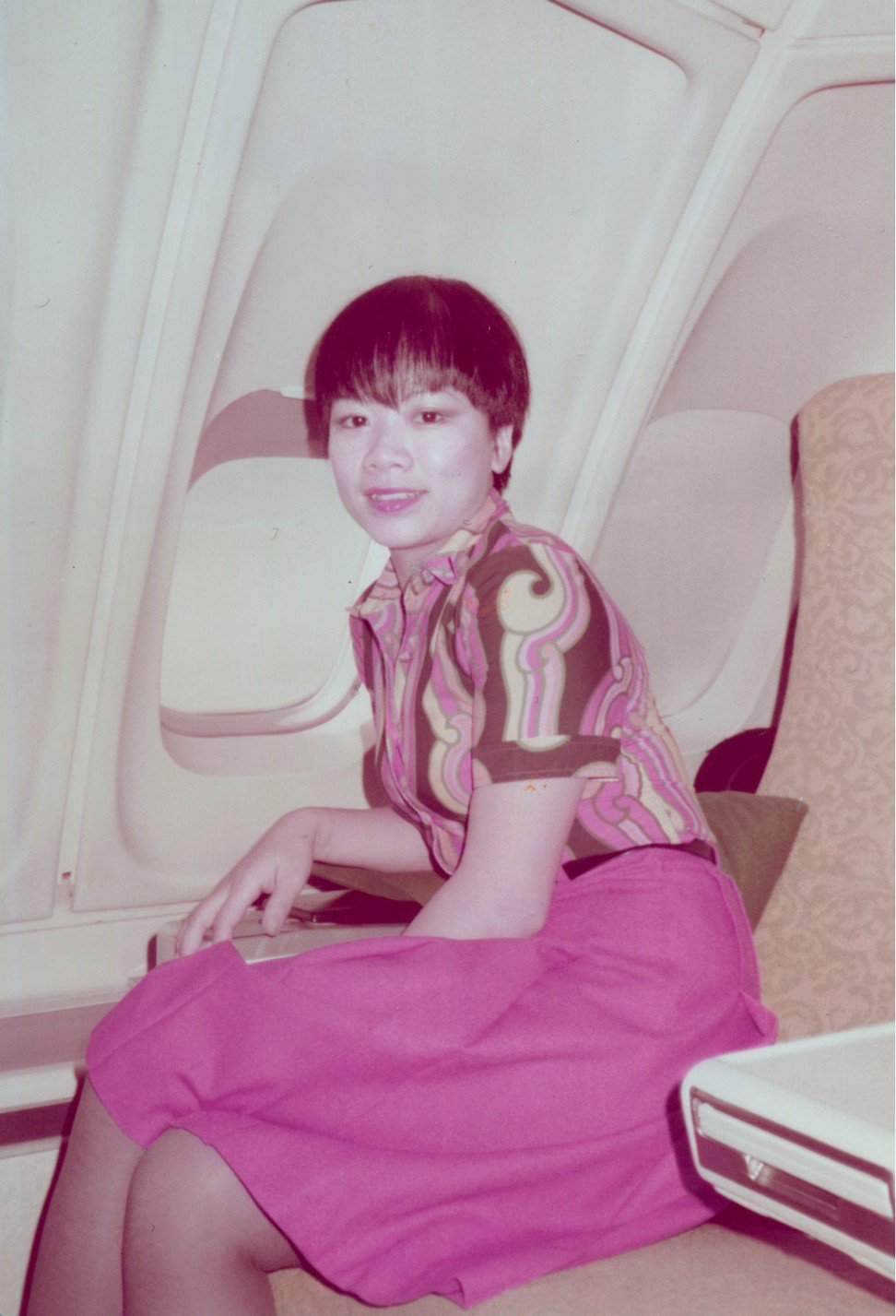 Kwan was aware of the venom directed at her in management meetings, where usually strait-laced expat­riate executives would reportedly turn purple and spout invective at the mention of her name.
"I knew, but I never took that seriously," she says. "I am fearless. I was born that way.
"Someone once asked me, 'What's in it for you? Is it kickbacks or under-the-table money?' They thought there must be lots of secret benefits from working in the union and they were trying to figure out what made me tick. But that was never the case. If I think something is right, I go ahead and do it. It is a combination of faith and perseverance."
The blurb for Kwan's autobiography, published by bilingual house Red Publish and launched at the Hong Kong Book Fair last month, describes it as the story of a woman on the "frontline of resistance against an airline which was hurriedly transforming itself from benevolent paternalist to venal capitalist", and the struggle for flight attendants' rights against "the collaborative powers of a hubristic cadre of company directors and a hostile government".
It opens with a typical Kwan disclaimer: "I make no apology to anyone who may feel offended by my revelation of the facts […] If the truth hurts, so be it."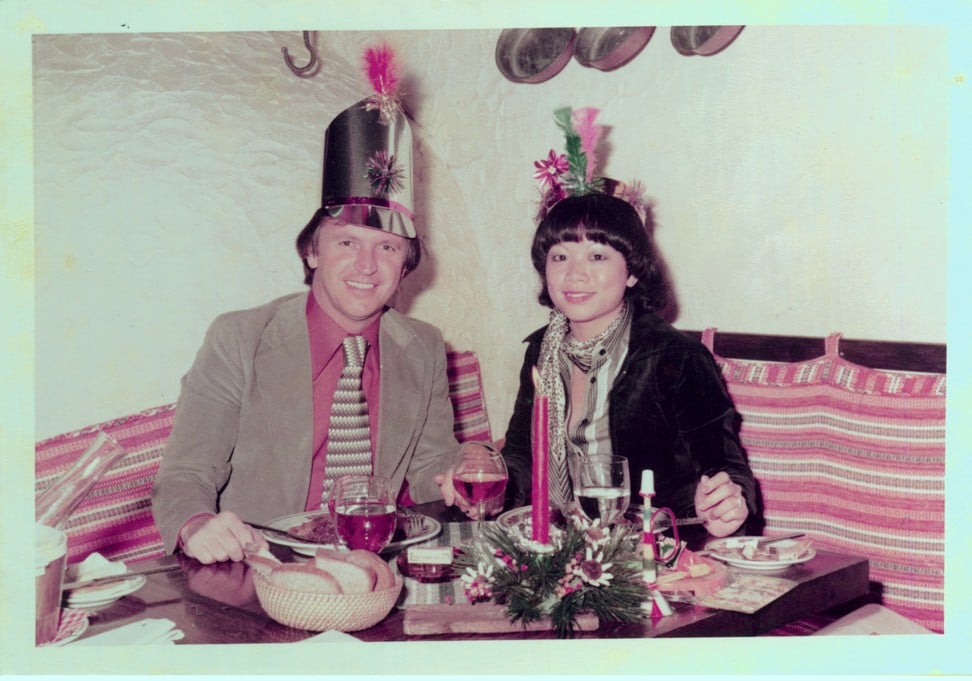 As well as charting the slings and arrows of her years as union leader, the book somewhat wistfully records the passing of a golden age of aviation, when pilots, cabin crew and smartly dressed passengers possessed a glamour unimaginable in today's era of budget flights and cramped economy cabins.
Kwan joined Cathay Pacific in 1975, aged 19, despite her older brother telling their mother that "people nicknamed flight attendants 'flying chicks' [prostitutes]". And an elder cousin, on learning that her job interview was in a hotel, said, "What proper job would interview applicants in a hotel? You'd better watch out!"
In her book, Kwan describes how she fell into an "indecent relationship" with a 38-year-old Scottish pilot, David Bayne, who would become an inspiration for her later union work. He was twice her age and married.
"I was crazily in love with David," she writes. "We got along fabulously and although I always felt guilty about being the woman outside their marriage, [I thought that] since we had already taken the plunge, we might as well go all the way. Every month when the flying roster came out, we would swap duties with colleagues in order to work on the same flights to make the most of our time together."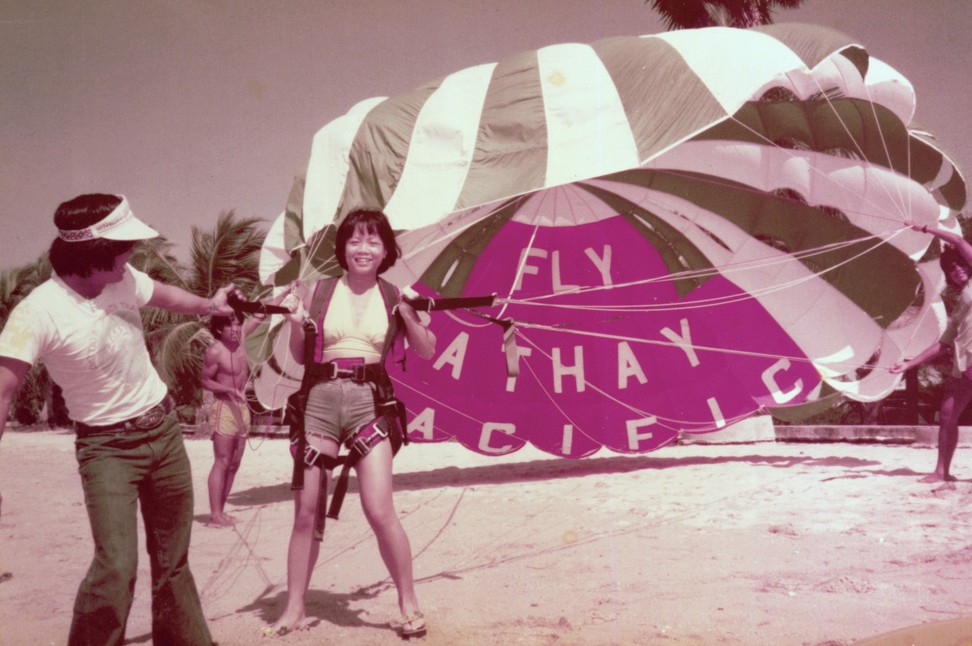 It was still her first year at the company, and they managed to get themselves rostered onto a seven-day trip to Perth, Australia, via Kuala Lumpur, Malaysia – nicknamed the "honeymoon trip" by cabin crew – only to find Bayne's Malaysian wife, who had learned about their affair, on the passenger list as they boarded the last leg of the return trip to Hong Kong.
"I was standing in the first-class cabin when I spotted her climbing the steps to the airplane," Kwan says. "It scared the hell out of me so I locked myself in a toilet to avoid the head-on crash with her and to compose myself. From what I understood, when she learned that I was working on that flight, she was not amused, though she did not utter a word. She deemed the marriage over when the plane touched down in Kai Tak."
It was during her relationship with Bayne that Kwan first crossed swords with her employer. Her pay was docked after she mistakenly sold a duty-free item for less than the listed price. Wondering why she should be penalised for selling items that made a profit for the airline, she raised the issue with the union at Bayne's prompting. The union opened a dialogue with Cathay on the issue, which led to an agreement not only to let Kwan off the hook but to pay flight attendants commission for duty-free sales, a practice that continues to this day.
"David really moulded me into thinking about unionism and solidarity," she says. "He is Scottish and maybe had an innate fighting spirit. That drew out the fighting spirit in me also."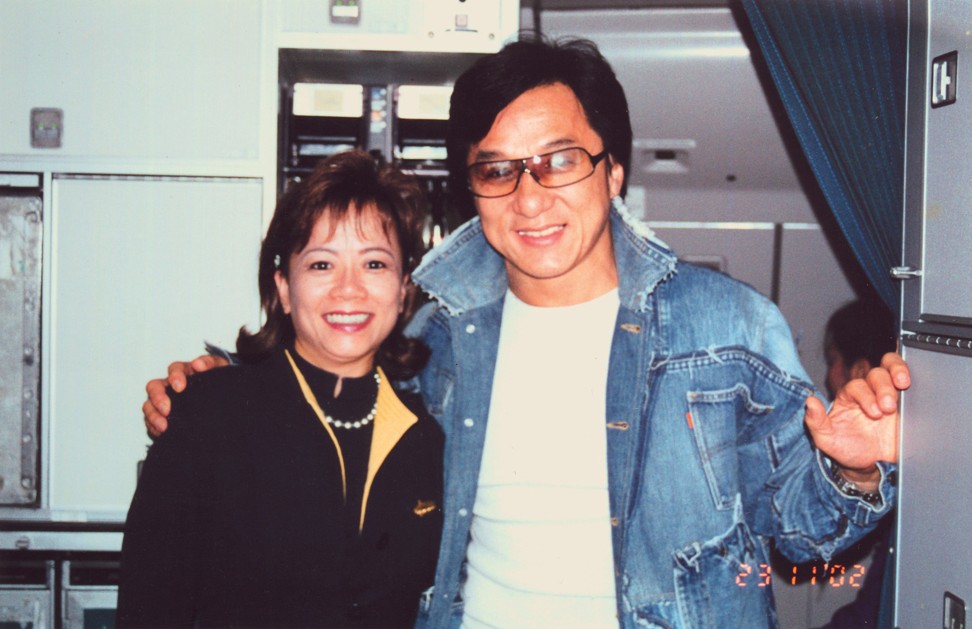 Bayne divorced his wife to be with Kwan, and the couple lived together for seven years before the relationship floun­der­ed. Bayne later married an Indonesian woman but remained a lifelong friend to Kwan until his death from cancer last year, visiting her with his wife and children on annual visits to Hong Kong after his retirement.
"When my book came out, his wife messaged me on Facebook and asked for two signed copies – one for her and one for David's daughter," Kwan says.
Kwan's next boyfriend left her for another woman. Then a seven-year marriage gave rise to a mantra that has served her well since: "all men are b*****ds".
"There are only two types of men," she proclaims, "either they are a nice b*****d or a real b*****d." (The post-Bayne boyfriend fell into the former category and her husband into the latter.)
From that point on, her passion became union work, leading a succession of landmark battles – some won, some lost, some unresolved to this day – over pay and conditions, breaches of contract and the retirement age of cabin crew.
When she retired, in 2011, Kwan received a surprisingly warm farewell from the managers she had locked horns with over so many years.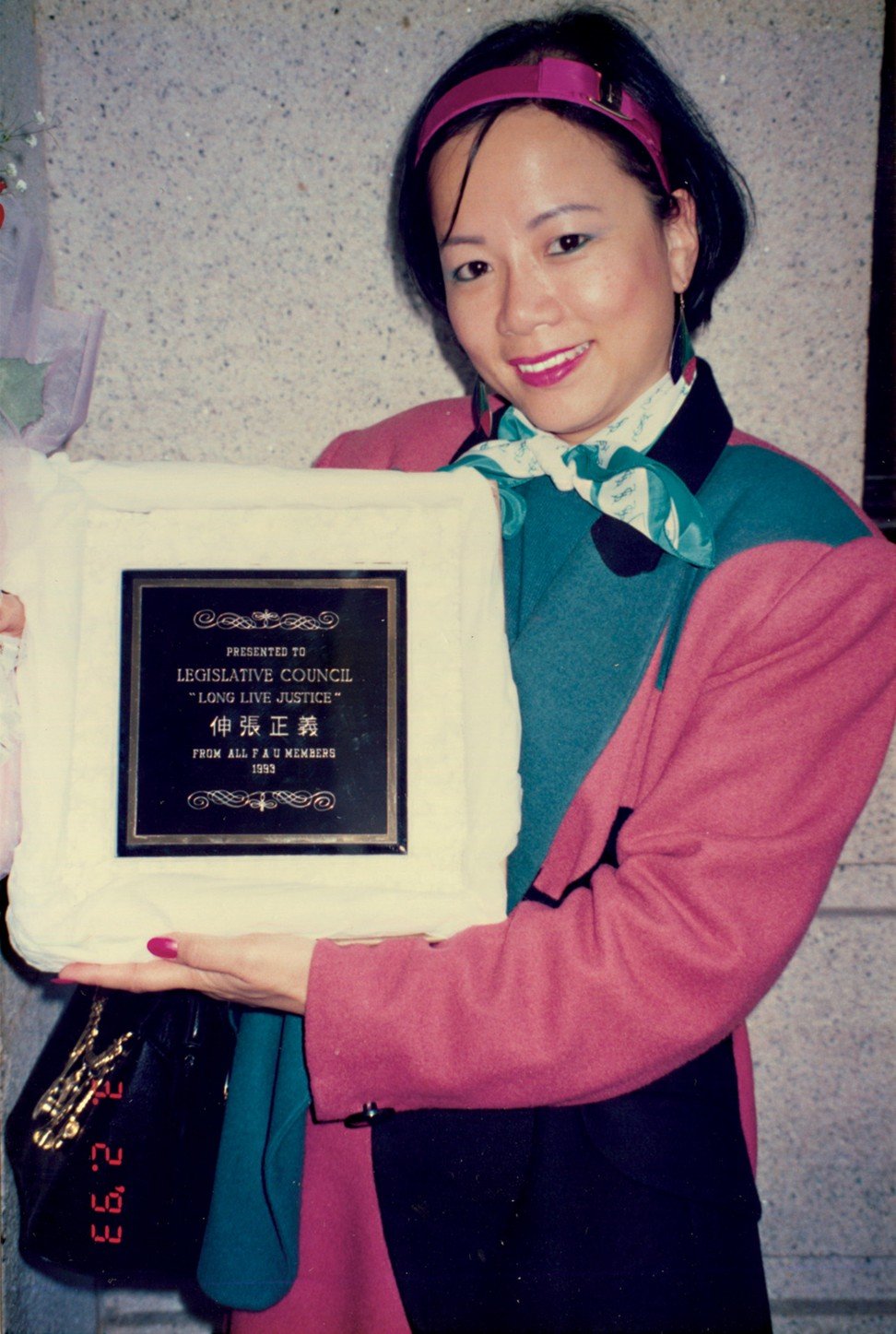 "On my final day, I got a call from my manager and I said, 'Oh? What have I done now? I've already done my last flight,'" she says.
"The manager said, 'I just want to invite you to dinner on behalf of the management.' I almost wanted to report sick […] but, in fact, they threw a really nice dinner for me. I don't know if it was genuine or not but they said to me they understood I was fulfilling my role as chairman in the things I did."
Today, a decade after stepping down, Kwan still gives flight attendants support and legal help, including in the ongoing case of a cabin-crew member sacked for taking a crew meal off a plane, and another in which a flight attendant was fired while on sick leave.
So are conditions for flight attendants today better or worse than they were in her time?
"In terms of industrial relations, things are probably better," she says. "Since I left, there has been no more industrial action, so I would say relations must be better but not in terms of treatment and pay.
"Passengers who came to buy my book at the fair say things have changed from their point of view. They say Cathay's service levels have gone down. And crew members told me working conditions are getting worse. They say the flying life is tougher and the company is tougher with them.
"The employment ordinance in Hong Kong is still inadequate in providing protection and job security, and Cathay is still trying to get around the law."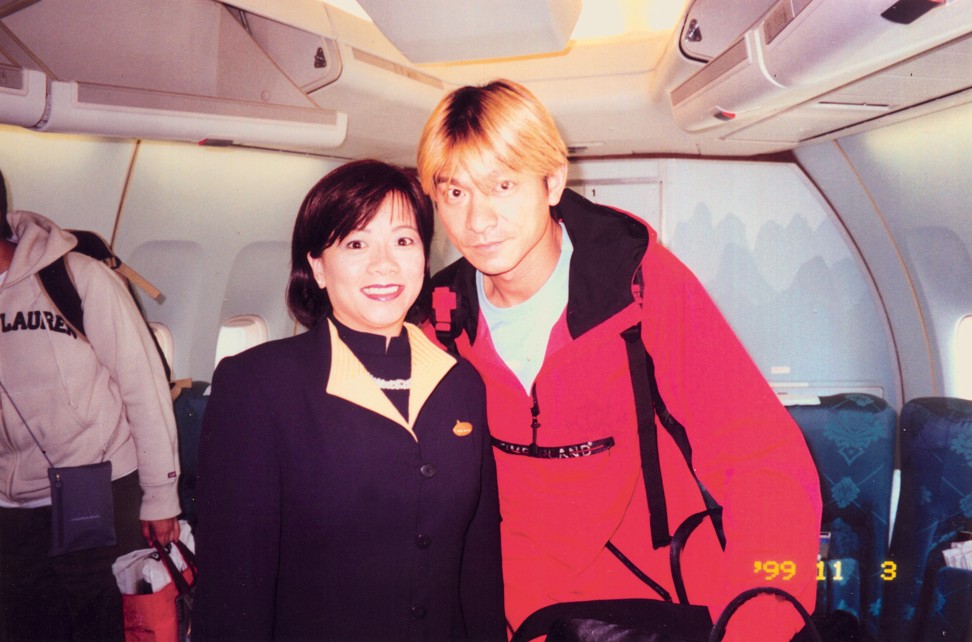 Meanwhile, Kwan continues to be part of the struggle playing out on the streets of Hong Kong. Her advice for the people at the forefront of the protests is to persevere.
"It is sad that some people think of sacrificing them­selves when they feel destitute. To them, I would say this rotten government is not worth it. [Former Aircrew Officers Association president] Nigel Demery once told me when I almost got sacked, 'If you lose your job, you cannot fight any more. If you get yourself locked up in jail or if you kill yourself, you cannot fight for your cause any more.'
"One thing I want to tell young people is we don't want any heroes. There is no need to sacrifice yourselves."
Kwan clearly still misses the cut and thrust of her union days and her time as a flight attendant.
"I miss the salary every month on the 26th," she laughs. "I miss the lifestyle of being a flight attendant. The oppor­tunity to fly away and get away from it all. I used to really like flying because that was my day off. When I was in Hong Kong, it was all union work, work, work. My mind was only at ease when I was on flight duty.
"I still fly from time to time, and I fly with Cathay Pacific when I do. But I'm a lousy passenger. I can't sit still – so I spend my time walking up and down and try to snoop around a bit."
Cathay Pacific declined an invitation from Post Magazine to respond or comment on the contents of Becky Kwan's book and interview.
A thorn in the side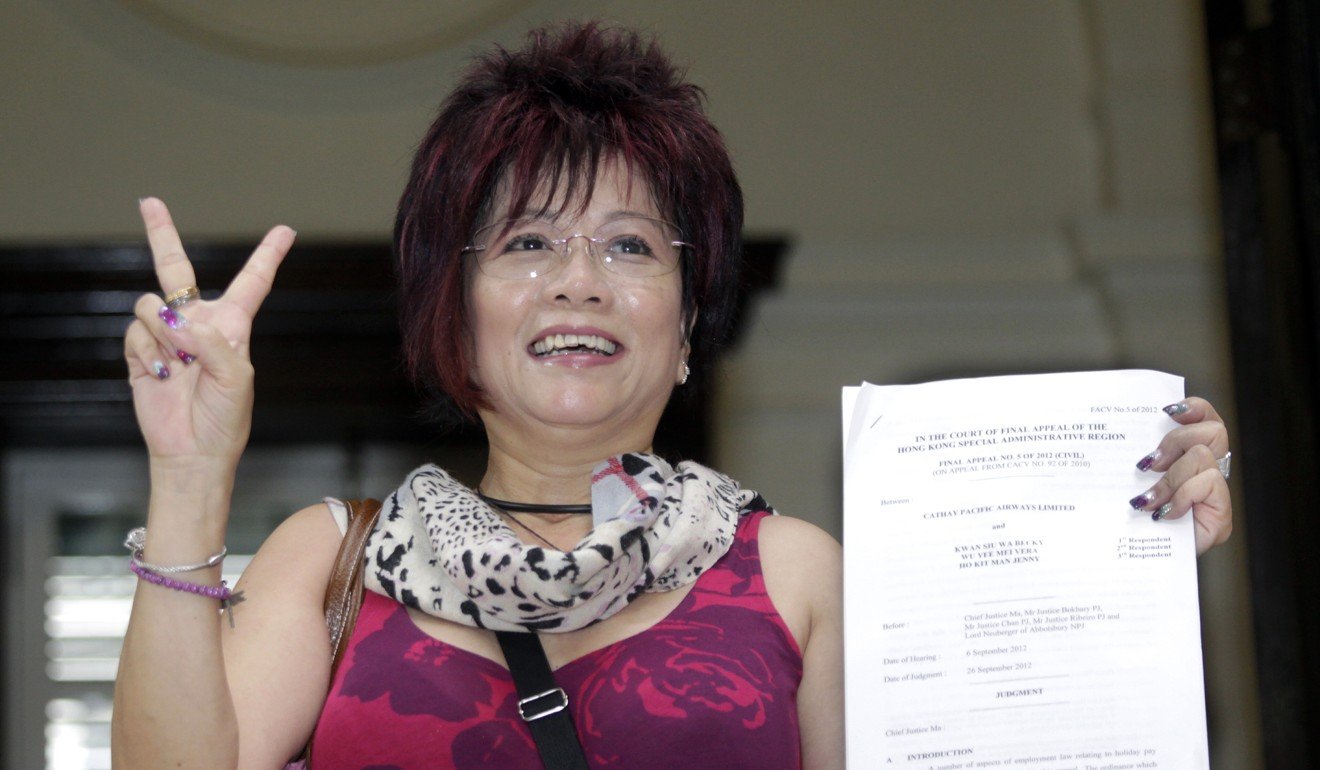 Becky Kwan Siu-wa's high profile in the aftermath of the no-smiles campaign and other fights on behalf of flight attendants placed her in the crosshairs of management for years and there were sometimes blatant efforts to oust her, she recalls in her autobiography.
"I had become more and more popular with the public and unpopular with Cathay management," she writes. "Rumour had it that as long as I continued to be the leader of the FAU [Flight Attendants Union], I would always be the backbone of resistance […] I had become a thorn in the eye of management, and they wanted very badly to get rid of it."
One apparent clumsy attempt came when she was asked in Vancouver, Canada, to release a crew seat to a cabin-crew member flying back to Hong Kong as a passenger. "I jokingly replied: 'No problem if she is an FAU member.'" The colleague boarded and Kwan never checked her membership status.
When she returned to Hong Kong, Kwan was summoned to explain the incident and issued with a warning letter for "conducting union activity at the work place and discrimi­nating [based on] the membership status of colleagues".
"Years later, I was told management had actually consulted their lawyer to establish whether they then had sufficient grounds for firing me but were advised against it," says Kwan.
The management's wishes finally came true in 2009, when Kwan was ousted as chairwoman, going on to serve the next two years to her retirement as vice-chair. She acknowledges some colleagues by that time were "yearning for a change" and wanted a less combative union leader.
"It was time for me to leave the front line and allow the FAU to forge its own destiny, just like letting children stand on their own feet as they grow to maturity."