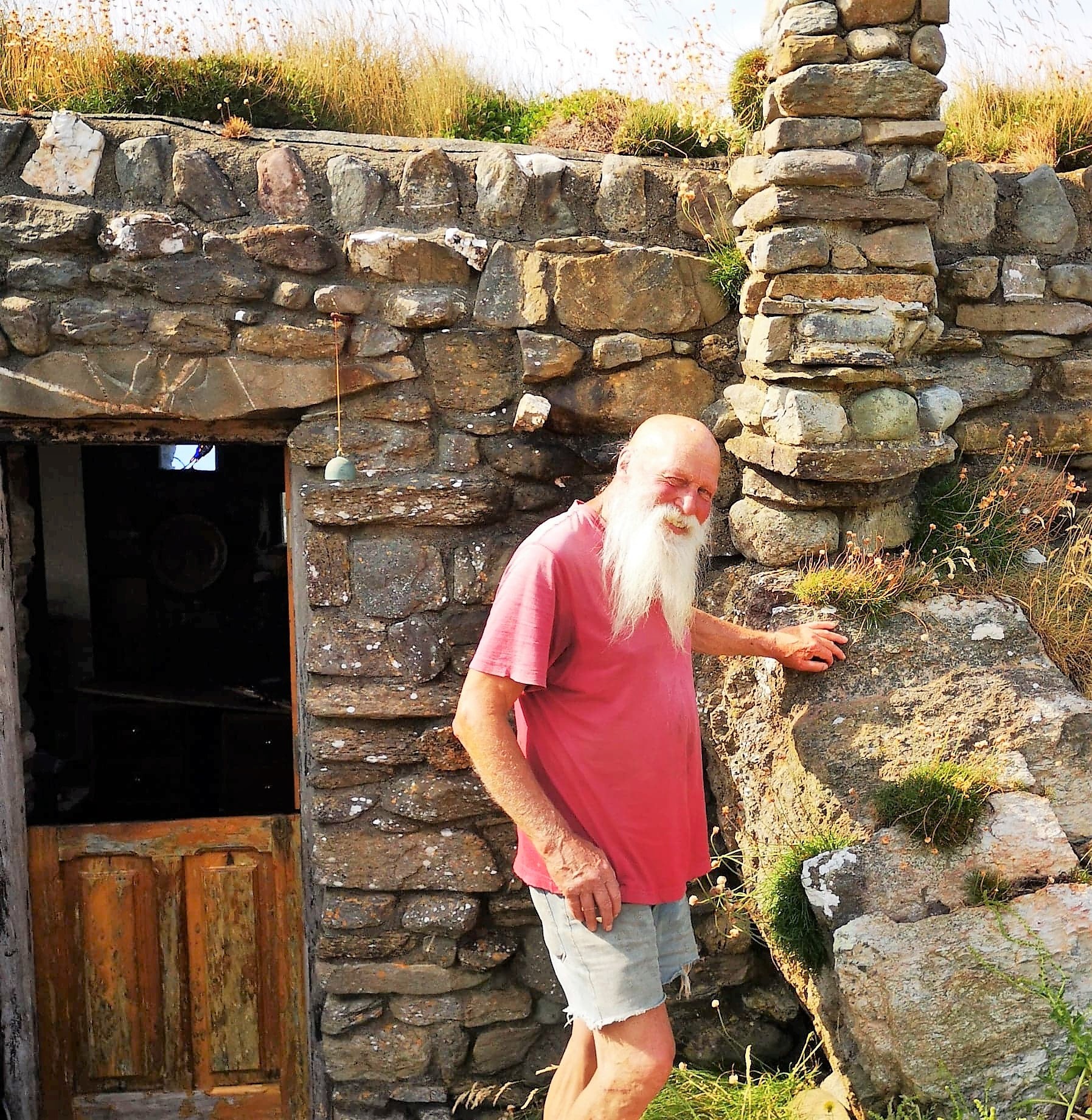 The American hermit whose realm stretches from China to Ireland, on 'a different way to live'
Asia travel
Ivy League-educated Vietnam veteran Dan Hummel has spent most of the past 46 years alone, having left Nixon's America in 1969 never to return
He's divided his time between the windswept wilds of Ireland's Atlantic coast and the mountaintop delights of Dali, in Yunnan province, southwest China
"I've always been into locations. Places have guided my life more than people, family or friends," says Dan Hummel, his American accent still strong, as laid back as the man himself. "Maybe that's why I find myself mostly alone the past 46 years, living between two beautiful settings: this stretch of rock jutting into the Irish side of the Atlantic, and the wilds of west China."
I am visiting Hummel's stone hermitage in West Cork, Ireland, to understand why an Ivy Leaguer from a wealthy family of Pennsylvania academics chose almost half a century of tough living in such far-flung locations.
"I left America just as Nixon was coming in," he says, referring to the United States president who entered office in 1969. "I could see it was going nowhere good. And I was right." The rare Irish sun has scalded Hummel's bald head red, and his long beard rages white in the wind. "I could have had a decent life there, but it's just not a nice place to be."
Hummel graduated as a geography major from Dartmouth College, which is among the oldest universities in the US. Fellow alumni include poet Robert Frost, children's writer Dr Seuss, one-time US vice-president Nelson Rockefeller and former treasury secretary Henry Paulson.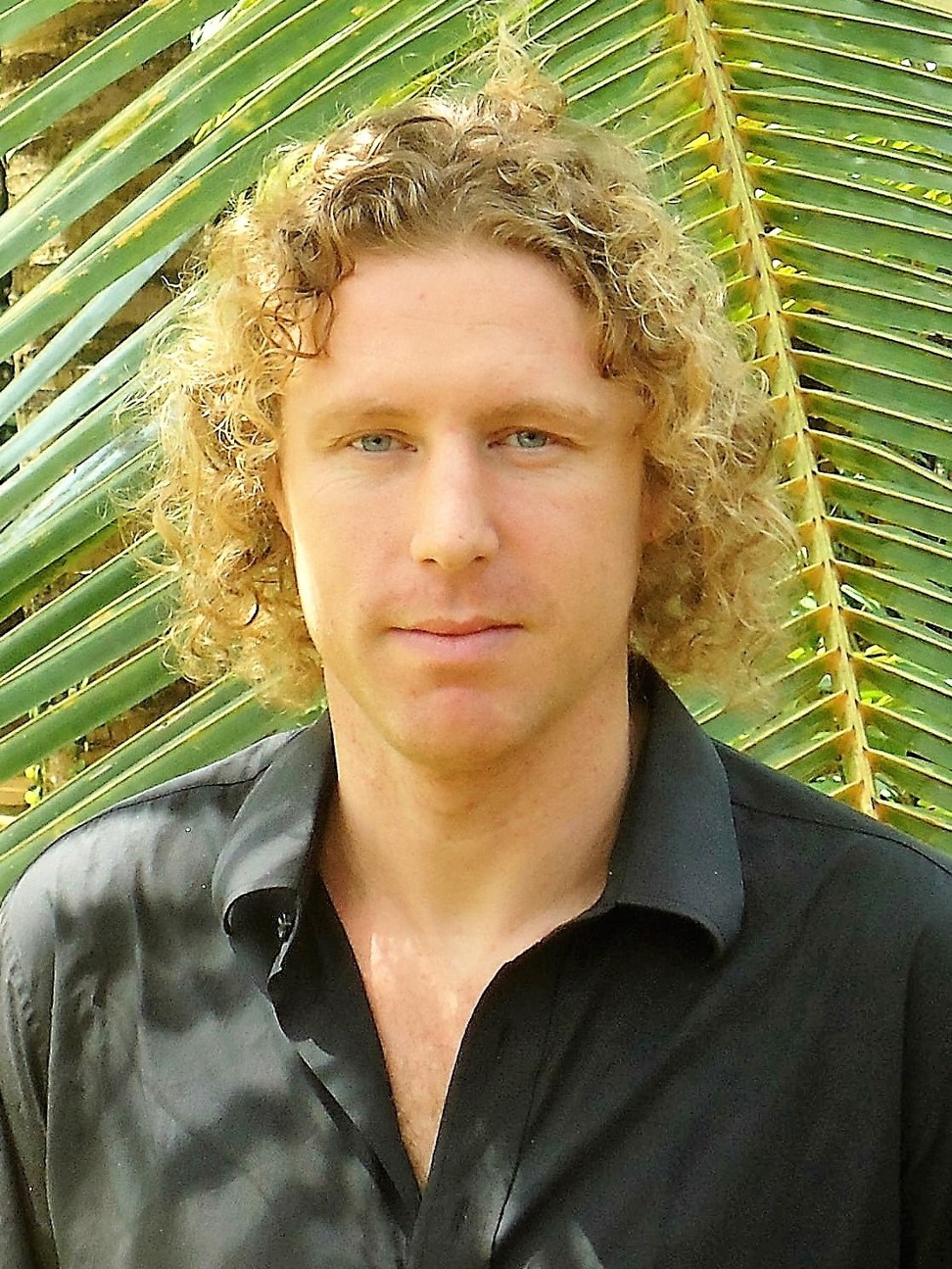 This was in 1963, when military service was compul­sory; Hummel joined the navy with an eye to a post­ing in Japan. Based at an officer-training school in San Francisco when President John F. Kennedy was assassinated, he was keen to leave by the time he shipped out on the USS Surfbird a few months later.
Hummel's quiet base in Japan afforded him many days to explore the countryside on his motorbike and learn the language, at least until 1965, when the Surfbird was ordered to take part in Operation Market Time, the US Navy's effort to stop the flow of troops and weapons by sea from North Vietnam to the South. It was an uneventful mission, but one that made Hummel a Vietnam veteran.
He was already probing the wisdom of the US system and his uniform was an awk­ward fit. When his three years' military service was up, he left the navy to become an English teacher.
In Nagasaki, in 1966 and '67, he befriended witnesses to the second atomic bomb detonated on a human population. "They said the bomb blast wasn't the worst," Hummel tells me. "The worst part was seeing the survivors walking around with their skin melted off. Every day, I encountered horrific disfigure­ment that made me deeply question my country's actions."
In 1968, Hummel went to teach in Taiwan, which was then led by defeated Chinese Nationalist Chiang Kai-shek and under martial law. Known stateside as General Cash-My-Check, Chiang had gained the support of the US for being anti-communist. He permitted the US Navy's Seventh Fleet to patrol the Taiwan Strait – a key strategic position for keeping tabs on the Chinese Communist Party. In return, Chiang received billions of dollars in economic and military aid.
When a Japanese business friend asked Hummel to help buy property in the US, he decided to see if America's domestic policy was any better than its foreign one.
I saw the Japanese working the land by hand, and thought I'd like to try that. Helping my Japanese friend, I got the opportunity to work another piece of land, and to me it just made sense as a way to live

Dan Hummel
"My father had bought 10 acres in Pennsylvania and, as the eldest son, he put me to work on it," Hummel says. "Then I saw the Japanese working the land by hand, and thought I'd like to try that. Helping my Japanese friend, I got the opportunity to work another piece of land, and to me it just made sense as a way to live."
He bought a parcel of land on Bainbridge Island, in Washington state. It was there, just before the Summer of Love in 1967, that Hummel acquired his tepee from hippies experi­ment­ing with alternative living and his eyes were opened to the American dream – individuality sold as a virtue to be ex­press­ed through the products and experiences one bought.
"And that was that. I decided to strive for a life that was truly my own making," Hummel says.
The first time I met Hummel was in Yunnan province, more than a decade ago, way up on the Tibetan plateau. At 3,000 metres above sea level, he had built a rustic eco-lodge that clung to the Cangshan mountain range – the tsunami of snow-capped rock looming over the ancient kingdom of Dali.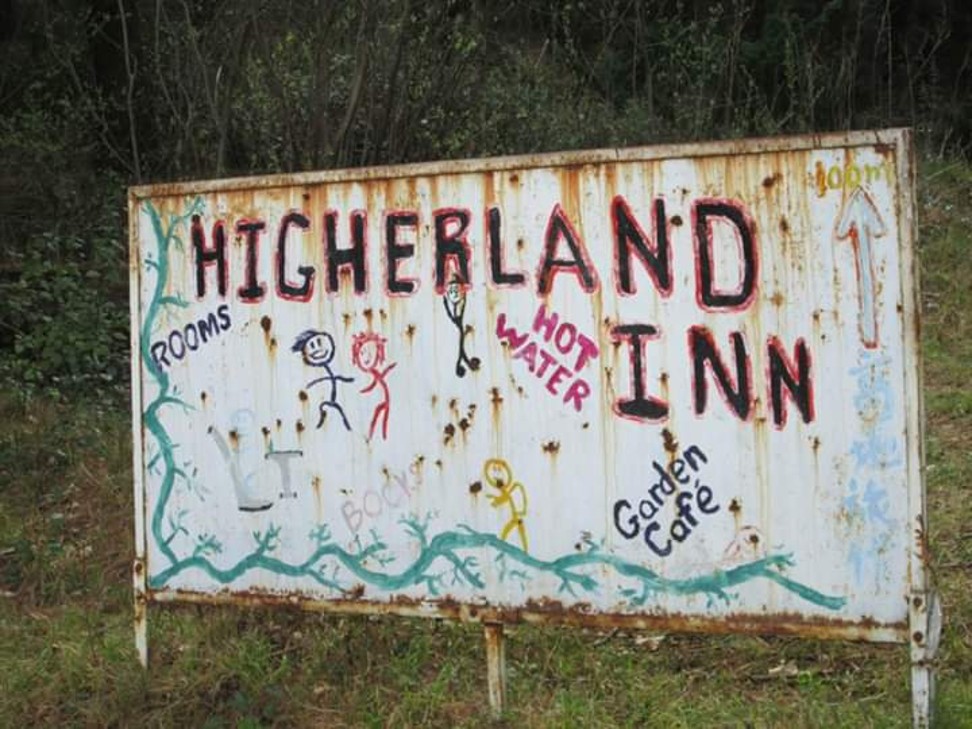 Hummel had called his place the Higherland Inn – a play on the characters that in Mandarin read "ai er lan" and are used to label "Ireland". Delighted to meet in that hidden part of the globe, we eased our nostalgia toasting Johnnie Jameson in the spartan setting. Below us, Dali's three pagodas – from its time as a Buddhist kingdom – reached for Yunnan's endless sky like long, bone-white fingers.
Da li means "big flow" or "big way", and the town is sup­posedly built on a ley line, or a dragon line, as the Chinese call them. It is no coincidence, then, that Dali has played such a significant role in Chinese history. Hundreds of thousands have died in battles to take or defend it. Genghis Khan once made Dali his base of operations; more recently it was even, briefly, an independent Muslim kingdom.
Having spent every winter in west China since the late 1970s, Hummel chose Dali as his second home in 1989 – 10 years before a steady stream of Western backpackers began to arrive, and two decades before the Chinese tourist buses rolled in.
Perhaps a kilometre beneath Higherland Inn, Dali's colossal 15th-century wall had long abandoned hope of ever containing the town's expansion. And beyond the newest concrete fields, a patchwork of green paddies ran all the way to the shores of Erhai Lake. Yet even though the inn was as scenic as an ancient hanging Taoist temple, for me one question persisted: why would anyone choose to live in such an isolated place?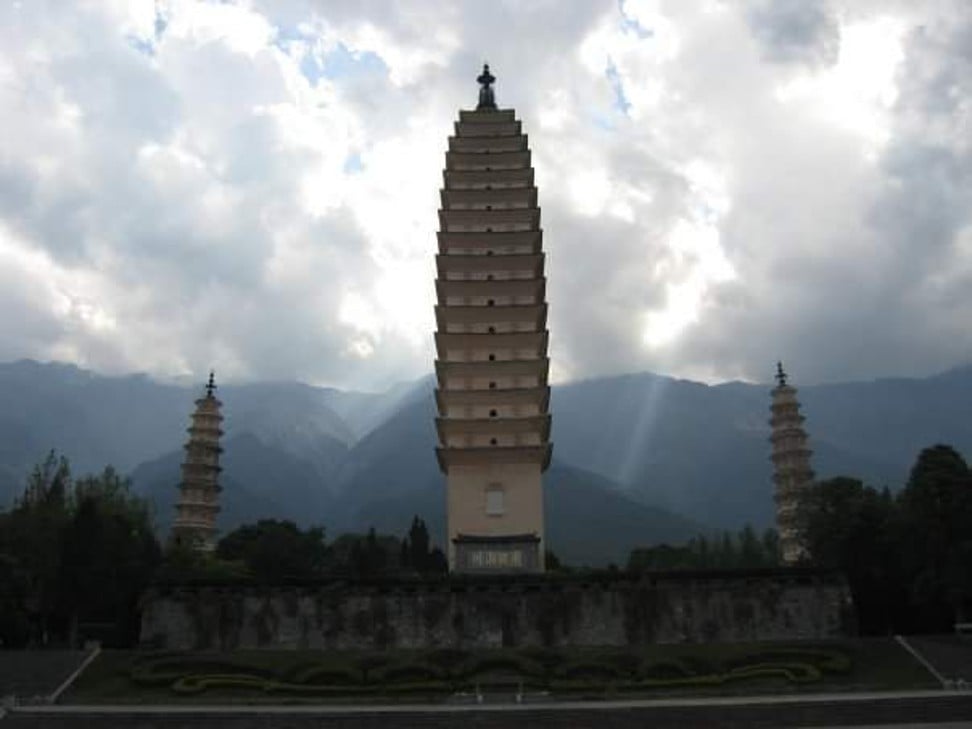 In 1969, while
Mao Zedong's Red Guards
were tearing the People's Republic asunder, purging society of capitalist and tradi­tional elements, alternative America was explo­ding:
Woodstock
, LSD, the hippie movement. Hummel was digging the hippie back-to-the-land movement, living in a tepee on Bainbridge Island. Determined to avoid a second tour in Vietnam, he left the US, never to return.
"I was eager to get back to Asia so I took the Trans-Siberian Railway across Russia," Dan said. "I went back to Taiwan, to a local girl I'd met on a previous visit, and to teach English again, and when that relationship ended I went on to teach in South Korea. During these years I also travelled to Mongolia, Sri Lanka and even Papua New Guinea, often passing through Hong Kong to catch up with old friends."
These friends included Mike Morrow, who was among the founders of the Pulitzer Prize-winning "anti-war" Dispatch News Service (DNS), and Jay Henderson, one-time East Asia editor of the US-government-funded radio station Voice of America.
"I was interested in different ways to live," Hummel went on, "and all the while the biggest social experiment ever to take place on this planet was happening on the other side of the Bamboo Curtain." Foreigners, however, were not permitted to enter the People's Republic during the Cultural Revolution.
In 1978, Deng Xiaoping's 'reform and opening-up' policy meant I could finally enter China [...] I've always found Chinese people to be real nice

Dan Hummel
In the early 70s, Hummel returned to the West, to under­­take a master's degree at the University of London's School of Oriental and African Studies, and it was then he discovered Ireland's wild Atlantic coast. There he bought a plot of land near Bantry, West Cork.
"In 1978, Deng Xiaoping's 'reform and opening-up' policy meant I could finally enter China on a visa Mike Morrow helped secure," said Hummel. "First I made my way up the east coast to Beijing. But then, attracted to wilder elements, I travelled by train across the northern part of the country. There were no other foreigners then so everyone was very curious and friendly. I've always found Chinese people to be real nice."
For the next 40 years Hummel divided his life between Ireland and China, spending his winters in the latter.
"At first, I fell in love with the rugged country up in Sichuan province. I was excited by the wild frontier spirit of the place," Hummel said. "I had an idea to introduce Japan­ese hot-tub culture, maybe using the natural hot springs along the fault lines. But China wasn't ready for that then."
By the late 80s Hummel had discovered Yunnan province, with its year-round spring climate.
"Dali was a bohemian paradise," Hummel said. "Mariju­ana was growing wild on the mountains. It seemed like the ideal location to establish my Higherland."
That long ago night, we destroyed the bottle of whiskey by candlelight – the Higherland Inn lacking electri­city. Sharing a joint of Dali weed while the wind whispered old tales through the ramshackle struc­ture, he told me he had built the place single-handedly, using horses to bring materials up twisted mountain paths. The inn's water came from a well Hummel himself dug.
"I'd hoped to form some kind of eco-friendly community up there, a place for people to be inspired by nature … maybe even get creative," he said. "But every summer I was drawn back to Ireland – that made it hard to get anything solid set up. I always hoped the right person would come along to put energy into the place, but that never happened."
In China to look for a project, it felt like Hummel was pitching me the idea, but the Higherland was too remote for my tastes. He did, however, inspire me to build my own creative community, which I did on the more accessible shores of Erhai Lake.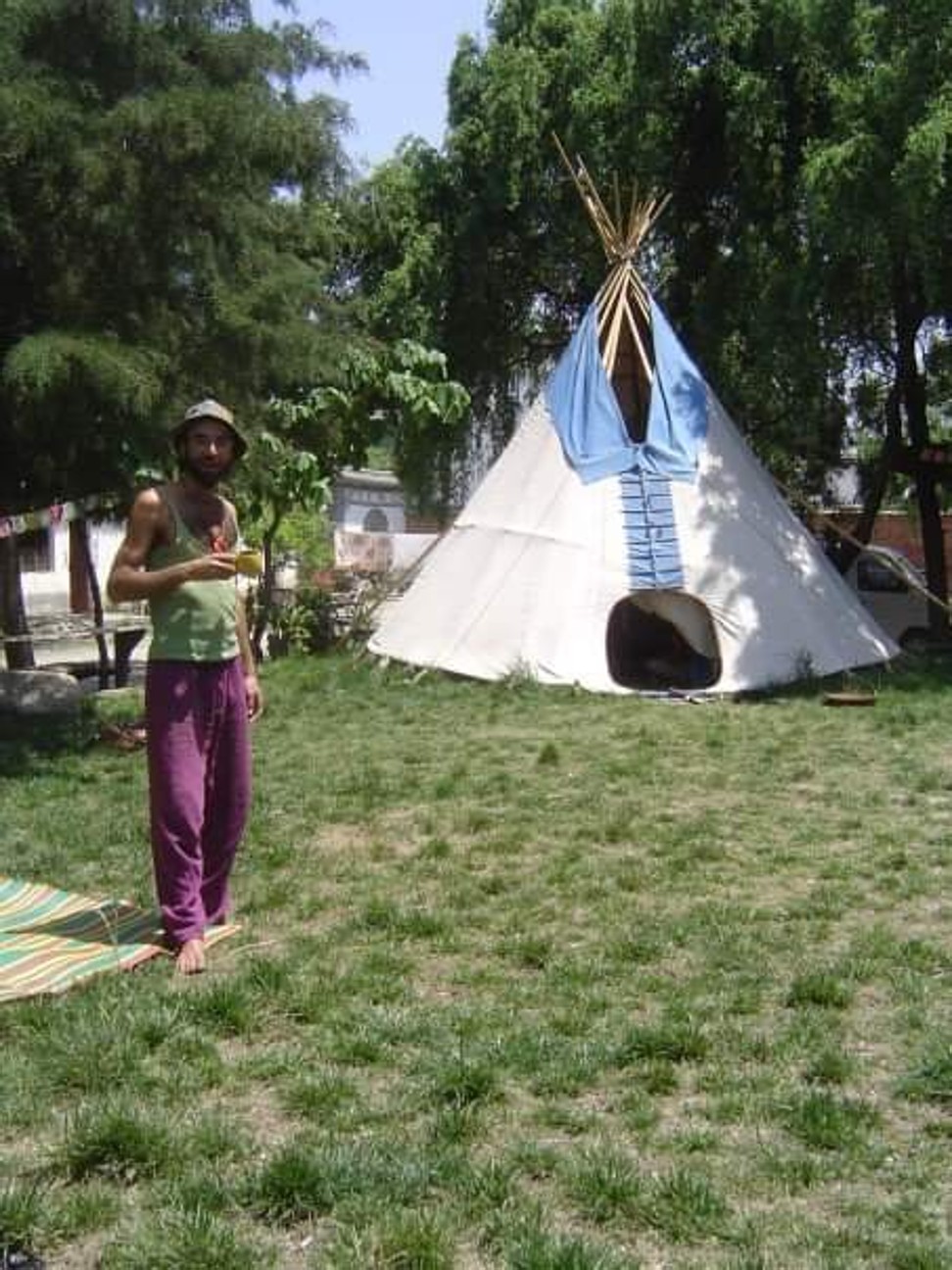 When I opened my place, he arrived with the same tepee from his time on Bainbridge Island. To the bemusement of an audience of local Bai-minority farmers, and a motley crew of Western backpack­ers, he erected the massive white and sky-blue wigwam in my garden.
Some of those who passed through would recognise the structure as belonging to the American with the white beard, and they knew him as Tepee Dan. Teaching in Japan in the mid-60s, he had been Dan Sensei, and, in Taiwan, Dan Laoshi. And before that, in the US Navy, he was Lieutenant Dan. These days, friends in Ireland call him China Dan, but to the Chinese he is Ai-Er-Lan Dan.
We head west out of Bantry until we run out of road, then follow a grassy track down to the sea. On the far side of a wall of brambles we emerge onto a wind-battered expanse of rock and tough grass – the kind of terrain that firmly establishes you in the west of Ireland. And yet if it were not for the ocean's growl and the salty air, we could be in Yunnan.
Half crippled beneath the awkward weight of our bags and food supplies, we pick our way along a scattering of stones worn smooth by one man's feet. Hummel would have laid the path with his own hands, finding, carrying and placing one large, flat stone after another. We trace them for a winding 700 metres until a battalion of tall cairns rises from the headland.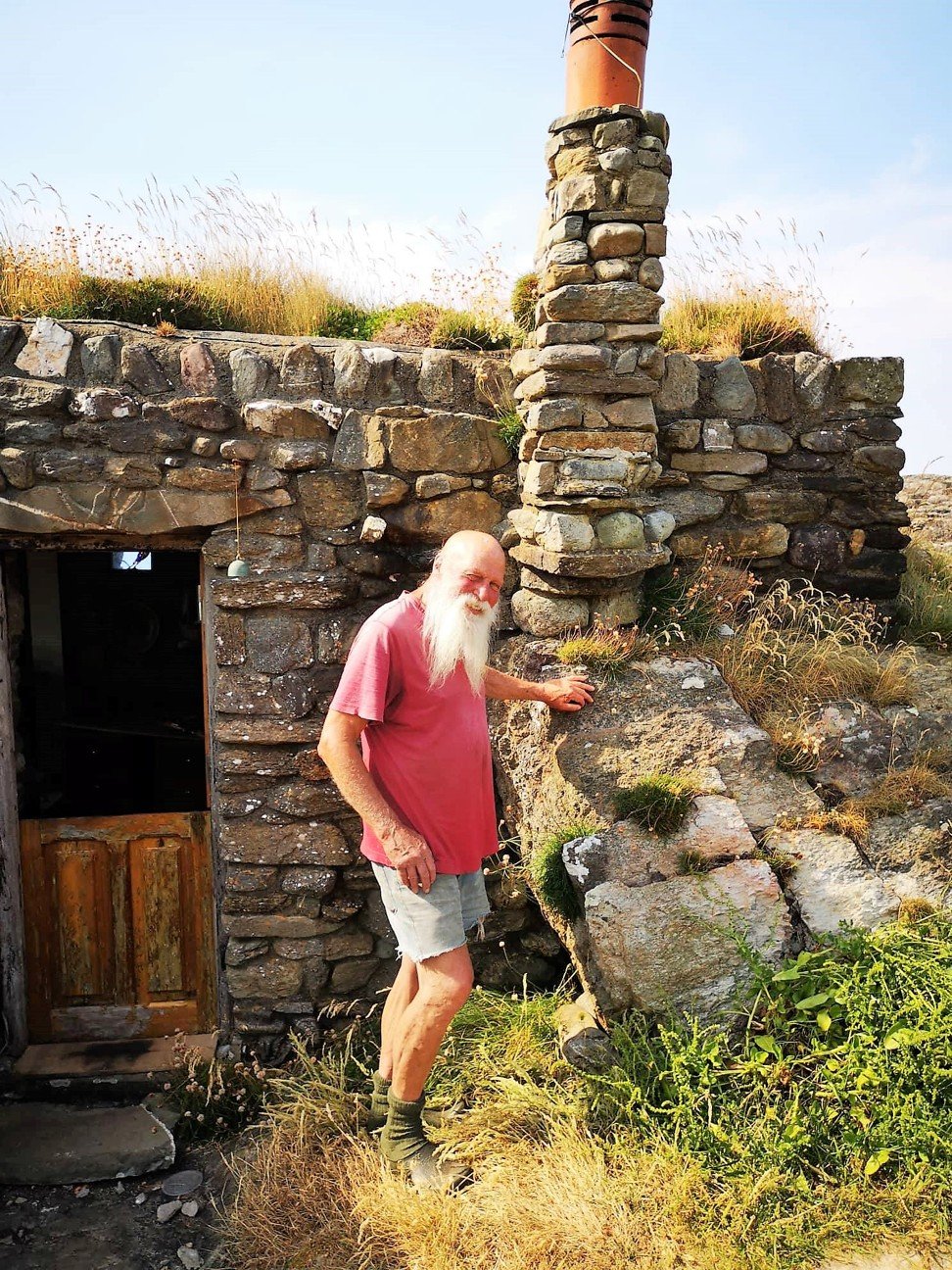 The stones are stacked higher than my head and, in their midst, Hummel's house, a squat, uneven block of them, seems to grow straight out of the ground. Once inside the two-roomed dwelling looking out on a finger of rock being abused by the Atlantic, there is little to suggest we are in the 21st century.
I propose tea, and 78-year-old Hummel picks up an enamel bucket and offers to get water. He crosses a meadow of tall grass, moving like a bag of potatoes, until all I can see is a smudge dipping a bucket into a stream, and I wish I had never mentioned it.
Hummel's cave-like space is littered with Chinese and Japanese ornaments, and further cluttered by pillars of books rivalling the standing stones outside. The first to hand, Time's Up (2009), by Keith Farnish, is about survival in a civilisation that's killing our species in exchange for superfluous goods and cheap thrills. Beneath that is When a Billion Chinese Jump – Voices from the Frontline of Climate Change (2010), by Jonathan Watts; Ha-Joon Chang's Bad Samaritans – The Guilty Secrets of Rich Nations and the Threat to Global Prosperity (2008); and stacks more non-fiction, most examining US domestic and foreign policy.
On Hummel's return, I put the water on the small stove, its big bottle of gas surely having arrived here on his back.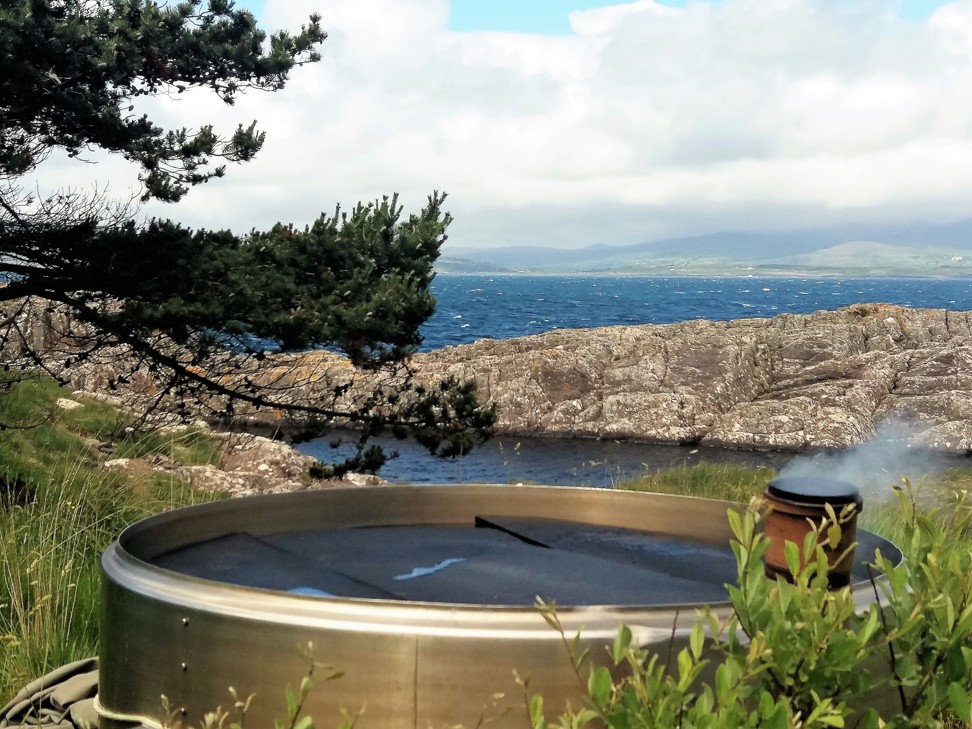 No water, no electricity, and to my bathroom inquiry, Hummel points at the rocks extending directly out from his sitting-room window into the livid Atlantic. "You'll see a crevice down there that's perfect for the job," he says. "Everything taken away immediately."
Squatting on the headland, the breeze carries sea spray to cool my bare backside. Knowing Hummel has hunkered down here for much of the past 46 years, in all weathers, brings a new depth of respect for the man.
Back at the house, by the window, in the only chair – a seat recycled from the passenger side of a comfortable car – Hummel oversees the Atlantic, wind whistling through gaps where his house does not quite fit together, and I brew Puer tea until it is blacker than Irish stout. Beneath a string of brightly coloured but frayed Tibetan prayer flags, washed-out maps of west China are spread over the bare stone walls.
At this point, Hummel proposes firing up his hot tub – a huge, stainless-steel milk container, which Hummel has hooked up to a stove – and three hours later we are both naked, dunked in steaming water.
Don't go back to China much now either – the trip is too hard on me. And besides, it's not what it used to be. I've watched China change faster than any country at any time in history

Dan Hummel
"First two years, I lived on this very spot in a two-man tent. That flat rock over there was my dining table," Hummel says, pointing to a spot between two small freshwater lakes. "I had no building experience and couldn't figure out where to put my house. So, I just kept collecting rocks."
There is pride in Hummel's voice as he talks about his capacity for hard labour. "The pure physicality of it," he says, "just moving rocks all day, learning the flow of the terrain, alone, and with no particular goals beyond the basics … Guess I could have made more of the land, but I always wanted to spend as many winters as I could in China, my second love. It's hard to get things together when you're always moving."
The years, however, have slowed Hummel down. "And I haven't the energy to organise this place any more," he says, his pale eyes looking past me, as if this is shameful to admit. "Now it takes all I have just to live. I'd have liked to see someone take over this place, so my example of living closer to the land would live on."
After a while peering out at the Atlantic, Hummel turns back to me. "Don't go back to China much now either – the trip is too hard on me," he says. "And besides, it's not what it used to be. I've watched China change faster than any country at any time in history. Watched it follow the West, commoditising every damn thing at the expense of the land."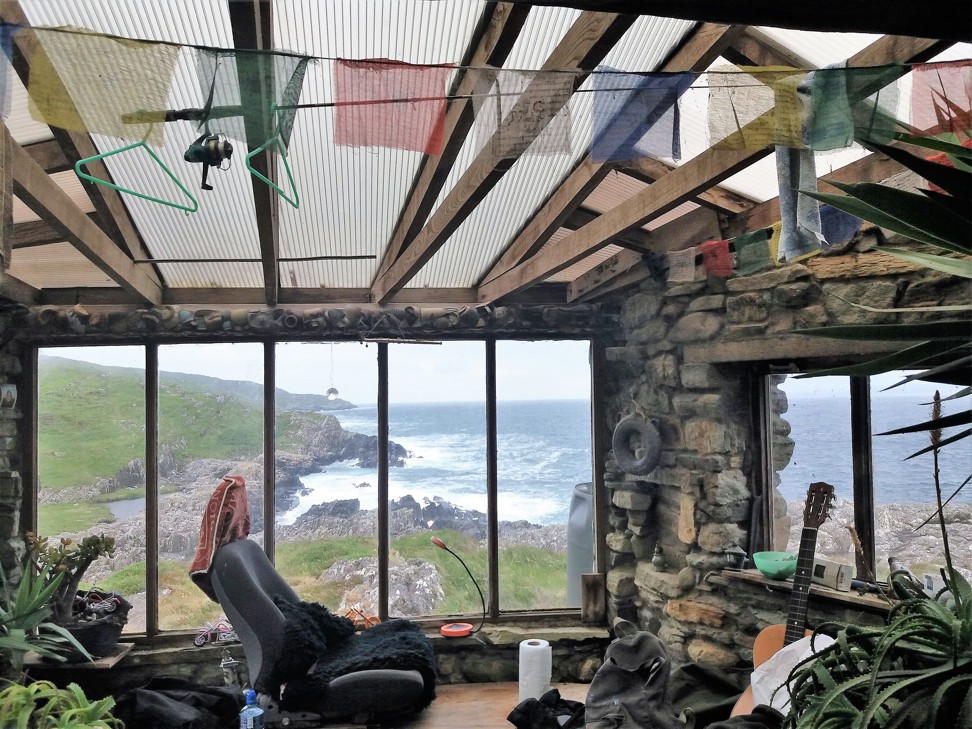 After dinner, Hummel shows me – with childlike glee – photos of gatherings he used to hold to celebrate the summer solstice, with 30 or 40 people scattered across the meadow. There are children playing on the grass mown short by his sheep and goats, the hot tub is full and a band is set up on the flat-stone "dining table". In one picture, he is in the foreground, robust as a mountain, the beard just as white 20 years ago as it is today, and standing tall behind him is the tepee he donated to my guest house by the lake.
"Those were good times," Hummel says, his smile exposing a ruin of teeth – chipped or broken, or long gone. "But I don't get many visitors any more. Now it's mostly just me, and this is no place for an old man."
In another photo, three happy couples sit on the grassy roof of his house, and Hummel's arm is curled around a young Chinese woman.
"It might have been nice to do the marriage and family thing," he says. "But my focus was always torn between this piece of land and my place in China, and relationships never survived that. With my health, I have four or five years left at best … They're not going to be much fun. A life spent alone will most probably mean a death spent alone."
All day I've found myself looking for meaning in Hummel's story, and as the last light leaks from the day, I ask if his life has had any purpose. Hummel tries to shrug off the question, but I insist.
"I just wanted to get people interested in working with the land," he says. "Out of necessity, most people's life choices are driven by the need to make money. A few lucky breaks early on meant I always had just about enough. So that allowed me to shape my life differently. I never orienta­ted my projects as commercial interests.
"I just wanted to play with the land and offer an example of a different way to live."