More Chinese are following the Belt and Road trail to Kenya in East Africa
Evangelists there are learning their language in the hope of spreading the good news and saving their souls
Earlier this year, An, a young Chinese professional living in Nairobi, heard a knock at the door. She was expec­ting no one. She had moved in a couple of months earlier, and none of her friends would visit unannounced. She had been warned about the Kenyan capital's high crime rate, but, curious, she peered through the peephole and beheld, with relief and confusion, two smiling women – one East Asian, one white.
The visitors introduced themselves as Jehovah's Witnesses, telling her in Mandarin that they had heard there was a new Chinese person in the building. An remembers reacting with suspicion, asking how they came to know that, since hers was not a building or neighbour­hood where many Chinese people lived. The Asian Witness laughed politely and apologised for the intrusion, brushing off the question somewhat awkwardly by saying they just happened to "know things".
Amused at being targeted by Chinese-speaking, non-Chinese evangelists in East Africa, An invited them in. The Asian Witness spoke Mandarin well enough that only small tics in cadence hinted she was actually from Japan. The other, a British student, said she was in the city on summer break, but would continue learning Mandarin and return to Nairobi to preach to the city's Chinese diaspora.
As they chatted in An's living room, the conversation meandered from the Bible to Darwinian evolution to
the persecution of Christians in China
, which the Japanese Witness said was "severe", adding that the long-swirling rumours of harsh government action against proselytisation were true.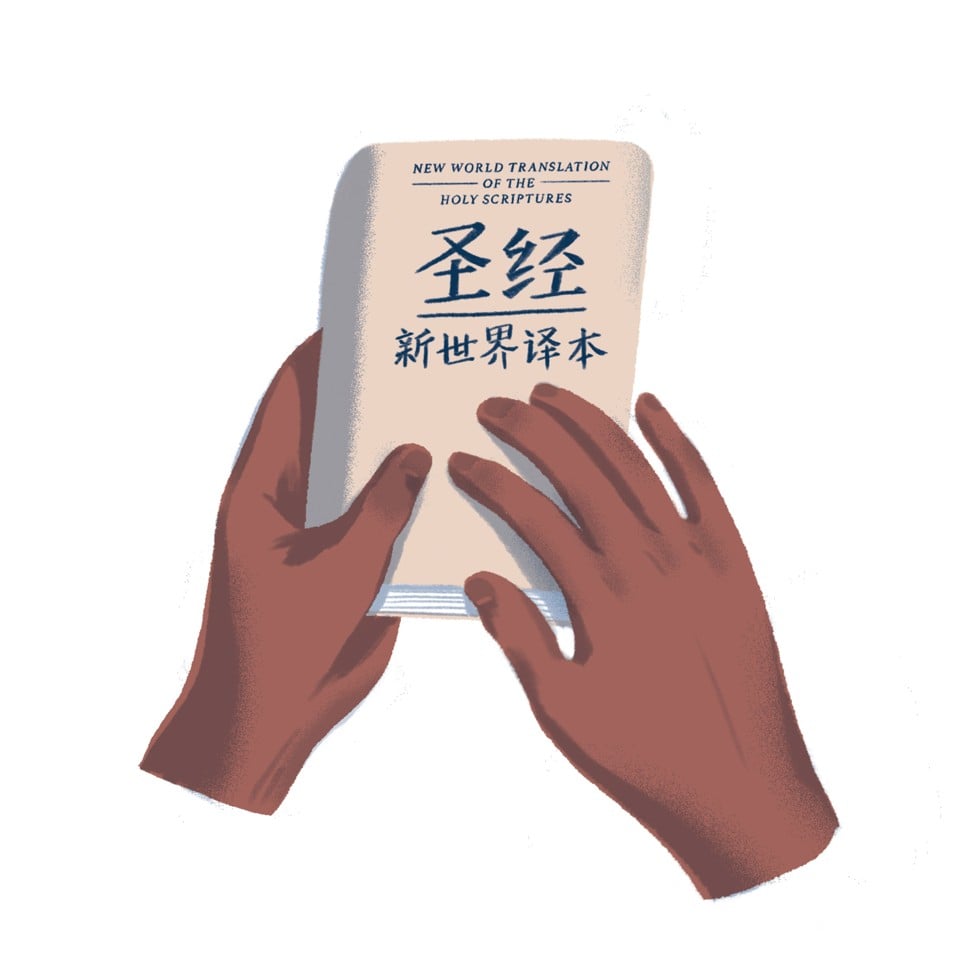 With a global membership of more than eight million people, the Jehovah's Witnesses have attracted
the ire of authoritarian governments
– to say nothing of any suburbanite with a doorbell – for public evangelising and targeted outreach campaigns. Though they share much with other Christian sects and base their creed on a translation of the Bible, where Catholics or Protestants address the Lord, God or The Father, they worship "Jehovah". The concept of the Trinity has been eschewed, and though Witnesses believe that Jesus is the means of salvation, he is only the son of Jehovah and not part of the Godhead itself.
The group's strict hierarchies and social restrictions do nothing to dispel the presumption of cultishness, nor does the mission essential to the faith: save as many souls as possible before the final battle between good and evil, saved and unsaved, come Armageddon.
Eschatology aside, the words "Jehovah's Witness" often conjure the image of a pair of men in black trousers, short-sleeved white dress shirts, ties and name tags standing at street corners, in train stations or on doorsteps. But not in China, where underground meetings of various Christian denominations have been raided and foreign mission­aries deported for doing Jehovah's work.
The Japanese Witness at An's door was one of these. And while Jehovah's Witnesses do not appear on the Chinese Communist Party's list of xie jiao – banned extremist "cults" – no Witness would have knocked on An's door in the mainland.
Having been barred from China for her preaching, the Japanese Witness followed a fresh trail of souls left by the Chinese diaspora to Kenya, a country that allows near carte-blanche religious freedom; a place where she and other mission­aries could offer the Chinese in Africa, such as An, something they never knew they needed back home – the anti­thesis of Mao Zedong's communist ethos, the good news of their Lord and Saviour Jesus Christ.
China is now Kenya's largest lender, accounting for more than 70 per cent of bilateral debt. Chinese employees and their families who follow them to jobs on the kind of infrastructure projects that have come to define Sino-Africa relationsnumber roughly 40,000 in Kenya.
There exists the idea that Chinese migrants, through some kind of atavistic insularity, remain untouched by their new homes, especially when these new homes are not the Chinatown landing pads of New York or Toronto, but ascendant cities in Africa.
This has created a para­doxical tension between those we understand to be mission­aries and non-believers. No longer is it a matter of white missionaries arriving from Europe to "civilise" Africa. Besides the unbidden Japanese and British Witnesses at An's door, these days, Kenyan believers, pedigreed by generations of Christianity, are learning Mandarin to convert the incoming, "Godless" Chinese.
In 21st century Kenya, the "unreached peoples" are those far from home, and the missionaries are the locals.
On a Sunday afternoon, in Kenya's largest Kingdom Hall of Jehovah's Witnesses, in the affluent Nairobi suburb of Kilimani, attendees dress to the same code, modest and neat. A typical Kingdom Hall, a place of worship used by Jehovah's Witnesses, is spare, almost colourless. At the Kilimani branch, all religious reading material is available in multiple languages and branded Watchtower, after the non-profit organisation that governs Witnesses worldwide and provides them their door-to-door leaflet­eering literature.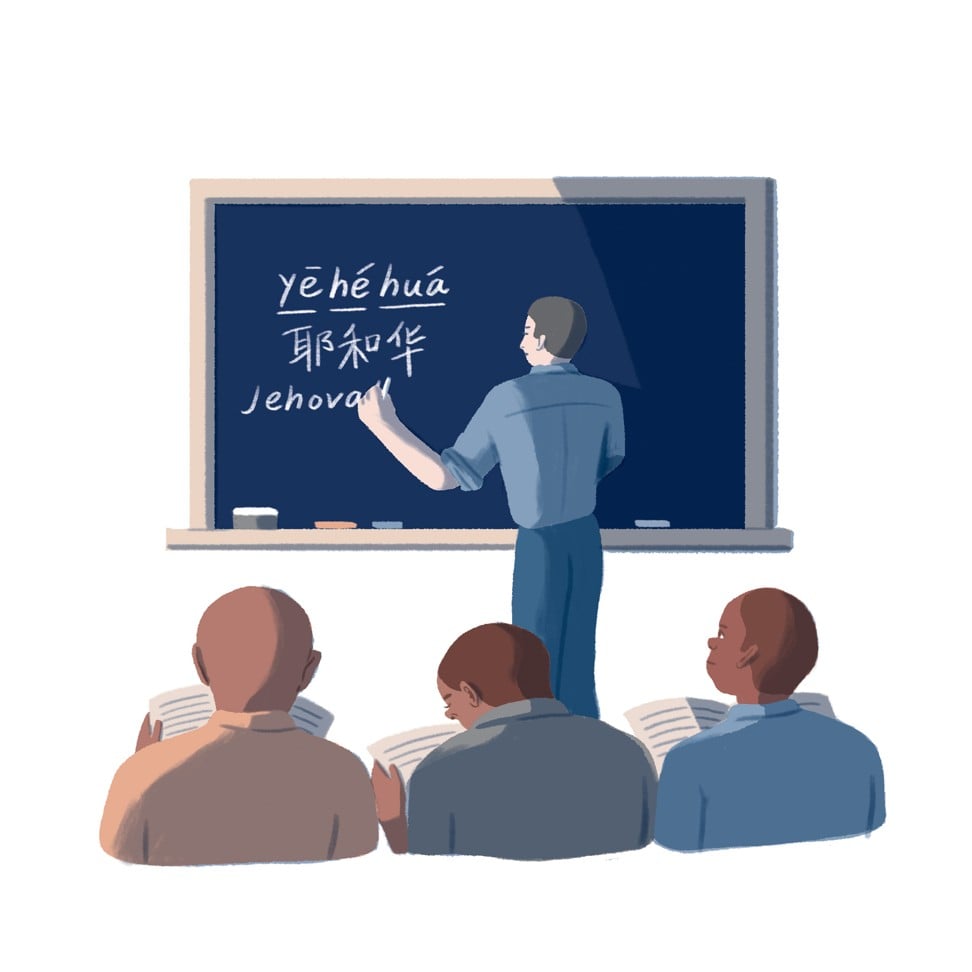 A Kenyan brother who goes by the Chinese name Fei Li opens the meeting with a prayer, delivered in seamless Mandarin. Then a pre-recorded song is played, its lyrics projected onto a screen in Chinese characters and pinyin – no musical instruments are allowed here – followed by a reading of the day's Bible passage to be studied. There is no preacher at this service, only Li as moderator. Each week the same videos are watched, the same passages read, the same questions asked, the same answers given.
Most attendees are Kenyan, but there are also East Asians and North Americans. Everything takes place in Chinese. It is the last meeting of the day, after several in English and Swahili.
Besides the Kingdom Hall, the Jehovah's Witnesses' Kilimani branch – which serves operations in Kenya, Tanzania, Sudan, South Sudan and Somalia – includes a large administrative block, as well as schools, residences and gardens. There are medical clinics, a translation centre, a legal department and a massive warehouse, crammed with stacks of The Watchtower magazine.
Each Jehovah's Witness congregation in Kenya has its own territory within which members perform their outreach, and wherever there are Chinese, there are Witnesses. In peak season at Maai Mahiu, a dusty transit town along the Great Rift Valley, Witnesses stand with a cart carrying Watchtower publications in Mandarin, English and Swahili, ready to preach to busloads of tourists speaking whichever tongue.
A country of about 50 million people, Kenya is home to between 8,000 and 10,000 registered churches and, accor­ding to the Kilimani branch office, 389 Kingdom Halls congregated by almost 30,000 members. Of these, 3,643 are "pioneers", such as 27-year-old Charles Otieno, who devote more than 70 hours a month to proselytising.
Otieno's home congregation of Kariobangi, a lower-income, east-side district a two-hour bus ride from the Kilimani Kingdom Hall, happens to include a Chinese hydro plant. Later, Otieno will fill his backpack with biblical tracts translated into Chinese, set off and approach the gate of the plant, and knock. When a Chinese worker opens the door, Otieno will ask, in Mandarin, if he has heard the Good News.
Otieno speaks English, French, Swahili, Bemba and Mandarin, but is not fully comfortable in any of them. He says he was born in Kenya, but his accent hints at south­ern Africa, perhaps Zambia, where he says he stayed the longest while periodically moving around the continent. He says he came back to Nairobi three years ago, but when asked why, where his parents live or what they do, he remains silent.
"Do you like it here?" I ask.
He laughs. That must be a no.
"Where would you rather be?"
"Where I used to live."
"Where's that?"
"Henan. Zhengzhou."
He takes out his phone and shows me a photo of a man dressed in traditional wushu robes, mid kung-fu leap, wielding a scythe as long as his body.
"This is me," he says.
Much of Otieno's three years in China was spent at the myth-swaddled
Shaolin Temple, in Henan province
, said to be the birthplace of kung fu. Otieno scrolls through his phone's photo gallery and shows me other images of him practising wushu.
Otieno learns Mandarin by reading the Bible in tradi­tional Hanzi, character by character. Each one he does not know, he looks up. For someone who is not Chinese, his Mandarin is very good. For someone who has never attended a Chinese lesson, it is unimaginable. Ironically, Otieno had dropped out of school to learn martial arts because he didn't "see the use in memorisation".
"What took me to China was self-determination," he says, in English, and then, as he often does with important words, translates it into Chinese for emphasis – "Zi jue", "self-decision", on one's own initiative. But Otieno says he is "ashamed of that part of my life … it was as if I wasted my time. I was a disciple of kung fu, and it was my god".
It was upon his return to Kenya that he began attending Jehovah's Witness meetings out of curiosity, having heard from more "traditional" Christians that they were devil-worshippers. He was taken under the wing of a mentor, baptised and devoted his time to becoming a pioneer.
"Jehovah created me with a purpose and the purpose is honouring him," says Otieno. "So I said to myself, 'Let me honour the true God, engage fully in service and abandon what I'm doing.'"
He opens the JW Bible app on his phone to share a verse, toggles between a list of downloaded languages and selects Chinese. I comment on his ability to learn a language as difficult as Mandarin without instruction.
"It's the power of Jehovah," he says. "Jehovah is telling us, 'If you know something and you do not tell someone so that they may change from their wicked course, they will die because they are a wicked person, and their blood will be demanded.' When Jehovah comes and sees these Chinese here, but sees that Charles did not want to perfect his Chinese skills so that he may reach others, that would be a disaster for me. I fear that, so I said, 'Let me learn it and help others. If they refuse, I've done my part.'"
Not all Chinese in Kenya are Belt-and-Roaders and not all Chinese Witnesses in Kenya are Belt-and-Road diaspora. Zhou has lived in Kenya with her husband, Huang, for more than two decades. (Both don't want to reveal their full names.) And for almost as long, Zhou has been friends with Daphne Butler, a self-described "White African" of Norwegian and Greek heritage, who was born in Tanzania and has lived in Kenya for the better part of her life.
As the two women sit comfort­ably in Butler's home, in Kilimani, she offers us tieguanyin, a Chinese oolong tea. Lining the walls are prints of Butler's oil paintings, large photorealistic renderings of Kenya's wildlife. On the shelves are the expected Africana knick-knacks and safari decor, such as soapstone hippos and buffalo horns. There are also Chinese cobalt vases, the odd packet of traditional Chinese medicine, large tomes with Hanzi on the spines and a slew of Witness-themed books.
In 1998, before she came to Africa, Zhou says her hus­band, who had arrived previously to work in the medical field, had "come into the truth", what Witnesses call conversion. At the time, she was not amused.
"Was Huang a Christian before coming to Kenya," I ask.
"No," says Zhou. "He was a communist."
For people to lack faith is a dreadful thing, don't you think? Before, no matter what, everyone believed in Mao Zedong, believed in something, had a bottom line

Zhou, a Chinese Jehovah's Witness
Nonetheless, she says, Huang became the first Chinese person to be baptised as a Jehovah's Witness in Kenya.
On phone calls during that time, Zhou says Huang would try to share "the good news" and "everlasting life" he had found in Nairobi. She was a doctor working long shifts in a Beijing hospital, sometimes bringing their child on night shifts and leaving him on a desk to sleep while she worked.
"Keep your good news to yourself," she would tell Huang. "I don't have time."
When she joined Huang in Kenya with their son, Zhou tolerated her husband's new-found faith, but from a distance. This attitude wouldn't last, however, and after her brief resistance, Zhou says she became the third Chinese person to be baptised as a Jehovah's Witness in Kenya. She decided she would focus her time on helping others, not just buying a few more days or years of a patient's life, but by giving "true hope" through Jehovah.
"For people to lack faith is a dreadful thing, don't you think? Before, no matter what, everyone believed in Mao Zedong, believed in something, had a bottom line," she says.
Zhou stopped practising medicine, became a "pioneer" and a few years later, she, her husband and some other Chinese speakers started the first Mandarin classes for Witnesses in Nairobi. Held every Saturday, for about 10 weeks at a time, they taught pinyin with a focus on the vocabulary of evangelism. The congregation progressed until they could hold the entire meeting in Chinese.
"I was dragged into it kicking and screaming," jokes Butler, "like what am I doing learning Chinese?"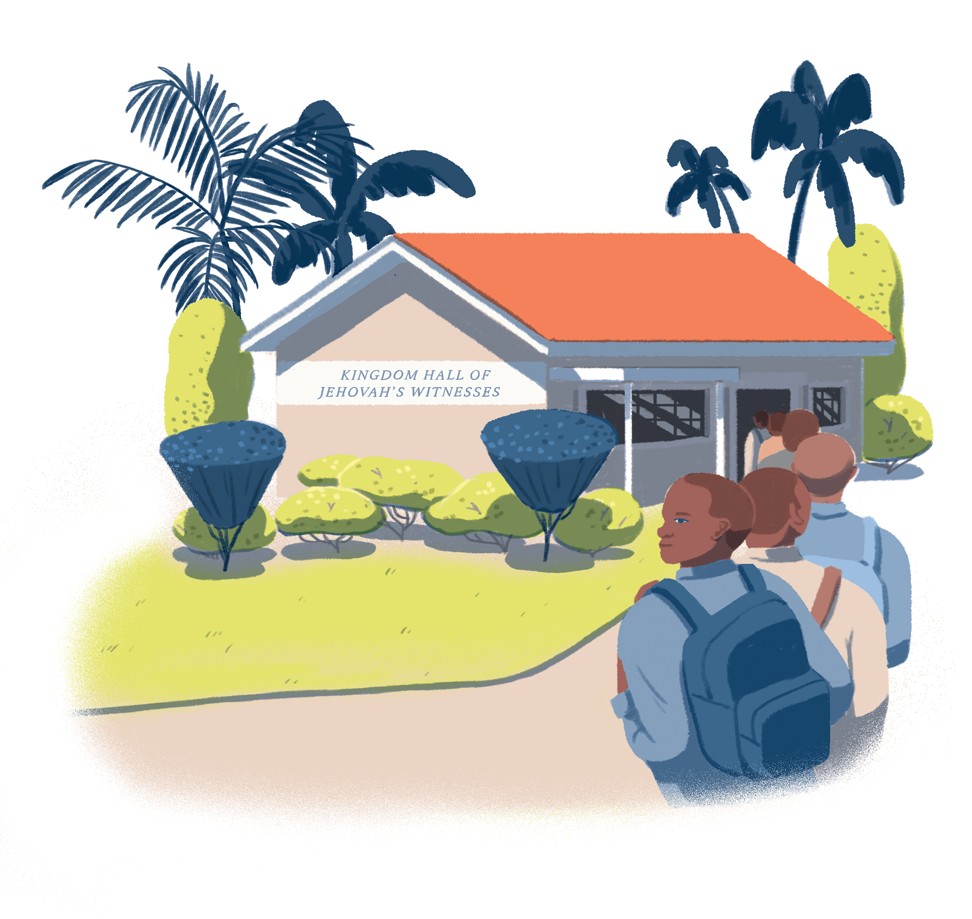 Eventually she began preaching to Chinese people in Kenya, and in matters of spirituality and the Bible, her Mandarin is near fluent, and she and Zhou often partner to knock on doors throughout Nairobi.
"Many Chinese go through life thinking of today and tomorrow but not about the bigger questions of life," says Butler. "What Witnesses understand is that we cannot change those systems. We can only change ourselves. We're not trying to overthrow these systems because God's kingdom will do that."
After the Japanese and British Witnesses left, An did attend a meeting at a nearby Kingdom Hall, and while she didn't hate it, there was little chance of conversion. She scoffs at the idea of "planting" Biblical knowledge among Kenya's Chinese, as if there weren't ideas of value that already existed; and what was this presumption that decisions made based on faith were some­how more moral than those made through reason, logic or empathy?
"People can sense a powerful person," says An. "A Kenyan missionary is willing to be rejected, even harmed by people he's trying to save. That spirit, that power, is what a lot of Chinese people lack."
While An agrees that proselytisation in Kenya in Chinese "is not forcing people to do something", the concept "is internally contradictory", she says. "If you don't think that people are inferior, you wouldn't be a missionary in the first place."