A birdcage maker and a mahjong tile carver worked with local and international artists to share their decades of experience. The fruits of their combined labours are exhibited on one of the city's trams for all to see.
It is just before sundown on a spring evening and the orchestra is already in full swing. Songbirds clamour for attention, their lilting calls lost to a cockatoo's squawks and the "doh jeh, doh jeh, doh jeh" of a blue-and-yellow macaw. The gruff calls of middle-aged men huddled around decks of playing cards and ash­trays add to the cacophony, amid which sits, cool and calm, Chan Lok-choi: Hong Kong's last birdcage maker.
"I started learning how to make birdcages in 1955 from my uncle, who referred me to one of the greatest birdcage masters in Hong Kong, Cheuk Hong," says Chan, now a sifu, or master, himself. In his late 70s, his posture, exact and graceful, reveals little of the decades he has spent hunched over, honing his craft. He gently manipulates two thimble-sized pieces of bamboo, which will be attached to miniature porcelain pots used for birds' food and water and slotted between the bars of a cage, once completed.
Chan has occupied this same spot in Yuen Po Street Bird Garden, in Mong Kok, for about 20 years, after moving from his original shop, located where the Langham Place mall now stands, on Shanghai Street. In recent years, business has declined. If it weren't for the birds he keeps in his handmade cages at his studio, Chan would have no need to return every day.
"Sometimes I come here just to feed my birds," he says. "They're why I am here. Business is not so good these days."
Bird-keeping in Chinese culture began with the banner­men – Qing-dynasty martial elites who were gainfully employed to defend their garrisons but had little to do during peacetime. Raising birds provided a welcome distraction from an untaxing existence, and to pass the time the bored elites would take their pets and parade them around the cities and lands they were paid to protect should the need arise.
As the centuries slipped by, owning birds became more commonplace – the animals descending the social hierarchy to become companions of the common man, who mirrored his military predecessor in the pride taken from exhibiting both cage and occupant.
In Hong Kong, birds were popular because they were considered easy to keep in the city's close quarters and, unlike dogs or cats, they were permitted in public housing estates. Songbirds in delicately crafted bamboo cages once added to the clangorous soundtrack of dim sum restaurants.
But with the 1997 outbreak of bird flu in Hong Kong, which led to stricter regulations regarding how and where owners could transport birds, they fell out of fashion as pets. According to 2005 census data, birds accounted for nearly 10 per cent of the animals owned in Hong Kong. By 2016, a study into Hong Kong's veterinary industry estimated that had fallen to less than 7 per cent. In the same period, dog and cat ownership rose by 72 per cent, suggesting that younger generations prefer canine or feline companions over those with wings.
As the culture surrounding bird ownership also declined, so did the demand for Chan's craft, which seems certain to disappear with him, a fact he accepts with philo­sophical resolution. "I don't want to teach anyone to prac­tise this skill as a living, because it is just not possible to earn enough money from it," says Chan, but he is keen to share his knowledge. "I learned from one of the greatest masters and I absorbed a lot from him. I would like to pass these skills on, if possible, to people who are interested."
Hong Kong artist GoHung is just such a person. Known for creating supersized 50-cent coins from cardboard – each weighing 1kg and representing the paltry payment elderly cardboard collectors receive for their haul – he turned his hand to birdcage crafting during an artists' residency, organised by art-design studio CeeKayEllo (CKL). The resulting work will be displayed on the number 61 tram until June 10, as it trundles between Shek Tong Tsui and North Point.
From last October to December, at Tung Nam Lou, a hotel and co-working space, Chan taught GoHung, who works under an alias, and French-Portuguese visual artist Frédéric Bussière, the fundamentals of his life's endeavour.
"In the first class, we spent two hours learning how to sharpen the knife," says GoHung. "The rest we spent trying to cut the bamboo into smaller pieces, filing it … basically a lot of cutting."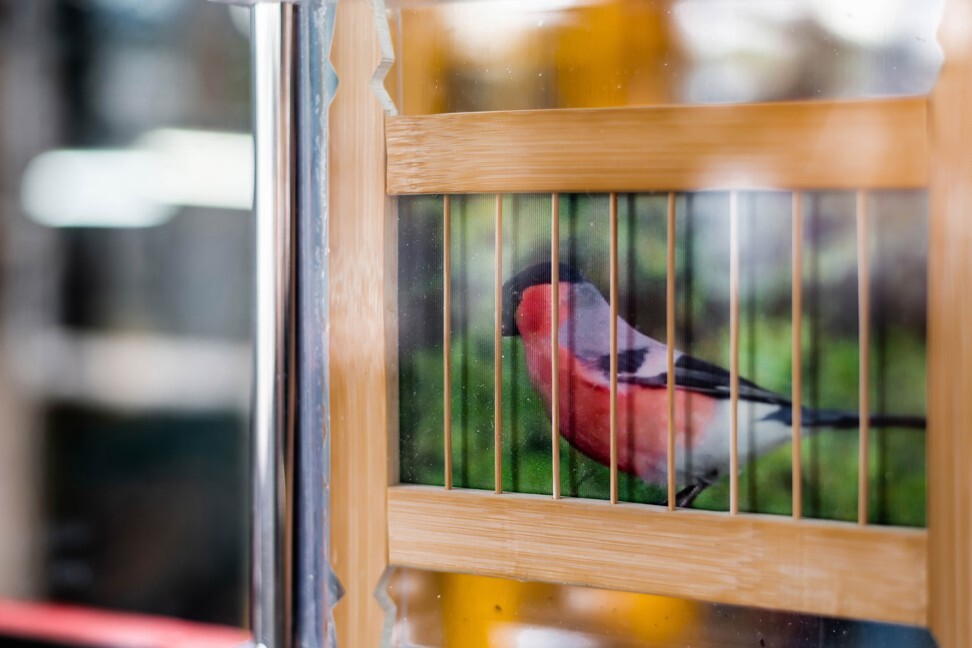 The resulting installations are two vastly different interpretations of an ancient craft. Bussière's creations place lenticular songbirds behind bamboo bars, suggesting movement and asking passengers to imagine making their journey with an avian accomplice. GoHung is more paradoxical. Uncertain on the ethics of keeping birds in captivity but aware that this mindset contributes to the eventual loss of his sifu's skills, he invites commuters to consider the experience of the caged bird.
For GoHung, working towards the exhibition with Chan made him feel "more local, more Hong Kong", because, although the craft originated hundreds of years ago in mainland China, the tools and materials are of his hometown.
Born in the 1980s, GoHung's first moment of reckoning with his Hong Kong identity came while living in London, with the realisation that people from elsewhere in Asia had names that represented their nationality while he went by an English name but was not English.
"Younger generations are trying to assert their identity," says GoHung, listing handicrafts, fashion, food and music as ways that Hongkongers are exploring and expressing themselves. "More young people are looking back to local culture to find their identity."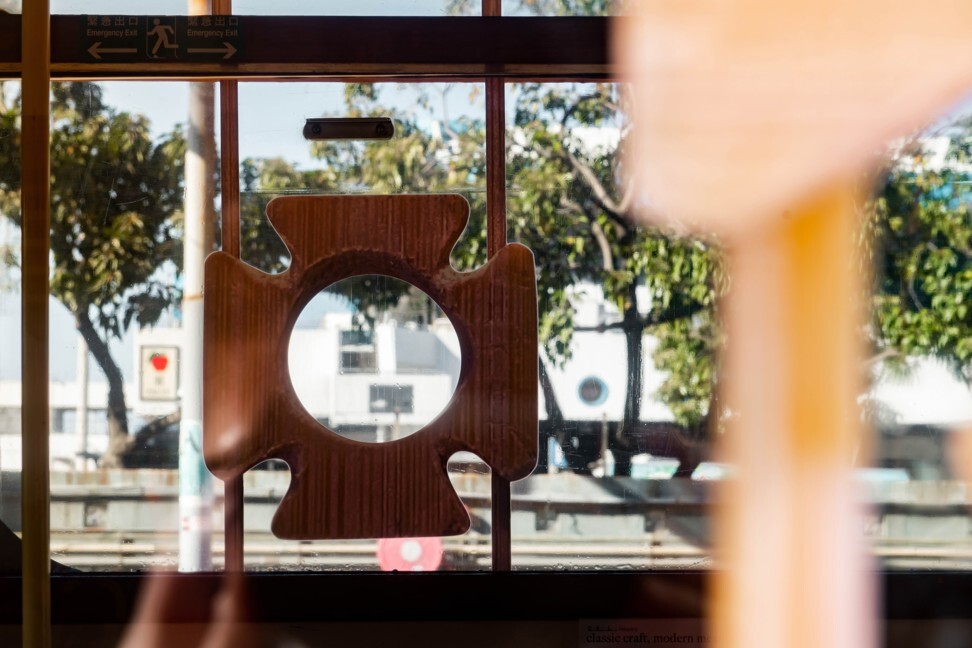 Founder of CeeKayEllo (CKL) and curator of the "Classic Craft, Modern Meaning" tram exhibition, Karen Chan Ka-lun also connected to Hong Kong culture while living abroad. "When you're away from home, you try to find something that builds up your identity," she says. When studying in London, Chan would visit Chinatown to play mahjong because it made her feel "at home". "When you're away, you see all the cues that you normally would ignore.
"I thought the best way to represent the city [with the exhibition] would be through the tram, because it's been here for more than 100 years, and all the cars are designed and crafted at the tram depot," she says, adding that Hong Kong Tramways, which is now owned by French transport operator RATP, was supportive of her idea from the outset.
"I emailed the managing director, Cyril Aubin, twice, once in English and again in French, and he set up a meet­ing for me right away," says Chan. "I showed them my past portfolio and shared my vision for the programme, which included a tram exhibition because tram craftsmanship is also a dying art."
Chan has not forgotten those cues that made her feel closer to her culture while abroad and continues to be a keen mahjong player, making her something of an outlier among her generation. A 2018 study by market research firm Ipsos found that the game's popularity had waned, particularly among young people. Only one in 50 of those aged between 18 and 24 played mahjong on a weekly basis, down from one in 12 in 2012.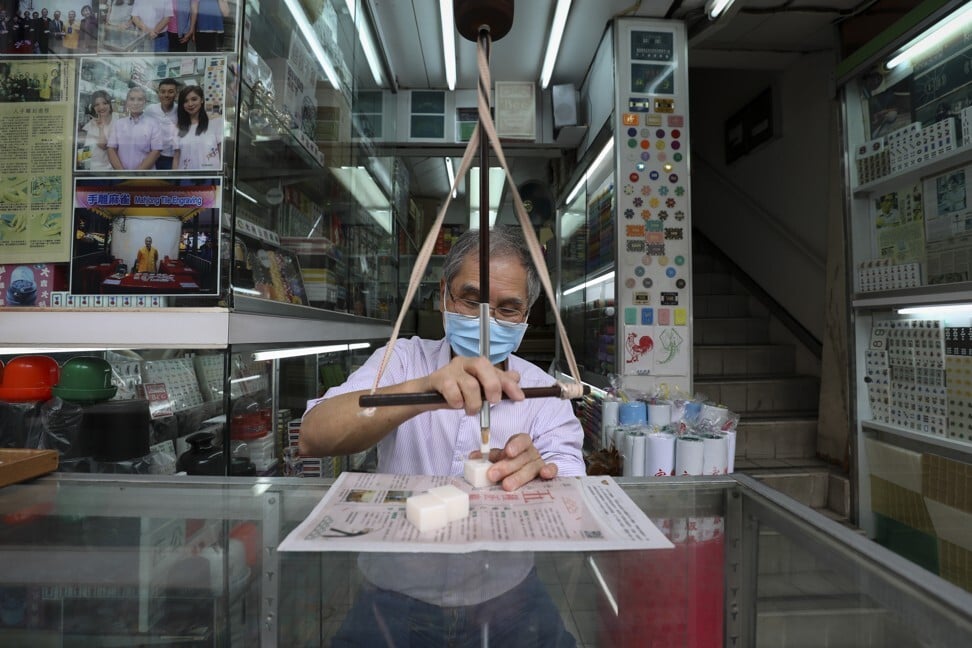 At mahjong-tile carver Cheung Shun-king's shop, Biu Kee Mahjong, established by his father in Jordan in the 1960s, business has been slowing for decades. Like Chan Lok-choi, the 67-year-old is a sifu and one of the last protectors of his craft in Hong Kong.
"There are a lot of mahjong-tile carvers in Hong Kong," says Cheung, "but there are only two or three sifus. It is easy to learn, but hard to master."Perched behind a glass cabinet displaying brightly coloured mahjong paraphernalia, Cheung engraves a bamboo design into an acrylic block as cars roar past outside. With relish, he shows how he carves the circular designs, using a wick­ed­ly toothed blade and a hand-fashioned drill, before deftly applying powder and paint – blue, red, green, in that order – to the grooves.
The game's origins are uncertain, but it is believed to date back to 19th century mainland China, probably evolv­ing from something that had been played for considerably longer. Some invoke Confucius as its progenitor, citing the ancient philosopher's love of birds – "mahjong" means "sparrows" – as well as the fact that the three "dragon" tiles correspond with the three noble virtues espoused by Confucius: filial piety, benevolence and sincerity.
Although outlawed by Mao Zedong during the Cultural Revolution, mahjong's popularity spread beyond China's borders and it was to meet the increasing demand of the 80s export market that Hong Kong's machine-fronted, tile-producing factories were established, ultimately threatening the traditional, handcrafted industry.
Cheung followed his family into the craft – his father owned Biu Kee before him and his grandfather was also in the industry, employed to polish the tiles by hand, a job that has been lost to automation over the past 20 years, according to Cheung, who is resigned to the fact that the skill he has perfected over 50 years is disappearing.
"There is nothing much I can do, there is no demand," says Cheung, matter-of-factly – if his industry is dying then he has already come to terms with it. "Everyone is just play­ing with their phones. So I have watched the decline of the industry, and I have accepted it. And I wouldn't encourage anyone to learn it; you cannot make a living from this.
He has, however, noticed that since what he calls Hong Kong's "social movement", more young people have been buying mahjong sets and playing the game "because they haven't been going to school". Having more time might have something to do with it, but so too might a thirst for cultural connection. "For us, learning the crafts and the culture that surrounds them gives us a stronger tie to our own cultural identity," says Karen Chan, explaining why she wanted to organise the tram exhibition.
Mahjong is inherent to Hong Kong-born ceramicist Amanda Tong's identity, too. "My father's side of the family couldn't live without playing mahjong," says Tong. "When I was little I would sit next to my grandma and watch her play until I fell asleep on her lap. I'm surprised I was able to in such a noisy environment."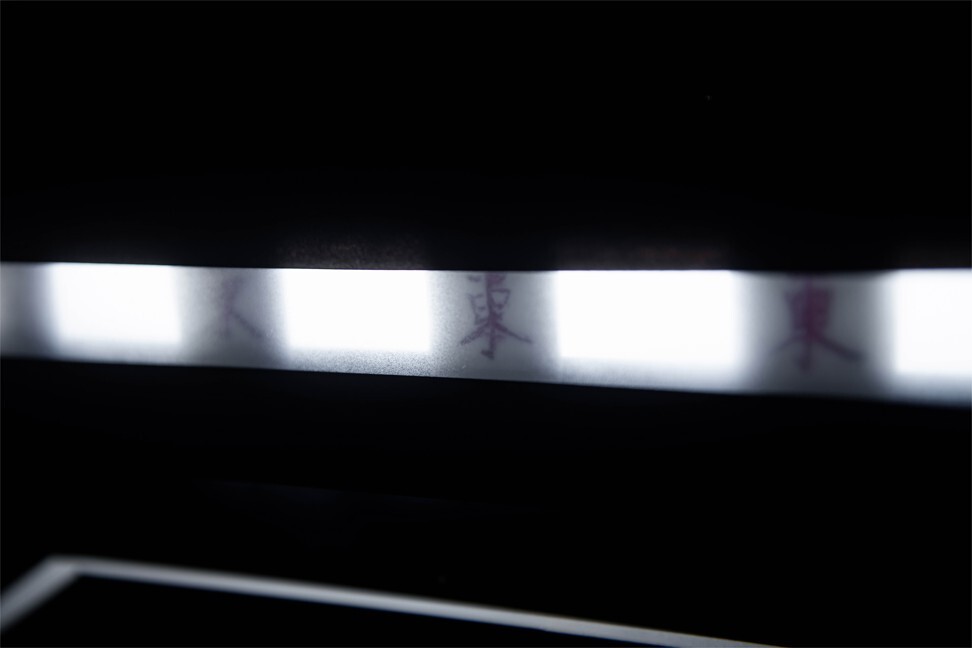 Tong had the opportunity to gain a different perspective on mahjong culture during another residency for the "Classic Craft, Modern Meaning" exhibition, in which she and Japanese ceramic artist Jun Matsumura were taught the elements of tile carving by Cheung, before applying them to their own creations. In her late 20s, Tong was chosen for her family's background in mahjong culture, as well as for previous interactive installations, including one at Wan Chai's Lee Tung Avenue that riffed on the sound of bells rung by practitioners of traditional Chinese medicine.
"I believed there would be interesting chemistry between Amanda and the sifu," says Chan, "and her site-specific works on the tram exhibition turned out to be phenomenal."
The pieces that arose from this exchange are installed on the upper level of the tram. Matsumura's work, embedded into the narrow windows that provide ventilation, uses natural light to examine the translucency of ceramics and, through traditional Japanese mahjong patterns, the way the game has been interpreted across generations.
Tong has taken a sensory approach, creating two abacus-like installations from porcelain mahjong tiles – one painted blue to evoke traditional pottery, the other left unadorned – both of which invite the viewer to interact. "I want people to touch it and feel it and just have fun with it," says Tong.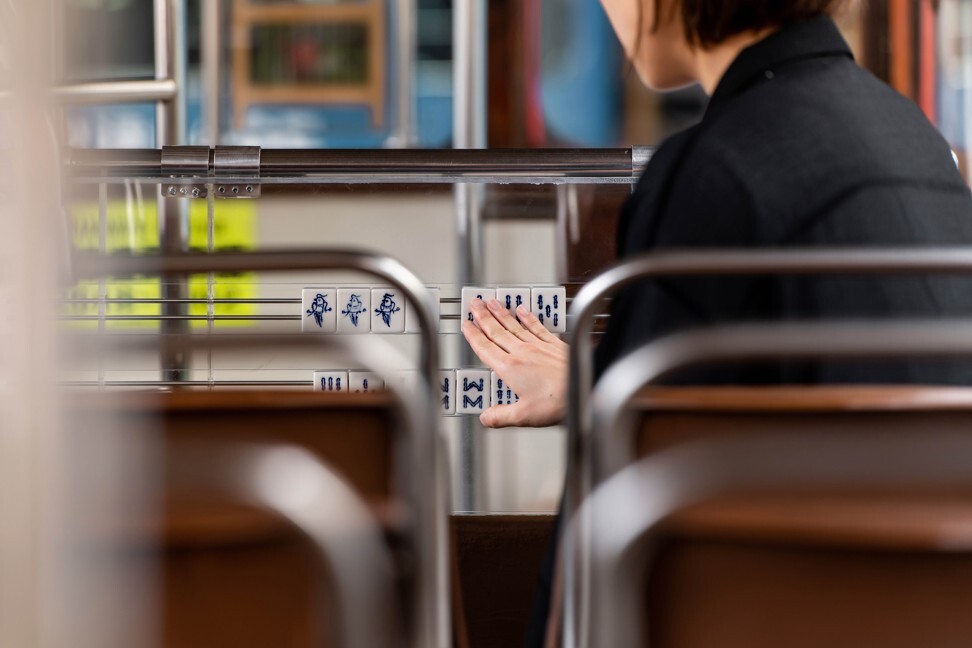 "Sometimes it is not about the result – it is not about the birdcage or the mahjong tiles – it is about the process and the stories and how these masters have been able to survive until now," says Tong, adding that she hopes to have given a "second life" to Cheung's skills through the residency.
As an artisan, Tong says she feels intrinsically connected to Hong Kong's heritage crafts and is sad to see them fade. But, having listened to the two sifus, she understands their acceptance of their fate. "It's almost like they've done their part, they are more focused on the moment, the process. And there are easier ways to do it now."
Over lunch at the University of Hong Kong's senior common room – a gloriously dated eyrie over­looking a campus that has been all but shuttered by the coronavirus outbreak – sit professor John Carroll from the department of history, and associate professor Dr John Wong, who teaches Hong Kong studies.
Both grew up in Hong Kong during the 70s and 80s, when the city was a hub of industry and automation was embraced as progress. Wong's family kept birds, but opted for metal cages rather than their bamboo antecedents because the former felt more "contemporary", and although neither Wong nor Carroll play mahjong, they acknowledge that it is often embraced by overseas Chinese as a means to feel closer to home.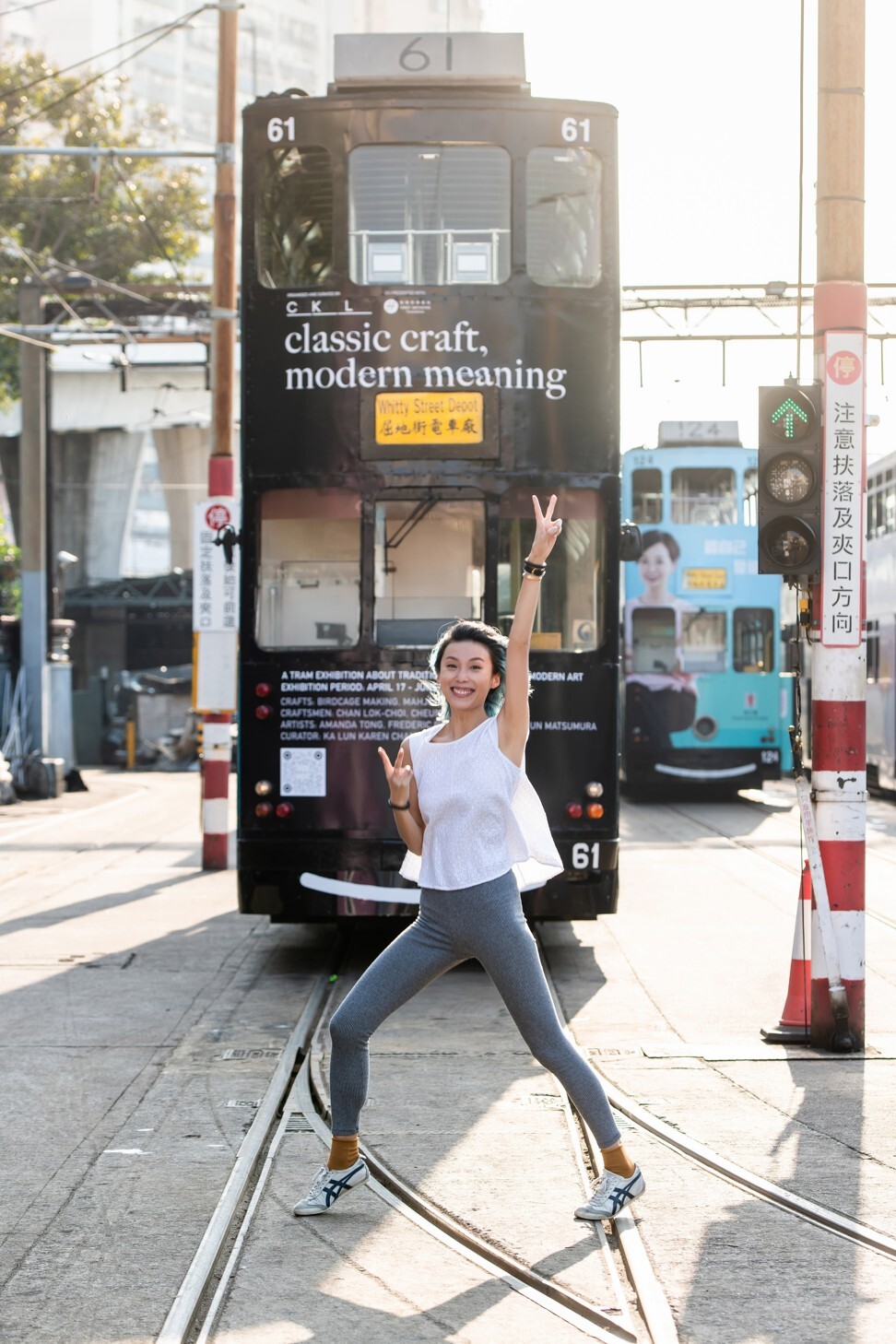 "Neither birdcage making nor mahjong have their roots in Hong Kong," says Carroll, "and you cannot lament the loss of something if you aren't also willing to support it."
As someone trying to build that support, Chan agrees. "There's a reason that birdcage making and mah­jong-tile carving are fading," she says. "We can't stop it because every society needs to evolve with technology, and there's no way it can be sustained if there is no demand. But we can slow it down. At least there is growing awareness."
Chan is also harnessing technology, creating Instagram filters for each of the artworks, which were released to coincide with the first journey taken by the tram hosting the "Classic Craft, Modern Meaning" installations, last Friday.
"For me, this experience has involved learning two extremes – traditional crafts and what is popular among young people – and then trying to combine them and build a bridge," she says. This dualism is mirrored by the themes her exhibition explores – heritage and identity, automation and progress, and how interpretations of all are almost impossibly personal. And her dives into the materials that have lent Hong Kong its unique aesthetic don't stop there.
"In my spare time," she says, "I am learning how to make neon."