As bilateral ties between the two superpowers deteriorate, hundreds of thousands of mainland Chinese students at universities in the United States are caught in the middle. And as witnessed at New York's University of Rochester, political discourse can often turn ugly
Last November, in the dead of night, dozens of paint-wielding students descended into a concrete tunnel. They were decked out all in black, faces hidden behind surgical masks. Everyone had been advised to remove any identifying markers, tell a trusted friend where they were headed, and leave their phones behind to avoid being tracked.
They scrawled messages such as "Re-education camps are prisons", "We are all Hongkongers", and "Save Tibet, our people are burning". Then, in the red and yellow of the Chinese flag on the tunnel entrance, "CENSOR THIS".
It was the third such paint job in as many days at the University of Rochester, in New York state. Much of what appeared had been there earlier in the week, but hours after the originals were put up, a group assembled by a Chinese student organisation covered them with their own messages, to counteract those critical of China with "positive energy", they said.
The university tunnels were built to allow warm passage between buildings during frigid winters, but for nearly half a century, one stretch has been open to paint on, providing a focal point for campus political discourse, and over the preceding few months the discourse had been ugly. The "tunnel wars", as they came to be known, were the culmination of an acrimonious semester.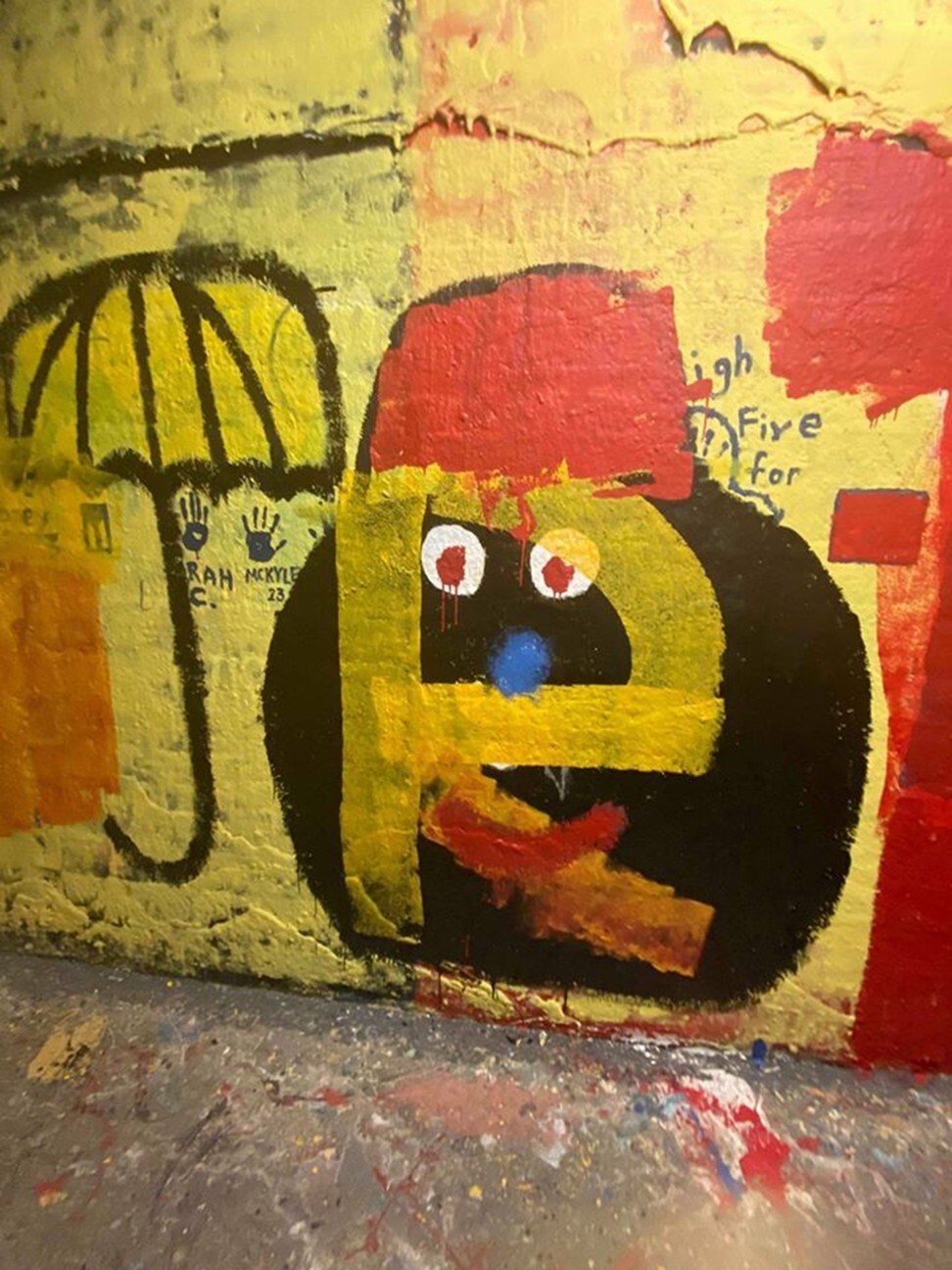 As the coronavirus outbreak has spread, already abysmal United States-China relations have been thrown into a tailspin. Caught in the middle are nearly 370,000 Chinese students enrolled in American universities, 2,300 of whom attend the University of Rochester, 19 per cent of its student body.
The Trump administration recently barred Chinese graduate students with links to universities with ill-defined connec­tions to the Chinese military from entering the US. Republican Senator Tom Cotton suggested one policy response to make China "pay the consequences" for Covid-19 could be to "stop allowing hundreds of thousands of Chinese students to come to our universities, many of which are the children of Communist Party officials".
But even before the pandemic, Chinese students were becoming an increasingly fraught political issue.
As their numbers have swollen at campuses across the US, so have clashes over events and discourse thought to be at odds with Beijing's political sensibilities. From a Dalai Lama com­mence­­ment speech at the University of California, San Diego, to a Columbia University human-rights dialogue, some Chinese students have protested such events, sometimes
demanding they be cancelled
. Others have reported fear of expressing politically taboo viewpoints, lest they be reported by classmates to authorities.
This has raised concerns that some students have become conduits of "the watchful eyes and occasionally heavy hand of the Chinese government", as The New York Times put it, be it via direct guidance from consular officials, self-motivated careerism or sincere nationalist sentiment. Some of these concerns have spilled over into outright hostility.
"It's disgusting to see that all this is happening in America as Chinese students come here to take technology and acquire skills to use against us, and then openly display their loathing for democracy and freedom in return," declared an article in conservative online magazine American Thinker.
But others say most Chinese students involved in campus politics are exercising, not suppressing free speech, and doing so in ways hardly alien to American colleges.
Last spring, the University of Rochester College Republicans – a student political club – hosted an event about religious extremism in the Middle East. Featuring a controversial speaker and falling six days after the Christchurch mosque shootings in New Zealand, it drew claims of insensitivity and Islamophobia. More than 270 students signed an online petition calling, unsuccess­fully, for it to be cancelled.
Controversial events and subsequent protests were nothing new for the College Republicans on the largely liberal campus. But for the autumn semester, the club decided it would turn down the heat and focus on topics its leadership thought would be less contentious: human rights abuses in Tibet and Xinjiang.
"I thought it was non-controversial," says Anthony Pericolo, then a senior student and president of the College Republicans. "Basically, we would highlight democratic values, how the Dalai Lama supports them, and how he's a huge proponent of the US Constitution, which Republicans are governed by."
Two separate public talks featuring, respectively, Dalai Lama representatives and a Uygur human rights advocate were announced. But Sampson Hao, a junior and president of the university's Chinese Students' Association (CSA), a social and cultural group comprised mostly of undergraduates from mainland China, "received concerns from a lot of Chinese students saying that [the events] could threaten the public image and reputation of the Chinese students on campus".
Our Chinese students are fearful not because you're having pro­grammes about China, they're fearful that their government is watching what they do, and if they attend your programme, their degree might be meaningless in their country.

Matthew Burns, dean of students at the University of Rochester, to College Republicans who scheduled talks about human rights in Tibet and Xinjiang
Two weeks before the Tibet event, Hao met with the College Republicans to discuss these concerns, saying he just wanted more information so CSA could determine whether the events might jeopardise the safety or "feelings" of Chinese students, who could then be informed accordingly. Pericolo said he wanted to stress that the event wasn't anti-China or directed against Chinese students, but felt the CSA became "pushy" over documents and specific questions that would be asked, which he wasn't able or willing to give.
Hao also sent an email to university administrators: "The speaker is here to talk about a controversial topic that belittles the Chinese government and the people. How would audiences with limited under­standing about China view the Chinese community after listening to the speech? Imagine: your understanding of the culture and the history of the United States is a blank sheet of paper, and someone gives an agitative speech on the holding camp of Japanese by US in California during World War II."
One week before the Tibet event in September, an unrelated open dialogue was held to discuss the ongoing demonstrations in Hong Kong, which the CSA co-organised with the university's Hong Kong Students Association. Protests had been raging in Hong Kong for more than three months over a litany of grievances with Beijing. Hong Kong students around the world voiced support for peers demonstrating for their city's autonomy back home, but were increasingly being confronted by mainland counter protesters – sometimes violently.
"Their motivation, I think, is that they'd read about uglier incidents between main­land [Chinese] and Hong Kong students at other universities," says John Osburg, associate professor of anthropology at the University of Rochester, who was asked to moderate the event. "I think they wanted to avoid those kinds of incidents and present the Chinese students on campus as a little more open-minded."
Osburg says not one mainland Chinese student at the dialogue expressed sympathy for the protests. "That's something I wonder about a lot – if they would even feel comfortable articulating those kinds of views," he says, noting that in his course on Chinese society, mainland students are often critical of Chinese policies when speaking privately. "Occasionally they are in class as well, but it seems increasingly like they are a little more reluctant to express critical views."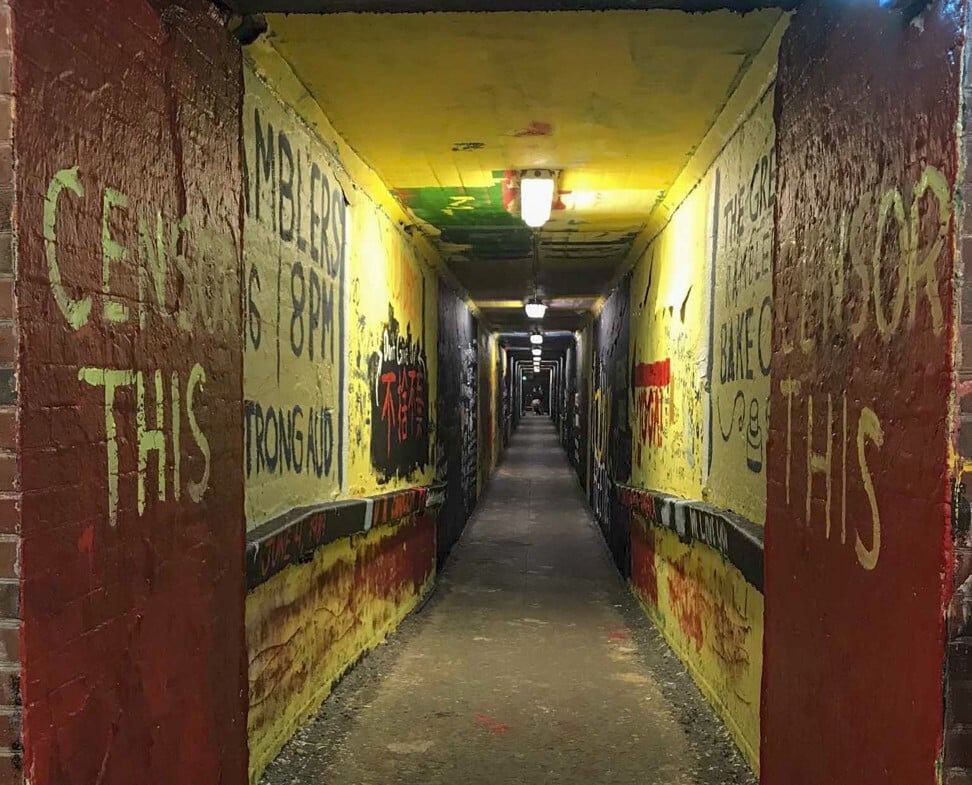 He is right. One mainland Chinese under­graduate in the audience found some points his compatriots made to be ridiculous. "Some of those arguments were so funny and so easy to debate against – I really wanted to go up and talk, but I couldn't," he recalls, speaking anonymously for fear of retaliation, using the pseudonym Tingting. "Peer pressure is one thing and safety is another, because I'm a Chinese citizen."
In the end, those who did speak up mostly just talked past one another, Osburg says. "So as a dialogue, to be honest, I didn't think it was particularly successful. But at the very least, there was some civility. People weren't shouting at each other."
One of the main debaters at the event, a Chinese sophomore and political science major named Xu Yifan, regarded it as a success. "I felt like we had a very good example during the Hong Kong dialogue," he says. "We [mainland and Hong Kong students] had a better relationship after that event."
When Xu found out about the College Republicans' Tibet event, he was upset by its "one-sidedness" for including only speakers affiliated with the Dalai Lama, despite being advertised as a dialogue. "That's not a dialogue," he says. "It's kind of political propaganda – trying to spread how the CCP [Chinese Communist Party] treats Tibetans so badly."
Xu was born in rural Anhui province and saw the fruits of China's rapid, authori­tarian-directed growth first hand as living standards in his hometown improved. His father started a successful business, making enough to give Xu an American college education. So the way Xu sees it, extensive individual rights are a worthy goal for the future, but they should take a back seat to development – particularly in poorer regions such as Tibet.
"When you find people like farmers in China and ask about freedom of speech, democracy, the right to vote, they only care if they can raise their children," he says.
Xu claims there are aspects to the Tibet situation glossed over in Western media and prevailing American understandings of the region – namely, that the Communist Party's hardline policies stem from concerns of terrorism. "[Americans] do have freedom of speech," he says. "But you definitely need to consider how Chinese students consider the events."
Xu found five other Chinese students to help crystallise his arguments and asked the event's organiser, College Republican member Se Hoon Kim, if they could give a rebuttal at the event. Kim offered five minutes during the Q&A and thought that had settled the matter. But over the next few days, he began hearing of an unauthorised event flier posted by Xu's group around campus. "'Freedom' or Terrorism: Truth Behind Tibet", it read, accompanied by photos that would create more controversy.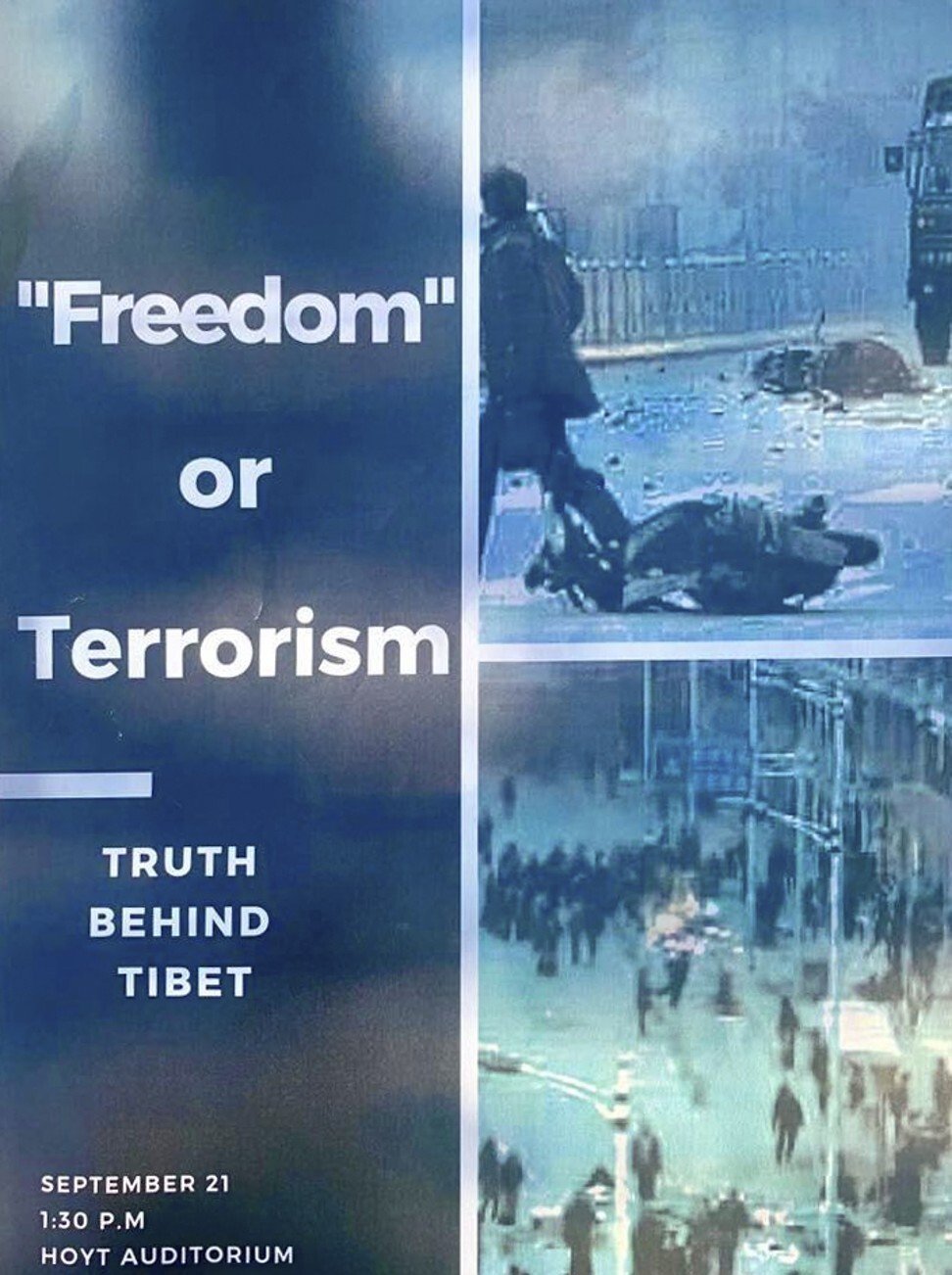 Gongyal, a Tibetan sophomore, was furious when he saw the flier. He had fled Tibet with his family to India when he was 12 years old – a 27-day journey he said involved hiding in a furniture truck, walking through snow-covered mountains, and going days without food. But it allowed him to study at a Tibetan school and learn his native language and religion without suppression from Chinese authorities.
The two photos on Xu's flier came from violent protests that rocked the Tibetan capital of Lhasa in 2008, and Gongyal took special exception to one of them. "There are thousands of pictures out there but he chose to use this one, and I believe he has a target for doing that," he says. "They put up a picture that depicts a person self-immolating in the street of Lhasa, burning themself alive, and he's putting that picture as 'freedom or terrorism'."
Most of the campus, the student news­paper, the College Republicans and even Xu accepted this characterisation of the photo. "After the event, we realised the picture was self-immolating and we felt a little bit terrible," Xu says. "For Tibetan students, that matters, that's a sensitive thing and we respect that. So I apologised, but after that, the College Republicans said that we inten­tionally used the self-immolation picture, and that's not true."
But unbeknown to Xu and everyone else involved, the photo wasn't what it appear­ed. It was the first of many misunderstand­ings that would exacerbate tensions.
"There's definitely some subjective opinions, but I think that's OK. We have freedom of speech here. We're in the United States, but like, try to hear another side."

Xu Yifan, Chinese sophomore and political science major
Four days before the Tibet dialogue, College Republicans representatives met with the dean of students, Matthew Burns, to discuss the event. "You strike fear in the hearts of some of the Chinese students," Burns said at the meeting, as confirmed by a recording. "Do you understand why?"
He mentioned the University of Calgary, in Alberta, Canada, which awarded the Dalai Lama an honorary degree in 2009, followed soon thereafter by the Chinese government taking it off its list of accredit­ed foreign uni­versities. The move reported­ly prompted some Chinese students at the institution to transfer for fear they wouldn't be able to get jobs in China, though the accreditation was restored in 2011.
Burns also cited the Dalai Lama's 2017 commencement address at the University of California, San Diego, which was followed by a Chinese Ministry of Edu­cation scholarship council ceasing funding for new scholars to attend the college.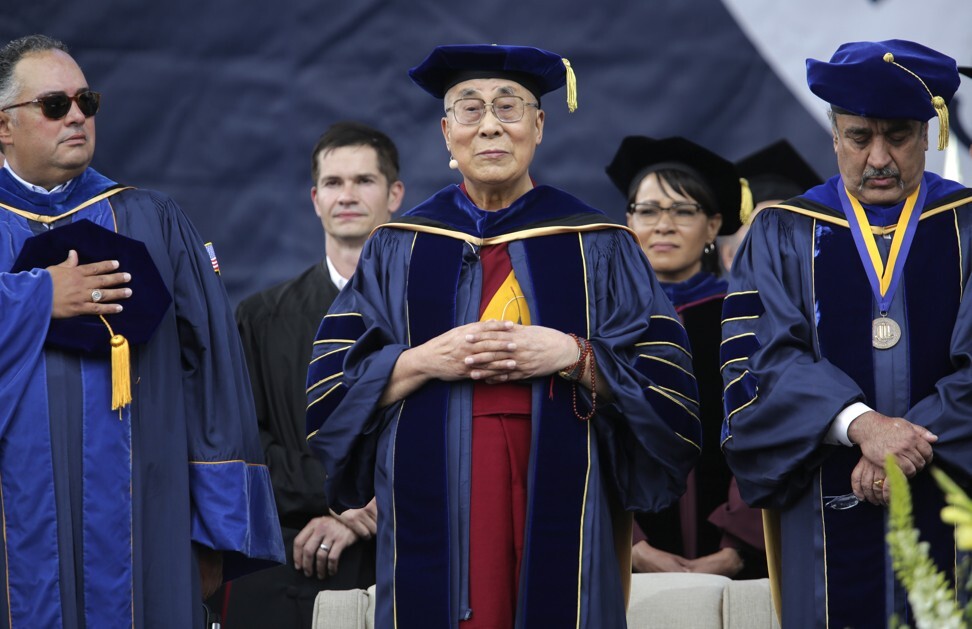 "Your being here does not mean I don't want you to have this programme," Burns assured the College Republicans' representatives. "I will not shut down your programme, I'm not going to tell you what to do – never have, never will […] But I also want you to walk into this wide-awake. Our Chinese students are fearful not because you're having pro­grammes about China, they're fearful that their government is watching what they do, and if they attend your programme, their degree might be meaningless in their country."
Erich Spaker, the College Republicans' vice-president, says he walked away further convinced the school would rather the events did not happen. "Administration has gone out of their way to not say any­thing that can be construed as interfering with us," he says. "But it has also been clear from some of our interactions with them that they really aren't happy about these events."
Burns denies this. "I can see them saying that," he says. "But I don't think I'm known on campus for saying something I don't mean. If I thought they should cancel the event, I would have said I think you should cancel the event. I would never tell them they had to."
Burns acknowledges Chinese students have become important to the university financially, but denies being intimidated by the prospect of the Chinese government trying to diminish enrolment. "I think it was a thought in my mind," he recalls. "But as soon as it comes in my mind, I think, 'But this isn't a Chinese institution. If this happens, it happens. American education ought not be influenced by what the Chinese government mandates.'"
Later, in a meeting with the College Republicans, Burns added one more note of caution, saying they should account for the possibility that some Chinese students protesting their event might benefit from it. "Whether or not they agree with it, many of them are government sponsored and looking for positions in the [Communist] Party. That'll look good for them."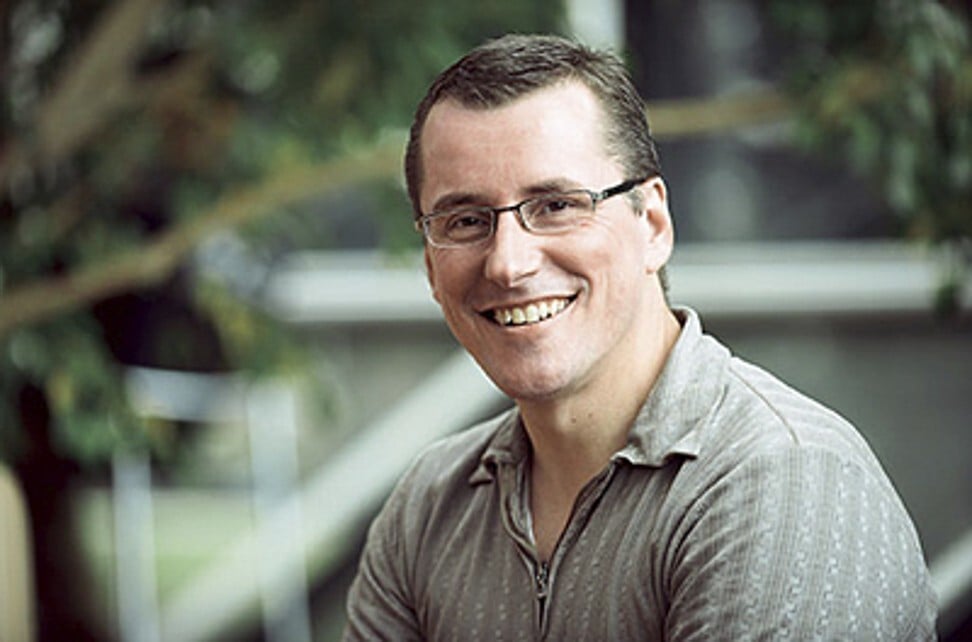 The Tibet event was attended by only a few dozen people. Xu and his group handed out 13-page pamphlets they had compiled to counter what they described as "one-sided political propaganda". Several conclusions it drew were dubious, though the preface acknowledged it was thrown together quickly and "may not be perfect".
Xu says he never wanted the event cancelled and was happy to see discussion of sensitive Tibet issues – something he thought his Chinese classmates should be exposed to. He doesn't necessarily even think what the Dalai Lama representatives said was wrong. "There's definitely some subjective opinions, but I think that's OK," he says. "We have freedom of speech here. We're in the United States, but like, try to hear another side."
He rushed through his five-minute rebuttal, flipping through the pamphlet as the audience jeered. Afterwards, Kim held up one of the controversial posters and excoriated Xu for what he said was "grounds for defamation" in mis­representing the event and using a self-immolation picture.
In fact, the flier did not depict a self-immolation – something nobody involved seemed aware of until the reporting of this story. One photo showed wreckage of a burned-out motorcycle at the Lhasa protests, and the other, debris being burned by protesters.
Regardless, few appeared swayed by Xu's arguments. "There wasn't a single person in the audience that bought a single word from that packet," says Spaker. "I think the fact that they did that gave an idea of the political landscape in China […] it indicates a level of propaganda, state control, lack of freedom of ideas and the brainwashing that goes on."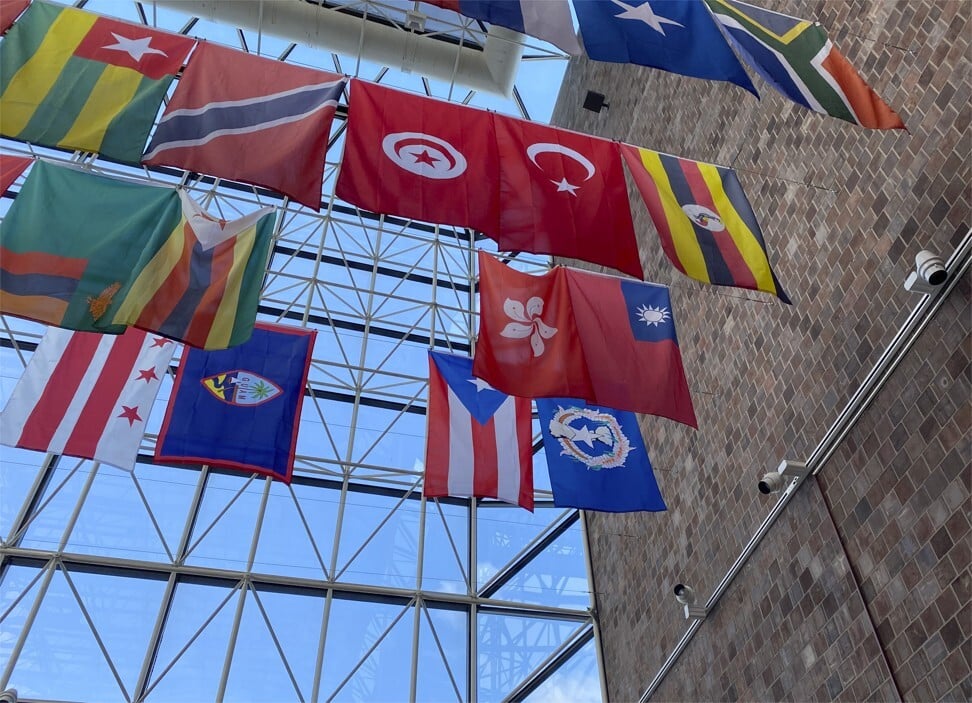 But Spaker doesn't necessarily think Xu and the others have been brainwashed. "I think they know exactly what they're doing," he says. "Chinese students in the United States, by and large, the way they get here is they're children of somewhat powerful party members. I think it might be more along the lines of like, they're playing the game, they're trying to win points back in the mainland."
There exists, however, no data on what proportion of Chinese students in the US have Communist Party family members (much less "powerful" party members). A 2018 survey of Chinese students at Purdue University, in Indiana, found 13 per cent were themselves party members, though membership isn't necessarily an indicator of ideological belief or government ties.
Many join simply as a curriculum vitae booster, and plenty among China's emergent middle and upper classes can afford a foreign education without the benefit of political connections. Xu laughs at the idea he is trying to win points with the party, saying his only connection is that his grandfather was a member (along with 90 million other Chinese).
He did try to join while at the University of Rochester out of a patriotic desire to somehow help China, but when he emailed the consulate, he received a terse reply saying it doesn't offer this service. Just as well. "Joining the CCP brings nothing good for me now," he says. "If I pursue a further degree, or try to get a job with a PhD in the United States later, it could bring problems."
After the Tibet event, Kim and Xu shook hands and it seemed to mark the end of a minor conflict. Then something happened that would elevate tensions into a campuswide controversy.
Two days after the Tibet dialogue, Kim, Gongyal, and a few other Tibetan students met three Buddhist monks at a student union Starbucks, where they discussed Buddhism and meditation. But then, according to Kim's account, a Chinese student set up a chair with a printout that said, "Tibet is part of China".
Kim says things escalated, with two other Chinese students joining and trying to instigate a conflict. He and the monks, feeling threatened and confused, got up to leave. "As we walked towards the exit, they were coming so aggressively that, honestly, we basically got chased out."
None of the Chinese students involved could be reached for comment.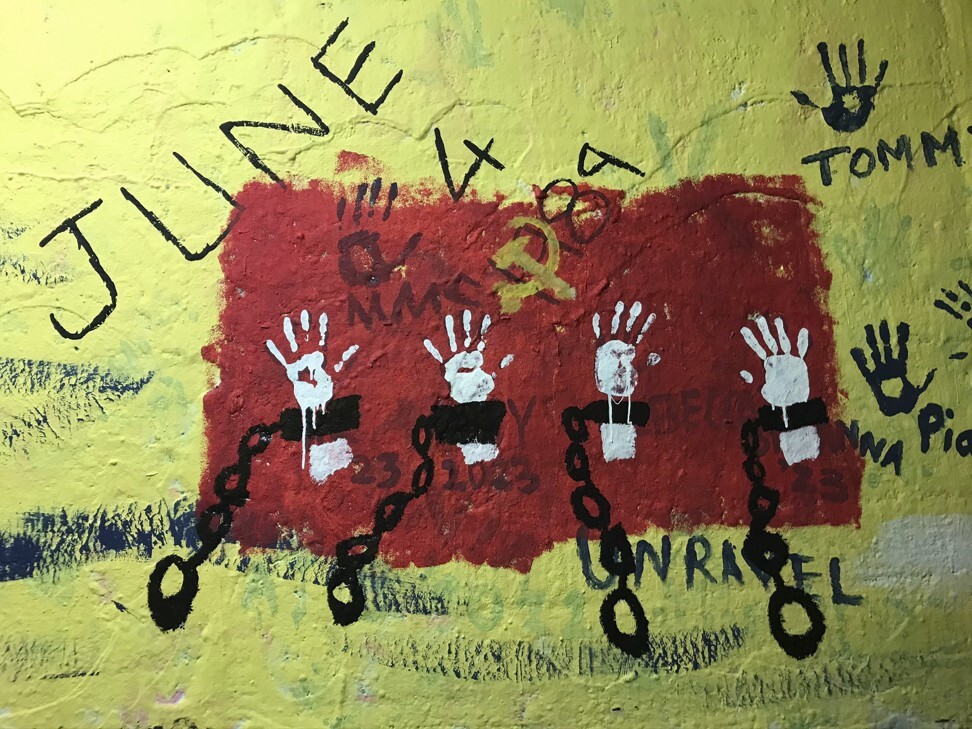 Word of the incident spread quickly, with several different versions of what had happened, including some demon­strably false rumours. Some Chinese students without Facebook accounts joined the social media platform speci­fically to air their views; some expressed regret and stressed those involved didn't represent them, while others argued over Tibet, Communist Party rule and what constitutes "terrorism".
In what would become a recurring theme, students making arguments on both sides frequently made exaggerated or unsubstantiated claims and shared links from dubious sources to bolster their points, ranging from the Falun Gong-backed Epoch Times to the Communist Party's Xinhua news agency.
Antipathy was intensifying beyond Facebook. The University of Rochester allows students to report "bias-related incidents" of discrimination based on ethnicity or national origin. In the weeks after the Starbucks incident, more than 50 such reports were submitted.
According to the student newspaper, Campus Times, some students – Tibetan, Chinese and others – were "beginning to feel unsafe, targeted. Some had stopped going to class. Others were having nightmares". Gongyal says he felt neglected by the university. "They never mentioned anything about us [Tibetan students], how we feel unsafe being a minority on campus – just five students."
Many Chinese students also felt uncomfortable. On an anonymous Facebook message board, one complained of wide­spread discrimination. "Most of us are pretty simple, focusing on study, willing to make friends and step out of our comfort zones," the post said. "But now I may be grabbed by someone in the Starbucks, asked to take a side, forced to comment on incidents that I have no idea [about] at all, and regarded as 'brainwashed' and 'spy'."
Efua Agyare-Kumi, a student reporter who covered the events for Campus Times, says one thing exacerbating tensions was that Chinese students were already rela­tively isolated on campus. "So I think some people were struggling to find a sense of empathy," she says. "When this happened, people found it so easy to villainise. You can't attach a face to the Chinese students here if you've never gotten to know any."
Making matters more contentious was the College Republicans' second upcoming event, on the large-scale detention of Muslim Uygurs in Xinjiang. Hao, the CSA president, says that after the Starbucks incident, a shadow was cast over Chinese students at the university, and many were starting to "feel threatened emotionally and even physically". So he submitted a letter to the All-Campus Judicial Council, a student body that addresses alleged violations of the student conduct standard.
"Given the significant biases within such events, we request the school to cancel the upcoming Uyghur event to avoid potential conflicts," it read. "Moreover, for the future, we would like the school to investigate into events that are potentially political to see whether there are perceived biases."
Hao later claimed he never wanted the event to be cancelled; his main grievance was that the College Republicans weren't being transparent or sensitive to how Chinese students were being treated. "It has nothing to do with politics, nothing about freedom of speech," he says. "It's simply about harassment and bullying."
When Pericolo saw the letter, he was mortified that the CSA was trying to shut down his event, and it implied to him a connec­tion with incidents of the preceding weeks. He posted his own letter on Face­book calling for a conduct investigation into the CSA.
The opposing letters spread on social media and, in a development rare for the College Republicans, campus sentiment overwhelmingly shifted to their side. Even the College Democrats issued a statement of support for them.
Over the following days, students again clashed on Facebook. Memes aimed at the CSA were created, including one suggesting the group was wilfully blind to the 1989 Tiananmen Square protests and crack­down, even though it had never been an issue in the disputes. That week, Campus Times published an editorial criticising the widespread monolithic treatment of Chinese students, as well as the "racist and stupid" Tiananmen Square meme. Discourse is important, it concluded, "but you need to be civil, open-minded, and humble. Not being racist helps."
Agyare-Kumi says some Chinese students she spoke to felt any opinion that wasn't a full-throated defence of democracy or condemnation of the Communist Party would be written off. "There wasn't really any room for people to flesh out the complexities of their opinions," she says.
"On the side of [students] who were for Western ideals, there was little attempt to [try to understand the other side]. But I did genuinely feel when I talked to Chinese students that they wanted me to under­stand where they were coming from and why. But that was always interpreted as, 'Oh, you're just going to say everything you've been brainwashed into by the Chinese government.'"
In recent times, anti-American rhetoric in China has increased under the nationalistic rule of Xi Jinping, and efforts to tighten the Communist Party's ideological grip have included overseas initiatives. One 2016 Ministry of Education document called for a network linking "the motherland, embassies and consulates, overseas student groups, and the broad number of students abroad" to harness "patriotic energy".
Communist Party organs have all but incentivised students abroad to speak up on behalf of CCP-friendly viewpoints, praising them publicly when they do so, and some­times retaliating against those voicing criticism. After a graduating
Chinese student at the University of Maryland gave a commencement speech
in 2017 praising American freedom of speech and clean air (tacitly impugning China's lack thereof), she was vilified in state media and had to go into hiding. One Chinese student at the University of Minnesota was even sentenced to six months in prison on returning to China after posting tweets mocking Xi.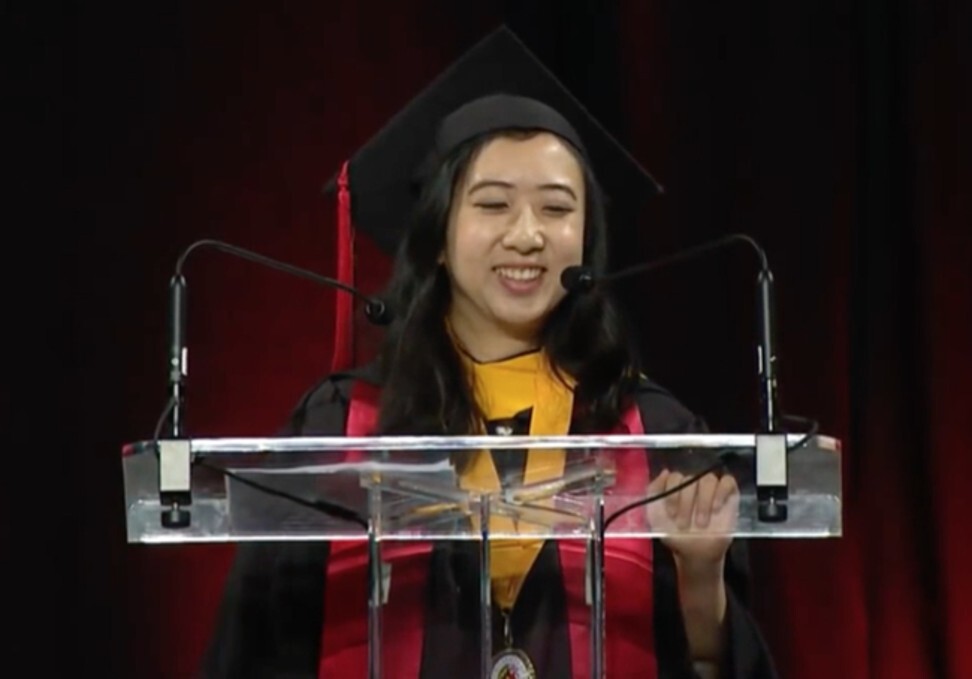 Many Chinese students on American campuses say they are caught uncomfort­ably in the middle of the US-China conflict – afraid to air views that might rile any side. But others have found new strength in numbers. Coupled with the feeling that many Americans are ignorant or biased when it comes to China, some feel greater solidarity with compatriots and an instinctive need to speak up.
This comes as "culture wars" have been intensifying on US campuses. Controversial speakers have routinely encountered cancellation attempts – from Senator John Cornyn at Texas Southern University to a former Immigration and Customs Enforcement official at the University of Pennsylvania – and some professors have been put on ideological "watch lists".
Chinese students protesting over speakers critical of Beijing have grown to occupy a unique niche, sometimes invoking the language of liberal causes. When the Dalai Lama gave the commencement speech at the University of California, San Diego, some Chinese students and alumni protested on the grounds it violated "diversity and inclusiveness". Some adopted the hashtag #ChineseStudentsMatter.
Prominent Republicans have drawn a connection. When Chinese students at Johns Hopkins University, in Maryland, started an online petition to cancel or reformat a talk with Hong Kong activists, Senator Cotton tweeted, "CCP stooges are adopting tactics of the 'woke' left in an attempt to shut down free speech on American college campuses".
Hao says he has noticed that more Chinese students at the University of Rochester have become willing to speak out on a variety of issues in the past two or three years. "And I see that totally as a good thing," he says. "What's the norm? Chinese students being quiet, studious, good at math. It defeats the norm and that's good. We need diversification among Chinese students."
But attempts to align Hao with the American "left" are complicated by some of his other political views. He first moved to the US when he was 15 years old to attend a high school near Chicago that was "extreme­ly liberal" and the political correctness could seem obnoxious. "I was tired of that BS," he says. "We had a meeting every week talking about microaggressions or cultural appropriation – every week, a meeting for hours."
Going to the University of Rochester pushed him further to the right and increased his annoyance with liberal causes. "A lot of people think it's hilarious to claim you're an American conservative while being a Chinese citizen, but I am. I can tell you with a straight face. Obviously, I also disagree with what Trump does, but I'm definitely not a current Democrat," he says.
He describes Pericolo as a "good kid" with moderate conservative beliefs whom he respects. He says it was only their respective roles under the circumstances that led them to clash. "We're basically like Hitler and Stalin," he jokes. "They could have been great friends."
The CSA and College Republicans ultimately dropped their formal complaints and were encouraged to attend a "restorative circle" to resolve their conflict. But Pericolo was disappointed the university never made a public statement affirming students' freedom of speech, condemned the alleged harass­ment during the Starbucks incident, or punished Xu for making misleading event posters. He specu­lates that the fees derived from Chinese students enabled the alleged inaction.
"A lot of Chinese are brainwashed by the Chinese govern­ment, just like a lot of Americans are brainwashed by Donald Trump."

Sampson Hao, president of the University of Rochester Chinese Students' Association
"Free speech was being jeopar­dised and there was potentially something more insidious happening on campus," he says. "You know they want to minimise negative attention to the univer­sity, even if it means not clearly standing up for our rights." But he was also disturbed by people throw­ing around terms like "brainwashed" to describe Chinese students.
"I think that's very hurtful because that implies the Chinese here on campus are a monolith, which they're not," he says, noting some had privately expressed support for his events. "And that also plays into what Xi Jinping is trying to do. He wants China to be a one-party communist monolith where people take what the party says as truth."
Hao is less bothered by the term. "I don't think all Chinese people are not brain­washed," he says. "A lot of Chinese are brainwashed by the Chinese govern­ment, just like a lot of Americans are brainwashed by Donald Trump."
The Uygur event that sparked so much conflict ultimately went off without a hitch, and the controversy seemed to bolster atten­dance – hundreds packed the audi­torium, compared with the few dozen at the Tibet event. The conflicts seemed to reach a detente, but it was short-lived. Another University of Rochester organisa­tion, the Chinese Students and Scholars Association (CSSA), had stayed uncharac­teristically quiet up to this point, but that was about to change.
For 25 years, a University of Rochester lounge had displayed flags reflecting the student body's various nationalities. For International Education Week last November, they were updated to reflect the new cohort, but there was a new policy: regions not recognised as countries by the United Nations were moved to a separate space. The only two flags moved were those of Taiwan and Hong Kong, while Kosovo, also not recognised, remained in the main display.
"If you can blatantly depict the CCP as evil on campus, how will that make us feel? Are you saying that all communists are evil? That my grandparents are evil? That I'm evil? Are we going to feel welcomed and safe?"

A mainland Chinese student
The change had been planned since the previous semester, but many students regarded the timing as suspect. "This is yet another example of our spineless administration sacrificing campus unity to appease the loudest voices," wrote one on a university Facebook forum. "Let's waste more time and university money skirting around the problem rather than stand up to China," wrote another. "But China is university money," responded a third.
A Reddit post with more than 2,100 upvotes falsely claimed the flags had been moved "after several protests on campus were disrupted by Chinese national students". There was no indication any sort of physical protest related to China had occurred at the university that semester, much less any disrupted by Chinese students.
But for junior Warish Orko, the implied marginalisation of Taiwanese and Hong Kong students was bad enough. He had also been following the protests in Hong Kong and sympathised with its students at the university. "I do care about making this campus feel like a welcoming space," he says. "We're insulated and safe here."
After the flags were moved, Orko and others organised about a dozen students to paint murals of support in the tunnels.
The mood was light as students from around the world painted flags of Taiwan and Tibet, along with yellow umbrellas to symbolise Hong Kong's democracy move­ment. There were messages in multiple languages saying such things as "Stand with Muslims", "Free Tibet", "Free Hong Kong", "I love Dalai Lama" and "June 4, 1989".
"Music from all over the world played," Orko recounted in Campus Times, "and while the words were lost on me, I didn't need to know the language to comprehend the spirit of solidarity."
Twenty-four hours later, it was all gone.
The murals angered many Chinese students, some of whom felt phrases like "Free Hong Kong" and "Free Tibet" promoted independence from China; and that supporting Hong Kong protesters implied condoning violence against police and mainland Chinese. Some claimed the anti-Communist Party messages incited hatred against Chinese students.
"Many of us have a connection to the CCP somehow," says one mainland student, who wishes to remain anonymous. "If you can blatantly depict the CCP as evil on campus, how will that make us feel? Are you saying that all communists are evil? That my grandparents are evil? That I'm evil? Are we going to feel welcomed and safe?
"Compare this to painting that Islam is evil after 9/11," he says. "How will that make Muslim students feel?"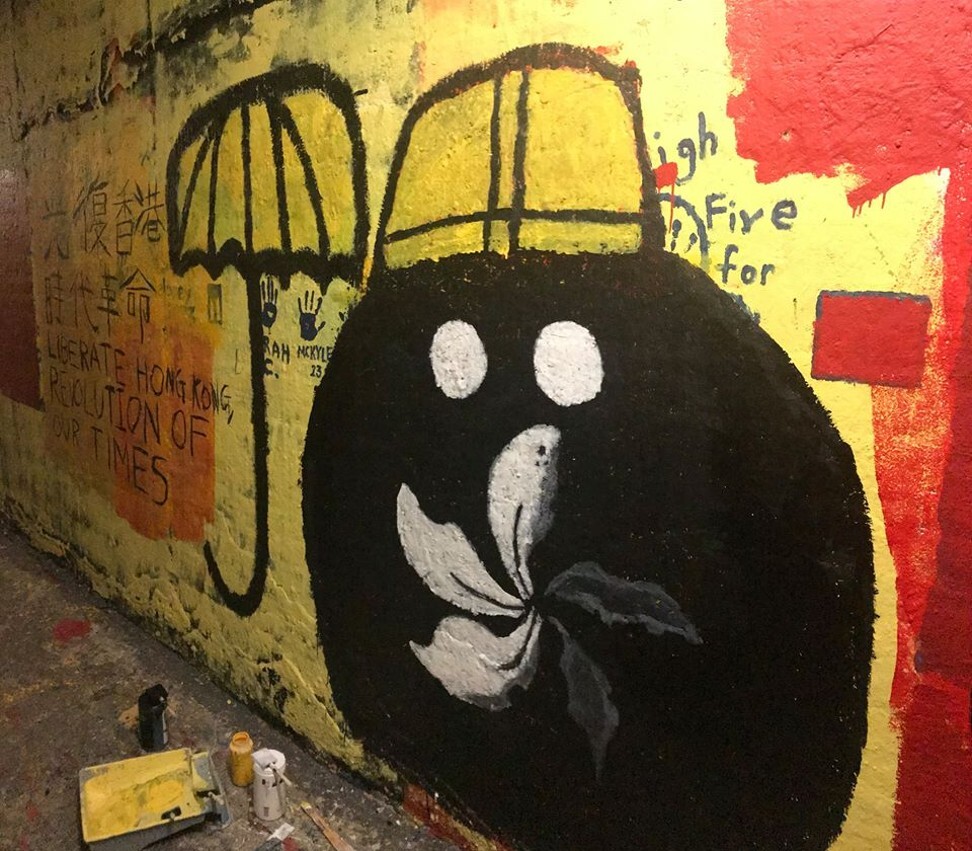 But not all Chinese students were angry. "I thought the pictures were cool," says Tingting, the pseudonymous mainland undergraduate who had held his tongue at the earlier Hong Kong dialogue. "I feel like it's a very weird nationalism [some main­land students displayed]. They didn't really want to hear what the other group was saying."
But few expressed sentiments like that in the WeChat groups that lit up after the painting spree. Some even floated the idea (perhaps jokingly) of fighting whoever painted the murals. Tingting recalls a student in one group suggesting calm and consideration on both sides, then being accused of not loving her country.
"Someone said, 'If you don't want to participate in our movement, then remain silent, don't say a word,'" Tingting says. "I couldn't believe it. When we're hanging out or studying with friends, everyone seems normal and cool. But when this stuff was coming out, you suddenly felt like your friends became someone else."
Soon after the murals were painted, a CSSA executive board member posted a message on an open WeChat group. "The CSSA has expressed fury and strongly condemned any anti-China messages that aim to split China and any actions that threaten Chinese students' safety," it read. "We have already contacted the university and will reach out to the New York Consulate to take action."
The CSSA (which is entirely separate from the CSA) has chapters at hundreds of universities internationally that primarily facilitate social events, career networking and practical assistance to Chinese students navigating life abroad. Most chapters have contact with their regional Chinese consulate and receive some fund­ing – enough to cover activities such as an annual party – and help with practical issues such as student safety. But there have been documented instances of more politically charged coordination.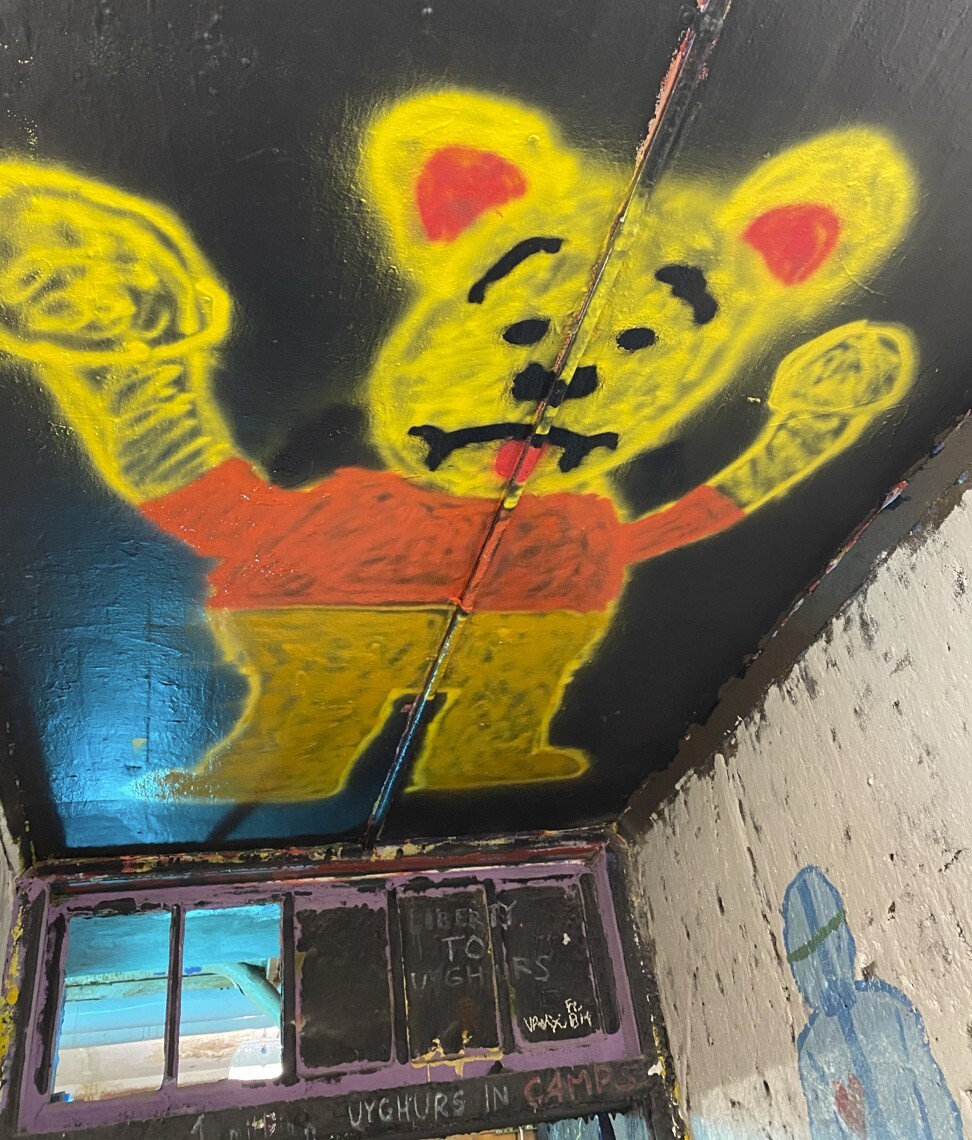 The WeChat message said students must "act rationally and cautiously", and could help by filing bias reports or "at 10:00pm today, we are going to paint words that promote positive energy in the tunnel. CSSA has prepared paint and brushes".
The CSSA didn't respond to a request for comment through its official email. But according to one CSSA leader, who spoke on condition of anonymity, the intention was only to paint on one section adjacent to the original murals to present different views and "positive messages".
"That was our original plan," the person says. "But things went totally out of control."
Another CSSA member, also speaking on condition of anonymity, recalls that people were very emotional at this point, and there was little dissent about the proposal to paint in the tunnels. "Most people were so worked up, so if I explicitly said you shouldn't go, or I won't go, that'll make it look like I'm betraying my country. It's peer pressure. The only thing I can do is not advocate that event in my circles or encourage anyone else to go."
Tingting says some friends went to the tunnels unenthusiastically. "Lots of people didn't have a very strong reason. They don't think either side is completely right. They just felt, emotionally, they should go."
Dozens heeded the call, but an argument broke out when they arrived. A few were angry to the point of shouting, insisting all the murals should be painted over. Others tried to talk them down. "But those people were very strong-willed," the CSSA leader says. "Some students brought their own paint and brushes, so they just started painting over and we couldn't do anything about it. We just made sure they didn't paint anything too extreme."
Large animals were drawn to obscure previous images. "I love Pandas", "Peace and Love", "Stop Violence" and "I love China. I'm from Xinjiang" were among the messages written. A picture of a masked Hong Kong protester was altered in a way some later interpreted as a mocking caricature of a Muslim Uygur – though most Chinese students interviewed say it's unlikely that's what was intended. At one point, a man belted out a patriotic song in a loud operatic voice, and within two hours, most of the original murals were gone.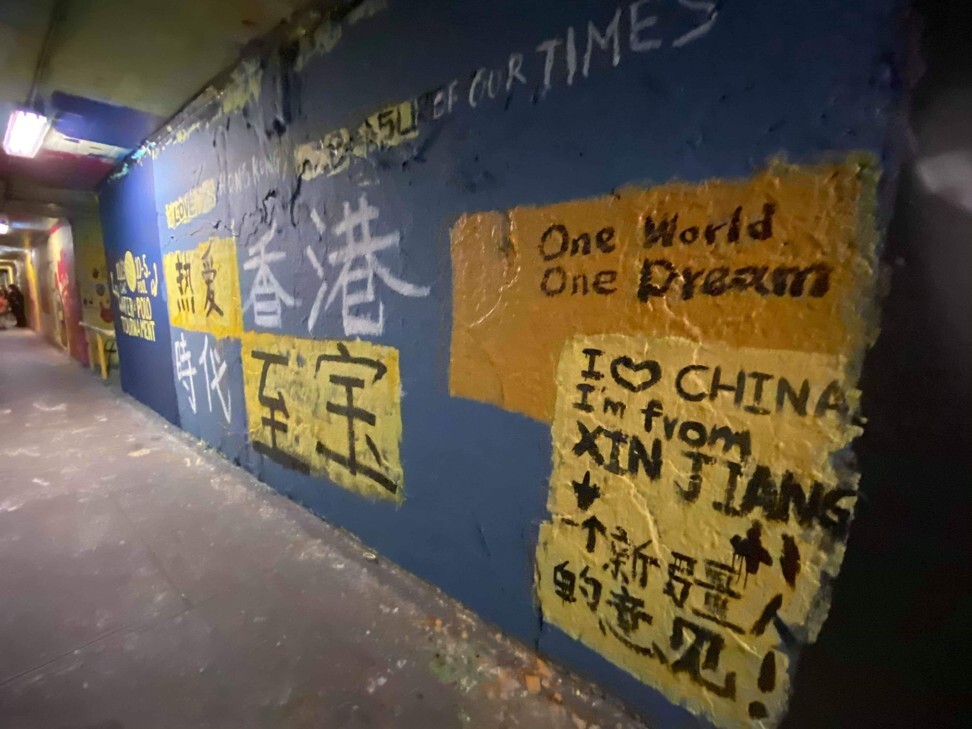 The backlash was immediate. Orko and several other students posted an online petition titled "Condemn Censorship at University of Rochester", which garnered 630 signatures. "The painting of racist caricatures is a hate crime. The silencing of refugees is a hate crime," it said. "Hate groups such as the Chinese Students and Scholars Association must be barred from campus." It went on to accuse the CSSA of creating an unsafe environment for Chinese students by passing information to Beijing about student activities.
The CSSA leader acknowledges the group contacted the Chinese consulate after the original murals were painted, as well as the university's intercultural centre and a faculty adviser, but says it did so out of concern for students' well-being after seeing so many "bad things" painted about China.
"We think this is putting risk to our safety, and these departments are all we can think of to support us," the person says. "But the only thing the consulate told us is that this isn't hurting anyone's safety, so they can't do anything. They just said something like 'calm down and keep safe'."
The leader denied informing the consulate about other political events on campus, saying the CSSA would never report students for expressing taboo views.
"Those progressive guys and girls just think they're pioneers of democracy, advocators of human rights. They're trying to make it all binary, to make it easy for their low intelligence to understand, so they can take sides and show off how righteous they are. For me, it's brainwashed versus brainwashed."

Zhao Junyi, a University of Rochester student from Beijing
There is only a vague set of university guidelines as to what can be painted (or painted over) in the tunnels, none of which the CSSA or any other students violated that night. Nevertheless, some called for those students to be expelled and deported.
Detractors began to appear in WeChat groups, saying those who had painted over murals had gone too far. Hao was among them. "It doesn't matter what you paint, but you just shouldn't paint over others," he says. "The CSSA is being so dumb. Once the Chinese [student] reputation gets ruined, it takes so much time and effort to rebound."
The CSSA leader argues that it was Hao who had hurt Chinese students' reputation earlier in the semester: "Many Chinese students were angry, and thought what [the CSA] did made other students think we're so stupid. I think the majority of Chinese students don't support them sending that letter [calling for the Uygur event to be cancelled]. Just don't go to the event if you don't like it."
Soon after the CSSA's paint-over, others planned to replace what had been covered. An organiser published a list of guidelines regarding what to paint, how to maintain anonymity and a warning not to target Chinese students. More than 50 showed up, and after the murals were repainted, most remained into the following semester. Eventually, the univer­sity announced the flag display, which had sparked the tunnel wars, would be scrapped.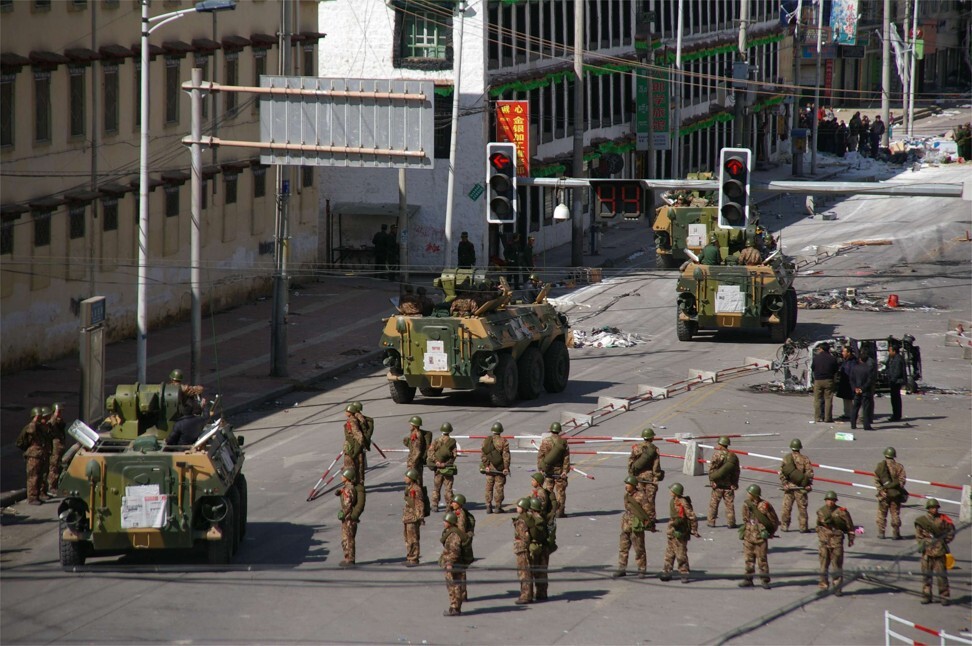 Days later though, several new messages appeared on the tunnel walls. "Thanks Trump" and "Support Hong Kong, build the wall" appeared, as did pejorative Taiwanese and Cantonese idioms aimed at mainland Chinese, along with the phrase "Mainland students, go back to the mainland".
This sparked another brief round of argu­ments and illustrated to some that unam­bigu­ous racism was present. Others speculated it was the work of a troll stirring up conflict. Turns out it was the latter.
"I just wanted to poke fun and make my life more colourful," says Zhao Junyi, a University of Rochester student from Beijing who admitted painting the messages. "If tension goes down, I just help boost it back up and make it more dramatic. I don't do drugs or substances, so it's the most inter­esting thing I can feel here in Rochester."
Zhao says he was "really liberal" during high school in Beijing, cared about human rights issues, and studied events such as the 1989 Tiananmen crack­down. A desire to learn more and broaden his horizons was one motivation to study in the US. "I used to use a VPN, but I [couldn't] get over the firewall," he says. "So I chose to go over the physical wall and go abroad."
In the US, he continued to disdain nationalistic Chinese classmates who jumped at the slightest whiff of China's "national dignity" being insulted. Gradually though, he was just as turned off by many of his classmates from the US and elsewhere, and the conflicts of the previous months had exacerbated that.
"Those progressive guys and girls just think they're pioneers of democracy, advocators of human rights," he says. "They're trying to make it all binary, to make it easy for their low intelligence to understand, so they can take sides and show off how righteous they are.
"For me, it's brainwashed versus brainwashed. But Chinese students here can't win the propaganda war. No one will listen to them."
In February, the College Republicans hosted yet another event on the Uygur detention camps, but it encountered no opposition. The same week, a white student was photographed in a mocking pose with a painting depicting police violence against unarmed African-Americans, and the cycle started anew: bias reports were filed, social media clashes ensued, a community dia­logue was held, and the school admini­stration and student government were accused of not responding adequately.
Dean Burns says he never saw a need for the administration to intervene in any of the China-related controversies. "As diffi­cult as those conversations were, there were no [conduct] violations in any of it," he says. "That's kind of what you're supposed to be doing in college, figuring out how to have these conversations."
On the possibility of more nefarious contact between students and Chinese authorities, Burns says there haven't been any investigations that he knows of. "But it's in the open – the CSSA is associated with the Chinese consulate," he says. "It's even fairly widely known that we've got members of the Chinese Communist Party among our students, or their family members. That is what it is. China is China. We're either going to do educational business with them or we're not."
He notes that problems associated with having nearly one-fifth of the university's student body from China are emerging, but they aren't political. By late February, the coronavirus had been tearing through China for two months and was working its way into the US, creating logistical and emotional challenges for the university's Chinese students. Like many around the world, some began to report discrimination related to the out­break. In the university's tunnels, someone painted, "Xenophobia is the real virus here."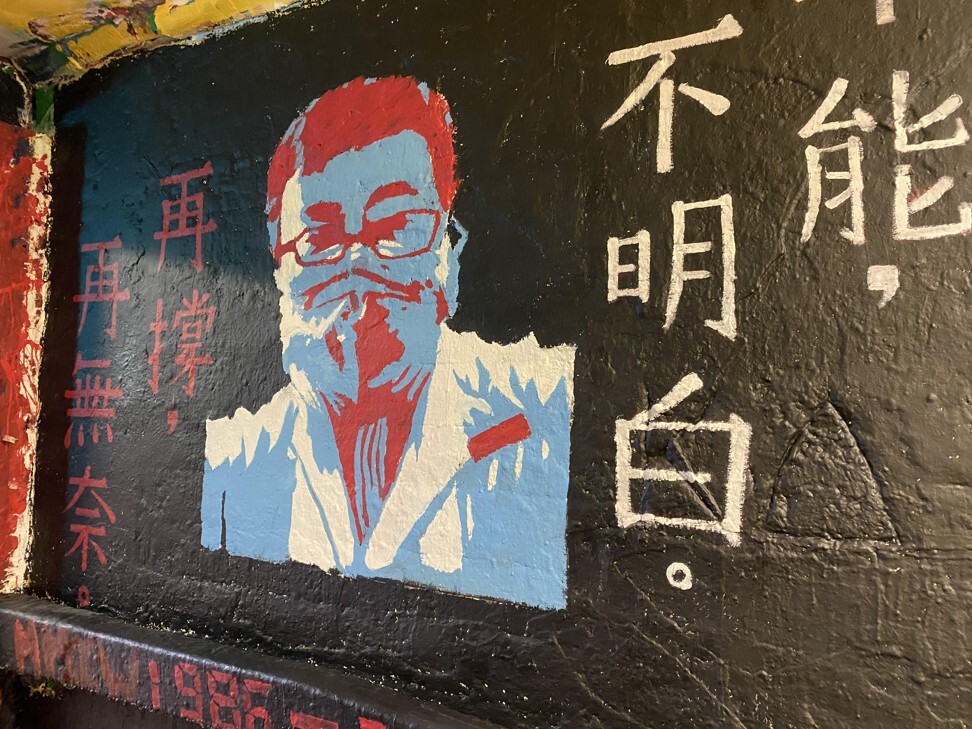 But it affected some students in more abstract ways. Xu mentions Li Wenliang – the Wuhan doctor threatened by police after warning of the outbreak early on, and who died from the disease. Li became a national hero, with online praise of his whistle-blowing becoming one of the most widespread rebukes of Chinese authorities in years. The incident left an impression on Xu, and he strikes a slightly different tone from the one he did a few months earlier.
"People realised media and speech freedom are so important; that it can affect everybody's life," he says. "We may have some institutional change after coronavirus […] I think if we had freedom of press, Dr Li would have [had] more voice."
In early March, the coronavirus out­break forced the university to close its campus and initiate online classes, a near universal experience for American colleges that left many wondering if their Chinese student populations would ever recover. One of the last murals painted in the university tunnels before the campus closed was one memorialising Li. It was drawn by Kim, along with several students from mainland China and Taiwan.
"My opinion changes very often," Xu says, with a chuckle. "But I think it changes based on facts."