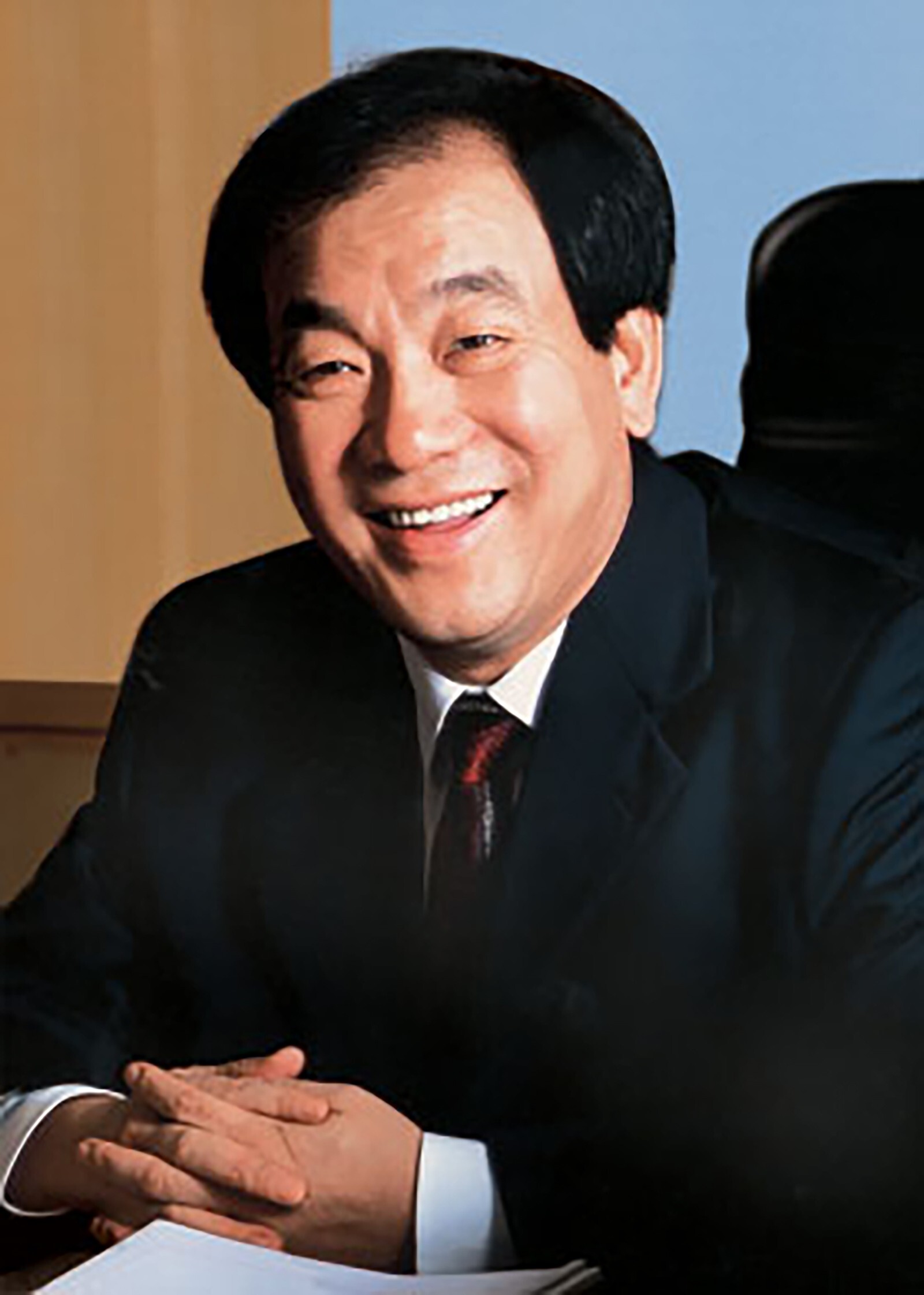 Who was Li Bolun? Disgraced Citic media mogul's death leaves legacy of litigation at Chinese Canadian newspaper
Fame and celebrity
The rise, precipitous fall and mysterious death of the former Citic darling has left a legacy of legal wrangling over the ownership of Global Chinese Press, a media company in Canada

In the early years of the new millen­nium, Li Bolun was at the height of his powers, straddling the worlds of business and celebrity as president of the entertainment arm of Citic Group, China's biggest state-owned enter­prise, now with a trillion dollars in assets. He was a trusted protégé of Citic's princeling chairman, Wang Jun, and married to former CCTV host Annie Si Xiaohong, an alumnus of the People's Liberation Army's Song and Dance Troupe, whose glamorous members have included
Chinese first lady Peng Liyuan
.
The state-run People's Daily likened Li, then 50, to media moguls Rupert Murdoch and Sumner Redstone, saying Li had Wang's "full support" to pour money into movies, television shows, modelling, magazines, sports teams and talent shows.
"What I'm going to do has to be related to human emotions, related to beautiful things and related to the creation of wisdom," Li told China's flagship newspaper in a 4,000-word profile in June 2004. "So as long as you are surrounded with those things, even if you don't get any glory or applause, you're just experiencing temporary disappointment and not failure."
People's Daily reported that Li invested a billion yuan on behalf of Citic Culture and Media in its first three years. In 2002, the first film produced by its movie finance vehicle, Century Hero, was the acclaimed Together, directed by Chen Kaige, a giant of Chinese cinema.
In rapid order, the state-backed production house was bankrolling films starring a procession of big-name actors – Zhang Ziyi, Joan Chen, Zhao Wei and Nicholas Tse Ting-fung, among others – as well as hundreds of episodes of Chinese TV drama.
So when Li and the owners of a family-run Canadian newspaper signed a major deal in 2004, who could blame his new associates for feeling flattered?
Global Chinese Press, operated by the Zhang family out of the Vancouver satellite of Burnaby, in British Columbia, was one of the most prominent Chinese-language media outlets in Canada, with its self-titled newspaper printed twice a week and distributed free in Vancouver, Calgary, Edmonton and Toronto. Its newspaper stands were in Chinese community shopping malls across the country, but it was a minnow compared with the Citic Group, whose assets are now worth more than those of Walmart, Apple and Microsoft combined.
Despite the vast gulf in size, Global Chinese Press founder Jane Yan Zhang later claimed that it was Li who made the first move.
"In my initial discussions with Mr Li, in 2004, one thing that made Citic Media attractive as a business partner was that Mr Li represented that he would be able to help Global develop its business," Zhang stated in a 2012 court filing. "Mr Li represented in particular that he was well connected within Citic."
Lawyers representing Si's interests said in a different action in 2014 that it was Zhang who first approached Li.
Either way, controversy beckoned. Suspected Chinese government sway on Western media is closely scrutinised. In a report this year, the Washington-based Freedom House think tank said, "The CCP and various Chinese government entities have long sought to influence public debate and media coverage about China outside the country, particularly among Chinese-speaking communities."
Freedom House even singled out Global Chinese Press for its dismissal of two journalists thought to have offended Beijing. Yet unbeknown to Freedom House or other observers of Global Chinese Press was a stunning fact.
Beijing had not simply sought to influence the newspaper. Its main corporate proxy had tried to buy control. At Li's orchestration, a deal was struck. Payment of C$700,000 changed hands. Share certificates were issued in Citic Culture's name.
[Li] passed away suddenly in the detention centre on January 5, 2016, when he was criminally detained under the offence of allowing others to take drugs

Li's former deputy at Citic Culture, Sun Yu
Details of Citic's unprecedented foray into the Canadian media scene have never before been reported, but Post Magazine can reveal the untold story of Li Bolun's rise and fall, as woven through thousands of pages of public Canadian legal documents: his audacious financial manoeu­vrings conducted in Citic's name, his bid to immi­grate to Canada, and the 2010 fraud conviction in China that upended his meticulous plans.
Li was jailed in Beijing for using "false investment" to boost his control of Citic Culture at the expense of Citic Group, suggesting he had been caught trying to cheat his business partner, the Chinese government.
Released in 2011, he set about fighting for control of Global Chinese Press; a Canadian judge, in a 2013 ruling in Li's favour, said he could not trust the Chinese court's decision.
In 2015, however, Li was arrested again – this time in a Beijing meth house. He confessed to drug charges and was jailed a second time. But he would never complete his sentence.
"[Li] passed away suddenly in the detention centre on January 5, 2016, when he was criminally detained under the offence of allowing others to take drugs," said Li's former deputy at Citic Culture, Sun Yu, in a letter a few months later to Zhang in Vancouver, who had written to ask about the fate of the newspaper shares.
Citic Culture is no longer listed online among the many subsidiaries of Citic Group, and all content on Citic Culture's official website vanished some time after 2008. In 2013, the firm's Hong Kong entity, Citic Culture and Media Group (Hong Kong), was quietly dissolved. Even the glowing 16-year-old profile in People's Daily, which dubbed Li the "greatest adventurer" of Chinese media, vanished in June, a few days after Post Magazine contacted Citic Group.
For all the pomp and furore that surrounded this once-gilded figure taking Chinese soft power global, it is now as if Li Bolun barely existed at all.
Vancouver has long been a comfortably anonymous bolt-hole for Hong Kong and mainland China's wealthy elite, from Canto-pop stars and billionaire tycoons to political figures stepping back from the fray.
In 2002, Li told China Business News, another state-run outlet, that he wanted to make Citic Culture a success within 10 years, then quit by the age of 57. He didn't advertise the fact, but he wanted to retire to the laid-back Canadian city, and buying Global Chinese Press was a key part of the plan.
The Global stake was originally assigned to Citic Culture, according to a copy of the share certificate filed with the Canadian court by Zhang's lawyers last year, part of an affidavit by Li's former deputy, Sun, in a case that has not gone to trial. The shares would end up in Li's name, both sides in the ongoing legal battles agree; just how remains a matter of dispute.
The shares were used to support Li's Canadian immigration application under an entrepreneurship programme that required investment in a local business.
The evidence of Sun before British Columbia's Supreme Court in a 2019 affidavit was that "[the] idea to have Citic purchase shares in Global originated with me [in 2004]" and that Sun had "conducted market research of Chinese language newspapers in Vancouver".
Sun claimed Zhang travelled to Beijing to ink the deal in which Citic Culture would buy 51 per cent of the company for C$1 million. A copy of the alleged agreement, filed with the Canadian court by Sun, is dated June 30, 2004 and is signed by both Zhang and Li, acting as the "authorised signatory" for "Citic Culture Media Group Limited Company".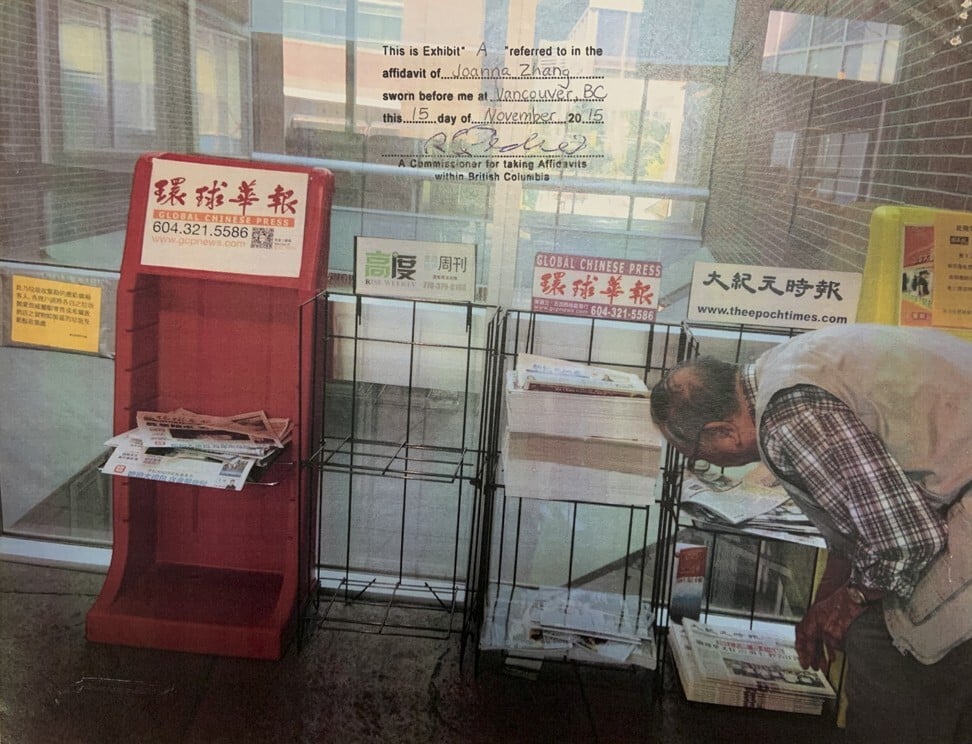 Zhang says the deal was amended in May 2006, reducing the purchase to 50 per cent of Global's shares, and cutting the price to C$700,000, which had already been paid by Citic Culture. The shares were duly issued in Citic Culture's name, according to a copy of the share certificate.
Instead of being paid directly by Citic Culture, however, a portion of the money was allegedly routed to Global via a company that has the same name as a manufacturer of metal machine componentry in Hong Kong.
"This is to verify that at the commission of the Citic Media Group, Hong Kong Tin Ping Ltd remitted CAD$200,000 to Global Chinese Press of Canada on November 22, 2004," says a document with a Citic letterhead, apparently signed by Li, that was filed with the Canadian court by Zhang's lawyers in an unresolved case. "This is for the down payment for Citic Media Group's purchase of the shares of the Global Chinese Press of Canada," it says.
How, then, did Citic's Global shares end up in Li's personal ownership, listed in his name in the share registry?
Lawyers for Li and then his widow say Li's ownership was legitimate and the matter has already been resolved, citing repeated court rulings. But Zhang has refused to drop the matter, raising it again in a petition filed with the court in 2017, in a case that has not gone to trial.
There, she alleges Li wanted to transfer Citic Culture's shares into his name in May 2007, with the transfer backdated to May 22, 2006. She alleges he wanted her to provide two receipts to show Li Bolun himself had paid C$200,000 towards the purchase of the shares. The receipts for what she now describes in court documents as a "fraudulent transfer" were to be backdated to December 20, 2004 and May 22, 2006, she alleges.
Zhang goes on to allege in her petition to the court that she "believed that Bolun Li would be relying on these receipts to satisfy Immigration Canada's requirements for [Li] immigrating to Canada".
"At the time, I believed that Mr Li was the authorised agent and representative of Citic Media," Zhang swore in an affidavit, in the case she lost to Li in 2013. "I had no reason to doubt that he had full authority to replace Citic Media with himself person­ally in relation to the share purchase agreement."
Yet Sun would later swear in an affidavit filed with the court in the unresolved 2017 case: "To my knowledge Li never had a legal and beneficial ownership stake in Citic. His authority to deal with Global was merely on Citic's behalf."
The backdated share transfer was nevertheless completed in 2008, says Zhang. Her 2017 petition quotes the agreement prepared for Li terminating Citic's share ownership as saying: "Citic Media is legally and bene­ficially controlled by Li and Citic Media and Li are fully authorised and entitled to enter into this Agreement under their respective name."
Exactly when Li decided to move to Canada is not clear, but as early as July 19, 2004, Li's residential address was listed on an Industry Canada directorship registration not in China, but as a mansion on Crestline Road, in West Vancouver.
An alleged 2009 letter from a Canadian immigration officer to Li (filed as part of a 2012 affidavit by Zhang in the case won by Li in 2013) asks him to provide details of the Global invest­ment in order to lift the conditions upon his admission to Canada, under the entrepreneur immigration programme. Although Li was still working in Beijing, the letter suggests he had formally immigrated to Canada under the programme on February 2, 2008, with the officer asking him to list any absences from the country after that date.
"We understand you have invested a total amount of $700,000 towards the business [Global]," says the letter, dated April 17, 2009, asking for proof of payment including "bank statements from which the money was debited from your account".
Meanwhile, Li's relationship with Zhang began to unravel.
"After Mr Li obtained permanent resident status," said Zhang in her 2012 affidavit filed with the court, "he showed no interest in the affairs of Global."
In an email dated July 17, 2009, also part of her 2012 affidavit, Zhang showed no sign of suspicion towards Li and remained deferential. She thanked Li for his "graciousness" on a trip to China, when he provided her with tickets to the opera Turandot at Beijing's National Centre for the Performing Arts. But she complained to Li about "serious losses and cash flow shortages" at Global and requested that he attend a directors' meeting. "I am most apologetic to trouble President Li to give more concern and support," she wrote in the alleged correspondence.
On August 26 that year she wrote again, according to the affidavit, to request cash to address Global's financial problems. The court filing shows Li responded two days later, thanking Zhang and Global "for the help and support in the matter of my immigration!" But he rejected both requests for financial support, suggesting instead he might be willing to sell his stake in Global for C$875,000. A subsequent email from Zhang went unanswered, and it was a year before Zhang found out why.
Chinese police had taken Li into custody, accusing him of misappropriation and forgery. The startling discovery would spur Zhang to try to regain control of Global, triggering years of litigation with Li, who would soon discover the Citic corporate juggernaut was not about to have his back.
Li Bolun was a 24-year-old teacher at a rural primary school outside Beijing, making about 27.50 yuan a month, when he embarked on the course that would make him one of the most powerful figures in the Chinese entertainment industry, according to the People's Daily 2004 profile that disappeared from its website this June.
In 1978, he transferred to work as the sports and cultural officer with a Beijing heavy-machinery factory, before producing "cultural propaganda" for the Beijing Municipal Party Committee and the central government.
But China was changing. Economic reforms were soon under way, and Li would join the ranks of Communist Party cadres wanting to leave the government to try their hands at capitalism. Using a 50,000-yuan loan from a doctor friend, Li established China Tianping Economic and Cultural Co in 1991, China Business News reported in 2002. The firm invested in real estate, tourism and various cultural activities. Handicraft exports allowed Li to repay his friend threefold before Li settled into his core business – entertainment.
He invested in talent shows and a model agency, and started producing films and TV series, and staging sports events. But it was in 1996 that Li hit the big time, by bringing Argentine soccer superstar Diego Maradona and his team, Boca Juniors, to China. Maradona may have been past his peak, but he was still one of the biggest sports stars in the world, and Boca's two games were played before huge crowds at the Beijing Workers' Stadium and in Chengdu.
China Business News said they set records for attendance, ticket sales, TV ratings and "greatest social impact". The games also carried hidden political significance – they fulfilled a dream harboured by Chinese paramount leader Deng Xiaoping.
Former Italian prime minister Romano Prodi told the South China Morning Post last year how he was approached by a Citic executive in 1987, conveying a secret personal request from Deng.
"Deng told me that if Maradona came to China, he would play in Beijing Stadium and 600 million people would watch the game on television," Prodi (then visiting China as a mid­dling government official) said he was told by the unnamed Citic executive. Prodi said an approach was made to Maradona, then playing for Italian side Napoli, but the deal fell apart because of the footballer's financial demands. It would be nine more years before Deng's dream came true, and Li Bolun was at the centre of it all.
Whether Li was acting on Deng's wishes is not known. But amid his new-found prominence, he fell into favour with
Citic Group chairman Wang Jun
, son of Communist Party "immortal" Wang Zhen, and himself among the most power­ful figures in China, as the minister-level head of both Citic and the military-linked Poly Group.
Li was named to Citic Group's board in March 2000, China Business News reported, after which he pitched to Wang Jun the idea of integrating a cultural and media unit into Citic Group. Wang approved the 2001 creation of what would become Citic Culture and Media, a joint venture 51 per cent majority owned by Citic Group, with Li as president and chairman.
"The establishment of Citic Culture and Sports Industry Co is the beginning of Citic's true entry into the cultural industry," Li told China Business News, referring to Citic Culture by its original name. A fawning 3,000-word article laid out Li's strategy for industry domination, creating both film and TV content as well as the means of distribution, via dedicated networks of cinemas and television channels.
"The entry of Citic Culture, led by Li Bolun, into the industry has undoubtedly made people in the film and TV industry feel greatly threatened, triggering a new round of consolidation," China Business News reported.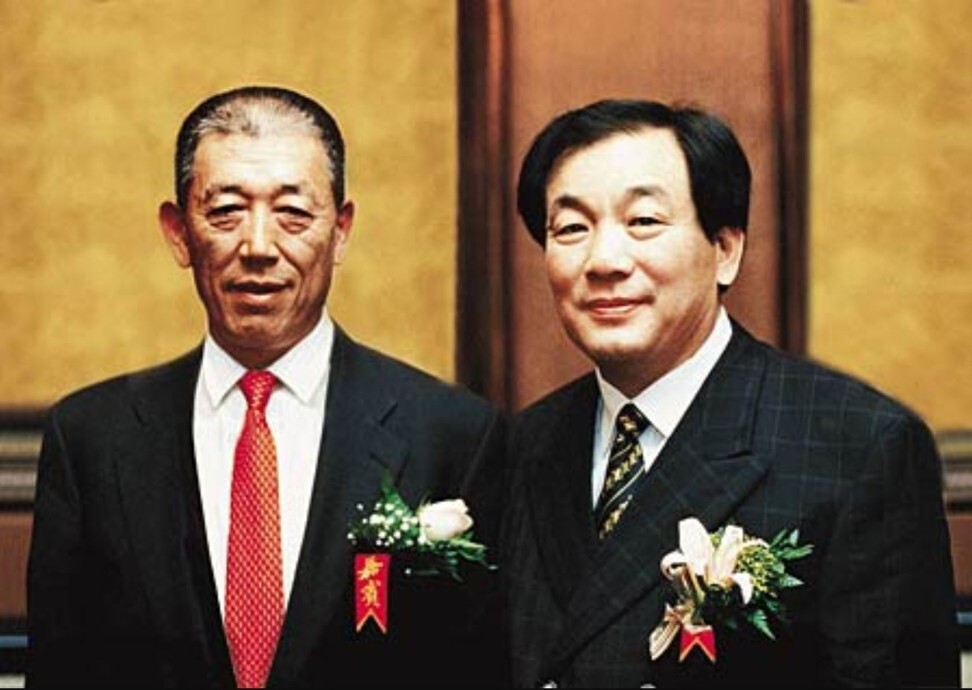 Li said he would create blockbusters to show in domestic cinemas and internationally, claiming HBO had agreed to buy 17 movies from Citic Culture's film units. In addition, Li said he planned to make hundreds of low-cost TV movies over the next three years, screening them on five dedicated channels.
At just 12 months old, Citic Culture was aiming to finance 15 movies for cinema, 200 TV films and 300 episodes of TV drama a year, said Li. "Big investment and big production are global trends in the development of the film and television industries, and we must pursue the use of scale to obtain maximum benefit," he said. Li's targets sound wildly ambi­tious, but with the backing of China's government and the enormous Citic Group, nothing seemed beyond reach.
On July 31, 2002, Li appeared to have secured his place in Citic's inner circle when he sat next to Wang at a Beijing press conference to discuss a restructuring of the group.
Pro-Beijing Hong Kong newspaper Wen Wei Po reported Wang saying he wanted to expand the group beyond its core financial business, and "strengthen its investment in cultural industries".
Fast forward to 2004, and People's Daily said Citic Culture and Century Hero had produced nine movies, 12 TV films and 21 TV dramas, comprising 597 episodes. Together had premiered at the 2002 Toronto International Film Festival, and Chen, its director, added to his collection of best-director accolades at mainland China's Golden Rooster Awards and the San Sebastián International Film Festival in Spain.
None of Citic Culture's movies had been huge box-office hits, but with his gold-plated connections, Li was hailed as one of the most important people in Chinese entertainment.
New Finance Magazine listed him as one of China's top 10 financiers, while Sohu.com put him on its list of the 10 most influential people in the Chinese entertainment industry in 2003. He was also declared the Most Important Chinese Cultural and Entertainment Industry Figure by Wenhui Baihua Weekly – although the magazine itself was one of several owned by Citic Culture.
Li dreamed of another decade of success. With Wang and Citic behind him, how could he fail?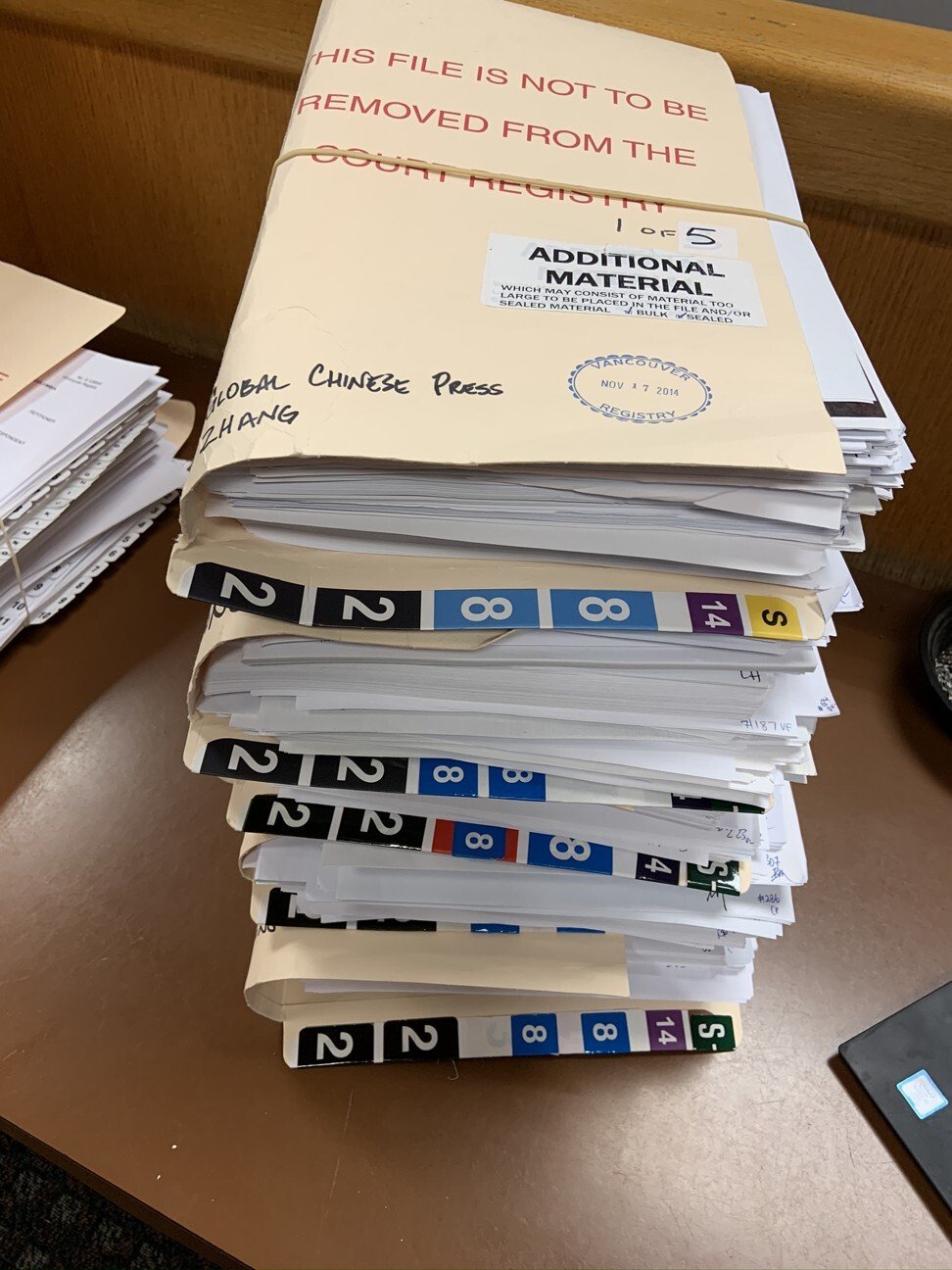 "Who is 'Civic'?" asked Justice George Macintosh, according to a transcript of a 2014 hearing, after the company was mentioned by a Global lawyer. The significance of the vast Citic Group, Beijing's biggest vehicle for its overseas business dealings, appears to have escaped much attention during the Canadian legal battle pitting the Zhang family against Li and his widow, Si, now 53.
"Sorry, Citic, C-I-T-I-C, is this Chinese company that Mr Li was representing," responded lawyer Daniel Cowper.
The saga of Citic's ill-starred involvement with Global Chinese Press has spawned at least six Canadian court actions stretching back almost eight years.
Crates of documents filed with the British Columbia Supreme Court in Vancouver reveal a battle over control of the company, with Si seeking damages as she accuses the Zhangs of conspiracy and breaching their fiduciary duty to Global Chinese Press, which Si now controls alone, following her husband's mysterious death.
Under her stewardship, the newspaper has been linked to controversy over its China coverage, as noted by Freedom House. In 2017, former editor-in-chief of
Global Chinese Press
Lei Jin filed a complaint to the British Columbia Human Rights Tribunal over his dismissal, a week after he tried to publish an obituary of Chinese dissident
Nobel Peace Prize laureate Liu Xiaobo
. Global denied the allegation that the firing was related to the obituary; the parties resolved the dispute in February without a final ruling by the tribunal.
Jane Zhang, meanwhile, is petitioning the court to strip Si of ownership and control of Global, and seeking a court order to "reinstate" Citic Culture as owner of 50 per cent of the firm's shares, with Zhang as owner of the other 50 per cent. In allegations made to the court that remain unproven, Zhang's petition says Li stole the Global shares from Citic Culture.
"Prior to January 2008, Citic was a 50 per cent shareholder in Global," Zhang said in the unresolved 2017 petition filed with the court. "However, Citic's shares were illegiti­mately transferred to Bolun Li as a result of his lies claiming that he owned and controlled Citic […] simply put, Bolun Li never paid for the shares in Global and he stole $700,000 worth of shares from Citic through his lies and misrepresentation."
And in the main unresolved action, the Zhangs are alleged to have conducted a "scheme to destroy Global Chinese Press" after Jane Zhang lost control of the company.
The trial of Global's claims against Zhang and her co-defendants had been due to take place in March but has been adjourned because of the
Covid-19 pandemic
, which disrupted normal operations of British Columbia's courts. No new trial date has been set.
Lawyer Bruce McLeod, representing Zhang, her husband and brother, said they were "unwilling to discuss these matters while they are still before the courts".
Lawyers for Si, now president of Global, said in a 2016 court filing in her main action that it was "beyond argument" that Li had properly owned the shares since May 2006. They acknowledged Li was initially acting on behalf of Citic Culture as he negotiated to buy into Global. But the shares were eventually transferred to Li "personally", the lawyers said in the filing, and it was Zhang who had approached Li in 2004 and invited him to invest.
Sun, Li's former deputy at Citic Culture, swears otherwise. Sun's evidence before the court is that he was the one who came up with the idea for Citic to take control of Global.
"[At] the time I thought it was a good investment," he swore in a February 2019 affidavit, filed with the court in Zhang's ongoing petition. According to the evidence he offered to the court, it was Citic Culture that bought and paid for the shares.
Neither Citic Group nor Citic Culture are participants in any of the legal actions surrounding Global. A spokesman for Citic Group told Post Magazine he had never even heard of the company having a Citic Culture branch; he suggested Post Magazine lodge questions by email, but these have gone unanswered, and the phone number registered as belonging to Citic Culture in 2013 is no longer active. Like its former president, Citic Culture as an entity has vanished with barely a trace.
Exactly what triggered the decision by Chinese prose­cu­tors to bring down Li on September 8, 2009, is not known. But he was taken away to the Chaoyang District Detention Centre in Beijing and put under investiga­tion. And this is the reason Zhang's increasingly urgent entreaties found in the British Columbia court filings, describing the failing finances at Global Chinese Press, were met with silence.
On December 27, 2010, Li was convicted by the Chaoyang District People's Court of Beijing of forging company seals, illegally withdrawing share capital and making "false invest­ment" in Citic Culture. A copy of the Chinese judgment is included in Zhang's Canadian legal filings.
Among the witnesses in the Chinese trial were Ju Weimin, Citic Group's chief financial officer, who appeared to distance the parent company from Li. He told the court that although the group's initial 51 per cent ownership of Citic Culture and Media meant the group "will be responsible for the management of Citic Media [sic] … it did not designate management personnel".
And despite the large sums apparently at Li's disposal – and the one-time "full support" of Wang – the paid-up capital of Citic Culture was surprisingly modest. In February 2002, the company had registered capital of 40 million yuan, of which Citic Group contributed 20.4 million yuan to obtain its controlling interest, Ju testified to the Chinese court.
There are also unexplained discrepancies between the Chinese court's ruling and Li's public biography. People's Daily had said he was born in Xianghe county, in coastal Hebei province, while the court said he was born in Heilongjiang province on the Russian border. He was previously known as Li Yinyan, said the court, without further explanation.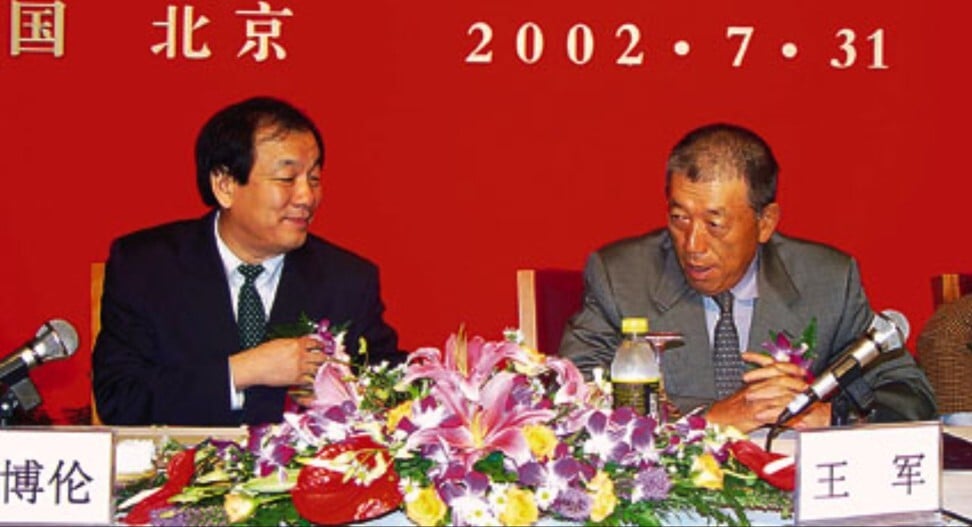 Whatever his name, the court ruled Li had falsified 110 million yuan in capital contributions to Citic Culture by having two companies under his control appear to invest in the firm, which had the effect of reducing the shareholding position of the government's Citic Group.
But the investments were immediately transferred out of Citic Culture's accounts after the share ownership ratios were officially changed, the Chinese court said.
As part of the scheme, Li was said to have had company seals forged. After the alleged scheme was discovered, Chinese authorities revoked the transactions, but the ruling makes no mention of Global Chinese Press, nor Li's efforts to immigrate to Canada.
Despite Li's former position on the board of Citic Group, and whatever public favour he once enjoyed from Wang, the court ruling made his new status clear. He was finished.
"The evidentiary material provided by China Citic Media [sic] proved that Li Bolun did not belong to the management team of the Citic Group," said the ruling, "and his positions as the legal representative of Citic Media, its president and general manager were not appointed by the Citic Group."
Li was sentenced to 16 months' jail, including time served, and was fined 2.27 million yuan.
The downfall of a man once regarded as among the most influential figures in Chinese entertainment passed without note, let alone uproar. Li's conviction would be mentioned in a single paragraph on a list of closed cases issued by China's National Audit Office.
Released in January 2011, the disgraced Li was untouch­able no longer. He turned his attention to Canada, where Zhang had learned of Li's incarceration and was trying to deny Si the right to act as her husband's proxy in the manage­ment of Global Chinese Press. Li began to challenge Zhang in the British Columbia Supreme Court, first petitioning for the appointment of an auditor to go through Global's books.
Zhang said in her 2012 affidavit filed with the British Columbia court that when she first heard of Li's imprison­ment, all she had to go on were "rumours", until she travelled to Beijing and obtained a copy of the Chaoyang District People's Court's verdict.
 She responded to Li's lawsuit by claiming that he could not be the legitimate owner of shares in Global because he was not the legitimate Citic Culture representative, citing his conviction in China.
But Li won the case, with Justice Bruce Greyell ordering the audit and saying that he was "unable to place any reliance on the decision of the Chinese court". "I do not know what evidence the Chinese court considered," he said. He did, however, have Global's corporate records showing Li was a shareholder and director, as well as Li's evidence to that effect.
Zhang resigned as a director of Global in April 2014. With Li now in control of the company, Global sued Zhang for breach of fiduciary duty, along with her husband George Liu, brother Justin Zhang, sister Joanna Zhang, Joanna's husband Frank Huang, who had served as editor-in-chief of Global Chinese Press until 2013, and others in Jane Zhang's orbit. Li accused Zhang and others of draining Global's assets and steal­­ing its business by setting up a rival firm, New Leaf Media.
Central to the alleged conspiracy was another company, 3Pawsoft, controlled by the Zhangs. Jane Zhang said in a pleading to the court that in March 2014, she had 3Pawsoft pay TD Bank C$100,000 that was owing on Global's line of credit; in return, TD assigned the debt to 3Pawsoft. 3Pawsoft then demanded Global pay the amount owing, and the next month appointed a receiver over the news­paper's assets, Zhang's pleading says.
In their own pleading, Global's lawyers described the events as "a scheme to destroy Global Chinese Press by using the company's secured debt to seize its assets".
To "foil Jane Zhang's scheme", the pleading said, a company owned by Si loaned Global C$253,500 so it could redeem the assets. And under the terms of the loan, Si was granted the right to convert a small amount of the debt into shares amounting to 50 per cent of Global. Zhang's former 50 per cent share was thus diluted to 25 per cent of the company, while Li and Si now controlled 75 per cent.
Zhang called this an "improper share issue" in her 2017 petition, saying Li had been caught in a conflict of interest by approving the loan to his wife's firm.
The Zhangs and their co-defendants deny misappropria­ting business or assets from Global. But in 2014, a judge was strongly critical of Jane Zhang's actions. In an interim ruling appointing a receiver pending trial, Justice Macintosh said, "the Defendants [Zhang et al] have hijacked the Plaintiff's [Global's] publishing business and the Plaintiff's assets. They have done so gradually over perhaps the past five years. Their actions have been tortious and have breached contractual obligations."
This ruling does not represent the outcome of the case, but only a decision to grant pre-trial relief to Global.
In Global's argument to Macintosh, it dismissed potential concerns that "Bolun Li has been in jail in China and is of poor character", saying these were "irrelevant" and "China is not a democracy and is not governed by the rule of law".
He may have won a legal victory in Vancouver, but eight months later, Li was back behind bars in Beijing.
A bare-bones account of Li's fateful second arrest can be found on a private Chinese legal website that aggregates Chinese court rulings. It says Li and a co-defendant named Chen rented a house in Beijing's Chaoyang district, where they hosted four people aged 27 to 50, who took methamphe­ta­mines. They were all arrested in a July 29, 2015 police raid on the home.
"The defendant Li is a recidivist, who should be given heavier punishment in accordance with the law," ruled the Chaoyang District People's Court four months later. Li was the only one of the six who provided witness testimony in the case, and was sentenced to seven months' imprisonment and fined 2,000 yuan after pleading guilty to "allowing others to take drugs". Chen was jailed for six months and fined 2,000 yuan; it is not known if the others were charged.
Li was less than two months away from his February 28 release date when, on January 5, 2016, he was found dead in prison at the age of 61. Official details of the circumstances were not released. A scant one-paragraph statement on Chinese social media said only that Li had "died of illness", as it invited mourners to a January 11 memorial service.
A phone number listed with the funeral notice put Post Magazine in contact with a person who identified himself as a former colleague of Li, who said Li had died of a heart attack, but the person said he did not know what had happened to Citic Culture, and declined to discuss the matter further.
Sun mentioned Li's death in a letter to Zhang a few months later. "According to the facts that I know, there has been no property under Bolun Li's name after he has passed away suddenly in the detention centre," said Sun's letter, filed with the British Columbia court.
Mr Li is no longer here, no one can now tell Mr Li's side of the story on the questions you are raising, so it seems a bit unfair to be pursuing it now

Robert Fleming, Annie Si's former lawyer
Global's lawyer Cowper also noted Li's death in a November 2016 court submission, arguing in the ongoing lawsuit against the Zhangs that "Annie Si [Xiaohong]'s shareholdings (through her numbered company) and directorship are not an issue in this proceeding".
Raising the subject of whether her late husband was truly entitled to the original 50 per cent of Global's shares "is an abuse of process and a reprehensible attempt to smear the name of Bolun Li, who is deceased, and cannot defend himself", said Cowper in the pleading, in which he cited Greyell's 2013 judgment.
The death of her husband had "devastated" Si, said Vancouver lawyer Robert Fleming, who was representing Si in December when Post Magazine asked him about the legal disputes and how Li had acquired the Global shares, when they appeared to have been initially issued to Citic Culture.
"In each case Jane Zhang has raised the question [Post Magazine is] asking, about Mr Li's relationship with Citic […]" said Fleming. "We have said that this has nothing to do with the case. So far courts have agreed with us."
He added, "[since] Mr Li is no longer here, no one can now tell Mr Li's side of the story on the questions you are raising, so it seems a bit unfair to be pursuing it now, when Mr Li cannot respond himself". He said all Si had "left of him is his memory […] And if Mr Li did do anything wrong, that is obviously not [her] fault".
When contacted by Post Magazine, Si's current lawyer, Jonathan Woolley, said he had nothing to add to Fleming's comments.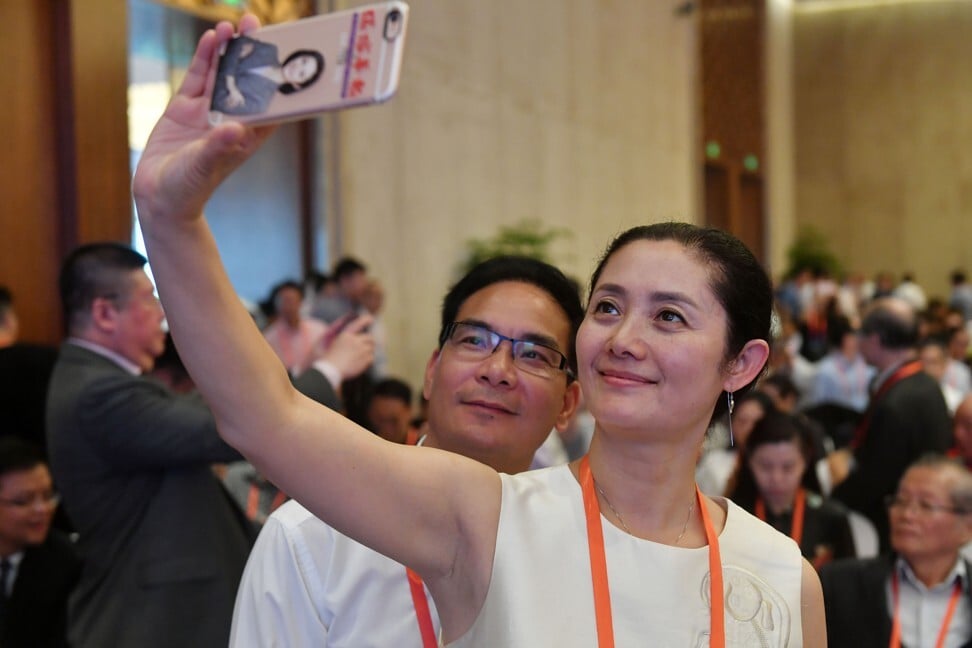 Once a star in China, Si has settled into a life of relative obscurity in Vancouver. Her address is listed in court documents as a C$4.5 million home in the prosperous neighbourhood of Dunbar.
Si got her start in show business with the PLA's Song and Dance Troupe, famed for its singing beauties in military uniforms who have long been a feature of state TV events. She went on to become a popular presence on CCTV as host of the variety show Rotating Stage in the 1990s.
The spotlight has not entirely eluded her in Canada. On August 17, 2016, seven months after Li's death, Si met with then Chinese consul general Liu Fei in Vancouver. The encounter was marked with a photograph and a summary on the consulate's website, with Liu telling Si and others she hoped Chinese media would report more on the contributions of Chinese people to Canada.
About a year later, Si fired Global's editor-in-chief Jin, prompting his complaint to the Human Rights Tribunal that he was being discriminated against by Si and Global for his political opposition to the Chinese Communist Party.
In an interim ruling in mid-2018 that allowed the complaint to proceed but contained no findings of fact, tribunal member Paul Singh wrote: "During his tenure at GCP, Mr Jin says he learned that Ms Si was very sympathetic to the cause of the Chinese Communist Party."
He wrote that Jin believed his political views first came to Si and Global's attention in June 2016, when Si told him to fire a columnist "who had previously written articles critical of the Chinese Communist Party". Jin said he tried to resist but had "no choice" but to fire the writer, said Singh.
A year later, Jin wrote an obituary of dissident Liu, who died on July 13, 2017. Singh said, "Ms Si says she was unhappy to learn that the article had been added to the newspaper without her approval and ordered its removal."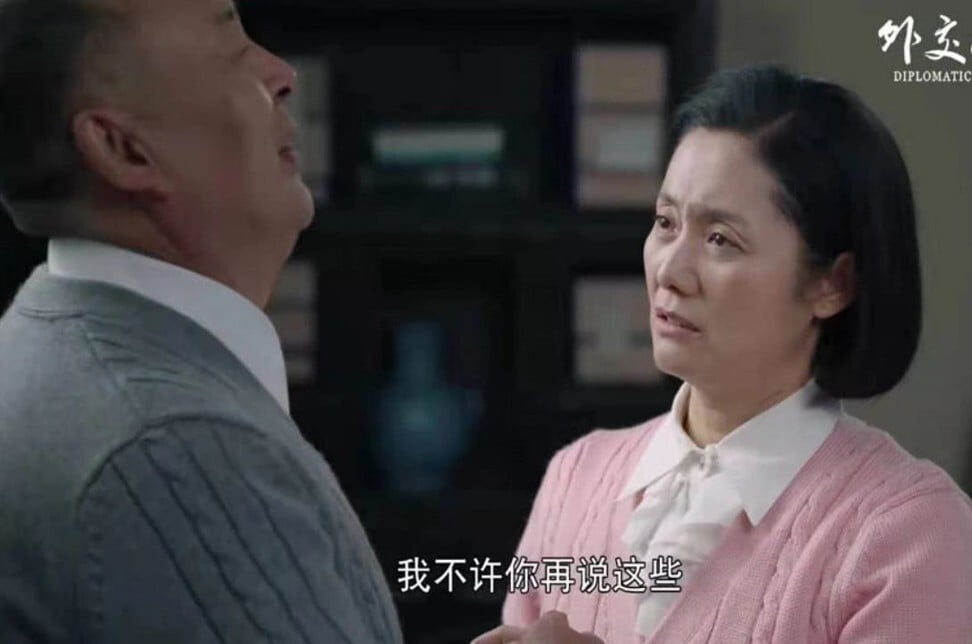 Next day, Jin wrote in a company chat room accessible to all employees, "the black hand of the Chinese Communist Party is everywhere", which Si took as an insult and an accusation, wrote Singh. Jin was fired a week later.
Singh wrote: "Ms Si […] says her decision to fire Mr Jin was not related to his political beliefs or his attempt to publish the article. Ms Si says her decision to fire Mr Jin was made several weeks before he wrote the article."
Singh also said Si and Global filed emails dated February 15 and July 6, from Jin's deputy to Global's lawyer, that said Si was "thinking of laying off Raymond [Lei] Jin", then that she "has made the decision to layoff [Jin]". Si and Global denied Jin was sacked for his beliefs, and said instead he "was fired for chronic under‐performance and repeated insubordination", Singh wrote.
Although Singh allowed Jin's complaint to proceed, both parties resolved the matter before the hearing.
Last year, Si returned to Chinese TV screens, cast as Zhang Qian, the wife of Communist founding father Marshal Chen Yi, in the big-budget TV series Diplomatic Situation, marking the 70th anniversary of the People's Republic of China. Si has also been active on social media, and can be heard reciting poetry on the Chinese personal radio platform Ximalaya. She has spent the pandemic posting English pronunciation lessons on her Weibo account, in videos a few seconds long. "I miss you so much, I miss you so much," she intones in one posted in June.
Last September, she posted a looping video close-up of her softly smiling face, eyes closed, captioned: "Who is capable of feeling sad in someone's story? Who is capable of getting lost in someone's story? It's probably yourself and nobody else.
"The prosperous past is just a prosperous dream to others. And a dream eventually leaves no trace."
Additional reporting by Jane Cai and Linda Lew. Files by Stuart Lau.
Global warfare
Post Magazine's reporting is based on six pieces of Canadian liti­gation over the management, ownership and control of the Global Chinese Press newspaper, which have pitted the late Li Bolun and his widow, Annie Si Xiaohong, against the Zhang family and others.
Not all of the litigation in the Supreme Court of British Columbia has been resolved, and not all of the voluminous evidence and testimony, amounting to thousands of pages of documents, has been tested or proven in court. What follows here summarises the current state of play.
The legal dispute appears to have entered the courts on September 21, 2012, when Li petitioned for the appointment of an auditor to go through the books of Global Chinese Press, then under the control of Jane Yan Zhang. Li claimed he was a 50 per cent owner of Global, but because he lived in China he wanted Si to take part in Global's management. Zhang, co-owner and manager of Global, was refusing to allow this, Li said, and also refusing to provide details to support Global's unaudited financial statements.
In Global's response, resisting the petition, Zhang put on public record her claim that Li was not the true owner of his shares, that they instead belonged to Citic Culture and Media Group, and that Li had "misrepresented his authority" to replace Citic as shareholder. In an affidavit, she cited a December 2010 Chinese court ruling, in which Li was convicted of "false investment" and forgery, relating to his authority over Citic.
In 2013, Justice Bruce Greyell ruled in Li's favour, ordering the appointment of an auditor at Global's expense, and that Global fully cooperate. Greyell said he could not rely on the Chinese court ruling, saying he did not know what evidence it had considered.
Zhang subsequently resigned her directorship of Global, leaving it in Li and Si's control. In April 2014, 3Pawsoft Enterprises Inc – of which Zhang was director and which had taken over a debt owed by Global to TD Bank – petitioned for an order affirming the appointment of a receiver to sell off Global's assets. Global responded there was no evidence the loan was in default, and the receiver's appointment was unlawful. Justice David Masuhara ruled in Zhang's favour, that the appointment was legitimate.
In November 2014, Global sued Zhang, her family members, other associates and three companies associated with them, accusing the defendants of fraud, conspi­racy and breach of fiduciary duties. The ongoing lawsuit, now the main action in the dispute, seeks damages and the setting aside of Masuhara's ruling.
It accuses the defendants of mismanagement and draining funds and business from Global, and redirecting them to 3Pawsoft Enterprises, GCP Media Group and New Leaf Media. The defendants deny the claims, saying they did not improperly divert funds or business from Global, and were not in breach of any duty owed to Global. The case had been scheduled to go to trial in March, but was adjourned in light of the pandemic. No new trial date has been set.
In December 2014, Global petitioned for an annual general meeting, after its ownership structure was reconfigured. Until May 2014, Zhang and Li had been equal 50 per cent owners, the petition said, but after then, a dilution resulted in shares being issued to what Global called a "third party, reducing Zhang to a minority shareholder. The petition was upheld, and an AGM ordered, with Zhang's consent.
In July 2015, Zhang petitioned for the removal of Si as a director of Global, and the return of shares owned by a numbered company owned by Si (the "third party" in the previous litigation). She accused Li and Si of conspiring to "hijack" majority control of Global with the May 2014 share dilution. No response from Li or Si is on record, and the matters have not been proved in court.
That action appears to have been superseded by a petition launched by Zhang in December 2017, after Li's 2016 death. Zhang again sought an order removing Si as a director of Global and the return the shares owned by Si's numbered company. Zhang also sought an order to "reinstate" Citic as owner of 50 per cent of Global's shares, and herself as the owner of the other 50 per cent. Evidence includes an affidavit sworn in February 2019 by Li's former deputy at Citic Culture and Media Group, Sun Yu. Neither the claims of the petition nor the content of the affidavit have been proven in court; no trial date has been set.