Coronavirus: how India's catastrophic failure in tackling its second wave doomed the country and cost an unimaginable – yet avoidable – toll on lives
Coronavirus pandemic
Misstepping at almost every turn, Prime Minister Narendra Modi set a number of examples for the world of what not to do
On April 21, Ashley Delaney took his father-in-law to the Goa Medical College and Hospital, the largest public hospital in the small southwestern Indian state. The facility was in chaos and the wards were packed, with all 708 Covid-19 beds occupied – so 69-year-old Joseph Paul Alvares, a cancer survivor, had to lie on a gurney for nearly three days until a bed became available.
The bathrooms were so filthy that many patients chose to wear adult nappies. And when one Covid-19-positive man began having seizures, the hospital staff – seemingly unable to cope – tethered him to the bedposts with bandages. Delaney was so disturbed by what he saw that he decided to stay by his father-in-law's side in case things took a turn for the worse. Soon enough, they did.
On the morning of April 28, several patients' monitors started to flash, indicating that they were in distress, but the hospital staff did not respond. When Delaney went to investigate, he found that the patients – about 10 to 12 of them, as he later recalled – had died. He was not a doctor, but it looked as if there had been a problem with the oxygen supplies.
Delaney alerted several nurses and doctors, who told him they had already complained to the administration but had been brushed aside. On May 2, the incident repeated itself. This time, 12 patients died. On the night of May 3, that number rose to 14.
On May 4, after Delaney had been observing the Covid-19 wards for nearly two weeks, an entire ward ran out of oxygen. He saw a chance to save everyone affected – all the patients were still alive, though struggling – but when he approached staff, they confided they were afraid of reprisals from the hospital administration if they spoke up. After two patients died, he went public with his findings.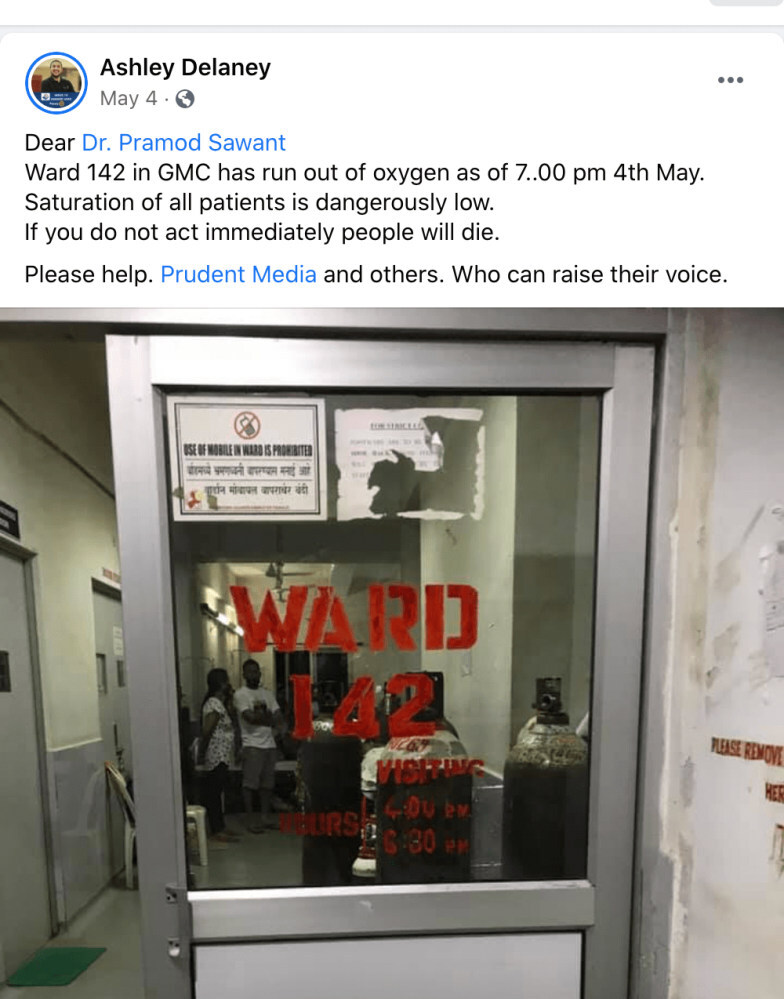 Delaney wrote a whistle-blowing Facebook post that he shared with his 2,700 friends, tagging Goa's chief minister, Pramod Sawant: "Ward 142 in GMC has run out of oxygen as of 7:00pm 4th May. Saturation of all patients is dangerously low. If you do not act immediately people will die." The post went viral. The very next day, Sawant appeared at the hospital to meet staff and brief the press.
An internal investigation would show that on the nights of May 2 and 3, 23 people had died because of a drop in oxygen levels, just as Delaney said. (The other deaths were attributed to Covid-19-related causes.) Lawyers appearing on behalf of the state government at a hearing claimed the disruption in the supply had occurred because the tractor carrying the oxygen had difficulty "manoeuvring" on hospital grounds. The tractor was linked to at least 83 deaths in five nights.
While some nations seem to be approaching the end of the pandemic, Covid-19 remains a threat in India, with more than 30 million people infected and
over 400,000 deaths
– official figures that many believe are far below the real numbers. A more likely scenario,
The New York Times
reported on May 25, is that 539 million people have been infected and more than 1.6 million are dead.
On June 27, The Wall Street Journal published figures from the University of Washington's Institute for Health Metrics and Evaluation, whose modelling also suggests that India is undercounting. The institute estimates the death toll at more than 1.1 million, or three times the official figure.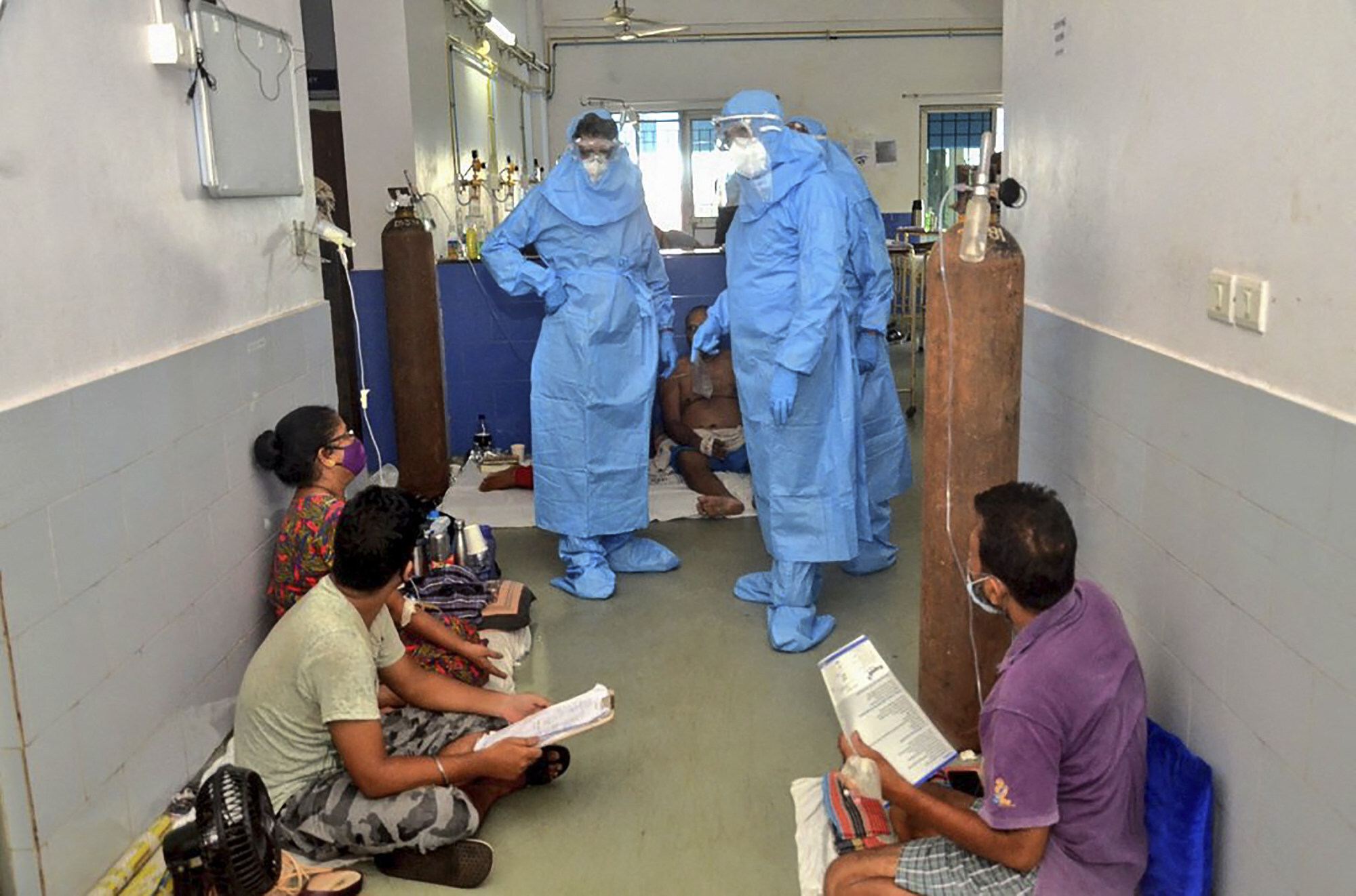 But the crisis was not an unavoidable tragedy. Even the new Delta variant discovered to be sweeping through the country was not some terrible random accident. Instead, the catastrophe that has struck millions of Indians is the direct outcome of the government's failures: its failure to plan ahead by increasing hospital capacity and acquiring medicines, and its failure to figure out contact tracing, collect adequate data and buy vaccines.
Even after it became clear that a second wave was inevitable, the government went ahead with superspreader events that served its own political purposes – and gave the virus a new opportunity. And at the centre of the crisis – paying little attention to science, seemingly refusing to heed good advice and appearing concerned primarily with holding on to power at any cost – stands
India's Prime Minister Narendra Modi
, a Hindu nationalist whose arrogance and underpreparedness have cost the country an incalculable price.
Modi's decision was applauded as proactive, but it was also poorly managed: he gave India's 1.39 billion people less than four hours to prepare before the lockdown went into effect, triggering the largest mass migration in the history of the subcontinent since the Partition of India, in 1947.
Millions of daily wage workers – estimates range from 10 million to 80 million – scrambled to return to their homes in the rural hinterland, but with public transport closed, many were forced to walk hundreds of kilometres. In its attempt to prevent one disaster, the government caused another.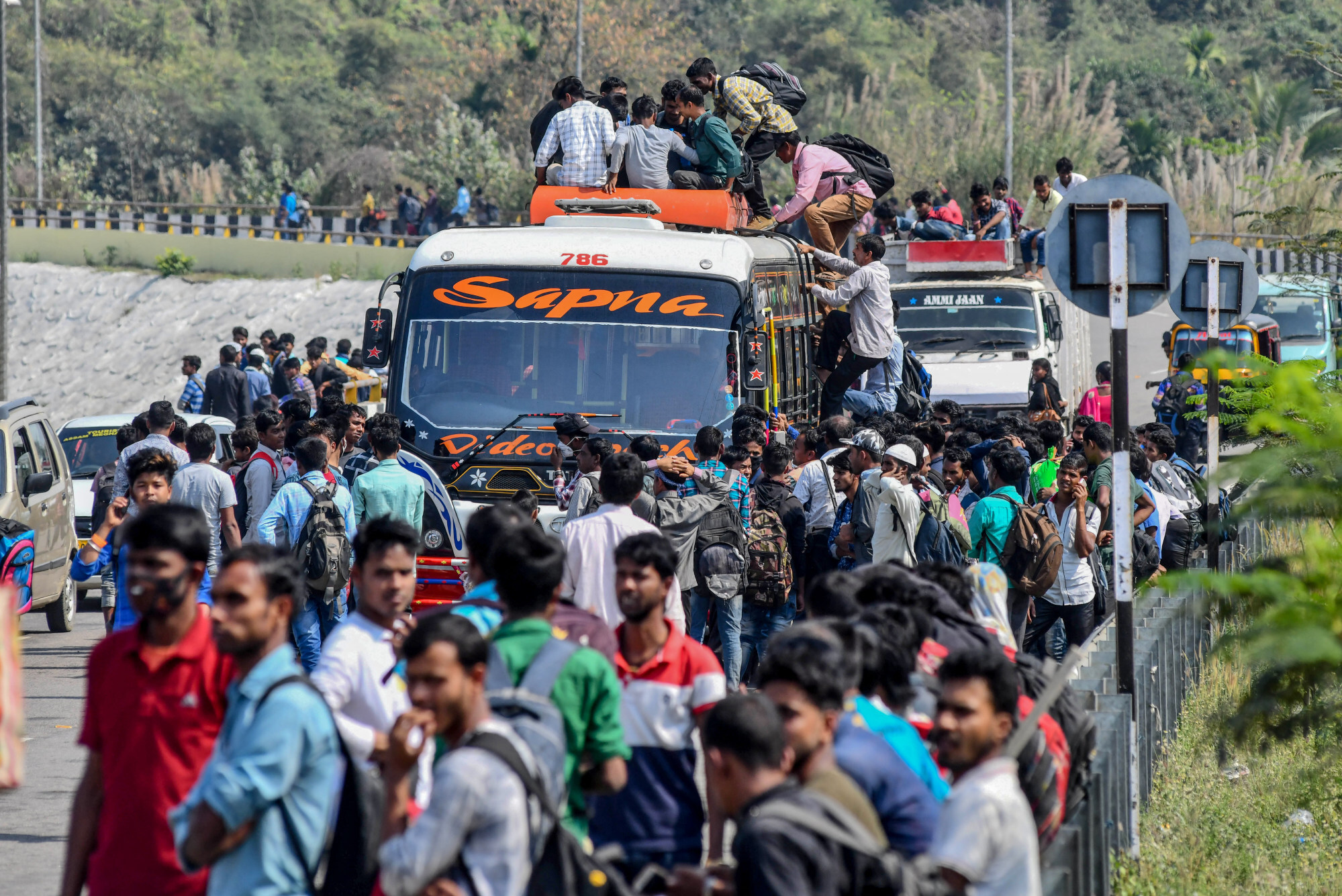 A humanitarian crisis now unfolded live on India's television screens as nearly 1,000 migrants died from various lockdown-related causes – traffic accidents, starvation and even police brutality as officers mercilessly enforced the rules. Not only that, but the migration carried the virus, which had been concentrated in urban centres, into every corner of the country.
The Serum Institute makes more than 1.5 billion doses of vaccines every year, so it was not a stretch to imagine that it was up to the task. The company's billionaire CEO, Adar Poonawalla, told Reuters that Modi's office was "very closely" involved with the company's plans.
But while the prime minister was later photographed visiting the Serum Institute, the Indian government did not actually enter into an agreement with the manufacturer – nor did it help it to ramp up production.
In the United States, the government had launched
Operation Warp Speed to accelerate the federal response to the pandemic
; in Britain, Downing Street had funded the development of the AstraZeneca vaccine with an £84 million (US$116 million) grant and an order for 100 million doses. Modi, on the other hand, did not secure vaccines from the manufacturer in his own backyard.
The idea behind the lockdown was to prepare. That didn't seem to have happened

Ramanan Laxminarayan, founder and director, Centre for Disease Dynamics, Economics and Policy
India's loss was the world's gain: Serum signed contracts with Covax Facility, a World Health Organization-backed vaccine-sharing partnership, and other countries including Canada and Britain. It was not until January 2021 that the Indian government placed its first order – by which time virtually all of Serum's stock was spoken for.
On June 1, 2020, Indians emerged out of the strict lockdown to a situation more precarious than before. More than 140 million people had lost their jobs, and the unemployment rate had leapt from 8 per cent to 26 per cent. The government had not used the time to build hospitals, better equip more than a handful of old ones or stock­pile medication.
The lockdown had taken the virus to India's villages
, where medical oxygen was a scarce commodity in the best of circumstances.
"The idea behind the lockdown was to prepare," says Ramanan Laxminarayan, the founder and director of the Centre for Disease Dynamics, Economics and Policy, a public health organisation in Washington. "That didn't seem to have happened."
Instead, India exported vital supplies: twice as much oxygen as the previous year and close to 1.1 million units of the antiviral drug remdesivir were sold to other countries. As some people, including then US President Donald Trump,
touted hydroxychloroquine as a remedy
, India sent America 50 million tablets. And as soon as Serum was producing vaccines, India exported those as well. Before the anniversary of the pandemic, the government gave away more than 66 million doses to 95 countries in a diplomatic effort it called Vaccine Maitri, or Vaccine Friendship.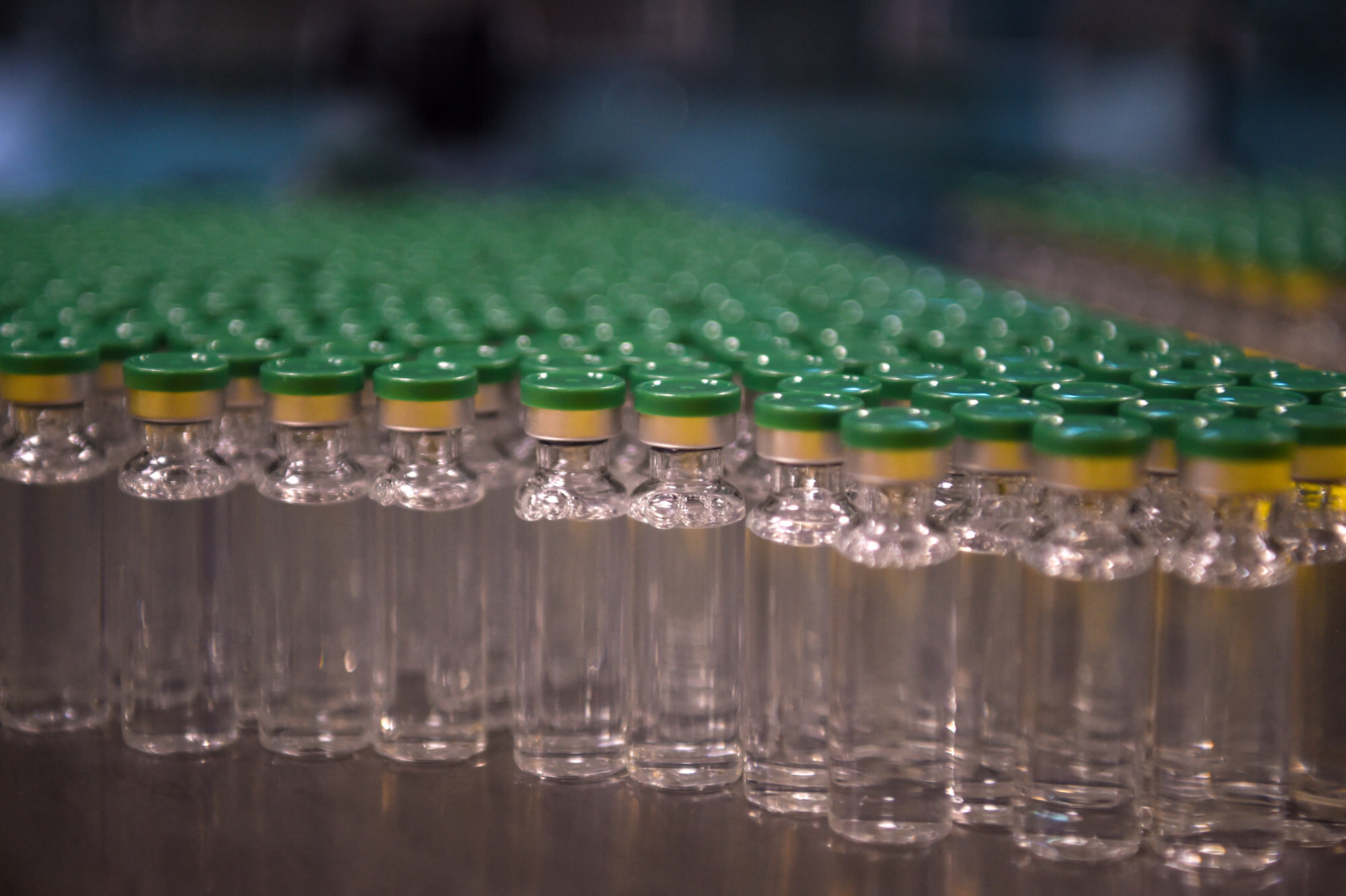 By September 2020, India had the world's fastest-growing outbreak of Covid-19 in absolute numbers, according to the World Health Organization (WHO), with between 5 million and 6 million infections. In a nationally televised address on October 20, Modi urged people not to let their guard down and told them to wear masks – then immediately undercut his message.
"Out of every million, we have around 83 deaths," he told a television audience. The numbers drew scrutiny, with concerns that there was substantial undercounting – no surprise given that the previous year he had been accused of suppressing his own government's report on the unemployment rate because it showed a 45-year high.
Then, in November, a doctor named Arun Njanappilly Madhavan published a spreadsheet that showed a discrepancy between official death figures and the numbers that he and a group of volunteers had collected. They had scoured newspaper obituary notices and television reports in Kerala during India's first wave.
"In Kerala itself, around 60 to 70 per cent of deaths were not counted," says Arun. "People who had underlying conditions or those who had tested negative just before dying were not counted as Covid-positive deaths."
Kerala's handling of the pandemic is widely considered one of the few bright spots in an otherwise dismal landscape. If the undercounting there was so bad, suggested Arun, it was likely far worse elsewhere.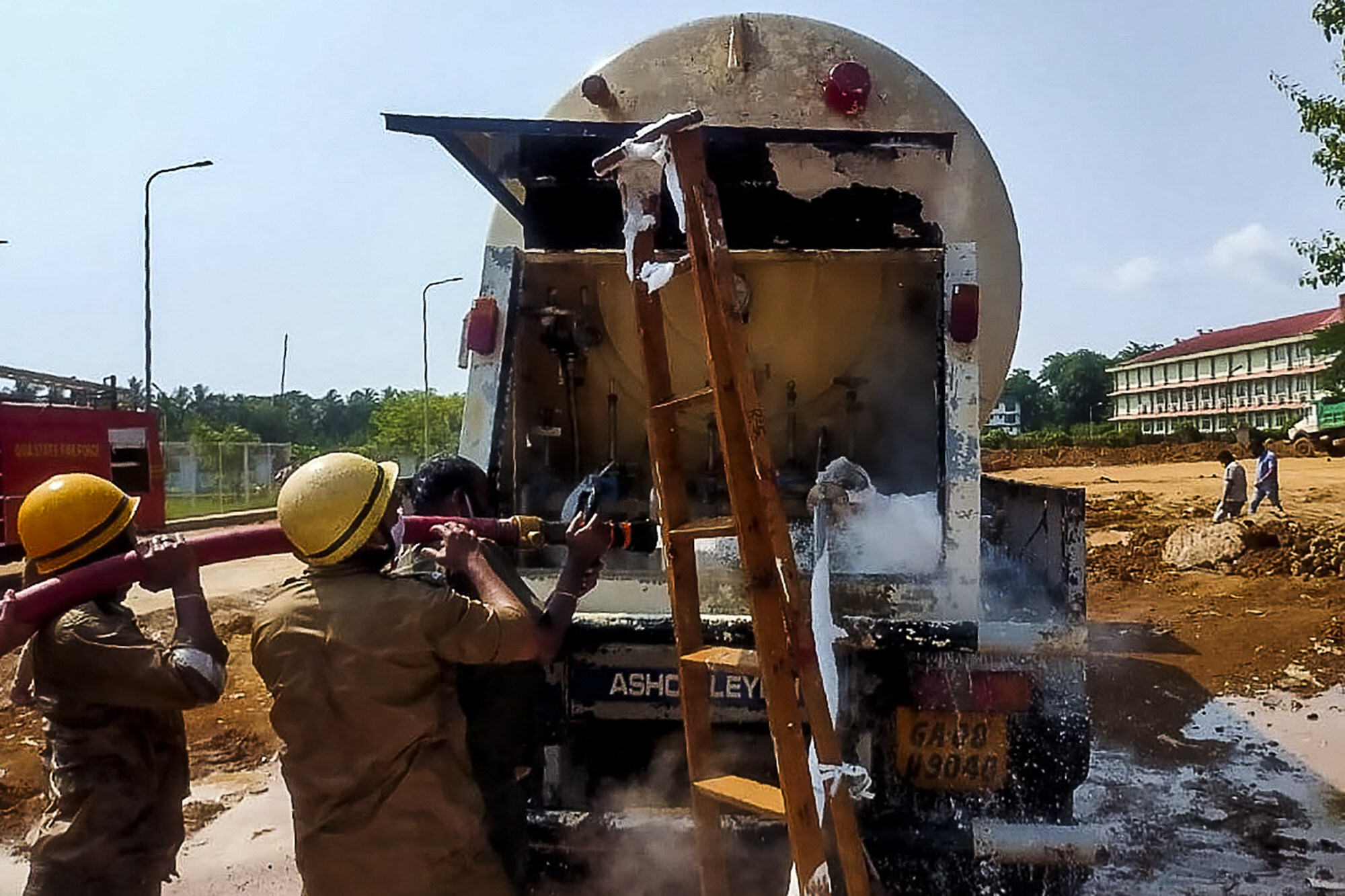 But voices like his were drowned out by the federal government's messaging, which suggested that India had somehow outwitted the virus. The hype was so strong that even some medical professionals bought into it. A Harvard Medical School professor told the financial daily Mint that "the pandemic has behaved in a very unique way in India".
"The real harm in undercounting is that people will take the pandemic lightly," says Arun. "If supposedly few people are dying due to Covid, the public will think it doesn't kill, and they won't change their behaviour."
In fact, by mid-December 2020, India had reached yet another sombre milestone: it recorded its 10 millionth infection. It was only the second country to do so, after the US.
The government had not used the first lockdown wisely, but December was its chance to set things right, says Gagandeep Kang, a professor of microbiology at the Christian Medical College in Vellore, Tamil Nadu. She says that a number of tactics – ramping up sequencing, studying public behaviour, collecting data, refusing permission for superspreader events and starting the vaccine roll-out earlier than planned – would have saved many lives during the now-inevitable second wave.
Instead, she says, the government continued its "top-down approach", in which bureaucrats, rather than scientists and health-care professionals, were making decisions. "We live in a very unequal society," she says. "So we need to engage people and build partnerships at a granular level if we are to effectively deliver information and resources."
In December, the government of Goa let its guard down entirely. The state is reliant on tourism, which makes up nearly 17 per cent of its income. The bulk of the tourists show up in December, to celebrate Christmas and New Year on beaches with raves and fireworks.
Vivek Menezes, a Goan journalist, says the state's reputation as "the place to be" had not faded during the pandemic. "It's the place for India's wealthy and for Bollywood, and therefore it's the place for India," Menezes says. The pandemic had kept foreign tourists from visiting, but domestic holidaymakers poured in.
Some states, such as Maharashtra, had placed restrictions at their borders; others, like Kerala, had a strict policy of contact tracing. In Goa, visitors didn't even have to show a negative Covid-19 test. And the state's masking policy extended only to health-care workers, visitors to health-care facilities, and people showing symptoms. "
Goa was left to the dogs
," says Menezes.
India started 2021 having registered nearly 150,000 deaths. Only then, in January, did the government place its first vaccine order, and it was for a shockingly low amount – just 11 million doses of Covishield, the Indian version of the AstraZeneca vaccine. It also ordered 5.5 million doses of
Covaxin, a locally developed vaccine
that has yet to publish efficacy data.
Those orders fell far short of what the country needed. Subhash Salunke, a senior adviser to the independent Public Health Foundation of India, estimates that 1.4 billion doses would have been required to fully vaccinate all eligible adults.
On January 28, in an address to the World Economic Forum in Davos, Modi declared that India had "saved humanity from a big disaster by containing corona effectively".
His government then gave the go-ahead for the Kumbh Mela, a Hindu festival that attracts millions of people to the holy city of Haridwar in the northern state of Uttarakhand, which is famous for its temples and pilgrimage sites. When the state's then chief minister suggested the festival should be "symbolic" this year given the circumstances, he was fired.
A senior politician in the prime minister's Bharatiya Janata Party (BJP) told the Indian magazine The Caravan that the federal government had its eye on the forthcoming state elections and did not want to lose the support of religious leaders.
As it turned out, the Kumbh was not just any superspreader event – with a reported 9.1 million people there, it was the world's largest superspreader event. "Any person with a basic textbook on public health would have told you this was not the time," says Kang.
In all directions I see huge crowds of people. I have never seen such crowds at a rally

Indian Prime Minister Narendra Modi gloating over the crowd size at one of his rallies in April
In February, Salunke was working in an agrarian district in the western state of Maharashtra when he noticed that the virus was transmitting "much faster" than before. It was affecting entire families.
"I felt we were dealing with an agent that had changed or appeared to have changed," he says. "I started to investigate." Salunke, it now turns out, had found one mutation of a variant that had been detected in India the previous October. He suspected that the variant, now known as Delta, was about to run rampant. It did. It is now in more than 90 countries.
"I went to all those who are responsible and those who matter – whether district level officials or bureaucrats at the central level, you name it. Everyone who I knew I immediately shared this information with," he says.
Salunke's discovery does not appear to have affected the official response. Even as the second wave was accelerating and after the WHO designated the new mutation "a variant of interest" in April, Modi kept up his hectic schedule ahead of state elections in West Bengal, personally appearing at numerous public rallies.
At one point he gloated about the size of the crowd he had attracted: "In all directions I see huge crowds of people […] I have never seen such crowds at a rally."
"The rallies were a direct message from the leadership that the virus was gone," says Laxminarayan of the Centre for Disease Dynamics, Economics and Policy.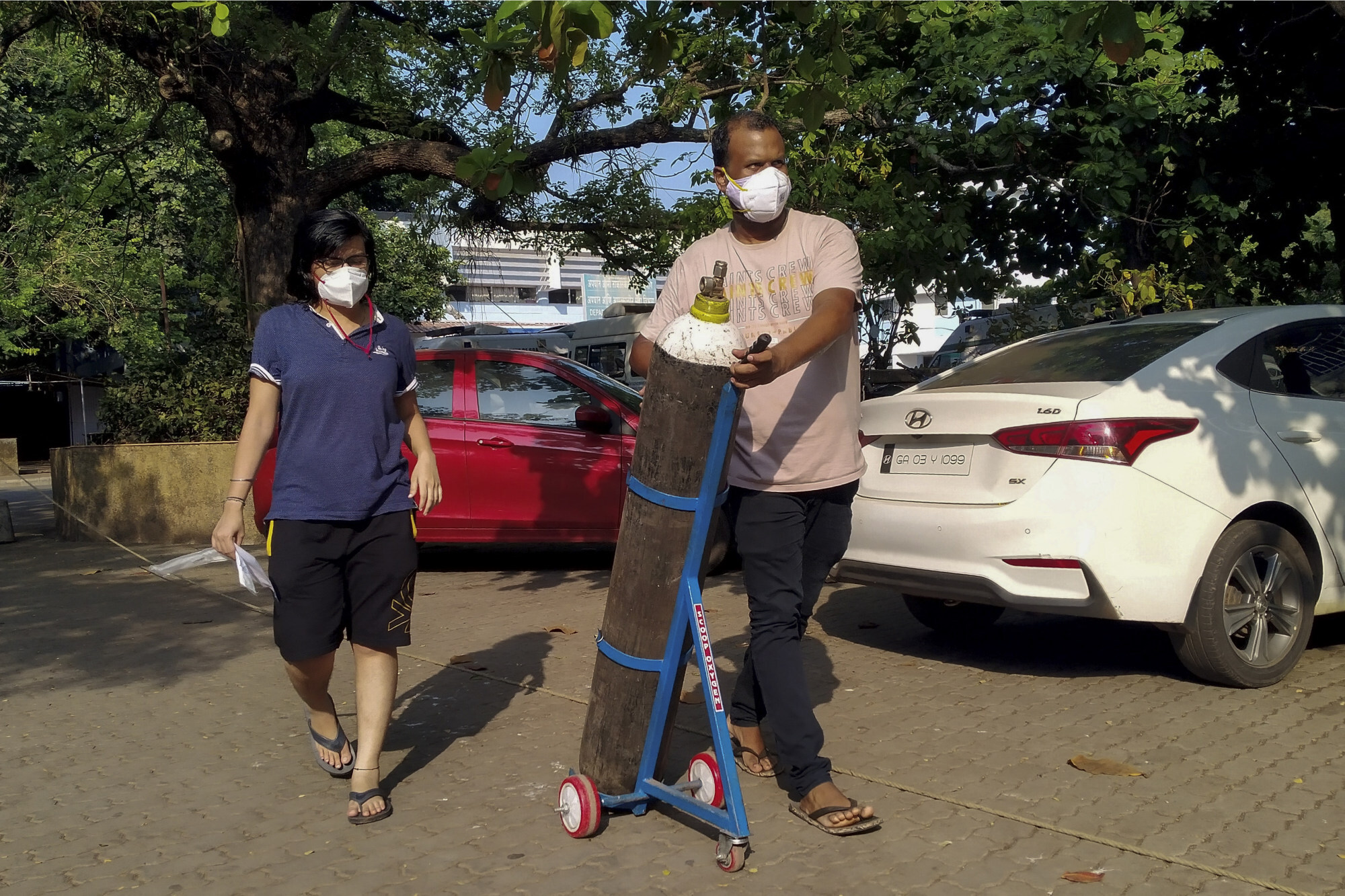 The second wave filled hospitals, which quickly ran out of beds, oxygen and medication, forcing gasping patients to wait – and then die – in homes, in car parks and on pavements.
Crematoriums had to build makeshift pyres
to keep up with the demand, and there were reports that the outpouring of ash drifted so far it stained clothes a kilometre away.
Many poor people could not even afford to pay for funeral rites and immersed the bodies of their loved ones directly into the River Ganges, which led to dozens of corpses washing up on the banks in several states. Alongside these apocalyptic scenes came the news that
deadly fungal infections were overwhelming Covid-19 patients
, likely as a result of lower infection control and overreliance on steroids in treating the virus.
And through it all, there has been Modi. The prime minister had been the face of India's fight against the pandemic – literally: his picture appears prominently on the certificate given to people who get their vaccine. But after the second wave, his premature triumphalism was mocked and his lack of preparedness widely derided.
Since then, he has gone largely missing from the public eye, leaving it to colleagues to place the blame elsewhere, most notably – and inaccurately – on the government's political opposition. As a result, Indians have been left to face the biggest national crisis of their lifetime on their own.
This abandonment has created a sense of camara­derie among some groups, with many using social media and WhatsApp to help each other out by sharing information about hospital beds and oxygen cylinders. They have also organised on the ground, distributing meals to those in need.
But the leadership vacuum has also produced a huge opening for scammers at the highest levels. In May, opposition politicians accused a leader of the ruling BJP party, Tejasvi Surya, of taking part in a vaccine commission scam. And the health minister of Goa, Vishwajit Rane, was forced to deny claims that he played a part in a scam involving the purchase of ventilators.
Even the prime minister's signature Covid-19 relief fund, PM Cares, came under fire after it spent 2,250 crore rupees (US$300 million) on 60,000 ventilators that doctors later complained were faulty and "too risky to use". The fund has also raised concerns about corruption and lack of transparency.
A successful vaccination agenda might have helped erase the memory of all the missteps, but under Modi it has been one technocratic mistake after another. At the end of May, the government announced plans to start mixing doses of vaccine types.
And then there is cost. While the government covered the cost of vaccination for health-care staff, frontline workers and those over 45, it expected people between the ages of 18 and 44 to pay for their own shots. India was the only major country to pass on this cost to the public. Most paid about 900 rupees (US$12) for one shot, but some reported being charged as much as 1,800 rupees, an astronomical sum in a country where 134 million people live on less than US$2 a day.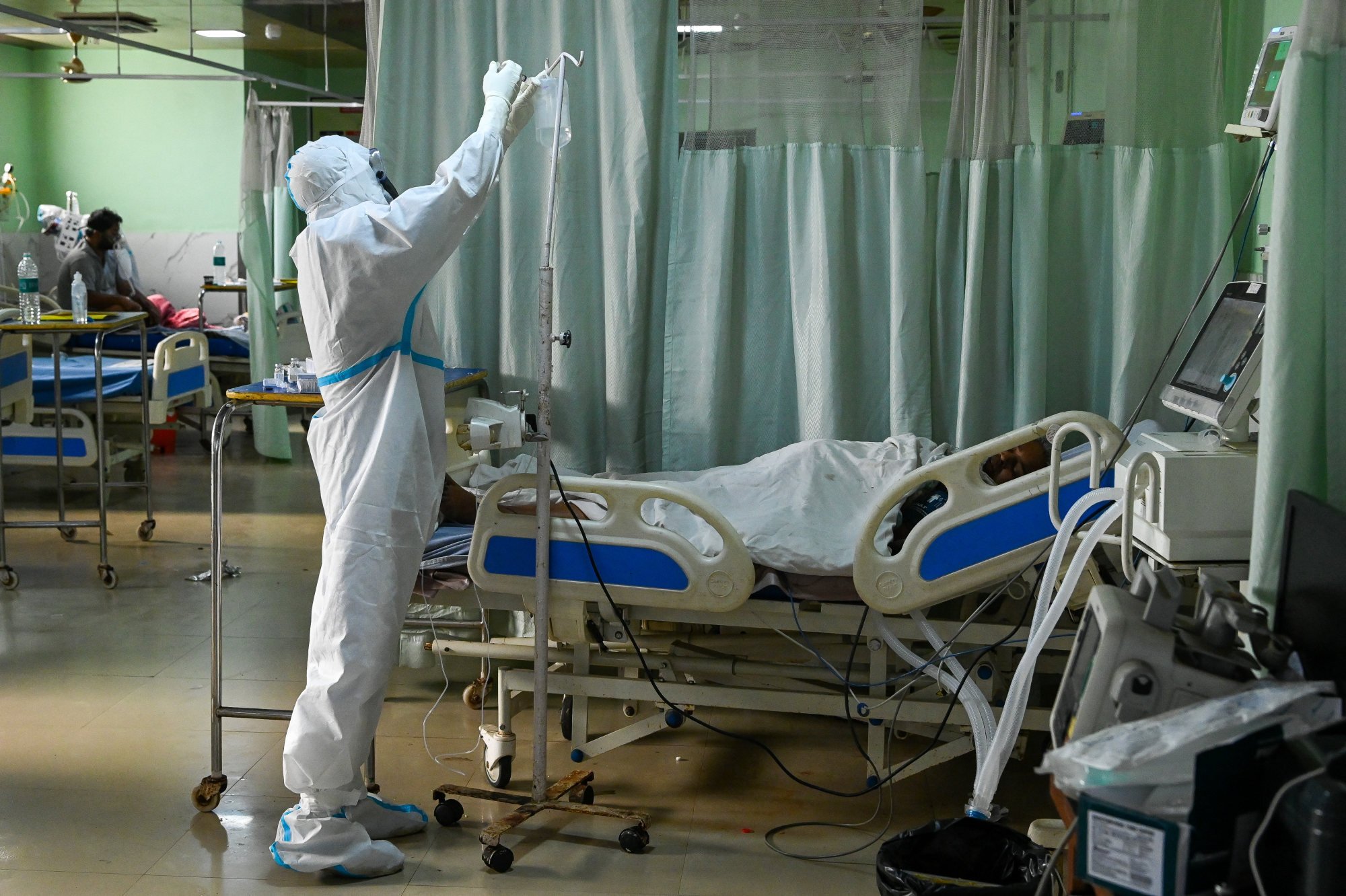 In yet another unprecedented move, the government told individual states that it was up to them to purchase vaccines for the under-45s. "This was another googly," says Laxminarayan, who called the decision "bizarre". India was one of only two countries in the world to adopt this model – the other being Brazil, which has also registered hundreds of thousands of deaths.
The vaccination plans were so unrealistic and unfair that the Supreme Court weighed in on May 31, telling the government to "see what's happening across the country". The court described government actions as "arbitrary and irrational" and demanded a "fresh review of its vaccination policy".
In early June, the government responded to the rebuke by agreeing to procure vaccines for those eligible and supply them to the states for free. However, to get a slot, many still have to access CoWIN, the error-prone online service. It is the sort of chaos that they do not need more of – but continue to face.
In early May, Ashley Delaney, the Goa Medical College whistle-blower who witnessed the oxygen failures, came across yet another patient who needed his help. Sumita Datta, an assistant professor of economics, had been admitted to the hospital with Covid-19 but was left unattended for about 14 hours.
"I was drifting in and out of sleep, but none of the staff bothered with me," she says. Delaney noticed Datta and gave her something to eat and drink. He also took her for her tests, even as his father-in-law deteriorated.
On May 23, Delaney's father-in-law died of Covid-19. Datta, who is 38, survived, although she was diagnosed with Covid-19-related pneumonia. A CAT scan showed that more than 50 per cent of her lung tissue was infected. Six days later, she was discharged, but she was bedridden for two more weeks with chest pains, a rapid pulse and general exhaustion.
Today, India's second wave has largely subsided. But the threat is far from over. A version of the Delta variant known as Delta Plus, first reported on June 11 and said to be even more transmissible, has already been detected in 12 states. And as of July 24, only 6.7 per cent of Indians were fully vaccinated, according to The New York Times.
Now health-care experts have started warning of a third wave that could come as early as September. Salunke is among those who believe that it will hit those under 18 and that health-care workers must be given the training required to care for paediatric patients on ventilators.
To save lives, the Indian government has to do more of everything, he says, including getting more people vaccinated and procuring more drugs for the rapidly increasing number of fungal infections. "We have to have a plan for until the end of December 2021, and then we have to prepare for up to 2022," he says. "This won't go away for at least the next two years."
Meanwhile, in Goa, Datta is still shaken. When she returned to work after weeks in bed, she found herself unable to focus for more than 20 minutes at a time. Three days later, she was home in bed once more. She says she is "terrified" about the future of the pandemic in India and feels caught at the centre of a web of mistakes and missteps. Feeling helpless, she wonders: "What do we do?"
This story is part of the Pandemic Technology Project, supported by the Rockefeller Foundation.