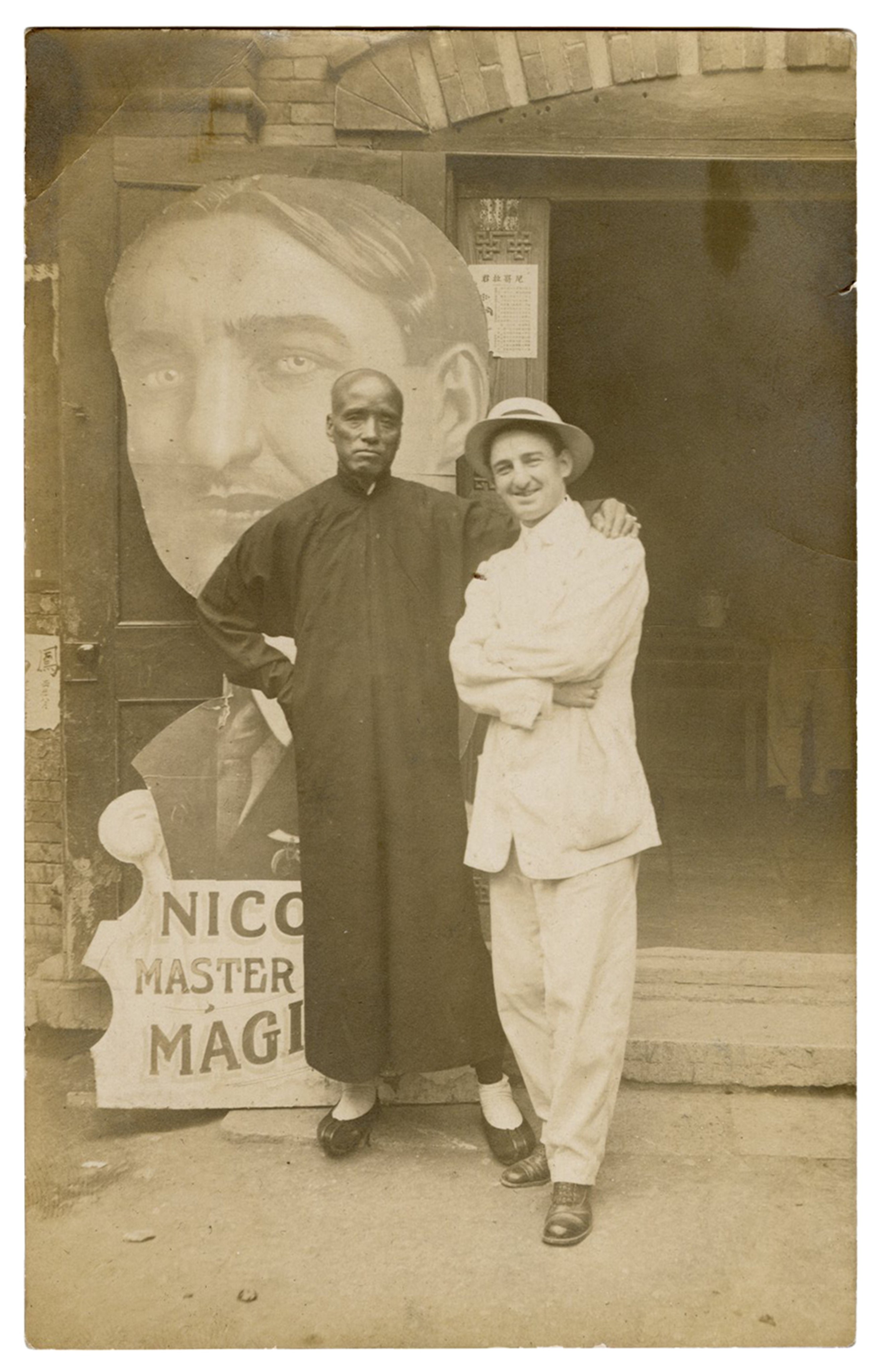 Houdini called him a 'super magician' and an American pretended to be Chinese to copy his act. Who was Ching Ling Foo?
Profile
Ching Ling Foo, the 'Original Chinese Conjuror', took the US by storm 120 years ago and became one of the highest paid entertainers in the country – twice
Hailed by Harry Houdini as a "super magician" in his 1920 book, Miracle Mongers and Their Methods, as well as a personal friend, travelling conjuror Ching Ling Foo arguably performed his greatest trick offstage.
Just over 120 years ago in peak "yellow peril" America, Foo subverted the stereotypes that gave birth to the
Chinese Exclusion Act
of 1882 and became one of the most popular and highest paid performers in the United States – twice. Once was during his first US tour, from 1898 to 1900, and then again when he went back more than a decade later, from 1912 to 1915.
Born Zhu Liankui to a family based in the port city of Tianjin, in 1854, the man America would come to know as "the Original Chinese Conjuror" overcame a speech impediment and the early death of his father to pursue a passion for illusion, ignited by the street-corner performers and card sharps of his childhood.
By the time he was able to test his talents in the American market, Foo was already an established star in Asia, a success built on an ability to freshen what, for many, had become stale traditional Chinese magic.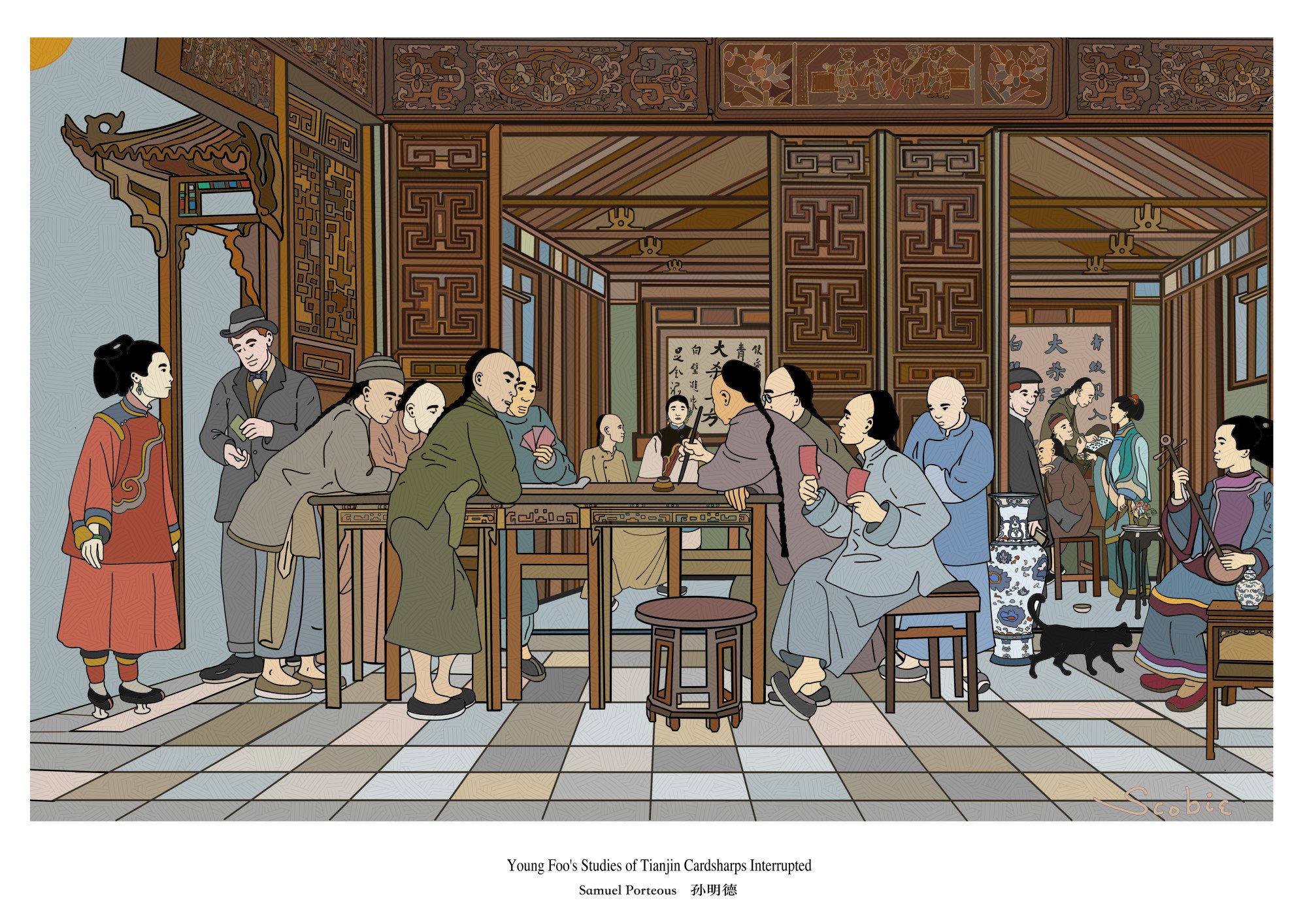 By 1898, Foo had transformed from Zhu the Stutterer to the leader of a carefully assembled troupe of jugglers, contortionists and acrobats, performing regularly for large audiences in China, and for the governors of both Hong Kong and Singapore.
This exposure led the Chinese-American entrepreneurs behind the 1898 Omaha World's Fair Chinese Village to sign the Foo troupe, who proved an even bigger hit with US audiences. Foo's fame, abetted by fledgling newswire services, spread rapidly across the country. According to the Chicago Daily News, the Chinese Theatre was "crowded from morning until night".
After their five-month run in Omaha, in the US state of Nebraska, the Foo troupe was signed and promoted – "boomed" in the language of the times – by a series of vaudeville theatres, including the dominant Midwestern chain, Hopkins, as well as the B.F. Keith Circuit, which boasted hundreds of venues up and down the East Coast.
The troupe that took these stages included Foo's "
lotus foot
" wife, Too Szi, whose feet had been bound; and their toddler daughter, Chee Toy, who sang children's songs in both Chinese and English, and was described by the
Omaha Daily Bee
as "the only baby Chinese performer in the world and certainly a wonder to all Americans".
It also included their contortionist son, Foo Quai, who was in his early teens; and the unrelated Harry Foo, a comedic juggler with a gift for American slang who could toss heavy vases high into the air and catch them, still spinning, on his chin.
But Ching Ling Foo, elegant in his trademark dark blue changshan (traditional formal apparel for Chinese men) and pillbox hat, was the main attraction. The 44-year-old, lauded as the "Greatest of All Magicians", enchanted wide-eyed American audiences, sometimes numbering over a thousand, with a collection of first-rate set-piece illusions.
Prominent among these was a near 20-minute fire- and smoke-breathing act. Foo would begin by gulping down handfuls of dry crumbling punk, the material from which firework fuses were made, from a large bowl. He would then light and swallow a few small lit candles, rubbing his stomach to indicate his discomfort.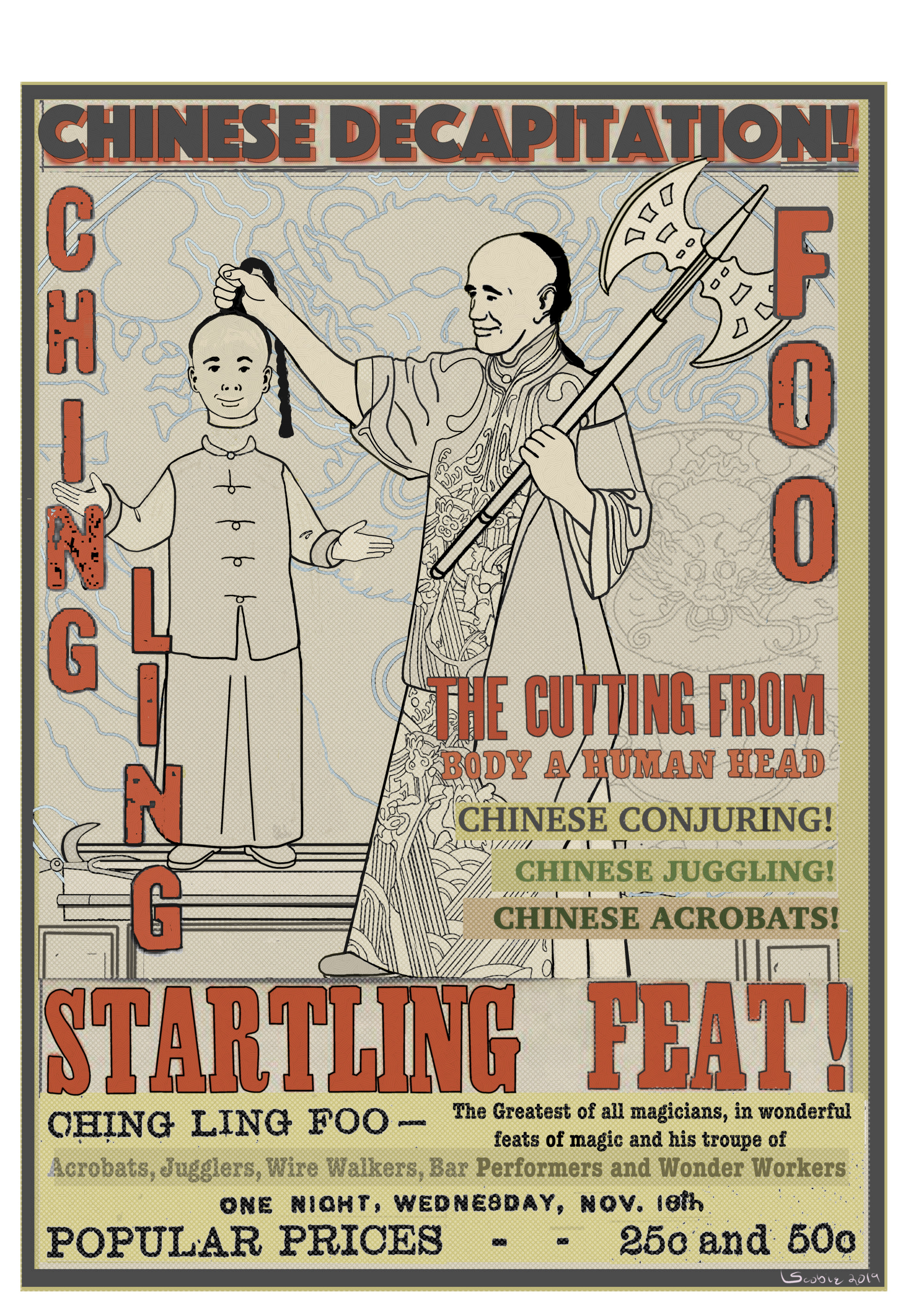 Tumblers of water would be brought to him by little Chee Toy, which he eagerly consumed, but to no avail. Finally, fanning himself and apparently unable to bear the heat that was building inside him, Foo would spit a series of ever larger fireballs clear across the stage all while emitting great plumes of undulating aromatic smoke that would slowly fill the theatre.
On other nights, audiences were stunned when Foo, using a sword or an axe, would behead an assistant. After a collective gasp escaped from the crowd, a smiling Foo would swiftly staunch the bleeding and successfully return the severed head to its flailing body. The smitten supporting cast member now smiling broadly would walk off the stage to great applause, none the worse for wear.
Foo lessened the shock of this illusion with some well-timed humour. He was a master of facial expressions and knew how to manipulate the audience's gaze.
Much of Foo's success with his magic was accredited to his ability to misdirect using his large, deep eyes, which one Boston Post writer described as moving like "an Atlantic coast lighthouse beacon".
As popular as his fire-breathing and decapitation illusions were, Foo's signature was his bowl production act. From under an embroidered shawl draped over his shoulder, Foo would produce, in a flash, anything from glass bowls filled with apples, water and quacking ducks, to a metre-high model of a Chinese temple with lighted windows and a candle on top.
These were the amplifications of traditional Chinese magic that had made Foo famous in Asia. Also key to repeat business, a big part of Foo's box office, were his efforts to never perform a trick the same way twice.
But with exposure came scrutiny and an arrest for violating the Chinese Exclusion Act, in Chicago, for overstaying his specially issued Omaha Exhibition visa, and a subsequent deportation order in late March 1899.
Foo's American management, who were doing well by the popular sorcerer, rapidly engaged the best of an emerging new species of jurist, called entertainment lawyers, and challenged the deportation. The resulting trial was front-page news across the country.
The judge's decision that the relevant provisions of the Chinese Exclusion Act did not apply to Foo, because he was an artist and not a labourer, was trumpeted across the US, along with well-placed announcements of Foo's next appearances.
The trial provided the additional burst of notoriety the Foo troupe needed to become the most popular and highest paid act in vaudeville. By January 1900, reports in the Washington Evening Star claimed the Chinese magician was making US$1,000 a week, equivalent to about US$35,000 a week today.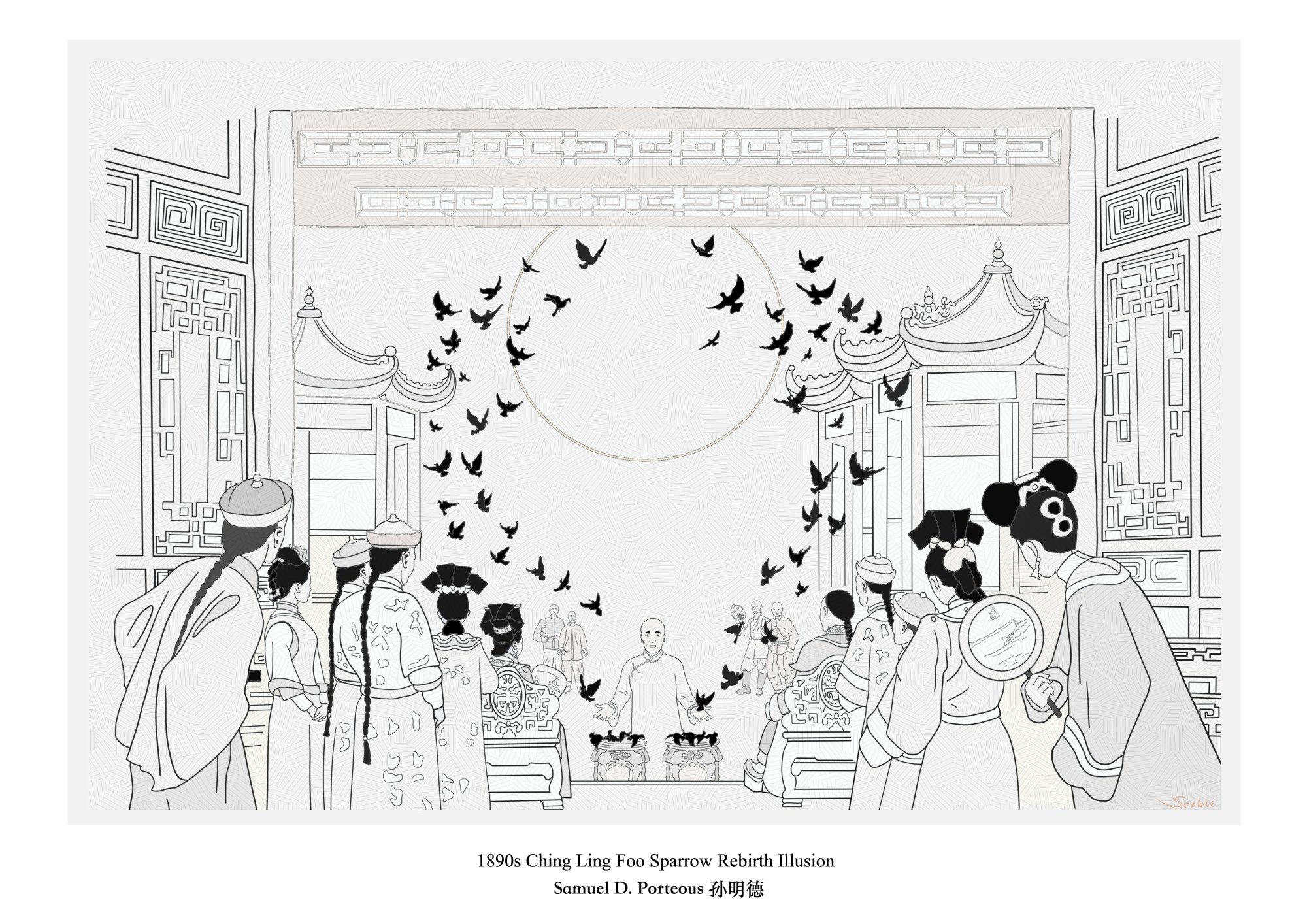 Acknowledging the uniqueness of the Foo phenomenon, an arts critic writing for Dramatic magazine noted US theatres had previously engaged and promoted other "oriental performers". However, none had caught on like the Foo troupe. In fact, many merely "ended their careers in a country circus".
Meanwhile, the Boston Herald proclaimed, "Ching Ling Foo, the Chinese magician, is proving every day that the immigration commissioner who held him up in Chicago as an alien made the biggest kind of mistake."
The unprecedented level of acclaim being awarded to a Chinese magician naturally attracted the attention of America's premiere publication devoted to the conjuring arts and its editors.
The venerable Mahatma made note of Foo's successful fifth week as the main attraction at Keith's Union Square Theatre in New York. It also proudly noted that the Chinese magician had found time during his busy schedule to make a pilgrimage to "the Magicians' Headquarters in America", Martinka & Co.
The shop, run by Francis and Antonio Martinka, supplied illusions, from off-the-shelf 10-cent tricks to the most elaborate and costly stage acts.
It was the golden age of stage magic and in a magic-mad America, bursting with both amateur and professional magicians, Martinka & Co was its Mecca.
Foo was rightfully impressed by the quality and range of illusions on offer and spent time chatting with the shop's craftsmen, who also provided mechanical effects for the nearby Broadway theatres. After buying several items, Foo then entertained the Martinka employees and visiting magicians with some well received impromptu legerdemain, or sleight of hand.
Impressed with Foo's goodwill work, the Chinese ambassador to the US, Wu Tingfang, arranged for Foo to be honoured by the Chinese government during his record-breaking seven-week run on the Keith's Union Square New York stage with a declaration lauding the magician's achievements in improving
Sino-US relations
.
Months later, in January 1900, when the Foo troupe reached Washington, The Baltimore Sun reported that Chinese diplomats augmented the conjuror's honours by presenting Foo with "two silk flags, one of the star-spangled banner and the other the imperial flag of the Chinese Empire".
The Chinese legation's support went beyond mere trinketry. Wu, who first met Foo at the 1898 Omaha World's Fair, thought so highly of the magician that he acted as a mediator when, in early 1900, contract discussions broke down between Foo and the vaudeville goliath B.F. Keith's.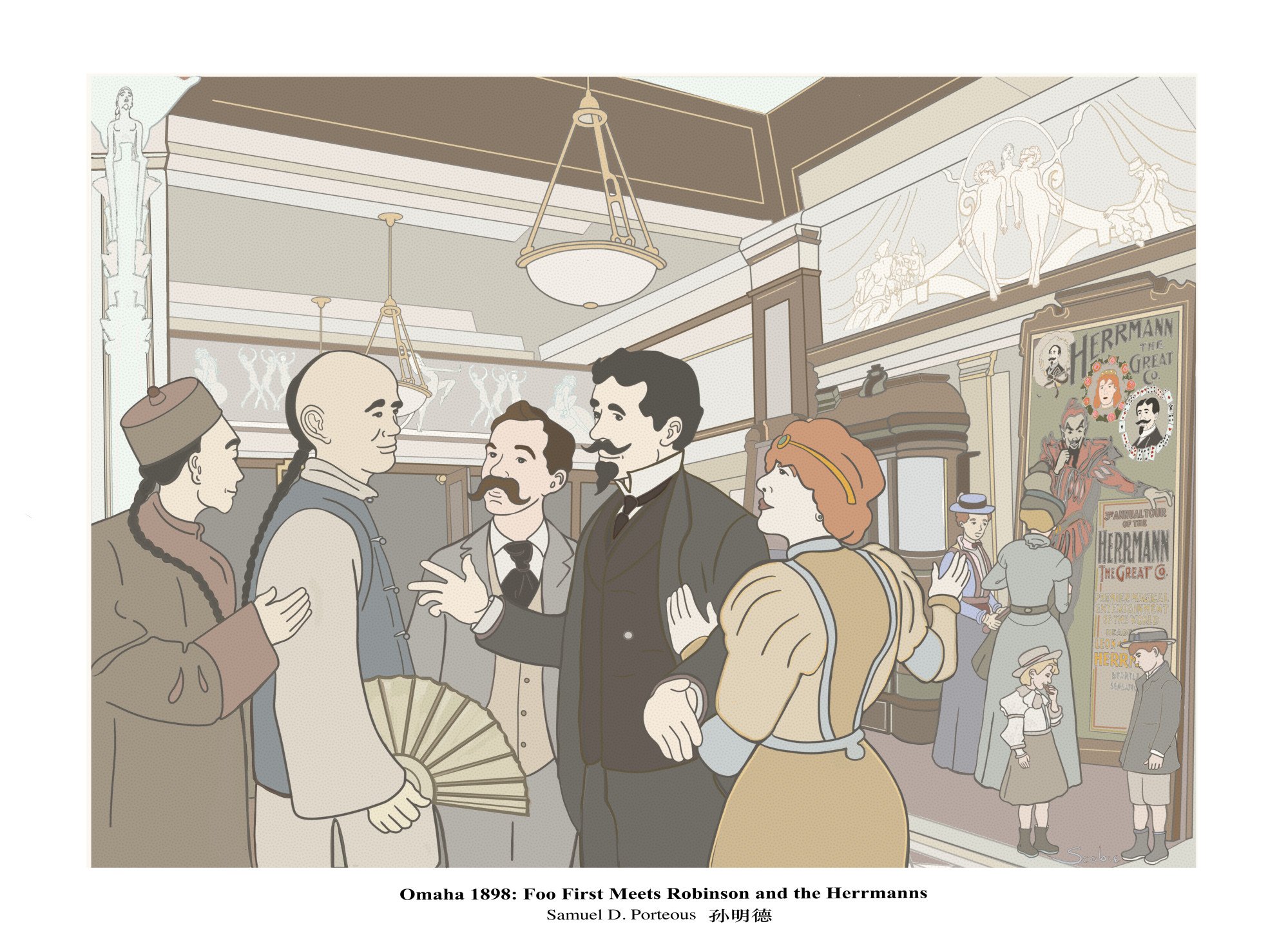 But towards the end of March 1900, as the troupe approached almost two years in the US, problems continued to accumulate. Despite Wu's efforts, Foo was still not satisfied with his contract. Bookings were not coming as quickly, and those that did were for one week only.
The ever more numerous Foo copycats, both yellowface and authentically Chinese, had begun to eat into the troupe's box office. To top it all, the management at Keith's – eager to milk every dollar it could from Foo's notoriety – had the conjuror performing his usual show on stage in the afternoon and then in the evening as a guest star in the hit musical Broadway to Tokio.
A weary Foo had had enough.
On May 28 that year, after nearly two successful years in America – which included making what are widely considered the first recordings of Chinese music and singing, in late 1899 – Foo and his family boarded the steamship Empress of India in Vancouver, Canada, and sailed for Hong Kong.
Little did Foo realise, but owing to ever-tightening US immigration policies, it would be more than a decade before he would return. In the interim, Foo focused on his China-based business interests, which now included theatres and filmmaking, in an increasingly unstable environment.
On arriving in London, Foo called out Soo both as a fraud, for not being really Chinese, and as an inferior magician who had copied his act
On Foo's return to China, in June 1900, the Boxer rebellion – an uprising that attempted to drive all foreigners from China – was just getting started. The commercial and political havoc it wreaked across the country meant Foo could not begin thinking of touring outside China until 1903, and it was 1905 before he had a major tour under way.
As Foo was prevented from travelling to America, his managers chose to tour England and then Europe, with a detour, as was common for travelling acts of the time, to the profitable South African market.
This journey to Europe would put Foo on a legendary collision path with one William Robinson, aka Chung Ling Soo. Back in 1900, Robinson, an American, sensing an opportunity to cash in on the phenomenon, copied Foo's act and took it to London.
By 1905, Robinson, performing in yellowface as Chung Ling Soo – a name specifically concocted to be confused with Ching Ling Foo – was one of England's most popular music hall performers.
On arriving in London, Foo called out Soo both as a fraud, for not being really Chinese, and as an inferior magician who had copied his act. For London's newspapers, the resulting "war of the wizards" and proposed contest of magic skills was one of the biggest entertainment stories of the year.
With all the vitriol, claims and counterclaims tossed about, the tilt took on the air of a world heavyweight title boxing match. Houdini, in town and always keen to pick up some free publicity, was to be one of the judges. But in the end, after all the frantic build-up, this "world championship of Chinese magic", came to nothing.
Foo, at the last minute, walked away from the challenge he had initiated.
Why he did so is a mystery that has plagued magic aficionados for more than a century. One possibility I put forward for the first time, in my 2020 biography of Foo, Ching Ling Foo: America's First Chinese Superstar, was that his decision to back away was the result of a geopolitically motivated intervention by the Chinese Legation in London.
From their perspective, given the volume of negative Chinese tropes inundating the British public at the time, Robinson performing as "Chung Ling Soo" may well have had a net positive impact on Chinese interests in England. Chinese or not, Robinson – like Foo and his troupe in America – presented a rare positive image of the Chinese to the British public.
Given Foo's history with Wu and the fact that Foo had met the Chinese Legation in London not long after his arrival, one may surmise that China's London representatives – who were dealing with the usual opium and gambling scares, and concerns about low-wage Chinese sailors taking the jobs of British seamen – might have requested that Foo, in the larger interests of his homeland, go easy on one of the few promoters of a positive image of the Chinese they had in London.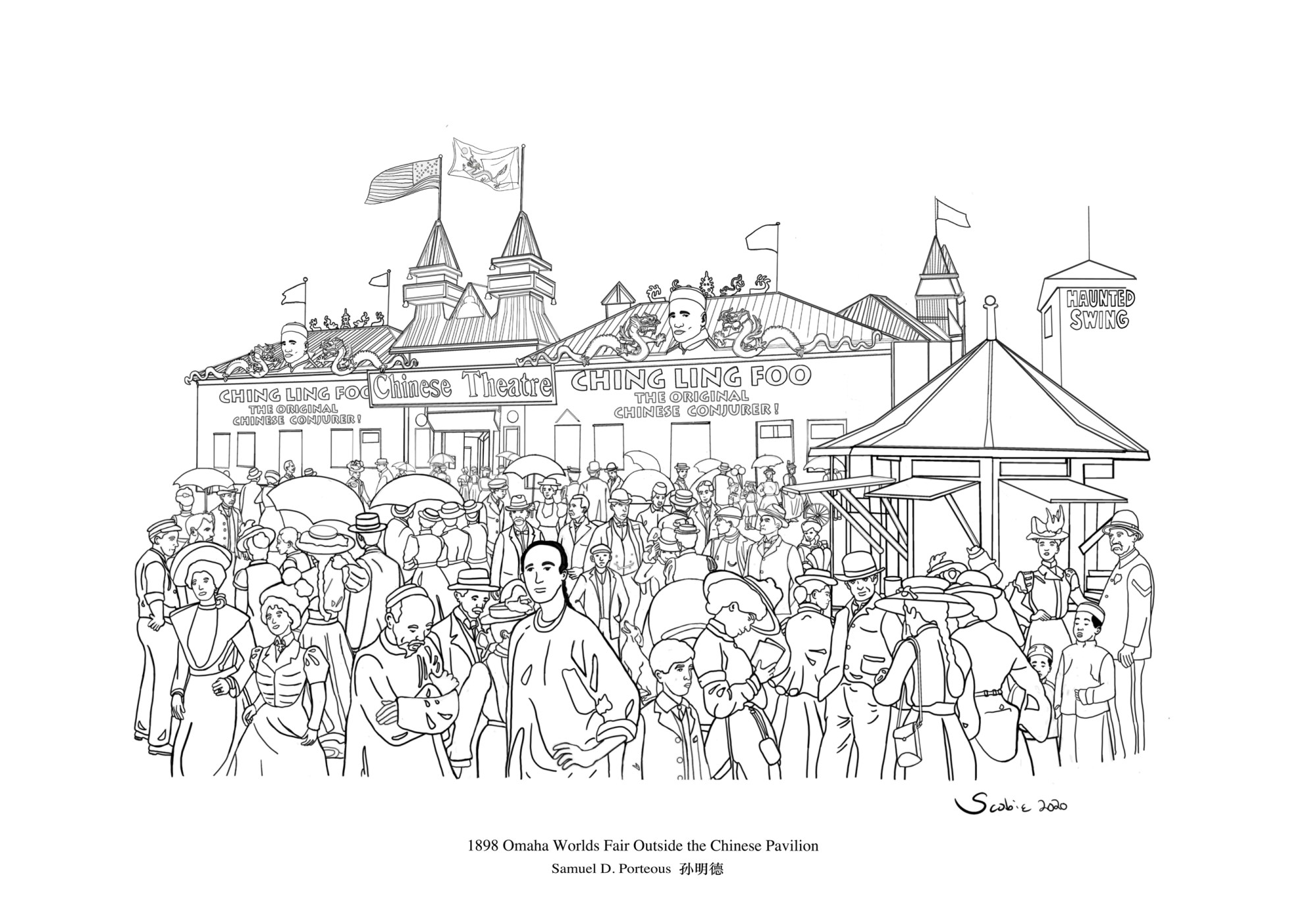 Moving on from the unconsummated contest that The Scotsman claimed had stirred "music hall London to its depths", Foo left behind what was described in The Illustrated London News as a "congestion of Chinese conjurors" attracted by all the commotion to tour through Europe.
While in Prague, as part of its promotional efforts, the Foo troupe donated some Chinese clothing and other items to the Náprstek Museum of Asian, African and American Cultures, which still displays the objects.
Once back in China, despite much public gloating on Robinson's side, and the surety of Foo and his peers in the US that his claims against the American copycat were true, the prideful Foo never once publicly revisited the contest.
Back in Shanghai, in autumn 1905, Foo's management's efforts to arrange a second US tour would endure numerous false starts and years-long delays. These delays, however, led to one of Foo's greatest achievements outside magic. He would make what is recognised as China's first documentary film.
In October 1911, Foo received news of a revolt by Chinese army troops in Wuchang against the unpopular Qing dynasty. The Xinhai revolution, which would lead to the founding of the Chinese Republic, had begun.
Foo, who had been developing his skills in film since his time in Omaha, had observed first-hand how US crowds had flocked to Spanish-American War newsreels, re-enactments and dramas made by pioneering film companies such as American inventor and businessman Thomas Edison's EMC and the American Biograph.
Foo was an almost Zelig-like, or chameleon-like, figure in the evolution of film. During his first US tour he observed up close the impact of the burgeoning industry and its moneymaking capacity.
Some of the earliest commercial films were of Foo's act or, like Edison's Ching Ling Foo Outdone!, were inspired by him. In one very meta moment in New York, Foo ended up competing with a film version of himself in the theatre across the street.
In April 1900, New York theatregoers had the choice of seeing Foo live at the Bijou Theatre, for between 50 cents and a dollar, or crossing the street to the Theatre Comique to see "Ching Ling Foo in moving pictures", for between 25 and 50 cents.
Having wisely trained himself in this new industry in the years since his first US tour, and sensing an opportunity to duplicate the success of the popular films depicting the Spanish-American War, Foo quickly assembled a film crew composed of Chinese and Westerners and headed into the fray.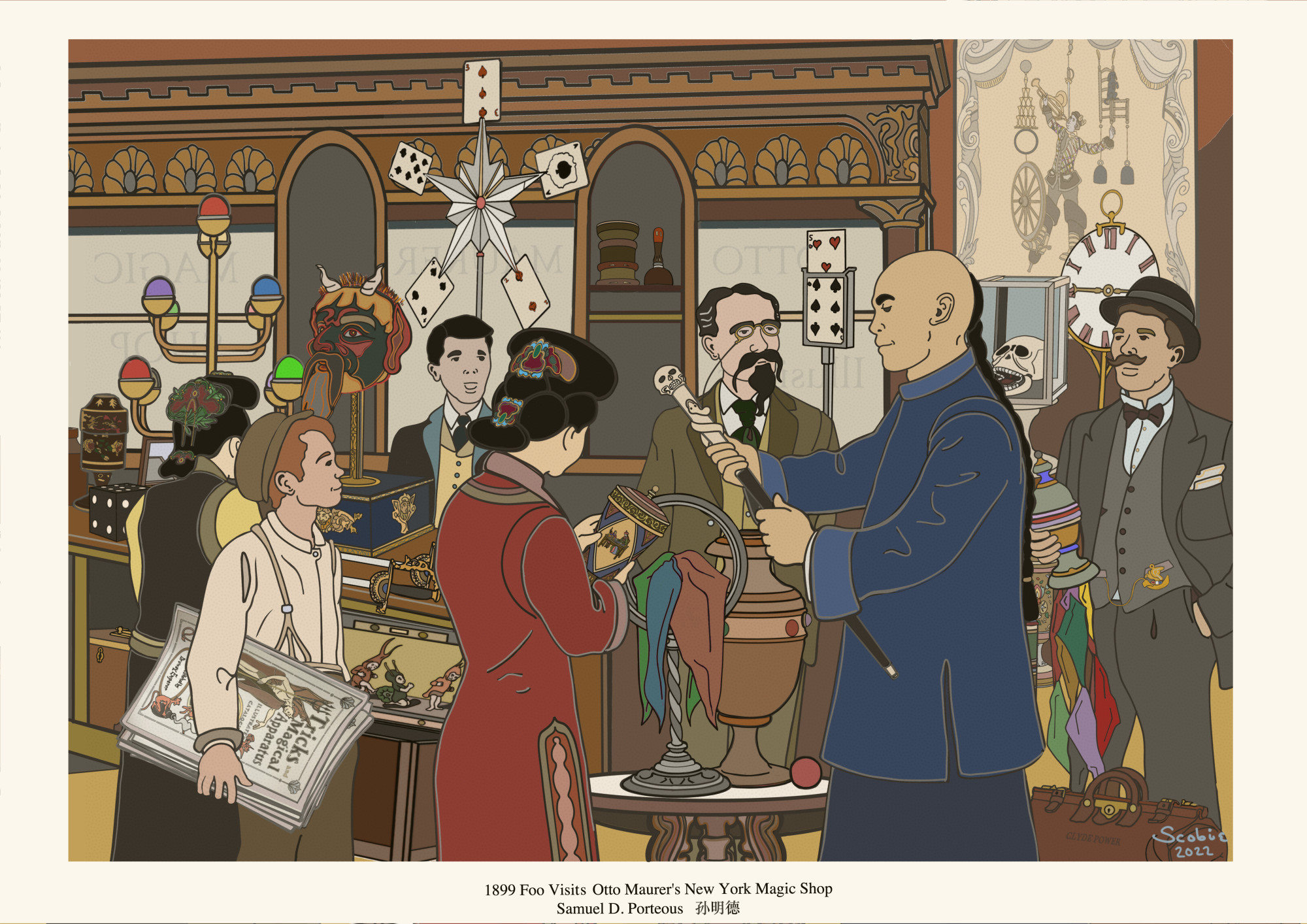 According to Chinese and Western scholars, including the China Documentary Research Centre and The Oxford Handbook of Chinese Cinemas, Foo and his team were reportedly fearless in their push to capture the most dramatic and telling footage by getting as close to the action as possible.
They even filmed from the roofs of commercial buildings bordering the conflict to get better angles of the fighting.
The resulting film,
Wuchang Uprising
, was not only China's first documentary but reportedly played a significant propaganda role in rallying public support among ordinary Chinese for the revolutionary forces eager to unseat the
Qing dynasty
.
And then, after all the delays, it was back to America for Foo's second tour.
The deal that paved his way back to the US stage was furnished by storied theatre impresario Oscar Hammerstein. After seeing the troupe perform at the Berlin Opera House in Germany early in 1912, Hammerstein booked them into his chain of eponymous theatres for more than US$2,500 a week, equivalent to about US$75,000 today, according to Variety magazine.
The Chinese Exclusion Act barriers were finally overcome thanks to Hammerstein and other entertainment executives, keen to get the Foo troupe back into America, lobbying the US Commissioner of Immigration.
Their efforts resulted in a new system for Chinese performers to enter the US: the entertainment companies bringing in the performers would provide the government with cash bonds guaranteeing they would leave the country after their touring contracts expired. If the Chinese performers did not leave, the entertainment company would forfeit its bond.
Having dodged the Chinese Exclusion Act a second time, Foo, along with his children Chee Toy and Yee Dee, and eight other Chinese performers and personnel, arrived in San Francisco on the steamship Nile, on November 11, 1912.
More than a decade had passed since his first US tour, but critics at respected magicians' journal The Sphinx called the Chinese conjuror's new illusions all "jewels". Foo's finale made a particular impact.
Now almost 60 years old, Foo would strip down to a tightfitting tunic, pat himself down, then race across the stage, leap into a somersault and stand out of the roll holding a large bowl of water containing goldfish.
Almost as popular as Foo, petite Chee Toy entranced audiences with her effortless transitions between Chinese ballads and popular ragtime tunes.
This second tour, like the first, boasted a pleasing array of plate-spinners, strongmen, contortionists and acrobats. The only other member of the original Foo troupe to return for the second tour was Chee Toy, now a young woman and an award-winning vocal soloist with eyes on a career in opera. Hammerstein wanted to make her a star.
Almost as popular as Foo, petite Chee Toy entranced audiences with her effortless transitions between Chinese ballads and popular ragtime tunes.
During this second gallop through the US, Foo's notoriety was employed in the evolving field of celebrity endorsements. His name and image proliferated in promotions and adverts for everything from hats to lucky rings, but it appears few of these "endorsements" resulted in pay.
There may have been at least one exception. A Packard automobile dealer in Connecticut had a story published claiming Foo always chose a Packard when renting a tour vehicle. The author suspects Foo at least got a discount for that one.
Foo achieved all this in the midst of a daggers-drawn contractual dispute with his former managers at the B.F. Keith Circuit, who were now operating a powerful and feared near-monopoly booking agency for "big time" vaudeville theatres called the United Booking Office (UBO).
On his return to the US, B.F. Keith surprised Foo and his management by claiming Foo's decade-plus old contract with the entertainment behemoth was still valid, and therefore Foo must play its theatres at the price it dictated.
Among the performers in the industry there was no love lost for the UBO. Variety had described the agency's behaviour towards performers and theatre owners as a "scandalous abuse of power".
So, according to a report in Variety, oppressed performers were thrilled when Foo and his Western managers, the pugnacious Shanghai-based Mooser brothers, Leon and George, told the UBO what they could do with their contract.
The dispute with the UBO, which controlled more than a thousand theatres in the US, hung over Foo's entire second tour. The conflict forced Foo to seek out theatre owners, venues and impresarios not susceptible to UBO pressure.
One result was that, for a time, he ended up headlining at the 1912 iteration of the legendary Ziegfeld Follies. During its golden era, from 1907 to 1927, the Ziegfeld Follies occupied a particular spot in US popular culture.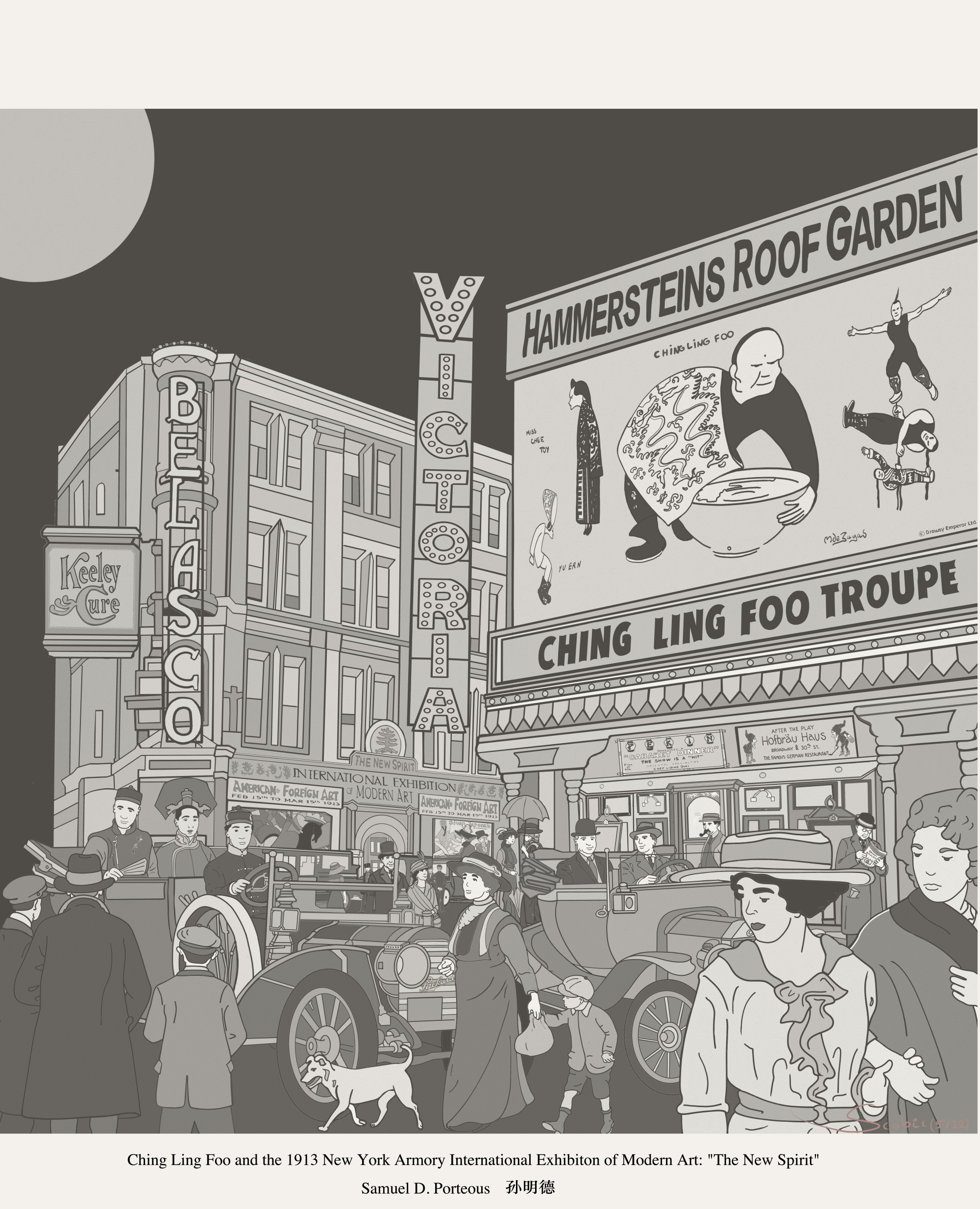 Inspired by the Folies Bergère of Paris, the Follies was, essentially, a hugely popular variety show that combined vaudeville and burlesque, providing eager audiences with music, comedy, dancing and a constant supply of beautiful, elaborately dressed young women, the Ziegfeld Girls.
The Follies, with its high-concept choreographed music and dance numbers, was in many ways the predecessor of today's Broadway musical spectaculars. And for much of its 1912-13 season, Ching Ling Foo was billed as its special guest/headliner.
In autumn 1913, after successfully "running the Puritans out of the house", as the unofficial Follies' credo had it, Foo teamed up with two very different divas for highly promoted multi-city tours, conducted by luxury private railcars. The private jets of the era, they allowed star performers to avoid the horrors of provincial hotels.
First, Foo was teamed with matronly popular singer Lillian Russell, the Oprah Winfrey of her day. Described in promotional materials as the "dictator of styles and fashions", Russell had her own national newspaper column and was a major influencer.
Foo's 1913 tour with Russell and William Farnum, promoted as "the handsomest man on the American stage", was described as one of the most expensive touring entertainments ever assembled and in its promotional literature as "an epochal adventure in the history of the American stage".
After the tour with Russell and Farnum, the Foo troupe, still blocked by the UBO from engagements in many theatres, toured with the modern dance guru and mimic Gertrude Hoffman, the "Woman Who Dares".
In her often barely there costumes, designed to shock, and stencilled-on henna stockings, Hoffman would not have been out of place at the 2022 American Music Awards.
Both the Russell and Hoffman tours would be whistle-stop campaigns, hitting small towns and large cities for one night or up to a week. A consistent element of both tours was that the Foo troupe was considered the most crowd-pleasing element of the revue.
One satisfied vaudeville habitué deemed the show "a whole lot better than most of the things we have been forced to put up with this season". Thus spoke Indianapolis.
During the second American tour, Foo, the father of Chinese documentary films, was just one step ahead of the ongoing displacement of vaudeville by the emerging film business. During his last months in the US, Foo continued to headline theatre bills, but more of his "supporting acts" were films.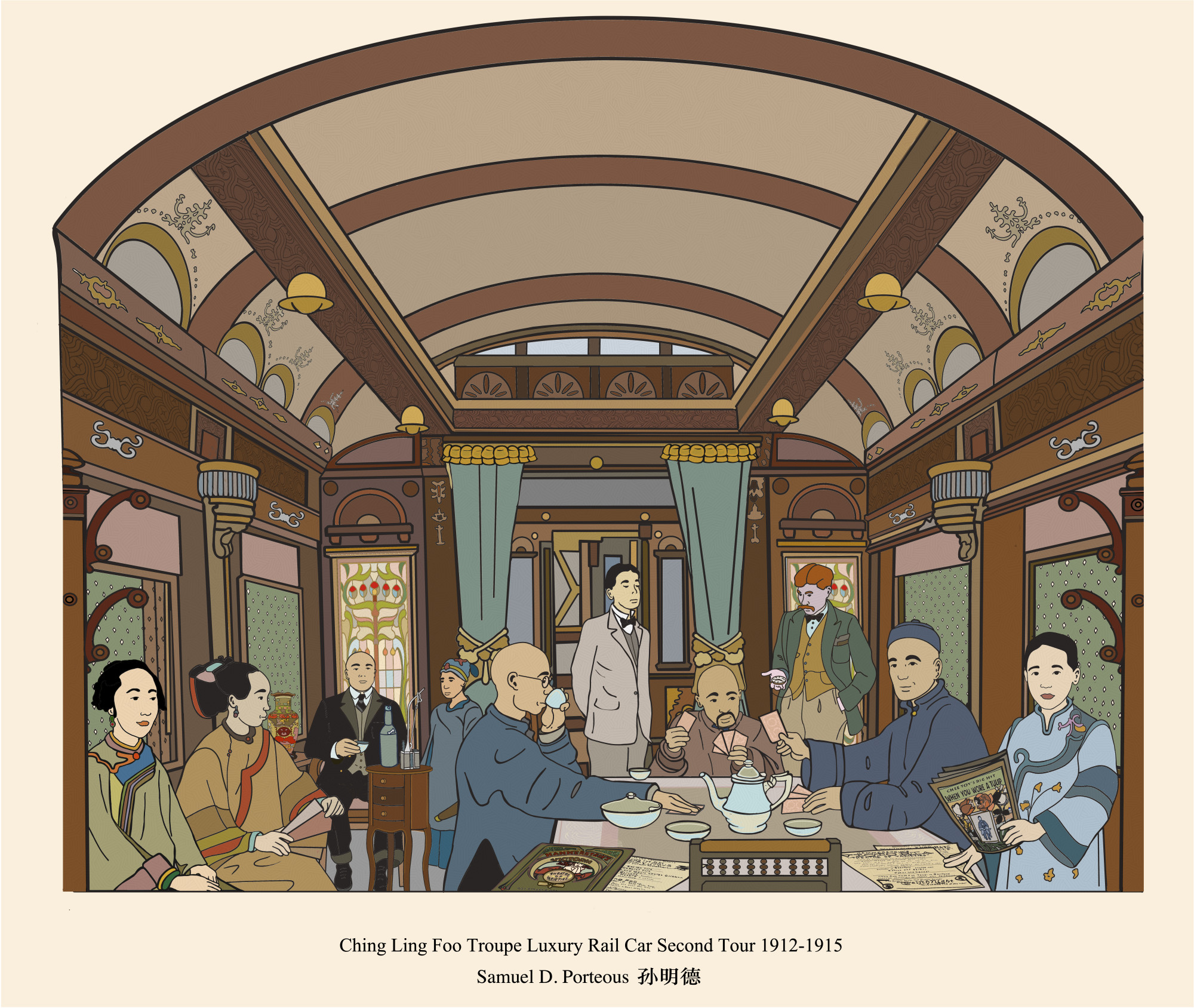 In one memorable instance, his support was titled Curse You, Jack Dalton! In this novel entertainment, Jack E. Gardner, a professional heckler of poor films before it became a cornerstone of inexpensive late-night television, would stand in front of a large screen and, to comic effect, enthusiastically harangue the characters of an old-time melodrama as it unspooled behind him.
According to a positive review in the 1915 San Francisco Examiner, Gardner "quarrels with the villain, scolds the heroine […] and gloats over the discomfiture of the villainess".
Film's ongoing encroachment on vaudeville did not go unnoticed by other performers. In a nod to the times and with a desire to survive the inevitable usurpation by film, many of the best younger performers on Foo's undercards during his second tour made the jump from vaudeville performer to film star. In New York, it was a young Mae West; in Chicago, it was the Marx brothers.
In a further indication of the evolving entertainment market and the impending doom of vaudeville, the Foo troupe's chief competition during its stint in Stockton, California, came from two separate films in two separate theatres each featuring the emerging movie star Charlie Chaplin.
Having appeared in San Francisco, Los Angeles and smaller Californian venues, the Foo troupe's second tour of the US was finally complete.
The farewell assessment from a one-time "dean of American magicians" and an old friend of Foo, Harry Kellar, was generous and accurate: "Foo is at the head of his profession and is a gentleman who graces any company. He is a master […] his art is finished and perfect, and besides he is a prince of a fellow."
Back in China, Foo settled into semi-retirement, performing less frequently and managing his theatres in Shanghai and Tianjin, along with a travelling circus boasting the only elephant in China.
Living out his last years in Shanghai, Foo endured several false reports and rumours of his death, most memorably in 1918, when one last entanglement at a distance with his old foe Robinson unfolded.
When Robinson/Chung Ling Soo died on stage in London, performing a bullet-catching illusion that went wrong, newspapers around the world inevitably confused the two with many reporting that Ching Ling Foo had died.
In 1921, there was one last flurry of activity by Midwestern American entertainment manager Charles Hugo to arrange a third US tour for Foo. An excited Magazine of Magic report announced Ching Ling Foo was, contrary to recent reports, "very much in the land of the living" and that "he is coming back …".
Alas, the third US Foo tour never materialised, and little over a year later, the still game Original Chinese Conjuror took his final bow in Shanghai. But Hugo's assurance in that magazine article that "the grand old man of China" would "show up the imitators", and outlast them all, remains true a century later.