Cambodia's Metta forest has been devastated by deforestation as the government gives away land to the elite, with villagers' protests quashed by violence
The monk looks haggard in the midmorning sun, scanning the views through surrounding trees while chainsaws drone in the near distance.
"It's as if a storm has come and the animals have fled like there has been a hurricane," he says from his sparse, open-air pagoda in the woods. "Now everything is destroyed, I don't see a reason why I should stay."
With the early stages of a grey beard, the venerable Buddhist monk Prom Socheat draws in his orange robes as he tells of the loss of his home, where he has lived in hermitage for about 20 years in these once-dense tropical woodlands called the Metta forest, in Cambodia's Kampong Speu province.
But in August 2021, as Cambodia's once-vast, formally protected woodlands continued to disappear at one of the world's highest rates of deforestation, the country's environmental crises landed on the monk's doorstep.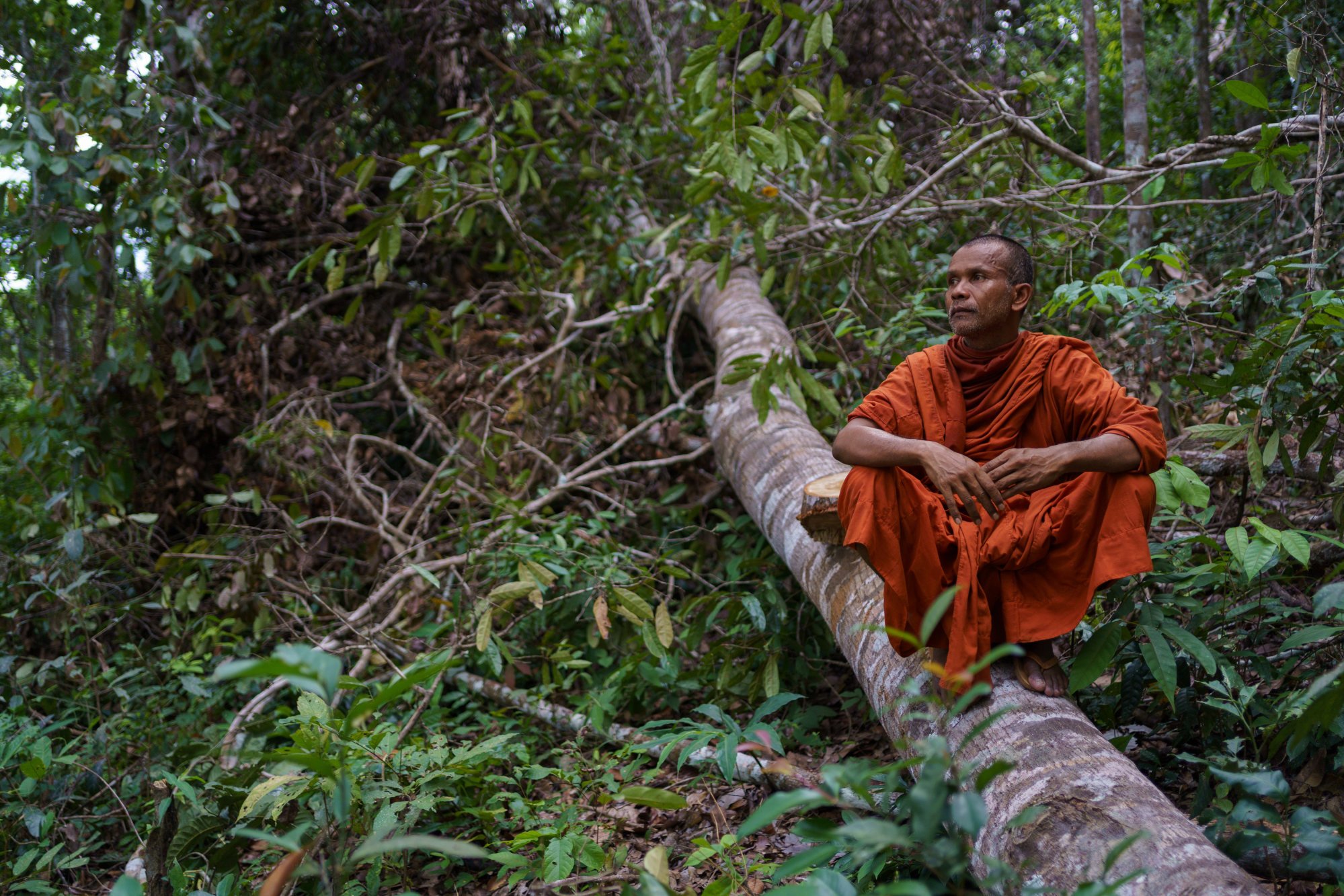 That was when Cambodian Prime Minister Hun Sen signed away 262 hectares of the forest through a sub-decree that officially gave the thickest stretch of the woods to 41 families connected to the armoured vehicle unit of the Royal Cambodian Armed Forces. The state quietly organised the giveaway with no public notice, announcing the deal only after it was approved by Hun Sen himself.
News of the sub-decree sparked immediate conflict with villagers, who set themselves to resisting the incursion by directly confronting loggers hired to clear-cut the privatised stretch of forest. Their protests, they say, were soon met with force.
Prom Socheat, villagers and rights organisations say that soldiers from Brigade 70, an infantry unit notorious for alleged human rights abuses, crushed their dissent with beatings doled out even to the elderly, as well as warning shots fired with live ammunition.
Villagers say that at least one official in August told them they would be able to use 400 hectares of land elsewhere in lieu of the clear-cut forest. Authorities have yet to confirm this, however, and locals are sceptical the offer will come to fruition, and at any rate, the forest they have long protected is already gone.
"If there is anything I could trade to keep this land, I would do it," says Sok Ly, a villager from the neighbouring hamlet of Po Meas. "But my words are meaningless to others, the rich especially. If I speak 10 times, not even once would I be heard, as I am a very simple person with no position or status."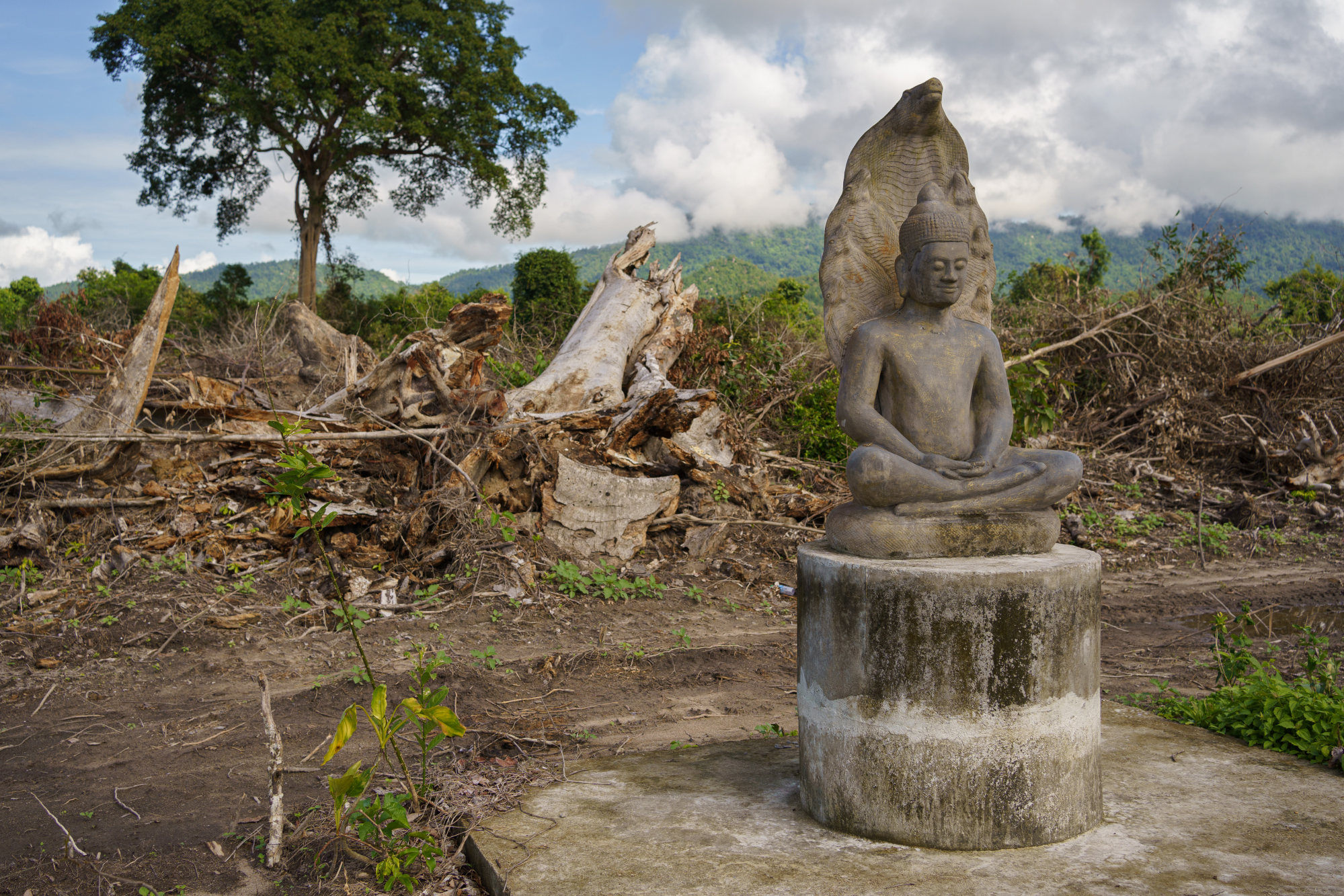 The razed area of the forest now lies at the crossroads of some of modern Cambodia's thorniest social issues, and a vast but murky system of state land control. Since 1993, the ruling Cambodian People's Party (CPP) has enjoyed a largely unfettered grip on all functions of governance.
Through that, the party holds sway over as much as 80 per cent of all land in the country, a sprawling system of public management that is partly a relic of the formerly ruling communist Khmer Rouge's abolition of private property.
Naly Pilorge, director of the Cambodian rights monitoring group Licadho, says the ability of the state to dole out that land to elite allies has long been a key component of the country's political patronage machine.
"These giveaways are the visible manifestation of a system that is solely concerned with self-preservation and rewarding loyalty, not the public interest," she says.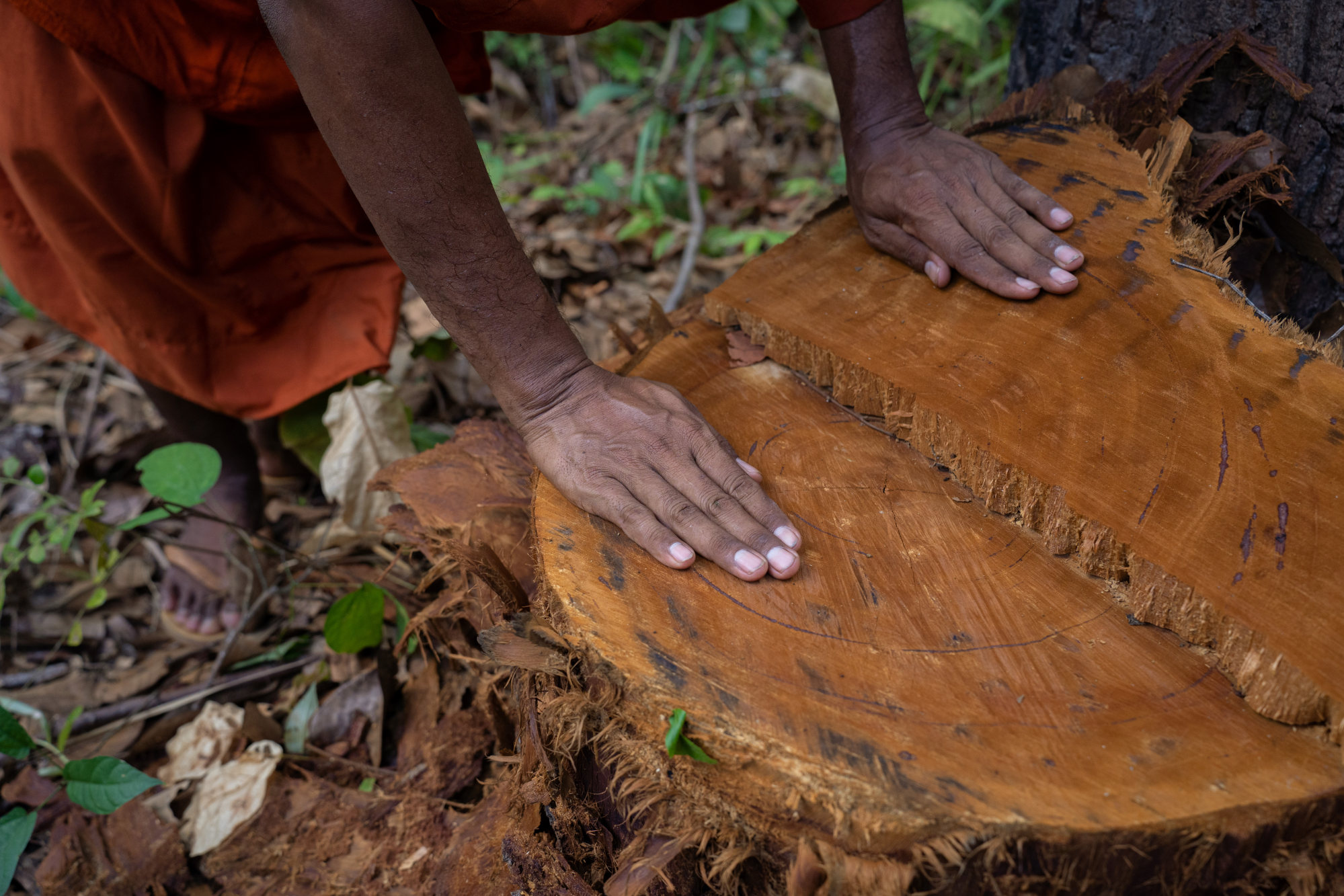 Licadho and other monitoring organisations, such as Global Witness and Human Rights Watch, have found the lion's share of land transfers end up with individuals either closely tied to or placed directly within the Cambodian government.
Almost all come over the protests of villagers, most of whom find no recourse for their loss in the face of a unified mass of political and military officials intertwined with private business interests.
Global Witness reports early giveaways from the state awarding major tracts intended for timber or agribusiness, much of which helped build the fortunes of tycoons who sometimes also served as CPP lawmakers. These earlier concessions proved politically untenable, with the international community decrying the timber giveaways and the domestic strife of the agribusiness schemes.
But the giveaways did not stop. Evolving prospects – as well as reports of increasing state repression over the past five years – have tracked with an upsurge in handovers to private interests. While earlier land concessions may dwarf in size the modern handovers in and around Phnom Penh, the latest land transfers are targeting the higher-value world of real estate speculation.
There were no words, no explanation of how much forest was being taken, no nothing. Just open aggression. They started firing sidearms, and these guys stole the monk's telephone and one of the old ladies' telephones

Nick Marx, a director with NGO Wildlife Alliance
Licadho tracks these handovers as declared through the kingdom's Royal Gazette. Among other trends, the group says giveaways have accelerated since 2017, the year the country's Supreme Court ordered the dissolution and criminalisation of the main political opposition, the Cambodia National Rescue Party. Since then, Licadho has tracked 122 land giveaways accounting for about 11,154 hectares.
In 2016, the organisation counted no giveaways to private individuals, but subsequent years slowly ticked through the single digits until 2020, when the state made 41 land transfers to individuals. In 2021 there were 61 giveaways, dropping to 10 so far this year.
"It can be pretty horrifying," says Sarah Milne, a lecturer in environment and development at the Australian National University, who since 2002 has been active in Cambodia as an advocate, ethnographer and conservationist.
"There's this insidious and persistent presence of an elite class, these powerful external actors that have access to guns, state backing. They can do what they want, and there's no recourse for people being dispossessed."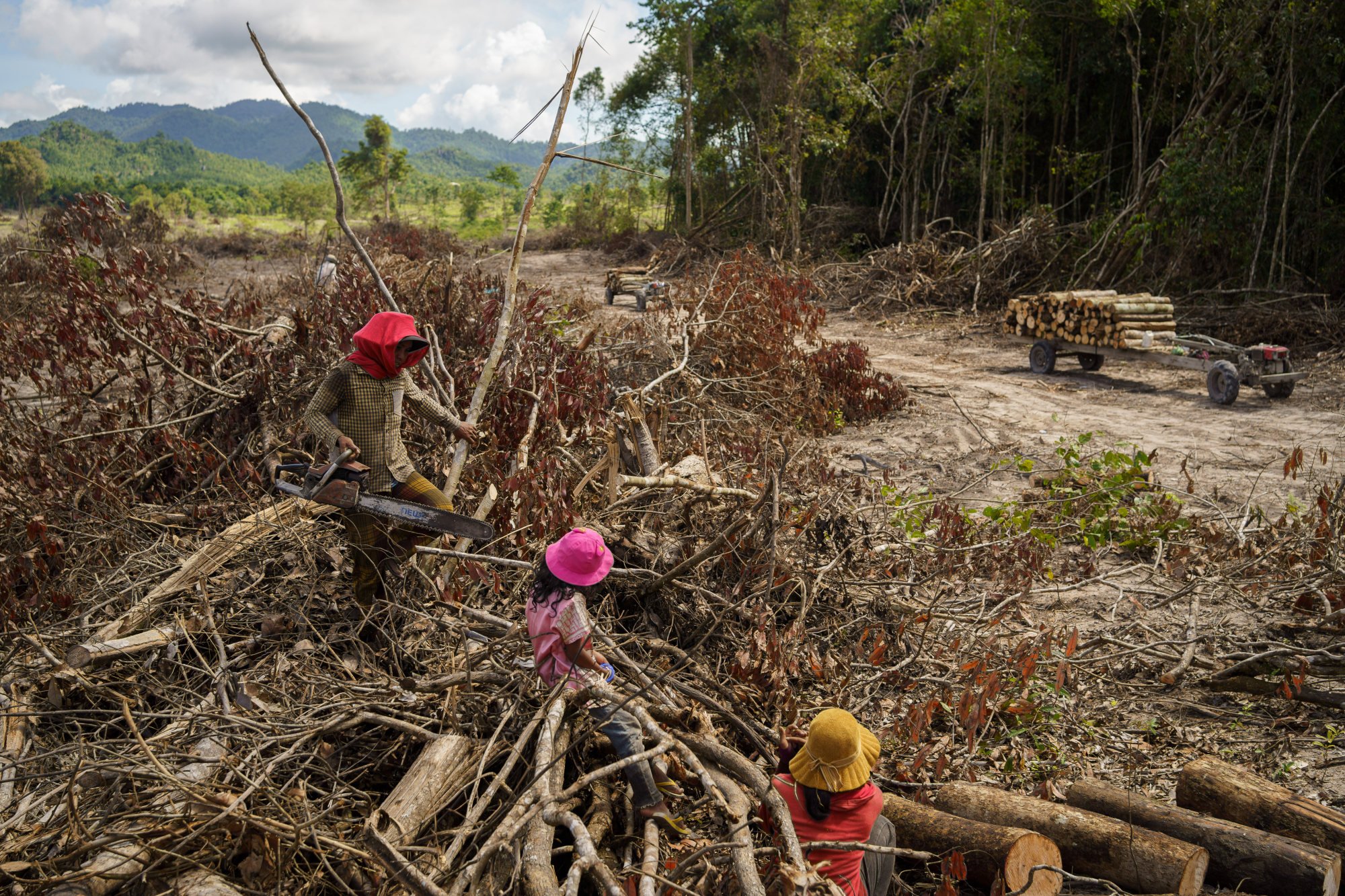 Milne has assisted indigenous communities as they pursue their rights to public forest areas, but for the most part, these efforts have failed, bogged down in a morass of central bureaucracy.
Even the rural communities around the Metta forest may soon be targeted for large-scale construction if a neighbouring agribusiness has its way. This year, a Cambodian subsidiary of the Singaporean Hong Lai Huat Group (HLH) announced plans to develop a 9,985-hectare plantation next to the forest for a project it calls the Cambodia-Singapore Agricultural Hub.
Renderings of the project show a mix of residential and agri-industrial areas, with an HLH representative in February touting the plan's goal of becoming what he described as Cambodia's "leading eco-agricultural city" with the help of Singaporean investors.
In Cambodia, HLH has expanded its development wing in the capital Phnom Penh by partnering with Kith Meng, one of the kingdom's most powerful tycoons and an adviser to Hun Sen. There is no public link between the land giveaway within the Metta forest and the HLH plans, but if the project there goes forward, the land now given over to military members is likely to rise in value.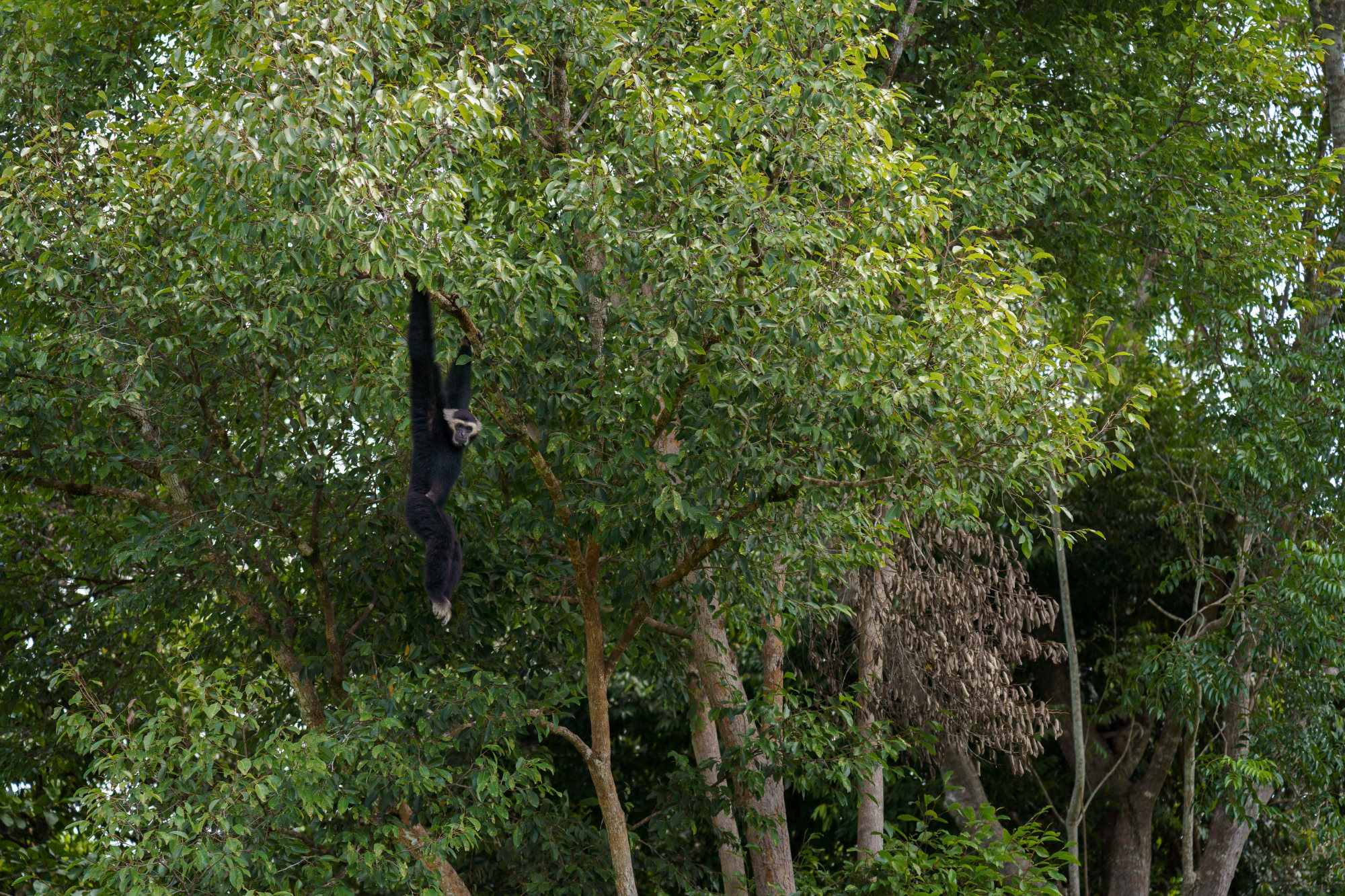 Milne says that's business as usual in the land conflicts she has witnessed: "The people on the ground are like these little puppets being controlled by a much higher power, like these decisions are coming down from the sky."
Nick Marx, a director with the NGO Wildlife Alliance, a conservation group that works closely with the Cambodian government, says he went to observe the Metta clearing in a personal capacity with some of his staff. British, bald on top and with a small gold ring in his right ear, the 71-year-old curses like a sailor when he describes habitat loss in the country.
Visiting the Metta forest with a small group including Prom Socheat and "a few extremely elderly women", he says the party was confronted by a group of men in plain clothes, at least one of whom was brandishing a handgun.
"There were no words, no explanation of how much forest was being taken, no nothing. Just open aggression. They started firing sidearms, and these guys stole the monk's telephone and one of the old ladies' telephones."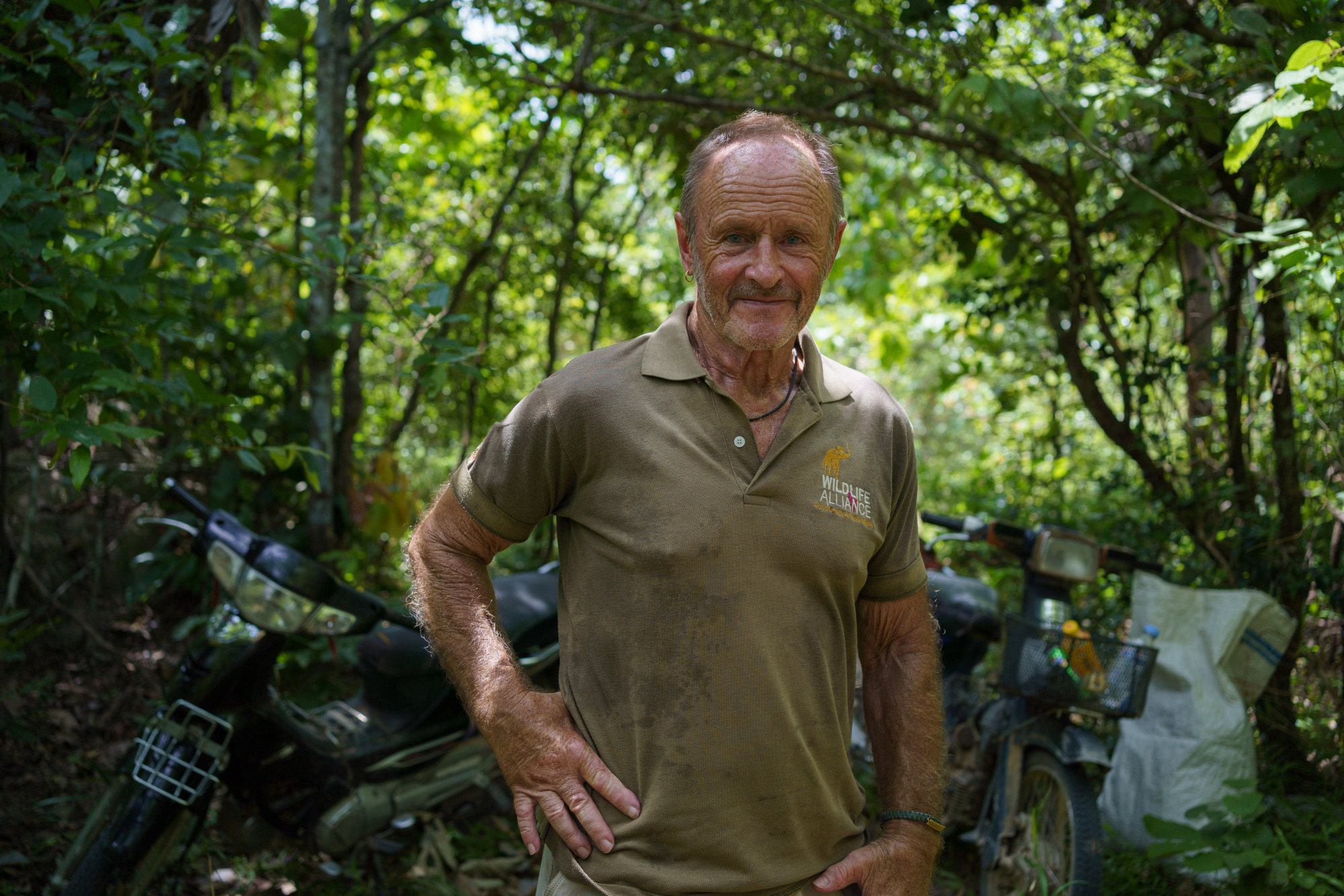 Neth Pheaktra, spokesman for the national Ministry of Environment, did not respond to a request for comment. Om Mak Theary, director of the Kampong Speu provincial environmental department, accuses NGOs of "coming to make such a mess everywhere and trying to make trouble".
He says villagers should have petitioned the govern­ment for a land concession if they really wanted to save the forest and that Prom Socheat's "pagoda is also illegal". However, he says he would need to check with the national department tasked with overseeing religious movements before possibly filing a court complaint against the monk.
Village and commune officials emphasise the land had been officially given to the military members by higher authorities. Of the conflict, they either deny the loggers and their handlers have instigated violence, or say they did not know about it.
On the edge of the Metta woods, a subordinate of Nuon Chak, the local head of an environmental station outside the Metta forest, rouses his boss at the approach of visitors.
It is about 9am, and Nuon Chak looks bleary-eyed as he considers the start of his day. He speaks tersely between pulls of a morning cigarette and a plastic mug of steaming tea, sitting upright in a hammock strung in an open-air shelter.
Asked if the neighbouring forest is being protected by environmental officials, he turns the question around and presses for details of who is saying that it isn't.
"This is not up to me to decide or say, it's up to someone above me to make these decisions. I'm just following orders," he says. "Don't believe these talkers, they're just saying whatever they like without knowing what's really happening." He says he would not "waste my time explaining to these crazy people".
"I have my parents and all of that," he says, using the family term to refer to higher-ups in the government, "so I can't just decide things on my own."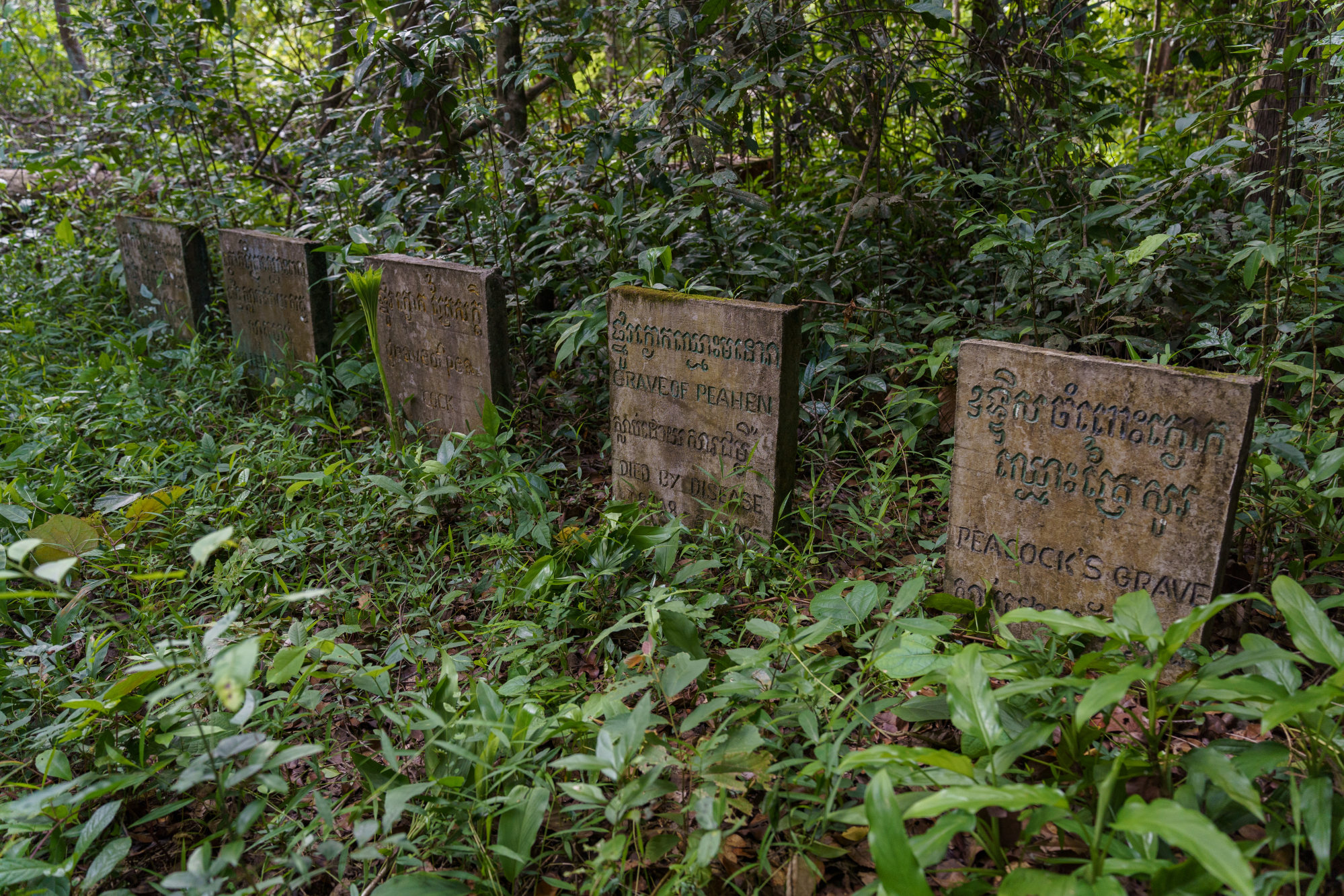 Though his station is at most a few hundred metres down the single road from the heavily marked entrance to the Metta forest, Nuon Chak insists he doesn't know of any monk living in the woods, nor any pagoda.
From his home at said pagoda, a mostly open-air structure made of a large concrete slab and a peaked, blue metal roof, Prom Socheat has promoted the Metta forest as a destination for Cambodians to learn about Buddhism in a natural setting.
His charisma, paired with online videos of him "speaking" to animals by mimicking their hoots and cries, has drawn vanloads of domestic tourists to visit the monk as part of a trip to the nearby Oral mountain.
Prom Socheat cuts an unusual figure among the Cambodian clergy, most of whom live in the larger, more decorative pagodas of cities and towns. He describes himself as a "weird person" who was drawn to the natural world from his earliest days, when the country was still in the grip of the brutal Khmer Rouge, which ruled from 1975 to 1979.
"When I was young, my country was at war," he says. "People could not live in the forest, in the jungle, because that was where the Khmer Rouge was, and they'd shoot you."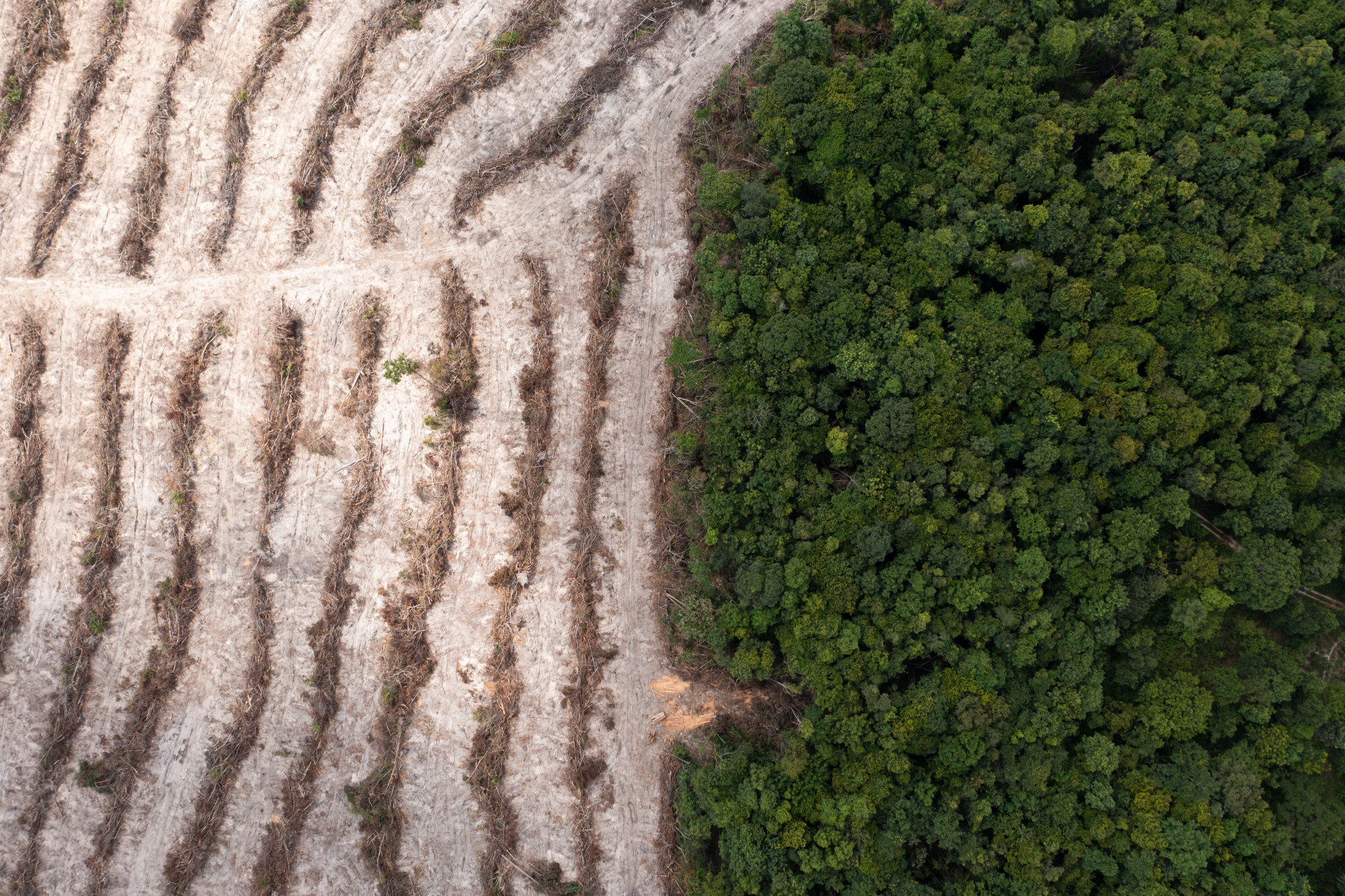 He had become a monk by the time he was about 15, studying in a Buddhist secondary school. He lived in a town elsewhere in Oral district and enjoyed his studies, even for a while going by the name Thomacheat – the word for "nature" in Khmer. Still, something felt not quite right.
"I thought then that my health wasn't good there – I should try to live in the forest instead," he says.
"I decided I did not want to live in a crowded city or a luxury temple. I'd always wanted to live in the jungle, and so I went to the forest from province to province."
Eventually, he roamed near to where he had grown up and met with some familiar faces from his youth. He says they asked him to stay, as their temple had no monk.
"I said I could not stay in the house of people – if you want the monk to stay here, you must find a suitable forest for him to stay in," he says, referring to himself in the third person. "What I wanted to do was to keep my life with nature, to stay among wildlife, to call on them to live with me as the Buddha did."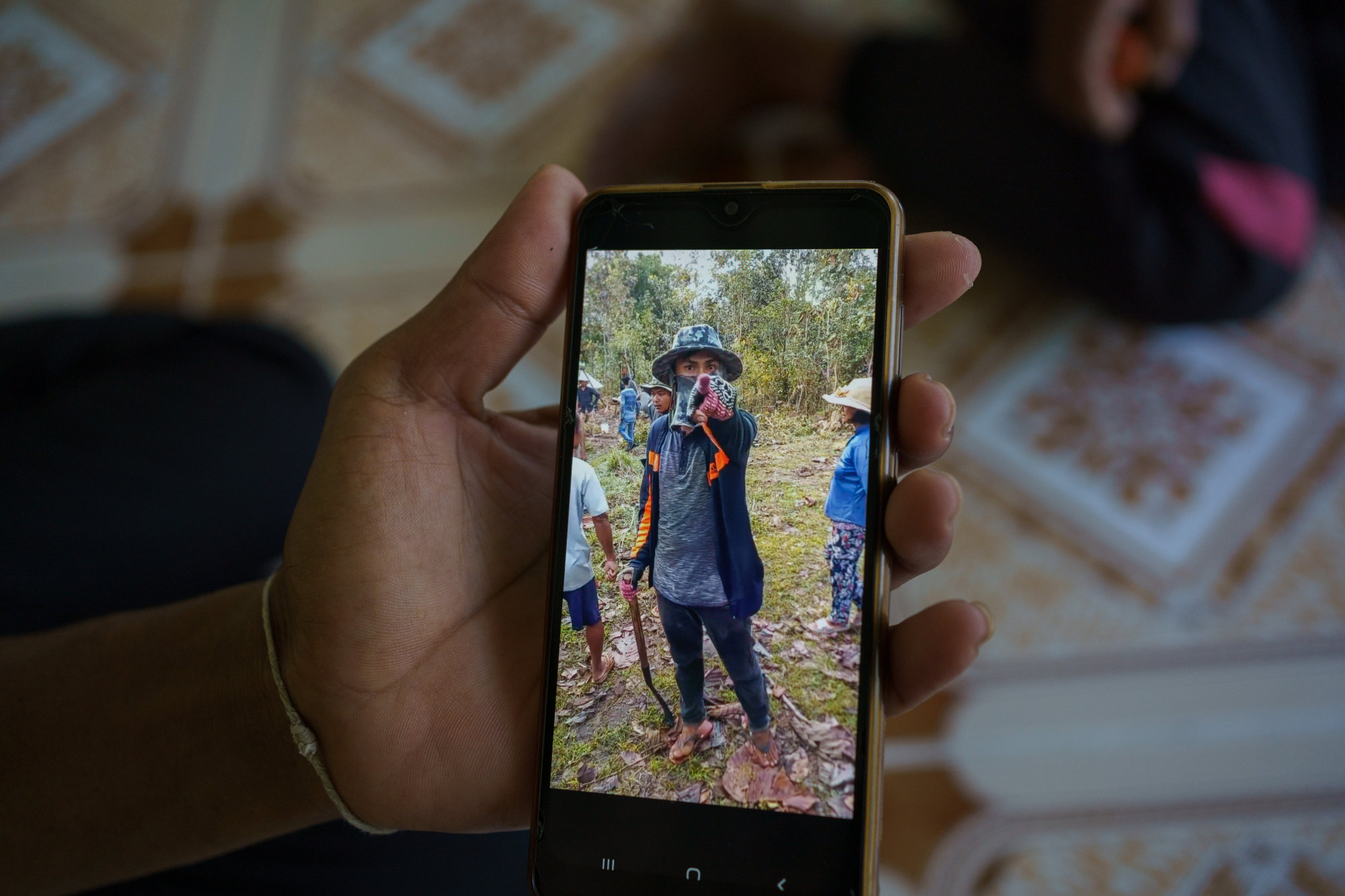 The villagers took him to the forest where he currently resides, and by 2003, he had established his small pagoda there, teaching the dharma and meditation techniques to those who came to visit.
While other monks are typically expected to maintain a certain air of solemnity, Prom Socheat is expressive and frank, his voice rising and falling in pitch as he makes lengthy points in Khmer. He has a sharp sense of humour, teasing, prodding and a bit outrageous, often pulling a laugh out of those who come to visit.
His online promotion, which includes self-produced music videos featuring songs about the need for harmony between humans and the natural world, earnest ballads of his own composition, helps boost his profile among Cambodians and foreigners alike.
But now, he has noticed the birds and other animals that used to draw visitors have largely disappeared from the woods. The monk says villagers in recent months have found a discarded skull and other remains from a sun bear, one of a few that lived in the forest, which Prom Socheat believes was killed and eaten by either soldiers or loggers.
In a one-party state with no checks or balances on power … what stops high-ranking government officials from carving up state land for private use?

Naly Pilorge, director, Licadho
At one point, he speaks at length about his music, showing reporters a music video titled Desolate Planet Earth. The footage he shot pans over a fallen tree in the rain, with a quiet voice-over. Prom Socheat says the trunk had been cut by loggers on their fourth attempt, after he had stopped them three times.
"The third time, I leaned on the tree that was already cut, but still alive," he recalls. "The loggers said, 'Monk, come away from there – if the tree falls, it will fall on you.' I told them, 'You can kill the tree, destroy it. You are young and strong, you can do what you like. But when you die, this will play before you like a bad video, and if you call upon the dharma, the Buddha to help you, it will not.'"
The monk leaned against the trunk and prayed until the men left. Some days later, the loggers returned at dusk, in the rain, and finished cutting down the tree.
"You have destroyed the dharma," Prom Socheat warned them, "you have destroyed the Buddha, you have destroyed nature."
By July, most of the villagers in the Metta forest had swallowed their resentment and stopped protesting over the stretch of ruined forest. The tension of the previous months had finally slacked as the clear-cutting reached its official limit.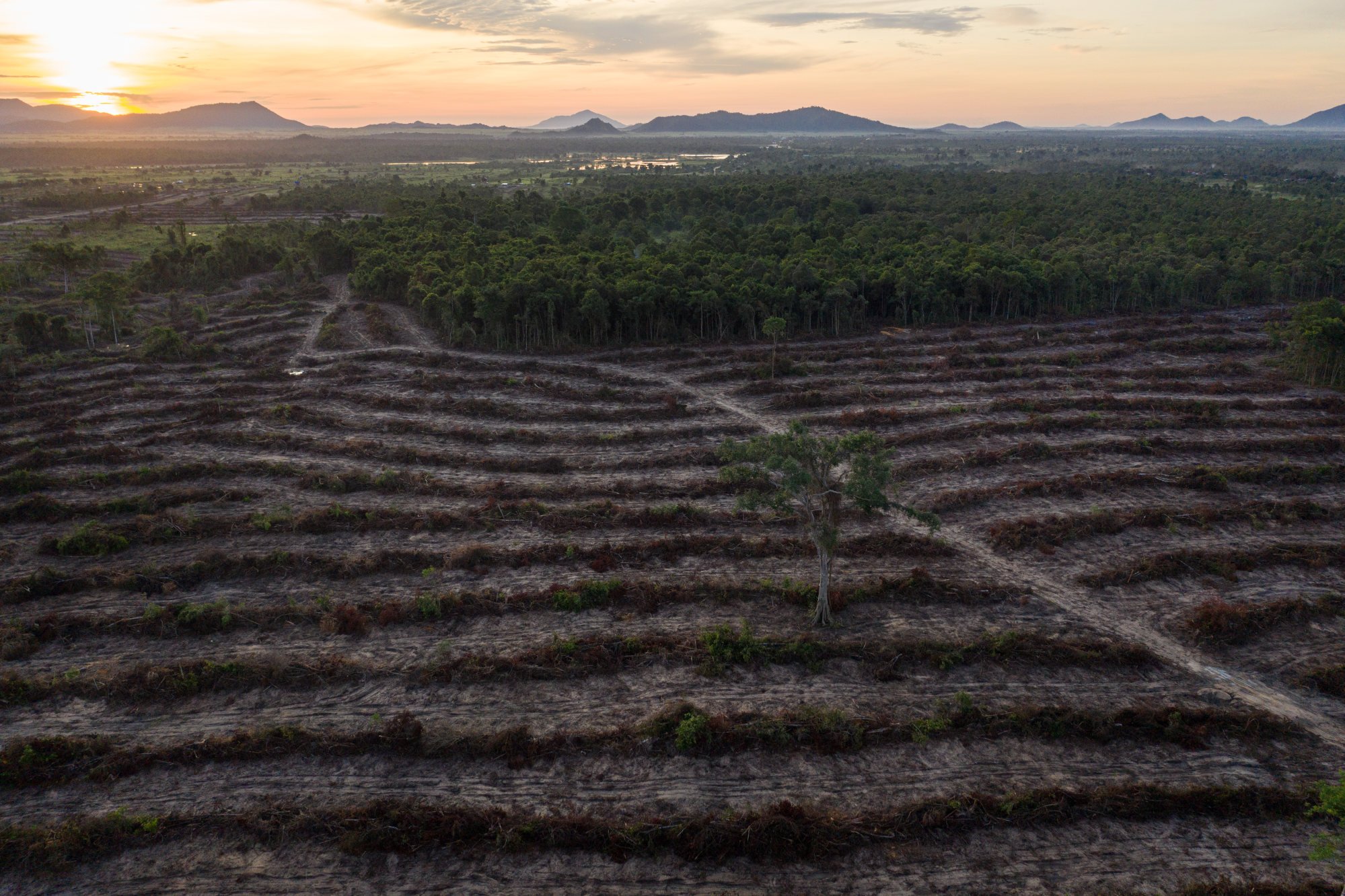 Prom Socheat sees less to fight for, now that much of the forest is gone.
As insects thrum in the surrounding trees, he sits on the polished tile floor of his pagoda and flicks through videos on a tablet given to him by a supporter.
Images pass on-screen. A line of smiling young monks, walking through the forest with robes bright against the green foliage; a group of them riding on a tractor, the kind known in Cambodia as a ko yun or "mechanical cow".
The monk flicks to the next clip. University students in costumes and play-acting scenes of Cambodian mythology crouch and spin on a tarpaulin spread before an audience under the tallest tree in the forest.
The scenes keep passing. A younger Prom Socheat walking through the forest with a baby gibbon clinging to the front of his robes. Its white fur looks soft, and it whimpers as the monk addresses the camera, explaining that it had been found with its dead mother.
He doesn't say much as he looks back into the forest's past. He watches the screen intently, smiling at the happy moments, mumbling brief narration.
"In a one-party state with no checks or balances on power – especially since the dissolution and ongoing repression of the political opposition – what stops high-ranking government officials from carving up state land for private use?" says Licadho's Naly Pilorge in response to a reporter.
"Corruption and lack of rule of law make it difficult for so many Cambodians to get legal recognition for land they have lived on for decades, and this often leads to them being pushed off it. Meanwhile, these giveaways are instantly privatising ownership of state land for powerful and connected individuals and their families."
Today, the only trace of forest on this disputed land is in the long piles of scrap wood over scoured ground, sandy earth cut with the tread marks of bulldozers.
On a recent afternoon, the whine of chainsaws carries over the devastated area, where villagers once did not dare to enter for fear of clashing with the infantrymen tasked with overseeing the land giveaway. But now even those who had cared for the forest can be found picking through the piles of remaining scrap, dripping with sweat as they search for usable wood. A Buddhist statue can still be seen in one corner of the cleared section, standing cracked amid the ruins.
Locals say they have for decades protected the forest as a community asset, a common practice in rural Cambodia where foraging can be an important source of income and subsistence. Some of the Metta forest still remains today, as does another section of the woods, a less dense area cut through with pasture and known officially as Odom Sre Kpos.
It was these villagers who invited the monk to stay in their forest, and many have since looked to him as their spiritual guide. Prom Socheat had made it his life's work to become a kind of bridge between the human and animal worlds, a role he fulfils by teaching the dharma, or Buddhist tenets, in the heart of the woods.
Before Prom Socheat settled in the woods under Phnom Oral, he had drifted between some of Cambodia's other wild places. And now, like a migratory bird whose fami­liar groves have vanished, he is searching for a new home.
"There are other places, but they're a little too far for me," he says. "I can't stay too far from people, because I need to have contact with both them and nature, to help them live together."
A staunch environmentalist, the monk in 2012 co-founded the activist group Mother Nature Cambodia, a collective that came to be despised by the state for investigating official corruption and was struck from the rolls of civil society groups in 2017.
That came with approval from Prom Socheat, though the monk says he was under intense pressure from police and other authorities to dissolve the group.
Since then, he has kept mostly to the Metta forest, promoting the woods as a destination for visitors to learn about Buddhism in a natural setting.