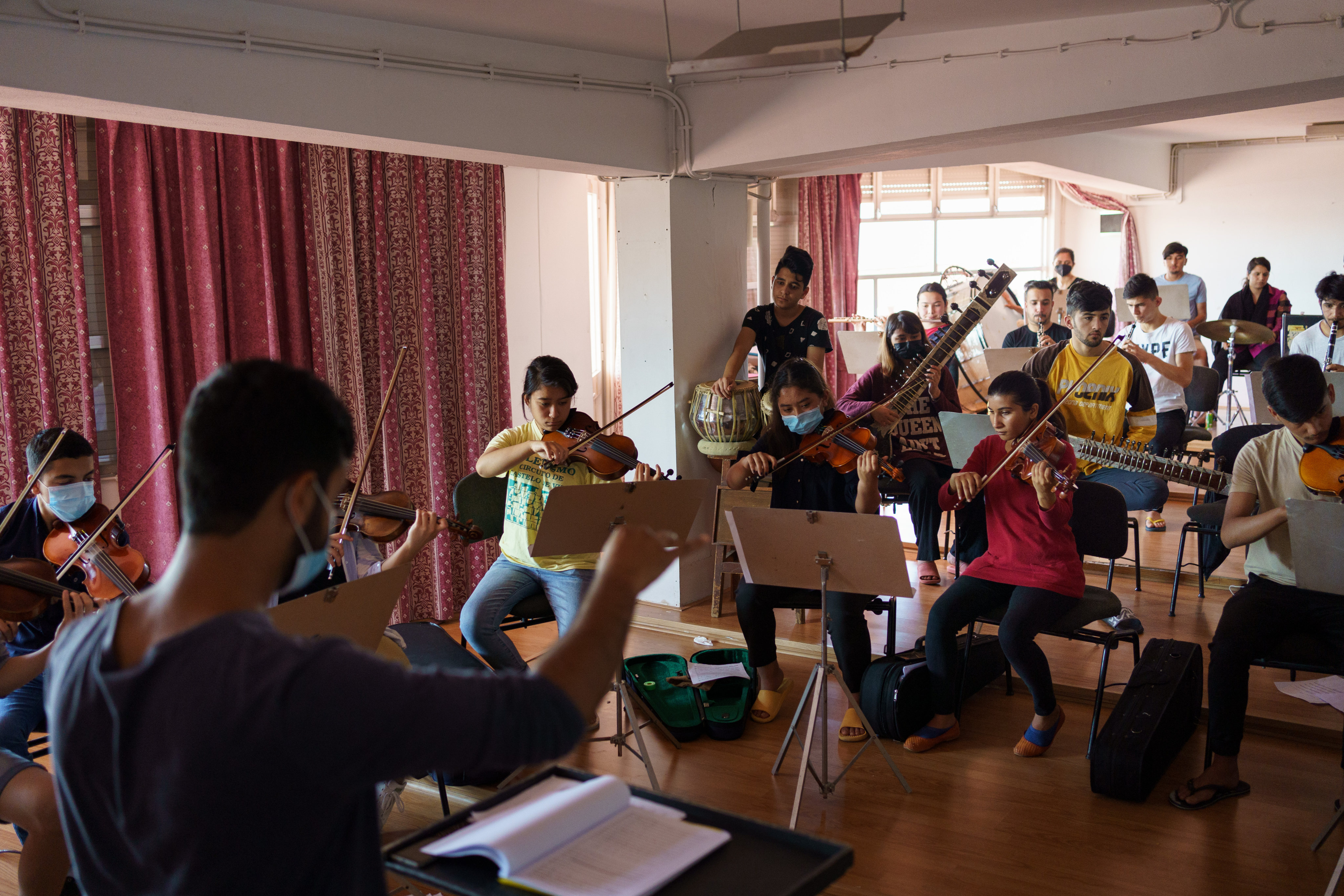 Young Afghan musicians who fled the Taliban's ban on music struggle to keep their traditions alive
Afghanistan
With music now forbidden across Afghanistan, young members of the Afghanistan National Institute of Music fled to Portugal, where they found new problems
With a plane passing over­head every five minutes or so, 18-year-old Sevinch Majidi was constantly reminded that her three brothers, sister and parents were thousands of kilometres from the former military hospital near Lisbon's international airport that became her home when she arrived in Portugal in December 2021.
The squat, hillside hospital and its surroundings provide breathtaking views of the Tagus River, but the property had been poorly maintained and its long corridors and big, empty rooms felt cold, until the rhythms of a tabla or the drone of a dambura warmed the space. The hallways were decorated with students' drawings: a piano, a trumpet, a few heart shapes, a girl with her hair waving in the wind and a Portuguese flag.
Fleeing the Taliban takeover of Kabul in the summer of 2021, Majidi was one of 273 members of the Afghanistan National Institute of Music (ANIM) who were evacuated from Kabul to Doha, in Qatar, in late 2021, before being eventually flown to the Iberian Peninsula, where they were welcomed by the Portuguese government.
Qatar was crucial to the evacuation, providing aircraft, diplomatic assistance and temporary accommodation. Other key backers included renowned artists, such as cellist Yo-Yo Ma, United States House Speaker Nancy Pelosi, philanthropists, military veterans and pro bono lawyers.
More than 100 members of the ANIM group were students, a quarter of whom were girls, mostly aged 16 to 19 years old, a few as young as 13, almost all travelling without their families. The minors and students were allocated to the former military hospital, and the rest were divided between two refugee centres elsewhere in the city.
Now finally safe in Europe, Majidi can play the violin wherever she wants, whereas in Afghanistan, as the concertmaster of Zohra – the first all-female orchestra in Afghanistan and a celebrated ensemble at ANIM – she would be risking her life by playing under the Taliban, whose Islamic law forbids music.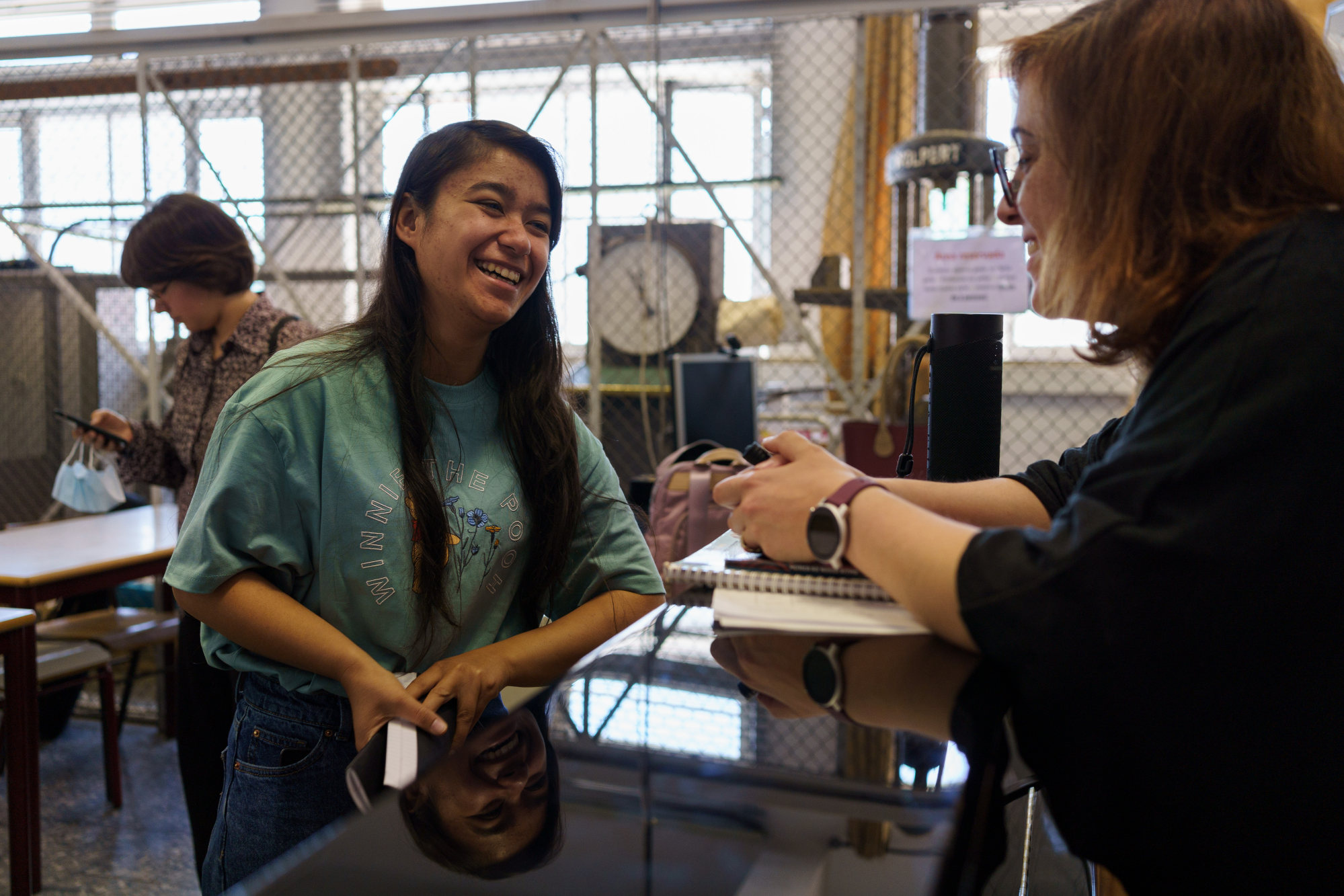 In Kabul, ANIM was her home, a place that gave her both purpose and shelter. In Lisbon, the school is an idea carried with them, a dream reinventing itself.
Majidi recalled the last time she played music in front of her family, in the city of Mazar-i-Sharif, in northern Afghanistan, not long before Kabul fell to the Taliban.
In those days, she covered her face outside the home, as fear of the hardline Islamic influence had already reached the city. But when she was asked to play the violin at her uncle's wedding, she could not refuse.
Now, alone in a strange new land, she is afraid someone at that ceremony might have reported her to the Taliban for playing music and, as a female, and in public no less, those close to her may suffer reprisals.
"My family always says everything is OK," said Majidi, who speaks with her parents only once a month via WhatsApp, due to the poor internet service in Afghanistan, "but I know there are problems and they don't want to tell me."
ANIM was founded in 2010, nine years after the end of the first Taliban rule, when music, culture and girls' education were banned. Even though the Taliban had been ousted by US troops, ANIM was a target of jihadists and ultra-conservatives for a number of reasons, one of them being that it was the only music school recognised by the post-2001 Afghan government; another being that it was one of the few places in Afghanistan where boys and girls studied together.
More than half of the students came from poor families, many of them orphans and street beggars, admitted to the school thanks to donations from organisations and individuals.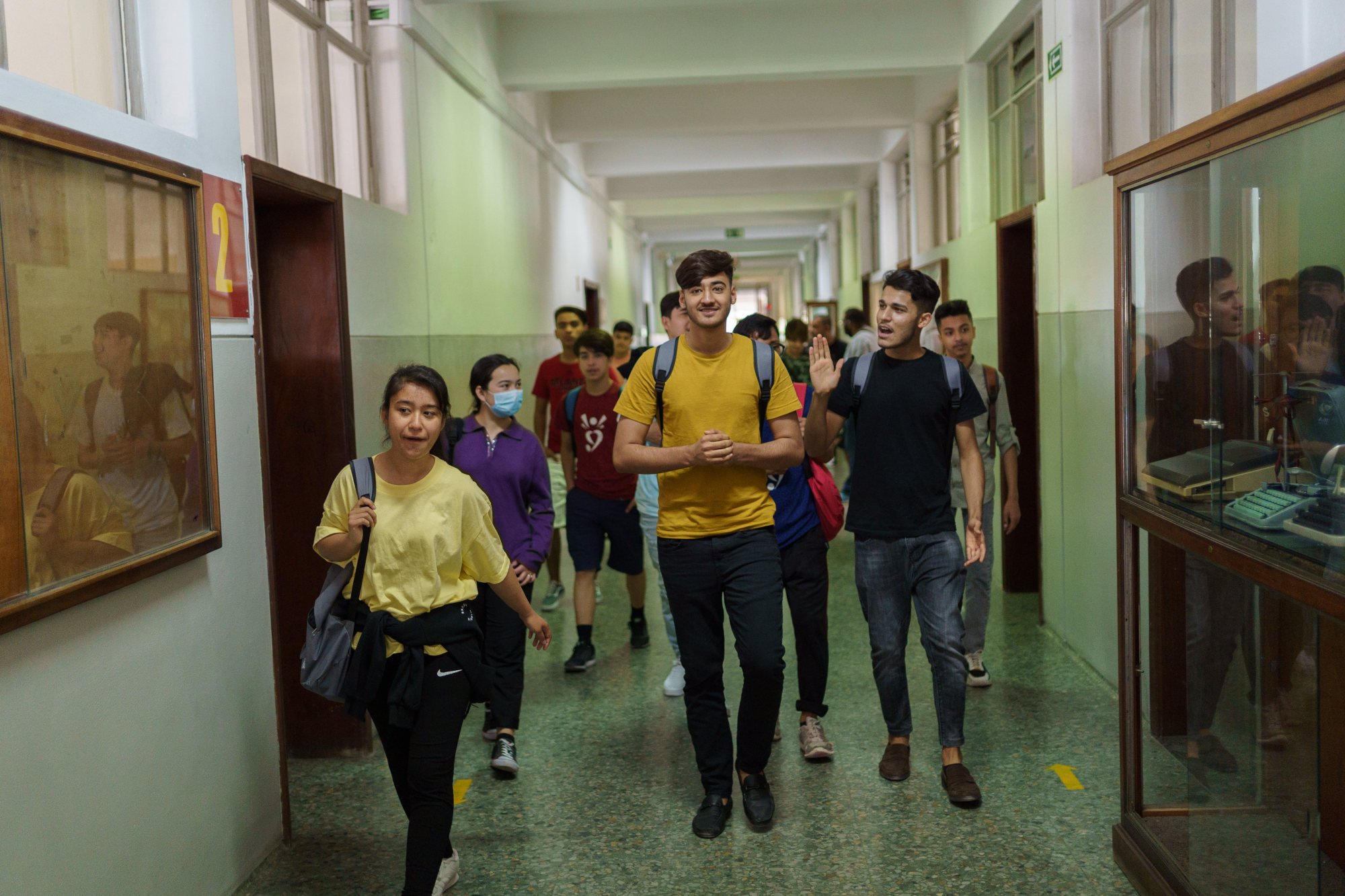 ANIM, where both Western and Afghan music was taught, promoted girls' education, gender equality, tolerance, diversity and musical freedom – all now forbidden, once again, under the second Taliban rule, which began after US forces, in Afghanistan since the new millennium, withdrew, to catastrophic effect.
"Some people didn't like ANIM because they said music is haram [forbidden]," said Majidi, seated in one of the rooms of the hospital where the students rehearse, empty but for music stands, instrument cases and some scattered percussion instruments.
"[Conservative Afghans] think boys and girls should not stay together in one school, should not study together in one class."
Majidi has a solemn and polite demeanour that sometimes gave way to a weary but sincere half-smile. Wearing jeans and a hoodie, hair tied in pigtails, she blends in here; no one in the street would guess where she comes from when she walks the steep cobbled roads of the local Ajuda neighbourhood, with its church and seafood market so alien to the mosques and bazaars of her hometown.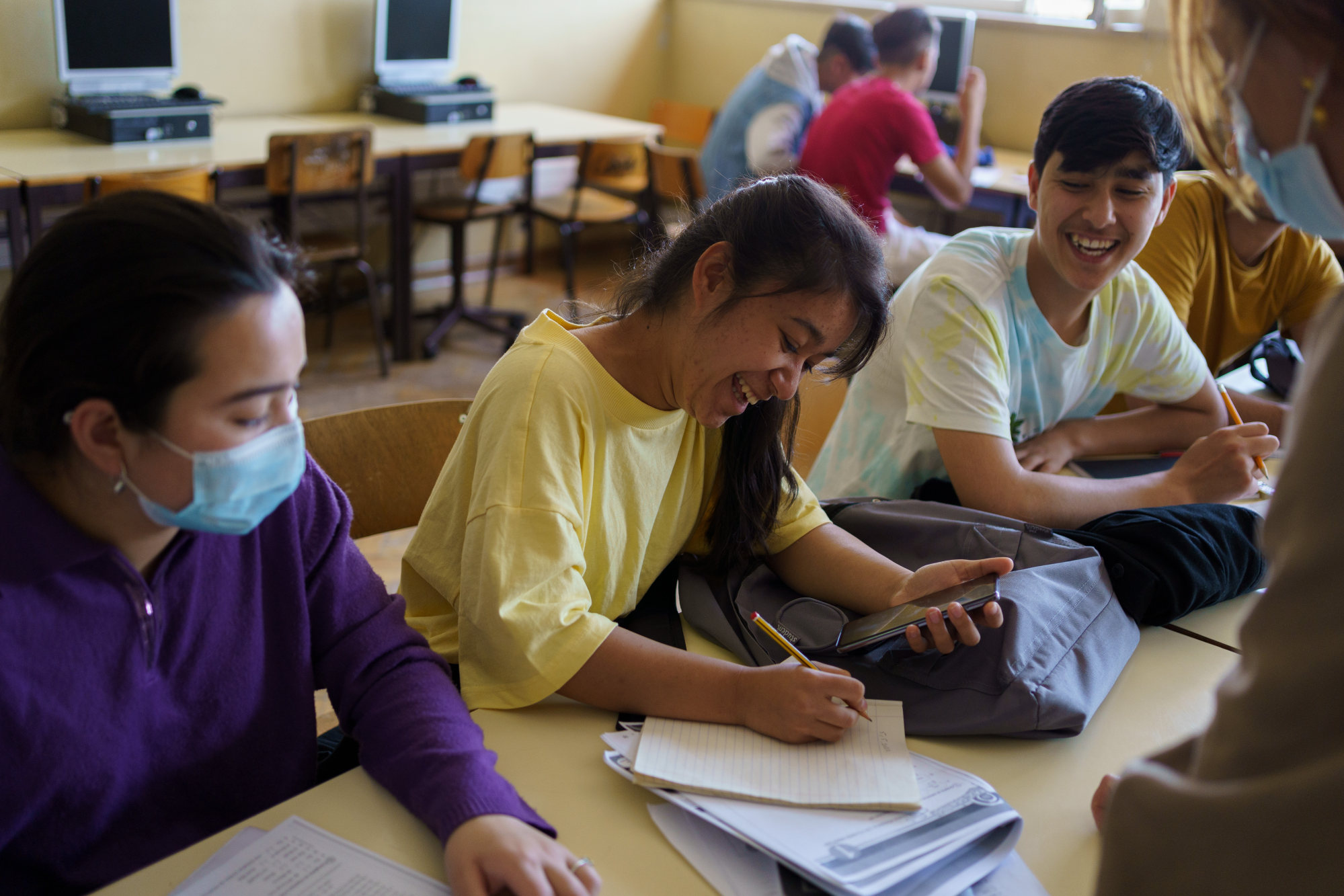 Back in Afghanistan, the devastating earthquake that hit the south of the country in June only added to the suffering caused by a depleted economy, widespread hunger, severe drought and increased gender-based violence.
In a written statement last July, the then United Nations High Commissioner for Human Rights, Michelle Bachelet, described a dispirited country riddled with food insecurity affecting nine out of 10 Afghan households.
"[There is] massive unemployment of women, amidst an economy on the brink of total collapse," said Bachelet, a former president of Chile. Human-rights defenders, journalists, judges and lawyers were being attacked, and domestic violence, harassment and restrictions on movement and dress only added to worsening anxiety and depression. And, Bachelet wrote, "secondary schooling for 1.2 million girls discontinued".
Few ANIM members foresaw such a dreadful scenario. Mohammad Qambar Nawshad, conductor of ANIM's National Symphony Orchestra, was shocked to see his life, and his life's work, crumble so quickly.
"People said it wouldn't happen," said the 25-year-old, who lived with seven family members in one of the hospital rooms in Lisbon. "We had a very powerful military, with 300,000 soldiers. Even if [the Taliban] took some provinces, they wouldn't be able to go to Kabul. And everyone was really proud of that. But my heart was telling me the day would come."
We will be aiming again, like in Afghanistan, to serve disadvantaged communities [but] also, this time, refugee children. It will be a centre of multiculturalism

Ahmad Naser Sarmast, the founder of ANIM
Even though US President Joe Biden had said a month before Kabul fell that the US military had trained and equipped these 300,000 Afghan soldiers, the real number was much smaller owing to desertions and so-called ghost soldiers, who allegedly existed only on paper to siphon federal funds. The US had only 2,500 regular troops in Kabul as of January 2021.
The result of this miscalculation was the chaotic, dehumanising evacuation of Kabul as the Taliban closed in.
"In the end, the foreign countries just handed over the entire nation to [the Taliban]," said Nawshad. "You see, there is no guarantee. There is no faith. There is no belief and trust in the world."
When the Taliban surrounded Kabul on August 15, 2021, many ANIM students were in school rehearsing. One of them, 18-year-old Shogufa Safi, the conductor and percussionist of Zohra, was playing the marimba when a teacher came into the room and told her to leave because the Taliban was nearby. In the rush to get out, many students left their instruments behind.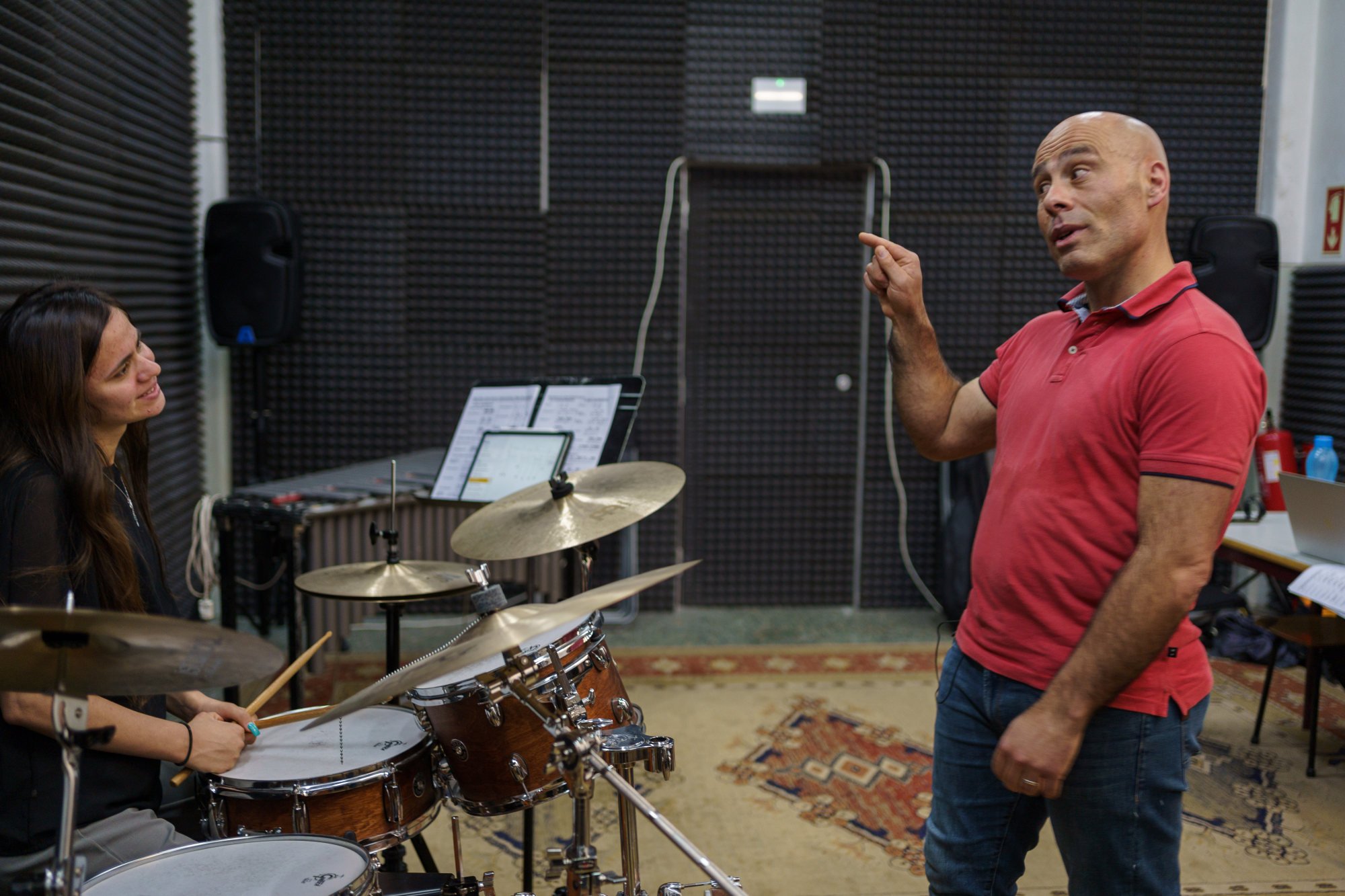 In the following weeks, the school was occupied by the Taliban, who damaged some of the instruments and set up dormitories in the building, which it later used as a base for the Haqqani network, a hardline group allied with the Taliban and with strong links to al-Qaeda.
That fateful day, Nawshad was at home in Kabul watching the news with his wife and his mother. For a while, he was clueless about what to do next. "You are back into the hands of evil," he thought.
Just a month earlier, he had presented on Afghan television stations two patriotic pieces he had composed in honour of the army, which got him "thinking about the army, about me, about our orchestra. Everything [that] has just vanished. And then, as a musician, I thought, 'What can I do right now for my country?'"
Nawshad grabbed a pen and wrote lyrics to what would become A Land out of Earth? The music followed and ANIM is currently rehearsing the song in Portugal.
If anyone can testify to the power of music, it is Ahmad Naser Sarmast, the founder of ANIM. He is the son of well-known Afghan composer and conductor Salim Sarmast, who was raised in an orphanage, and whose own life was changed thanks to musical education.
Now aged 59, Sarmast left Afghanistan in the 1980s to continue his musical studies in the Soviet Union. With the rise of the Islamists and the persecution of musicians in Afghanistan in the early 90s, he was given asylum in Australia, where he obtained a PhD in music.
In 2006, five years after the end of the Taliban's first rule, Sarmast returned to his country to witness the impact of war. He saw a need to preserve Afghanistan's rich musical tradition, and it became his calling.
Sarmast has turned the school into a globally known institution, with influential donors such as the World Bank. On ANIM's first international tour, in 2013, its orchestras were invited to play in such prestigious venues as Carnegie Hall and the Kennedy Center, in the US.
Sarmast also got used to living under threat. In 2014, a Taliban suicide bomber seated behind him during an ANIM concert exploded his charge just as Sarmast bent down to retrieve his dropped phone. He was wounded but he survived the attack.
"Afghanistan is, again, a silent nation," he said bluntly, on the rooftop of a hotel in Lisbon where he lived and worked during his first months in Portugal. He described his homeland as a "nation that always loved music. And music was an important element and part of social and cultural life in Afghanistan. But once again, we are denied our musical rights".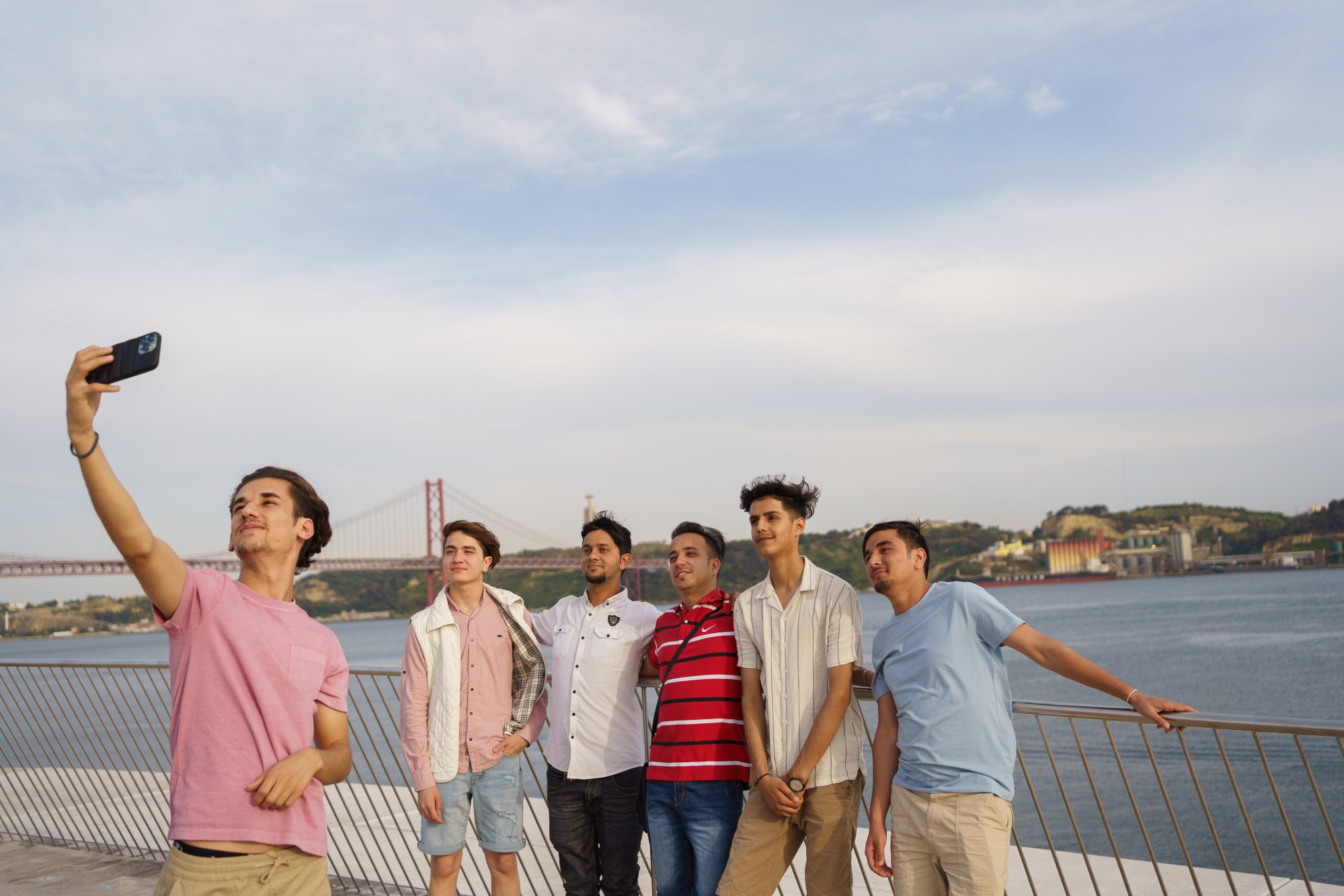 When the Taliban took Kabul last summer, Sarmast said his "mobile phone was exploding with messages from my community: 'Dr Sarmast, what's going to happen to us? The Taliban are going to ban music. We're going to lose access to music education. We will not be playing music again.' I told them: 'You are going to play music again.'"
In the final days of the evacuation window allowed by the Taliban, ANIM staff and students came close to being evacuated by the US. Six full buses queued for two days and one night amid the chaos at the airport, until being turned back by the Taliban when the gate was no longer under American control. Hours after they left, a rocket hit close to where they had been waiting.
After the failed attempt, mediation between the government of Qatar and the ANIM philanthropic network allowed the evacuation of the first 100 ANIM students to Doha; the rest had no passports and had to wait.
Many students feared they would be left behind but Sarmast told them he would get everyone out from grade 6 upwards, and he made good on his promise. Once everyone was safe in Qatar, Sarmast began to develop a vision for the school as an entity abroad.
"We will be aiming again, like in Afghanistan, to serve disadvantaged communities," said Sarmast, but "also, this time, refugee children. It will be a centre of multiculturalism and also for studying and researching Afghan musical instruments, music and culture."
The culture is so different here, the people and the language. When you don't speak Portuguese, how can you speak with them? And the food, every day fish, fish and fish

Fawad Murad, sitar player
Part of Portugal's spirit is what the locals call saudade, a word that refers to a type of long­ing; for a loved one, an object, a lost or fleeting pleasure, and a built-in need to resolve that emptiness.
Many students and staff of ANIM carry their own sense of longing and emptiness, and as the months have dragged on, the group has seen its numbers reduce every month. Many teachers and top players have left.
Some wanted to live with family or friends already established in other European countries. Most of them left illegally by land and applied for asylum in a second country, often Germany, where the refugee benefits are better than in Portugal.
What those who have gone may not know is that they are unlikely to obtain residency anywhere but in Portugal, since a European law known as the Dublin Regulation obliges refugees to stay in the country where they request asylum.
Out of the initial 100 students who came to Portugal, fewer than 60 remain. Among those who left was Fawad Murad, an 18-year-old sitar player and singer from a family of musicians.
"The culture is so different here," Murad said before leaving for Germany, "the people and the language. When you don't speak Portuguese, how can you speak with them? And the food, every day fish, fish and fish."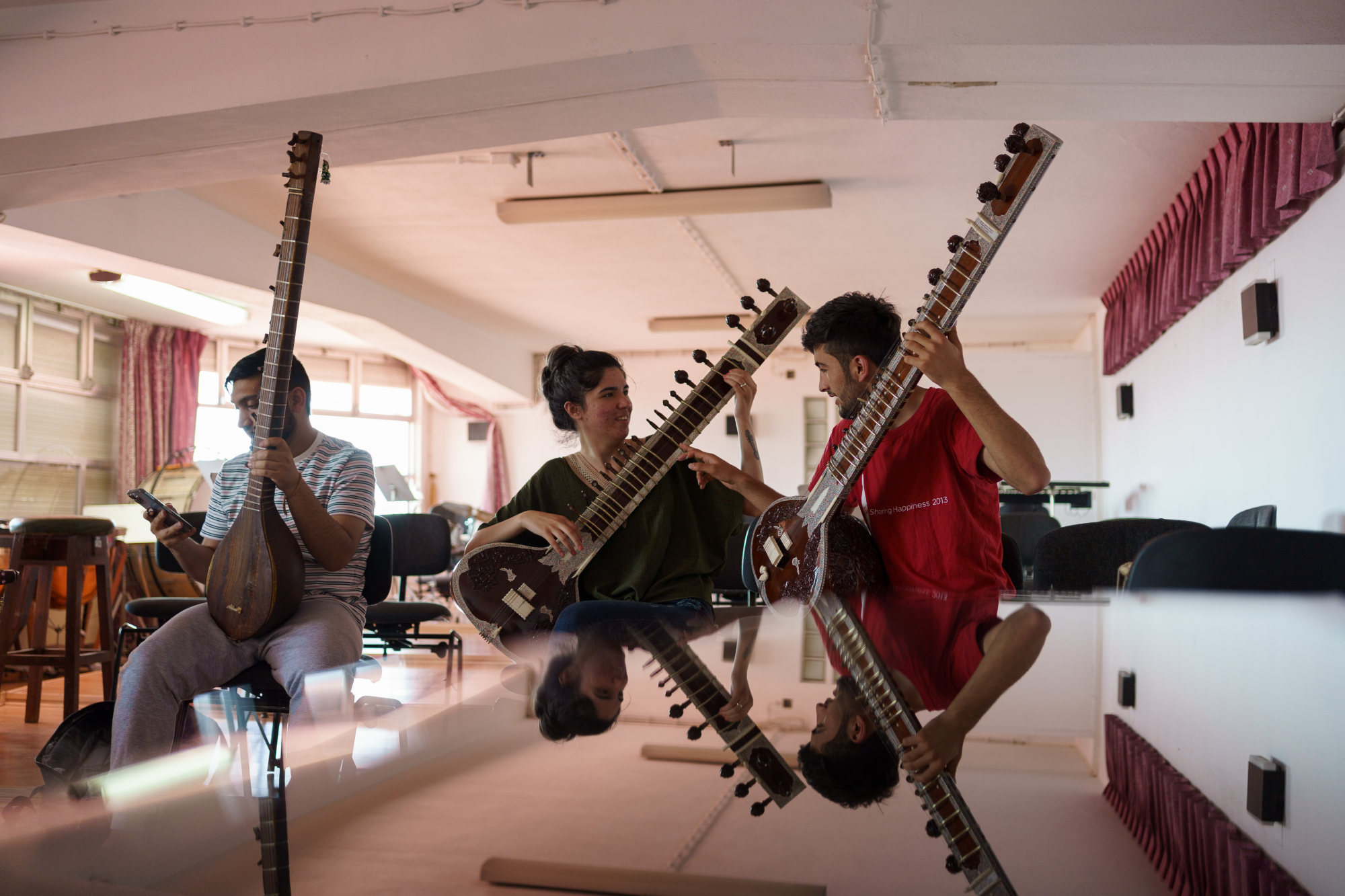 In April and May, Murad was playing 10 string and percussion instruments, singing traditional songs from his native Badakhshan province with a few friends and uploading them to social media. He was appreciative of the safety and freedoms of Portugal, but he seemed exhausted by his own saudade.
"It's boring to live here and it makes you lazy," said Murad, who dreams of being a famous singer and, like most of the students interviewed for this story, wants to return to Afghanistan to support his country. "When I wake up and I see that I am in a hospital, I'm like a sick person. In Afghanistan I wasn't, I worked every day."
Sarmast, however, believes the situation has improved since the students arrived last December and went through a cultural shock. He acknowledges that the expectations of some students were too high, and that "they should not expect anything apart from safety and opportunities".
He worked fast with local administrators to integrate them. In February, ANIM students began musical and academic lessons in a nearby secondary school, Marquês de Pombal, which also hosts the National Conservatory school, thanks to an under­standing between ANIM and both educational centres.
The Afghans have been taking Portuguese lessons, too, which added some much-needed routine, but integration proved to be slow since they mostly didn't mix with the other students.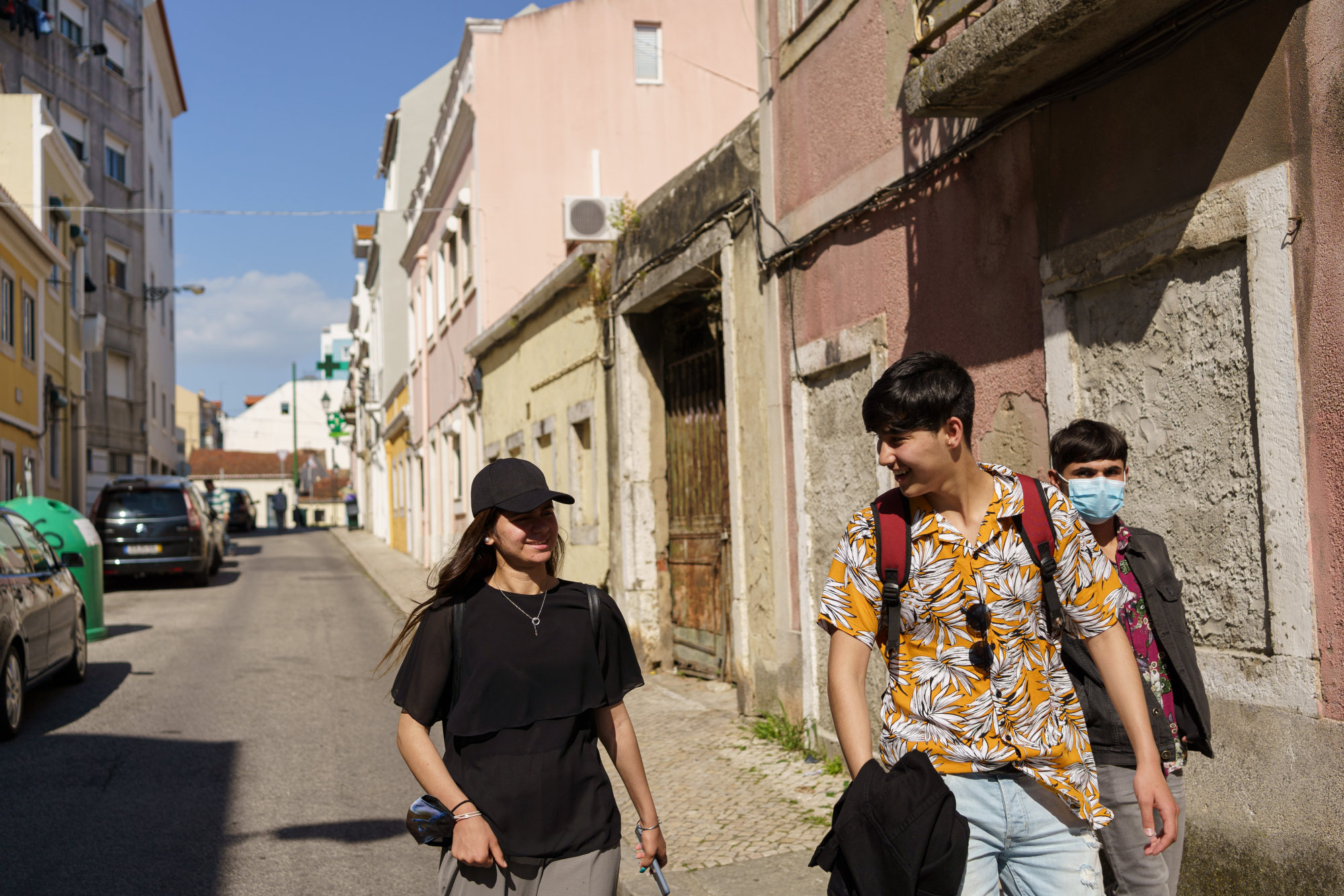 During their first days in Lisbon, the Afghans could not leave the hospital after sunset. The Red Cross, which managed the day-to-day affairs of the refugees, was trying to ensure their safety, but later they could go for walks in the city centre, along the Tagus riverside or in the Monsanto Forest Park.
"To be honest, it is really hard to be so far away from your country, especially from your family," said Safi, who left four sisters and two brothers in Afghanistan. "I'm 18 years old and I haven't had peace yet in my life." Safi, who was named one of the BBC's "100 women of 2021", said she is happy with the situation in Lisbon and will stay on, to "start my new life with peace and with beautiful music".
Sarmast explains that ANIM's arrival in Portugal was the only way to keep the school together. And while he was able to battle corruption and fundamentalism in Afghanistan, and arrange for the evacuation of all the Afghans who landed in Lisbon, he has also had to deal with the practicalities and bureaucracies pulling the group apart in Portugal.
The group represents about half of the 273 Afghan refugees that Portugal accepted after the Taliban crisis. They were told by the Portuguese government that they would be able to study and make music together, but this promise clashed with Portugal's protocol for the integration of large groups of refugees.
In the stunning Palácio da Rocha do Conde D'Óbidos, the president of the Portuguese Red Cross, Ana Jorge, admitted the group of Afghans is "a difficult case" because of its size and the presence of many unaccompanied minors.
"Currently in Portugal we don't support the institutionalisation of children in large groups," said Jorge, in the opulent palace that seems stuck in time, with relics and centuries-old paintings hanging on the walls. "It isn't good from the point of view of the education of the youngsters or their autonomy."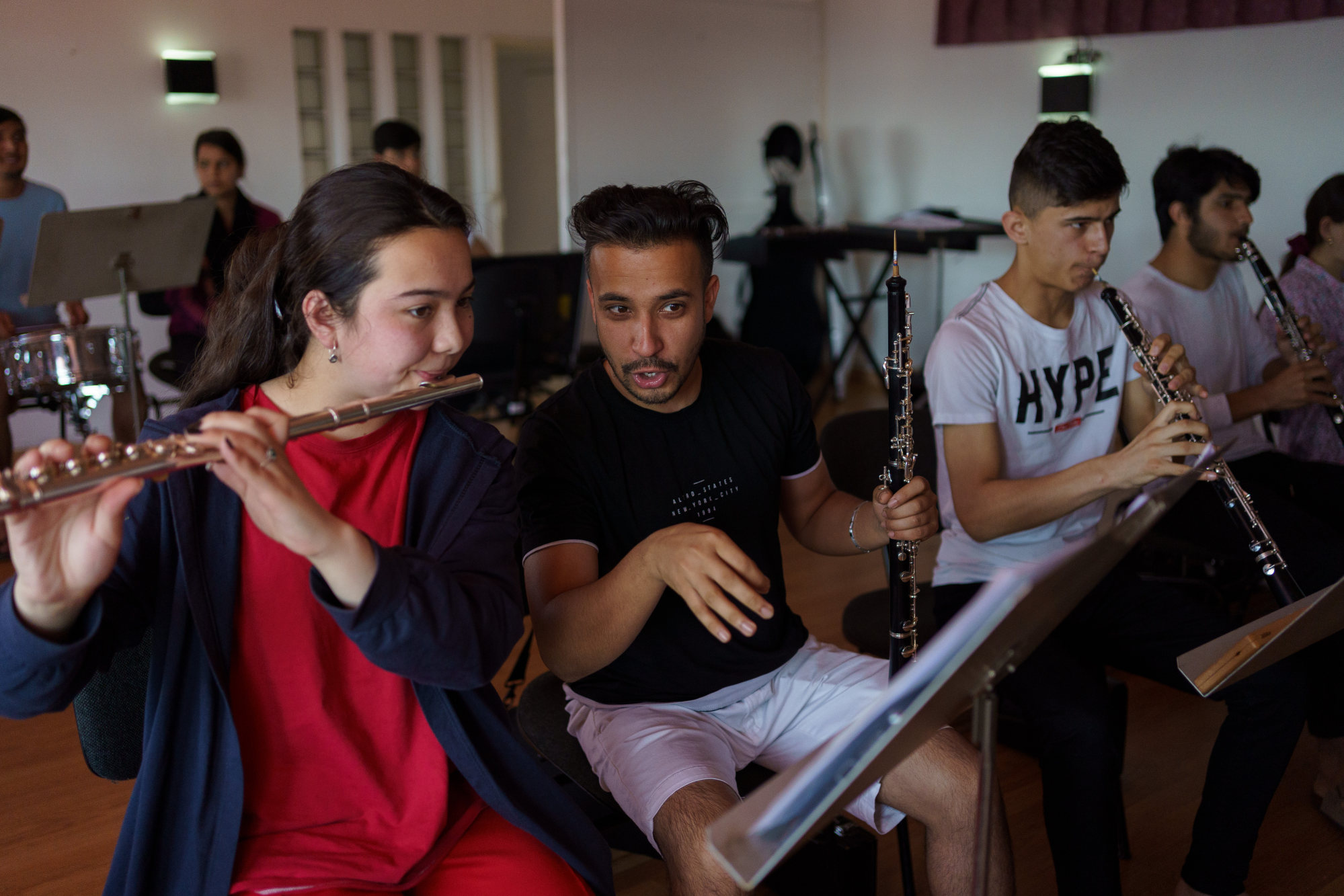 But for Sarmast, the students are like "family to each other. Do you split the family into four pieces and send them to different parts of the city or the country that they should be integrating? There's so many ways to make sure that integration is taking place and no one in our community is interested in living in isolation."
Sarmast has plans to bring 300 parents and siblings of the unaccompanied ANIM students from Afghanistan to Portugal, again with the help of the Qatari government. But the process, which Sarmast said has the approval of the Portuguese government, is taking longer than expected.
"The children have the right to be reunited with their families," he said. "It is well outlined and indicated in the legal system of Portugal."
Since these interviews were conducted, it has been decided that Lisbon could not offer what the group needed in terms of housing and schooling that complied with Portuguese refugee protocol, so the group accepted a proposal from the authorities to relocate to the north of the country. By August, most of the refugees had been divided between the cities of Braga and Guimarães, 25 minutes apart.
About 50 minors are now split between the two cities in hostels because they need supervision, whereas adult students Safi and Majidi are in a six-bedroom accommodation in Guimarães, where each can have their own room. A few staff members, with their families, have moved to apartments in the cities.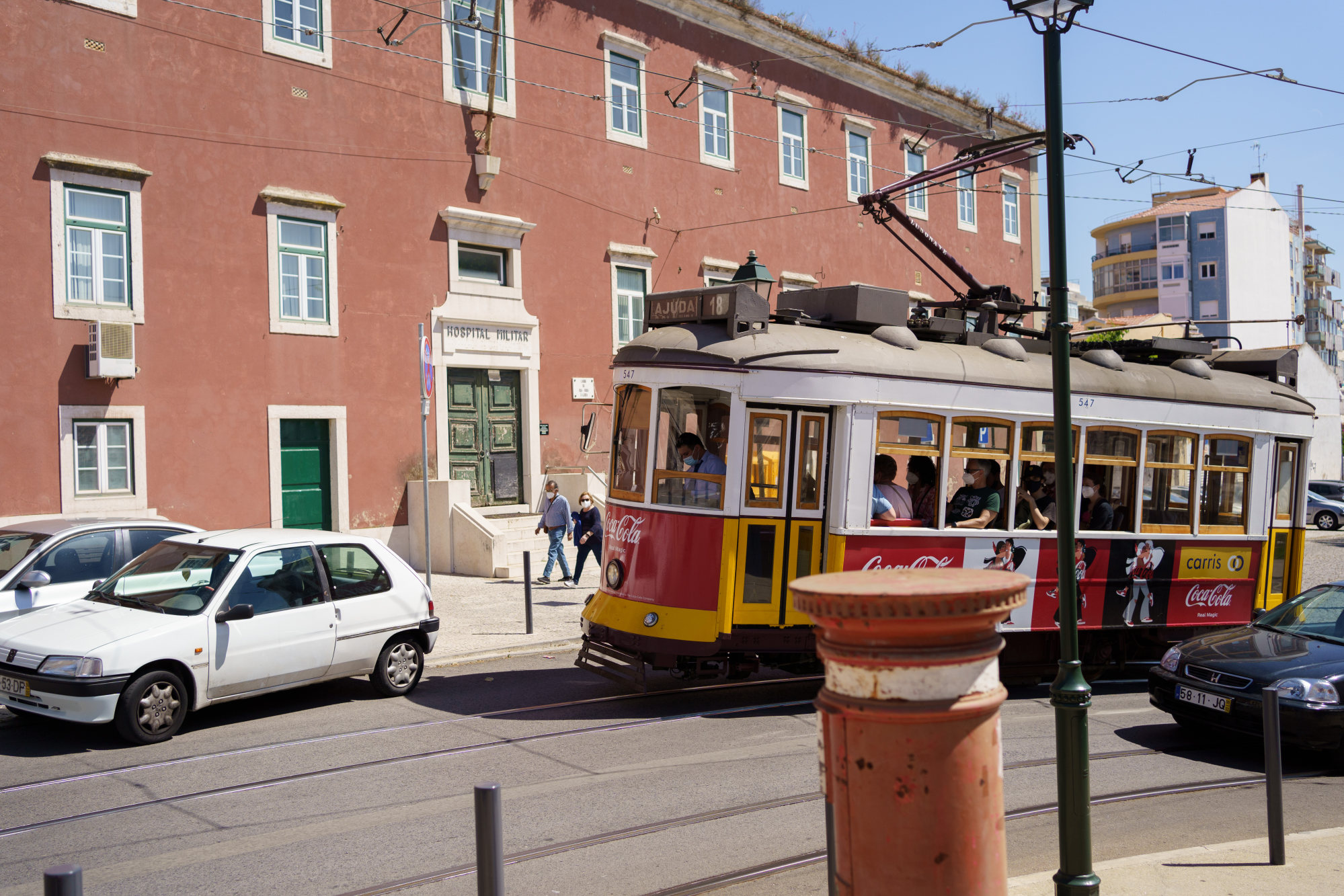 It might not have been what some members of ANIM expected, but it is allowing the group to finally settle down. "The government of Portugal gave us the best option to stay and play together," says Sarmast, who has been meeting with the municipalities and conservatories of both cities.
The dream now is to establish the school and Afghan cultural centre in Guimarães. Recently, the students began their musical and academic education in their new towns.
Huma Rahimi, 24, an ANIM student and one of the first two female professional sitar players in Afghanistan, was about to start giving lessons in Kabul in 2021, but then the Taliban came back.
"I feel proud but sometimes it's difficult in Afghanistan to be a girl and a musician," says Rahimi, who lives in a remote refugee centre in Lisbon run by the Portuguese Council for Refugees, an hour and a half from the former military hospital.
Living in the refugee centre isn't easy. There are no shops or markets nearby and there isn't much to do. "It is not like before," she says. "I am getting angry for little things because everything is so difficult."
Rahimi has decided to stay in Lisbon and try her luck there outside ANIM's umbrella. "It's already difficult to start a new life from the beginning," she says. "I don't know my future, but I want to be here and work for myself."
She thinks moving to another European country is risky, considering the Dublin Regulation could result in some ANIM members being deported back to Portugal. "In our centre, they sent back some refugees after one or two years living in Germany," says Rahimi.
When it comes to the youngest students, she thinks the best option for their future will be to stay in Portugal and complete their studies with ANIM.
"Dr Sarmast tried for two months, day and night, to evacuate us," says Rahimi. "He saved our lives, we have to be grateful."