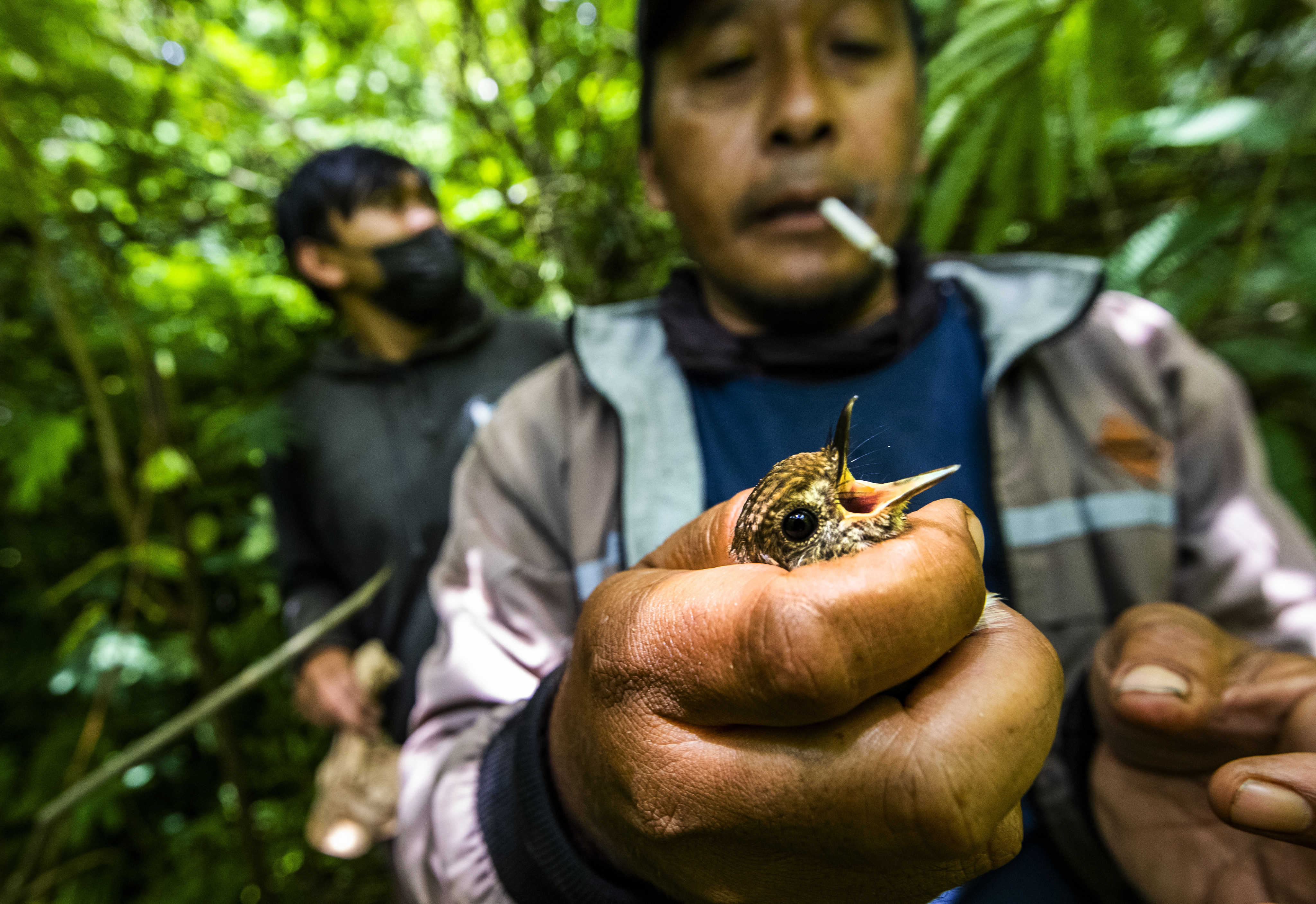 Bali's birds are disappearing, poached for the illegal wildlife trade and sold across Asia. But there may be a solution
Indonesia
Poachers are responsible for some 20 million songbirds a year being taken from Indonesia's forests, according to one NGO, a statistic felt particularly in Bali
In dense jungle on the side of a volcano, Putu and his son Wayan move through the undergrowth, selecting a tree and then covering several branches with a sticky, rubbery substance. As Putu barks orders, Wayan takes his Wonderboom speaker, pairs it with his mobile phone and covers it in branches at the base of the tree.
Then they slowly back away, waiting for their prey to be lured in.
Putu says he has been catching birds in Bali, Indonesia, where the capture or trade of wild birds is illegal, since 1998. Back then, the poacher would mimic the bird songs he had learned over time, whereas now, "I just record the bird songs off YouTube."
Different songs are used to lure different species; some traps like this one are set close to the ground, others up high; and sometimes live birds are used as bait to call in potential mates. Owls, he says, confuse other species, who swoop in to see why an owl would be out in the daytime.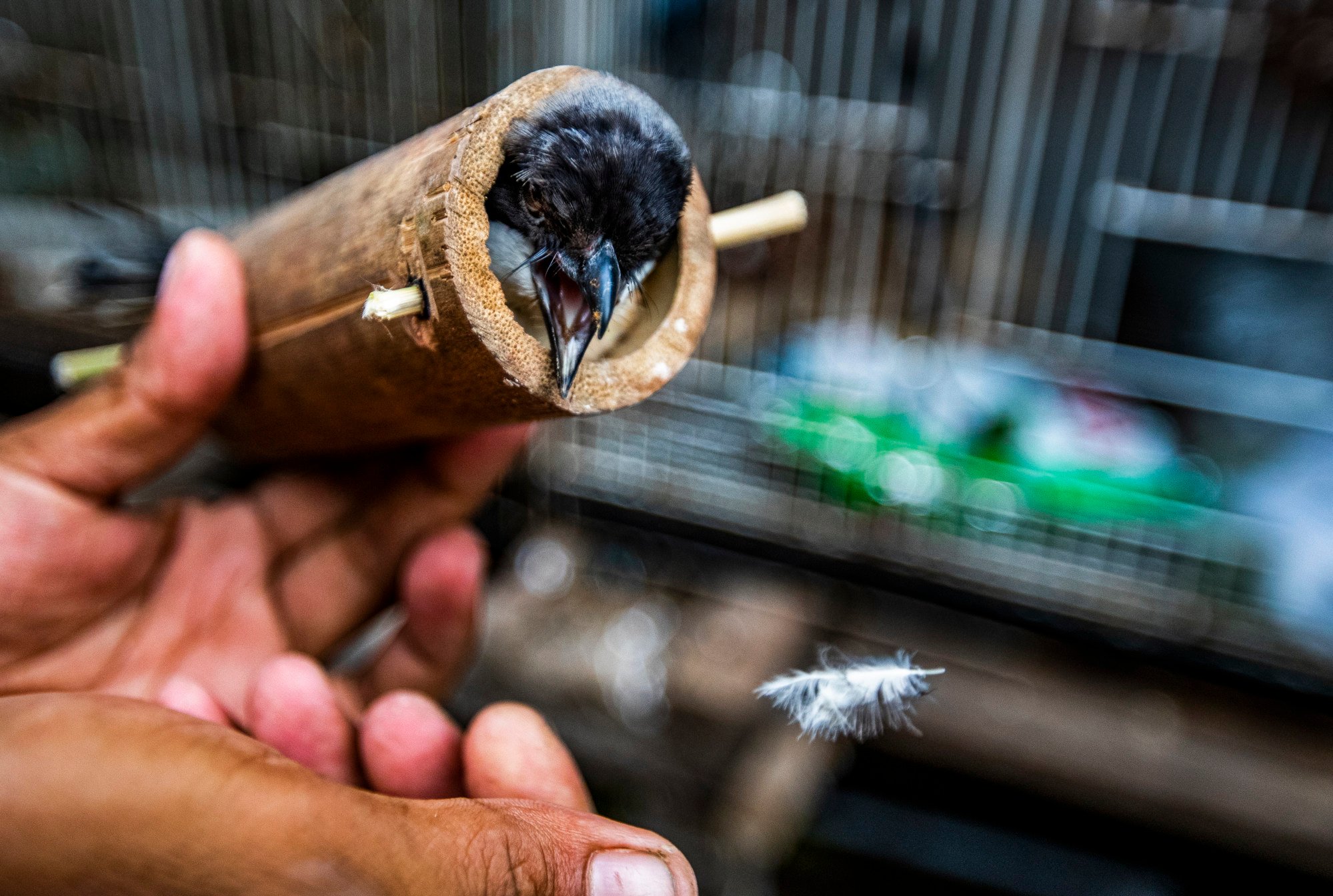 Fifteen minutes pass, and two birds flap helplessly on a glue-slathered branch. Father and son move in, and use minyak telon, a combination of fennel, coconut and eucalyptus oils, to dislodge the birds and place them in holding bags. Some are placed into small plastic or bamboo tubes for transport to market.
"In 2015, my team and I used to catch 500 birds every two days," says Putu. "Now in 2022 we can only catch 50 birds every couple of days. I'm worried the birds will run out."
The Jakarta Animal Aid Network is also worried by these birds' diminishing numbers.
The NGO says poachers like Putu are responsible for some 20 million songbirds a year being taken from Indonesia's forests, many of them dying before even reaching the market. If they do survive, most of the birds will sell for between 50,000 rupiah (US$3.20) and 150,000 rupiah each, while rare birds can fetch as much as 30 million.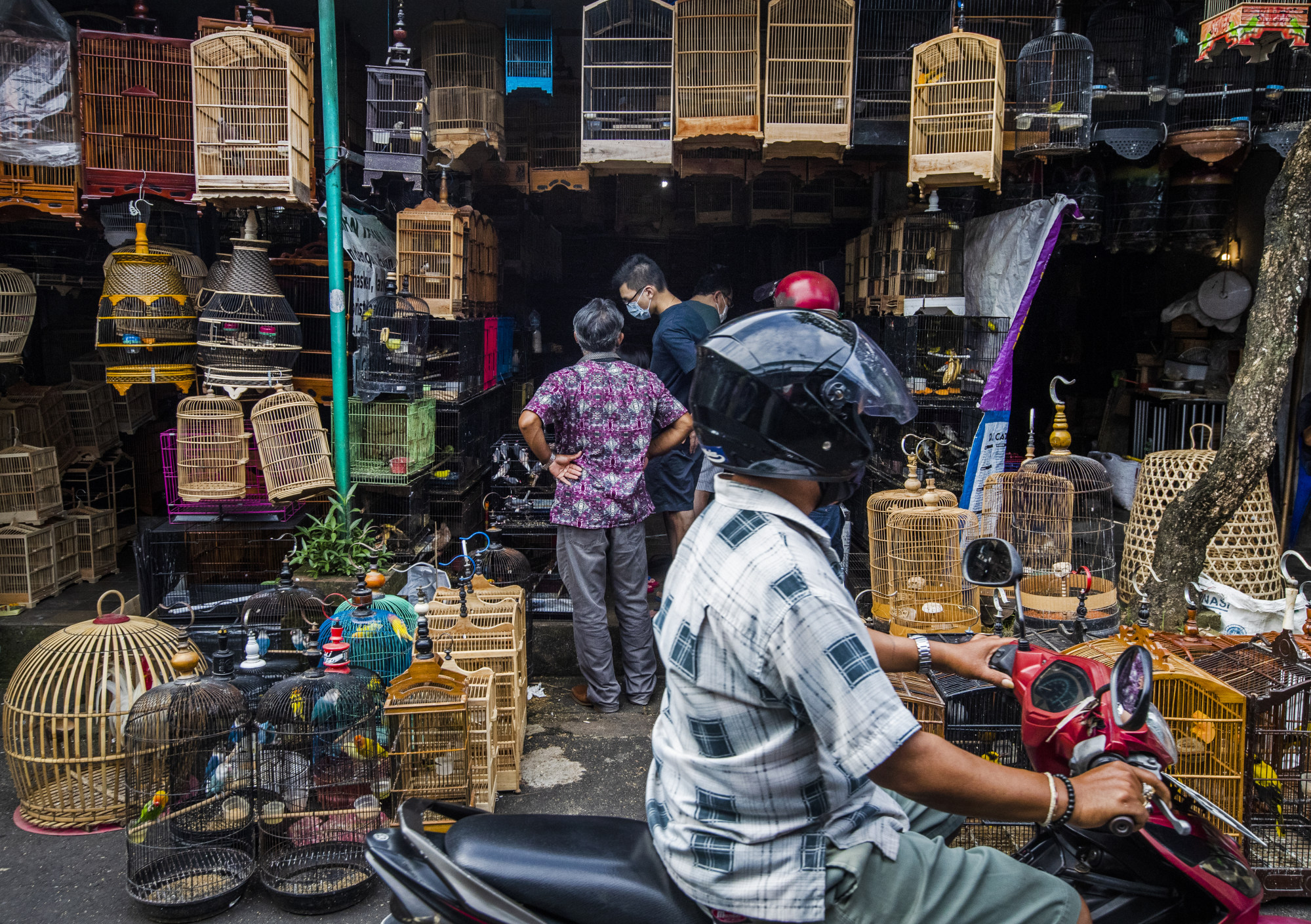 One market in Bali's capital, Denpasar, is among many across Indonesia that are servicing a huge domestic demand for birds kept in cages in many households in the Southeast Asian country. Songbirds in particular are much sought-after for use in songbird competitions.
Stacked among iguanas, hedgehogs, sugar gliders, civet cats and even bats, cage after cage of exotic birds of all shapes and sizes from as far away as Borneo are, according to traders, bound for places as far flung as Jakarta, Singapore and Hong Kong.
Sarah Lewis, founder and CEO of the non-profit Thrive Conservation, sees a solution to dwindling bird populations and the threat that poses to local livelihoods.
"With Bali being one of the world's top tourism destinations and the global popularity of birdwatching," she says, "there is an opportunity for Bali to be a birdwatching destination, working with bird catchers to help them use their incredible tracking skills for guiding avid birdwatchers rather than catching birds.
"With this, alongside targeted campaigns and education to help reduce demand, working with the government to gain protections for vulnerable species and bird rehabilitation programmes, we see strong opportunities to help Bali's birds recover, while also providing sustainable livelihoods for ex-bird catchers."