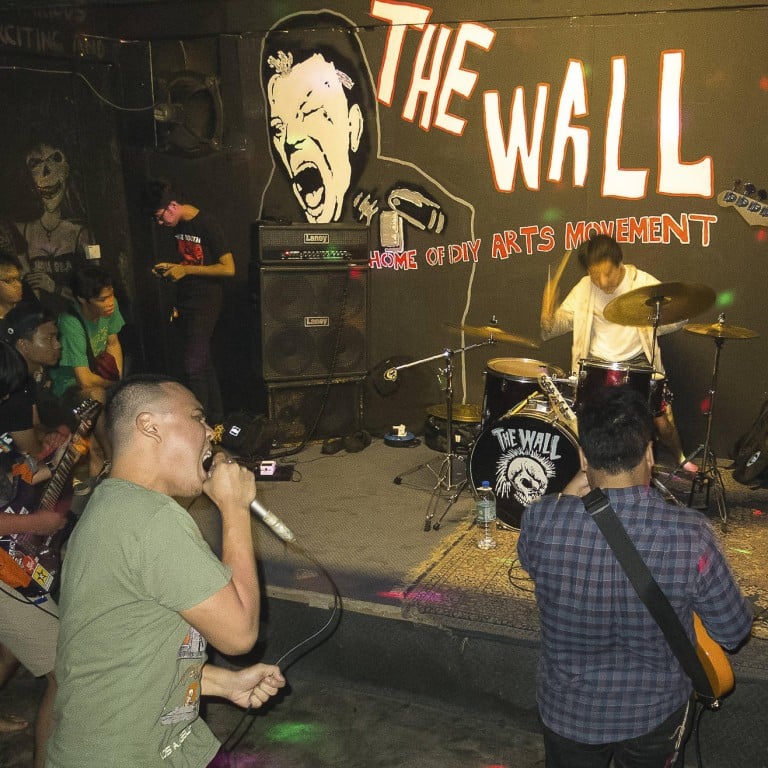 The secret world of punk on the Singapore-Johor highway
Singaporeans head to Johor for a more authentic punk music experience, while Malaysians head south for a greater choice of imported merchandise and the self-produced albums of Singapore punk acts, writes Marco Ferrarese
It's 10.30pm on a Friday night and Mohd Rizman is riding on a half-empty 170 bus across Singapore's northern suburbs towards Woodlands, the border with Malaysia. By day, the bespectacled young Malay works in Johor Bahru, at the other end of the causeway that connects the two states, but on most weekends, he dons his baseball cap and trainers to begin another rock and roll pilgrimage to the Lion City.
"Shops like Straits Records, Ravage and Surface Noise get all the imported vinyl I can't find in Malaysia," explains Rizman. The bag he clutches as he heads home contains shrink-wrapped albums by Iggy and the Stooges, the MC5 and Japanese stoner heavyweights Church of Misery, among others. Like a smuggler, Rizman takes telephone orders from punk rock friends living as far away as Kuala Lumpur, shops for loud music in Singapore, and is back in Johor by midnight.
Rizman is one of many young, pierced and hair-dyed Malaysian and Singaporean men - and fewer women - who shuttle instruments and stacks of self-produced music in car boots or on board the frequent buses connecting Singapore's Queen Street and Johor Central. This flow keeps a trans-border music scene alive by negotiating the unbalanced development between these sister nations, separated in 1965. Malaysians come to tap into the island state's greater choice of imported merchandise and instruments, despite the higher prices, and Singaporeans seek out the more authentic punk atmosphere found in venues north of the causeway.
The Malaysian Islamic authorities cracked down on black metal in 2001 and again in 2006 but it's still relatively easy to play punk shows in the country, in a string of independent venues along the west coast (Rumah Api and Live Fact, in Kuala Lumpur; Rainhouse, in Ipoh; Soundmaker, in Penang; and Azimat Studio, in Sungai Petani). But it's clearly in Johor that the two scenes intermingle most.
"To run shows in Singapore you need a permit from the authorities, and that's just not practical for small independent promoters," says Shaiful Risan, the Singaporean Malay behind record label and show promoter Prohibited Projects. To stay below the radar, he says, Singaporean bands often play in small rehearsal studios, promoting gigs with fake venue names, or take a trip to Malaysia.
The closest venue to Singapore is self-declared do-it-yourself space The Wall, in the small town of Batu Pahat, where a group of Malay Muslim punks have set up shop on the first floor of an anonymous building. The Wall regularly hosts Malaysian, Singaporean and an increasing number of the international touring bands who have started to flock to the region in the past couple of years. A fire destroyed most of its equipment last year, but "donations from punks all over Malaysia and Singapore helped us get back in business quickly", says The Wall's manager, Feroz Omar, Malay singer of local hardcore band Bad Idea.
The larger Johor Bahru, on the other hand, lacks performance spaces and necessary scene hangouts.
"Only international touring bands with a draw can play at Embrace Hall because rental fees are expensive," says Lynn La Loy, manager of online fashion-pop boutique Kurozetto and one of those few females involved in this cross-border punk scene. Lynn, like Rizman and Johor Bahru's d-beat band Hellexist, often hops south of the border to catch big foreign touring bands and stock up on vinyl, or travels two hours northwest to The Wall.
Malaysia and Singapore may be separated by an international border but, in the words of British punk band Sham 69, if these kids are united, they will never be divided.