"Italy's done it! Germany's done it – And now China is about to do it. Mass weddings have been solemnised in both the first men­tioned countries and now the experiment is to be tried in China, in Shanghai, on April 3," ran a story in the South China Morning Post on February 12, 1935.
There was nothing new about mass wed­dings. In The Anabasis of Alexander, Arrian of Nicomedia describes the marriage in 324BC of Alexander the Great to Stateira II, a cere­mo­ny that saw 80 couples tie the knot as the king of Macedonia married off his commanders.
New generation of Hong Kong brides tears up rules for wedding dresses
The 1935 mass wedding took place as scheduled, the Post reporting that "Fifty-seven couples saved approximately $57,000 today when they were married at a cost of $20 by the Mayor of Shanghai."
Hong Kong followed suit a year later.
"Earlier last year, Shanghai, following Russia, held the first ceremony of this kind, and later Canton took up the idea. Now Hongkong has decided to experiment, and on Saturday, February 15, the Colony's first mass marriage will take place in the Association Rooms of the Chinese YMCA in Bridges Street," ran the story on February 8.
On February 17, the newspaper reported 11 Chinese couples had been married. "Members of the St John Ambulance Brigade and the Boy Scouts had a very busy time keeping the crowd in check and ensuring that only those invited should enter the premises," the story continued.
In a further twist on tradition, it had been the late arrival of grooms that had delayed proceedings. "The ceremony was timed to commence at 4pm, but at 4.10 it was discovered that two of the prospective bridegrooms had not turned up. One of them appeared five min­utes later and shortly after 4.30 the other was found."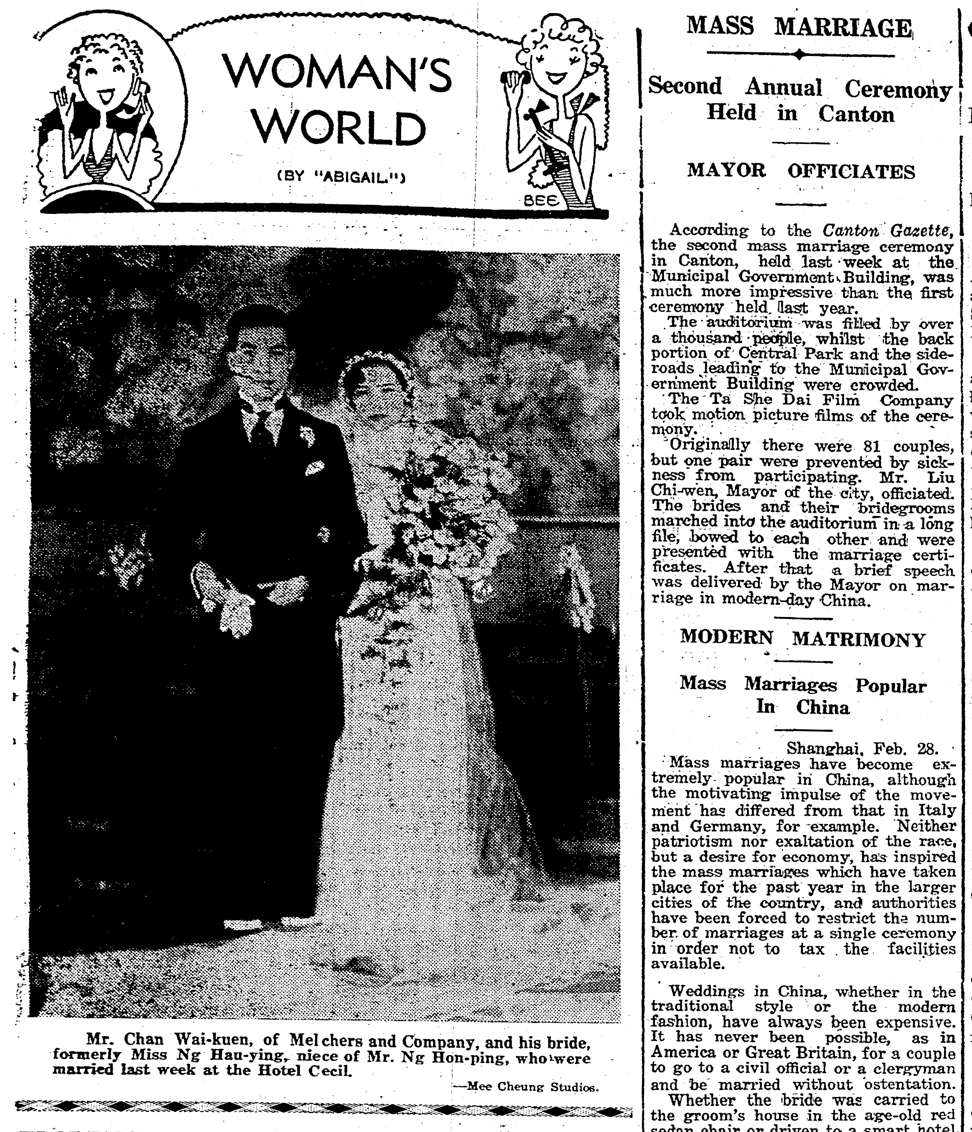 Reporting the rising popularity of mass marriages in China, on March 2, 1936, the Post noted that the motivating impulse differed from that in Italy or Germany, with a desire for economy taking precedence over patriotism or "exaltation of the race".
Why Hong Kong couples are opting for no-frills weddings
"Weddings in China […] have always been expensive," ran the report. "The 'New Life' movement, sponsored by Generalissimo Chiang Kai-shek, China's strong man, and his Wellesley-educated wife, brought a solu­tion. One of the keynotes of the 'New Life' movement has been avoidance of ostentation and extravagance, and its application to wedding ceremonies has been enthusias­tically received by the masses."