"North Point Air Disaster: Twenty-three Killed," was the headline Hong Kong woke up to in the South China Morning Post on February 25, 1949.
"Twenty-three persons lost their lives when a Cathay Pacific Airways Dakota plane from Manila crashed into Mount Butler yesterday morning," the story continued. "Scene of the tragedy was Braemar Reservoir, 150 feet above sea level, which was built by the Taikoo Sugar Refinery to feed their plant in Quarry Bay. The plane, coming from the direction of the harbour, first struck a 20-ft retaining wall on the north side of the reservoir, dislodging from the end of the coping a piece of masonry about five feet by two. […] The Dakota, then out of control, hurtled forward across the 300-yard wide reservoir to crash about 20 feet above water level on the rocky hillside. […]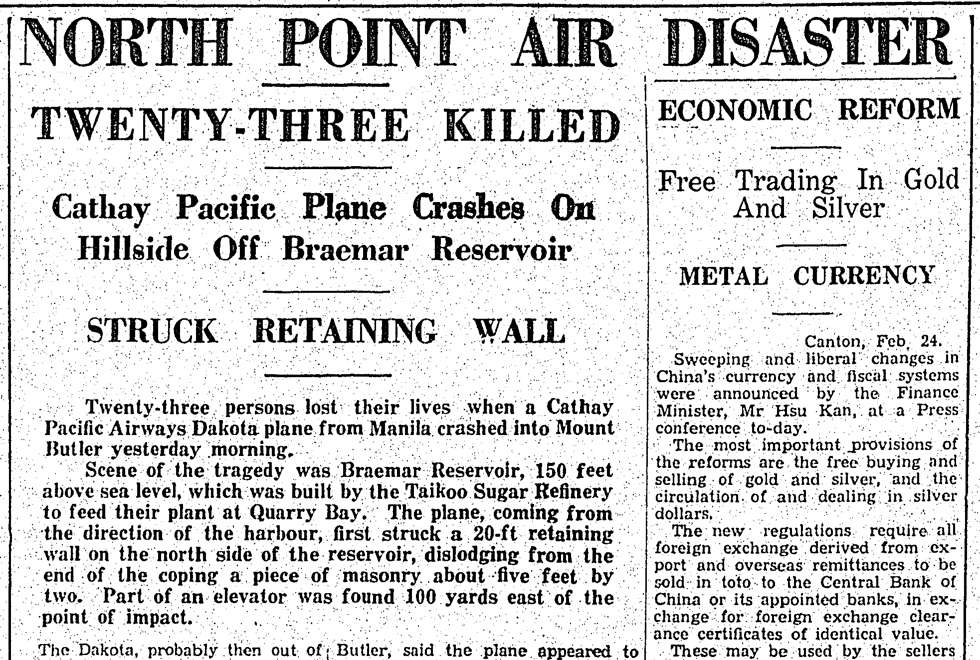 "The plane must have burst into flames immediately after crashing. When the flames died down, all that could be seen beyond the mass of charred wreckage were the two wings, the tail on which the Union Jack was painted, and one of the wheels. […]
Flight of no return: How a Cathay Pacific plane became the first hijacked commercial airliner
"An eye-witness […] said that at about 11.30 a.m. he saw the Dakota coming from the harbour, flying very low. From King's Road there is a gradual slope up the reservoir. It was foggy at the time, but he could see that the pilot was trying to ascend. […] When he reached the big retaining wall, the pilot made an effort to clear it but was unsuccessful. Part of the plane struck the corner of the wall. About two seconds later [the eye-witness] heard a dull crash as the plane struck the steep base of Mount Butler on the far side of the reservoir. [...] The tragic aspect of the accident lies in the fact that, had the plane been flying about two feet higher as it approached the reservoir, it would have cleared the wall and might possibly have been able to turn back before striking the mountain."
Memories fly aboard Cathay Pacific's last 747 flight
Those killed in the crash, later attributed to pilot error, included the crew of four, three of whom had seen service with the Royal Air Force during the war, and 19 Chinese passengers.