"Small-pox season," ran a South China Morning Post headline on January 8, 1938. But there was no hint of what was to come: Hong Kong's worst smallpox epidemic.
"In two days the police have picked up no fewer than 54 dead bodies from the streets. Fourteen were found in the Central and upper level districts [...] Most of the abandoned dead were victims of small-pox," ran a report on February 14.
"Thousands of people young and old were vaccinated within the last two weeks," the Post reported on February 22. "A wish has been expressed that a film be taken of the crowds who thrust themselves with out­stretched arms towards the harassed vaccinators in their hurry to be vaccinated."
Unvaccinated residents were cause for concern, and thousands of mainland refugees fleeing Japanese invaders exacer­bated the problem.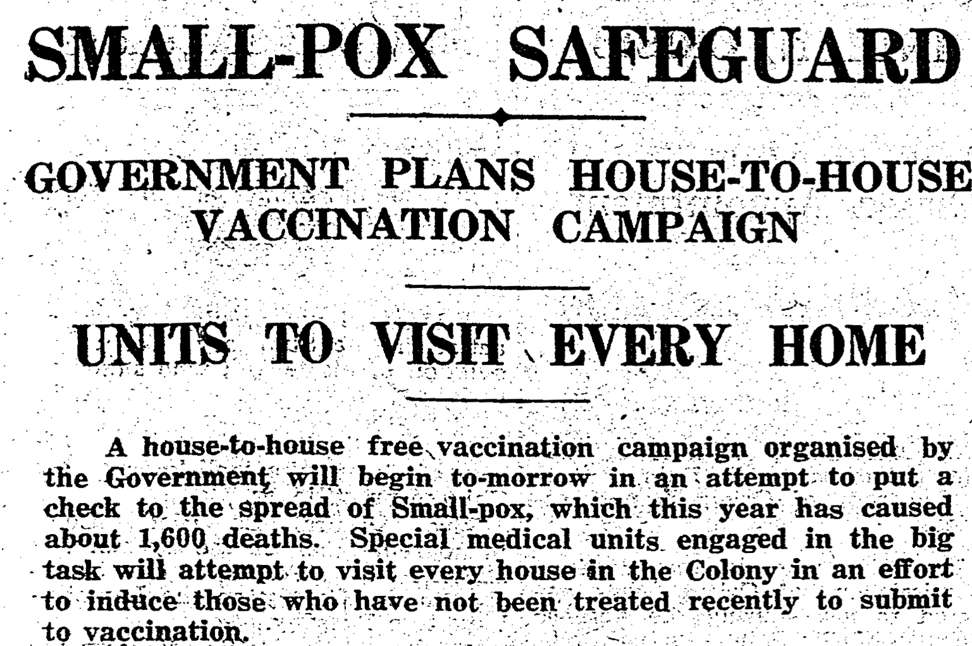 "The only excuse for non-vaccination is ignorance," the director of medical services told the Post on February 25, as the death toll rose to 512.
On March 21, the Post reported: "Surprise raids by sanitary department officials in Kowloon discovered seven concealed cases of small-pox in villages around Kowloon City. It is explained that ignorant people are afraid to send their sick to hospital because so many of them die."
"The general impression exists that the public is not fully co-operating with the author­ities in the suppression of small-pox," ran a report on March 26 and, on April 30, businessman Ho Kom-tong was quoted as saying: "The reason [...] lies in the fact that either they are too lazy or else they are not yet fully conscious of the great danger they are in."
May 18 was the first day of 1938 on which no small-pox cases reported.
"The five month small-pox epidemic [...] has claimed a total of 1,920 lives," the Post reported on May 31. "The epidemic was the greatest small-pox outbreak ever recorded in the Colony, and reached its peak in the middle of March, when an average of 40 cases, nearly all of which proved fatal, were recorded daily."