"Hong Kong scenes for new 007 film", ran the headline in the South China Morning Post on April 5, 1973.
"Several scenes for the next James Bond adventure film [The Man with the Golden Gun] will be shot in Hongkong and Macau early next year," the story continued. "But, said the film's producer, Mr Harry Saltzman, he will not use 'downtown Hongkong.' It looks too much like New York."
Saltzman confirmed that Roger Moore, who died on Tuesday at the age of 89, would be in the title role.
When Roger Moore played James Bond in Hong Kong, filming scenes at The Peninsula, Bottoms Up club, and Victoria Harbour
"About 20 per cent of the film will be made in Hongkong and Macau, with about three or four weeks of shooting," the story went on. "Harry Saltzman is delighted with the perfor­mance of the 'new' James Bond, Roger Moore. He thinks that judging from the first film with Moore in the title role [Live and Let Die; 1973], he will be the most popular James Bond."
Moore and co-stars touched down at Kai Tak on April 27, 1974, and – at a time when film violence was in the spotlight – there was something he wanted to get off his chest.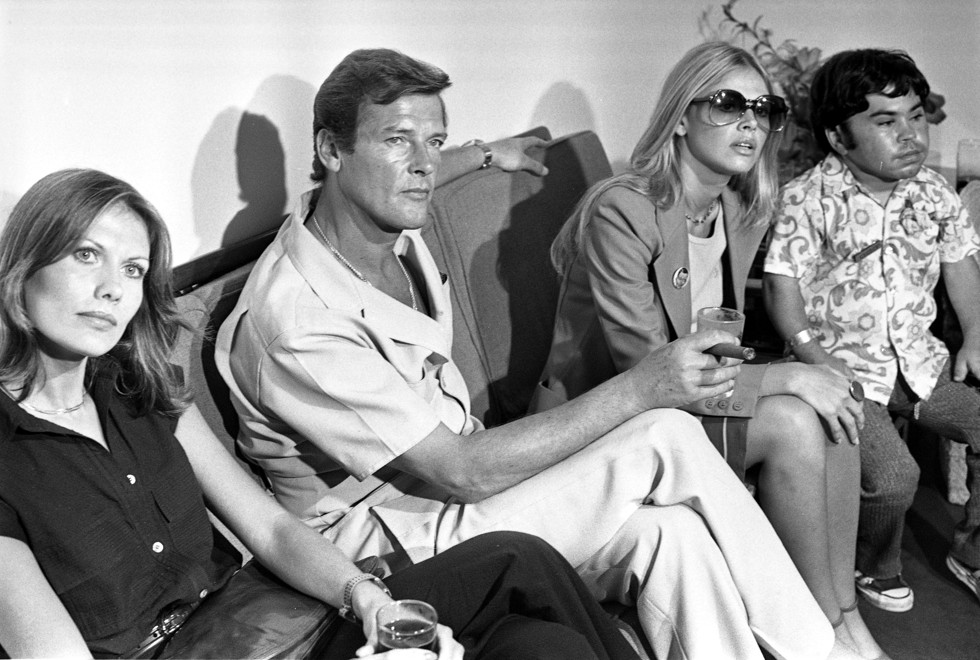 "Wearing a beige safari suit and looking like what he called a 'character actor', after a gruelling flight […], Mr Moore described the kind of film which did not meet his approval," the next day's Post reported, of the Kai Tak press conference. "This was pornography, he said, whether soft or hard, and especially pornographic violence. He mentioned Sam Peckinpah's work in particular, Straw Dogs [1971] for instance."
"'The point at which it gets to be too much is where you're not satisfied with all the blood, guts and gore you can dig up, but you still have to show it in slow motion,'" he said.
"Asked if The Exorcist [1973] – which has been highly acclaimed by London's top critics – fitted his category of pornographic violence, Mr Moore said it was an 'appalling piece and an unnecessary exercise'."
Roger Moore, never shaken, rarely stirred, found humour in Bond films, as in life
Moore told the newspaper he had not seen any Asian kung fu films. "'The kung fu expert is on my right,' he said, indicating Maud Adams, 'and another potential expert on my left,' he said referring to Britt Ekland.'"
"He added that he was in the process of learning kung fu himself although no link up with Shaw Productions was in the pipeline."