"Worst deluge in 83 years hits Hongkong: Mid-Levels Flats Crash in a Day of Disaster; 78 squatter huts inundated in big landslide", reported the South China Morning Post on June 19, 1972.
"At least 200 people are believed dead in twin downpour disasters after a luxury skyscraper block last night toppled down the Mid-Levels [67 later confirmed dead] and a mudslide earlier in the day buried a squatter village in Sau Mau Ping [death toll 71]. At 3am today, under the brilliant glare of arc lights, armies of rescuers burrowed through the two mud-covered mass graves."
The tragedies followed a "mammoth" 25.2 inches of rainfall in 72 hours.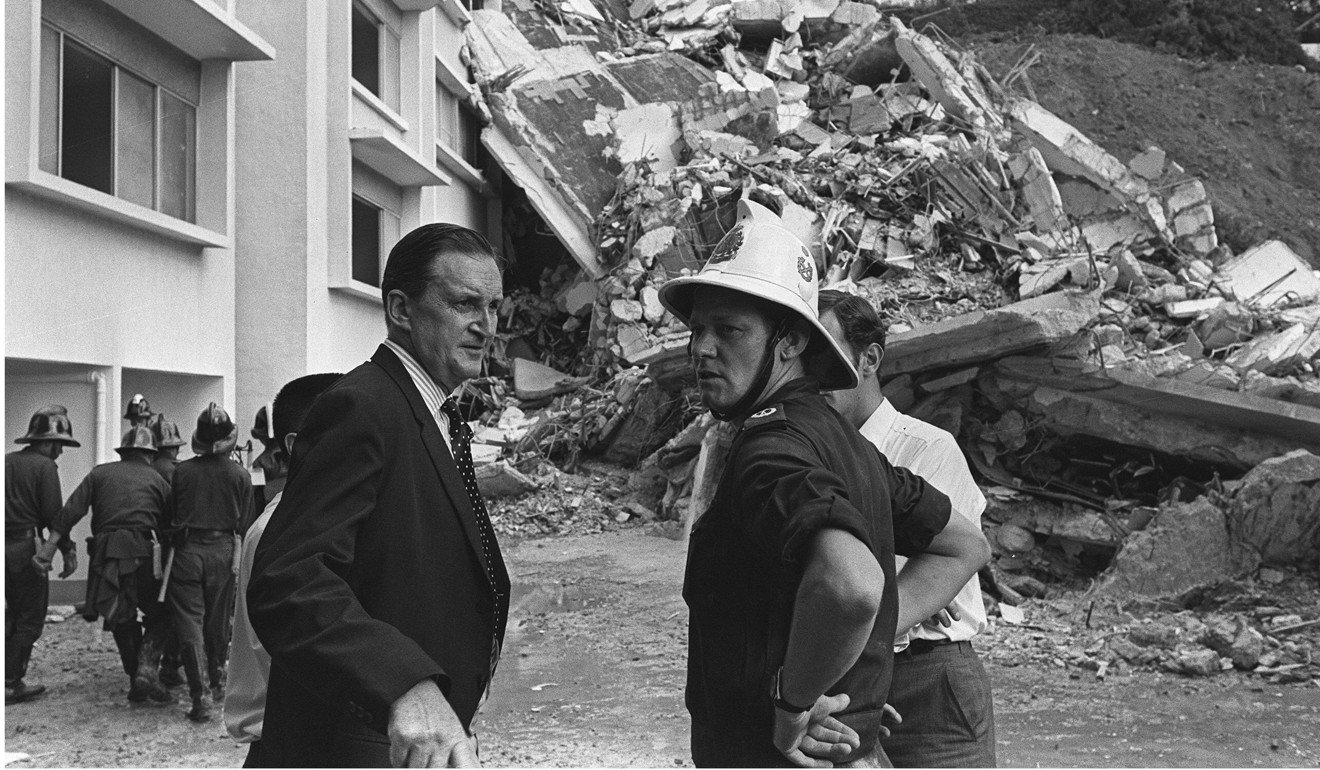 "The Mid-Levels disaster started under a garage building in 21 Po Shan Road," the Post reported. "During a violent downpour at 8.50pm, the garage [...] cascaded down a steep cliff, crashed across Conduit Road and into the base of [...] Kotewall Court. The building tilted and crashed to earth, 'like a felled tree', according to one onlooker." The "huge concrete and glass skyscraper" had "swayed – then crashed onto its side".
"[…] At Sau Mau Ping, public servants, soldiers and volunteers clawed their way into a horrifying montage of mud, blood and bodies. But all hope of finding anyone alive [at] Sau Mau Ping Class II Resite area had faded."
Most of the dead were children. "Adults in many cases managed to fight their way clear of the choking mud. Most of the children disappeared beneath the surface of the surging mud slide without trace."
The newspaper recounted the tale of a 12-year-old schoolgirl from a nearby resettlement block running from her mother up the face of the mudslide: "'Ah Fong, Ah Fong, come back,' the mother called. But the girl kept going. She reached into the muck and seized a tiny hand showing above the surface. She pulled – and a baby boy, naked and aged about two, was pulled free. The girl ran back down the slope, slapping the baby on the back and washed the mud and grime from his face.
"The baby wailed and the girl took him in her arms to ambulancemen who fed him oxy­gen. He was one of the few young survivors."