"A new chapter in Hongkong's civil aviation history was written yesterday when a CPA DC-3 aircraft took off from Kai Tak airport at 8.30 p.m. officially to introduce night flying," ran a story in the South China Morning Post on July 18, 1959.
"On board the aircraft were newsmen and other guests who had a wonderful bird's eye view of Hongkong by night. They also saw the airport's approach and lead-in lights which guide aircraft on landing and take-off."
Ahead of the Cathay Pacific Airways flight, guests enjoyed a cocktail party and lighting-up ceremony, hosted by British General Electric, Hong Kong, which had installed the lights in a contract valued at HK$2.6 million.
Hong Kong to London in 11 days: first 'direct' flight lands in 1936
"On leaving for a 20-minute trip, the aircraft sped along the runway equipped with lights spaced at intervals of 200 feet, and headed towards Lyemun [Lei Yue Mun] Pass," the story continued. "It circled over Shaukiwan [Shau Kei Wan] and turned back towards the airport [...] After a low pass over the runway, the aircraft turned around and made a perfect landing from the direction of the Kowloon hills."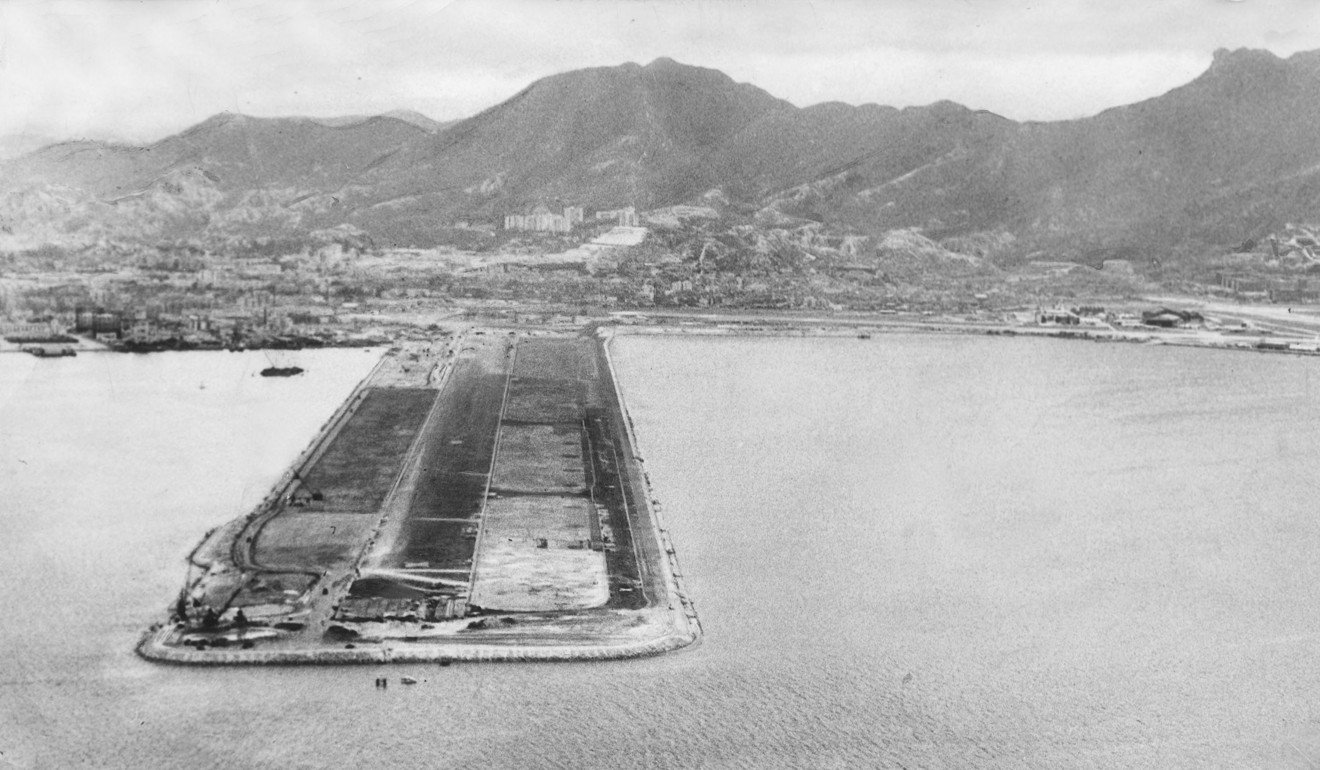 The report heralded the Kai Tak lights, which, it said, had "no counterpart anywhere in the world".
"The unique sector is on the north-west approach where aircraft must fly a curved course to avoid rugged terrain in the imme­diate vicinity […] Because much of the approach is over a densely populated area, lighting fittings had to be located on struc­tures erected in some cases on roofs and across streets.
"Aircraft approaching from the opposite direction are guided across Kowloon Bay by seven groups of lights mounted on 'Dolphins' constructed in the sea."
Hong Kong's famous Kai Tak airport: a fan's photo gallery
The prospect of night flights was not universally welcomed. Three months earlier, on April 14, 1959, the Post reported A. de O. Sales had told a meeting of the Kowloon Residents' Association: "We don't even know what steps will be taken to reduce the noise. What assurance have we that aero­planes will not be going over the city? Residents in Kowloon Tong are already very upset."