"Tragedy At Taipo Kau; Children And Students Killed By Suddenly Flooded Stream", read a South China Morning Post headline on August 29, 1955.
The report continued, "Twenty-one Chinese children and students are known to have been killed when they were swept away by a stream which suddenly turned into a torrent following a cloudburst at Taipo Kau, New Territories yesterday afternoon."
Victims "ranged in age from nine to 20" and included members of parties from the Kowloon-Canton Railway Staff Club and the St James' Settlement, who were enjoying a Sunday afternoon outing.
"They were picnicking on the banks of the stream when suddenly a large volume of water rushed down and swept them away, hurling them against rocks and causing some to drown."
An 18-year-old La Salle College student told the Post: "At about 1 p.m., after we had enjoyed ourselves swimming and having fun, it suddenly rained. I picked up my belongings and prepared to leave when suddenly the stream became swollen and a large amount of water gushed down."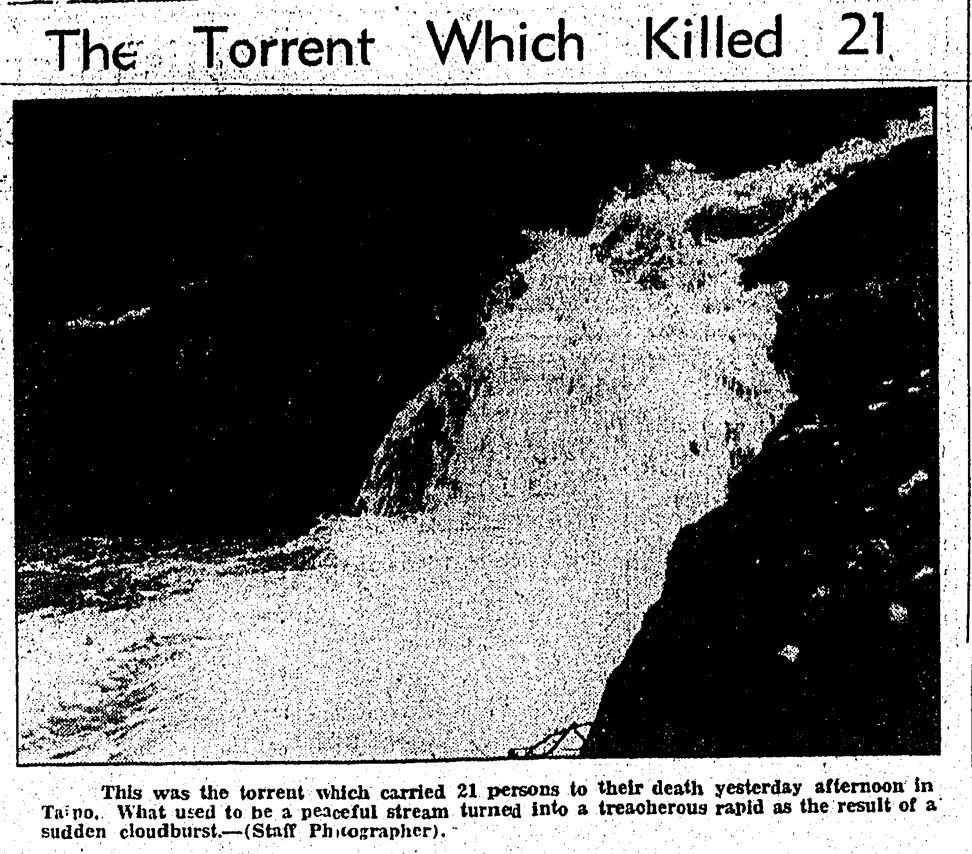 The report added that police believed others were still missing and, by the next day, the death toll had risen to 26, with three still unaccounted for.
"Bodies recovered from the stream and the sea below showed signs of brutal batter­ing by rocks as the roaring wall of water swept the holiday-makers downhill," the Post reported.
The deadly 1972 twin landslides in Hong Kong that claimed 138 lives in a day
On September 1, the newspaper told of how the governer of Hong Kong had passed on his personal condolences to the bereaved families. "His Excellency the Governor, Sir Alexander Grantham, expressed on behalf of all members the sympathy of the Legislative Council with the relatives of the victims of the Taipo Kau picnic tragedy."
On October 8, the Post reported on the inquest into the tragedy, for which the final death toll reached 28. "The coroner returned a verdict of accidental death in each case," it said, and warned the public of the dangers of flash floods in the territory.