"Pope to spend three hours in Hongkong," ran a headline in the South China Morning Post on October 30, 1970.
"About a quarter million local Catholics will welcome Pope Paul VI when he makes a three-hour visit to Hongkong on December 4 after visiting the Philippines and Australia," the story continued. "It will be the first time the Pontiff has visited Hongkong."
A spokesman for the Catholic Church said that in Hong Kong the pope would greet the largest single Chinese Catholic community in any city in the world.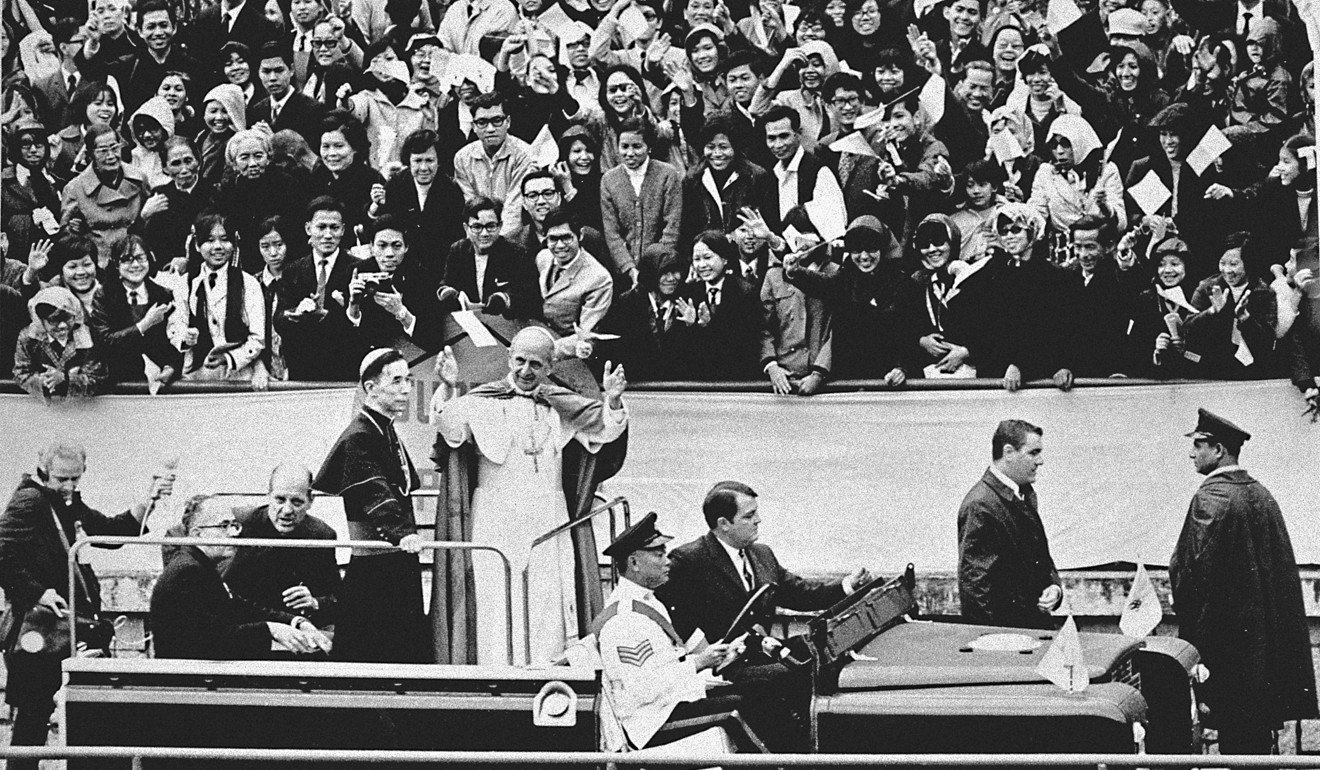 Anticipation grew over the weeks leading up to the visit with the Post reporting that the pontiff would fly to Happy Valley from Kai Tak by helicopter before travelling to Government Stadium, in Causeway Bay, to preach to 20 per cent of Hong Kong's 240,000 Catholics in an open-air mass. Fifty local children, disabled youngsters among them, would receive holy communion from His Holiness. More than 225,000 Catholic pupils would have the day off school.
Thousands of people cheered themselves hoarse yesterday when they greeted Pope Paul VI during his historic three-hour visit to Hongkong
"A red letter day for HK Catholics," ran the Post headline on December 5. "Thousands of people cheered themselves hoarse yesterday when they greeted Pope Paul VI during his historic three-hour visit to Hongkong." The 73-year-old pontiff had responded warmly, the story continued. "At times he stretched out his arms in a symbol of loving embrace, at others he blessed the crowds gathered to see him."
The Post carried a "Pope's Visit Special" supplement with extensive coverage of the visit, which it reported had been "a strenuous three hours for the 73-year-old Pontiff". Preaching to 50,000 people in Government Stadium "his amplified voice sounded very tired, almost weak […] There were however, three words that he pronounced with heavy emphasis, every syllable distinct. The words came […] at the end of his sermon: 'Christ is a teacher, a shepherd and a loving redeemer FOR CHINA TOO.'"
In his farewell message from the airport, the pope's final words to Hong Kong were: "T'IN CHUE PO YAU [God bless you all]."