"USAF Plane Crashes into Shaukiwan Hill," ran the headline in the South China Morning Post on April 20, 1961. "An American Air Force plane crashed and burned on a hillside near Aldrich Village in the Shaukiwan area yester­day evening, a few minutes after it had taken off from Kai Tak airport," the report read.
"There were 15 people on board – a crew of four and 11 American military personnel. They were returning to Tainan in Formosa after a recreational visit here. Preliminary reports said that five bodies and one survivor had been found," it stated.
When Lauda Air flight from Hong Kong crashed in spring 1991, killing 52 from city, and the mystery over its cause
"The aircraft – a DC-3 No 9014 – was air­borne at about 6.07pm. It crashed almost immediately afterwards as it headed out of Hongkong in the direction of Lyemun Pass [ …] A vast land, air and sea search was at
once mounted, but the wreckage was not located until about 10.30pm after a 14-year-old boy, Tam Bing-kwan, reported to the Chaiwan Police Station that he knew the scene of the crash."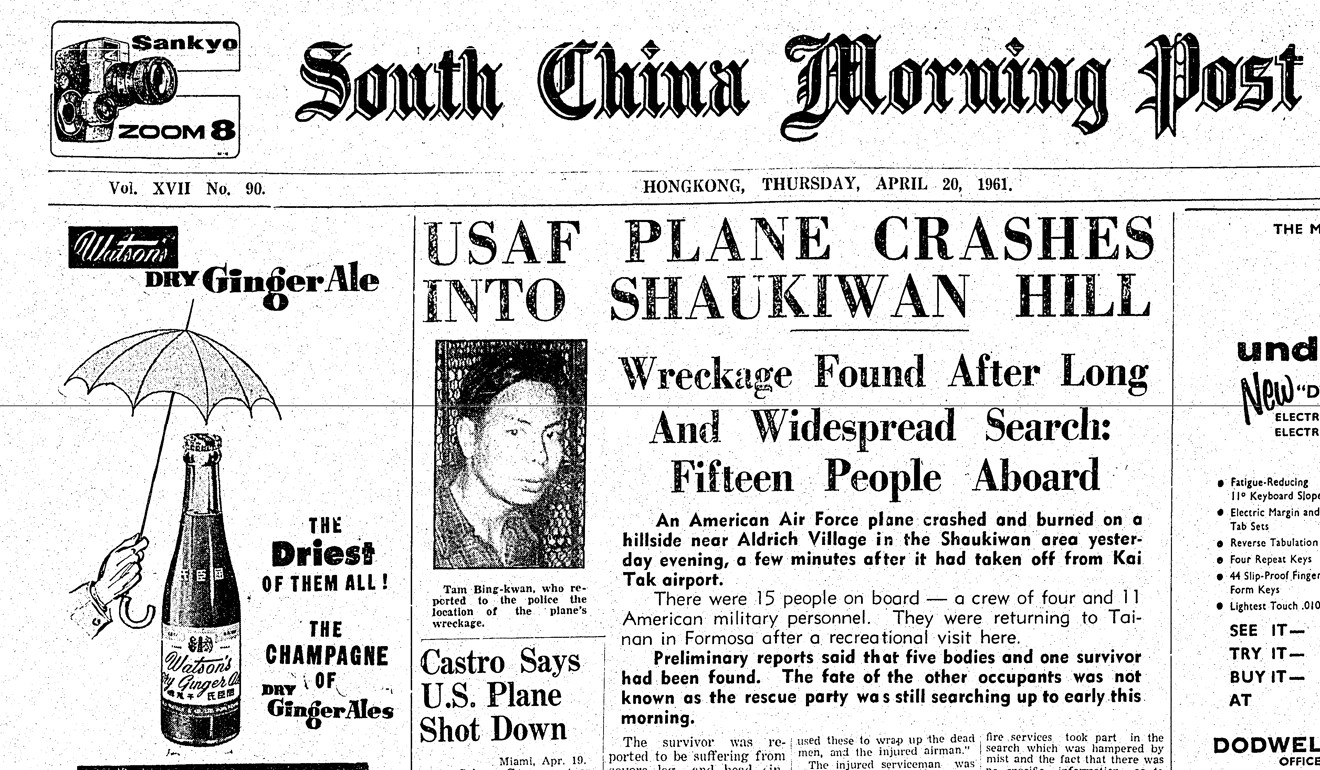 A story in the Post the following day revealed there had been, in fact, 16 people on board. "The sole survivor of the Mount Parker air disaster which took 15 lives on Wednesday night, has been identified as Airman First Class Richard W. Ferron of Westbrook, Maine.
"Ferron, a member of the crew of the US Air Force DC-3, was taken to the British Military Hospital, Bowen Road yesterday morning, suffering from head injuries, a fractured arm, haemorr­hage and shock. His condition was critical," the report said.
Missing gold on a Hong Kong hillside? History buffs return to plane crash site in search of truth – and treasure
"Three women and a child were among the American service personnel and dependents who died in the crash. The Formosa-bound plane carried a crew of six and 10 passengers."
By April 28, Ferron's condition had improved enough for him to return to Clark Air Base, in the Philippines.
The US Air Force launched an investigation into the crash on April 22. On June 10, a headline in the Post declared "Hongkong Airport in no way at fault for recent crash". Findings from the inquiry were submitted to the US Air Force's headquarters in San Bernardino, California, but were not released to the public.