Hong Kong, like many other post-industrial societies, has seen the "gig economy" become more closely integrated into working life in recent years. Touted as a pathway to individual freedom, personal agency and better "life choices", it is defined by under­standings between two parties who agree to the terms and conditions of their contract without many of the safeguards that generations of labour activists have fought for.
Part-time work and zero-hours contracts have been marketed by their principal beneficiaries – existing business owners – as "win-win" solutions to the drudgery of lengthy commutes and the tedium inherent in traditional jobs, rather than a source of additional problems.
So far, so Chicago school of economics, and much beloved by those who continue to parrot various right-wing think tank acco­lades, which maintain that – despite the numerous cartels, duopolies and de facto monopolies that dominate the local busi­ness sector – Hong Kong truly is "the world's freest economy."
But how did an earlier version of the gig economy function in Hong Kong?
As the economy moved up the value-added chain through the 1960s and 70s, openings for off-site piecework steadily increased. Widespread opportunity for take-home piecework was linked to Hong Kong's then burgeoning assembly sector, and many families benefited from the extra income this generated.
What could one do when everyday domestic commitments, such as shopping for groceries, cooking, washing and childcare, got in the way of factory-based overtime? Well, take the work home with you and finish it there, what else? Fun for all the family! And, of course, the few extra (unpaid) hands made for lighter individual work and faster completion, which, in turn, added to the factory owner's profit margins.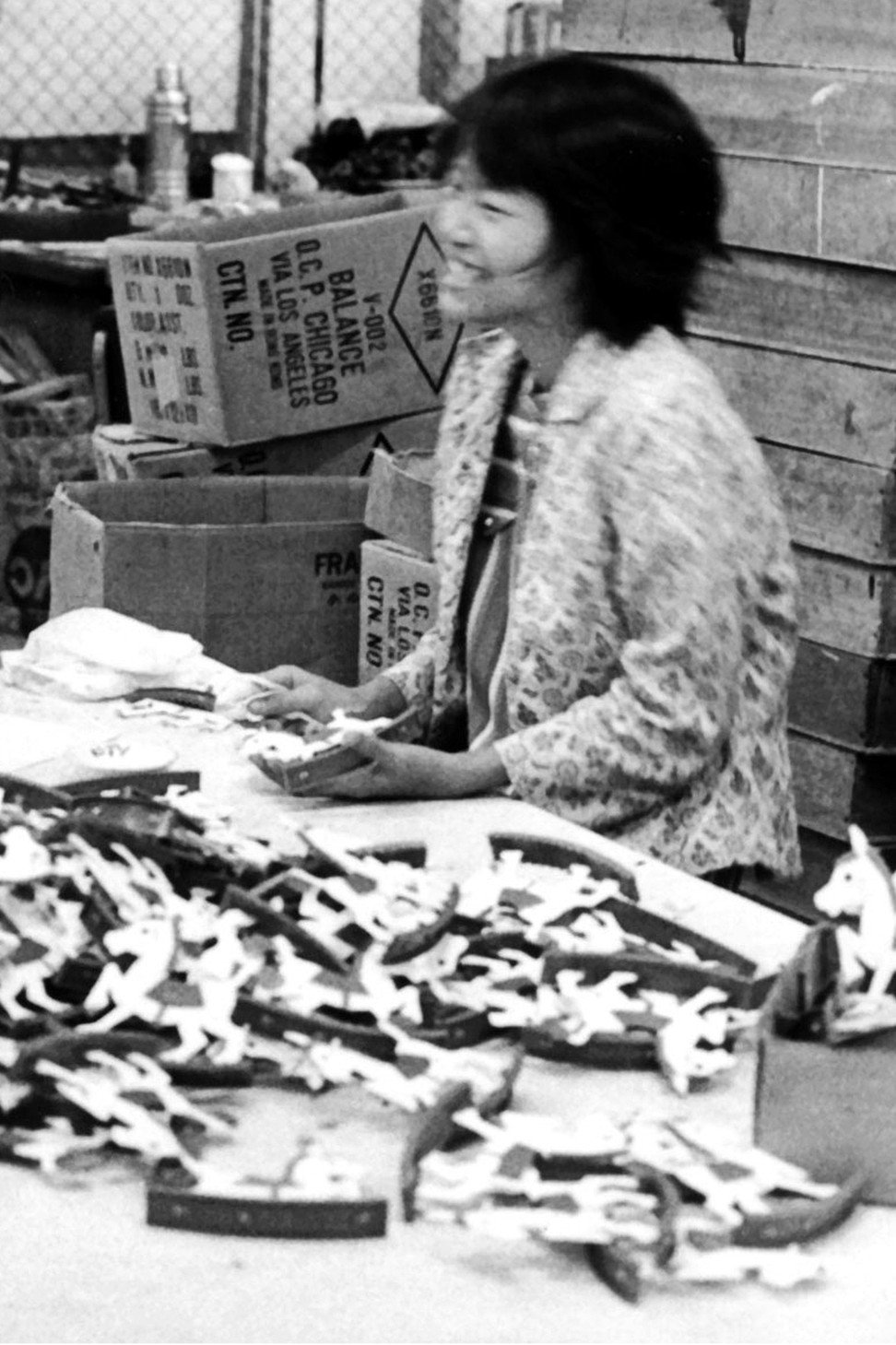 This practice was most widespread in garment assembly, where much of the complicated work was done on industrial sewing machines in sweatshop factories found everywhere from Tsuen Wan to Kwun Tong. Buttons, appliqués, zip fasteners and the all-important Made in Hong Kong labels, which satisfied textile-quota exemptions in various jurisdictions, such as the United States, all had to be sewn on by hand.
If this work was done at home, out of sight of zealous factory inspectors, whether they were stitched by a nine-year-old or a 90-year-old, as long as they were properly attached and the garments fully accounted for when they went back to the factory, then no one would be any the wiser.
Hong Kong's toy industry also provided significant piecework opportunities. From the 60s to the 80s, a common childhood experience for many locals was the assembly of toys for children in faraway, more affluent countries to eventually play with. Heads, bodies, arms and legs of plastic dolls, all created in workshops from Wong Chuk Hang to Lai Chi Kok, were bagged and delivered to the workers' homes.
Families would sit together and connect the body parts, staple them into plastic bags, package them into cardboard boxes and prepare them for collection.
In the 60s, it was legally permissible for women and children to work 60 hours a week, with up to 100 hours a year of compulsory overtime; of course, many worked far longer hours. These regulations helped to salve the consciences of visiting factory inspectors from overseas, but were routinely flouted by most employers.
By the end of the 70s, the piecework employment sector was in rapid decline, as cheaper industrial production and assembly spread to newly designated export processing zones such as Shenzhen.