Hong Kong's magnificent mountain­ous countryside, in close, accessible proximity to densely packed urban areas, is one of the overcrowded city's most enjoyable features. Natural encroachments can be found in surprising urban corners; among the most intriguing aspects is the overall prevalence and sheer variety of plants that shouldn't even be here in the first place.
Botanical escapees – introduced species, and commonplace garden plants that now grow wild in unexpected locations – offer an unexpected layer of interest to the well-informed countryside rambler. How and why these plants became established affords a glimpse into overlooked details of Hong Kong's urban evolution.
From the British colony's 19th-century beginnings, exotic species were introduced for both practical and decorative purposes. By the early 1840s, Hong Kong Island and its hinterland had been extensively deforested by generations of fuel-gathering villagers. Providing adequate water supply on a rocky, mountain­ous island, with limited flat land and no significant river systems, was essential for the growth of the city.
Closely connected was the need to re-afforest denuded slopes to provide water-catchment areas. Trees introduced into early Hong Kong for this purpose were mostly Australian species, as they were hardy, fast-growing, wind-resistant, tolerant of brush fires and prolonged dry periods and – best of all – inexpensive to propagate.
Widespread introduction of acacia and melaleuca species across Hong Kong mostly dates from this time. In the Victorian era, practical considerations predominated; while some mature eucalyptus stands can be found, this particular species was not widely planted due to the fire hazard posed during droughts by the trees' oil-rich leaves, fallen branches and trunks.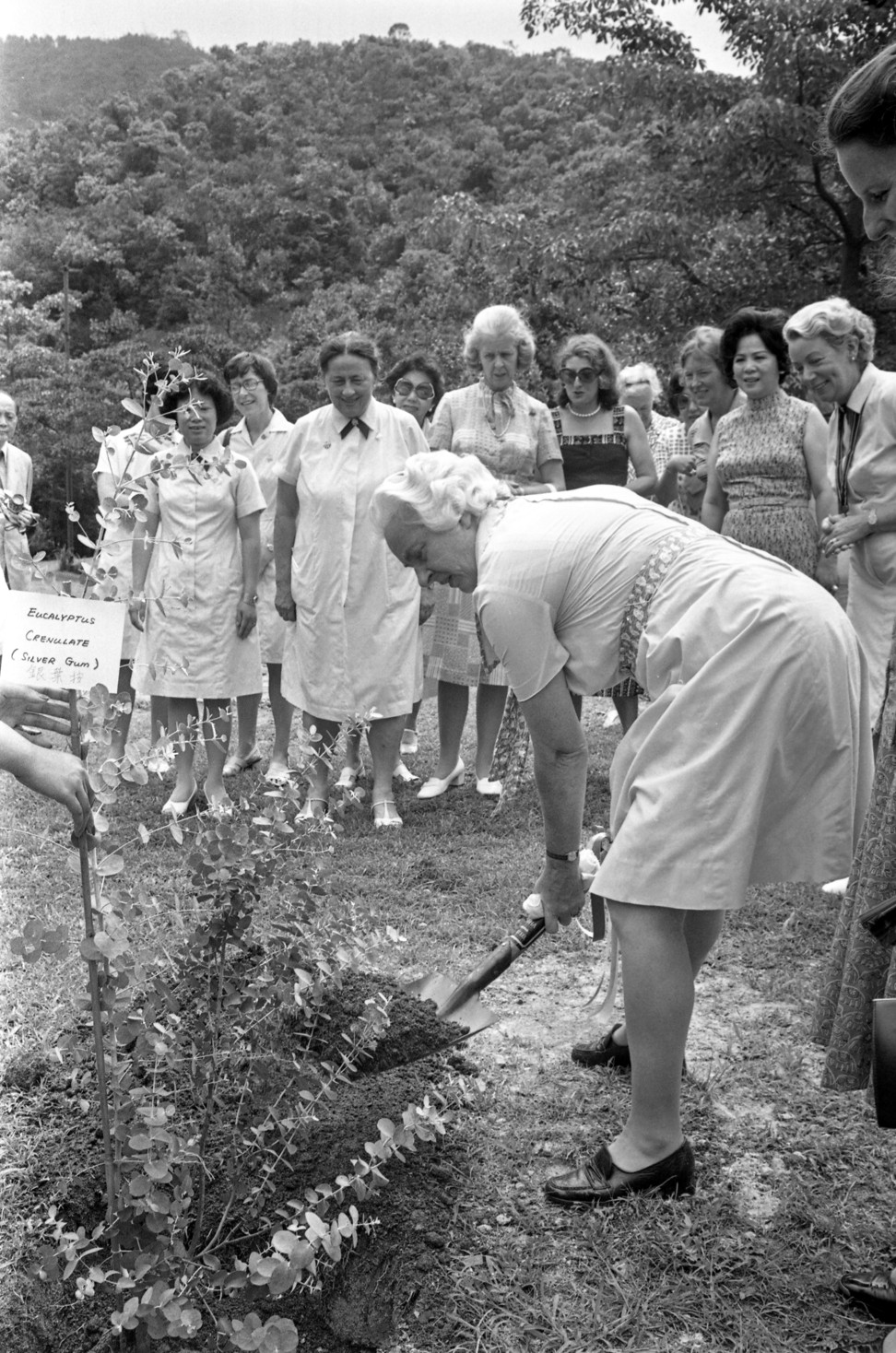 Melaleuca – commonly known as the "paper-bark" tree – was planted in low-lying areas to absorb excess water. Pre-war, melaleuca were planted as roadside shade trees in the New Territories; now-massive specimens can be seen around Sha Tin and Yuen Long. Melaleuca flowers are popular with bees and around Fanling a village-level honey industry developed as a result.
Other botanical newcomers were less positive. Mikania scandens, a leafy Brazilian vine popularly known as mile-a-minute because of its extremely rapid growth, was introduced as a pergola cover; unlike slower-growing species such as wisteria, bougain­villea and firecracker vine, mile-a-minute can be quickly trained up over a garden trellis to provide summer shade, and pulled back to allow welcome winter sun on a cold day.
Problems arose because the vine spreads rapidly via air-blown seeds and small vine seg­ments, and it eventually became a pest, smothering newly planted trees. Rhesus macaques, which like the taste of mile-a-minute, were introduced in the late 1930s around the newly built Shing Mun reservoir, in the New Territories, above Tsuen Wan, to help manage the nuisance.
Extensive squatter areas were a fact of life across Hong Kong from the late 40s until the late 80s, when most had been cleared and their inhabitants resettled in public housing. Over several decades, squatter areas developed from temporary shelter into more-or-less permanent (if ramshackle) homes.
Depending on space, and inhabitants' personal interests, gardens of a sort grew up around individual shanties. Most plantings were practical: medicinal and cooking herbs, vegetables (especially vine-based plants such as gourds and melons that could be trailed up over a roof, which also helped keep corrugated metal walls and roofs cool in the summer) and quick-growing, hardy fruit trees such as loquat, banana and papaya predominated.
In places where squatter areas once proliferated – around the base of Mount Davis, on Hong Kong Island; the slopes behind Lei Yue Mun, near Kwun Tong; and at Tai Hang, behind Causeway Bay – these food plants, and a few ornamentals such as hibiscus, dieffen­bachi­as and ferns, can still be found around now-overgrown concrete foundations, and provide a botanical reminder of earlier times and vanished inhabitants.