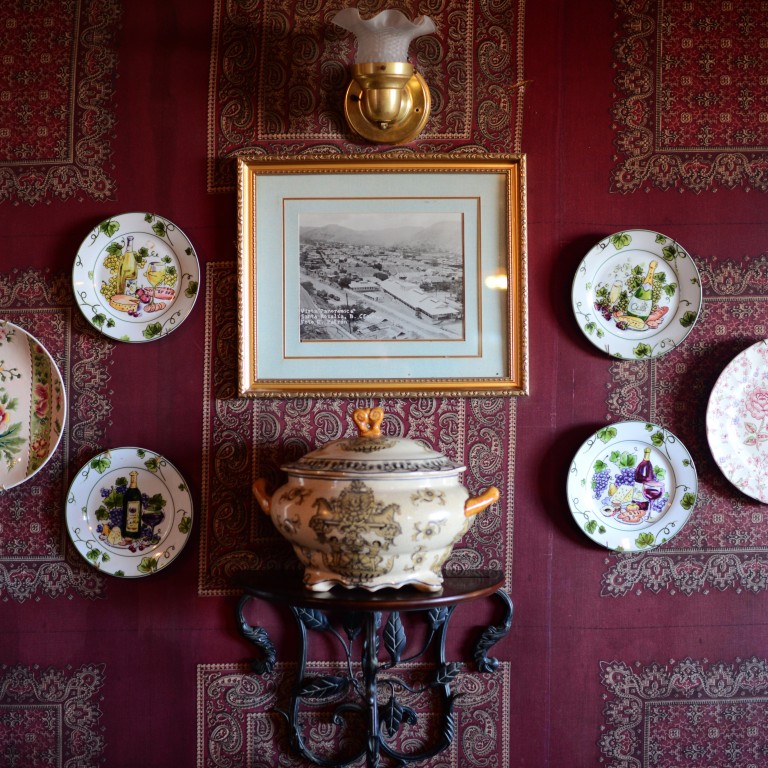 Opinion
Then & Now
by Jason Wordie
Then & Now
by Jason Wordie
How heirloom plates – personalised, hand-painted porcelain – went from having pride of place on walls and tables to second-hand shops
Families once showed their status by commissioning personalised, hand-painted porcelain dinner services and would display plates on walls between meals
Mostly made in Asia, especially Canton and Japan, they fell out of fashion with the rise of mass manufacturing, and later were consigned to second-hand shops
Large, hand-painted porcelain plates offer tangible reminders of other times, and the lingering conferred status and sense of heritage and continuity that treasured family heirlooms epitomise.
In maritime Asia,
these items
were mostly found within long-established mixed-race families, usually of Portuguese, Dutch or Spanish ancestry, who formed part of the ethnic matrix in Goa, Ceylon (Sri Lanka), Malacca, Macau, the Philippines and elsewhere for more than three centuries.
Their origins varied; some were European, but most were manufactured in Asia – from the 18th century, customised sets were made to order in Canton. In Japan, high-quality Delft-style porcelain – popular among families with Dutch heritage – had been produced since the 17th century. Entire dinner sets typically contained several dozen pieces, with everything from tureens to sauce dishes.
Motifs varied according to taste, and personal history; successful traders or seafarers incorporated paintings of their own ships. Families with an armorial crest invariably incorporated this motif somewhere, usually in a prominent position on the platter's interior base.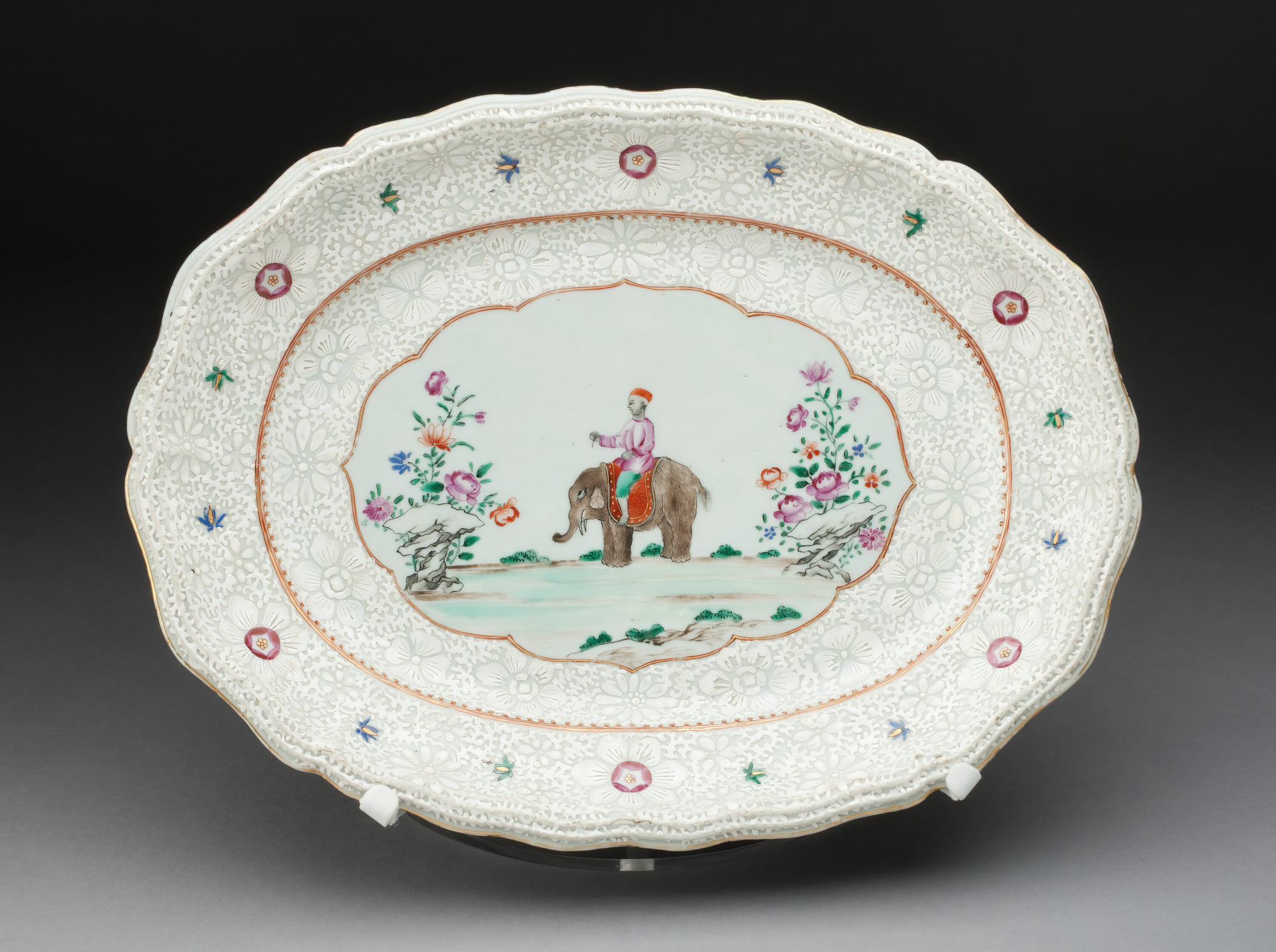 Others used provincial coats of arms that identified where in Portugal or the Netherlands early family origin was claimed.
As all pieces were hand-painted, minor variations often exist within the same dinner service. Chinese or Japanese artisans responsible for
painted porcelain
artwork usually only had a few rough sketches and colour samples to work from; uniformity between pieces was almost impossible to achieve.
Like all such artefacts, provenance backstories can be more inherently interesting than the objects themselves.
Heirloom plates were used as decorative household objects on sitting and (more usually) dining room walls during long periods of disuse between celebration meals. Thick wire braces, individually constructed for each plate, meant they could be mounted safely and securely high on a wall. As an integral part of the object itself, the frame's design allowed the base to lie flat on either walls or tables, and also be easily washed after use.
A few outsize plates with heavy wire mountings on their edges, all with pride of place on a Christmas Eve buffet table, may seem strange – even a bit ugly – to today's partygoers. But as everyone else at those long-ago celebration gatherings had similar platters with identical apparatus, these were taken for granted.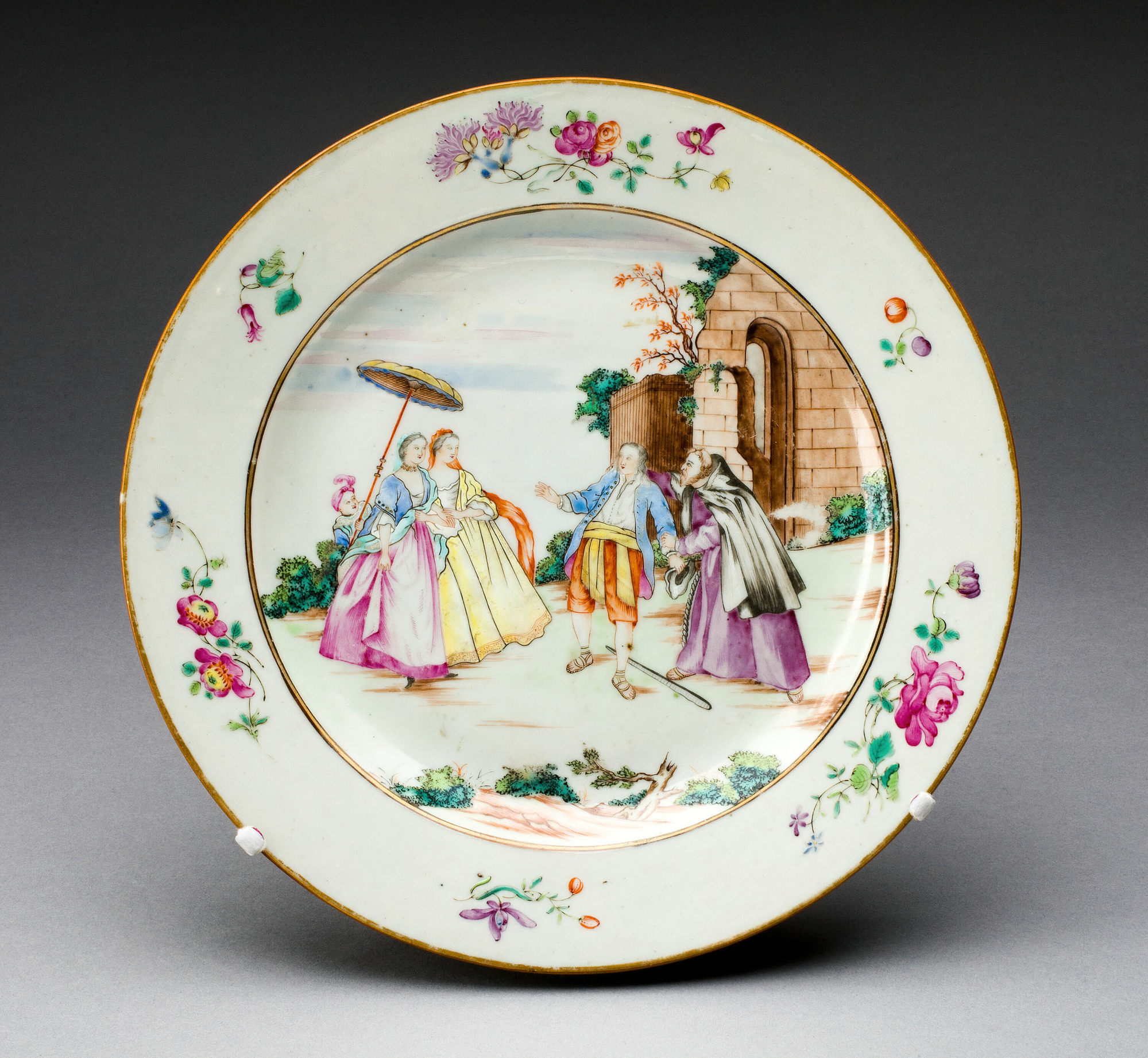 Inventive late-Victorian mass manufacture, however, led to subtle technological changes, which were closely linked to that period's global craze for decorative bric-a-brac. New ways to mount and display decorative household items with occasional practical functions – highly polished brass kitchenware was another example – were found.
One popular innovation was factory-made thick wire brackets for heirloom platters; an expandable spring mounting that rested between rim and base allowed easy removal when the plate was used for food; a combination of weight, gravity and spring tension kept both rim hooks and frame safely taut when placed back on the wall.
Some old families – as centuries-old heirloom platters ceased to be occasional-use dining table centrepieces, and became entirely decorative objects – retained the original permanent wire mounting. Examples still exist; these seemingly minor details are an integral part of the platter's own evolution in function over time, and should never be removed.
As the generations passed, branches of once-distinguished families sometimes declined in wealth and influence; by the 20th century, possession of a notable surname along with a few heirlooms, such as wall-mounted platters, were often the only tangible relics of long-ago grandeur that many descendants still possessed.
While some heritage-minded families in Asia – including Hong Kong – retain a few treasured pieces, changing decorative tastes gradually saw many heirlooms relegated to other hands via second-hand shops. Dispersal among several generations of descendants meant other pieces became scattered across the world.