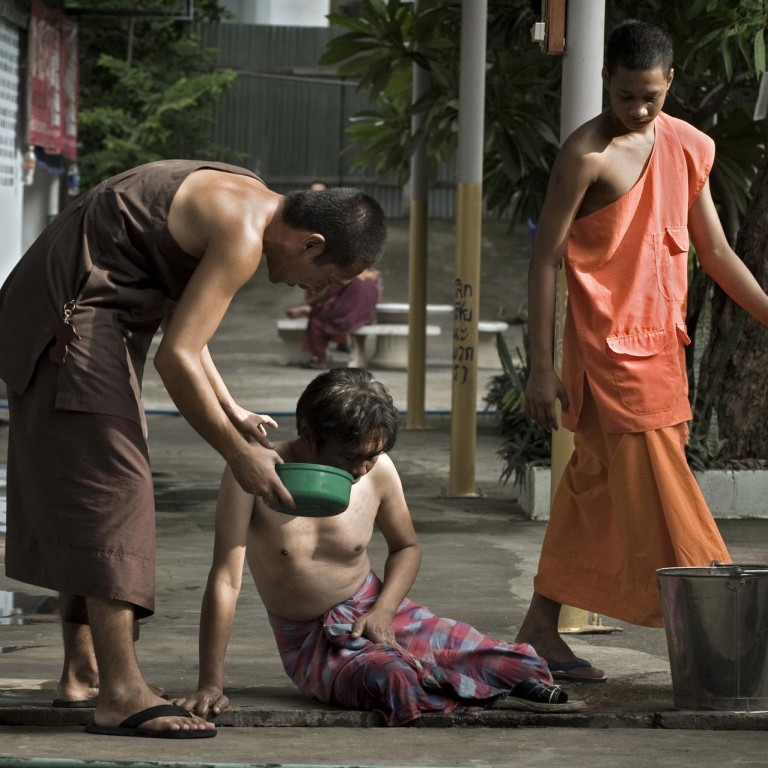 The vomit detox: Thai monastery goes to extremes treating drug addicts
The 28-day programme at Wat Thamkrabok is enough to make anyone sick, literally, writes Nathan Thompson
At the Wat Thamkrabok recovery centre, everyone vomits. The monks vomit, the nuns vomit and drug addicts - who seek out the temple from all over the world - vomit often.
Founded in 1957, Wat Thamkrabok is a sprawling Buddhist temple that offers the largest free treatment programme for drug addicts in Thailand, although many foreigners come as well. British rock star Pete Doherty attended in 2004 (although he left after two days).
Every day, drug users in red jumpsuits (with the word "winner" emblazoned on the back, in Thai) line up in the detox centre's courtyard to drink a shot of a grainy green brew made with 108 herbs, which induces the vomiting. The recipe is a secret and the medicine is not allowed to leave monastery grounds.
After guzzling large volumes of water, a patient heaves geysers of sick into drains while others clap, cheer and bang drums.
north from Bangkok should have been simple. The monastery website lists a bus route from Don Mueang airport, but, having been burned too often by the cryptic Thai bus system, wherein routes appear to change and end at random, I take a train to Hua Lamphong (Bangkok railway station) and ride it three hours back out to Saraburi, a town near the monastery.
Saraburi has little tourist traffic. Schoolchildren stroke smartphones in air-conditioned cafes, market vendors swat flies and the heat-wobbling roads are empty. Google Maps has crashed and a teenager in the cafe notices my distress, kindly walking me to the bus stop. Such interactions are typical in Thailand.
Thamkrabok is a 20-minute bus ride away.
The temple compound, home to 100 monks and 20 nuns, is the size of a small village, with workshops, gardens and fields. At the centre is a titanic monument cast in lava by the monks. It contains a number of enormous statues of the Buddha and mythical deities, the largest standing 41.5 metres tall.
At the centre of the compound, near two gigantic, golden-roofed temples, is the detox centre, known as "The Hey". Behind wire fences (only patients and monks are allowed inside) are two dormitories, a ping pong table and a shop selling snacks. It seems only slightly more pleasant than a prison.
The detox was invented by the monastery's founder, Buddhist nun Mian Parnchand (also known as Luang Por Yai), in the late 1950s, when she and a few of her followers were living in mountain caves. There had been an explosion in opium production in the area following bans on the crop in Iran and China. The world's demand was then being met by the "golden triangle": Thailand, Laos and Myanmar.
Addicted farmers began to seek help from the holy men and women at Thamkrabok. According to the monks, Mian was a master herbalist. She refined the recipe over time and the detox cure she invented remains in use long after her death.
"[The cure] was designed for opium smokers," says Vince Cullen, a former monk who now helps drug users visit from his native England. "But it also works very well for injecting heroin users and has beneficial effects on cocaine, ganja and alcohol dependents."
While experience has proven the cure efficacious there has been little scientific research to prove the fact.
Vomiting is actually only a small part of the treatment offered at Thamkrabok. Over a recommended stay of 28 days, drug users also take hot steam baths, drink tonics and adhere to a strict regimen of hard work. They make holy vows, known as a (which means "truthfulness" in Pali - the liturgical language of Buddhism), never to touch drugs again. The temple's current abbot, Luangpaw Charoen, also gives out individual mantras, to be recited when cravings strike.
Weighed down by heat and backpack, I walk past the outer buildings. Ahead, a monk is sweeping. John, one of two Russian monks living at the monastery, first came here to get clean from heroin. He decided to become ordained after completing treatment.
"Being a monk is a great experience," he says. "I'm learning so much about Buddhism."
John takes me to meet Luangpaw in an air-conditioned office. After much smiling and bowing, the abbot agrees to let me stay. I am glad to conserve my dwindling budget, even if the free accommodation consists of little more than a thin mattress on the floor and a tatty mosquito net. (More comfortable lodging can be found at Aromdee Resort & Spa - a short tuk-tuk ride away.)
That evening, I find Cullen and some monks watching the Thai version of , a young woman warbling on the television screen. The monks are uniformly thin and brown-robed, and many are covered in "
" - magical tattoos. Cullen downs a shot of herbal ooze - the special medicine - and sits back, making an ooh-ing sound as if he'd just taken a spoonful of hot curry.
"They'll probably purge later," says Cullen, nodding towards the monks.
"Would you like to try the detox?" John asks on the second day. Soon he is leading the way to the quarters of the master herbalist - another thin monk, who fixes me with the burning-eyed stare of a visionary. He produces a shot glass and fills it full of the green liquid.
It is head-splittingly bitter, horribly sour and the aftertaste burns down my throat. A strong feeling of nausea begins and saliva drowns my tongue. Grabbing a bucket, I spit and bellyache.
"Drink lots of water," says John, who has taken on the role of coach. He passes a bucket filled with filtered rainwater and a plastic tub to scoop it down.
Twenty minutes later, my stomach is full of water and I am peering into the "vomitorium": a purpose-built gutter. Decades of purging have worn black patterns into the concrete. Now it is my turn to empty the contents of my stomach.
After 15 minutes it is all over. My vision is blurred by tears and sweat.
"Feel better?" asks John. Not particularly.
The next stage is the herbal steam rooms, in which people roast, like in a sauna. A huge wood-burning furnace heats a bubbling vat of water and the viciously hot steam is piped into two tiled caves.
This is a popular gathering place for locals. Sitting in sarongs, they relax, gossip and slap thighs as they await their turn to sweat. A young farmer approaches, smiles and shakes my hand. Sweat and steam trickle around his wide grin.
Everyone files in together and I follow. Inside, it is chokingly hot. The lemongrass-scented steam seems to blast my nasal passages open. We emerge, bonded by the extreme experience and slapping shoulders. The 35-degree-Celsius ambient temperature is cool relief.
Does the detox work similar wonders for the non-addicted? For me, the days spent at the temple have been relaxed and easy, but that could be explained by the peaceful atmosphere. And the maverick monks of Thamkrabok have given me a warm welcome.