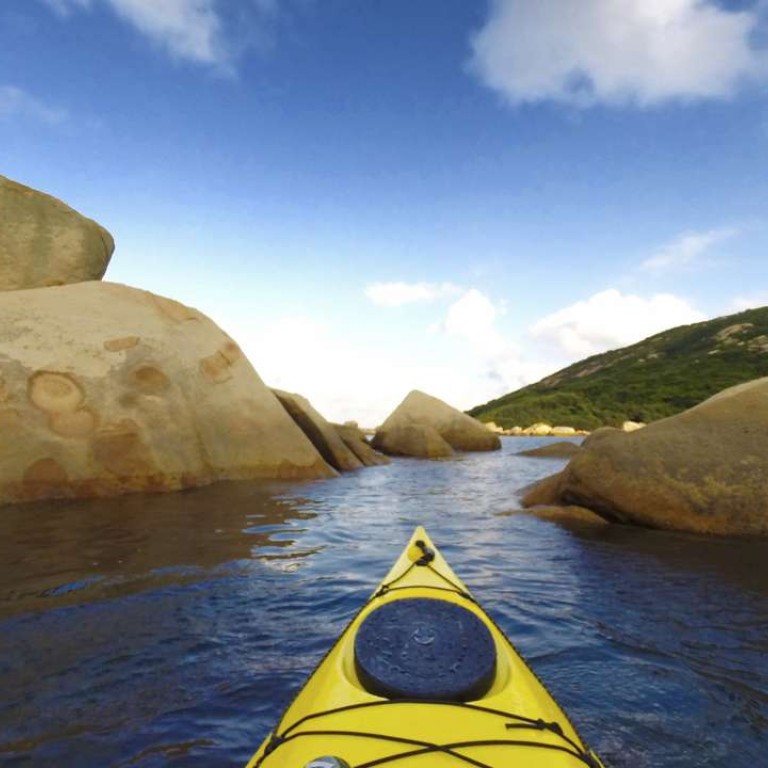 Kayaking in Hong Kong: where to go and everything you need to know
Whether playing in the shallows or surfing in the waves, camping out on remote beaches or exploring traditional villages, there are easily accessible kayaking spots for all types in Hong Kong
There's a kayaking destination with exposed shores of rare and beautiful geology riddled with sea caves. It has white sand beaches and small uninhabited islands that are as fun to circumnavigate as they are to camp on. The weather is suitable for kayaking year-round, and there's something for everyone, from beginners to expert paddlers.
New Zealand? Some part of the Mediterranean coastline? Actually, it's Hong Kong, where ideal conditions make kayaking one of the best ways to enjoy the city's natural attractions.
World Oceans Day on June 8 is the perfect excuse to celebrate kayaking and the connection it creates with Hong Kong's coastline.
About 140 million years ago a massive volcano erupted and then collapsed into the sea, creating Hong Kong's rocky landscape and many of its 263 islands. The most spectacular formations – vaulted caves, hexagonal rock columns, red rocks and shores exposed to the fury of the open sea – are only accessible by boat. You can join a crowded tourist boat, or paddle your own craft for a more adventurous and personal experience.
Getting out on the water and exploring Hong Kong's coastline has a unique effect on people – everyone is shocked and dismayed to see how much rubbish washes up on the beaches. Many of Hong Kong's most passionate advocates for clean beaches and plastic-free seas are also avid water sport enthusiasts, and that's no coincidence. Exploring our natural resources and seeing the damage already done awakens the environmental protectionist in all of us.
But there is reason to be optimistic. Since the trawling fishing ban in 2013 the amount of life in the sea has risen drastically. Today, it's not uncommon to have fish jump right into your open cockpit.
There is a huge variety of paddling available in Hong Kong, from playing just off the beach to surfing in the waves, rock-hopping among the ocean swells, camping on hard-to-reach beaches, or touring some of Hong Kong's oldest villages.
Sea kayaking uses four- to six-metre boats with hatches. You need to be comfortable swimming in deep water in order to kayak safely.
Hong Kong's best kayaking destinations
The Hong Kong Geo Park is perhaps the grandest of Hong Kong's natural wonders. The sea pounds at the base of soaring cliffs made from intricate rock formations that turn blood-red at sunset. It encompasses many islands across Hong Kong but the best suited for kayaking include High Island, Port Island and the Ung Kong Group, which have exciting caves and paddle-throughs. These islands are the pinnacle of Hong Kong kayaking.
Cheung Chau and Lamma Islandare both close to Central, making them an easy place for a beginner's lesson or day paddle. They have varied coastlines, with plenty of villages and beaches to stop at for a cold beer, and circumnavigating one is an easy day-trip. They're also popular spots for night time group paddles.
Several of Sai Kung's beaches have become popular kayak spots. Sai Wan beach is a great place to practise surf kayaking and place to hang out for the weekend. Catch a few low, steady rollers on a kayak and then pitch your tent on the beach for the night. Pak Lap is perfectly located for access to parts of the Geo Park, with camping, kayak rentals, and a good restaurant.
Double Haven, in the Yan Chau Tong Marine Park and Plover Cove Country Park areas, is one of Hong Kong's less-explored regions and it offers many routes and beaches for a multi-day camping trip. These shores are dotted with deep red rocks and quaint old fishing villages, including the old Hakka walled village ofLai Chi Wo. Because it's a reserve you're likely to see more fish than elsewhere in Hong Kong. You can also see across to China's Yantian port.
Paddling through the old fishing village of Tai O on Lantau Island is a real experience. From here you can paddle out to sea to look for Chinese white dolphins, also known as pink dolphins, which are seriously threatened by airport and bridge development in the area.
Yim Tin Tsai, an old village in Sai Kung, is a popular day trip from Sha Ha Beach and is perhaps the closest thing to a gathering point for Hong Kong's kayaking community. The village is famous for its old salt quarries and church, which are an easy hike away, even in paddling shoes. This also puts you close to the Sharp Island beaches. Beware, the landing area gets crowded with kayaks on weekends.
Where to rent and learn
Sha Ha Beach in Sai Kung town has several independent rental companies that offer kayaks for day use. Their equipment is not all of a high standard and they offer little safety training or gear. Still, if you want to go for a quick paddle in Sai Kung, this is one of the easiest and cheapest ways to do it – but you do so at your own risk.
At the other end of the spectrum is A-Team Adventures, which offers bespoke, guided trips around Hong Kong, with kayak training if you want a more private and exclusive experience. ateamedventures.com
Meet-up.com groups are one of the best ways to get into the kayaking community.
There are two main kayaking meet-up groups in Hong Kong.
Sea Kayakers & Friends
is a volunteer group that offers basic training and runs day trips as well as longer multi-day camping trips with all the necessary equipment available for rent. It has bases in some of the most beautiful spots in Hong Kong, some easy to access and others further afield.
Sea Kayak Hong Kong
is based in Sok Kwu Wan, Lamma Island, where it runs individual or group trips around Lamma Island and further afield.
Hong Kong also has great public water sport facilities run by the Leisure and Cultural Services Department. They offer introductory courses to a variety of sports, including kayaking. You must show a proficiency certificate earned through their course programme in order to rent a kayak.
Is it a PFD or a life jacket?
They're similar, but not the same. Life jackets are bulky and designed to turn an unconscious person face up in the water, allowing them to breathe. A PFD (personal flotation device) has less buoyancy and is designed to be comfortably worn while doing water sports, and will not always turn an unconscious person face up.
Before you go
Check the weather. Avoid lightning, high winds and waves.
Wear closed-toe shoes, such as a pair of old trainers. Wild beaches and shores have sea urchins and sharp rocks.
Wear a PFD. The open sea has currents and conditions that can surprise you.
Wear a hat and sun protection, the sun reflects off the water and burns you.
Bring a reusable water bottle – no need to add to the rubbish.
Tell someone where you're going and when to expect you back.
Use Hong Kong's plasticised Countryside Series maps to plan your adventure.