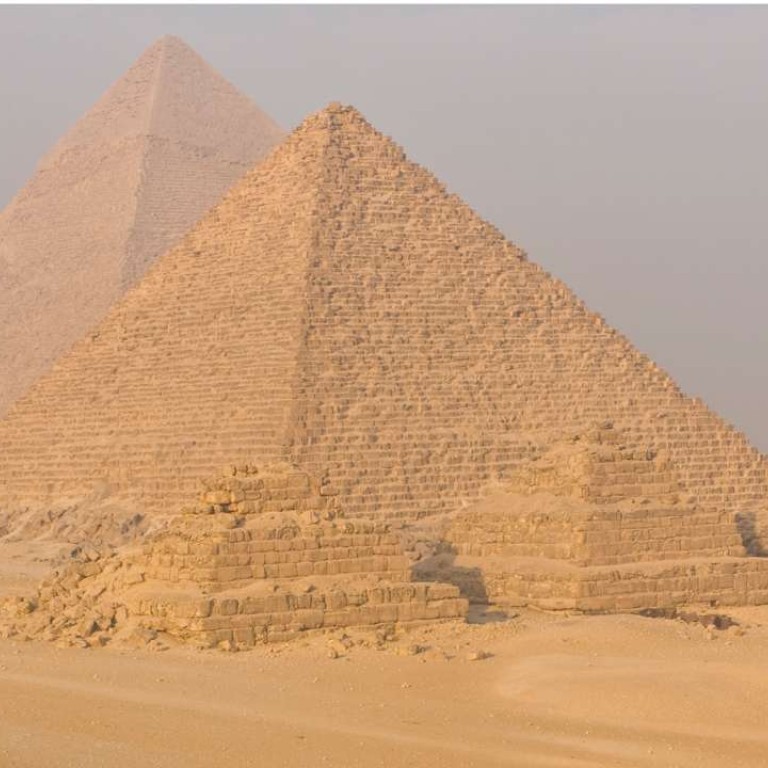 Visiting the pyramids? Here's what you need to know
Getting to the pyramids of Giza is the easy part. Once there, however, aggressive touts and the sight of emaciated animals can cast a shadow on an otherwise fantastic experience
THE GOOD
The problem with many of the world's must-see sights is that they can be rather difficult to reach. The Rose-Red City of Petra isn't on the way to anywhere except Saudi Arabia; Machu Picchu, in Peru, and India's Taj Mahal require a degree of pre-planning; and neither Uluru, in Australia, nor southern Africa's Victoria Falls could be described as easily accessible.
On the other hand, getting to the pyramids of Giza is as straightforward as hopping on the No 355 bus in downtown Cairo. Or the 357, if that comes along first. (For purposes of comparison, imagine if the only remaining wonder of the ancient world was five MTR stops from Causeway Bay.) Even more conveniently, the bus stop is right next to the Egyptian Museum, so you can brush up on your knowledge of Nile Valley antiquities before heading off for a date with the Sphinx.
The pyramids of Menkaure, Khafre and Khufu occupy a shade-free expanse of desert, so it's worth hiring a horse or camel to get around. Securing the services of a knowledgeable guide will also pay divi­dends. A passionate Egyptologist will bring the gargantuan limestone blocks to life and summarise rival theories about how they were transported and then lifted into posi­tion. You may even get an update on the infrared satellite surveys that show thou­sands more pyramids, burial sites and ancient settlements buried beneath the sands.
It's estimated that as many as 100,000 workers (10 per cent of Egypt's popu­lation at the time) toiled on the 4,500-year-old monoliths. Amazingly, the Great Pyramid remained the tallest man-made structure in the world until the advent of modern skyscrapers. The pharaoh's tombs are still in remarkable condition and, unlike many other venerable monuments, the internal corridors, cham­bers and galleries are open to the public.
The ongoing threat of terrorism means foreign holidaymakers are staying away in droves. Turn this to your advantage and benefit from rock-bottom room rates and beefed-up security, and, best of all, you'll have the site almost to yourself. A state visit earlier this year by President Xi Jinping was seen as an endorsement that Egypt is once again safe and open for business. The resulting spike in Chinese travellers is a rare bright spot for a beleaguered tourism industry.
The Egyptian government has recently announced plans for private companies to manage, maintain and secure the Unesco heritage site. A US$30 million makeover is under way, as part of a nationwide initiative to improve the experience of visitors to Egypt. The role of vendors, including the system of renting camels and horses, is to be streamlined and there are plans for an on-site cinema and electric sightseeing train.
If you've ever been tempted to visit the pyramids, now is the time to go. You'll be putting money into the pockets of locals when they need it most and you'll expe­rience one of the world's alpha attractions minus the hordes. Now that's win-win tourism.
THE BAD
The number of visitors to Egypt fell by 50 per cent in the first half of 2016, compared with the same period last year – a cata­strophic state of affairs in a country where 2.6 million people make a living from tourism. The terrorist-related downturn is only one of a number of issues that will need to be addressed, however.
Illegal construction continues unabated only a few hundred metres from the legend­ary landmarks. Much was hastily thrown up during the Arab spring protests, when the country had more serious problems to deal with. Unesco has voiced dis­approval at the profusion of fast-food out­lets, golf courses and new apartments that violate laws restricting urban development within a 5km radius of the Giza plateau.
It's not the first cultural stand-off of this type. In 1995, Unesco omitted the pyramids from its list of heritage sites in an effort to shame the Egyptian government into changing the route of a proposed highway that would have encroached on the archae­o­logical complex. An alternative solution was swiftly found; funding returned and the pyramids regained their privileged status.
Having one of the world's signature sightseeing attractions almost to yourself is soon ruined by the realisation that with far fewer tourists to go around, touts are more desperate and aggressive than ever. Egyptian peddlers have been pestering, cajoling and "refusing to take no for an answer" for far longer than anyone can remember. Elaborate con tricks handed down through the generations will have you parting with your pounds without even realising how it was done. Online forums are filled with tales of bitter screaming matches and accounts of tourists being physically abused by touts if they don't agree to a camel ride. It makes you almost nostalgic for the good old days, when all they did was overcharge people.
Besides vehicle emissions, an unusual cause of environmental degradation is tourists doing nothing more sinister than breathing inside the pyramid chambers (above). Raised humidity levels cause layers of interior limestone walls to crack and break off. Repairs are regularly under­taken and ventilation systems have now been installed to lessen the impact. Mind you, there's not much to see. It's airless, claustrophobic and you won't come face to face with mummies and pharaoh's treasure – everything of value was carted away long before you were born.
If entering a 4,500-year-old tomb doesn't sound much like fun, there are other ways to get your money's worth. Climbing the enormous structures was banned in the 1980s, after the deaths of several thrill-seekers, but is back in vogue. This year, a German teenager flouted strict laws by scaling the Pyramid of Cheops and received a lifetime ban from Egypt for his trouble. It's a punishment the authorities won't want to dish out too often. The way things are going, there won't be any tourists left.
THE UGLY
The treatment of camels and horses at the pyramids has long upset visitors unused to seeing emaciated animals with festering wounds, saddle sores and scars. The decimation of Egypt's tourism industry means owners are barely able to support their families, let alone their animals. Many horses have been left to starve.