What is it? An eclectic, unconventional boutique hotel in the heart of Rome, Italy, just off Piazza Navona. You enter through a cosy, dark mirrored bar – where, if it's morning, you'll catch residents having breakfast. The reception and lift are tucked away behind the bar, next to an original wall fountain. The whole place exudes refined hipster cool, but it does have history.
Hipster cool and history. Do tell us more. It's one of the smallest hotels in the Italian capital, the 17th-century palazzo containing just 10 suites/apartments. It's also one of the newest five-star designer boutique properties in Rome – there really aren't that many – and its location places you amid the buzz of the Eternal City and in easy walking distance of many major attractions: Campo de' Fiori, the Pantheon and several churches housing impressive frescoes and paintings. There are plenty of authentic pizzerias and wine bars close by, too – including a good, affordable option just next door.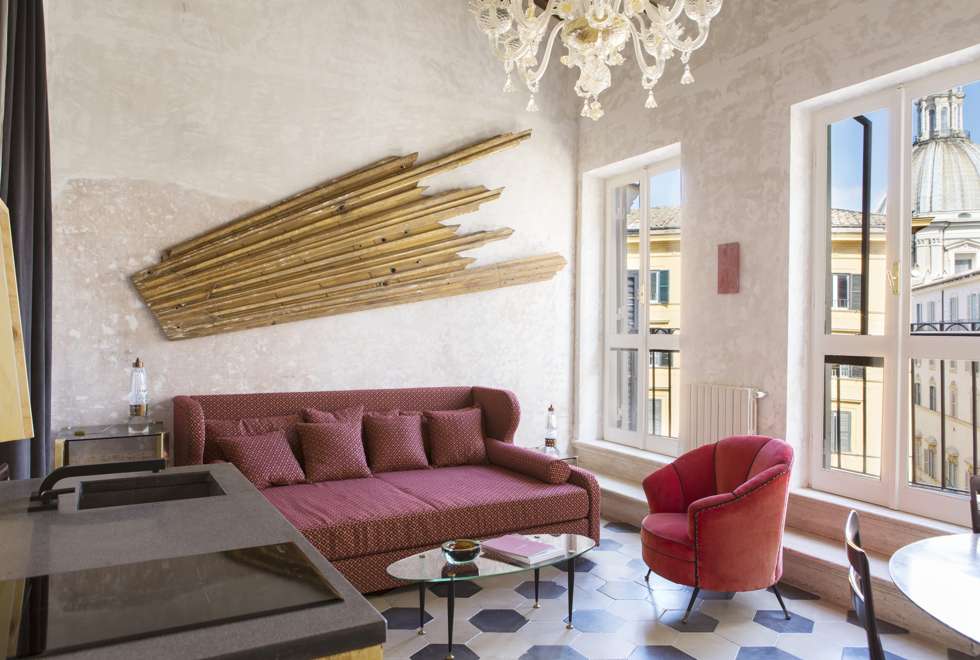 It doesn't look very "17th-century palazzo". If you're used to the classical, gilded, baroque decor favoured by most hotels in Rome, the artistic and, in some cases, idiosyncratic styles at G-Rough come as a breath of fresh air. The owners threw a wild demolition party for their artist and designer friends when they bought the palazzo, stripping down the walls to the original stucco and adding traces of art to stairwells and beams. These rough exposed walls (hence the name), fabulous tiling and wooden parquet flooring provide the base for a stylish mishmash of 1930s to 70s Italian vintage furniture and modern artwork. You'll find pieces by local design masters, such as Gio Ponti, rubbing well-shaped shoulders with fancy upcycled furniture. The quirky blend of ancient palazzo features and lovingly curated modern art and design makes G-Rough feel more like a series of luxury apartments than a hotel.
Rome's little shop of horrors: dolls 'hospital' a tourism draw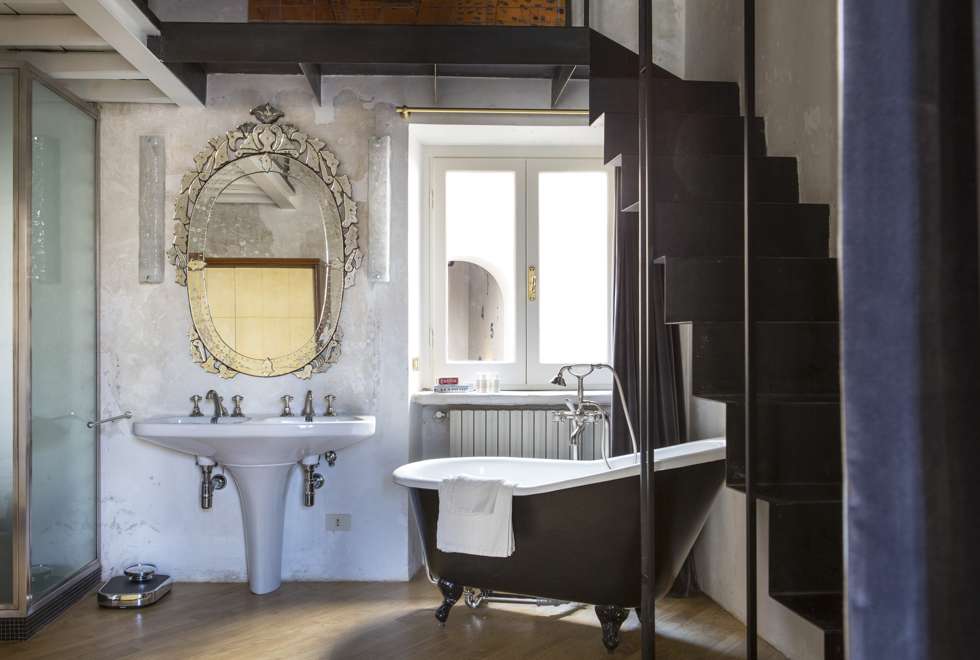 What are the rooms like? Tut, tut – there are no rooms, only suites and apart­ments (as you've already been told) – and a maximum of two on each floor, so there's lots of privacy. The suites are dedicated to Italian modernist artists and designers such as Gino Sarfatti and Ponti, and the large, well-lit lounge area in the one named Tobia (after architect and designer Tobia Scarpa), which is on the fourth floor and looks over the bustling Piazza di Pasquino, has space for a designer dining set, although the centrepiece is indisputably the oversize sofa. The cosy bedroom leads to a chic, smoky mirrored brick bathroom with deep bathtub. All in all, it takes a while to fully appreciate the eclectic furniture and artwork in each uniquely decorated, whimsical, chandeliered suite.
Rome's Cimitero Acattolico, as seen on mockumentary 'The Trip to Italy'
Any drawbacks? Because of the size of the hotel, there's no proper restaurant, and no business centre, gym or spa facilities – but this hotel isn't for the kind of people who want such things. So, no, dahhhling, there are no drawbacks.
Who is it for, then? Take one look at the literature on offer (arty coffee-table volumes and issues of Monocle), the dapper staff and the cool little bar, and it's pretty obvious this is a fashionable spot in which you're likely to see only a fashionable clientele.
What's the damage? In the high season, a Pasquino suite such as the Tobia will set you back between €770 (HK$6,335) and €887.