Central Tokyo's Otemachi financial district is a forest of towers that sits on some of the world's most valuable real estate, so it's a surprise to come across a plot inhabited by no more than a few maples, some neat topiary and a small stele atop a stone-clad mound.
The Japanese capital is apparently haunted by vengeful ghosts with colourful stories and, even in a part of the city that is home to the most down-to-earth of businessmen, the unreal can have a real effect on real estate.
In the 10th century, what is now Tokyo was merely a collection of fishing villages. Provincial warlord Taira no Masakado set himself up in opposition to the emperor of his day and, in 940, he was imprisoned then executed, his severed head paraded through the streets of the capital, Kyoto.
Tradition has it that Masakado's head took flight, fuelled by fury, and landed in Otemachi, where it was buried by villagers.
A thousand years later, in 1923, the Great Kanto Earthquake felled the nearby Ministry of Finance building and, after excavations revealed no head beneath the Masakado grave marker, temporary replacement offices were erected on the otherwise vacant site. After that, as a sign on the plot now explains, with considerable understatement, "things did not go well". Several officials, including the finance minister himself, met with accidents or early deaths.
The bureaucrats got the message, demolished the building and restored the grave mound. In 1940, the 1,000th anniversary of Masakado's death, however, the new Finance Ministry next door was struck by lightning and destroyed. In an effort to placate the dead warlord, the present stone was erected and rituals are performed regularly.
Salarymen in standard business garb are now regular visitors, pausing to bow at the foot of steps leading up from the street, and placing their hands together in prayer for a few moments in front of the mound. Perhaps, following years of economic recession, they pray for the ruin of taxmen.
Other vengeful ghosts, known as onryo, supposedly inhabit sleepy suburbs and even quiet narrow backstreets a mere turn or two away from the fast-paced Tokyo of illuminated advertising, talking vending machines and crowded crosswalks.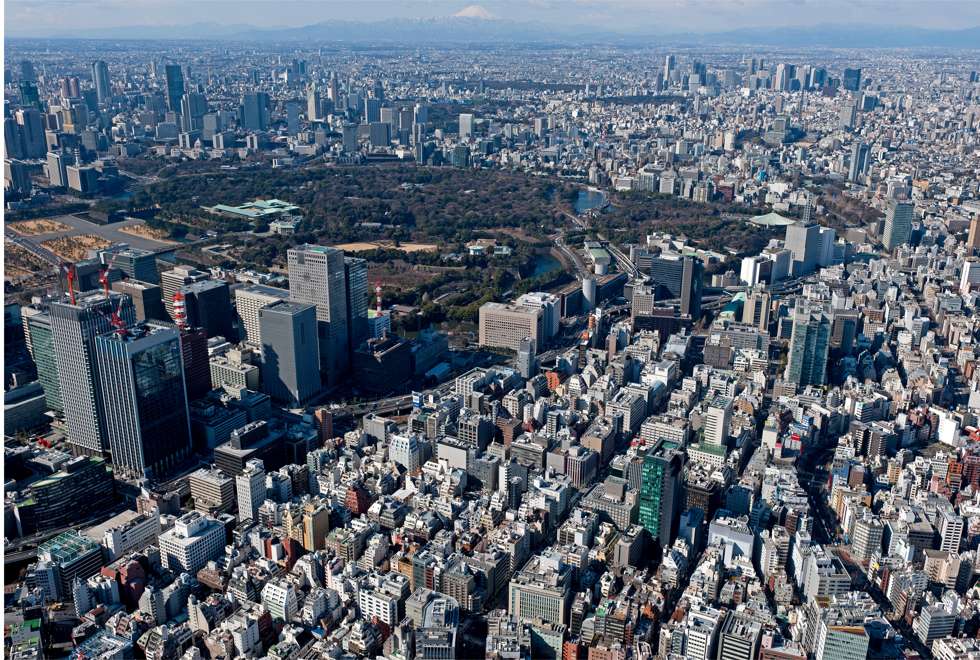 The grave of molten-faced Oiwa, per­haps the most famous of Tokyo's ghosts, lies in the suburb of Nishi-Sugamo. Oiwa supposedly died in 1636, but owes her fame to a popular kabuki play of 1825, Tokaido Yotsuya Kaidan, which added assorted elements from contemporary murders for dramatic effect, later embellished in dozens of film and television adaptations. In most, her unfaithful husband connives to poison her in order to marry another woman. The poison ruins Oiwa's beauty and, once dead, she repeatedly appears to him as a distorted face in a lantern.
Members welcome: all you want to know about one of Japan's weirdest festivals
According to legend, her ashes now lie buried among a labyrinth of tombs behind the Myogyoji, a substantial backstreet Buddhist temple of dark wood with a striking a broad-eaved two-storey pagoda. Space is as tight here as elsewhere in Tokyo, and grave markers in the form of small square columns of stone stand as tightly clustered as the towers of Otemachi, about 5km to the southeast.
Oiwa's grave, hidden down a narrow passage and through an orange gate, is more elaborate than Masakado's – a minia­ture stone pagoda with accompanying lantern and stelae, all lined with character-covered wooden markers indicating regular commemor­ation of her demise. Theatre and film companies planning to tell her story come here first to show their respects, in order to avoid accidents during production.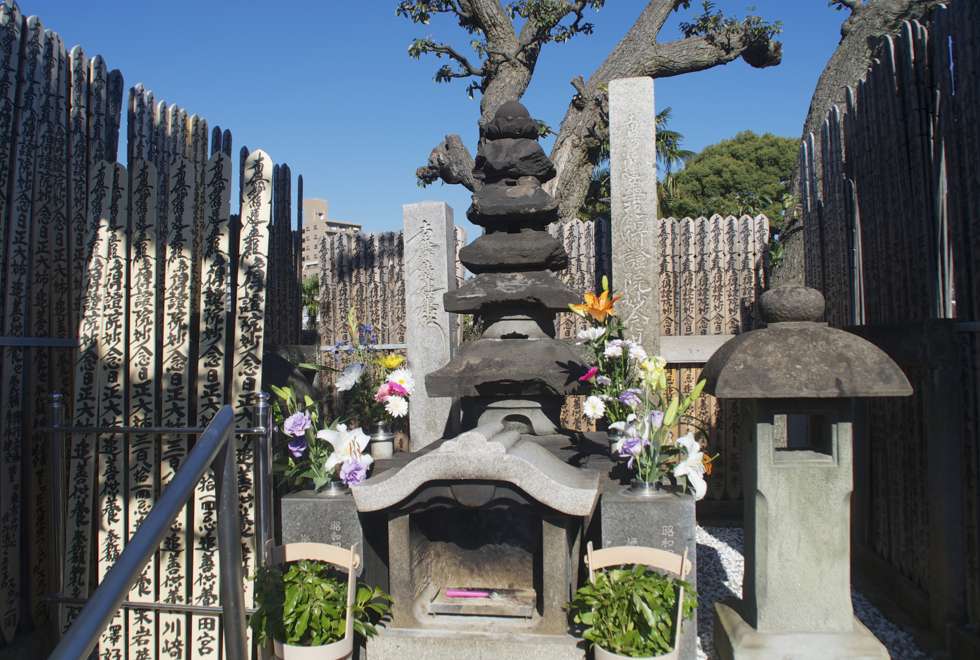 Respect is also paid to her at two spots either side of a quiet alley in the Yotsuya district, mentioned in the kabuki play's title. Here the Buddhist Hiunji sits almost opposite the Shinto Tamiya Inari, squeezed by low-rise apartments and tiny houses with postage-stamp gardens. Both Buddhist temple and Shinto shrine attract visitors with claims that Oiwa worshipped at them, while displaying signs that dispute the kabuki version of her story.
My 48 hours in Tokyo: fashion designer Limi Yamamoto shares some of her favourite haunts
Oiwa was happily married, they say, and now visitors sometimes come to pray for a stable relationship. The smart little temple, with a ridge tag dating it to 1757, does a brisk business in lucky amulets and wooden plaques on which to write prayers. A statue of Oiwa supposedly fulfils the wishes of worshippers. The smaller Shinto shrine sports pictures of Oiwa, including the poster for a recent kabuki performance. Large stone statues of fox spirits wear striking red bibs indicating their adoption.
The Japanese are mostly easy-going about religion and, like Oiwa perhaps, see no problem in praying at both shrine and temple.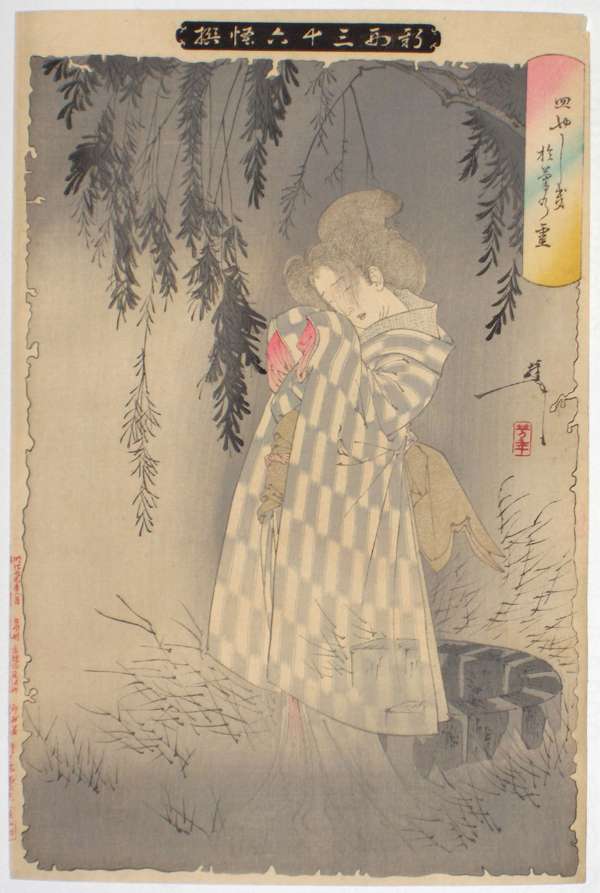 That so many vengeful ghosts are female points to widespread abuse in days gone by. Plate-counting Okiku is to be found an hour's suburban train ride south, in seaside Hiratsuka, a place of fast-food restaurants, pachinko parlours, bars and cafés, pleasant­ly slow-paced in the off season.
According to legend, Okiku was a servant to a samurai whose sexual advances she rejected. She found herself trapped when her master hid one of 10 expensive Delft plates and blackmailed her by blaming her for its loss. She repeatedly recounted the plates, still refusing sex, until he threw her into a well. If a ghostly voice is heard counting to nine in any well, a shout of "10!" is needed to prevent evil consequences, if only in the form of a piercing scream.
Like Oiwa, Okiku's popularity stems from subsequent elaborate stagings of her story.
Weird and wacky: the hidden wonders of Tokyo nightlife
It's claimed the grounds of Japan's finest surviving castle, Himeji, 600km to the west, are the site of Okiku's plunge to a watery death, but her grave marker is here in Hiratsuka, on the edge of a small park, sheltered by a pair of pines, just behind a children's slide. In wintry sunshine, the well-tended plot is drained of its ghostly qualities by the domesticity of the surroundings. Someone has recently burned incense and left two pots of flowers.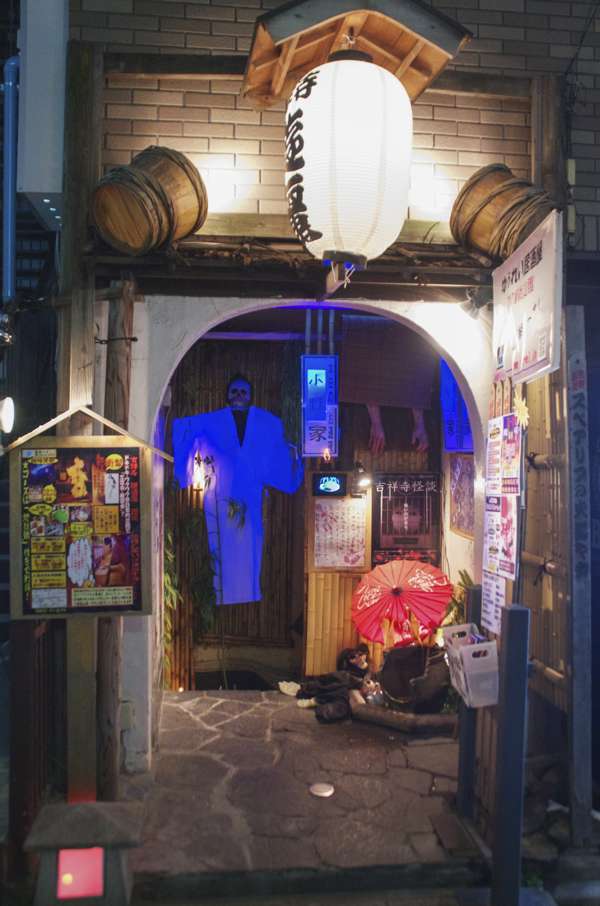 "It's grannies who do it," says a woman minding a nearby tiny corner shop.
Not all of Tokyo's ghostly encounters are sobering. On descending the stairs to the basement-level Yurei Izakaya restaur­ant, in the city's slightly alternative Kichijoji district, a sepulchrally clad and white-faced waitress strikes a chilly chime of welcome from a small bell. Inside there are occa­sional puffs of dry ice, severed forearms reach down from the ceiling and skeletons line the walls along with murals of assorted traditional ghosts, including a one-eyed boy and a cat with two tails.
Ordering food involves raising a hand – the disembodied one that comes with the menu. Dining is to a B-movie horror soundtrack, and the food is similarly themed: two figurines of sausage meat leak ketchup gore from where they've been stabbed with cocktail sticks; aubergine with tomato comes in the form of a white ghost floating on a sea of blood; the pizza is coffin-shaped.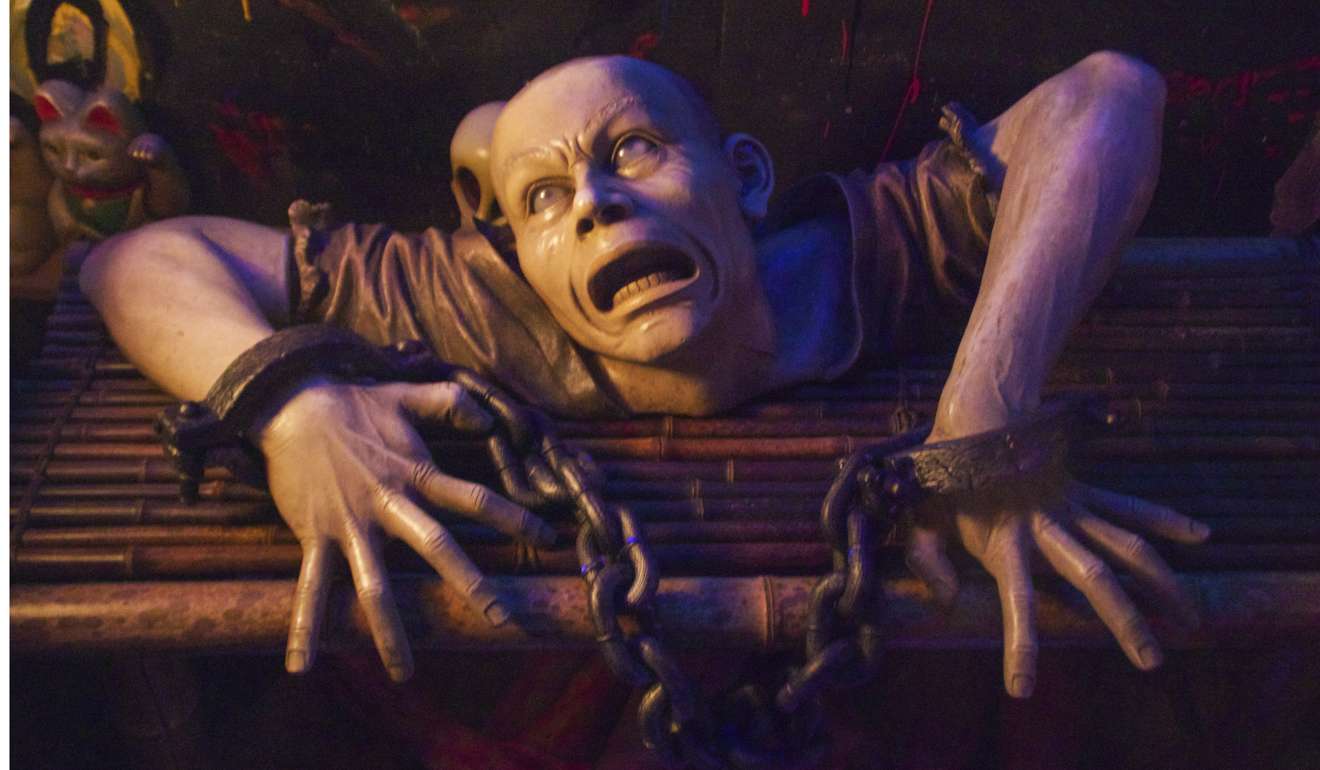 Waitresses induct diners into the spirit world by tying a white triangle of paper to their foreheads with headbands. Unfortunately, the bill, obtained by clap­ping hands to make a large spider descend from the ceiling, is not corres­pondingly insubstantial.
Tokyo's ghosts may not be taken seriously by younger citizens, but when hard-headed property developers forgo substantial profits to avoid supernaturally inspired disaster, they must at least be haunted by market forces. Perhaps to avoid annoying long-dead Taira no Masakado is merely to demonstrate a head for business.