THE GOOD
Google Phuket and "tropical island paradise" and you'll be over­whelmed. Even allowing for copywriters' fondness for a cliché, the 645,000 hits can't all be hyperbole. A three-hour flight from Hong Kong, Phuket offers something for everyone – from backpackers to billionaires. Luxurious resorts boast state-of-the-art facilities, sumptuous suites and swanky spas in palatial surroundings, while budget travellers can still find rustic huts for 1,000 baht (HK$225, US$29) and campsites costing 300 baht for two people. Give your wallet a workout at some of the island's stylish eateries or fill up on freshly cooked pad thai and sickly sweet banana pancakes with condensed milk from street vendors for 100 baht. Shop for big-name brands
in air-conditioned malls or haggle your heart out in the night markets, where there are even more cheap food stalls.
In keeping with its international status, Phuket lures its share of global superstars. Beyoncé and Jay Z have spent holidays on the island, as have the Kardashians, and Rihanna recently gave a concert on Patong Beach. Phuket's charms don't only attract vacationers, how­ever. Thais, tourists and Asia-based expats snap up holiday homes at developments such as Laguna Phuket, a resort comprised of luxury villas, world-class hotels and recreation facilities including an 18-hole golf course.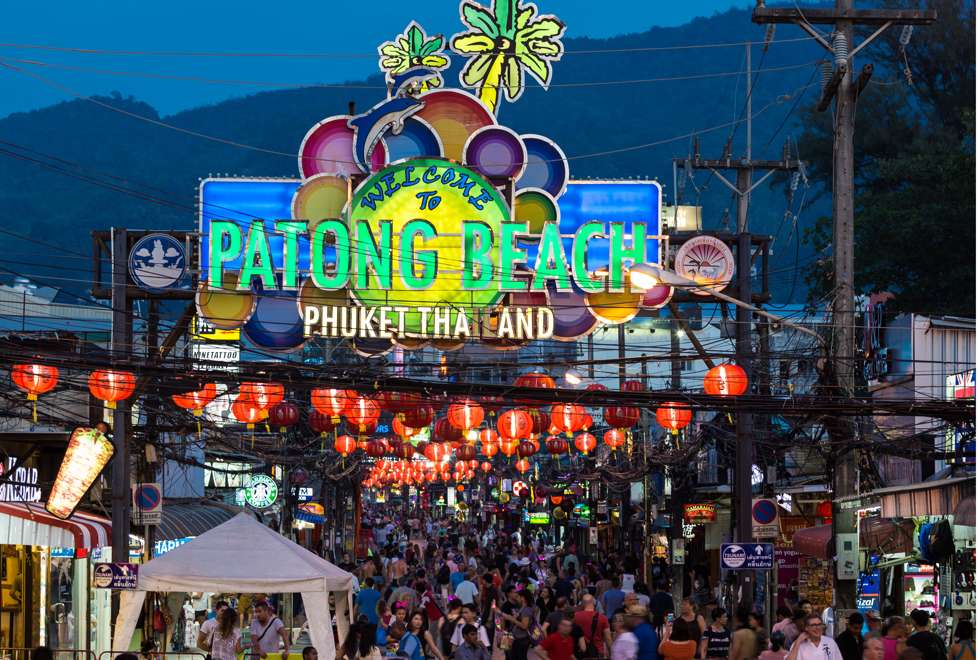 The Pearl of the Andaman is deceptively spacious. Rent a jeep or motorcycle and tick off the temples, beaches, water­falls and scenic vistas. Head away from the crowds to Radar Hill, reached via a steep road that winds past rubber planta­tions and offers spectacular views. ("Phuket" is derived from the Malay word bukit, which means "hill".)
Back at sea level, hire a jet ski, sign up for a scuba diving course, hop on a ferry to Phi Phi Island or book in at a wellness retreat and turn off your mobile phone.
If it's action you're after; you'll find it at Patong Beach. The frenetic resort began its tourism trajectory in the 1970s, when holiday cottages (mosquito-infested bamboo huts) started to appear. It's still possible to track down quiet coves and empty beaches where life is laid back and coconut, not concrete, remains the building material of choice.
Anantara Layan Phuket resort's muay Thai experience will make you fighting fit
A century ago, tropical hardwood was the go-to building material in the Thalang district of Phuket City. Stroll past the handsome buildings and it's easy to imagine an era when tin mining rather than tourism was the only game in town. The Chinese came to work the mines and by the 1890s they numbered about 50,000, dwarfing Phuket's Thai and Malay populations. Today many of the ornate Sino-Portuguese mansions and timber shophouses are enjoying a new lease of life as art galleries, cafés and boutique lodgings.
THE BAD
Google Phuket and "paradise lost" and a different picture emerges. Plenty of articles have been written about the island's decline, presumably by disillu­sioned old hands who remember the sleepy southern backwater before it even had an airport. While it's reasonable to expect places to change as they develop, many argue that the transformation hasn't always been for the best. Let's begin at the airport, where finding a legitimate metered taxi can be a challenge, especially late at night when unofficial drivers routinely overcharge passengers. Some have been known to stop en route and demand an additional payment before they'll continue. Still, Phuket isn't the only resort in the world with a taxi mafia. It might be the only one with a jet ski mafia, though.
Three men, one vintage Land Rover, and a 900km trip through southern Thailand
The classic scam involves charging hapless holidaymakers hefty sums for pre-existing damage to the motorised craft. Some irate tourists call the police when things get nasty. Guess whose side they take? Skip the experience and go swimming instead, but be extra careful at Karon and Surin beaches, where the rips can be strong, particularly during the rainy season. Drownings occur with alarming frequency, which make the recent budget cuts to lifeguard patrols somewhat short-sighted.
In Phuket there are any number of ways to bite the dust. Sometimes literally. Motor­cycle fatalities are nothing new, and there's invariably a spike around Songkran – four motorists died and 70 were injured on the island over the recent Thai New Year. Helmets tend to be optional, unless you're a foreign tourist, in which case the police will even pull you over if your chin strap isn't correctly adjusted. This won't be a friendly warning about road safety, but an excuse to issue an on-the-spot fine.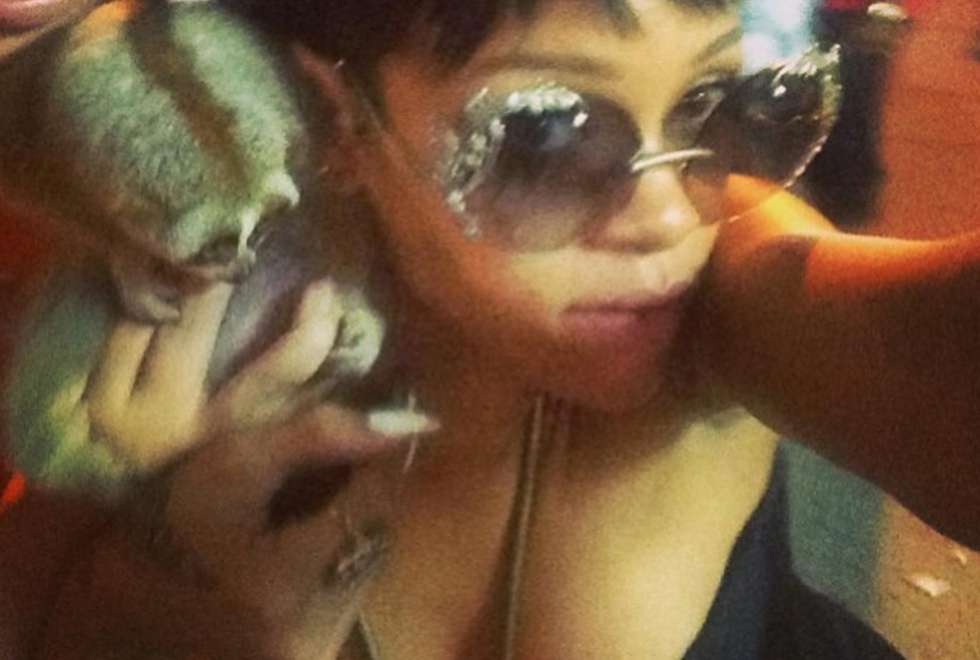 Meanwhile the catalogue of tragic accidents continues. At Patong in 2015, a Kuwaiti man died after his bungee jumping cord snapped, and in April last year, a ferry travelling between Krabi and Phuket burst into flames and sank, resulting in the death of a 12-year-old Israeli girl and the dramatic rescue of more than 100 passengers. In February, an Australian woman died in a jet ski collision, prompting questions about safety certification for inexperienced riders.
Rihanna's performance last month was overshadowed by comments she posted on Twitter. Her description of the activities at an illegal sex show she attended in Patong led to the arrest of the bar owner and much online soul searching about the dubious delights of the Soi Bangla nightlife district. There was more controversy after the singer uploaded a selfie of herself holding an endangered slow loris. The world's unlucki­est animal handlers were quickly tracked down, taken into custody and the pair now face four years in prison.
Phuket's Keemala resort defies stereotype with its original, whimsical design
Slow lorises aren't the only exotic creatures you can pay to be photographed with on Soi Bangla. Surgically enhanced ladyboys are happy to pose for a fee and perhaps a donation towards medicine for a sick family buffalo. (Another scam.) Keep on your toes once inside the bars – the area is a drink-spiking hot spot. Efforts to catch the perpetrators have had limited success due to a shortage of police officers or because, it is alleged, some receive kickbacks for siding with bar owners.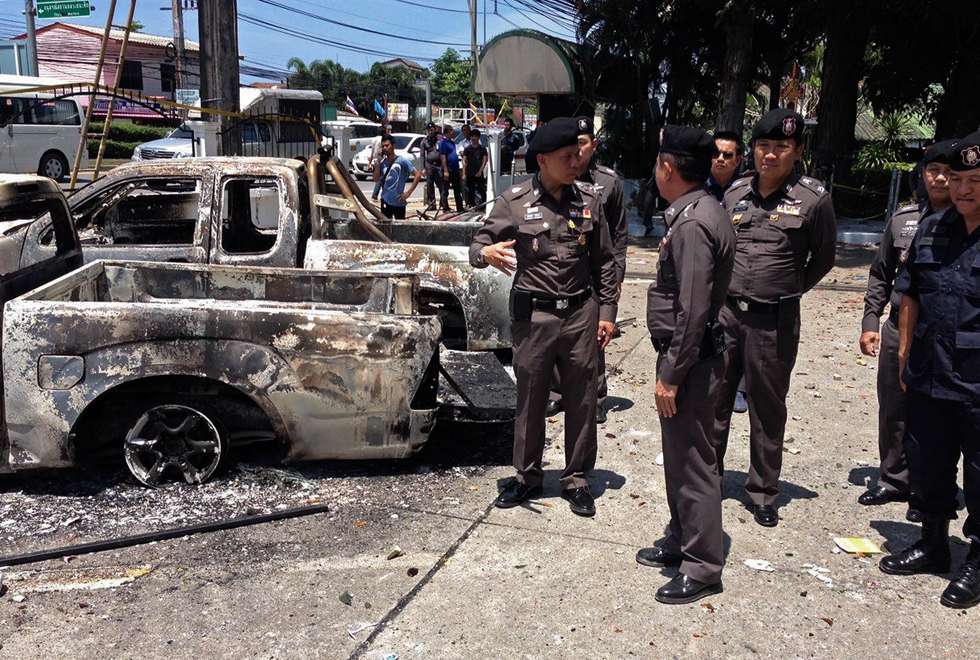 THE UGLY
In 2015, civil unrest erupted in Thalang, with an angry mob setting fire to cars and blocking roads amid outrage over the deaths of two men who were killed when a police car crashed into their motorcycle during a chase. In summer 2016, terrorism reared its ugly head on the holiday isle when firebombs and home-made explosives were detonated at Patong. The Hong Kong Security Bureau advises that travellers to Thailand exercise caution, while the British Foreign Office warns of a high threat from terrorism.