Not that long ago, Djibouti was known for little more than French legionnaires, atrocious heat and being at the other end of a railway line to Addis Ababa, in Ethiopia. English novelist Evelyn Waugh was appalled by its "intolerable desolation", declaring it a "country of dust and boulders, utterly devoid of any sign of life".
Nowadays, however, this tiny republic of about 900,000 people on the Horn of Africa has grand plans to establish itself on the global stage. And international powers are increasingly interested in what it has to offer: "an oasis in a bad neighbourhood", as one foreign ambassador puts it.
Since gaining independence from France, in 1977, Djibouti has carved out a regional role by virtue of its strategic and commercial relevance. At the junction of Africa and the Middle East, and at the confluence of the Red Sea and the Gulf of Aden, Djibouti overlooks waters used by 30 per cent of the shipping that passes through the Suez Canal.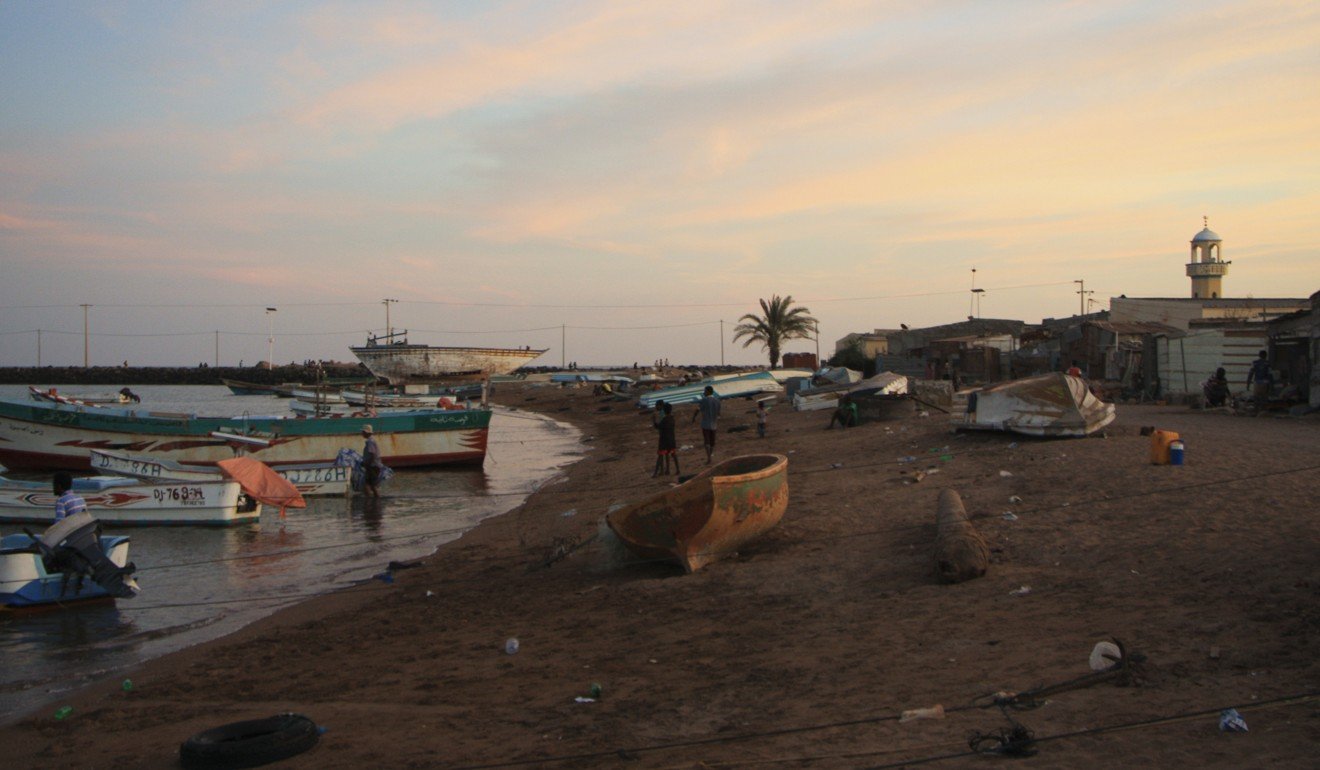 Chinese investment totalling more than US$12 billion is funding the building of six ports, two airports, a railway and what is being touted as the biggest and most dynamic free-trade zone in Africa. Enthusiastic officials talk of the capital, Djibouti City, becoming an African Dubai.
All aboard for Africa's heartland – on a train built in China
Overseas powers view Djibouti as some of the most valuable military real estate in the world, necessary to both counter the piracy threatening that key shipping lane and to shore up regional stability. Foreign military personnel already stationed in Djibouti – including those from the United States, France, Germany, the Netherlands, Spain and Japan – number about 25,000. China's first overseas military base will house a further 10,000 military personnel.
But beyond the barracks, construction cranes and new flashy hotels, a very different Djibouti survives.
A ferry from the capital sails across the Gulf of Tadjoura to the small town of Obock. Passengers sit on the open deck, above a handful of cars and boxes of cargo crammed in tight, whiling away the two-hour journey by vigorously fanning themselves, sipping Ethiopian coffee freshly brewed over a coal brazier and perching on the forward raised walkways to enjoy the breeze and the views over the water towards the distant Goda Mountains.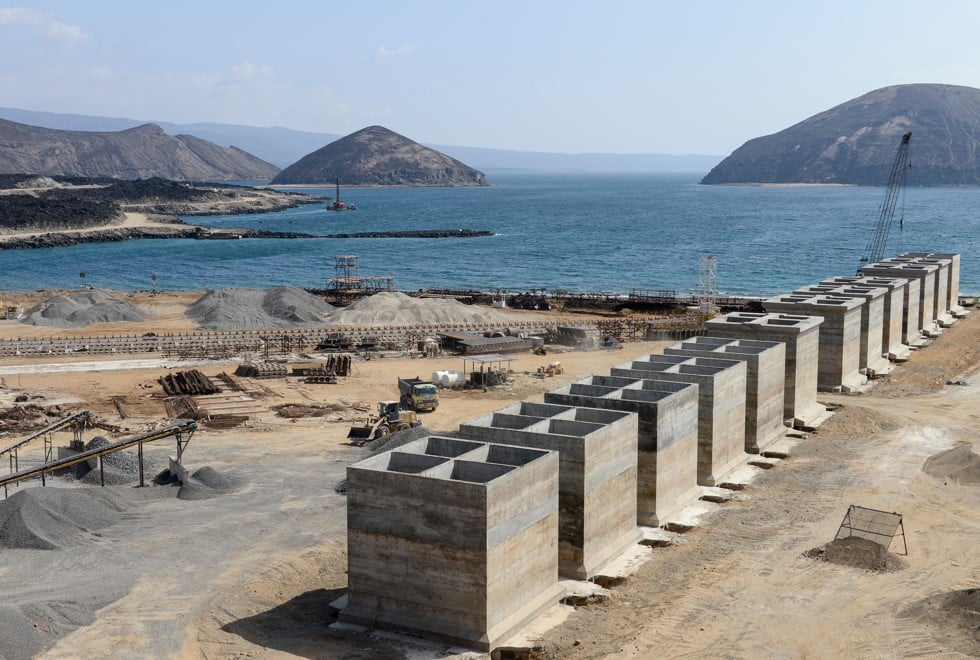 In 1862, the Afar sultans sold their land to the French, and construction of Obock began. But it was soon eclipsed by Djibouti City and little remains to suggest that Obock, with its dusty streets and small fishing industry, was once the country's capital.
How a Chinese investment boom is changing the face of Djibouti
Come sunset, wooden fishing boats are tied up along the beach a stone's throw from ramshackle huts on the town's edge. Beside the ferry pier, lights come on at Obock's large mosque, as preparations are made for evening prayers.
A further 40km west by minibus, along the surf-pounded shore, Tadjoura nestles in the shadow of the green Goda Mountains. With its palm trees, whitewashed houses and numerous mosques, there's an Arabian feel to this town, even allowing for the daily queues of people waiting outside bakeries to collect baguettes – a Gallic-inspired scene repeated across the country.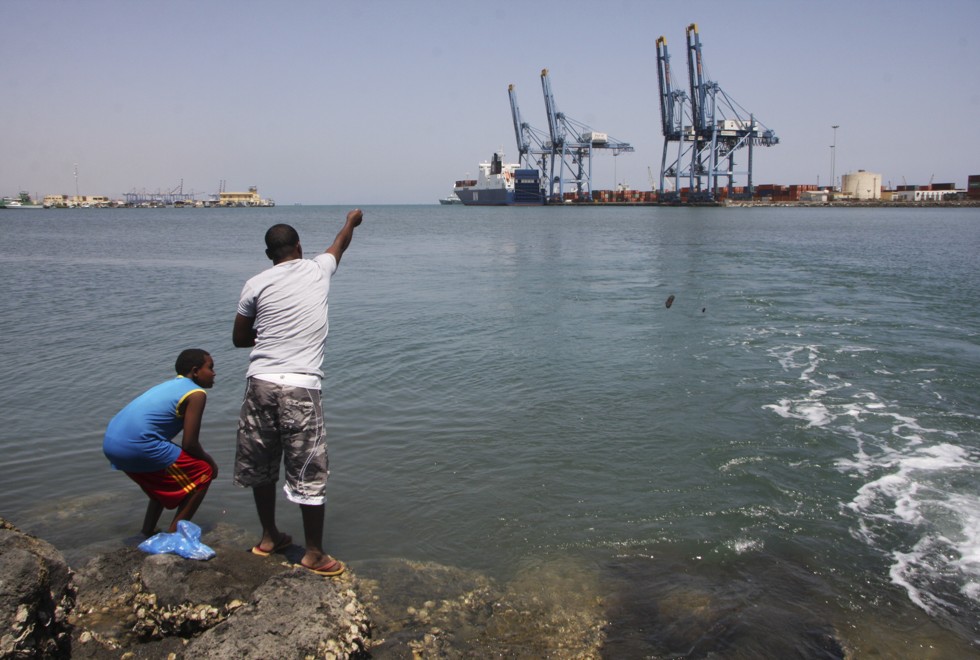 Djibouti's days as colonial French Somaliland have left a mark in other ways. Along with Somali, Afar and Arabic, French remains one of the main languages. A constant stream of "bonsoirs" greets the visitor during an evening wander amid the colonial-style architecture, orderly avenues and boulevards of Djibouti City's so-called European quarter and its focal point, Place du 27 Juin 1977, a large square of white­washed buildings and Moorish arcades named for the date of national independence.
Welcome to limbo: Somaliland, country that never was
To the south lies the dustier and more ramshackle African quarter. Here, a heady melting pot bubbles: cafés brew coffee in the traditional Ethiopian style, Yemeni restaurants serve their speciality poisson Yemenite and the haggling in the open-air markets is in rapid-fire Somali.
The streets become livelier still once the sun has set, as people take advantage of a slight easing of the heat to peruse street-side stalls and markets, meet over sweet Somali tea in open-air cafés or ice cream in the giant Place Mahmoud Harbi square, in the lee of the Hamoudi Mosque, or simply find a spot on the street in which to sit and chew the mildly narcotic khat and gossip away the long hot night.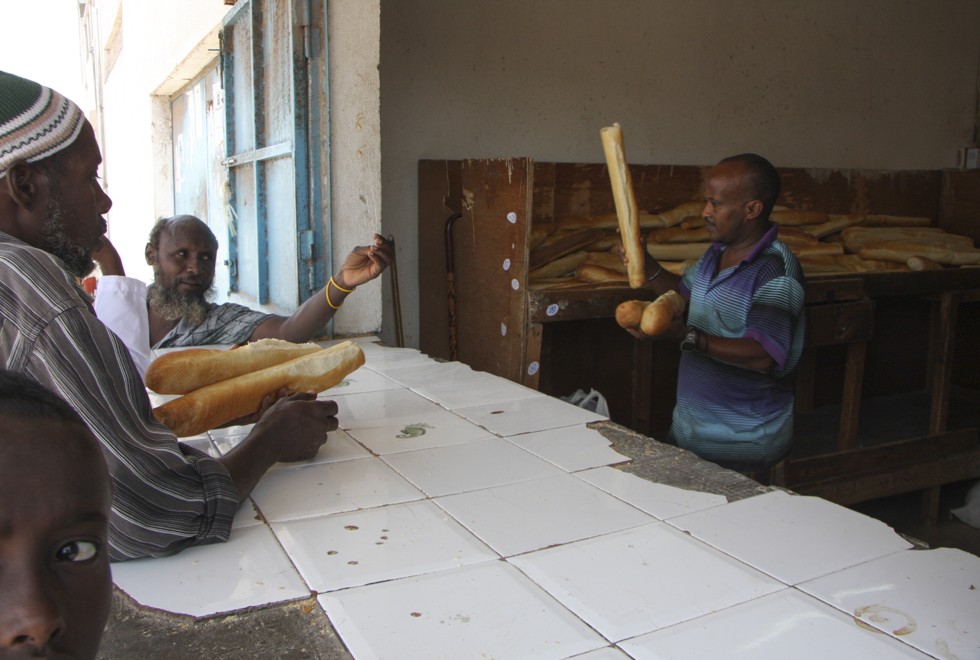 Whether this lively blend will withstand modernisation is a concern for some locals, proud of their country's past and its mixture of traditions.
"My fear is not about cultural change, because we need that as this is an ultra-conservative society," says an elegant Djiboutian professional in her early 30s, her hair covered in the Muslim style, a cigarette clasped in her slender fingers as the sun dips behind the distant old port. "It is more about the effects on our customs, such as traditional clothing, food and decorations that symbolise our identity."
The good, bad and ugly sides of Cape Town – world's No 2 destination in Lonely Planet's Best in Travel 2017 guide
Others are more outspoken, criticising Djibouti's strategic and economic upswing and lamenting a country run by a business-savvy dictatorship that has reaped profits from its superpower tenants while not doing enough to relieve poverty.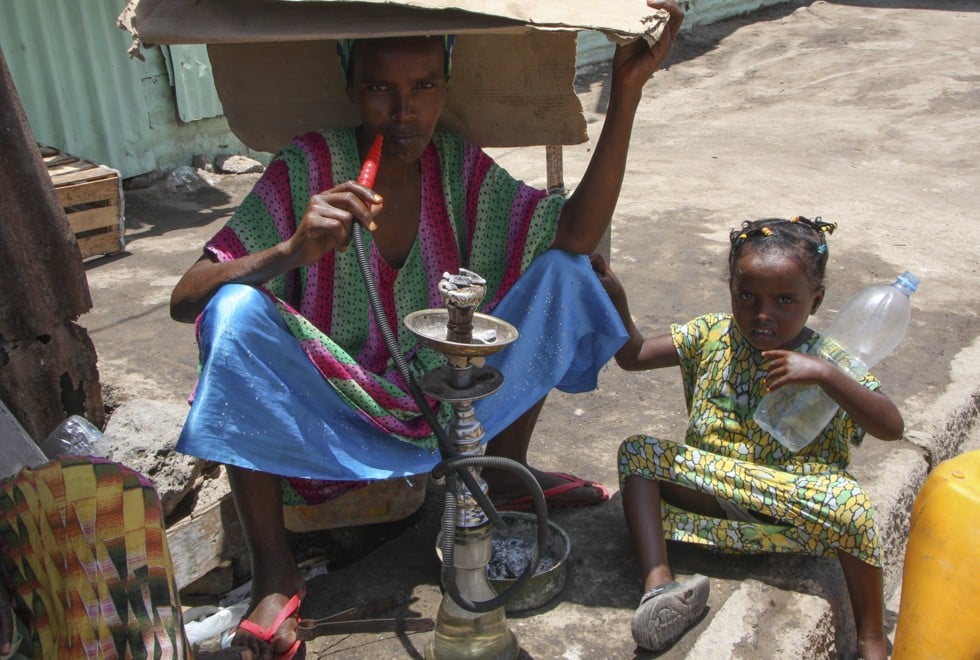 Admittedly, dreams of a Dubai-type future don't appear to have much relevance for most Djiboutians, 42 per cent of whom live in extreme poverty while up to 60 per cent of the labour force are unemployed. Furthermore, a 2014 US State Department human-rights report cited the authorities' restrictions on free speech and assembly, their use of excessive force, including torture, as well as the harassment and detention of government critics.
Foreign visitors are unlikely to encounter this side to the country, however. Djibouti is one of the safest destinations in Africa, with the large Western military presence being an influential factor. Even pickpocketing is rare. A greater danger is presented by unscrupulous tour operators overcharging for a trip into the interior to see the country's otherworldly offerings.
Tiny African nation of Djibouti banks on Chinese tourists
Located 140km southwest of Djibouti City, Lake Abbe has been described as a slice of the moon on the crust of the Earth. Its science-fiction-like landscape is dotted with hundreds of limestone chimneys, some as tall as 50 metres, belching out puffs of steam. Nomads depend on the area's mineral-rich springs to nourish pasture for their camels and goats. Flamingoes gather on the banks of the lake at dawn.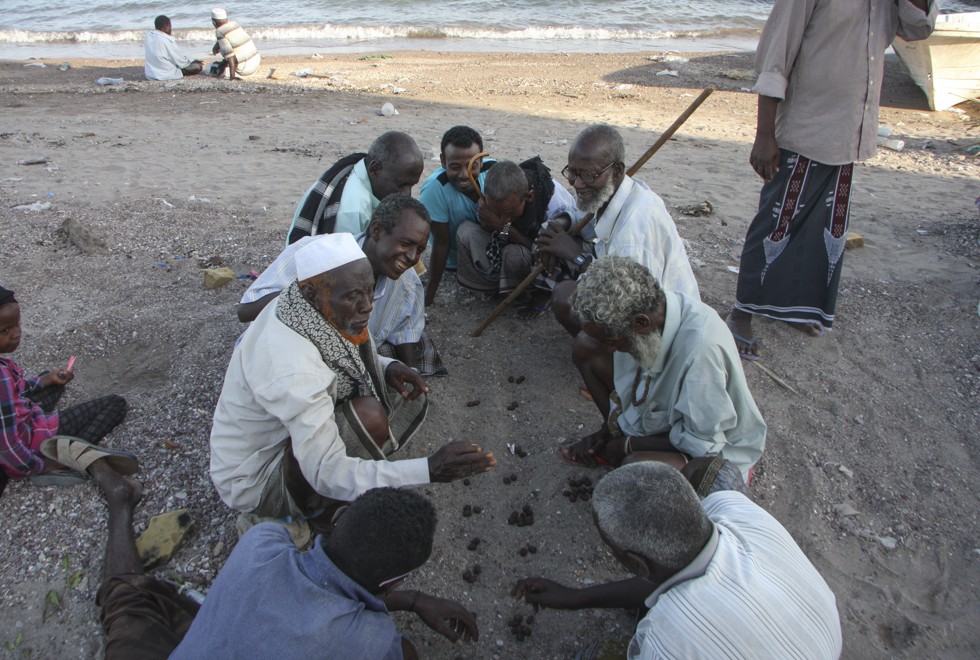 Lake Assal, 100km west of the capital, displays another of Africa's most spectacular natural phenomena. Encircled by dark, dormant volcanoes, this crater lake 155 metres below sea level is the lowest point on the continent. Its aquamarine water is ringed by a huge salt flat, 60 metres deep in parts and mined for centuries by the Afar nomads, who can still be seen loading up their camels for the long trek inland to Ethiopia's markets.
Harar: ancient Ethiopian city that reveres 'magical' hyenas
Meanwhile, back in the 21st century, ships continue to glide to and from the nation's ports, where cranes offload containers onto waiting trucks late into the night under arc lights. Lacking a river or extractable minerals, Djibouti's location has always been its most precious resource, accounting for the armies, mercenaries, smugglers, gun­runners and traders – anyone and everyone concerned with the movement or control of merchandise – it has attracted in the past 150 years.
"It's a weird place, really," says a foreign diplomat in neighbouring Ethiopia. "I don't know why more isn't reported about it."
How to get there
Ethiopian Airlines flies between Hong Kong and Djibouti via Addis Ababa. Connections are also available via Qatar, Dubai and Istanbul