Other than the three cyclists quickly disappearing in my rear-view mirror, their legs pumping and faces grimacing against a blustery head­wind, I've seen barely another person in two hours. All I've had for company are Sigur Ros belting out some incomprehen­sible gobbledygook from the stereo and a packet of duty-free jelly babies, who are not the best conversationalists.
Oh, and a young German hitchhiker, Nils, who is relaxing in the back of my camper van. Because that's what happens to people when they visit Iceland: they become helpful and they give lifts to strangers. Although Nils is far from the stranded Icelandic women's volleyball team I was hoping to run into, he is a geoscience student possessing in-depth understanding of this country's unique terrain, so he's paying for his ride with a well-informed commentary.
Sigur Ros "belt out" Isjaki
I'm on the second day of an anti­-clockwise journey around Route 1, the road that rings the whole of Iceland, and there's no denying that I drew the long straw. The camper van is taking me the 1,500km all the way back to Reykjavik; the three mad fools on bicycles that I've just passed ... well, they've got it much tougher.
When Dave "Relentless" Gething (the Hong Kong-based veterinarian who won the 2015 World Marathon Challenge, in which competitors must complete seven marathons in seven days on seven continents) told me about his holiday plans, that his next "fun" challenge in between Ironman races and other multi-mile exertions would be to cycle the circum­ference of Iceland in less than a week, I quickly put my hand up ... to drive the support vehicle.
I didn't have the legs, or the desire, to attempt such a feat on a push bike myself, and my wardrobe lacked the necessary Lycra. Providing the riders with a steady supply of sugary pastries and moral support at rest stops, I am obviously playing a minor role, but an important one, I like to think, if the team stands any chance of success.
Despite having ridden on for a few extra hours the previous day – benefiting from first-day excitement and having almost 24 hours of daylight – the 300km ride to tonight's proposed finish line is no easy coast for the pedal spinners. Averaging about 25km an hour, every day will be as much a mental challenge as a physical one and, lulled by the vastness of the landscape, it's also proving difficult to keep both my jet-lag-heavy eyes and the wind-buffeted camper van on the road.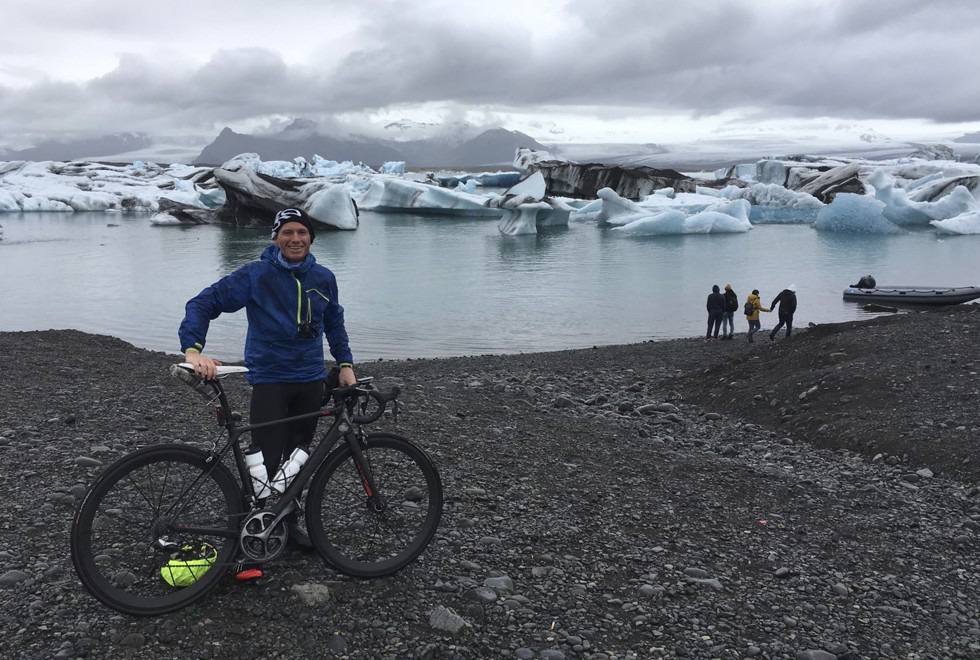 With the small town of Vik (population: 2,731) and its black-sand beaches, the island's most southerly point, now five hours behind us, the Atlantic Ocean to the right and the awe-inspiring Vatnajökull glacier (the most voluminous ice cap in Iceland, so my German co-pilot informs me) to our left, we are closing in on Skaftafell, a wilderness area of the Vatnajökull National Park that has an Alpine feel, and our campground for the night.
Hot showers, bottles of local pilsner and bowls of spicy instant ramen, brought with us all the way from Hong Kong, provide a welcome end to the day for sore limbs and tired minds. The sun sets only briefly over the glacier but, with the campsite nestled in peaceful former farmland, away from Route 1, the van is soon swaying to heavy, contented snoring.
Iceland's penis museum goes to great lengths to entertain and educate visitors
Iceland may be a hot destination right now, but it's barely seven degrees Celsius when the first pedal strokes awaken tight glutes the next morning. Bright and clear skies, though, are a welcome relief from the black rainstorms we left behind at home, although being this close to the Arctic Circle, the weather can change quickly, from requiring snow gear to sandals and back again at the drop of a bobble hat.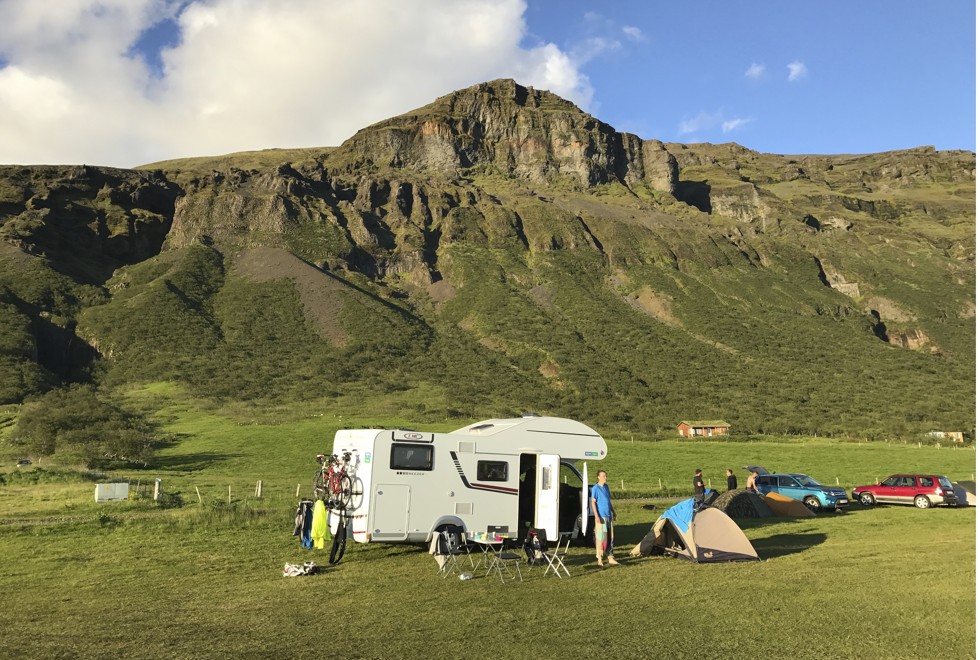 The scenery seems to magnify the senses. Colours radiate, sounds are crisp. Foreboding clouds cling to dark volcanic cliff tops and every song on the radio somehow manages to be the perfect soundtrack to the majestic countryside.
Glacial waterfalls cut down through rocky mountains like frozen lightning bolts, and the dry saltine crackers on the dashboard are ... almost palatable. And can anything taste as pure and fresh as water sipped straight from an Icelandic river?
Where to find and how to photograph the Northern Lights
The road snakes up an ash-strewn hillside into the misty cloud base. With hardly any other vehicles on the road at this early hour, there's utter stillness ahead, offering us – riders and driver, alike – another chance to retreat into our own minds. As most long-distance cyclists or runners will tell you, especially with their quads burning bright with lactic acid, this inner focus can swing tempestuously between meditative joy and tortuous contemplation.
As we head further east, deep fjords and lunar-like fields of moss-covered lava fill the windscreen, the white noise of human existence – just like trees – noticeable by its absence.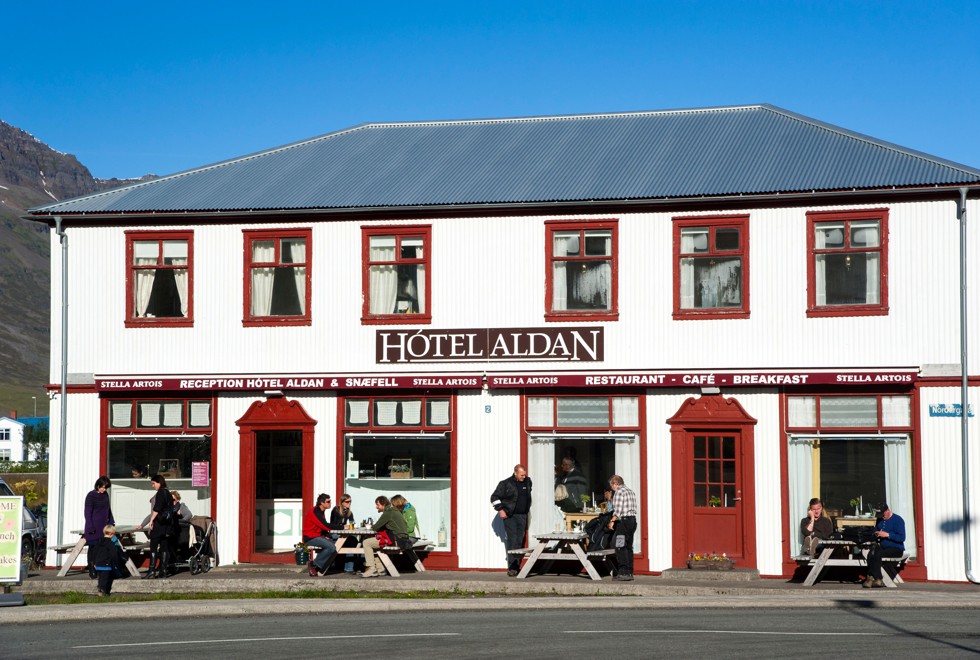 After many, many hours in the saddle, my exhausted comrades roll into the town of Egilsstadir (population: 2,306), their lower backs smarting from time spent bent over handlebars, heads down buffering against the chilling wind and rain. They need far more than a packet-noodle pick-me-up this evening, so, having bid Nils farewell, we take a short, mountainous drive to the picturesque coastal town of Seydisfjordur (population: 665), where much of Icelandic television mystery series Trapped was filmed.
Amid the town's old wooden buildings we find Hótel Aldan and it's Nordic Restaurant, the menu of which is thankfully devoid of the usual whale, puffin and fermented shark.
Nine of the most expensive holiday destinations
Having passed on the reindeer (no one wants to chow down on Rudolph) and ignoring the fact that a small bowl of bar nuts and a round of beers cost the equivalent of a small European hatch­back, the fresh Arctic char and locally caught langoustines drowned in garlic butter melt in the mouth, soothing away days worth of aches and pains. Or so I'm told.
The landscape changes once again as we head north. Ascents are gradual – certainly in comparison with the Hong Kong inclines the cyclists spent many hours training on – but they are long and often mind-numbingly straight. Wind howls relentlessly across the vast, scorched plains.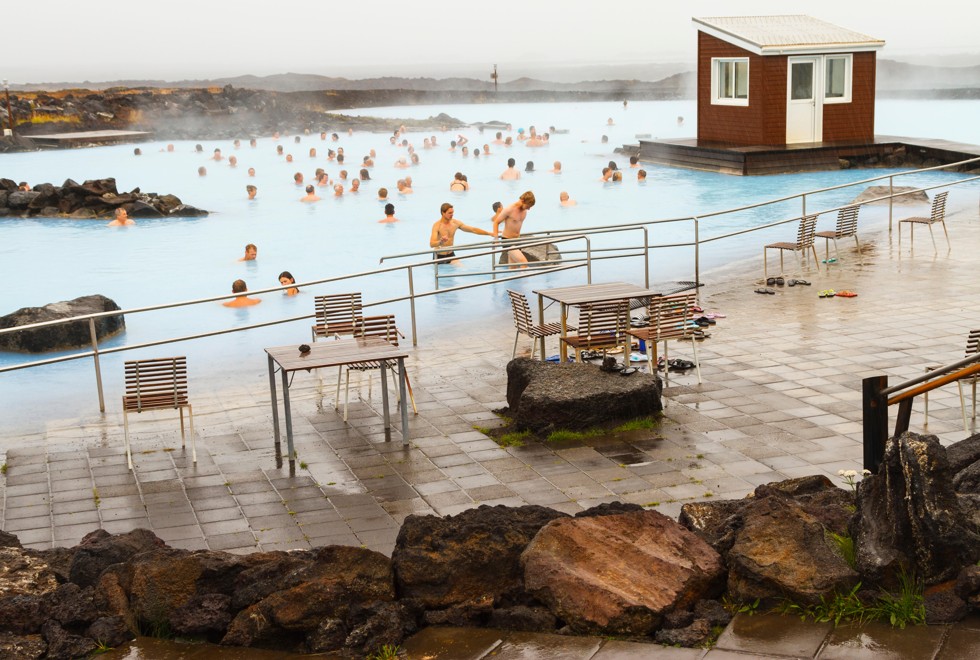 As they descend from another snow-capped peak into a valley, the tucked cyc­lists push speeds of 70km/h until, rounding a bend, the wind begins to blow head on, and suddenly even the down­hills require considerable pedal power.
In the afternoon, we reach Mývatn and take a dip in the eutrophic lake's geother­mal baths. Much like the more famous Blue Lagoon, the temperature of the outdoor pool is more than 35 degrees Celsius. Pints of porter served by the lifeguard help nullify the eggy, sulphurous smell and we relax in the most serene of settings.
In hot water: swimming Iceland's volcanically heated pools
The final 380km stretch, from Akureyri to Reykjavik, sees the dusty browns of the northeast give way to rolling green pastures as more and more buildings pepper the horizon and traffic increases.
It's been a hard slog of blood, sweat and gears to make it around this stunning country in five-and-a- half days. As we approach Hvalfjordur Tunnel, which runs to a depth of 165 metres below sea level under "whale fjord", and with the Icelandic capital now in view, a massive tail fin breaks the water's surface in the most welcoming of waves.
How to get there
Finnair and Icelandair fly between Hong Kong and Reykjavik via Helsinki; Lufthansa flies to Reykjavik via Frankfurt; KLM and Icelandair fly to Reykjavik via Amsterdam