What is it? Konotta Island lies in the deep south of the Maldives and on it stands the luxurious and eco-minded Outrigger Konotta Maldives Resort. A one-hour flight from the capital, Malé, brings guests to Kaadedhdhoo Airport, and from there, a flash yacht, often escorted by dolphins, zips customers across a glassy ocean to the resort, in 30 minutes.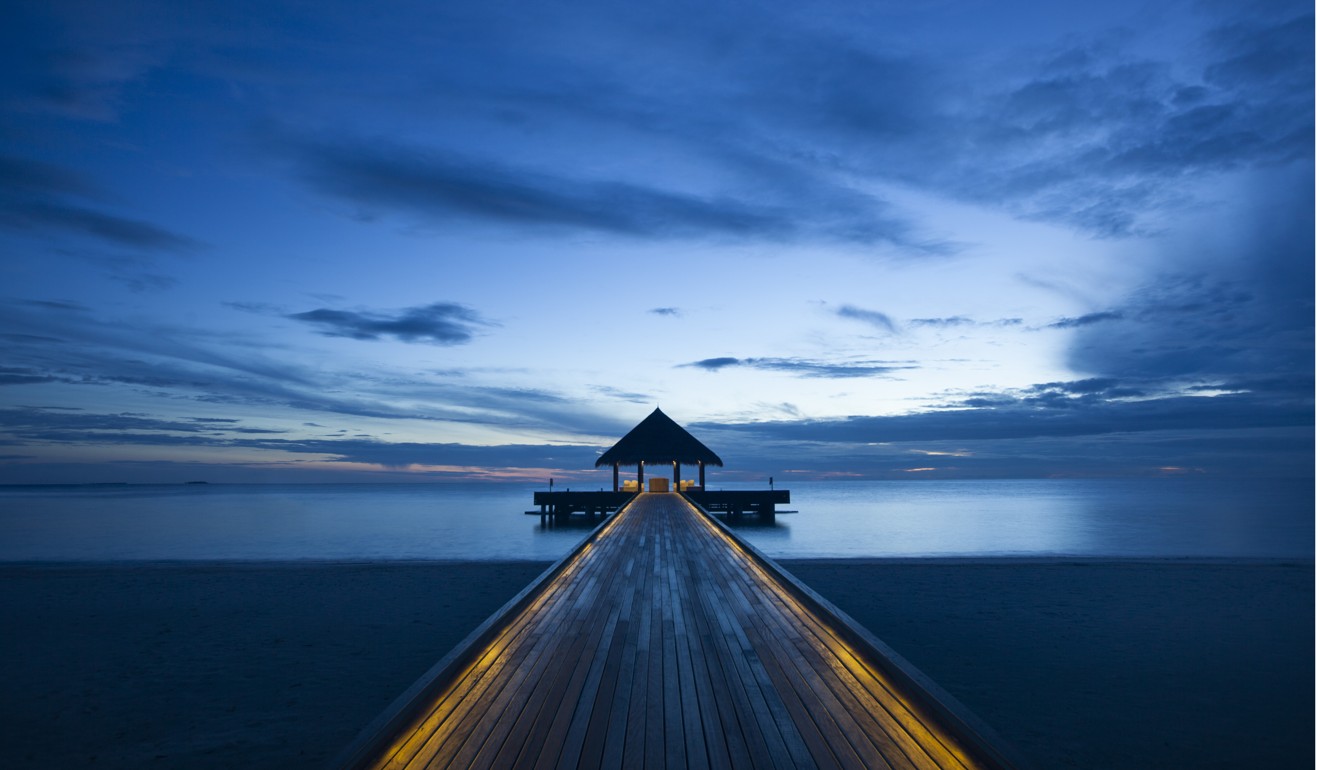 I heard something about coral bleaching in the Maldives. What's that? Sad but true; like many others, all Maldivian coral reefs have been affected by the warming seas. Corals are made up of animals known as polyps. Aside from feeding on plankton, corals supplement their nutri­tion by farming tiny plants, called zooxan­thel­lae, that live inside their tissues.As tem­peratures rise, the corals get stressed and eject their farmed friends, turning unhealthy and white. This process is known as "bleach­ing" and if temperatures stay high, corals die.
The good, bad and ugly sides of the Maldives
Does Outrigger have a solution? No – the only solution is to reduce global warming. But the resort's marine biologist, Caterina Fattori, is encouraging the house reef to recover by replanting corals. Fattori collects pieces of live coral that have broken off naturally, fragments that would otherwise die. Guests join her in attaching these still-living fragments to a metal frame (below) while learning about the challenges of a warmer ocean.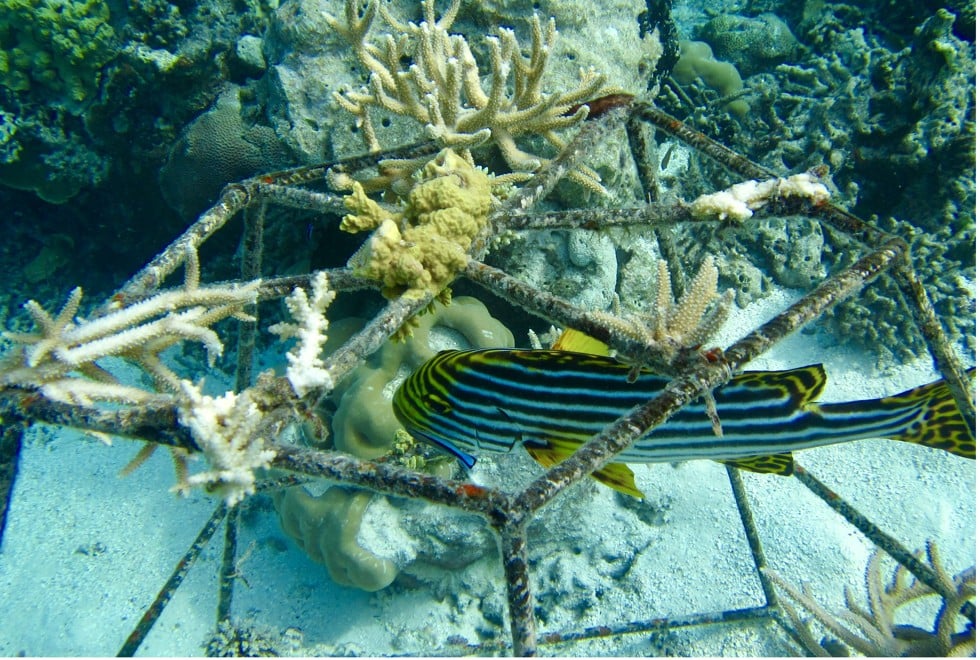 Replanting elsewhere usually involves attaching corals to frames with plastic cable ties, but, in a flash of green innovation, Fattori now uses wire with a soy-based coating. In time, the soy coating biodegrades and the wire is incorporated into the new tissues and skeleton of the coral as it grows.
Maalifushi by COMO: a slice of Maldivian heaven
Sounds fabulous! Is it working? Last April, sea temperatures peaked and many corals (natural and replanted) died. Now, with temperatures slightly lower and techniques refined, more are surviving on the frames. One of the frames even shelters a "cleaning station", where cute cleaner fish set up shop and scrub down the bigger fish.
The spa in the Maldives that's eight metres under water
Are there other eco-learning activities at the resort? A snorkelling trip on a traditional dhoni boat is delightful. On the Turtle Quest snorkel trip, guests swim alongside green and hawksbill turtles and, hopefully, develop some compassion for the endangered creatures. Maldivian guide Jalaal Ibrahim is an excellent snorkel coach, and if the ocean is not within your comfort zone, you can cling onto a life jacket, a life ring – or Ibrahim himself.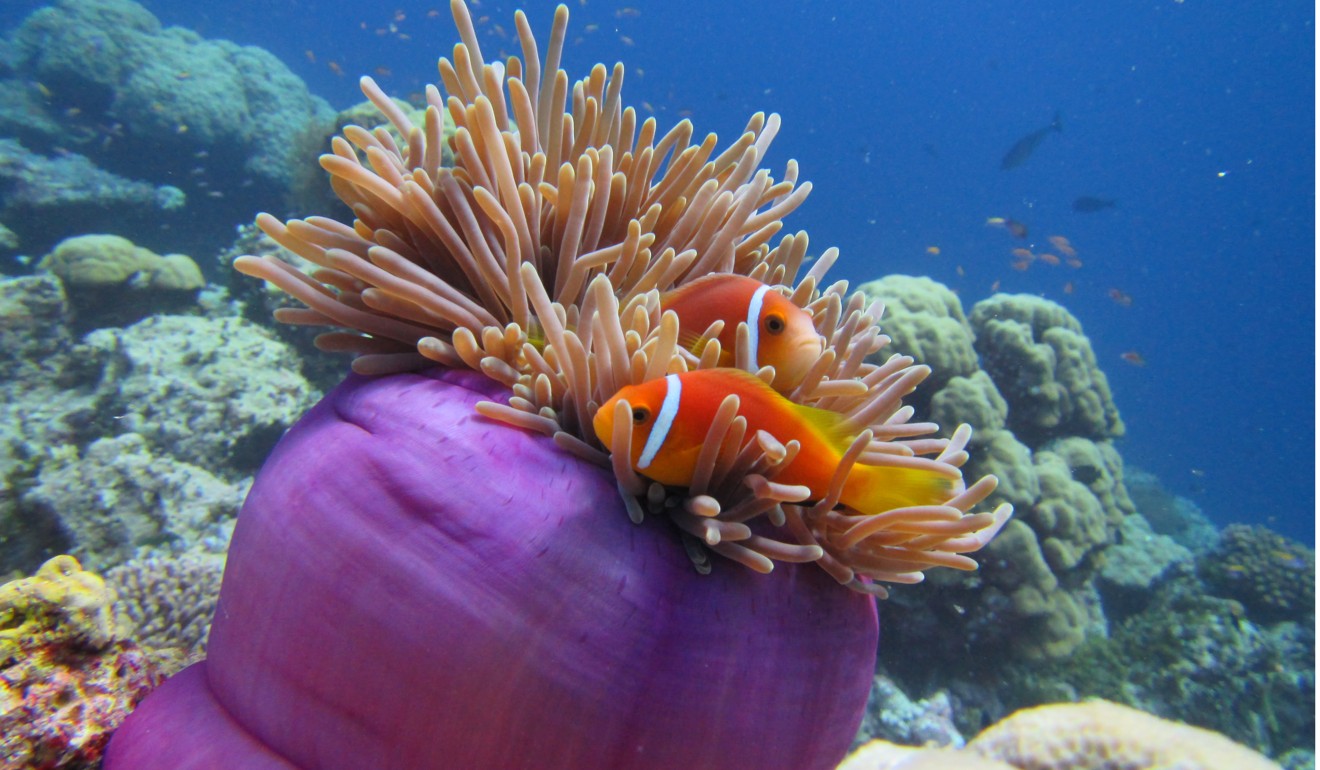 Guided dusk snorkelling is an other­worldly experience. Underwater torches illuminate colourful parrotfish, wedged sideways into crevices, and turtles, sleepy and slow. Harmless reef sharks patrol as iridescent squid pounce on prey. Before finishing, snorkellers switch off their torches and discover bioluminescent plankton, glowing neon blue specs in the moving water. The twinkling seems reflected in the sky, which, with no light pollution from towns or other resorts, is itself a wondrous sight.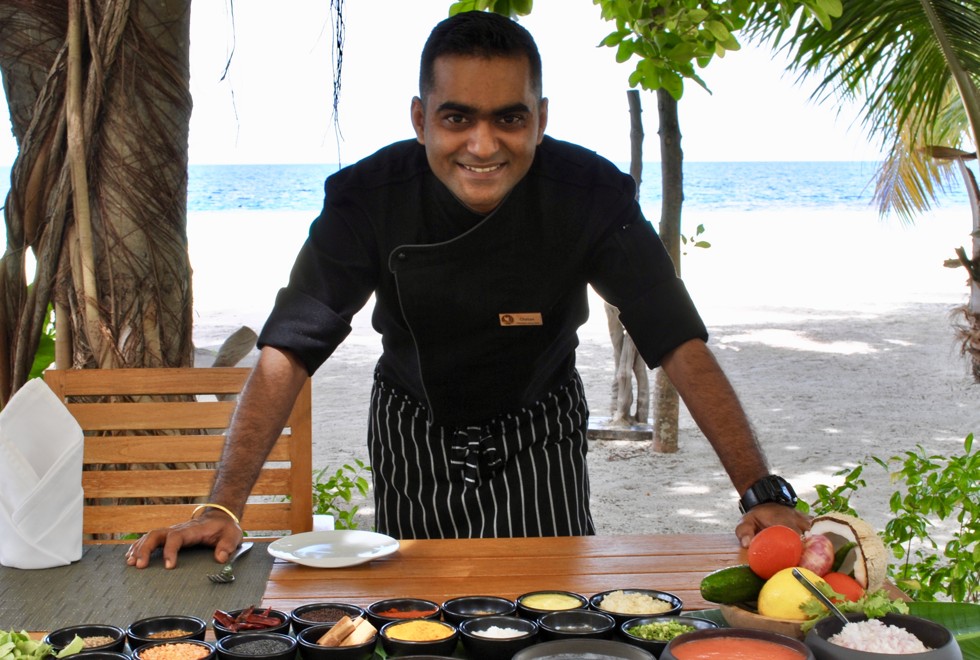 Is there any real Maldivian culture here? If you want, yes. Local island tours take guests to see shipyard workers toiling, fishermen returning with their tuna and kids waving from their bicycles – without a single Maldives snow-dome in sight. Back on Konotta, chef Chetan Shelke demonstrates how to cook his friend's mother's prawn curry. The recipe is a messy souvenir, covered in hand-scribbled notes and splashes of the slurped-up curry.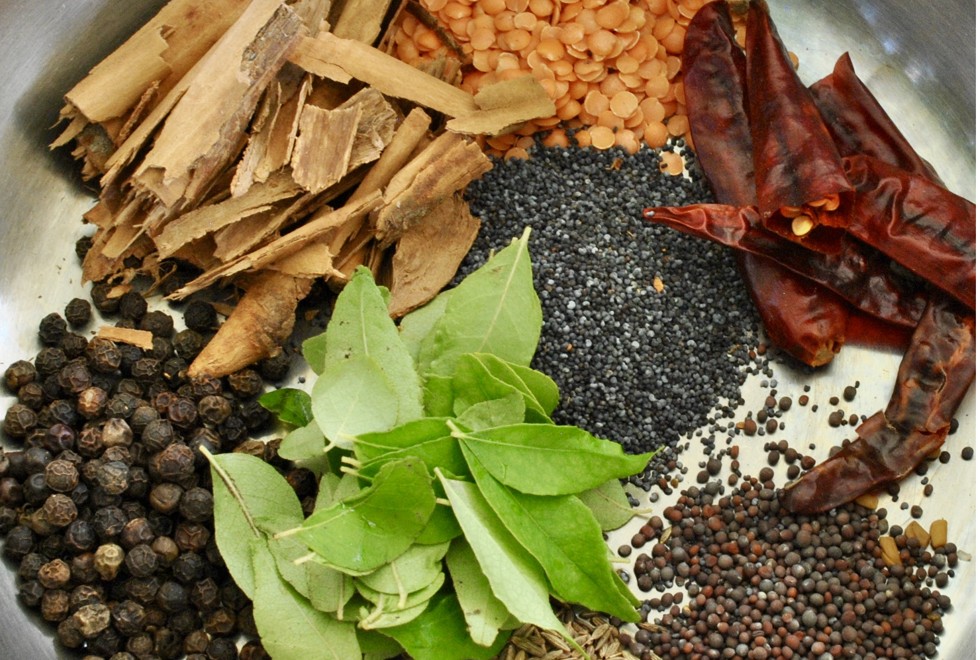 Now I'm exhausted; can I just relax? The Navasana spa caters to your every wish, andit does so sustainably. In a Maldives first, the spa uses its own coconut massage oil, made in-house from the island's many coco­nuts. Want more relaxation? The water jets of a vast hydrotherapy pool pummel guests' skin as they gaze out over the house reef.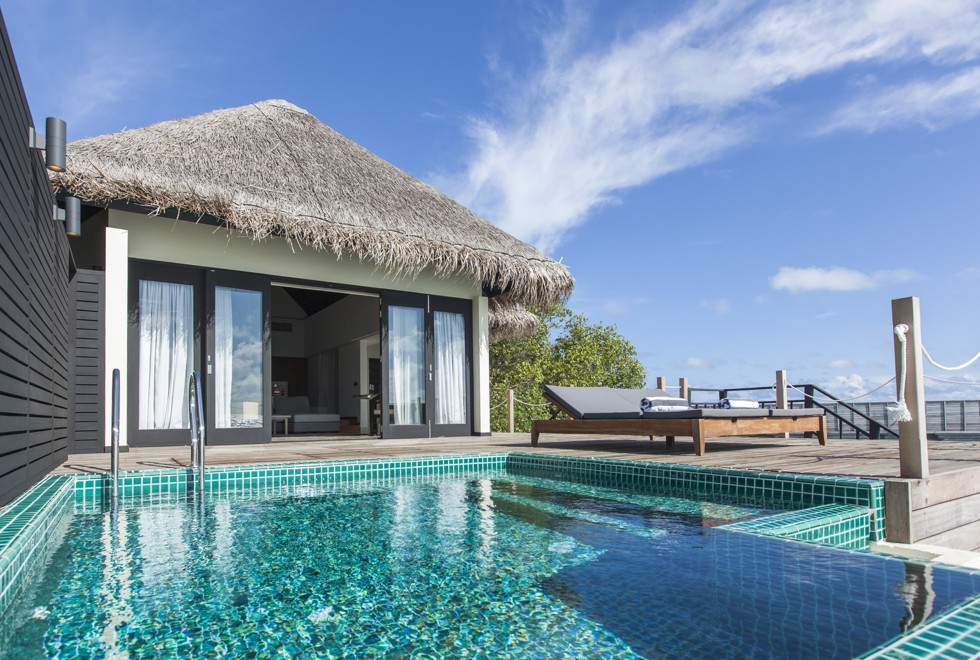 What are the rooms like? Seclusion, space and private pools are on offer in every one. Clever use of vegetation and screening ensures no curious eyes find you swimwear-clad (or otherwise) on your private sun deck. The smallest rooms are huge, at 160 square metres, and the Grand Konotta Villa is an epically proportioned three-bedroom palace.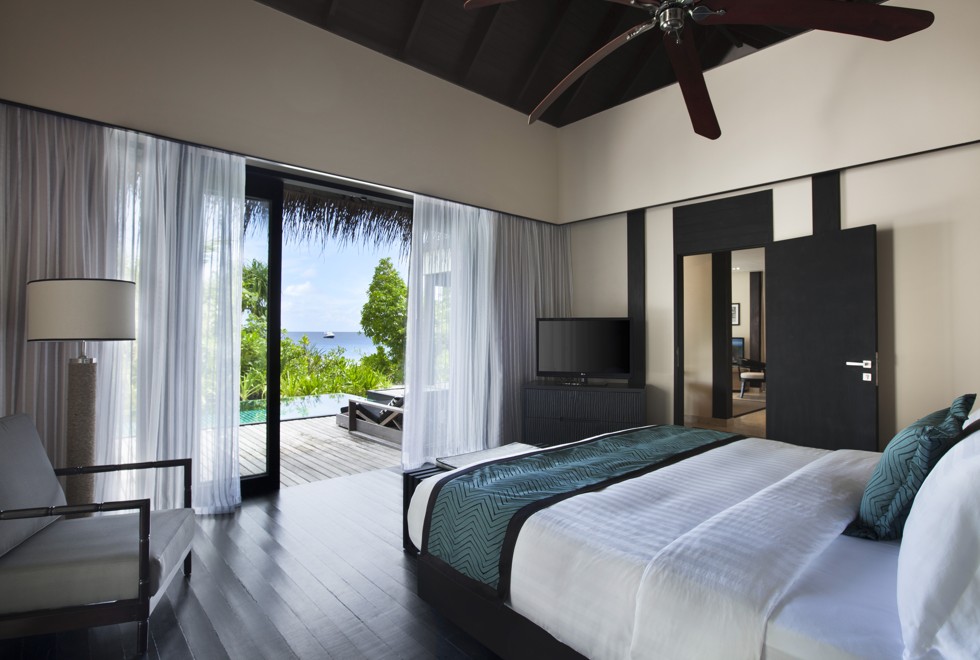 Is all this sustainable for my credit card? It's reasonable for the Maldives. Beach villas for two start at US$426 per night and overwater pool villas from US$540. The Grand Konotta Villa is yours from US$3,989 per night. Prices include breakfast and are subject to 10 per cent service charge and 12 per cent government taxes. The return transfer (domestic flight and yacht journeys) is US$490 per person.