THE GOOD
You can tell that a sightseeing destination has hit the big time when it appears on a banknote. The Li River and soaring karst scenery around Yangshuo feature on the 20 yuan bill, along with the Great Helmsman himself, Mao Zedong.
Offices, boardrooms and embassies across China give pride of place to paintings of the cloud-shrouded peaks that have been eulogised by poets and politicians.
When Bill Clinton visited this part of the Guangxi auto­nomous region in 1998, he observed that "nowhere is like Guilin". Evidently the then United States president was unaware of the saying, "Guilin has the best scenery under the heaven, but Yangshuo is even more beautiful."
A generation ago, while domestic tour groups were making a beeline for Guilin, foreign backpackers were finding their way 90km down river, to a sleepy settlement where the only high rises were natural and covered in vegetation.
A handful of modest lodges catered for the first wave of independent travellers. Cafes began serving up banana pancakes and chocolate brownies, sales of locally brewed Liquan beer spiked and bicycle hire shops started springing up.
Fast forward a quarter of a century and cycling through the rice fields is still one of the most rewarding ways to spend a day in northeast Guangxi.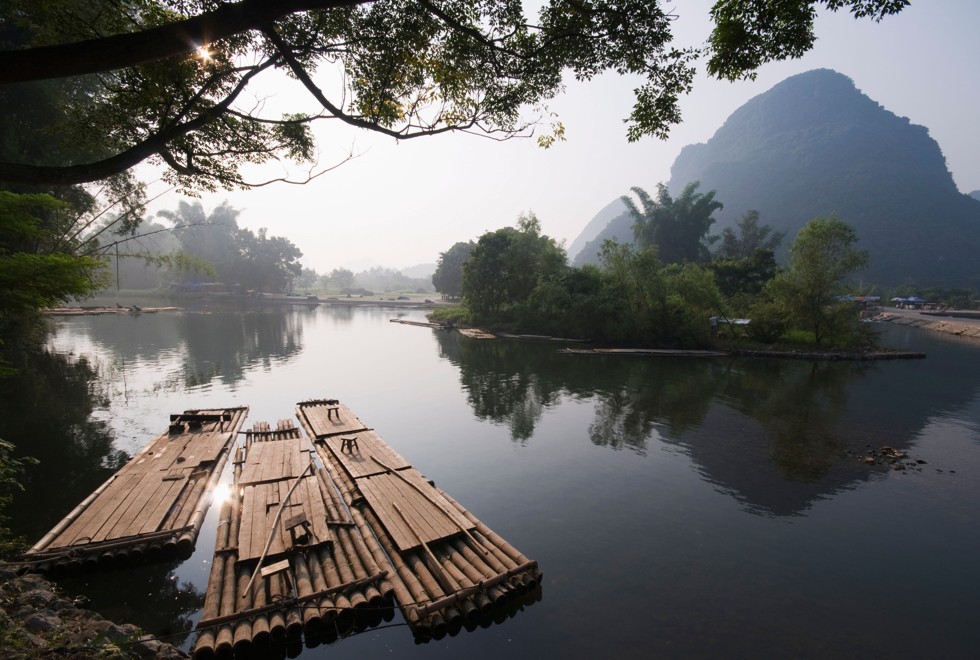 Dirt tracks take riders away from busy main roads, through rugged limestone landscapes filled with toiling farmers and lumbering water buffalo. The natural arch at Moon Hill is popular with an international climbing crowd and offers a number of challenging routes to the summit. For everyone else, a footpath leads to a lookout point with otherworldly vistas reminiscent of a silk painting.
Stop for a bowl of noodles in the village of Xingping and you'll find Yellow Cloth Shoal, the location depicted on the 20 yuan note. Getting lost is all part of the two-wheeled adventure, and if legs start to feel heavy by late afternoon, arrange a ride back to town on a bamboo raft.
Top things to do in Yangshuo: hills, thrills and chilling
Yangshuo lies at the confluence of the Li and Yulong rivers, which form part of a waterway system that connects the Yangtze with the Pearl River Delta. Besides scenic cruises from Guilin, boats, kayaks and inflatable dinghies are all easily hired. Ferries come in handy for river crossings or reaching villages such as Yangdi, from where there's a well-marked hiking trail back to Yangshuo through picturesque paddies and riverine scenery.
Almost as iconic as the pinnacles looming lugubriously through the mist are the wispy-bearded cormorant fisher­men. They appear in television commercials, tourist office posters and pose for countless souvenir snaps aboard their rustic rafts.
The cormorants have been trained to return to the fishermen with their catch – a thread tied around their necks prevents them from swallowing their prey. After watching the birds in action, find an outdoor table at a cafe on West Street, order a bottle of Liquan, sit back and watch the world go by.
THE BAD
West Street's evolution from backpacker hangout to bustling thoroughfare mirrors Yangshuo's own transformation. The tour groups that once homed in on Guilin now descend on Yangshuo in large numbers, and at times it can feel as if you're watching the entire world go by from your coffee shop seat.
Music thumps from competing cafes and bars, tacky souvenir shops have proliferated, as have neon-lit restaurants, international fast-food franchises and street sellers who won't take no for an answer.
One online reviewer recommends sticking to second-floor eateries as the hawkers are less likely to bother you there. It's fair to point out, however, that Yangshuo is hardly the first tourist town to enjoy a surge in popularity while losing something of the traditional character that attracted travellers to start with. And for every visitor lamenting the loss of paradise, there are plenty of others who love modern Yangshuo – even the waxworks museum with Mr Bean outside.
The expats living the quiet life in rural southwest China
But if it all begins to feel overly commer­cialised, head down to the river to see the cormorant fishermen do their thing. These days, though, you'll need to pay for what is, in fact, a tourist show rather than a villager trying to catch his supper. And it isn't a spectacle for animal-lovers. The fishermen sometimes hit the birds for returning empty-beaked, but this section of the Li River has been overfished and pickings are slim.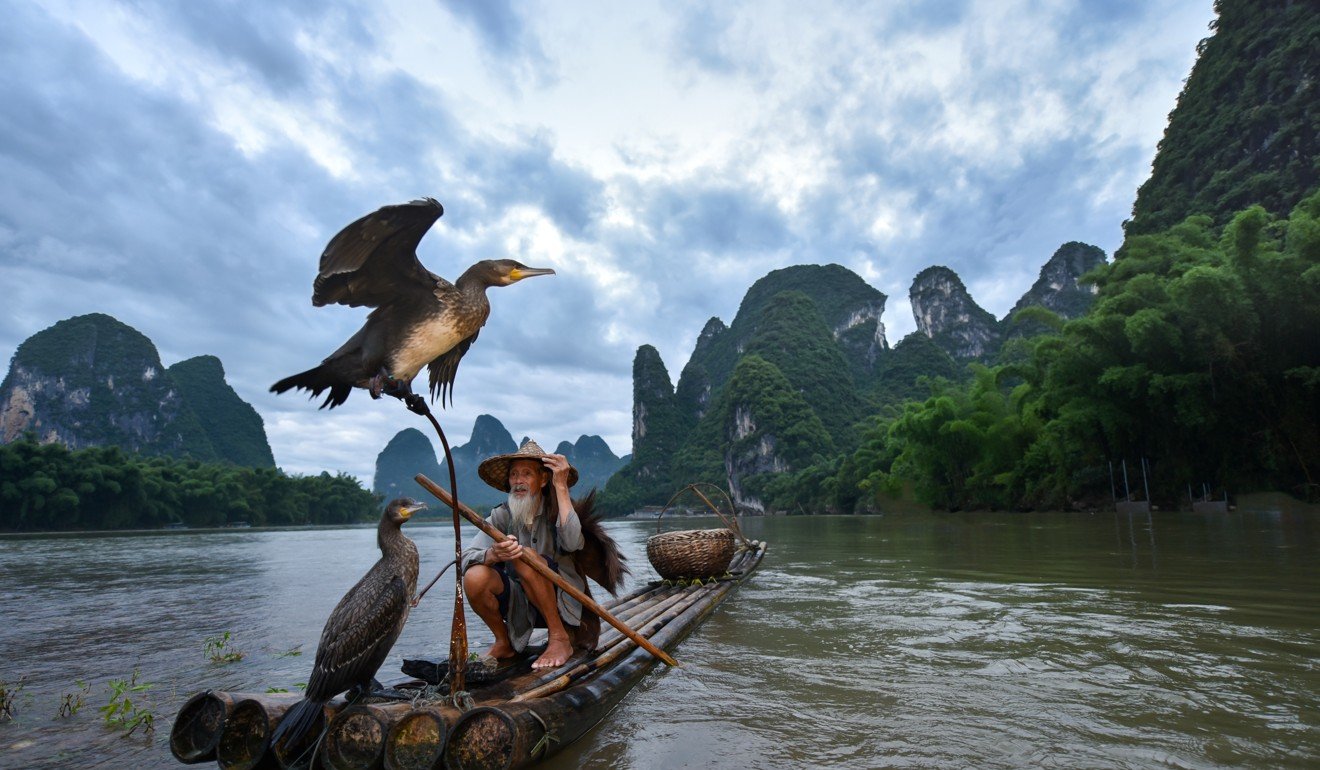 After the show, some sightseers hang around to grab a cormorant selfie (each to their own) while others go online to complain about cruelty and bad organisation, and call for a boycott.
Getting out into the surrounding countryside for a soul-nourishing reconnection with the soil is the real reason you're here. A celebrated description of the fairy-tale landscape, written 1,200 years ago by Han Yu, could have been penned yester­day: "The river winds like a green silk ribbon, while the hills are like jade hairpins."
There's no record of the Tang dynasty poet going on to warn that "bicycle thieves move unseen, like a whisper on the wind". Don't hand over your passport as a deposit – some say hirers are in cahoots with the thieves and you won't get the document back until you've paid for a replacement bike.
And check the machine thoroughly before renting; the rural trails and paths are great for venturing off the beaten track but they're bumpy and many of the bikes aren't in great condition.
Travelling with an Instagram Addict... to Guilin and Yangshuo
To travel hopefully is a better thing than to arrive in Yangshuo county. Time spent admiring the surreal settings and marvelling at ancient farming methods will stay in the memory far longer than the nondescript settlements where pedallers pause for reviving cups of tea and haggle for painted paper fans.
Fuli, Yangdi and Xingping offer little to interest the visitor besides their markets, which attract almost as many pickpockets as tourists. And be wary of locals who sidle up and say they just want to be your friend. It'll probably end in tears.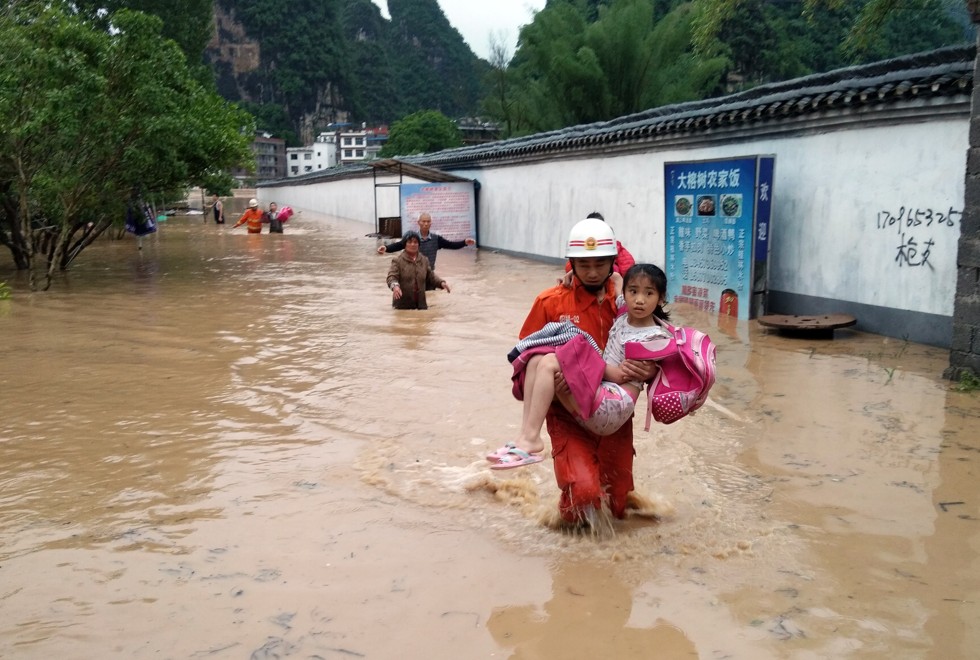 THE UGLY
Prolonged spells of heavy rainfall across southern China earlier this year led to flooding in Yangshuo county that was described as the worst in 100 years. Villages were cut off, houses collapsed and power outages lasted for days. The bamboo rafts were used by locals to navigate the streets rather than to transport tourists.
Getting there
Cathay Dragon flies between Hong Kong and Guilin. Travel is also possible by train. From Hong Kong take the MTR to Lok Ma Chau, then the Longhua subway line from Futian to Shenzhen North Railway Station. From there take a train to Guangzhou South. High-speed trains travel between Guangzhou South and Yangshuo Station (in Xingping), from where a bus takes you to West Street, Yangshuo