The first thing you notice about Thredbo are the crows. There are entire murders of the noisy, shiny creatures. Morning slumber is punctuated by the mournful and slightly risqué calls of faark, faaark, faaaaark!
The second thing you notice about Thredbo are the hellishly fit people. Every­where you look, the activewear mob are out in force, pedalling mountain bikes, trekking to summits, paddling canoes and – when the snow falls – carving up the slopes on boards and skis. Entire families are at it, everyone from toddlers to octogenarians in compression tights and beanies.
It's enough to make you cry, "Faark!"
Since it was established, in 1957, a year after the first ski lifts were installed and lodges opened, Thredbo has been Australia's premier outdoors destination. Midway between Sydney and Melbourne, the alpine village was largely built by Europeans, foremost among them Czechoslovakian ski instructor Tony Sponar, who worked on the Snowy Mountains hydroelectric scheme and was looking for a place where he could enjoy a ski and some schnapps.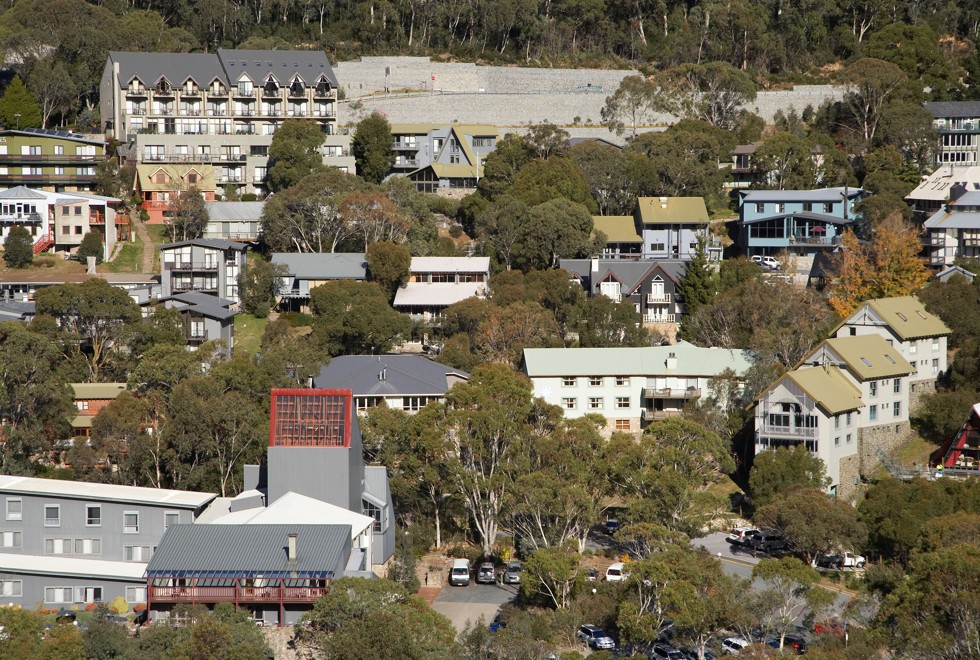 The Euro influence can still be seen in chalet names – Alpenhorn and Winterhaus, for example – and the BMW, Porsche and Mercedes-Benz SUVs in the car parks.
At 1,365 metres above sea level, Thredbo was established as a "year-round" resort, hardy bush walkers and fly fishermen as well as skiers seen as potential visitors, but it's only in more recent times that the village has hit its straps when the snow melts.
"When the beaches are crowded and the coast is just too hot, people love to head for the hills," says Thredbo's communications manager, Susie Diver. "Some just come to look at the meadows of wildflowers."
The wild flower season starts on December 11 and Thredbo has a lot of other seasons, including a fly-fishing season (which began on October 2) and a walking season (November 4), during which those well-kit­ted-out families disappear into the wilder­ness. Some warm up with the 6km stroll from the top of the chairlift to the summit of Australia's highest peak, Mount Kosciuszko (2,228 metres), visiting along the way the highest lake: Cootapatamba.
Many of the 300,000 summer visitors who do not come for the walking are attracted instead to the Thredbo Mountain Bike Park, an evolving series of trails that cover the same slopes above the village that skiers use in winter. And yes, there's a mountain bike season; it starts on November 18.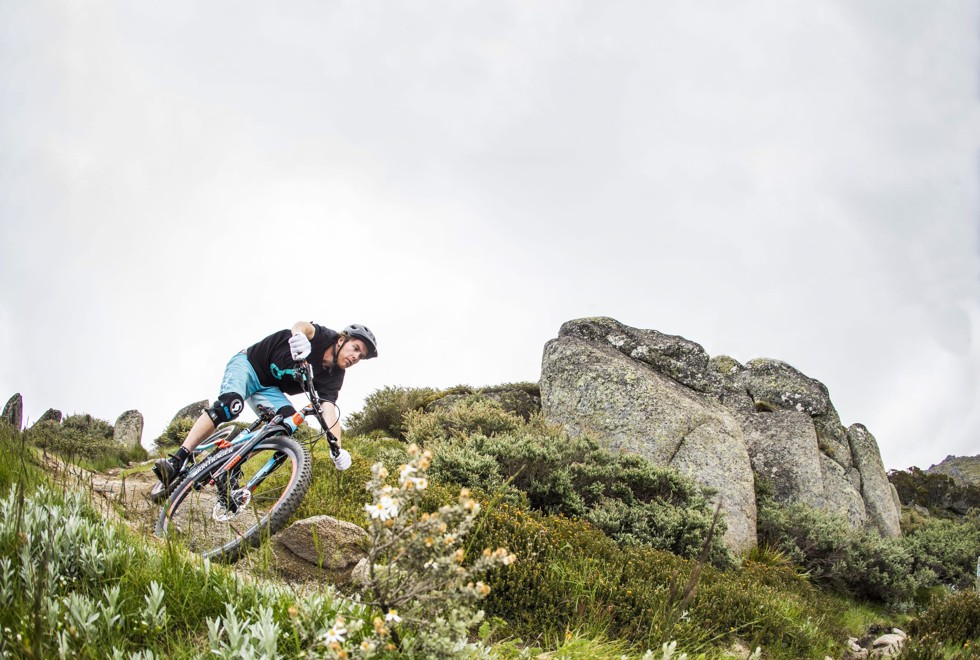 Except for the native snow gums that dot the rocky slopes, the chocolate box scene in the valley below resembles an Austrian alpine village, with its gingerbread chalets and gabled rooftops.
Standing at 1,930 metres above sea level and decked out in plastic body armour, full-face helmet and gloves, I look, no doubt, as though I'm in the grip of a mid-life crisis, the owner of one of the racier Porsches parked below. All I need are a chunky gold chain and a tribal tattoo.
Ahead is the Kosciuszko Flow Trail, named after the sloppy white peak a further 300 metres above us. Thankfully, we have been able to haul our bums and bikes up aboard the express chairlift, so our legs are fresh for the 4.5km of downhill madness that is about unfold.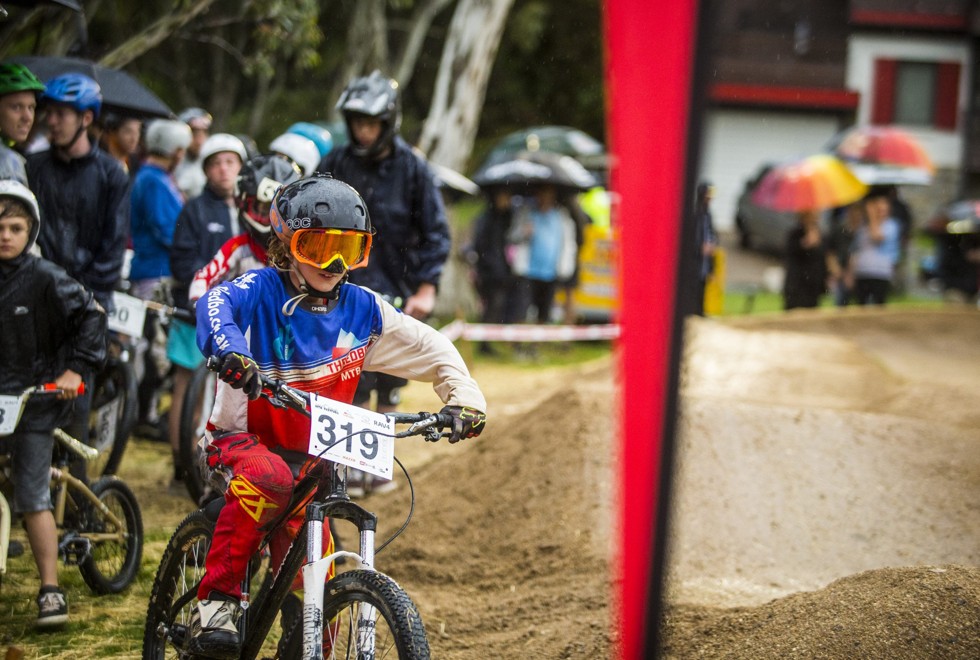 The Flow Trail is rated intermediate, and is touted as being an introduction to downhill riding, or a warm-up for Thredbo's signature trail: the Cannonball Run. Named in honour of one of the worst Hollywood movies of all time, that run descends 600 metres vertically through tree-lined slopes, hurling riders over rock drops, jumps, wall rides and an assortment of other technical elements designed to keep orthopaedic surgeons in the lap of luxury.
Even the Flow Trail proves to be a challenge – but boy is it fun; a gravity-fed roller coaster of rock gardens, rollers and super-fast berms.
Those who prefer a more leisurely ride might opt for the recently completed Thredbo Valley Track, which winds for 30km from the village through eucalyptus forests along the Thredbo River, to Lake Crackenback Resort.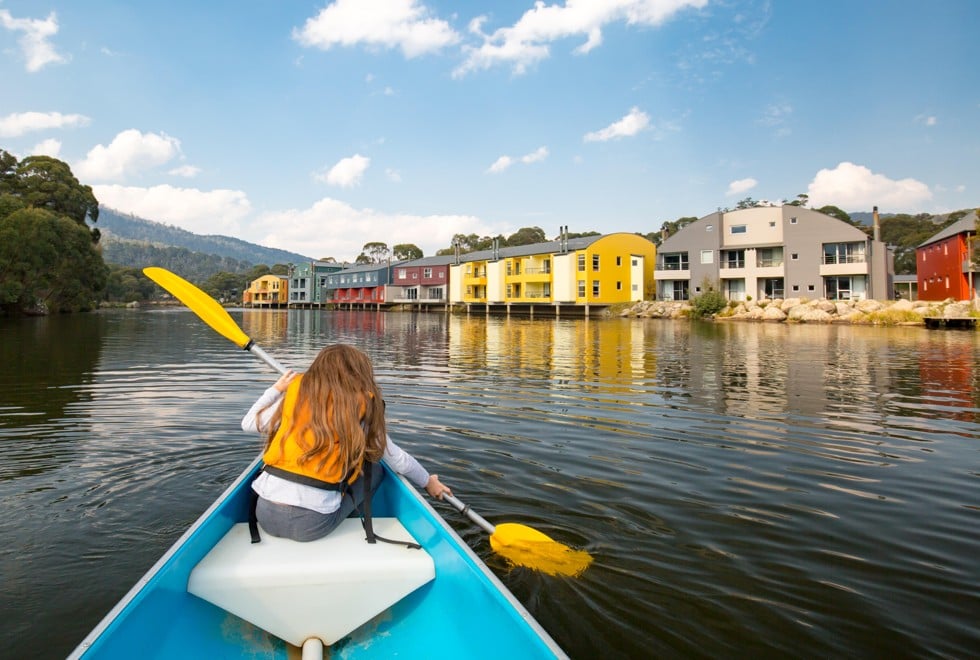 The 48 apartments built in 1990 along a picturesque purpose-built lakefront adjacent to the Kosciuszko National Park were recognised for their cutting-edge design, picking up the Sir John Sulman Medal for architecture. Lake Crackenback village has since grown to encompass about 100 chalets set over 61 hectares, many with views of the Rams Head Mountain Range. Strict building codes have ensured the chalets are constructed from materials sympathetic to the local environment, such as timber, iron and stacked stone. The setting is thus enchanting, like something out of a Bing Crosby Christmas movie.
Lake Crackenback too is becoming as popular in the warmer months as it is in winter, with mountain bikers especially.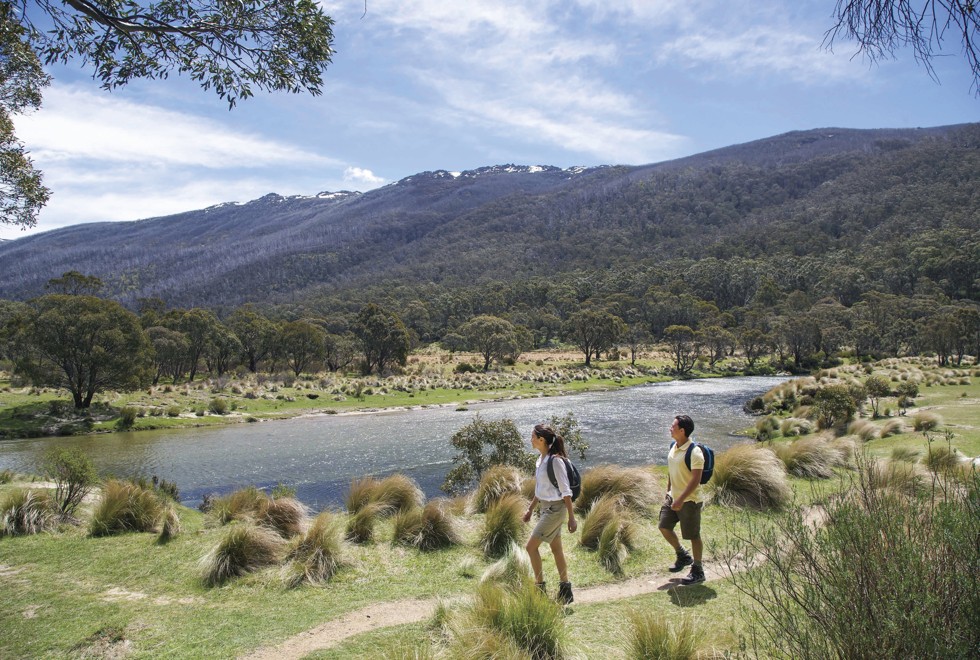 During the day, families not on two wheels canoe, hike and swim, and as dark­ness falls, we head out with our torches on a nocturnal "critter walk", spotting plenty of wombats and kangaroos grazing on the lawns beneath a wide, star-flecked sky.
The silence is almost deafening here, while, back in Thredbo, less than 10 minutes away by car, there's probably a festival going on. The Cannonball MTB (Mountain Bike) Festival kicks off on December 6 followed by the School Holidays Adventure Festival (from December 23 to January 6) and the Craft Beer Festival (February 10). The Thredbo Blues Festival will be held in January (19-21) and the High Country Wine and Cheese Festival in March (9-11).
"The 'off-season' is a bit of a misnomer these days," Diver says. "Thredbo is always turned on."