Where is it? When Italian film director Bernardo Bertolucci's location scouts – look­ing for some­where to shoot Little Buddha (1993) – hit upon Bhaktapur, east of Kathmandu, in Nepal, they knew their quest had ended. Once an independent city state, the medieval township barely needed any tinkering with before the cameras could start rolling. Damage from the 2015 earthquake is currently under repair, but Bhaktapur's essential character remains the same.
The Peacock overlooks Dattatreya Square, steps away from the carved wooden peacock window that is the pre-eminent example of local arts and crafts. Calling itself a "guest house" is being overly modest. The Peacock is a charming boutique hotel – contained in a 700-year-old former pilgrims' rest house – run by a human dynamo who combines a Singapore and British education with a ton of Nepalese charm.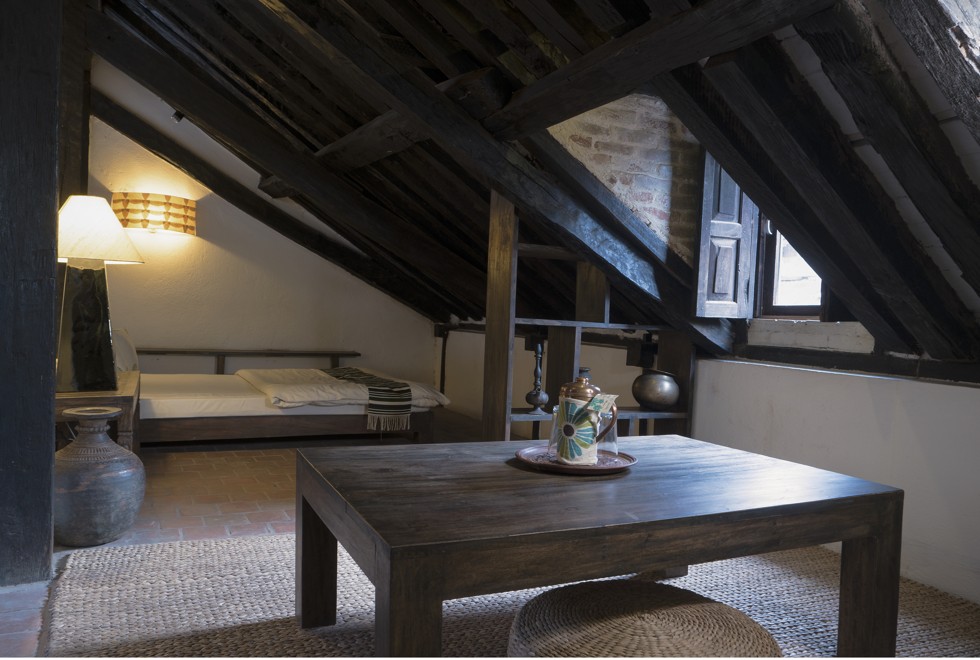 What is it like on the inside? Abandon height, all ye who enter. Low, raftered ceilings, steep staircases and titchy landings and corridors make the Peacock an intriguing wooden labyrinth.
The best guest room, Baithak, overlooks the square while the trio of Varanda rooms overlook an inner central courtyard. The remaining five regular rooms are right under the tiled roof, with charismatic sloping ceilings.
As might be expected, the furniture was all made in Bhaktapur, and the rest of the décor – wooden pegs for hanging clothes, a copper jug for water, antique items in niches in the walls, elephant grass mats – fit in seamlessly. Air conditioning and TV would be intrusive, but there's free Wi-fi throughout.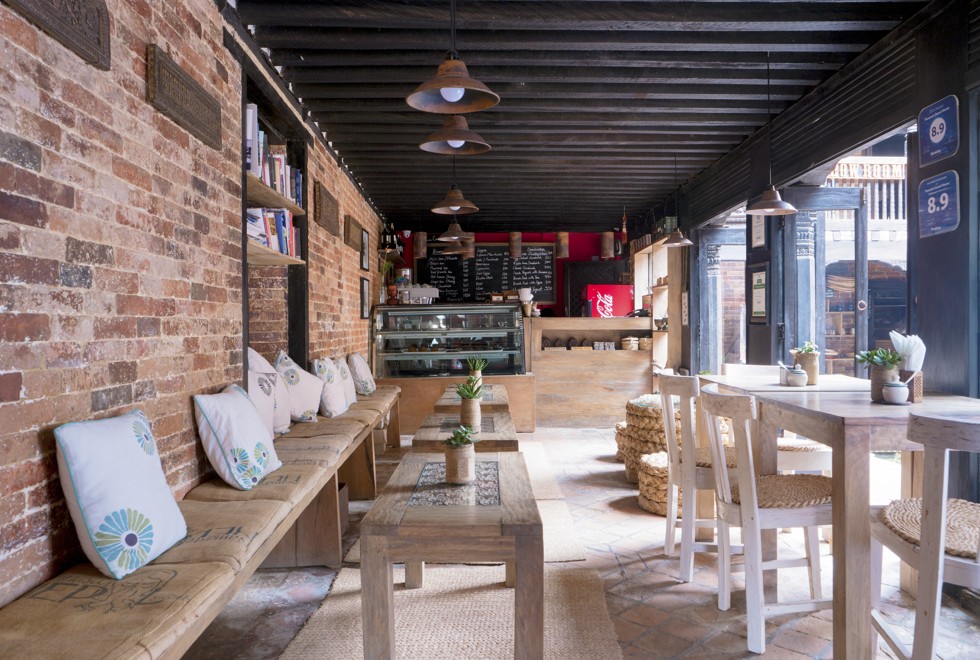 What is there to eat? Bhaktapur's culinary ace in the hole is juju dhau, a creamy buffalo milk yogurt that comes in a clay pot. Naturally, this appears at breakfast – which is served in the central courtyard, known as the Mayur ("peacock") Restaurant – along with eggs, fruit and coffee or tea.
The Himalayan Bakery next door is run by the hotel – its waffles are especially toothsome. Lunch and dinner menus embrace Asian and Western fare, but should they fail to tickle your fancy, there are plenty of other restaurants and cafes in walking distance.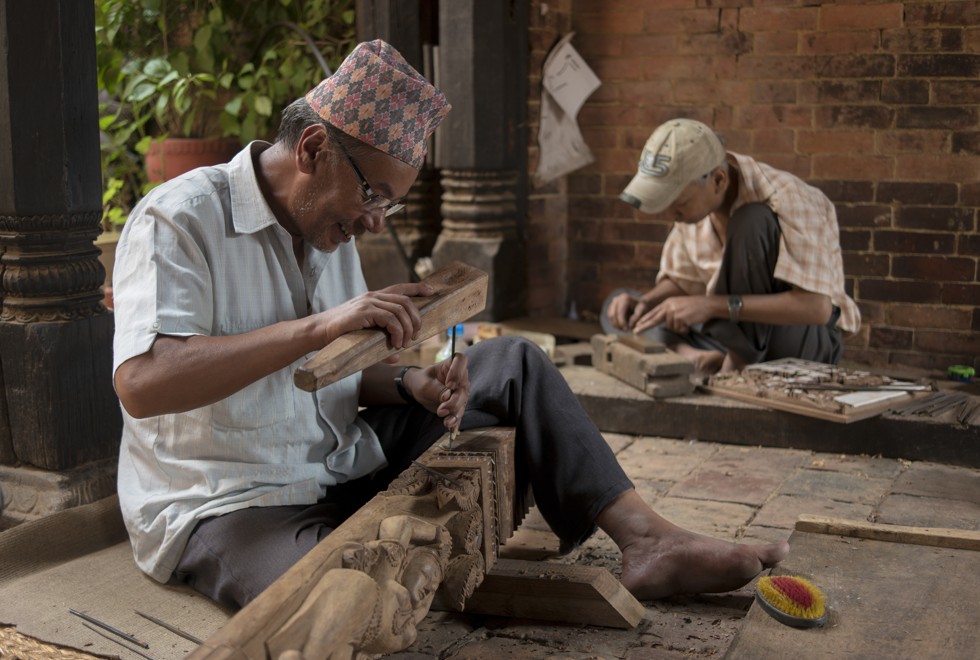 Anything else worth knowing? Rather than a gift shop, the Peacock can boast (travel literature's most redundant verb, but perfectly correct here) a workshop. Using little more than hands, feet, brain, chisel and hammer, its full-time artisans carve exquisite designs on hard wood in precisely the same fashion as their fore­fathers. Guests are more than welcome to pull up a chair and marvel.
While wood­carving was a strictly male occupation, the Peacock makes a point of employing women, thus preserving an age-old tradition while promoting equal rights. The workshop's finished products are displayed for sale in an upstairs showroom. New parents may find it difficult to resist a rocking horse.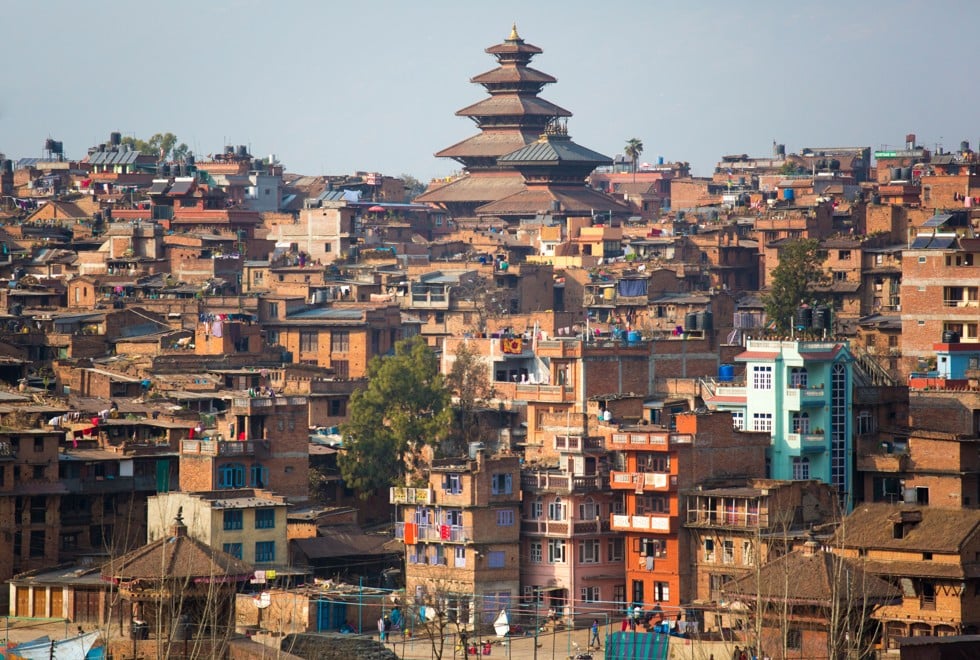 What lies beyond? There's a wealth of history only steps from the main entrance. Two ancient temples face each other across the square, and narrow winding lanes lead to the rest of Bhaktapur.
While it's a popular tourist destination, this is still very much a thriving community, with artisans plying their trade on the pavements, crops laid out to dry in the sun, larking children wending their way to and from school, and domestic animals browsing for scraps of food. There are plenty of souvenir shops, but the highest-quality woodcarvings are back at the Peacock.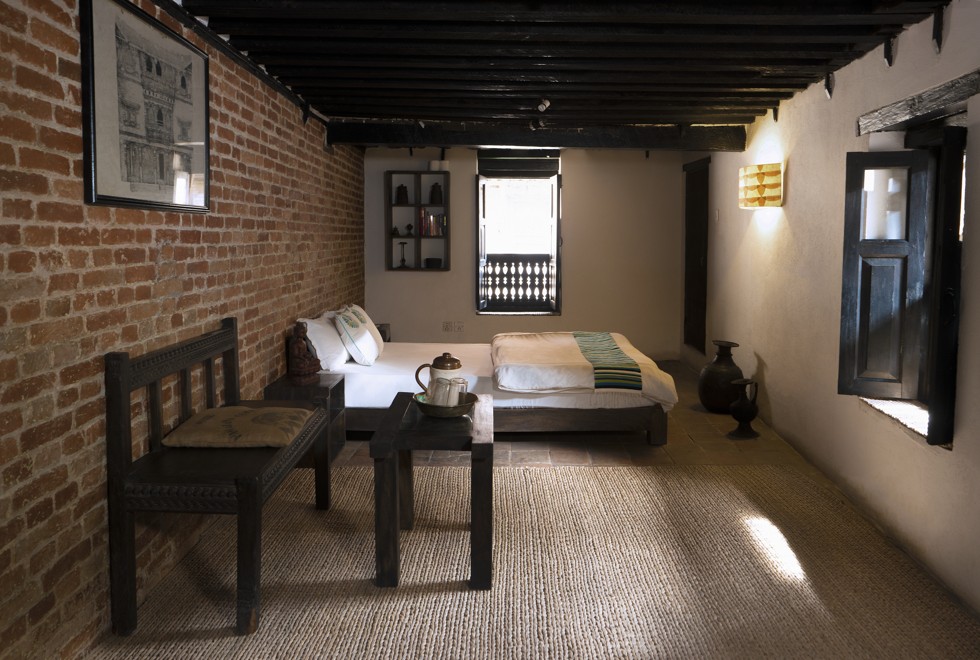 Bakri, a photogenic, frisky male goat, often lolls by the main entrance in the hope of getting something to eat in return for acting as the Peacock's semi-official mascot. The hotel can arrange bicycles, but shanks' pony allows for the easiest exploration.
What's the bottom line? Rates start at US$45 for a single room and US$80 for a double, and include breakfast. A US$15 entry fee to Bhaktapur goes to fund restoration work.