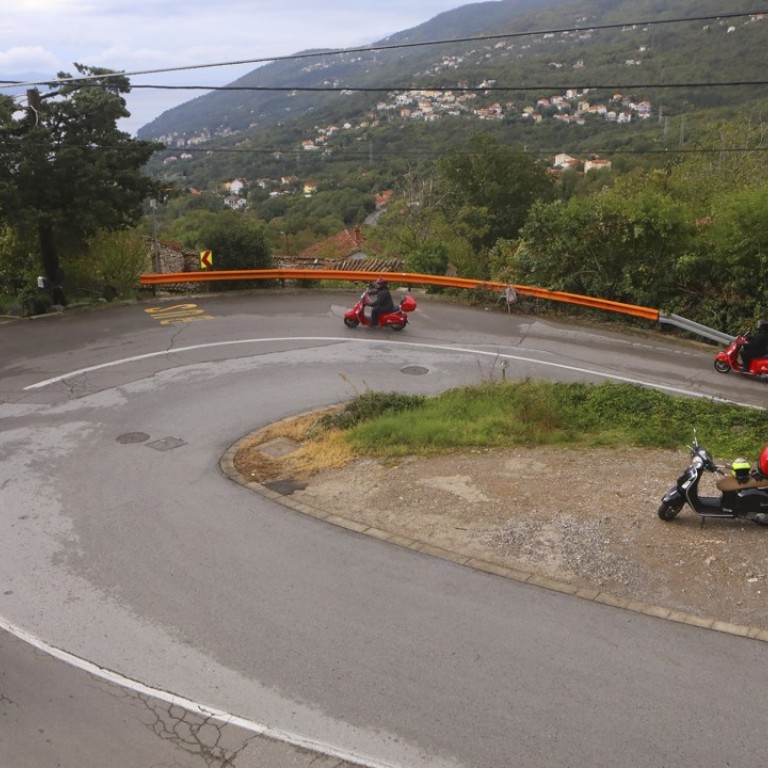 Vespa tour of Croatia and Slovenia offers taste of Hollywood glamour
Feel like Melania Trump before she was famous, and Gregory Peck and Audrey Hepburn in classic 1953 film Roman Holiday, on an off-season scooter trip through the Istrian Peninsula's ever-shifting landscapes and medieval villages
Puttering into Porecčon a peppy red Vespa scooter, I plunge from cobbled streets onto a tiny piazza shaded by date palms and myrtles. A wel­coming line of gelato sellers and outdoor cafes is set out under awnings, brilliant in the warm late autumn sunlight.
In the harbour, elegant schooners, megayachts and old wooden fishing boats bob gently in an Adriatic Sea of Hockney blue.
Feeling as carefree as Gregory Peck in Roman Holiday, I sling my jacket over my shoulder and set out to explore the Croatian town's warren of narrow alleys on foot as the rest of the group buzz in behind me.
At sweet sixteen, a Slovenian girl named Melanija Knavs rode to the Adriatic Sea on the back of her boyfriend's blue Vespa. When Peter Butoln was conscripted into the army, the aspiring model (now known as Melania Trump) started dating a friend: "He had a red Vespa." Which sounds a little like the plot line in Roman Holiday, the 1953 movie in which Audrey Hepburn's character – a bored princess – falls in love with an American reporter after they explore the Eternal City astride his Vespa.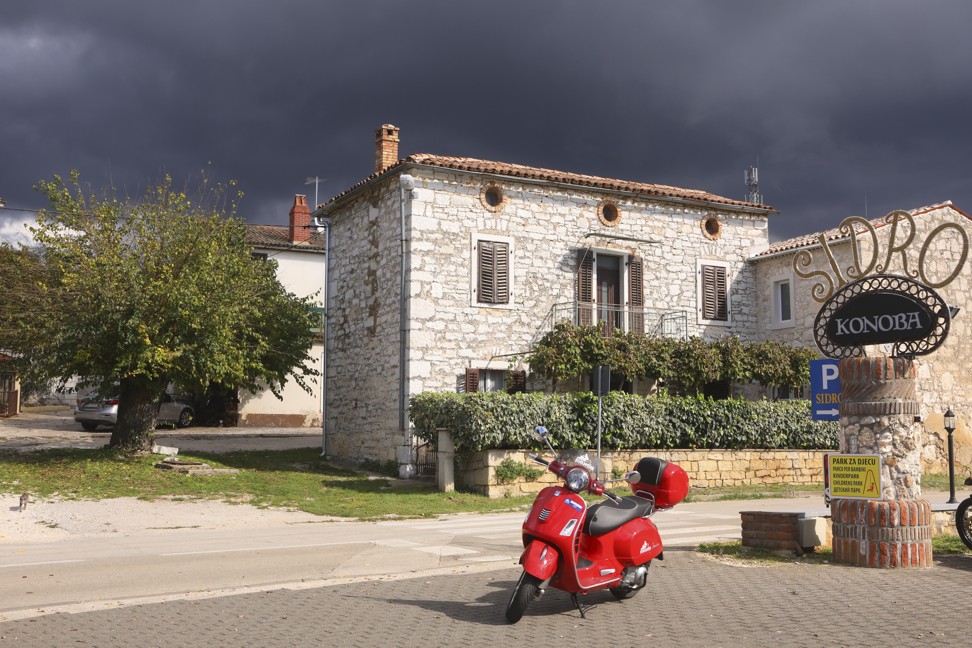 I liked the segue. So I signed up for a scooter holiday, hoping to capture the romance and retro spirit while zipping around the Istrian Peninsula, a knob of land shared by Croatia, Slovenia and Italy, on a state-of-the-art Vespa 300GTS. The humble step-through motorcycle first made to buzz around bombed-out Rome is today a sophis­ticated, 278cc, twist-the-throttle-and-go auto­matic. Compact and über-manoeuvrable, it proves perfect for exploring the pendulous heart-shaped peninsula dangling into the Adriatic.
We set out for each day of hub-and-spoke touring from the chic Adriatic resort town of Opatija, set in the embrace of a wide bay. What France's Cote d'Azur once was to Western aristocracy, Opatija was to the Austro-Hungarian elite. They jazzed up the town's Venetian heritage with grand spa hotels and handsome belle-epoque villas. Our hotel, the Kristal, rises dramatic­ally from the Lugomare seafront promenade and hints at a genteel past.
At dawn, a cold breeze whips the Adriatic with whitecaps and fills my curtain like the spinnaker of the fishing boat scudding into the harbour below. Then the sun bursts over the mountains, casting the riviera in high relief.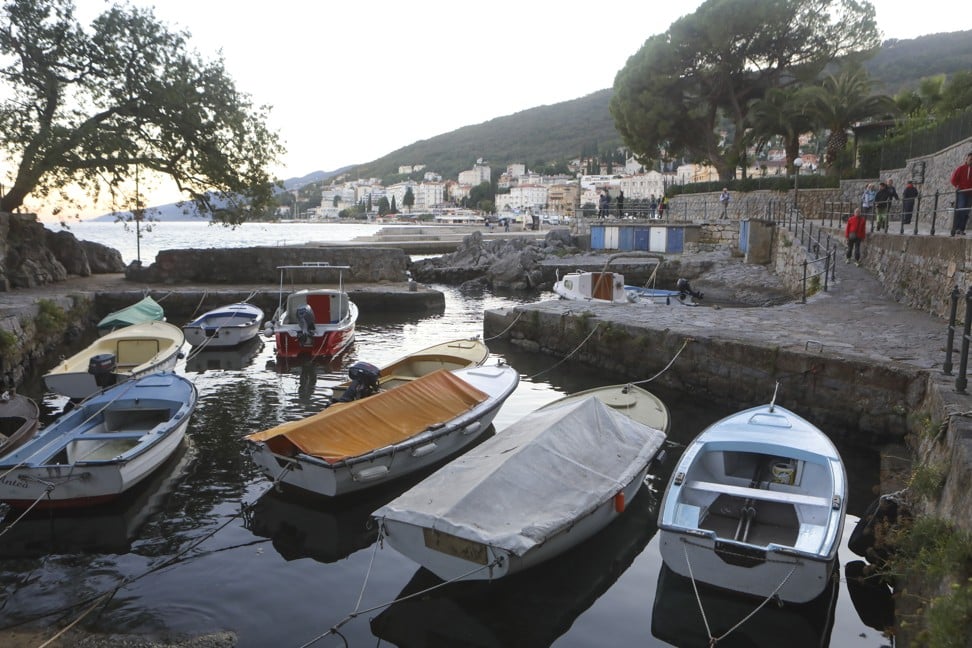 Our ride to Slovenia – all 185km of it – is invigorating. We coil sharply up from Opatija, the switchbacks strewn with loose gravel. The chill air bites as we speed north on the undulating A7, scrolling in broad arcs and tight curves through Istria's craggy, wooded interior.
It's unseasonably cold – the Vespa's temperature gauge showing a brisk 10 degrees Celsius – so a warm-up stop at a roadside bar-cafe (advertising itself with posters of go-go dancers and a Ural motorcycle atop the roof) in the modern Slovenian town of Ilirska Bistrica is most welcome.
We ride on to Postojna, to visit the eponymous underground caves. Hollowed out more than two million years ago by the Pivka River, this vast karst system spans 24km of sinuous chambers, caverns and halls big enough to swallow crowds.
Our tour covers about 5km, beginning with a 3km journey by Disneyesque electric train, which feels like it's whisking you into the lair of a James Bond villain. Here, though, the massive stalactites and stalagmites and flowstones that resemble plicated translu­cent curtains are real.
We return south through medieval hilltop villages with melodious names – Senozece; Sokolici; Rocko Polje – the drizzle failing to dampen spirits as we corkscrew back into Opatija.
Istria is best avoided in summer, when the blazing magnesium sun haunts its noons and tourists descend on the resorts in droves. But in late autumn-early winter, the tranquil hinterland, with its woods of chestnuts and beeches and fragrant olive groves and vine­yards, is virtually devoid of traffic.
Even the popular resort town of Porec, a thumb-shaped spit of land on the west coast of Istria, is unruffled when we visit on Day 2.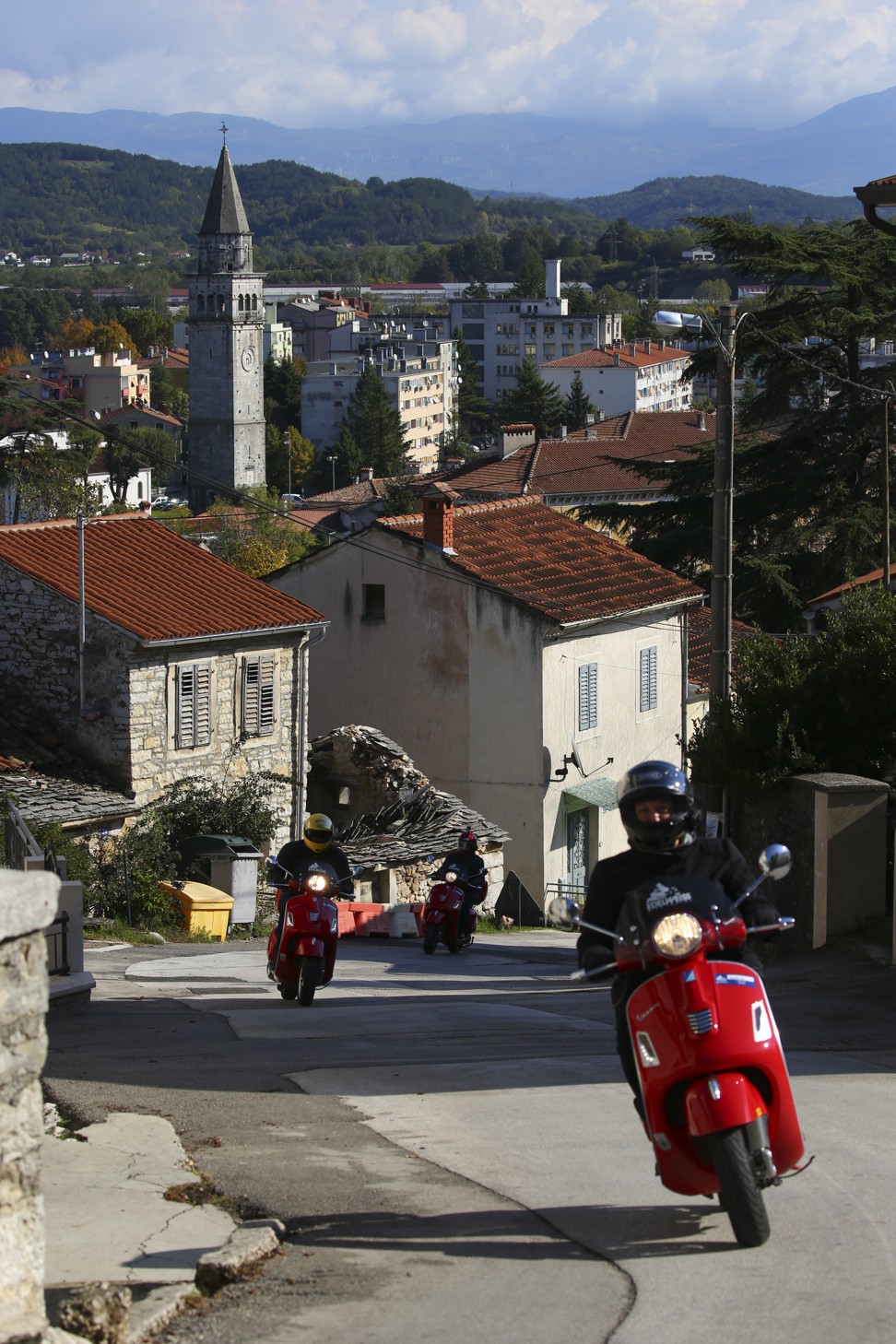 The sixth-century Euphrasian Basilica is closed for repair but plenty of joy can be found strolling the ancient walled city, with its interconnected lanes softly variegated in ice-cream pastels. Laundry flaps from balconies adorned with flowers in bloom.
We close with an intoxicating throttle-to-the-stop ride along the tortuous clifftop north from Zagorje. My Vespa roars dotingly as I pour on the gas, the cold, dry wind pressing hard on my lips. The road moves past in fast sweeping bends, following the contours of ravines necklaced with fishing villages tucked into coves, and ridges tending gorgeous views over the Adriatic.
"I clocked 112km/h. Could that be right?" I ask our guide, after we return to the hotel. "Nah!" he replies. "The Vespa speedo is famously optimistic."
Istria has been hailed as the "new Tuscany"; and not only for its olives, vines and sun-bleached hilltowns. Fortunately, it's truffle season, when the prized Tuber magnatum – found in Istria's oak forests in abundance – is a highlight on menus. Elsewhere, truffles are regarded like diamonds; in Istria they're shaved on any number of pizzas, pastas and fluffy risottos.
Dinner at the warmly Tuscan-style Restoran Roko proves why gourmands gravitate to this part of the world: prsut (local prosciutto) and cevapcici (plump Balkan sausages) washed down with fruity Malvazija and robust Teran wines.
The chef scoops pizzas as big as wheels from the brick beehive oven in the open kitchen. With its beamed ceiling, walls of cut stone and aged brick, and the kiln's toasty glow, Roko feels as cosy as a snug winter glove.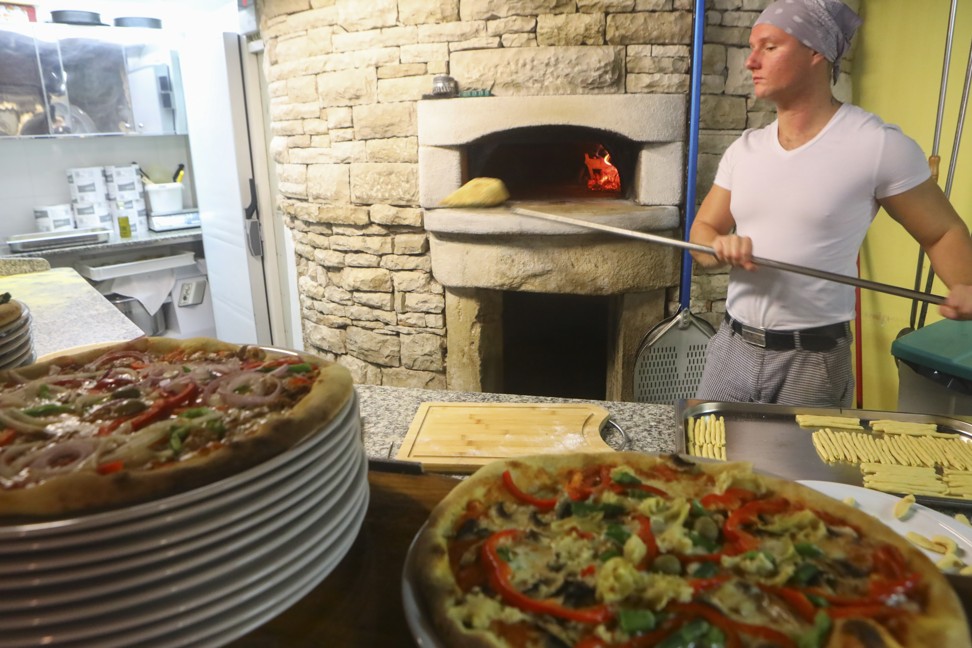 The next day, we ride under a crystal-clear sky into the land of the lynx, wolf and bear (although we encounter none). Leaving civilisation behind, we wind up through rugged karst scenery into a wild mountain region only 30km northeast of Opatija. We climb into thick beech forest, leaves falling like confetti, wet and slick – and pine forest above 3,000 feet.
Then dizzyingly down to the lakeside Caffe Bar Mrzlica – its roof topped by a minia­ture motorcycle welded jauntily atop a pole – for a warming cappuccino, and on to Crni Lug. The alpine village – which appears Swiss, with its sharp-angled shingle roofs, florid window shutters and flower boxes over­flowing with pink and purple geraniums – is the gateway to the little-visited 60-square-kilometre Risnjak National Park: a world of leafy green peace.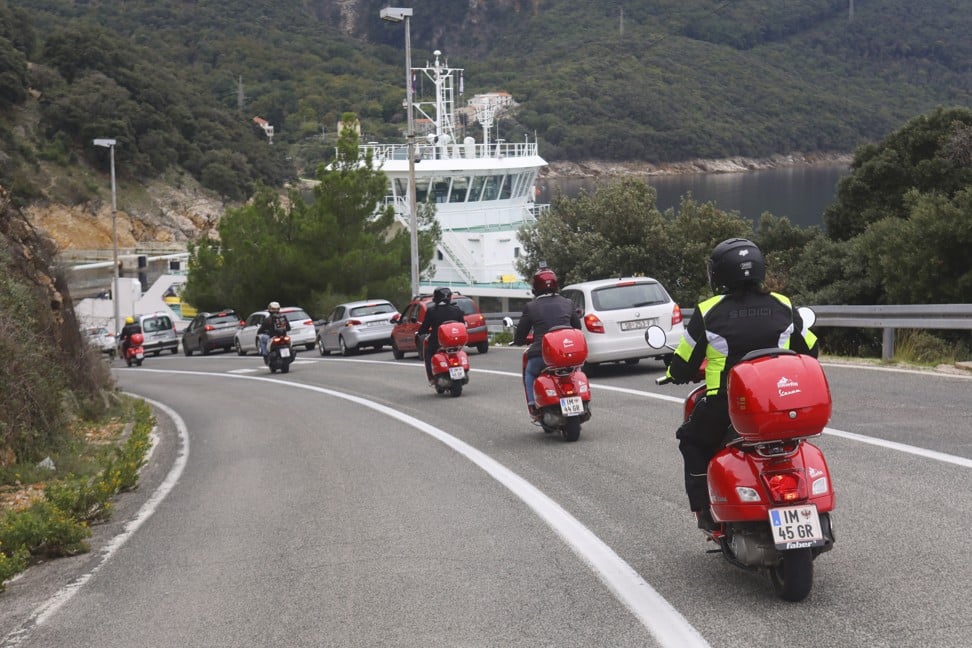 On day four, we ride back towards Zagorje and hop across to Cres, northernmost of the many islands scattered through the Gulf of Kvarner, on the twice-hourly ferry: a capacious vessel, loaded in orderly fashion with vehicles six abreast, above which are a lounge and viewing decks. We wheel ashore into a wildly parched limestone landscape pitted with dogs-tooth terrain. A single road threads along the island's spine – high above turquoise coves with tiny beaches – and drops to a lovely fishing town, also known as Cres.
Istria's landscapes swing as if on a hinge. Neighbouring island Krk, a 20-minute ferry ride east from Cres, is lush, with terraced olive groves and vineyards framed by tall cypress trees that whisk one metaphorically to Corfu. The road affords wonderful vistas back towards Cres and over the picturesque terracotta roofs of Krk township.
In summer, its waterfront and honeycombed alleys are packed with tourists but today, Krk is untrammelled and clings to its drowsy traditions. Fishermen tend their nets watched by locals chatting over espressos and wine.
Candescent sunlight ricochets off polished stone walls, making warm work of strolling, so I do as the locals do, and laze, licking a gelato, enjoying la dolce vita in the shade – and try to ignore the fact that soon I must say goodbye to Istria and my sexy Italian scooter, and bring to an end this Roman Holiday redux.
Getting there
Lufthansa flies between Hong Kong and Trieste, Italy, via Munich