Japan's Golden Route is well-known and extremely well-worn. So although Tokyo, Kyoto and Osaka undeniably have attractions to suit every taste, seasoned visitors are increasingly taking the road less travelled.
That path may not be well signposted and may lack international hotels, and the shops, restaurants and attractions may not be geared up for foreign visitors – but that is a big part of the appeal.
Overlooked by visitors from overseas are the central prefectures between Tokyo and Kyoto, which are too often a blur from a bullet train window. They are, however, ideal for a road trip.
A 75-minute Shinkansen ride north of Tokyo is Karuizawa Station, Nagano prefecture, the most convenient jumping off point for a part of Japan that is rich in tradition and history, has beautiful countryside and cultural masterpieces and takes unforgettable cuisine for granted.
After collecting the rental car – the office is alongside the station – our first stop is the town of Kakeyu, set deep in the valleys of Nagano and known for its onsen hot springs. Each of the small hotels that line the narrow streets has its own therapeutic onsen, while a free foot bath – a long trough made of cedar and lined by benches – is constantly steaming outside the town hall.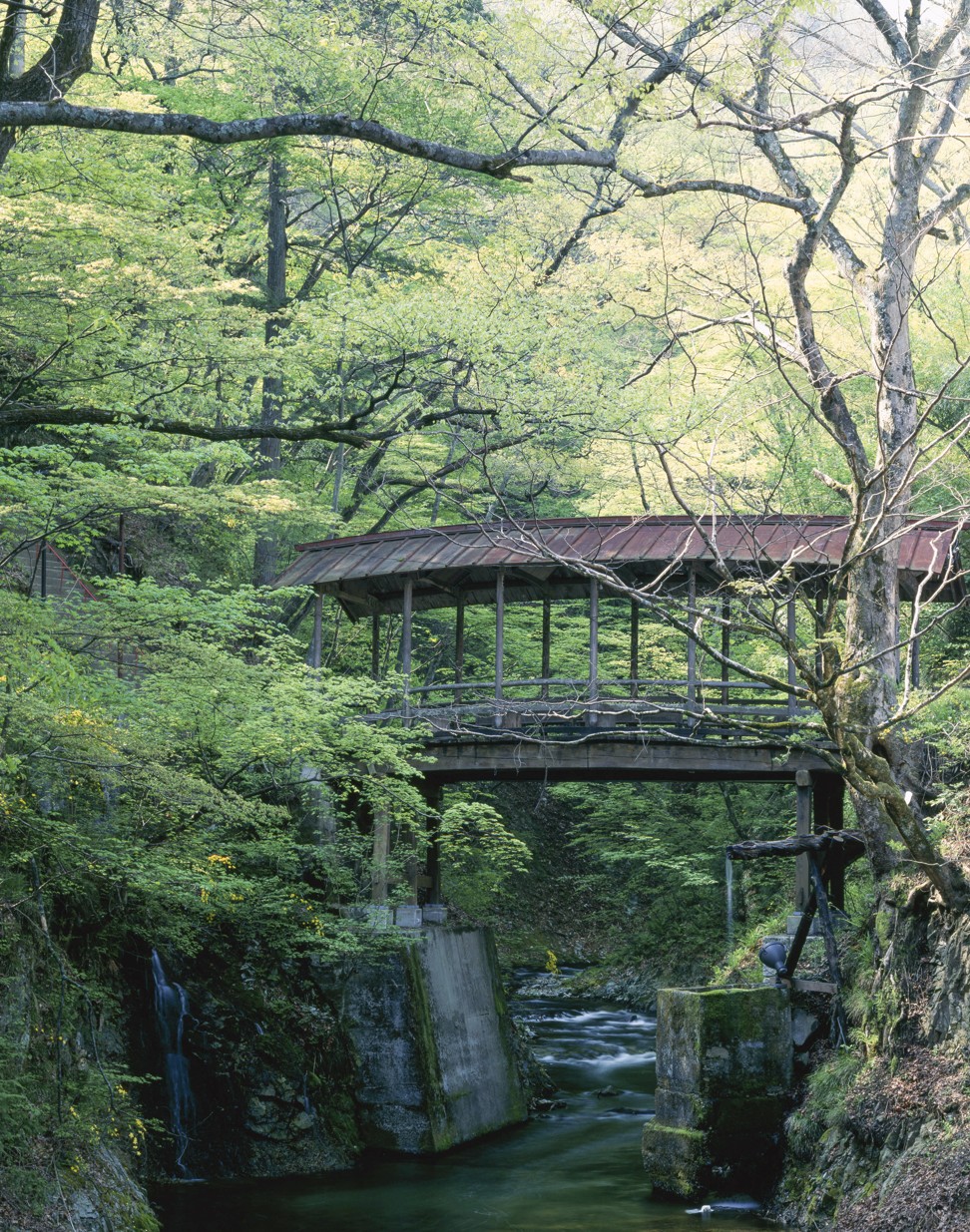 Cycling tours are run through the surround­ing mountains, off-road sections including a purpose-built course on a heavily wooded hillside overlooking the town. Participants are encouraged to ride in the jet-black outfits ninja warriors once wore.
We start among the trees, learning the basics of cross-country cycling – don't sit on the saddle, use your legs as shock absorbers, elbows out at an angle – before weaving through the trees to the main road back into Kakeyu. I feel a little self-conscious as I pelt down the road astride a fat-tyred mountain bike – until I remember I'm a ninja, the eyes the only part of my face showing. Ka-pow!
Kakeyu's valley was, until a century ago, very isolated and its residents considered mysterious. That changed when a tunnel was bored through the valley head and a road built from the city of Matsumoto.
Six tips on long-distance cycling in Japan, learned the hard way: 1,200km from Tokyo to Sapporo
Nestled in a broader valley, Matsumoto's historic heart has been carefully preserved, its flagstoned streets flanked by merchants' houses that have been turned into restaur­ants (soba buckwheat noodles and horse meat are local delicacies, best washed down with some of the excellent local sake), an off licence and a shop selling jewellery made nearby.
The city is dominated by a 16th-century castle, the oldest surviving original example in Japan. Crow Castle, as it is known, due to its black wooden walls, is at its finest in the light of an autumnal morning, before the crush of domestic tourists. Its wide moat is home to swans and countless koi carp and the surrounding mountains make for an imposing backdrop. Visitors climbing the surprisingly steep stairs inside the main tower of the six-storey building pass dis­plays of armour and weapons dating back to the warring states period (1467-1603).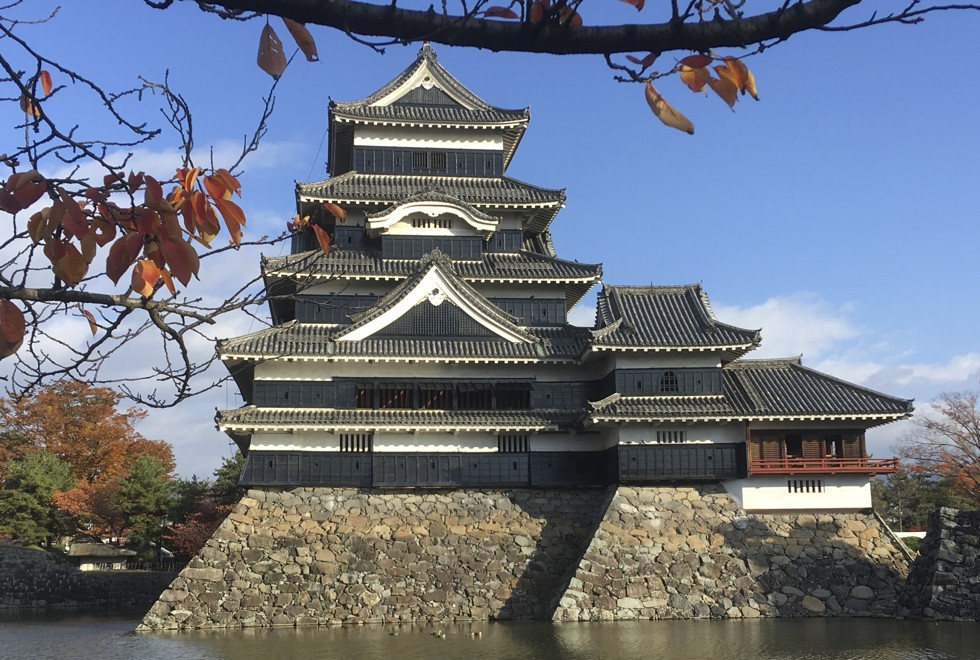 A 90-minute drive through the specta­cu­lar mountain habitat of monkeys, deer, wild boar and even the occasional bear brings the road-tripper into Gifu prefec­ture, and the Shinhotaka Ropeway. We're fooled by the relatively pleasant tempera­tures at the bottom of the cable-car system, at 1,117 metres above sea level; by the time the gondola reaches the top of the moun­tain, at 2,156 metres, it's enveloped in a thick layer of frost, with waves of icy clouds rolling overhead. On clear days, visitors are treated to panoramic views of Mount Yarigadake, the "Matterhorn of Japan".
Japan for non-skiers: Nagano in winter offers chills and thrills
The next overnight stop is the town of Takayama, where much effort has gone into preserving the Sanmachi Suji quarter, along­side the river. The narrow streets are lined with wooden merchants' houses from the Edo period (1603-1867) – now restaurants and shops selling local craftwork and tourist trinkets – and a number of museums, the highlight of which is the Takayama Jinya, the local office of the national government from 1692 to 1868.
Bureaucrats, tax collectors and judges went about their business in this now unique sprawling building's tatami-matted rooms and wood-lined corridors. Desks remain in place, along with bookshelves that would have held ledgers showing how much every resident was expected to pay in taxes to the local lord. Inevitably, the com­plex includes a room overlooking a formal garden that was set aside for the tea cere­mony performed for high-ranking visitors.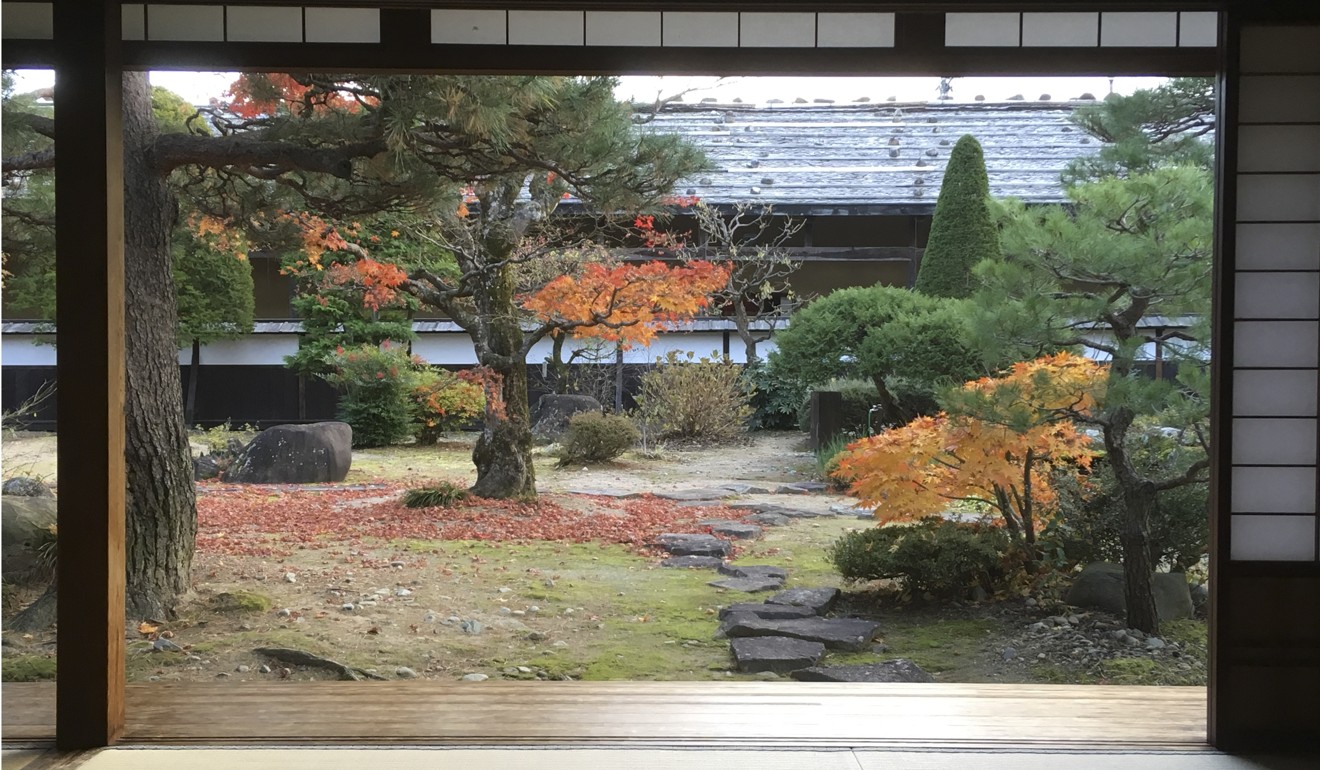 The office also served as the court for the district, and transgressors were punished on the spot. One of the instruments used is on display: a wooden rack designed to inflict increasing pain as weights were added to a seated prisoner's lap.
The next day, after a stroll through the morning market – locals buying fruit and vegetables while visitors peruse indigo-dyed aprons and decorated noren curtains – we buckle up and head for Shirakawa-go, which has become a good deal more famous since its "gassho-zukuri" style steeply pitched and thatched buildings were recog­nised by Unesco and it was declared a World Heritage site in 1995.
Set among paddy fields and surrounded by streams bringing water off the surround­ing mountains, the hamlet's buildings are still inhabited and a number are open to the public, living museums that shine a light on this farming community.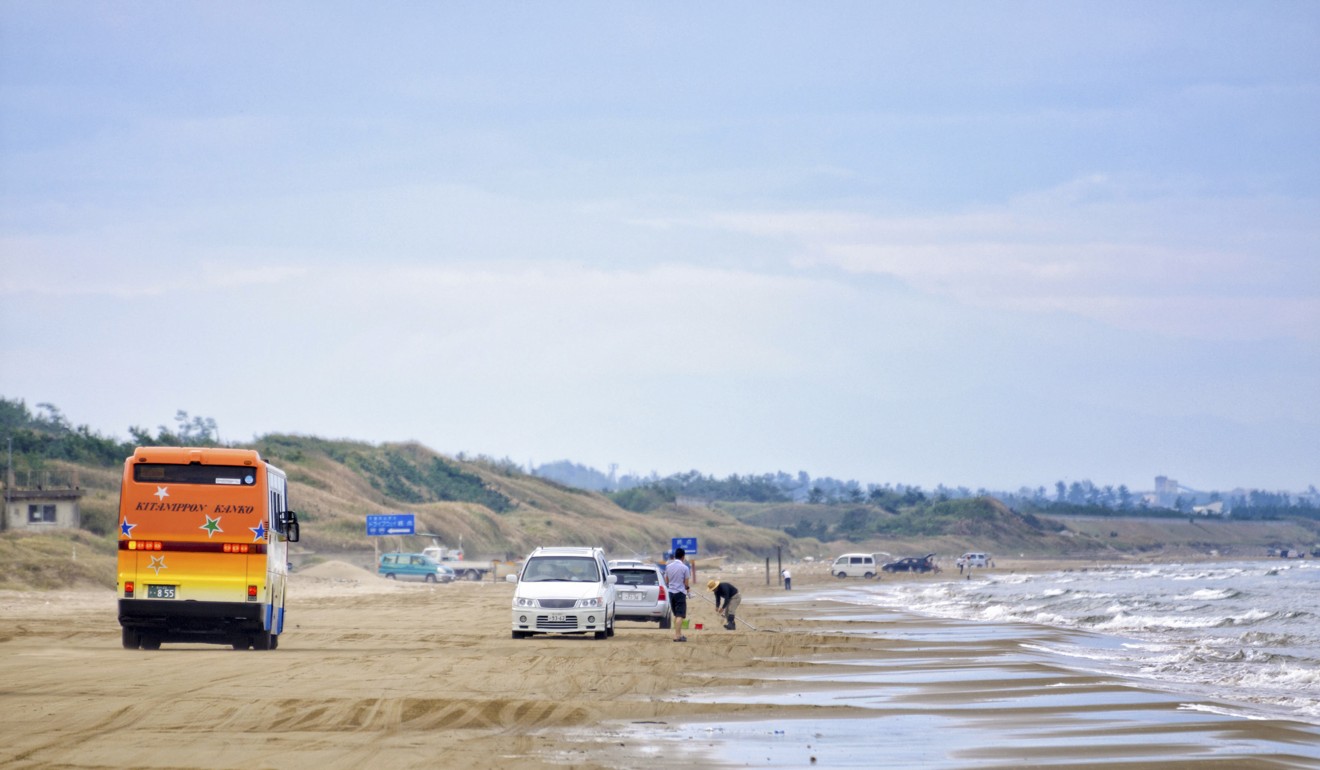 Nagoya, our final stop, is due south from Shirakawa-go, but we instead turn north and drive 100km on an unusual detour. The Chirihama Nagisa Driveway is an 11km beach in Ishikawa prefecture that is open to cars. The spotless stretch of sand is washed by rollers coming in from the Sea of Japan but we pass more than one car down to its axles in the dry sand back from the water­line, embarrassed drivers awaiting a beach patrol vehicle.
The modern Kagaya hotel occupies the prime spot on the seafront in the hot spring resort of Wakura Onsen, close to the tip of the Noto Peninsula. Having checked in, we opt to have the evening meal served in our room, overlooking the bay.
Smoke on the water: stunning Kagoshima, Japan
Arriving in exquisitely presented trays, each course is a meal in itself. The sashimi platter consists of creamy uni, or sea urchin, served in its spiny shell, and slivers of tuna, salmon and sea bream. Side dishes include pickled vegetables, rice, miso soup and bowls of mountain vegetables. We grill a locally caught river fish over a small brazier and the highlight has to be the long-limbed crabs, which haven't come far: they were caught just off the coast.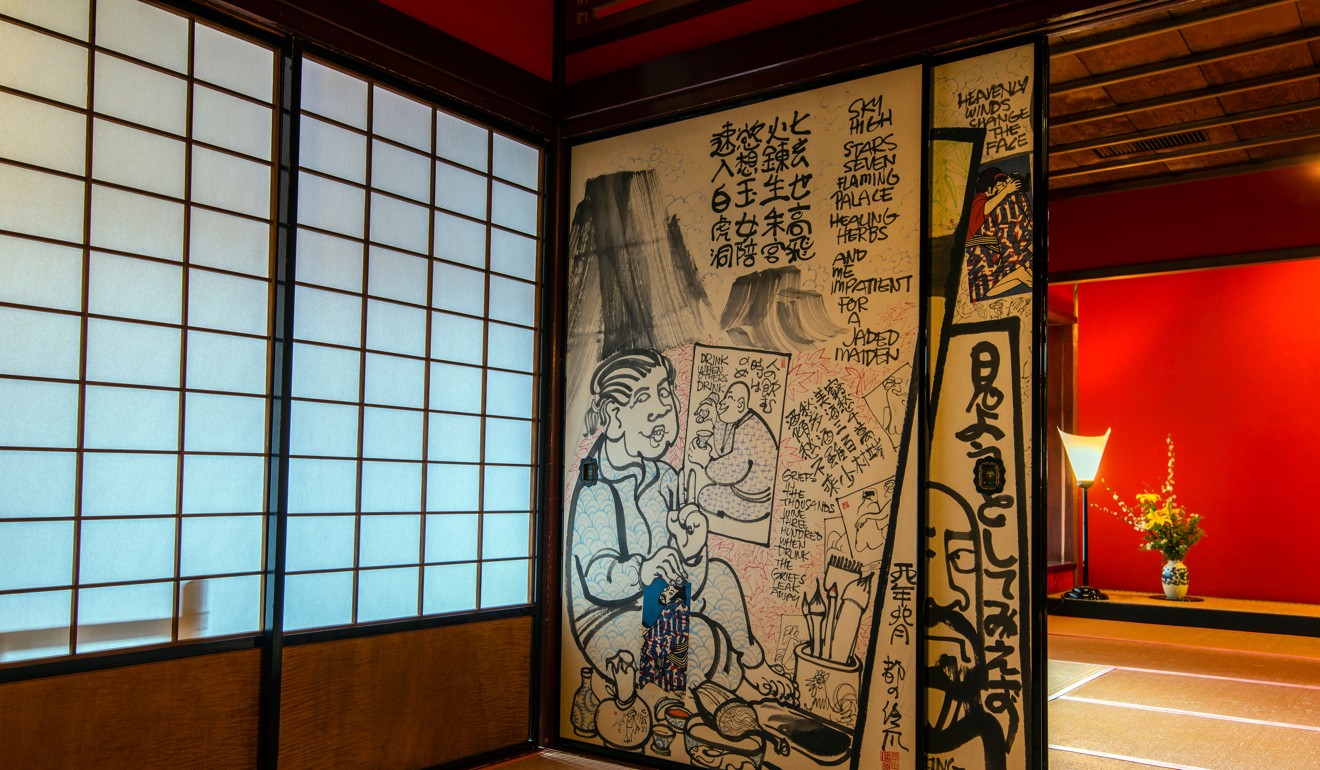 First stop the next morning is Kanazawa, a town that 100 years ago was a cultural rival to Kyoto. It still has a carefully preserved heart, where the okami ("owner") of the venerable Kaikaro chaya ("tea house") has invited us to take tea with her. Geisha continue to entertain guests at Kaikaro, which has stood on the same spot for nearly 200 years. The wooden building, with a traditional sunken fireplace on the ground floor and geisha changing rooms upstairs, is redolent of the parties at which they have sung, danced and poured beer and sake for their patrons.
Overflowing with seafood of every description, the nearby Omi-cho market is an ideal place for a lunch of sushi ahead of a visit to the Kanazawa Samurai Theatre, where actors perform traditional dances accompanied by "taiko" drums and "sami­sen" lutes, and visitors are able to try on samurai armour and geisha kimonos. It is surprising to discover how much a samurai battle helmet weighs and how ungainly it makes the wearer feel. Quite how these warriors were able to wield a sword when swaddled in so many layers is a mystery.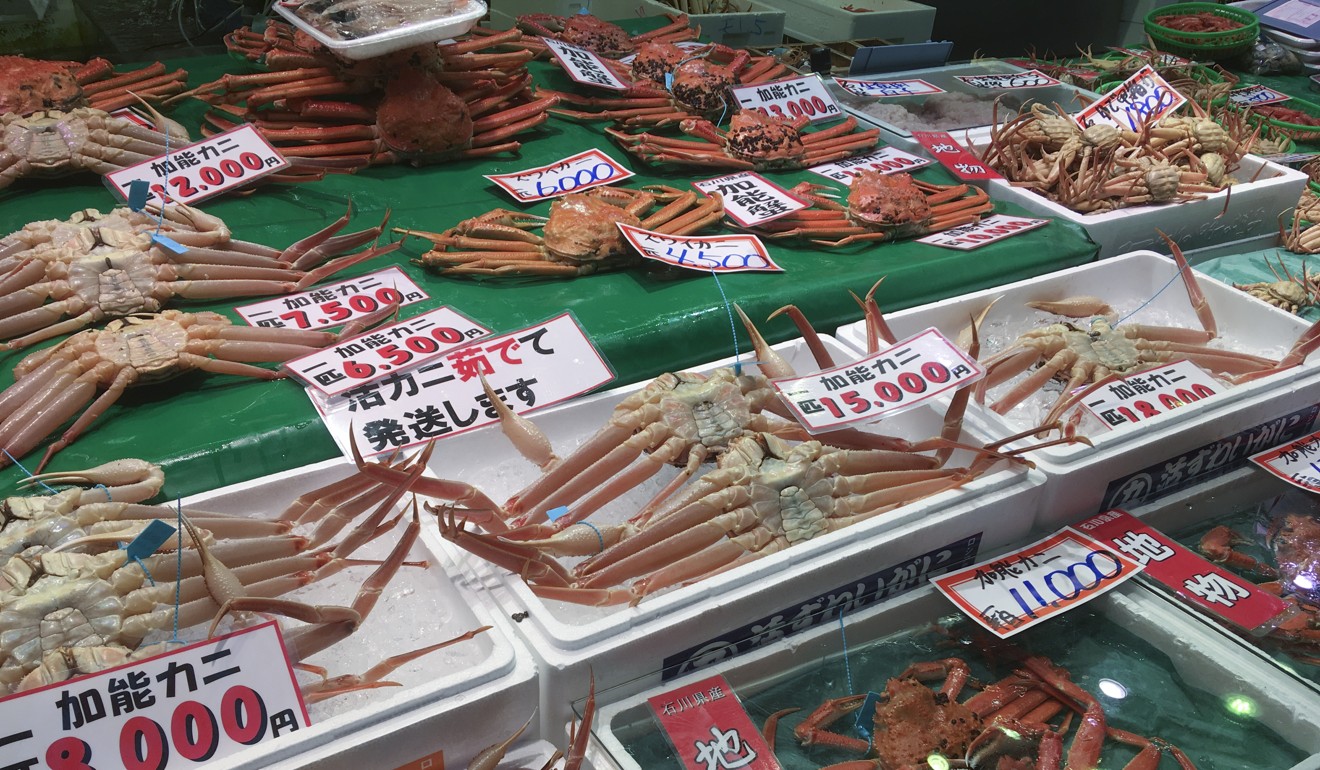 As this is to be the final night on the road, one more onsen visit is in order, and there is no better place for a hot soak than Tsuruya, a sprawling ryokan of 23 guest rooms in the town of Awara, Fukui prefec­ture, that dates back to 1884.
Tendrils of steam rise from the surface of the slightly milky water that has turned my skin a deep pink. An upturned wooden bucket, traditionally used to ladle scalding water over a bather, holds a glass of chilled sake and on the other side of a floor-to-ceiling window, maple tree leaves are taking on the golds and russets of autumn. This miniature Japanese garden – complete with stone lantern, moss-covered rocks and bamboo fence – will soon be dusted with snow.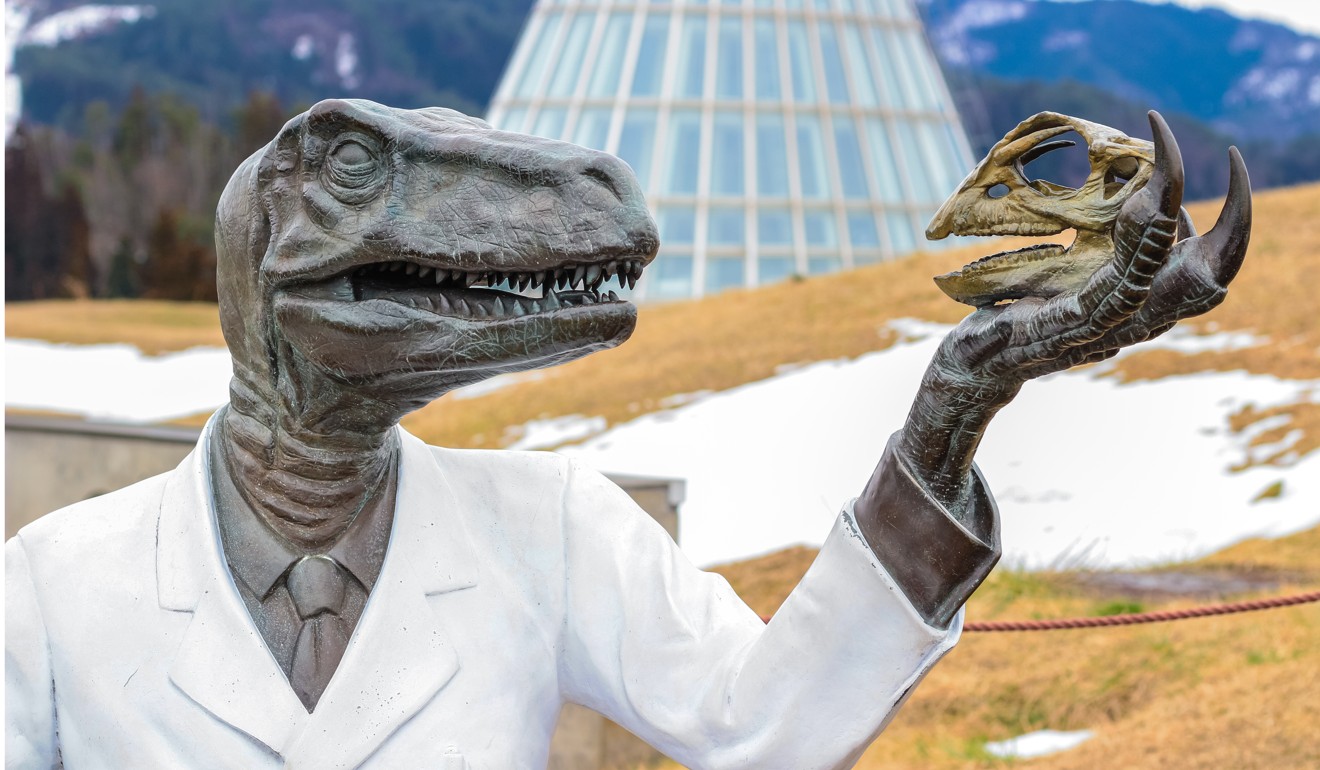 Our last stop before Nagoya is the Fukui Prefectural Dinosaur Museum, which is housed in a huge silver sphere, making it an unmissable landmark amid the paddy fields and hills. As well as the obvious crowd-pleasers – Tyrannosaurus rex, Stegasaurous, Triceratops – some recon­structed skeletons, others anima­tronic models, the museum shows off three species that have been discovered in Fukui, including a new species of raptor.
From this recreation of the ancient world, the road leads south to thoroughly modern Nagoya, its neon glow appearing on the horizon long before we reach the outskirts.