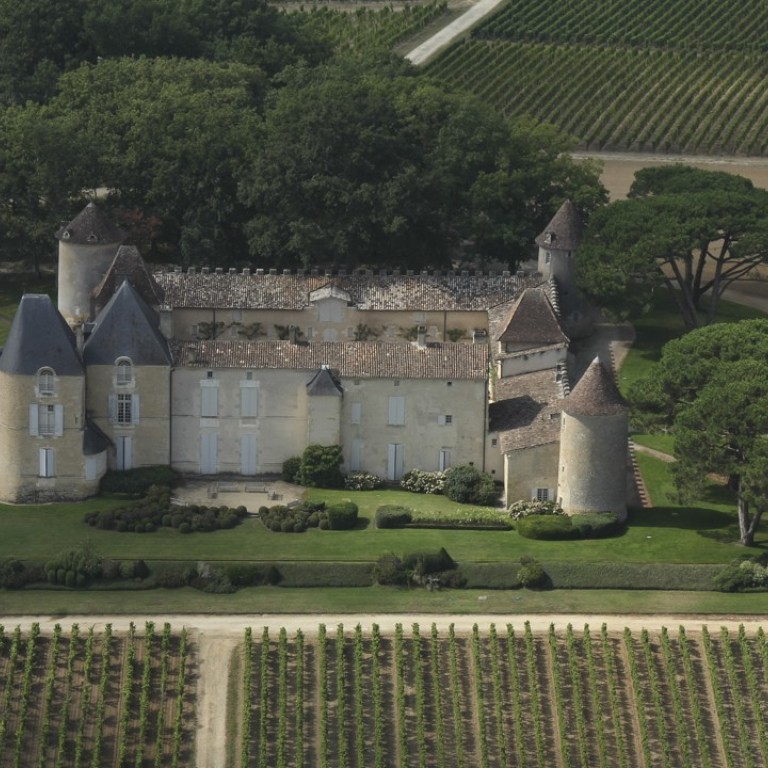 For the best of Bordeaux, take the Graves and Sauternes wine route
Peppered with mostly family-owned chateaux, the French region rewards visitors with excellent food and fascinating insights into their favourite tipples
Driving from the bustling centre of Bordeaux, it takes barely half an hour to break through the shopping malls, factories and fast-food drive-ins – the gritty urban landscape that encircles most French towns – and find myself on a quiet country lane, part of a labyrinth that weaves around the vineyards along the left bank of the Garonne river.
I was tempted to sign up for a guided day trip until I discovered that many of the dynamic, mostly family-owned chateaux that line the Graves and Sauternes wine route have taken a host of initiatives that make it easy to rent a car and embark on an exploration that goes far beyond just a series of cellar tastings of the latest vintages. What's more, you don't need to make appointments and many visits are free.
My wine tour begins at the romantic-sounding Château Venus, and it comes as a shock to arrive not at some fairy-tale castle but a huge prefabricated "chai", cellar warehouse, surrounded by vines that were planted five years ago. Friendly young owner Bertrand Amart quickly enlightens me; every recognised Bordeaux winery is automatically labelled a château. This helps explain why it can be so difficult to decide which Bordeaux to buy back home; there are a mind-boggling 8,500 châteaux to choose from.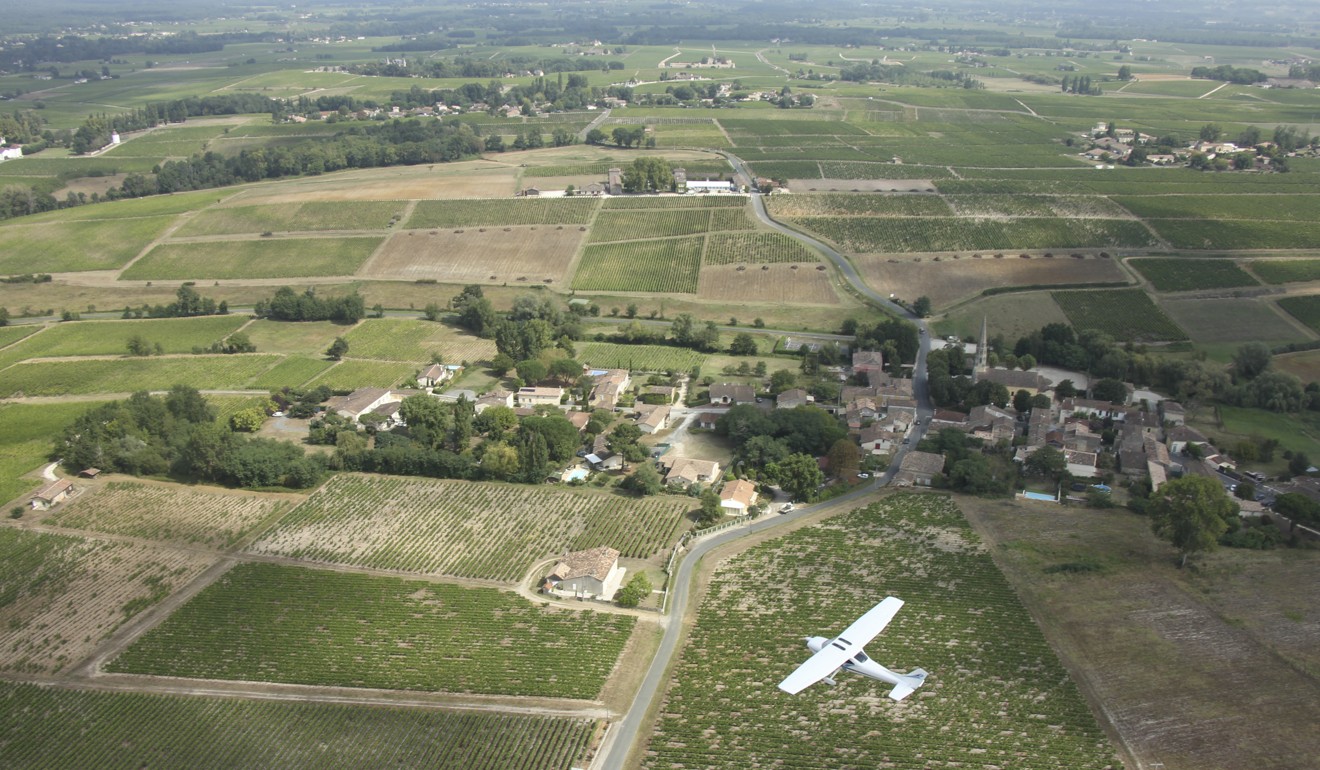 Amart is already producing some excellent red and white Graves, and for a bird's-eye view of the wine route, he offers to fly guests in his small plane for a half-hour tour (at a cost of just €60/HK$580).
Five minutes later we lift off from the grass runway that cuts through his vines and soar into a blue sky.
Amart points out the majestic Château d'Yquem, the Sauternes vines owned by LVMH's Bernard Arnault, medieval churches and fortified red-roofed villages, ruined castles and elegantly laid-out renaissance gardens.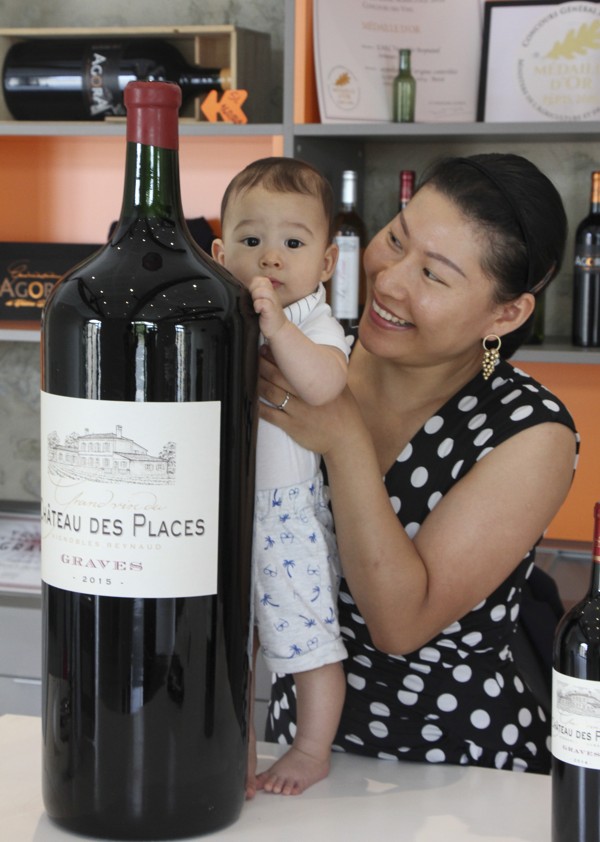 Within the graphic criss-cross lines of vines,
vendangeurs
hand-pick ripe bunches.
Back on firm ground, and in the tasting room of Château des Places, Fabrice Reynaud, a fifth-generation vigneron, proffers wines from his three Graves châteaux, all priced below €10. His feisty wife, Wu Dan, who hails from Zhengzhou, Henan province, confides in me that "Chinese investors who have bought châteaux in Bordeaux [and there are many] want to be discrete, which is why their properties are often not open to the general public".
Madame Reynaud has no such reserve, proudly presenting cherubic baby son César as a future Franco-Chinese winemaker, prop­ping him against a giant magnum bottle for a family selfie.
She says she and Fabrice plan to travel to mainland China and Hong Kong to promote their chateaux, but another young couple have chosen to advertise their wines in a different way.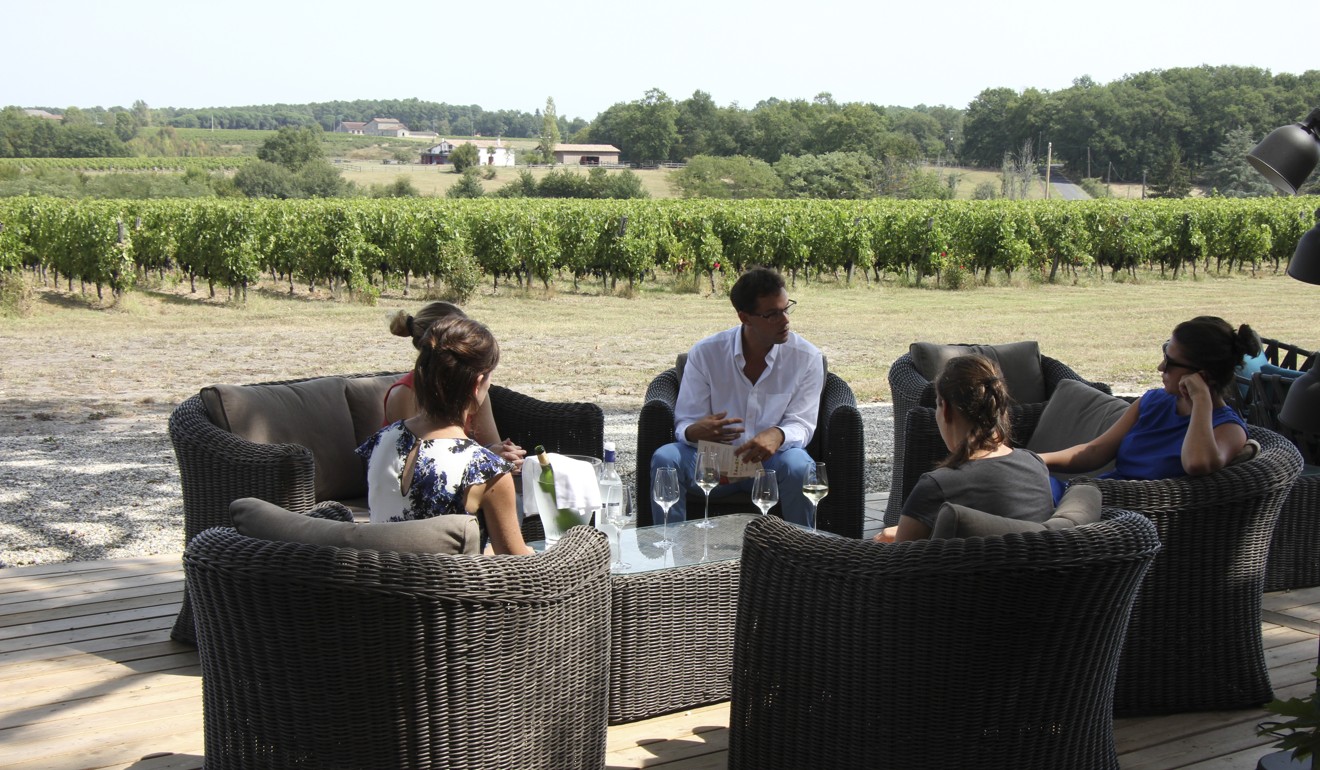 Having recently bought the boutique seven-hectare Château Caillivet, Alexandra and Mathieu Lapertot are drawing crowds of food and wine lovers to their hip La Table de Caillivet restaurant, opened last summer.
A lazy lunch in the spectacular open-air space, raised on a wooden platform in the heart of the vineyard, consists of succulent grilled octopus, a carpaccio of sea bass, freshly caught in the nearby Atlantic, a kaleidoscope of colourful organic tomatoes and a juicy charbroiled T-bone steak of aged beef from local Bazadaise herds. Accompanied by glasses of the chateau's speciality, of course.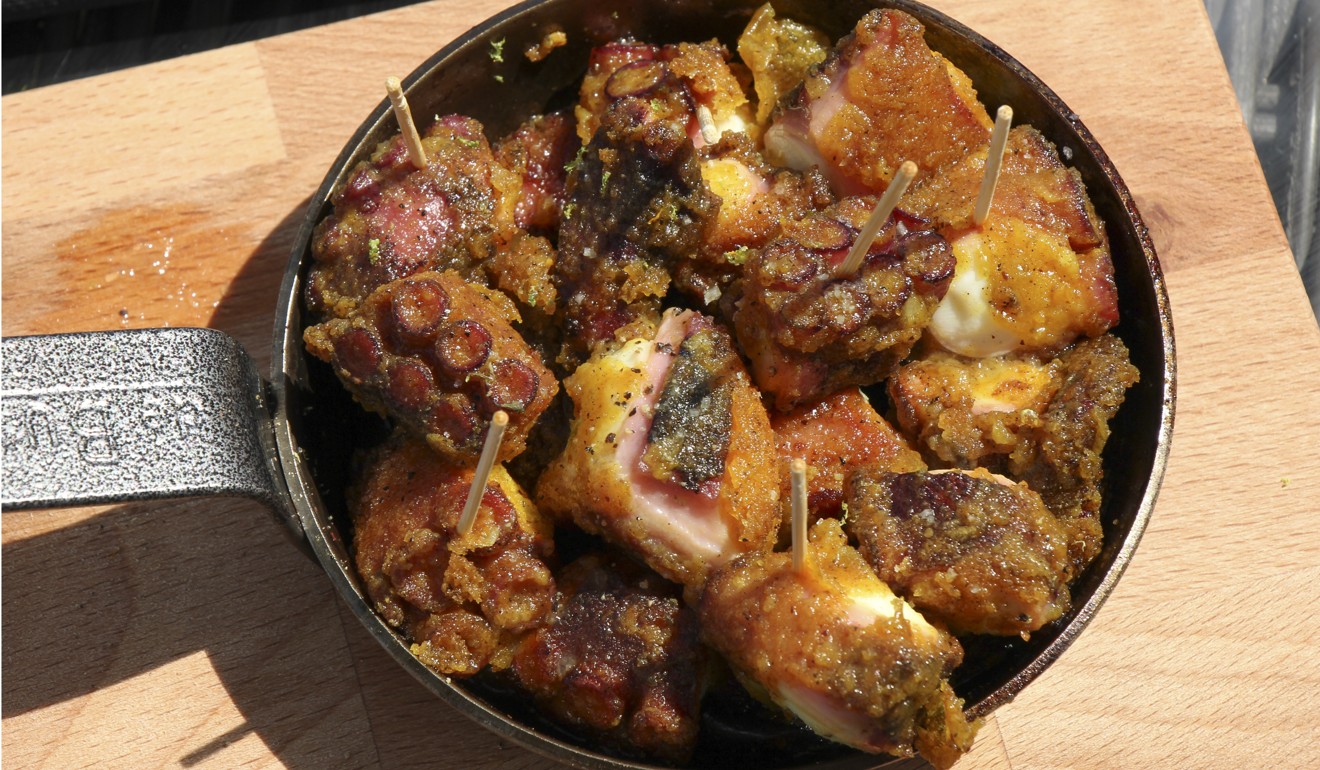 A 30-minute drive northwest, back towards the city, is Les Sources de Caudalie, a resort whose Vinotherapy wellness products, based on vine and grape extracts, are sold the world over. In the middle of the vineyards, it is easy to get lost in this sprawling, rustic estate of timbered villas and suites, ponds and natural hot springs, swimming pools and spas.
Fresh from a bubbly crushed grape jacuzzi, cabernet face scrub and wine and vine body wrap massage, I spend an evening under the stars in the garden of the resort's casual wine bar, Rouge, pairing plump Arcachon oysters with a crisp white 2012 Graves cru classé from the nearby Château Latour-Martillac.
Caudalie was founded by the enterprising children of the Cathiard family, who own the imposing Château Smith Haut Lafitte, which stands across a small lane from the resort. And the next morning, a tour of this historic castle and its immense cellar, where precious grand crus age in 1,000 wooden casks, affords insight into a long and remark­able heritage. As well as explaining how the wine is first stored in giant steel vats before being transferred to wooden casks to age, with each "parcel" of vines kept separate until a blend is made by the cellar master, before bottling, the tour also takes in the family's working cooperage, this being one of the rare estates to still employ master craftsmen to produce its barrels.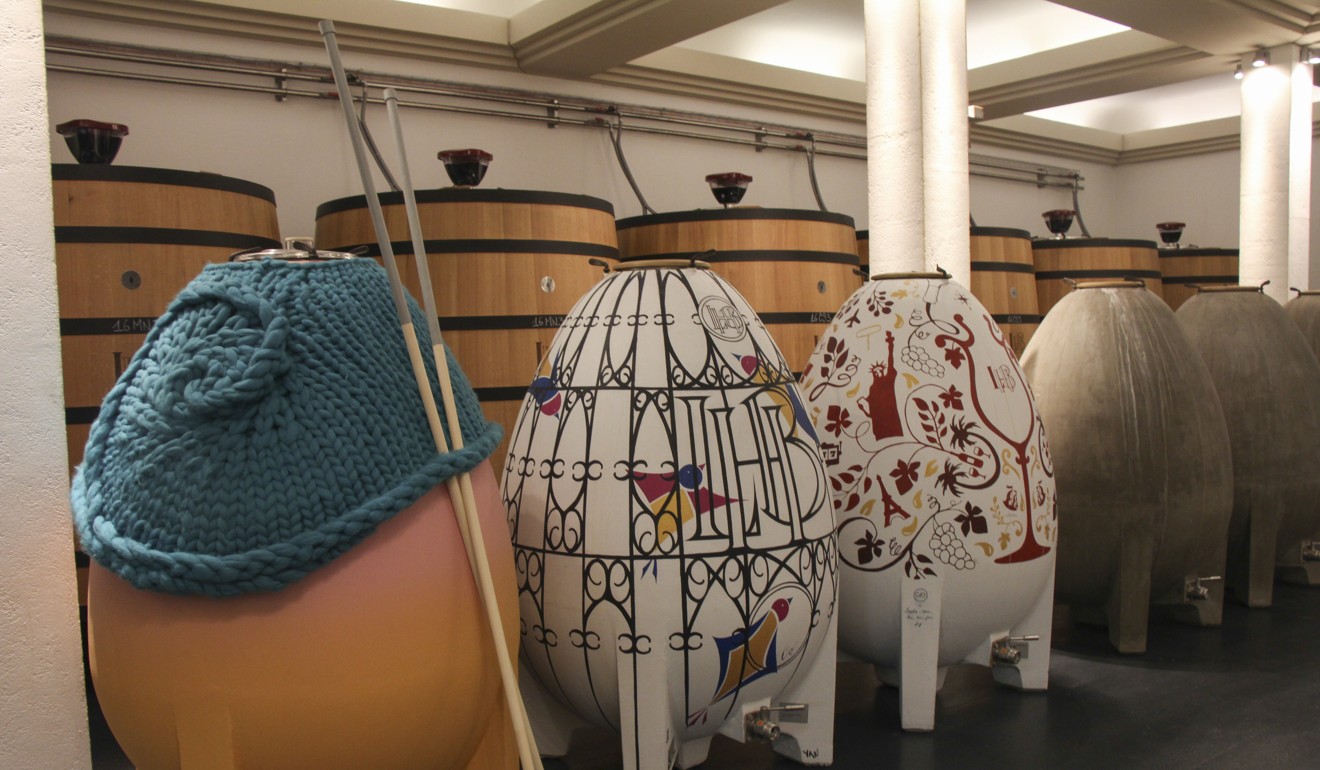 My next stop is Château Larrivet Haut-Brion, another domaine steeped in history but whose owners are looking to the future. Vintages here are being created using the latest vinification techniques and in egg-shaped cement vats decorated in vibrant colours by local art students.
Tasting the perfectly aged 2004 Pessac-Léognan with decadent spoonfuls of Aquitaine caviar, estate manager Bruno Lemoine reflects on the importance of China for the region's wines, saying that "this has always been a land that attracts foreigners – we have had the Dutch, the English, then the Germans and Japanese; not to mention the Americans in the form of a certain Robert Parker. So now it is the turn of the Chinese to influence us, but it is just another trend that Bordeaux will adapt to."
Bordeaux does perhaps have to adapt to wider trends, but luscious Sauternes is still recognised as one of the world's greatest wines. Only a few of the chateaux I visit prod­uce this unique creation, made with tiny, shrivelled late-harvested grapes that have been subjected to the so-called noble rot.
At Château de Myrat, I taste under the guidance of
la patron
herself, daughter of the Comtesse de Pontac, Slanie, whose family has been making their dessert wines for centuries. Standing in front of vintages going back some 20 years, sipping a 1998, she describes it as "spicy, with hints of cinnamon and toasted hazelnuts", and suggests, with a mischievous smile, drinking "Sauternes with stilton; it is the perfect mating of two noble rots."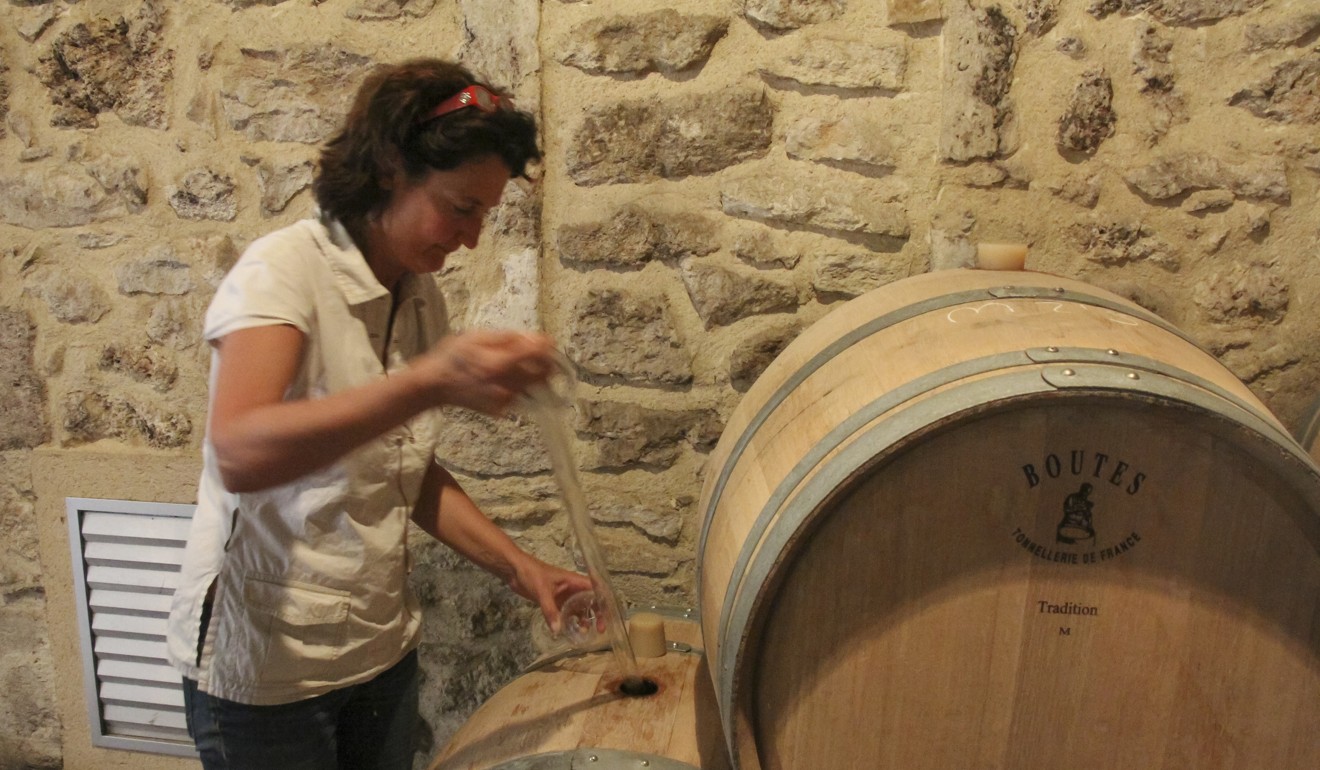 The wine route's most memorable moment comes at the end, after being welcomed into the home of Laure de Chambert Compeyrot, whose family have owned Château Sigalas-Rabaud, the smallest grand cru classé vine­yard, for four generations. The lady of the château immediately drags me out into the vineyards to admire her century-old vines, and then into the cellar, where she dips a long glass pipette into a barrel. The golden nectar she draws out tastes incredible, even though the wine still has several more years to age.
Laure is proud of her latest innovation, N˚5 – nothing to do with the perfume, but a light "natural" Sauternes, with no sulphites, that is perfect as an apéritif. Snap up a bottle if you see one for sale, though, because the multinational behind Chanel's exclusive perfume has quietly warned the boutique Bordeaux winemaker to change the name for next year's vintage.
When bottling commences in March, the labels will bear the name "Le 5"; N˚5 thus becoming collectors' items.