Is the location some rural district with a nominal Tokyo postcode? The Aman Tokyo is indeed out of town, but above it rather than beyond. The hotel occupies several floors atop an anonymous office tower in the heart of the financial district, only a few minutes from Tokyo Station. And once you enter the express lift direct to the 33rd-floor main reception desk, all is peace, save for the plangent sound of the demurely kimonoed koto player plucking delicately away in the vast atrium of the hotel's main space.
Yet another Tokyo tower-top hotel; haven't we stayed there, done that? Yes and no. Rare the hotel guest who doesn't appreciate the feeling of being hidden away yet right in the centre of town, or who doesn't enjoy panoramic views across the cityscape to mountains that include the mighty Fuji herself.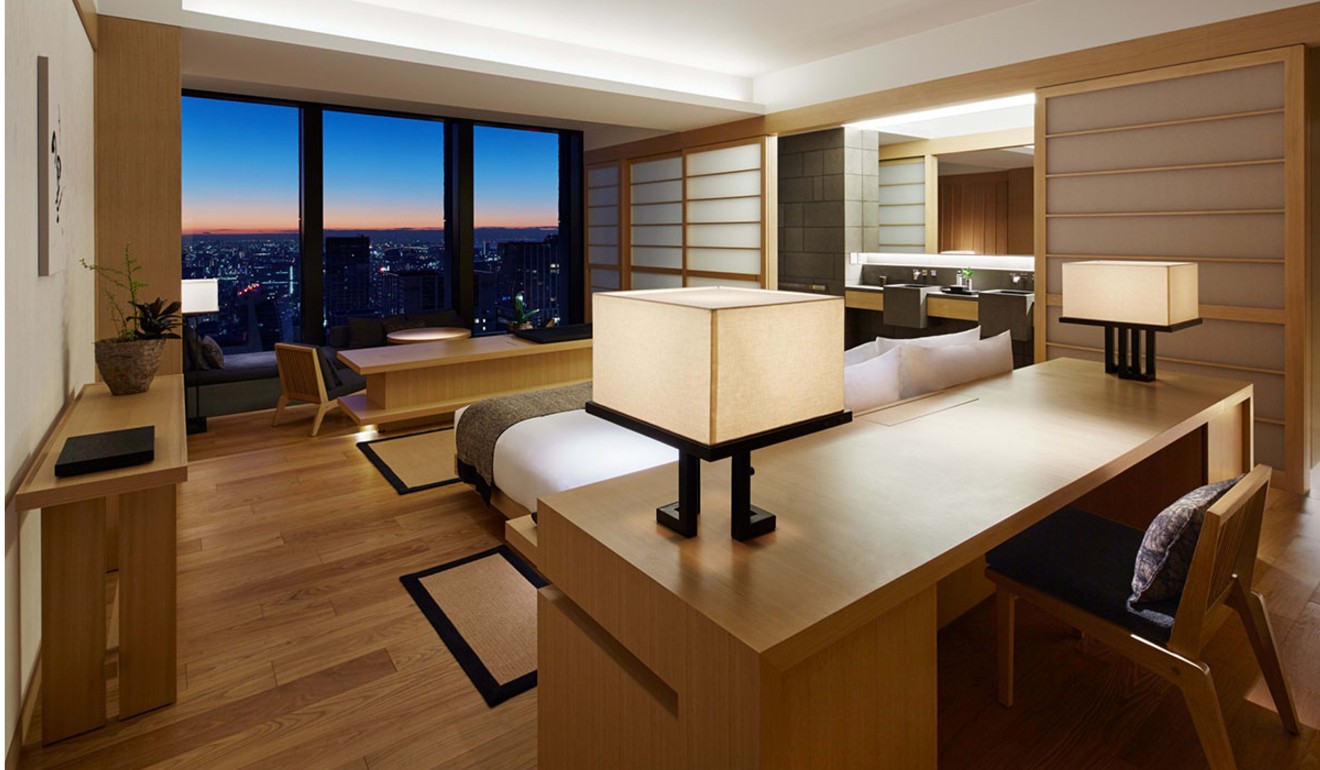 What's different here is that, despite the exterior's steel-and-glass modernity, the interior has easily the most traditional of Japanese atmospheres, although the aerial lobby-atrium that's the hotel's focus startles the locals, too. Its vast paper-lined overhead space is like a giant lantern, and a raised pathway down its length represents an engawa – the veranda where families in traditional houses gather to enjoy views of an external garden or interior courtyard.
Travel: Tokyo's 125-year-old Imperial Hotel steeped in omotenashi
Here, the "garden" is the green grounds of the Imperial Palace below, and the interior "courtyard" features large-scale ikebana flower displays that change with the season. Otherwise it's a little austere: basalt and granite and ash and castor wood.
So presumably the rooms are all sliding screen doors and shoes off at the entrance? They're a mix of modernity and tradition. The sober passages leading to guest rooms are lightened by tokonoma – raised recesses displaying a single flower in a slender vase. Inside the room, the floors are chestnut, so the removing of shoes is optional, but interior doors do slide, and are made of paper safely backed with fire-resistant board. And there's very solid wooden furniture, so no need to sit or sleep on the floor.
Aman Resorts' first Shanghai property a magical journey into Chinese history
Mod cons include a coffee machine, Bluetooth speaker, pop-up tele­vision, and remotely controlled roller-blinds for the floor-to-ceiling windows. Of the mere 84 rooms, the smallest are nevertheless the largest of their kind in Tokyo, and the suites would give the average Japanese (and Hongkonger) agoraphobia. All have sizeable bathrooms, with underfloor heating, and are lined with dark granite, making possible an enthusiastic splashy wash using wooden buckets or beneath a rainfall shower before submerging spotless neck-deep in the granite furo traditional bath, to steep gently while observing Shinkansen slide out of a train-set Tokyo Station, far below.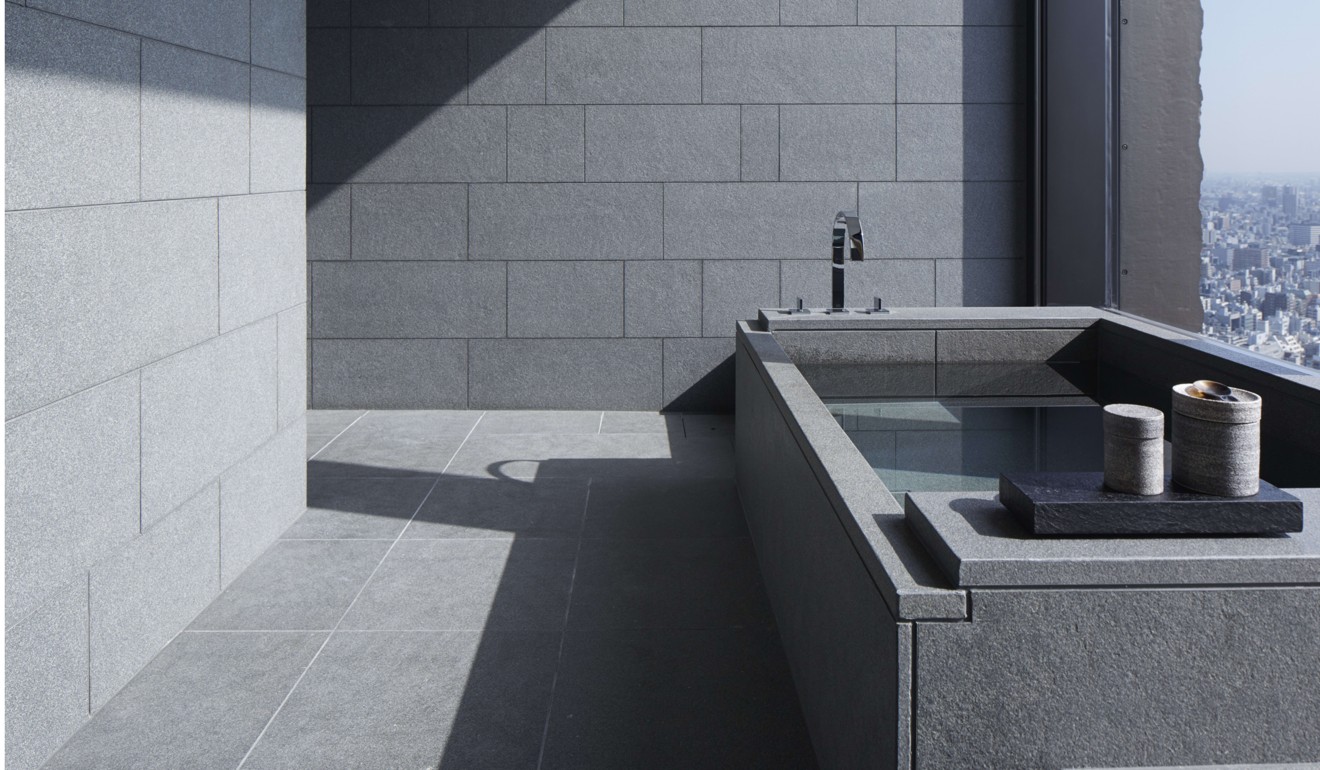 Speaking of bathing, if this is an Aman, presumably there's a spa? Spread over two floors, the huge spa has everything from treatment rooms to a vast swimming pool and a traditional Japanese-style public bath, both with views. The atmosphere is superbly soothing, with the usual spa mumbo-jumbo being entirely optional. When you're relaxing after a reshaping by a talented masseuse and further calmed with tiny cups of aged green tea, the view of the helicopter landing pad atop a neighbouring tower seems otherworldly.
Ultra-refined multicourse kaiseki ryori dinners, I'm guessing? Multicourse, certainly, and from a Japanese chef de cuisine, but one who has had long experience in Italy. The result is familiar Italianate dishes from imported and seasonal local ingredients presented with a Japanese lightness, and accompanied by Italian wines from an extensive cellar. Not to be missed.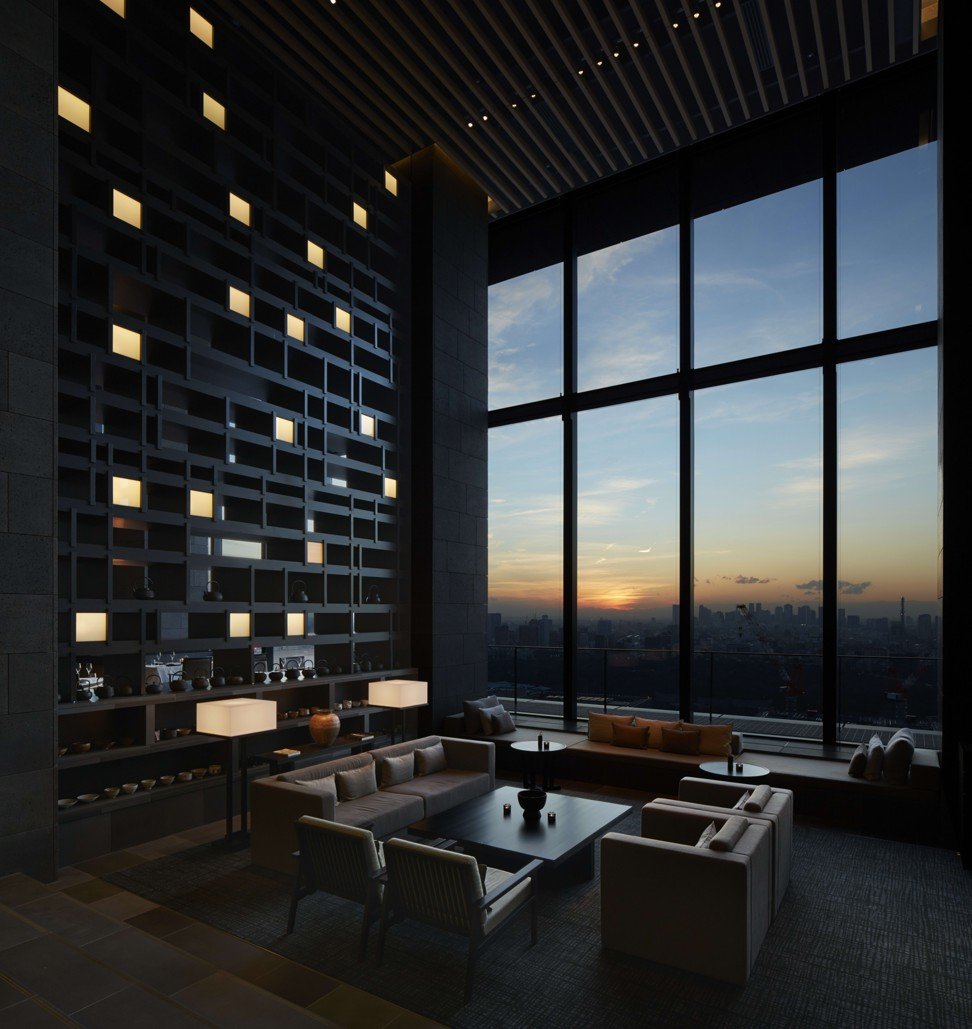 The same screened-off section of the main lobby is also the location for breakfast. In the afternoon, a certain domesticity fills the remainder as elegant women bring their remarkably quiet infants to enjoy an afternoon tea photogenically presented on black-stained wooden cake stands. There's also The Café, in the forest outside the main entrance, serving casual French meals.
Wait a minute. A forest? In central Tokyo? Well, copse, perhaps; or spinney. But still impressive in a city where "garden"is a synonym for "window box" and on land whose value probably equates to the GDP of some small countries.
Any drawbacks? The entrance can be hard to find, there's a coolness to the overall design that can take a little time to grow used to and occasional minor hiccups in service, although these are quickly corrected and would go unnoticed anywhere other than in Japan, where service levels are routinely stratospheric.
At first Muji Hotel, in Shenzhen, minimalism tops convenience
Leave a handful of change on your desk and you may return to find it has been neatly sorted by denomi­nation, while your assorted charging cables have been disentangled, coiled and gently restrained with ribbons.
And is the price equally stratospheric? It's among Tokyo's more expensive rates, starting from 90,000 yen (US$845) plus charges and taxes.