Cows amble, boys race each other on bicycles and laundry dries in the searing afternoon sun against the intricately adorned backdrop of Raghurajpur, where emerald papier-mâché parrots, hand-painted wooden toys and masks of animals and gods brighten the shaded verandas. Even the houses here are colourful – canvasses for vibrant murals depicting epic scenes from ancient mythology.
A village of about 120 houses in Odisha state, in eastern India, Raghurajpur feels like an open-air art gallery. Many of its residents are skilled artists or artisans and talent is cultivated from generation to generation, youngsters helping their parents with small tasks until they too become proficient.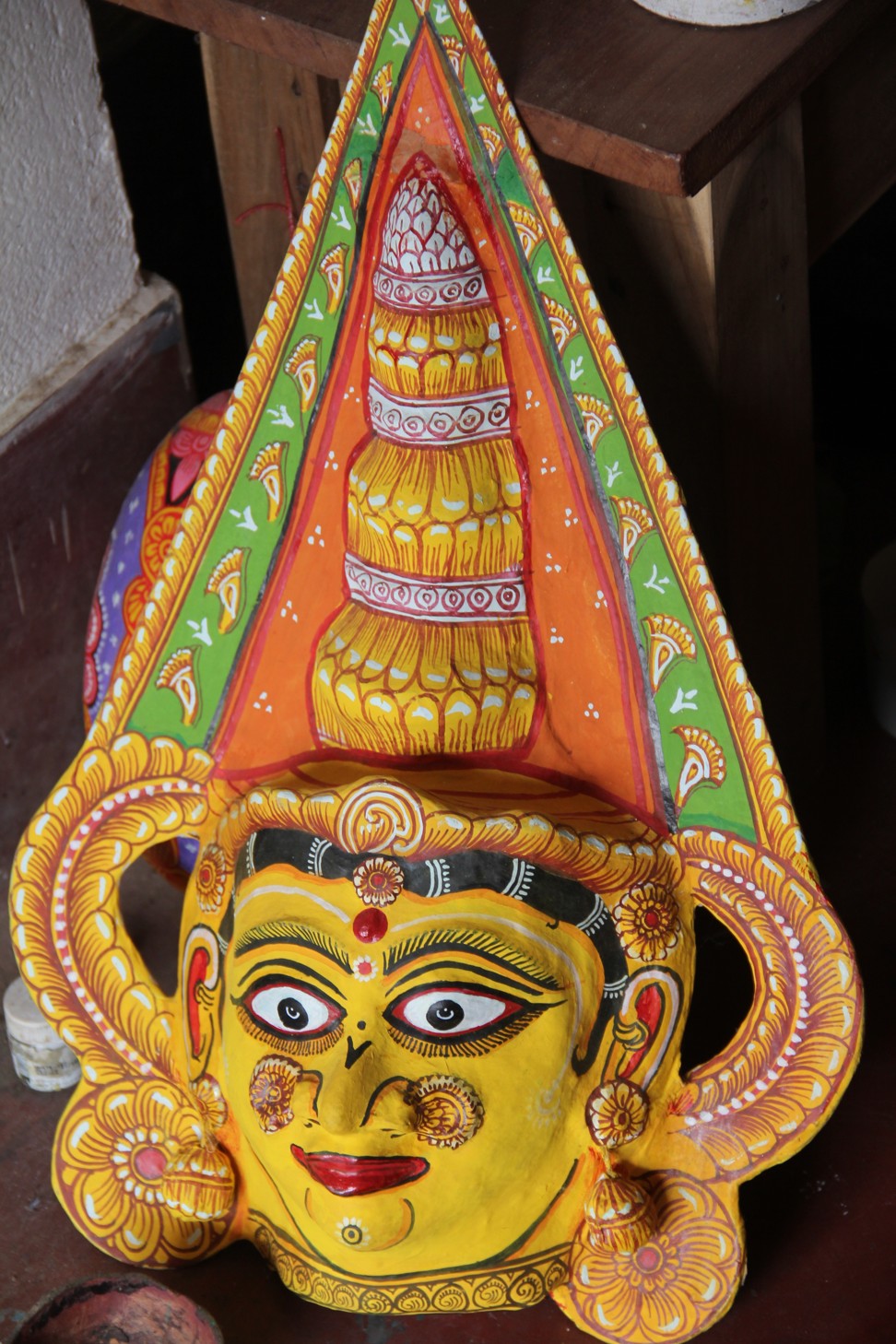 Since the 12th century, this small hamlet on the southern bank of the Bhargavi river, fringed by coconut, palm, betel nut and jackfruit groves, has been responsible for decorating the Jagannath Temple and the chariots of its annual Ratha Jatra festival, in the pilgrim town of Puri, 14km away.
In 2000, the Indian National Trust for Art and Cultural Heritage declared Raghurajpur a heritage village, and the government has since collaborated with creative organisations to foster its talents. Artists have been encouraged to paint their houses to promote their work, and the many who have won national awards for their craftsmanship display the certificates proudly on the walls of their modest homes.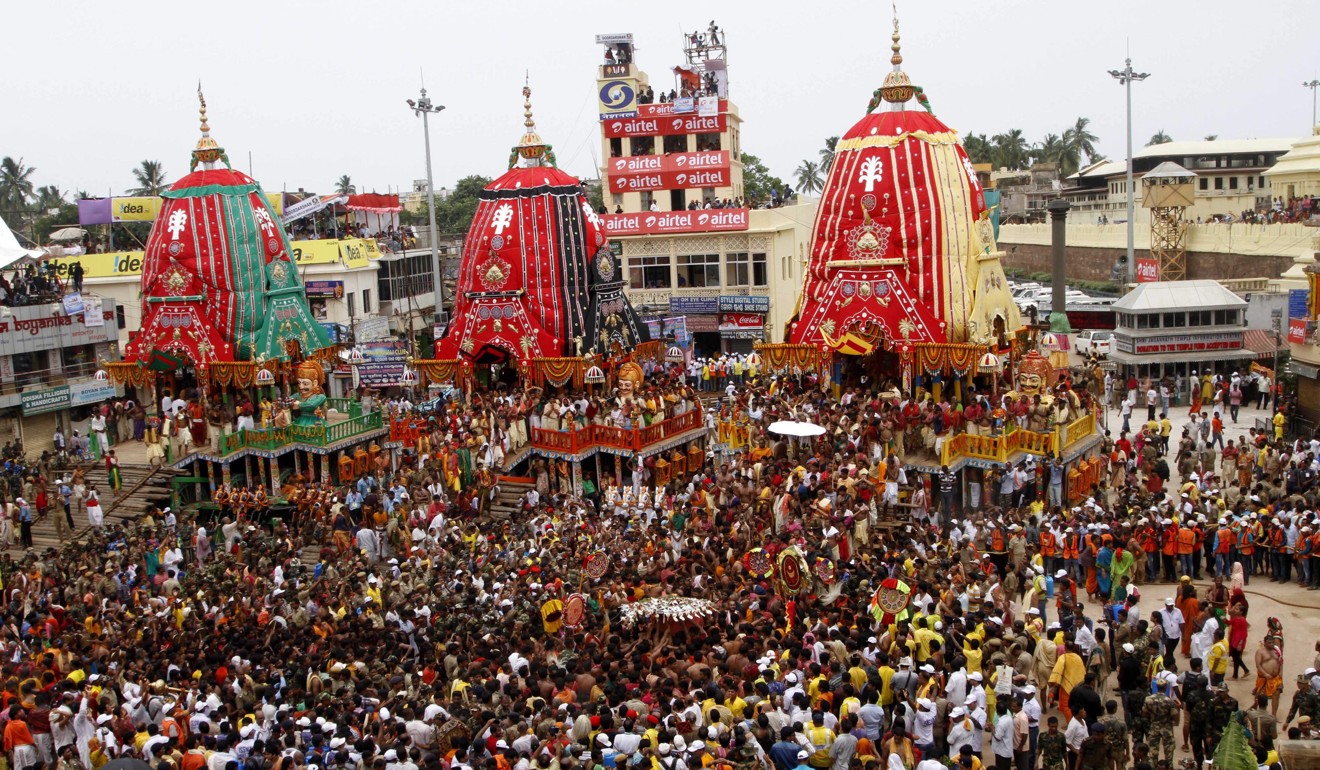 Among the crafts practised in Raghurajpur is pattachitra, derived from the Sanskrit words patta ("cloth") and chitra ("picture"). Artists paint on canvas or silk, producing what look like illustrated storybooksdepicting deities such as Jagannath (an incarnation of Vishnu) and the myths that revolve around them, each one framed by a distinctive, ornate border.
Invited in, I enter the home of a pattachitra painter to better understand this ancient art.
First, the canvas is prepared. Two pieces of cloth are bound with tamarind paste before being plastered with pow­dered conch shell and allowed to set. This task is usually done by the women and children of the family, before the master is let loose. His brushes are made from fine mouse or squirrel hair and the bright organic paintsfrom plants and minerals such as cinnabar, petals and burnt coconut shell. Completed paintings are held over a charcoal fire and polished to a glossy finish.
Once it was only gods and goddesses, but now trees, animals, flowers and birds are also portrayed. The devil is in the detail; the exactitude of the figures and faces, jewellery, stylised trees and leaves, pink lotuses and emerald peacocks is integral to an evocative narrative.
Recurrent themes include the 10 incarnations of Vishnu, Krishna playing with cowherds, a depiction of Ganesha as a five-headed deity and flamboyant processions of kings and queens from folklore. Tribal art and motifs appear alongside classical themes.
Pattachitra artists don't restrict themselves to canvas, they also paint wooden boxes, Tussar silk, coconut shells, even doors.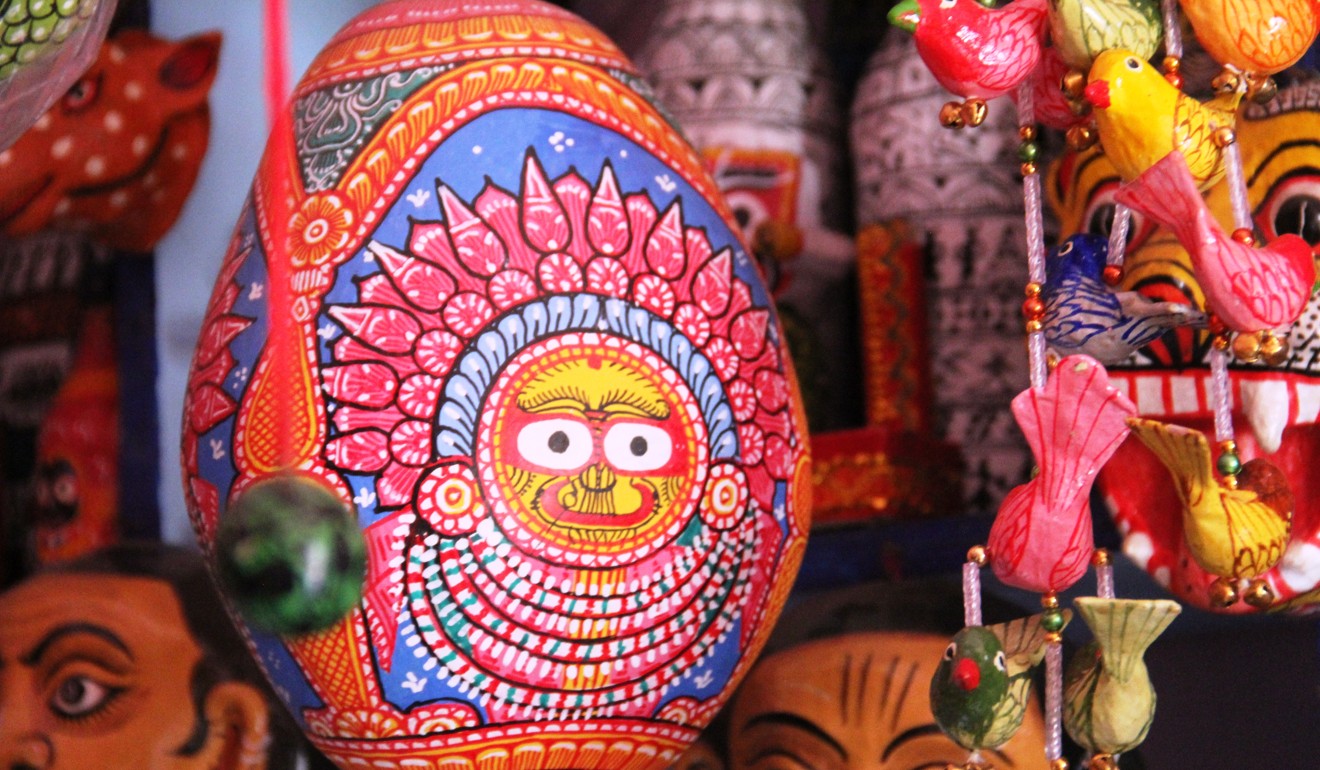 As I pass their homes, artists invite me to step inside, to take a look at their art, to buy something. The front room of each doubles as a studio and shop, while verandas have become sun-dappled ateliers.
In one, an award-winning octogenarian is huddled over his pattachitra.
"He has been painting this for almost six months," says his son, with a proud smile. "Some pieces even took as long as three years."
Another tries to draw my attention by telling me that Indian Prime Minister Narendra Modi gave the former French president Francois Hollande a painting, Tree of Life, by local artist Bhaskar Mahapatra.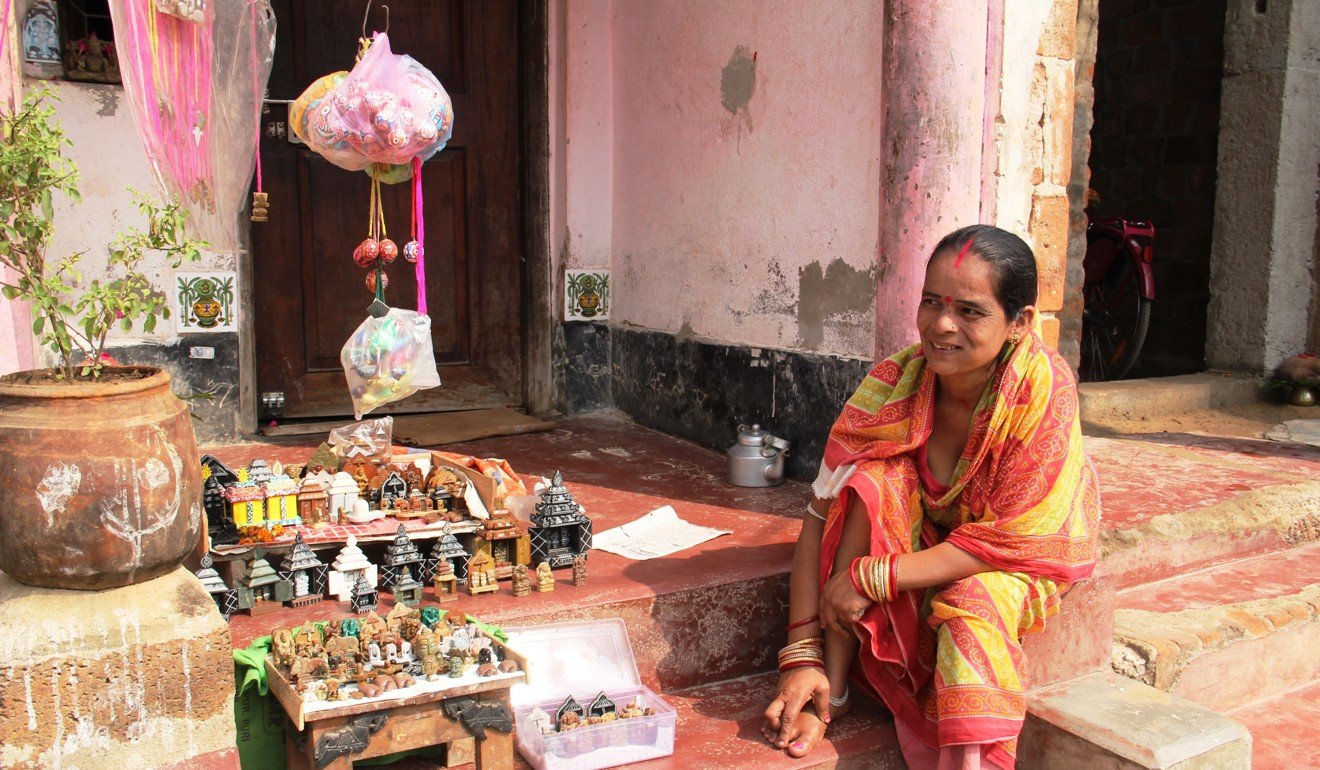 Having trained since the age of 10, Mahapatra lives in a three-bedroom home on the main street that is much like all the others, but the artist is away at an exhibition, I am told, so instead I enter the home of Susanta.
A practitioner of tala pattachitra, which originated with travelling artists and was once used to illustrate manuscripts, Susanta sews together palm leaves and draws images on them with a needle, before applying soot. With a cloth he wipes away the excess soot and the images remain, etched in black. The leaves can be stacked together to resemble an accordion, the panels waiting to be fanned out as mytho­logical tales unfold.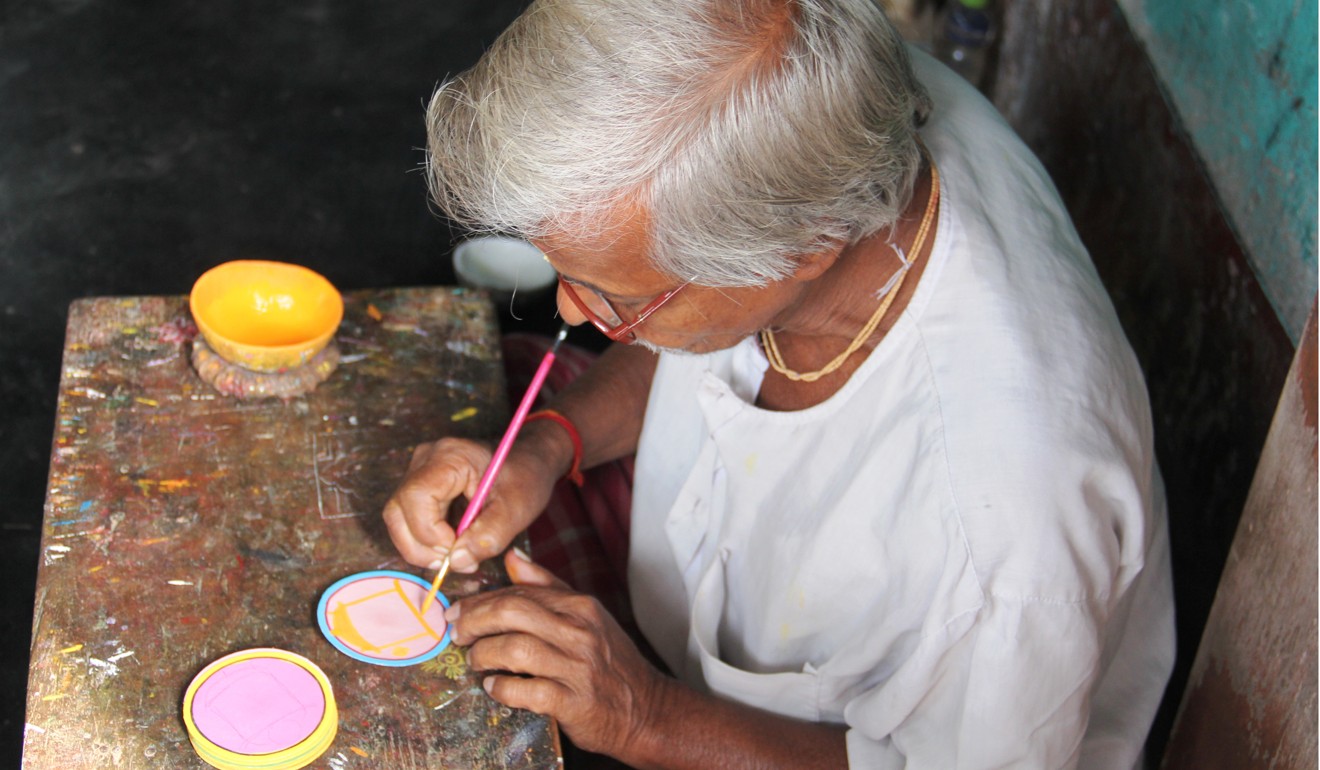 So many of Raghurajpur's artists appear to be lost in what they are doing, oblivious to the shutterbug tourists looking curiously over their shoulders. And there is much more to the village than just pattachitra.
Brightly painted coconut and betel nuts are turned into rotund idols of Jagannath. Women create papier-mâché masks of demons and gods, miniature altars out of black stone and even toys out of cow dung. Some artists make unique, circular playing cards, known as ganjifa, which used to come in packs of 144, each painted with a mythological human or animal figure.
"Though no one plays the game any more, they have become popular with craft collectors," says an artist. Before he can explain further, the sounds of drums and shouting ring out down the street.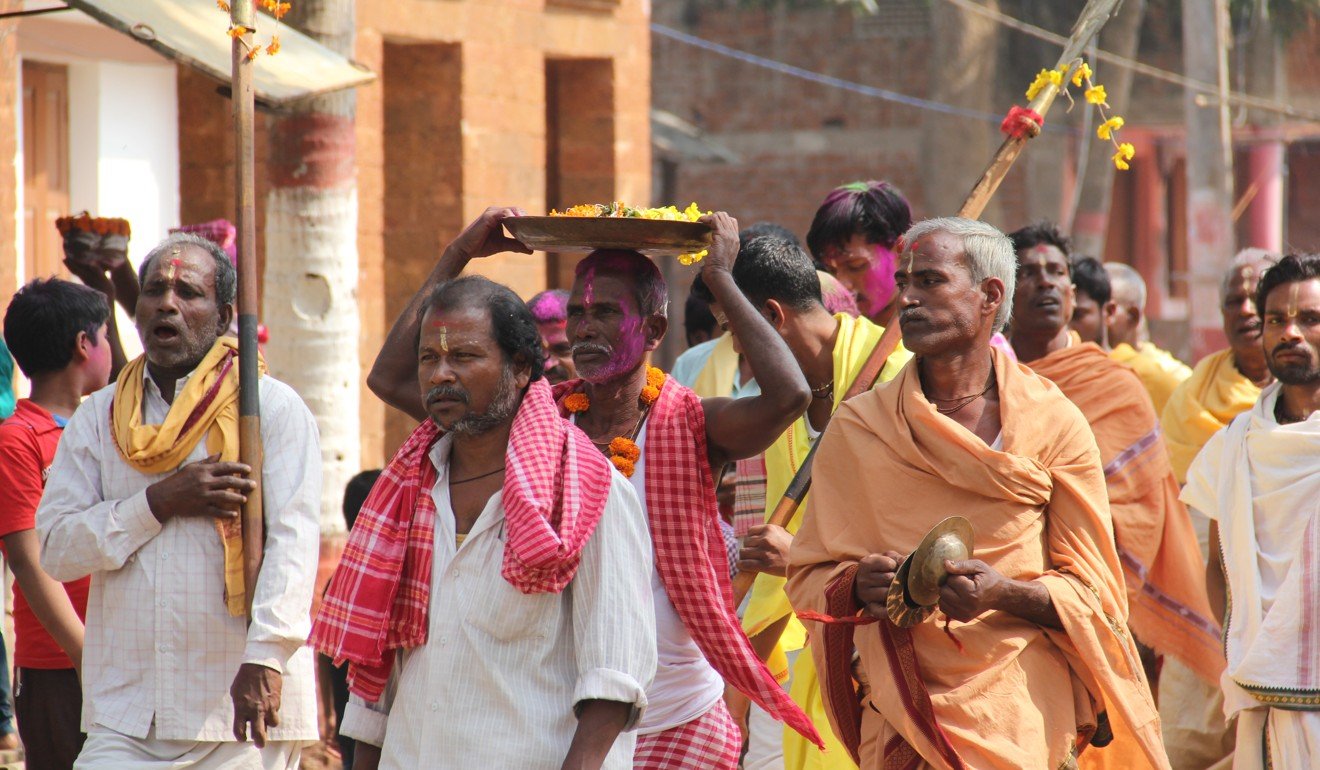 Men sing as they walk in procession towards the village temple, long-haired youths dressed in bright saris and wearing garish make-up dancing before them. These are temple dancers, young Raghurajpur boys who still learn the acrobatic gotipua dance, which is performed to the accompaniment of Radha-Krishna love songs.
The lives of entire families revolve around art in Raghurajpur: a unique village in which those devoted to their craft keep their heritage alive and vibrant; where work is worship.

Getting there: Cathay Dragon flies from Hong Kong to Kolkata six times a week. Several domestic flights operate from Kolkata to Odisha's capital Bhubaneswar, from where Raghurajpur is about 60km away.