Chinatown, New York – I wish somebody would open a hotel emblematic of the district. You are in luck. Last year, Hotel 50 Bowery began welcoming visitors to a stylish, 21-storey celebration of the community. Bowery is the name of a street and neighbourhood in Manhattan and No 50 is the first New York property of lifestyle boutique brand Joie de Vivre Hotels; a 229-room extravaganza of chic that delves into the district's Chinese roots. It's the brainchild of two families – the Harilelas from Hong Kong and the Chu clan of New York.
How does the hotel broadcast its sense of place? Without being kitschy, Hotel 50 Bowery never lets you forget where you are (take its name, for a start). The point is rammed home on the second floor, where the permanent 1,500 sq ft "Heart of Chinatown" display, procured from New York's Museum of Chinese in America, explores the history of the neighbourhood's main streets, with artefacts found during the hotel's construction, and highlights the building's past as a tavern and gambling den. Chinese decorative themes, and art by Beijing- and Lower Manhattan-based artists, bedeck the walls and common areas throughout.
That sounds cool. But what's the basic vibe? Such clean stylishness should appeal to guests of all stripes and ages. Families are welcome, with children receiving special amenities, such as free breakfast, books and "kids-choice" walking tours of the area, but the hotel will probably most appeal to artistic fashionista types.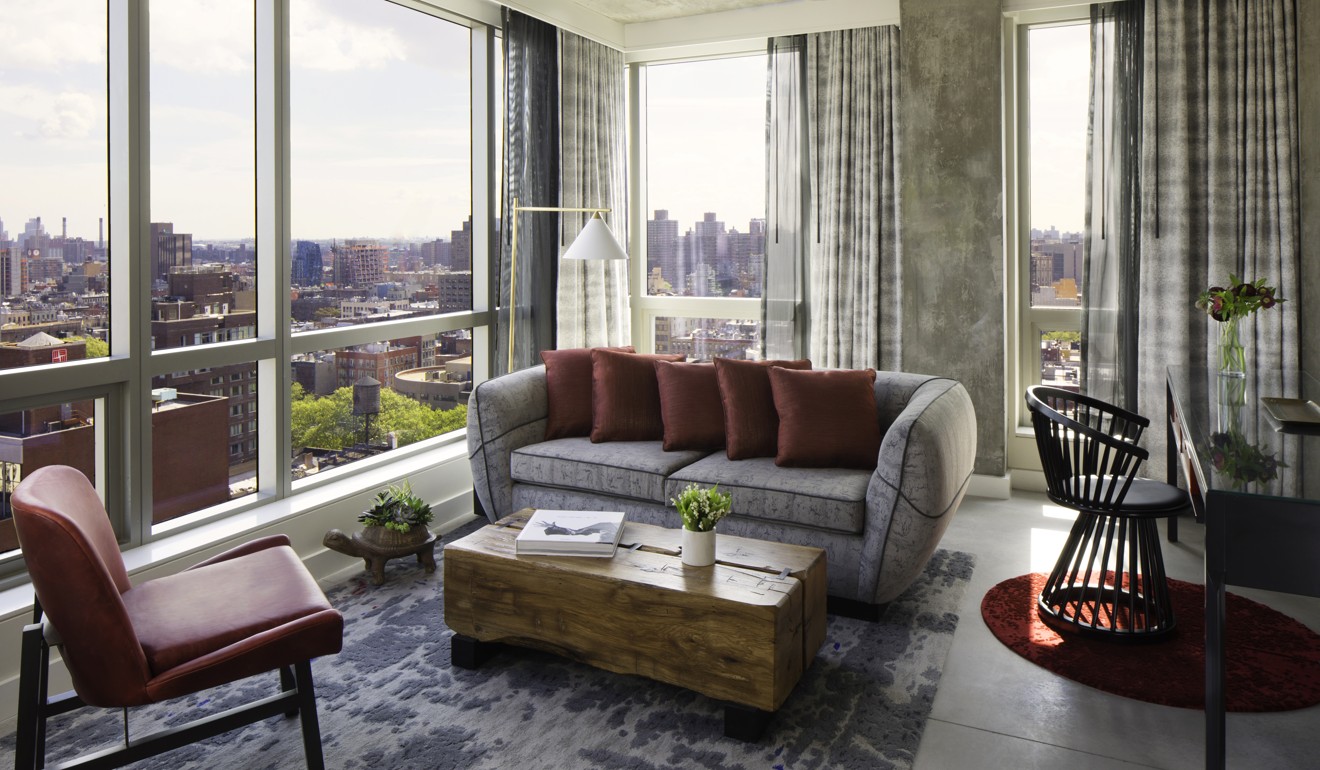 What are the interiors like? Suggestive of its neighbourhood's indus­trial past, poured concrete and exposed brick lend a gritty feel to the hotel while delicate Asian furniture and subtle Eastern design motifs (tones of blue and white, for example) lend a graceful contrast – and reflect the duality of today's Chinatown. Bold graffiti-style artwork by Dake Wong bestows a plucky urbanity on hallways built to convey a sense of arriving at your room through an ancient Chinese village. Panoramic guest-room windows look out onto Lower Manhattan's iconic views.
How far away is the party? There are many places nearby that rock like a wok in shock, but you'll probably find that the hotel itself is the party. The Crown rooftop bar and lounge, which has an Asian-inspired cocktail menu (Black Dragon Tea – vodka, oolong tea and spiced kalamansi, for instance) and munchie fare based on global street food, has become one of Manhattan's favourite hangouts. "Very nice vibe, with unisex bathrooms," writes a yelp.com reviewer who obviously appreciates unity in urination.
What if I get hungry? Former Top Chef contestant and cookbook author Dale Talde lords it over the menus at Rice & Gold, where you can expect his versions of pho soup dumplings, Thai-style friend chicken, arroz caldo and pancit palabok – all inspired by a recent trip to Hong Kong and the Philippines.
What will we have to pay for this Chinatown experience? Prices begin at US$269 a night for a deluxe room.
Getting there
Cathay Pacific and United offer daily direct flights from Hong Kong to New York.