What is it? Shenzhen is a city of surprises. The western side of China's first and most spectacularly successful special economic zone (SEZ) makes for a relaxing seaside staycation only an hour from Hong Kong. The Hilton Shenzhen Shekou Nanhai is a glimpse of yesteryear amid the glittering tomorrow for which Shenzhen is famous. Many hotels strive to find a single unique selling point, but this one has many.
For a start, it comprises two self-contained buildings: a 323-room main building, opened in 2015, and the low-rise, 218-room Nanhai Wing, originally opened in 1986 as one of China's pioneering deluxe hotels. Its first incarnation, with its frumpy style and then-remote location within a mangrove swamp, was soon eclipsed by glitzy new hotels else­where in the SEZ. Owner China Merchants opted for a major renovation instead of a total redevelopment.
Almost four years and 450 million yuan (US$67 million) later, the Nanhai Wing was reborn within the original structure last July as a resort-like oasis surrounded by lush tropical land­scaping. Inside, colours are muted and materials harmonise with the five Chinese elements. Every room has a private balcony and this area catches sea breezes throughout the hottest weather. There are indoor and outdoor pools, a fitness centre, tennis courts, a putting green, a spa, playgrounds and a kids' club.
How's the food? There are restaurants and bars in both buildings, which are only a few minutes' walk (or complimentary electric buggy ride) apart. Seafood features strongly. Suixuan Chinese Restaurant serves dim sum in the morning and, later, superb, elegantly presented Cantonese, Sichuan and Fujian fare. The Nanhai Wing's Kitchencraft scores highly for authentic Sichuan comfort food. At lunchtime an expert pulls noodles for dan dan mein, with chilli and huajiao adjusted to taste. The big evening attraction is Chongqing-style hotpot, also customised for guests' spice tolerance.
For a bite of nostalgia, the weekend afternoon tea buffet in the Lobby Lounge features chicken pie made to a recipe from the original Nanhai hotel's dim sum restaurant. Two DJs spin at the rooftop bar, Eden, where cocktails come with a 360-degree view. With drink in hand, watch history in the making as 21st-century Shenzhen continues its evolution before your eyes, or contemplate the timeless reflections of the setting sun over Deep Bay.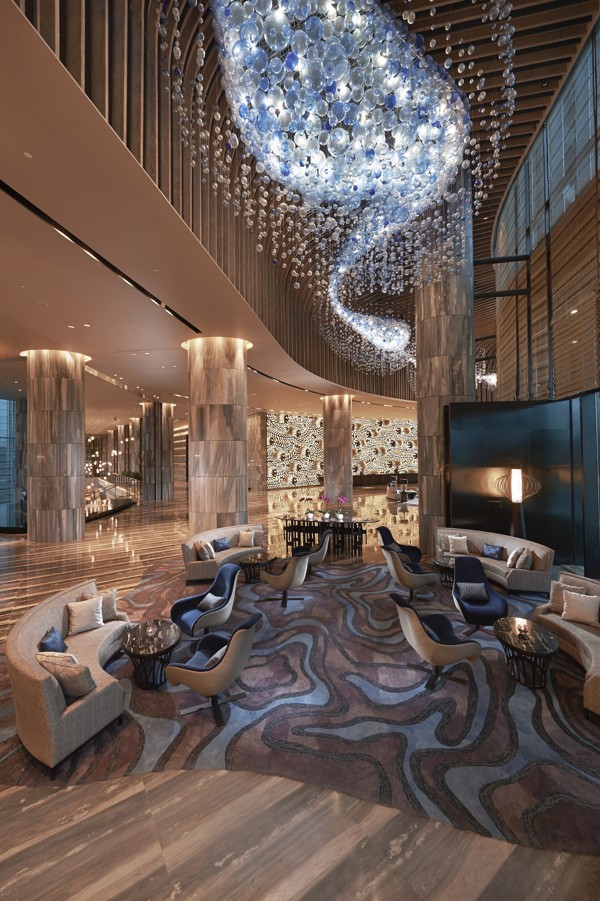 What's special about the neighbour­hood? Nanhai means "south sea", and nearly all of this part of Shenzhen belongs to the China Merchants Group, founded in 1872 as the China Merchants Steam Navigation Company. The nearby Merchant History Museum is dedicated to the history of the company, which was the first such transport enterprise in China not under foreign ownership. Even closer to the hotel, on the waterfront, the Design Society, in association with London's Victoria & Albert Museum, has opened a museum dedicated to leading-edge design, for which Shenzhen, once the world's factory, is now increasingly known.
The fashionable cafe and bar district at Sea World, located opposite the Hilton and Bar Street, is only a few steps further, while the Mission Hills complex is just a few long golf drives away. If time hangs heavy on your hands by day, it's good to know there's also a cluster of local theme parks catering to all ages.
How accessible is it? The ferry ride from the Shun Tak Centre, in Sheung Wan, to Shekou takes less than an hour and immigration and customs formalities are superfast, assuming your paperwork is in order. From the port, the hotel's shuttle bus takes 10 minutes to reach this unexpected oasis of civility amid one of the world's most successful economic experiments.
What's the bottom line? A standard room in the main building or Nanhai Wing starts at 1,388 yuan, without breakfast.