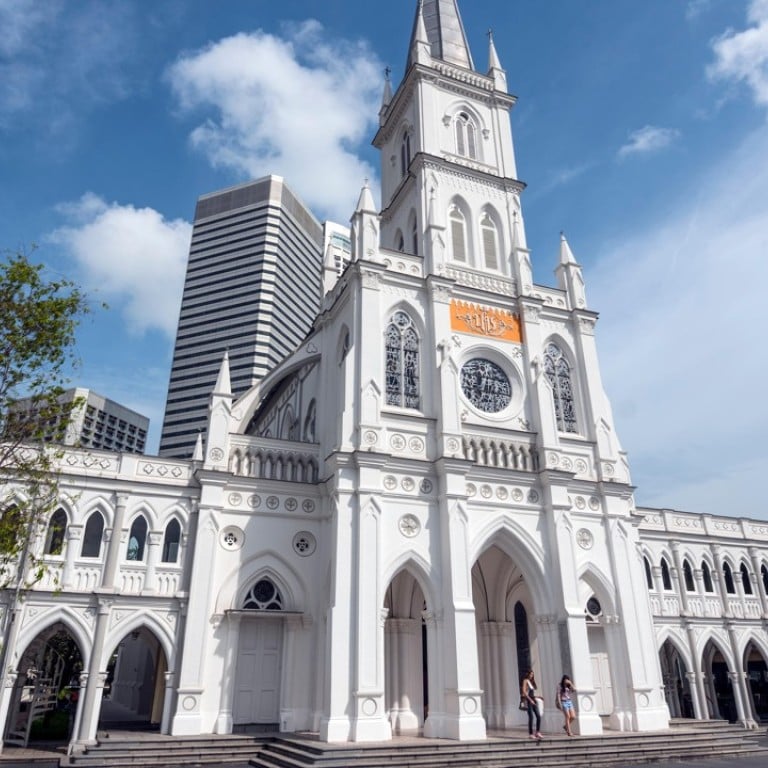 The Crazy Rich Asians guide to Singapore: film locations you can actually visit
From the Marina Bay Sands' infinity pool to the Newton Food Centre, you don't have to be crazy, rich or Asian to visit these landmark locations seen in the Lion City-based Hollywood blockbuster
Just as New York was to Sex and the City, so Singapore is to  Crazy Rich Asians .
The Lion City doesn't just hold its own among a cast that includes Michelle Yeoh Choo Kheng, Constance Wu, Awkwafina and Jimmy O. Yang, it's a veritable scene stealer. Although the film, based on
a 2013 novel by Kevin Kwan
  about super-wealthy Chinese Singaporeans and their ultra lavish lifestyles – and currently showing in Hong Kong cinemas – was shot mostly in Kuala Lumpur, Singapore shines in a series of panoramic shots and glamorous location close-ups.
Here's where to find the Singapore locations featured in the film and the best way to experience them.
Marina Bay Sands SkyPark
Sweeping vistas of the Marina Bay area and Marina Bay Sands hotel – the building that looks like a ship marooned on top of three skyscrapers – abound in the film but the ultimate money shot is of the hotel's SkyPark infinity pool, on the 57th floor, the setting for the synchronised swimming extravaganza.
Whatever you do, don't buy a ticket to the SkyPark obser­va­tion deck – you won't get anywhere near the swimming pool. Access to the pool area requires a room key card so, to swim in the pool (and take that obligatory selfie with the skyscrapers as a backdrop), you'll need to check into the hotel, but is it worth it?
 The vast MBS attracts large tour groups and the infinity pool, like many Instagram-famous locations, is always jam-packed. Even, or especially, at night. Better to have a cocktail at Ce La Vi or book at Spago Bar and Lounge and request a table overlooking the pool, so that you can  glimpse the madness – and that admittedly amazing view – from a dignified distance.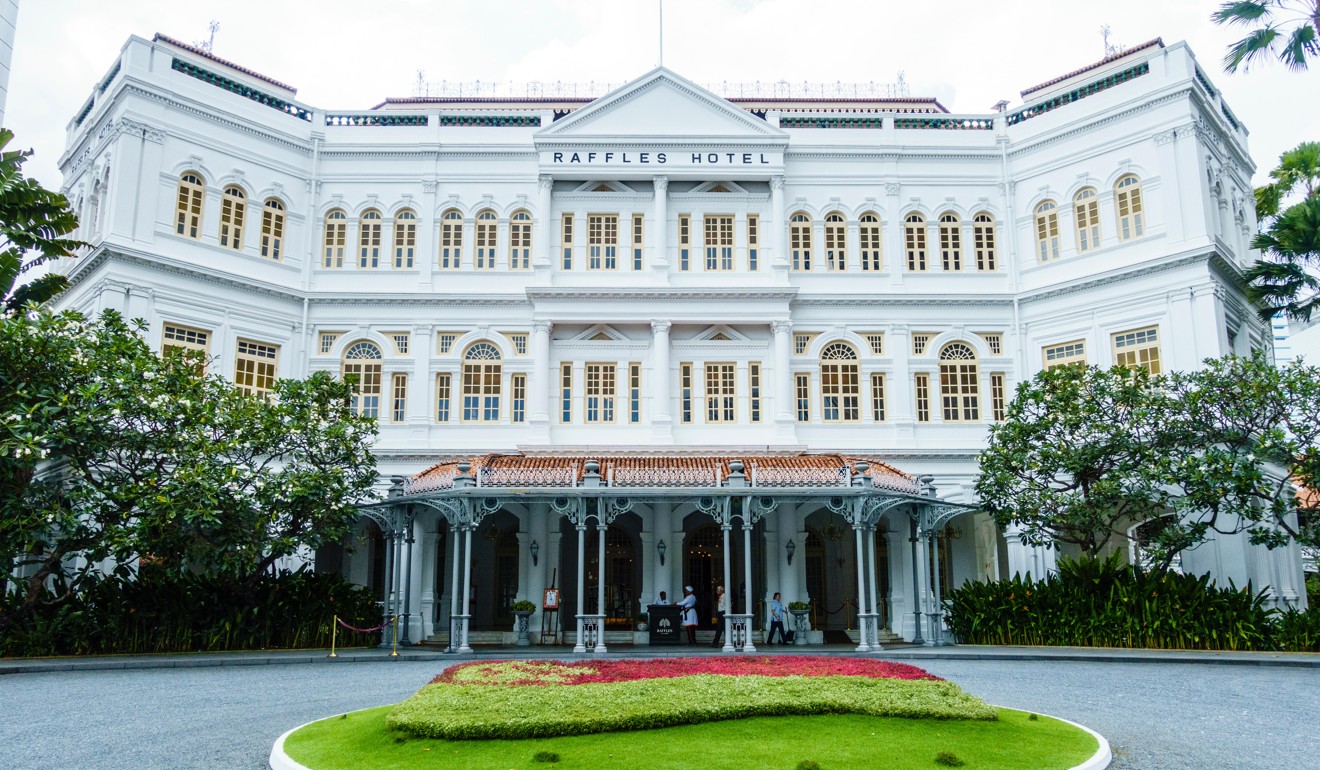 Raffles Hotel
Although in Kwan's novel the hotel where naive heroine Rachel Chu and her crazy rich boyfriend Nick Young stay sounds like the five-star Goodwood Park, the film version has them ensconced at the equally starred Raffles.
The couple's scenes were shot in the main "grand hotel" building, including the Drawing Room high above the lobby. Even if, like Nick, you have the S$10,000 (US$7,300) plus per night necessary to book into one of the two presidential suites, you'll have to wait a while; the hotel is closed for refurbishment until the beginning of 2019.
 Filming took place before work began, so expect some changes if you check in next year. Most notably, the lobby was accessible only to hotel residents but on reopening will encompass a new lounge in which afternoon tea will be served to all and sundry. The Writers Bar, a hidden gem in the corner of the lobby, is being extended and an Alain Ducasse restaurant will open.
Chijmes
Across the road from Raffles, this colonial-era compound (strangely spelt due to Singaporeans' love of acronyms, but pronounced Chimes) was variously a convent and a school (the Convent of the Holy Infant Jesus Middle Education School, if you're wondering about that acronym), and in its most recent incarnation is populated with food and drink outlets. At its heart, the 19th-century gothic chapel renamed Chijmes Hall and now turned into a function space is the location for glamorous couple Colin Khoo and Araminta Lee's society nuptials.
The white wedding cake architecture is worth a look but while you're here, don't miss Whitegrass, one of Singapore's truly outstanding restaurants. Chef Sam Aisbett fuses ingredients from Japan and his home country of Australia and uses Asian techniques to create a fantastic contemporary menu.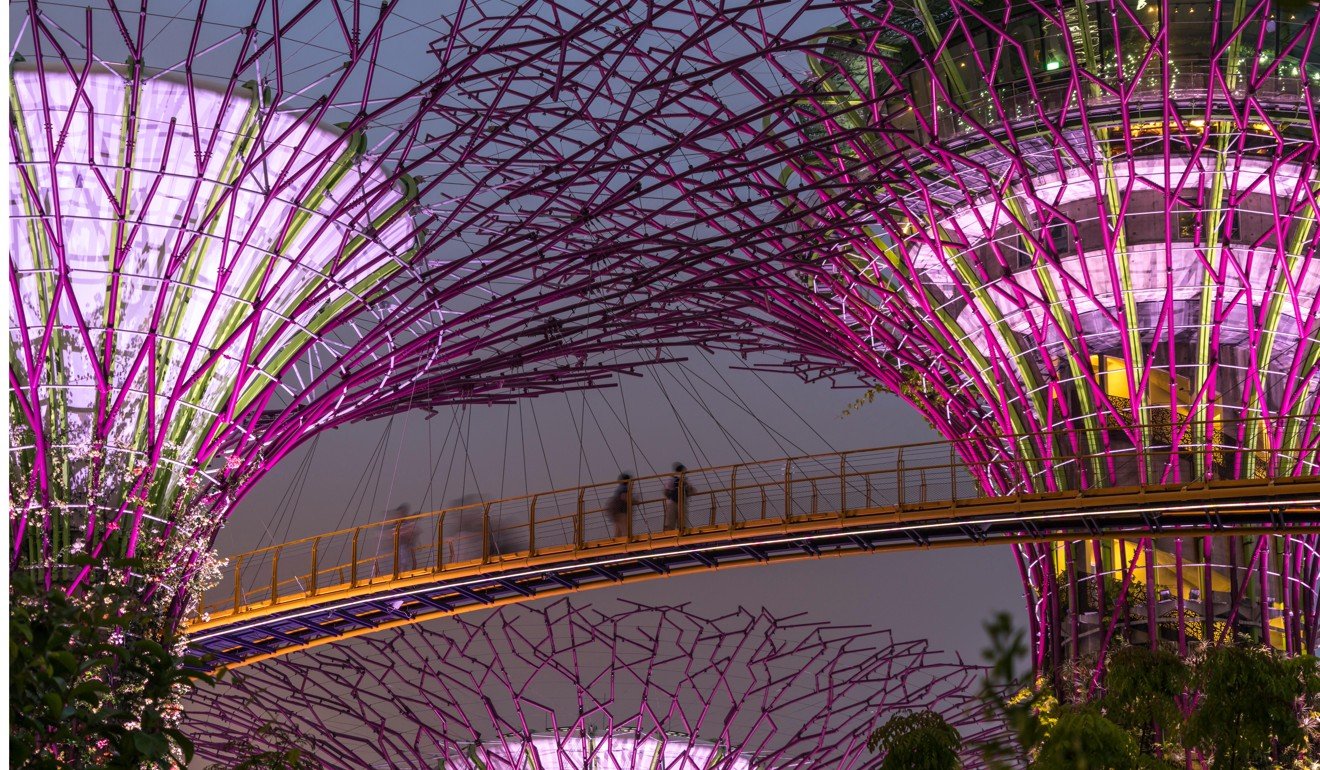 Gardens by the Bay
Colin and Araminta's spectacular evening wedding reception is held here amid the Supertrees. And night time is really the only time to visit these man-made, multimillion-dollar gardens (the outdoor sites are open until 2am). During the day, the Supertree Grove is punishingly hot. Another advantage of an evening visit is that the extraordinary "tree" structures – between 25 and 50 metres tall and draped with living walls – are illuminated. A delightfully OTT music-and-light show takes place at 7.45pm and 8.45pm nightly.
Make a booking for dinner at Pollen, in the nearby Flower Dome, with its Mediterranean climate and associated flora. The pretty setting and excellent mod Med cooking aside, the beauty of dining here is that you can walk around the Dome after 9pm, when all the visitors leave.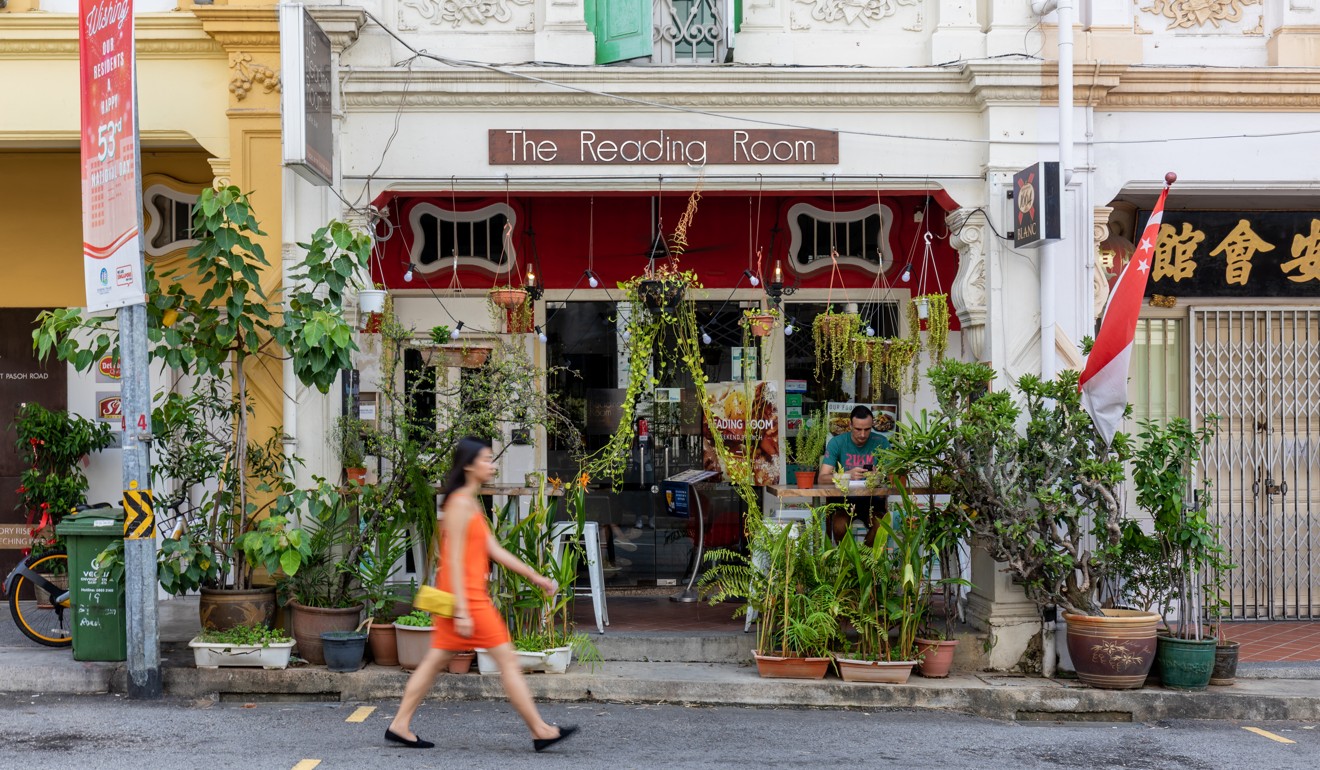 Bukit Pasoh Road
This picturesque stretch in Tanjong Pagar, part of Chinatown, is lined with preserved Peranakan shophouses, making a photogenic alfresco meeting point for Rachel and her college friend, Peik Lin. The actual spot immortalised on film is the terrace outside the Humpback seafood restaurant, across the road from The Reading Room (a coffee house by day and a bar by night).
A few doors down is The Straits Clan, one of Singapore's new breed of members-only clubs, housed in the attractive building that was until recently the New Majestic Hotel. Bukit Pasoh used to be known as "the street of clans" and this slice of heritage Singapore makes a welcome change for anyone suffering shopping-mall fatigue.
Newton Food Centre
Of course, any film set in Singapore has to feature hawker centres, the outdoor food courts with stalls selling a medley of Asian street cuisines that the city is famous for. Kwan's novel has Nick scorning Newton Food Centre as "only for expats and tourists" and championing Lau Pa Sat instead. Ironically, though, it's the latter, with its easy location next to the Central Business District and charming Victorian wrought-iron structure, that is usually dismissed this way by Singaporeans. And Newton is the actual location for the street food fest in the film that's had critics salivating.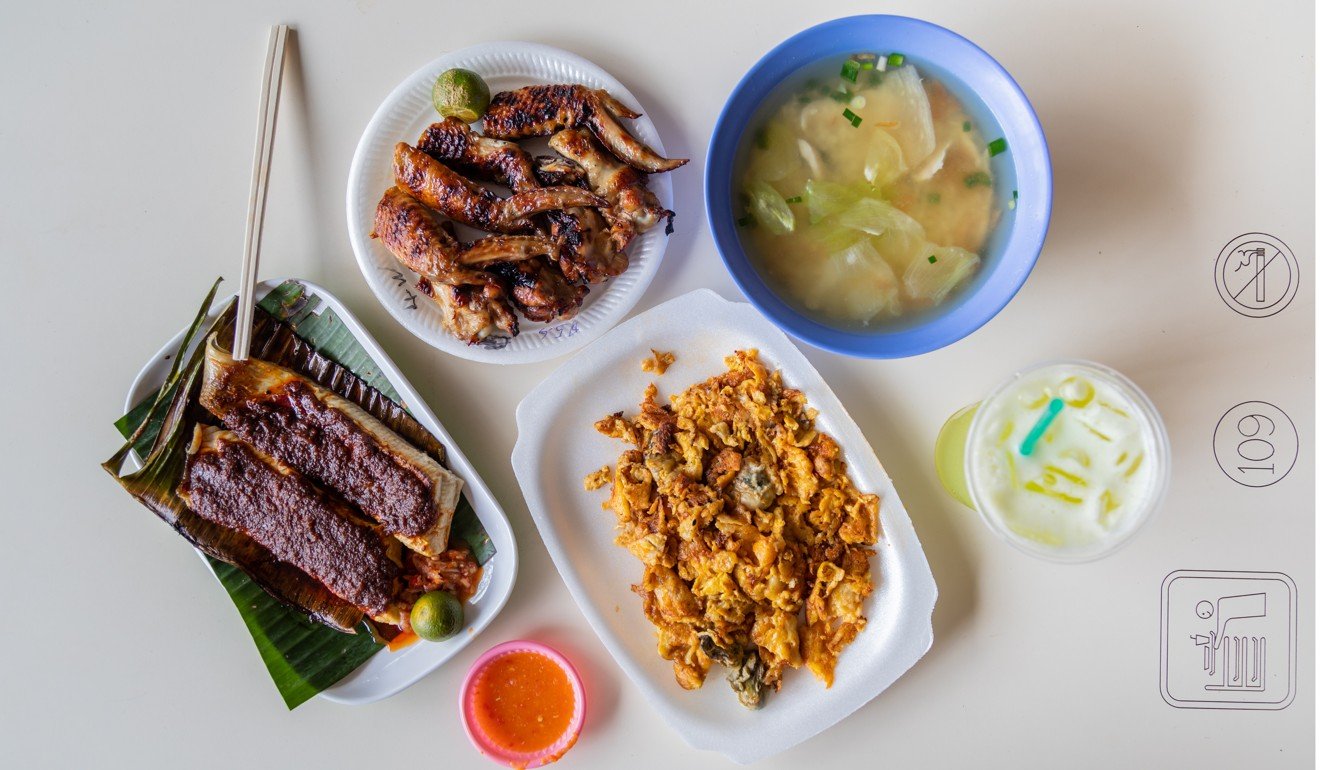 Besides, hawker food guru KF Seetoh, author of the Makansutra guide, rates many a stall at Newton. Seetoh recommends Hup Kee Fried Oyster Omelette, Kwee Heng Duck Noodle, Kwang Kee Teochew Fish Porridge, Bee Heng Popiah, Soon Wah Fishball Kway Teow Mee (for fishball noodles) and Chong Pang Huat, for barbecued chicken wings.
 If you're thinking it seems unlikely UHNWIs would be eating at a hawker centre, it's worth bearing in mind that almost everyone in Singapore does – or sends their maid and driver to pick up.