What is it? A new 153-room design hotel in a seven-storey, 19th-century building that has, over the years, been home to the Finnish Literature Society, the printing presses of the first Finnish newspaper, Suometar, and the Helsinki Finnish Club (for men "devoted to the ideology of Finnishness").
Across from pretty Old Church Park, in the centre of Helsinki, the St George has been conceived around the idea of holistic well-being.
So far, so buzzwordy. What exactly is on offer?The design, as you might expect, is classic Scandi, with lots of natural materials and well-considered art. The rooms are satisfyingly soundproof and the steam room, sauna and pool are open early and late. Nordic walking sessions – an exaggerated, total-body way of moving that is aided by specially designed poles – are led around the surrounding area.
The spa is managed by former national handball champion and investment banker Linda Ekholm, now a nutritionist who gives consultations on healthy eating and sleeping (guests can have a state-of-the-art monitoring device fitted under their mattress, to aid with the diagnosis).
What else makes it different? Well, there's the 400-piece art collection, the pièce de résistance of which is a large silk-and-bamboo dragon, by Ai Weiwei, suspended in the entrance hall. Most of the other art, in the common areas and guest rooms, is by Finnish artists.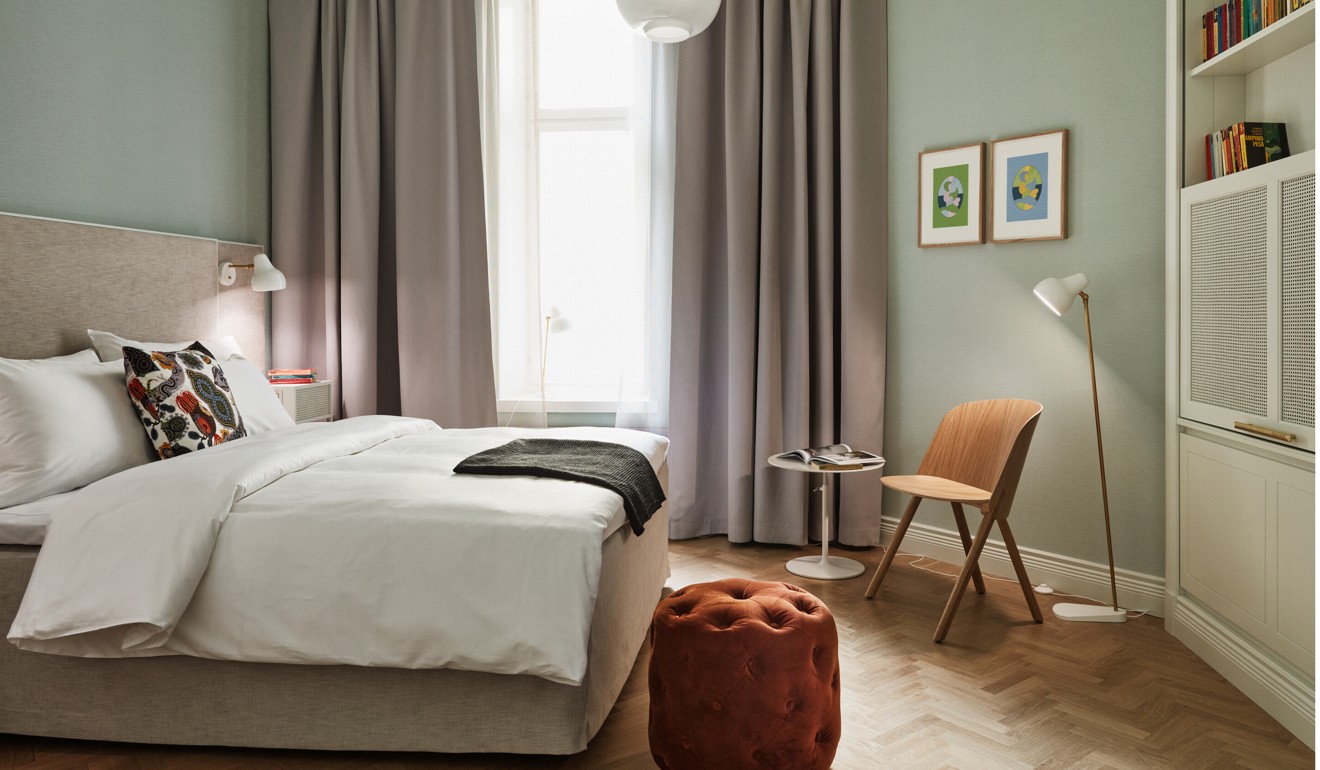 This isn't a traditional luxury hotel so don't expect doormen or fawning service. St George's creative director and the driving force behind the project, Mirkku Kullberg, doesn't have a background in hospitality, but in design, and you can tell – in a good way. There is something refreshing and unjaded about the whole enterprise.
What about the restaurant? Helsinki is going through something of a renaissance when it comes to food. Chefs doing their own thing with foraged, local ingredients and tasting menus abound in the capital. Mehmet Gürs (of Mikla, in Istanbul, No 44 on the World's Best Restaurants list) has taken a different approach for Andrea, the hotel's restaurant.
The Finnish-Turkish chef serves up an intriguing mix of Anatolian and Nordic dishes – think smoked salmon and goat cheese pide; beef tartare, with sumac, horseradish and sorrel; local fish prepared with Mediterranean herbs and tomatoes; and rack of lamb with spicy tabbouleh and home-made yogurt.
And if I want a coffee mid-after­noon? You're in luck. The hotel has an all-day bakery that serves hearty sandwiches, home-baked sweets and coffee: an excellent brew that is also on offer at breakfast. Speaking of which: breakfast can get busy as the dining area isn't large. Go early or later if you can, or try the in-house-baked cinnamon buns, home-made yogurt and quark, or the spicy Shakshuka eggs, in your room.
Should I stay in for drinks? Definitely. The restaurant bar serves up an inspired selection of wines and craft beers while the Wintergarden, with its private nooks and dramatic brass bird sculpture by Finnish artist Pekka Jylhä, is a good place in which to sample a range of experimental cocktails.
The Tilted Kilt – served in a glass pipe that arrives emitting wafts of smoke – is worth ordering for the Instagram mileage alone. What is it? Oh … it's a blend of Laphroaig whisky, smoked lapsang souchong tea and walnut and cherry bitters.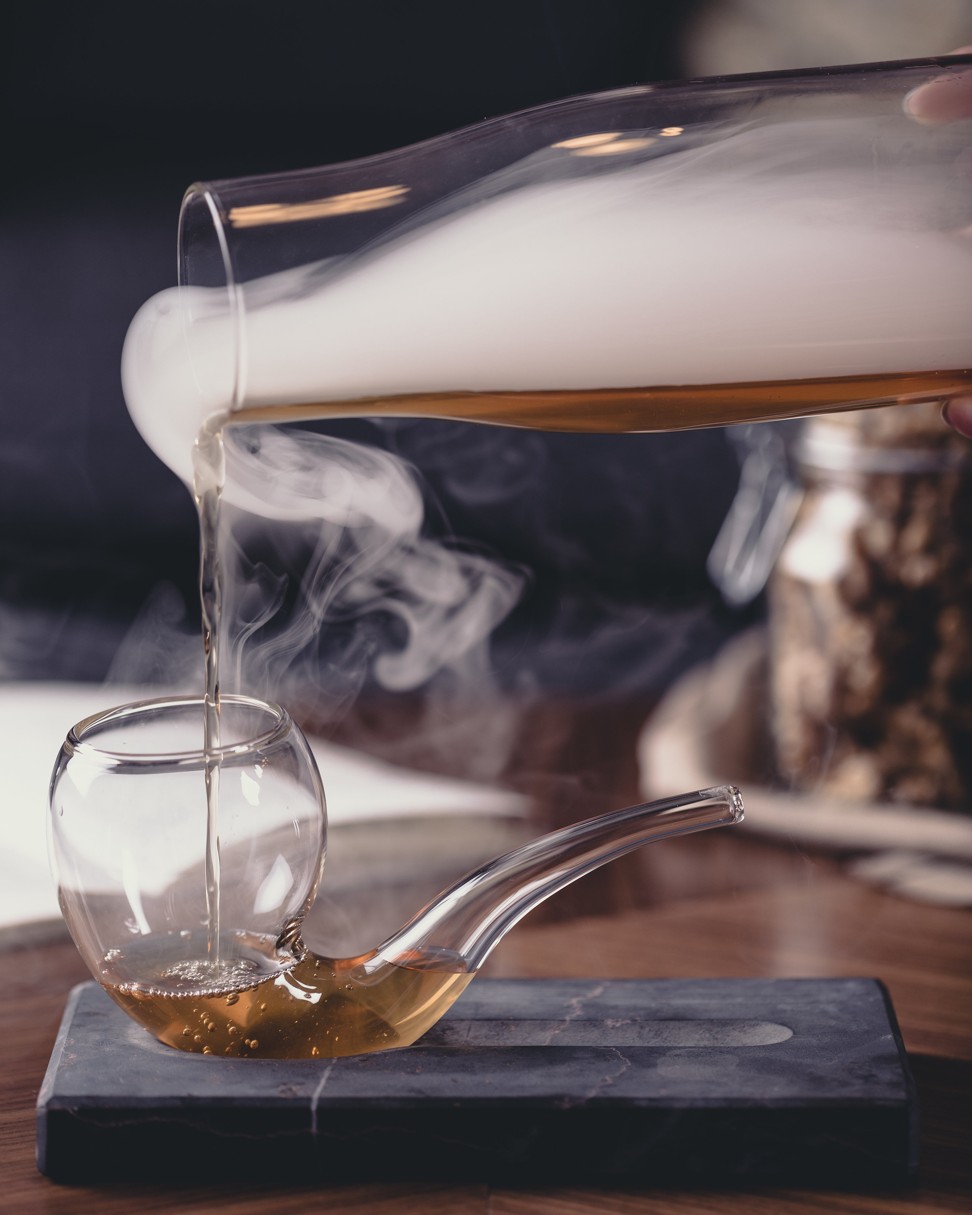 Is now a good time to go? Yes! Helsinki is having a cultural moment as well as a culinary one. The Amos Rex contemporary art museum opened in August and is a 10-minute walk from the St George. The complex combines modernist architecture with hi-tech underground gallery spaces and a public piazza beneath the museum's funnel-shaped skylights: a striking new landscape for locals to walk, sit and skate on.
The city has also rehabilitated many of its formerly off-limits military islands, located just a few minutes away by ferry. Lonna, for instance, now boasts a brilliant restaurant and a public sauna.
What's the damage? A double room starts at €230 (HK$2,050) a night. The most opulent suite, the St George, will set you back €2,200.
Getting there
Finnair flies direct from Hong Kong to Helsinki.