British author Travis Elborough's new Atlas of the Unexpected: Haphazard Discoveries, Chance Places and Unimaginable Destinations features dozens of locations with potential to excite the interest of even the most jaded traveller.
From the spectacularly palatial but abandoned Canfranc International railway station, in Spain, to the remote-but-reachable volcanic island of Aogashima, in Japan, it offers inspiration for travels beyond the usually safe and unsurprising annual travel lists that start appearing around this time of year. Some places, such as Madeira and Pompeii, are better known than others, and the writer's nose for detail and knack for storytelling make for first-class armchair travel.
This book is a follow-up to Elborough's Atlas of Improbable Places: A Journey to the World's Most Unusual Corners (2016), which features engaging tales about a similar selection of offbeat places, such as the grey, forbid­ding Hashima Island (also known as Gunkanjima, or Battleship Island, and less than a day's travel from Hong Kong), in Japan, and the abandoned former celebrity jet-setters' resort of Varosha, in northern Cyprus.
---
Origin of the ... stays? Charles Darwin-themed hotel to open in Ho Chi Minh City, Vietnam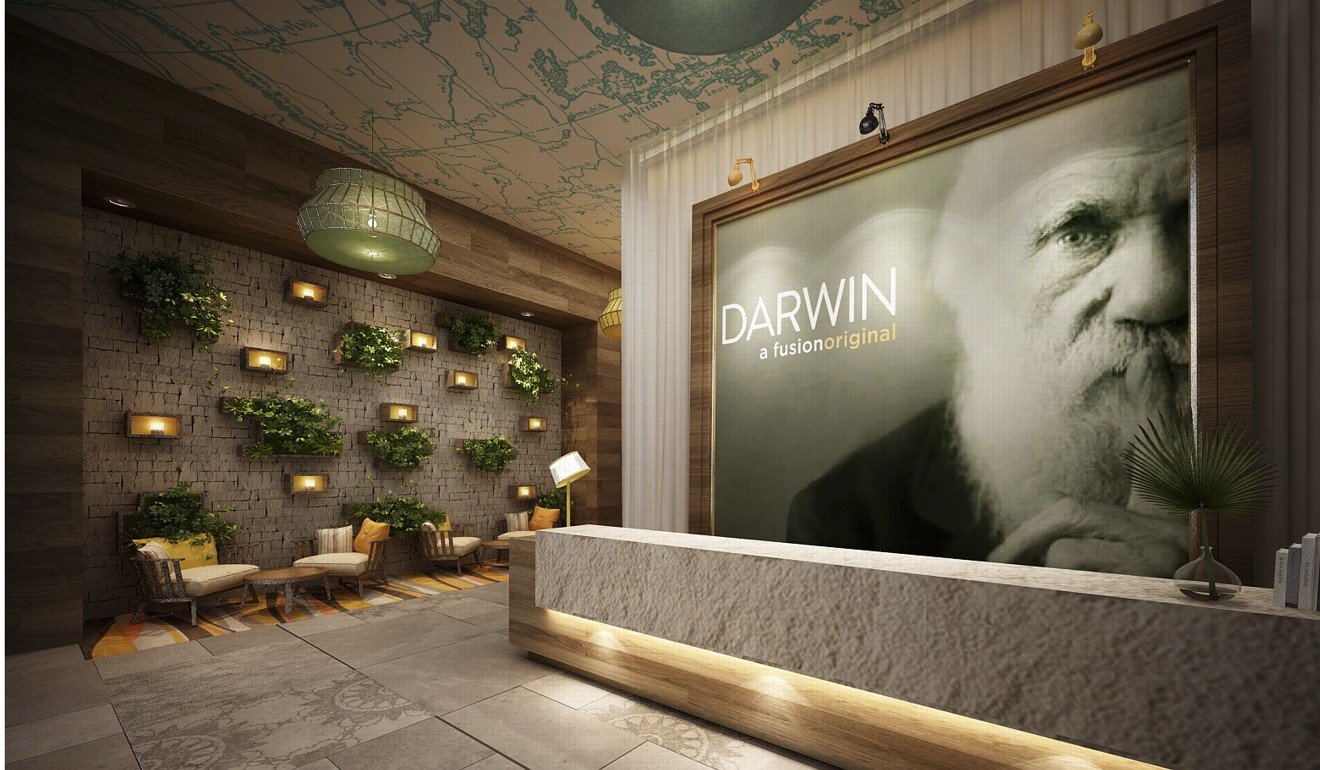 Charles Darwin might seem like an unlikely theme for a new luxury hotel anywhere in the world but it is especially so in Vietnam – a country he never visited. A property dedi­cated to the British naturalist is, however, on the way, and will be the forerunner of a new brand concept called Fusion Originals.
Scheduled to open in Ho Chi Minh City next summer, Darwin – a Fusion Original will feature profuse Darwinian decor, including a giant portrait of the man himself in the lobby. Botanical motifs and supersized manuscript extracts will adorn the walls, along with other "subtle vibes of 19th-century discovery and adventure". There will also be a Beagle Bar, in commemoration of Darwin's five-year voyage aboard HMS Beagle, and each of the hotel's 88 rooms will have a copy of the 1859 treatise On the Origin of Species (in place of the more traditional Gideon Bible, presumably) in the bedside drawer.
Vietnamese hotel group Fusion, which also operates Fusion Resorts and Fusion Suites around the country, plans to open more Fusion Originals paying similar homage to "a pioneering artist, inventor, scientist or social leader".
---
Deal of the week – self-drive holidays in Malaysia
Lotus Tours is offering adventurous tourists a couple of affordable self-drive holidays in Malaysia. Both beginning in Kuala Lumpur, they include three nights' accommodation and four days' car hire with the option to head north to Ipoh and Penang, or south to Port Dickson and Melaka. Hotel choices in Kuala Lumpur are the DoubleTree by Hilton and Novotel City Centre (the DoubleTree is preferable).
In the other cities, hotels are limited to the Impiana Hotel Ipoh, Bayview Hotel Georgetown Penang, Avillion Port Dickson and Novotel Melaka. If you don't mind squeezing four people into a Proton Exora, prices start from HK$3,460 (Ipoh/Penang) and HK$3,560 (Port Dickson /Melaka) per person for two twin rooms. The per person package prices for two people sharing a car and one hotel room start from HK$4,120 and HK$4,200, respectively.
Prices include flights with Cathay Dragon and break­fast at each hotel. For full details, click the English tab at the top of the page at www.lotustours.com.hk, choose Packages and enter Kuala Lumpur in the Search Package field.