What is it? An art museum hidden beneath a sand dune. Programmed and managed by the Beijing contemporary art foundation UCCA, the museum is housed in a surreal succession of white concrete caves carved within a stretch of ocean dunes. The designers hope their project will raise questions about art, architecture and nature.
Where is it? At the Aranya Gold Coast Community, a seaside resort near Changli, in Hebei province's Beidaihe district, north­east China. The 300km-or-so trip from Beijing to this part of the Bohai Bay takes about four hours by car, but if you prefer to avoid the inevitably white-knuckle experience, the train from the capital takes just 90 minutes, followed by a 20-minute drive from Beidaihe station.
Why should I travel so far to see art? Since there is no shortage of wild and wonderful art on show in Beijing itself, the canny curators plan to display a series of unusual works that will make the most of UCCA Dune's unconventional architecture and natural setting.
The inaugural exhibition, "After Nature", runs until April 4, presenting works by nine Chinese artists engaging with the natural world. Mountains, a specially commissioned piece by Yang Xinguang, features an undulation of low concrete hills set in the sands beyond the Dune.
What else is there to see? UCCA Dune is the third unlikely yet beguiling beachside architectural landmark in the area. Close by are the Seashore Library – a minimalist, two-storey abstract structure with a reading room and unexpectedly serene interiors that became a viral sensation as the "loneliest library in the world" when it was unveiled in 2015 – and the Seashore Chapel, a tiny, steep pitched-roof structure. All are part of the Aranya Gold Coast's cultural offerings.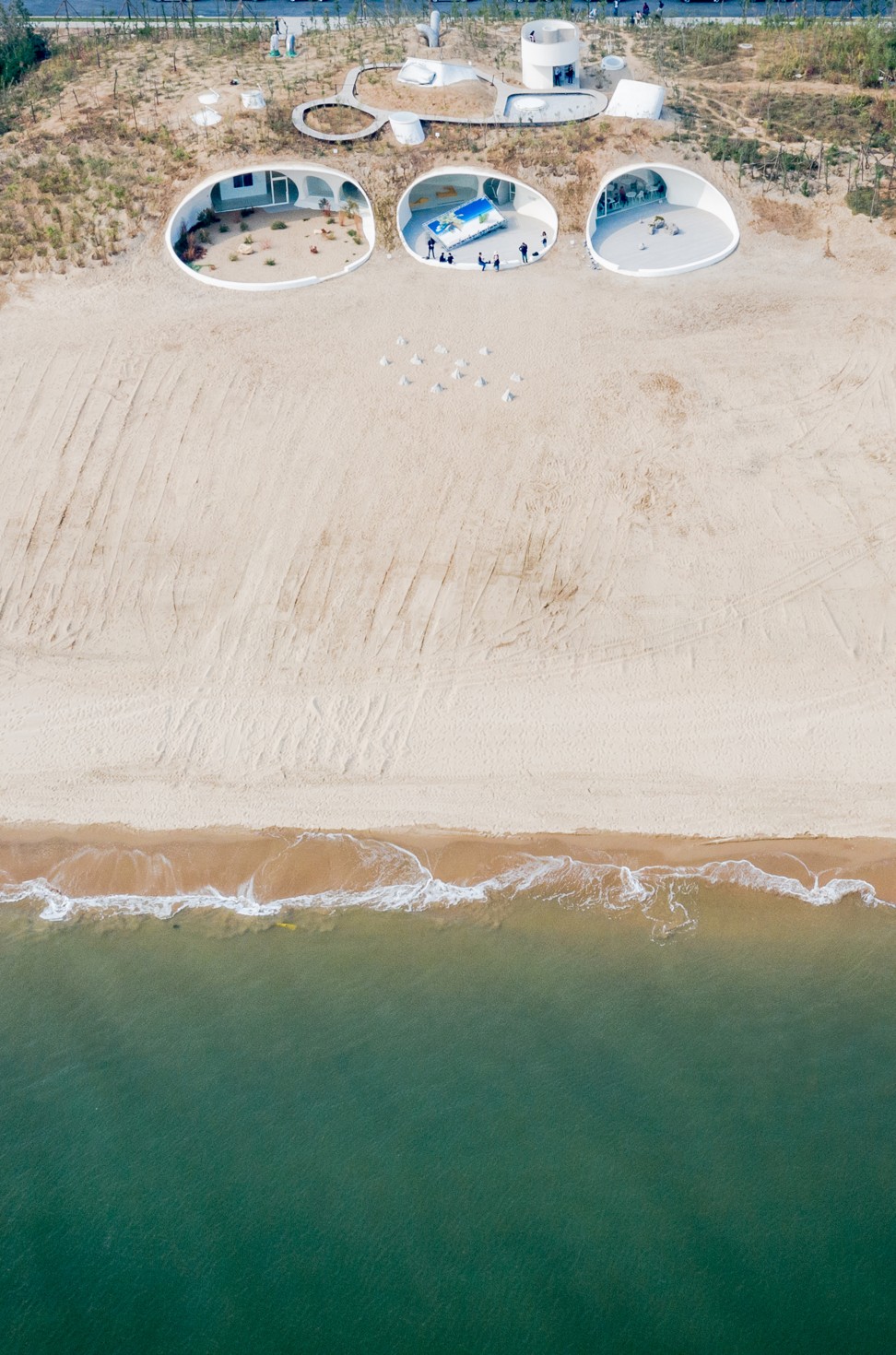 I'm finding it hard to imagine art in caves … Think of the Teletubbies' rounded green hillside home in beautifully rendered minimalistic concrete. The 930 square metre single-storey structure holds seven curvaceous indoor and three outdoor galleries. The designers, Li Hu and Huang Wenjing, say they wanted to protect the natural context, hence the buried form.
How do visitors get in? Through a tunnel leading to a series of interconnected caves of varying formations. Some feature skylights that bathe the interiors in natural light while others have big curved windows facing the Bohai Sea. A spiral staircase leads up to an observation deck on the roof. The museum's simple form belies the consider­able effort that went into creating what's described as an environmentally friendly building: geothermal energy is used; the building is cleverly insulated; and the deep east-facing facade helps minimise heat gain. The contractors, their ranks drawn from local boatbuilding families, formed the curved concrete walls on-site using wood to create an unusual tactile texture.
What's next? A causeway, to be built next year, will lead from the caves across the beach to a smaller one-room, abstract-looking, semi-submerged gallery that will be reach­able on foot only at low tide. At other times, a boat will be needed, making the trip out more like "a pilgrimage". In this new space a single artwork will be exhibited.
Anything else I should know? On-site is a cafe with a barista serving top-notch coffee from one of Beijing's hippest coffee houses, He. Spring and autumn are the best times to visit, although Dune still looks strikingly beautiful in the grey, smog-ridden winter light.
What's the damage? Entrance is 80 yuan (US$11.50) or 50 yuan for students.