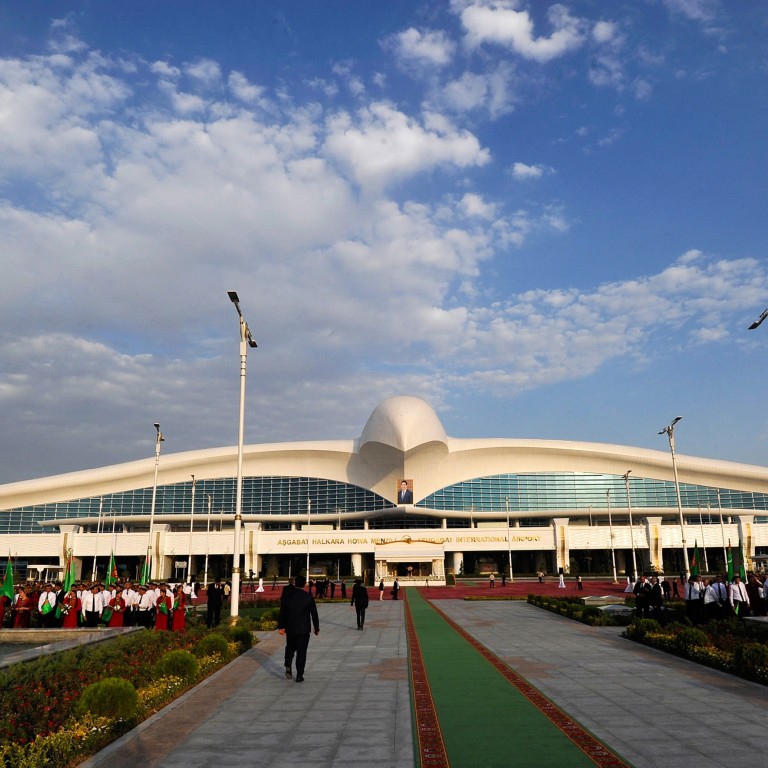 Turkmenistan: a road trip through the eccentricities of the Central Asian state
Surreal presidential vanity projects and Soviet-era debris overlay traditional cultures of yurts, camels and animist beliefs
Among the things banned by late leader are libraries, opera, ballet, circuses, hair dye, nail polish, gold teeth, beards and long hair
There can be few travel experiences more surreal than entering an oversized, largely deserted, marble airport built in the shape of a falcon at 3am. However, it will turn out to be a fitting introduction to Turkmenistan, a country shaped by the whims of its two post-independence leaders.
The Ashgabat International Airport, formerly named Saparmurat Türkmenbasy, was completed in September 2016 at a cost of US$2.3 billion and can process 17 million passengers a year, even though the number of annual visitors to the
Central Asian country
has never exceeded 10,000. It was designed by and originally named after former president Saparmurat Niyazov, who styled himself Türkmenbasy, or "Father of the Turkmen", and ruled the country from its independence from the Soviet Union, in 1991, until his death, in 2006.
To describe Niyazov as eccentric would be an understatement. He was fond of banning things: hospitals outside
the capital, Ashgabat
; libraries, opera, ballet and circuses; hair dye, nail polish and gold teeth; beards and long hair. His chief meteorologist was sacked for predicting weather that was not to the president's liking and dogs were forbidden in Ashgabat because of their "unappealing odour".
Like a stinky mutt, I've decided to leave the capital and tour the country with a driver. Burat meets me at my hotel the morning after my arrival, his shiny black four-wheel-drive prominent against the gleaming white of Ashgabat's buildings.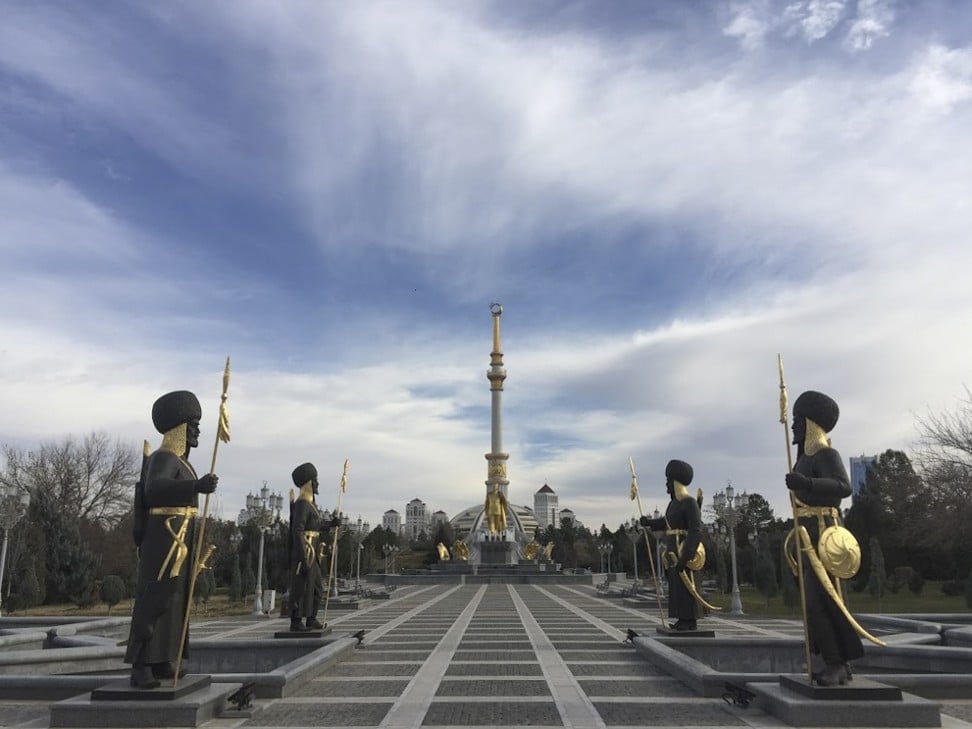 We drive 20km north to the Tolkuchka bazaar, one of the largest markets in Central Asia. This half-covered expanse sells everything from vegetables to carpets and camels. The women shoppers, most with forbidden gold teeth clamped around forbidden gold-tipped cigarettes, are a sight to behold.
We press on through the desert to Jerbent, a ramshackle and improbably remote collection of yurts, square concrete-block houses and broken-down trucks being consumed by the creeping Karakum Desert, its dunes having been overgrazed by bored-looking camels and goats that have thus far escaped Tolkuchka's stalls.
For all its end-of-the-universe desperation, Jerbent is an important staging post: 160km from Ashgabat, it is the only settlement of any size along the country's sole north-south artery, the desolate road between the capital and the Uzbek border, 450km further north.
Burat has friends in Jerbent. He tells me that desert people are good people and, sure enough, our stop for biscuits and chorniy chai (black tea) soon escalates. Silent, headscarved wives bring out dish after dish to their unexpected guests. The first is rabbit, the dark flesh, small bones and all, hacked into chunks. As we eat, the master of the house, who sports a beard in defiance of Niyazov's diktat, proudly displays a picture of himself in a felt hat, a falcon perched on his arm. The bird is the one he used to catch the rabbit we're devouring, he says, but it could just as well have been the model for Ashgabat's new airport terminal.
The next dish is challenging: boulders of cold mutton covered in an inch of fat and chal (fermented camel milk) sitting white and malevolent in an earthenware bowl. I suck at the mutton and slurp the fizzy chal, smile and smack my lips as the first of many camel-flavoured burps bubbles up.
Our next destination is Darvaza and what Burat insists will be "the greatest sight of my life". As twilight falls, we turn off the tarmac onto a rough dirt track, where camels lurch towards us. We skirt the cleavage of two mounds known locally as the Siski Hills (siski means "breasts") and there, after much bouncing along in the gathering dark, is a crater glowing red and hot and otherworldly.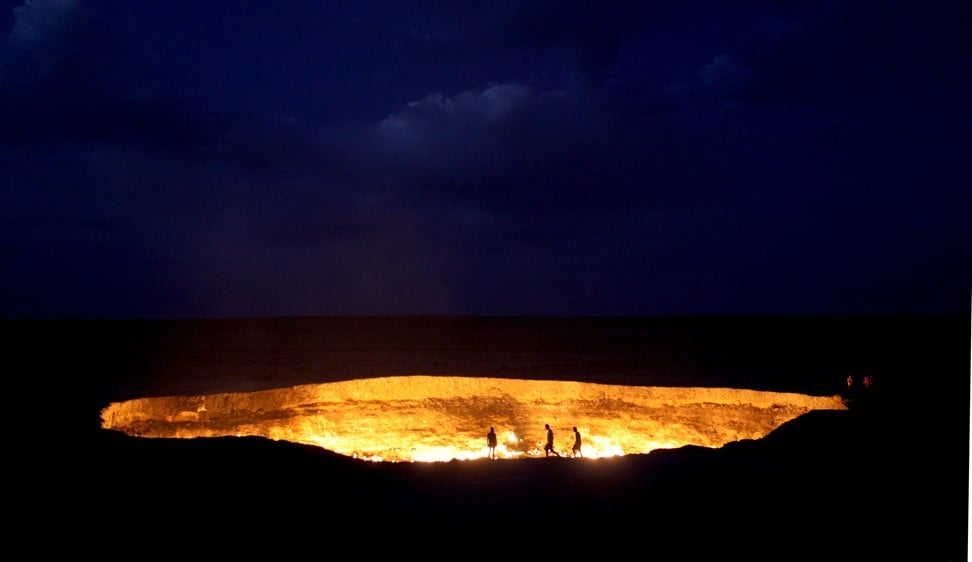 The crater has been on fire since 1971, when Soviet geologists accidentally drilled into a cavern filled with natural gas. The ground collapsed, leaving a hole 60 metres wide and 20 metres deep, and a decision was made to burn off the poisonous gas seeping from it in the expectation that the blaze would extinguish itself within a couple of days.
I walk around the edge transfixed by the flames and grateful for the warmth on this freezing Karakum night. The crater resembles a glowing, orange gateway to hell; hot fingers shoot above the crumbly lip and it roars like a stove with the gas rings on full blast. As the sky erupts into stars, the solitude here – 10km from the road and 300km from Ashgabat – feels absolute.
Looking diminished in the bright early morning light, the fire's warmth is just as welcome after a night spent on a mat on the floor of a yurt.
We retrace our journey to Jerbent and then head west for 80km on a road that is no more than occasional tyre tracks in the sand. Bikieri is so remote it puzzles me how people live here and why they would choose to do so. It's a thriving community of yurts and about 50 square adobe houses beneath pale craggy hills. The small homes are arranged around a tin-roofed mosque and tiny school outside which a green Turkmen flag flaps in the gritty wind, the only flash of colour.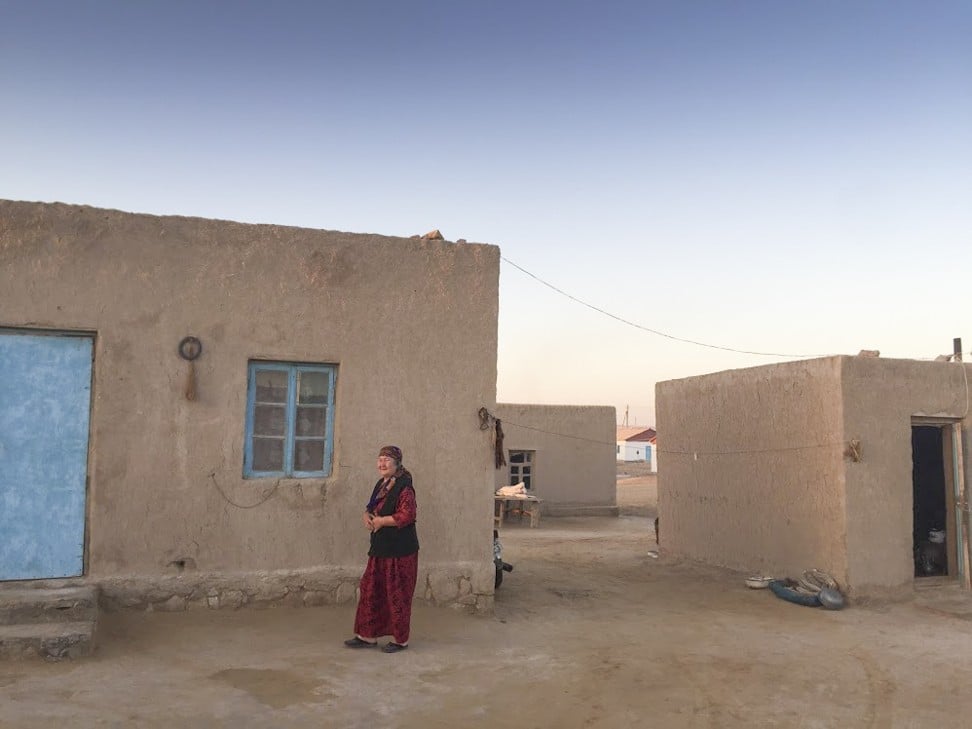 The community is preparing for a feast. A couple are peeling the skin from a goat hanging from a brittle-looking tree, turning the animal inside out. Women add sticks to a sculptural pile of firewood as old men watch from tidy rows of wooden benches, their creased and weathered faces framed by more forbidden beards.
We leave without partaking and drive into the hills, where three other villages – Kizil Takir, Serni and Dinli – vie with Bikieri for the title of most remote settlement in Central Asia. We climb a small, steep, rocky escarpment; below us, a broad, flat, silent expanse stretches to the horizon. The foreground is littered with abandoned vehicles, the area having been used as a military airfield until the collapse of the Soviet Union.
Heading south towards Ashgabat, tarmac feels like an indulgence after so many miles on sand. The Kopet Dag mountains, which stretch for 650km and separate Turkmenistan from Iran, fill our view, the buildings of the capital tiny at their foot.
We turn west and skirt Ashgabat on our way into the mountains, stoping at Gypjak, where Niyazov was born and his mother and two brothers were killed in a 1948 earthquake. The village's Türkmenbasy Ruhy mosque is perhaps the most self-adulatory construction the late president ever built.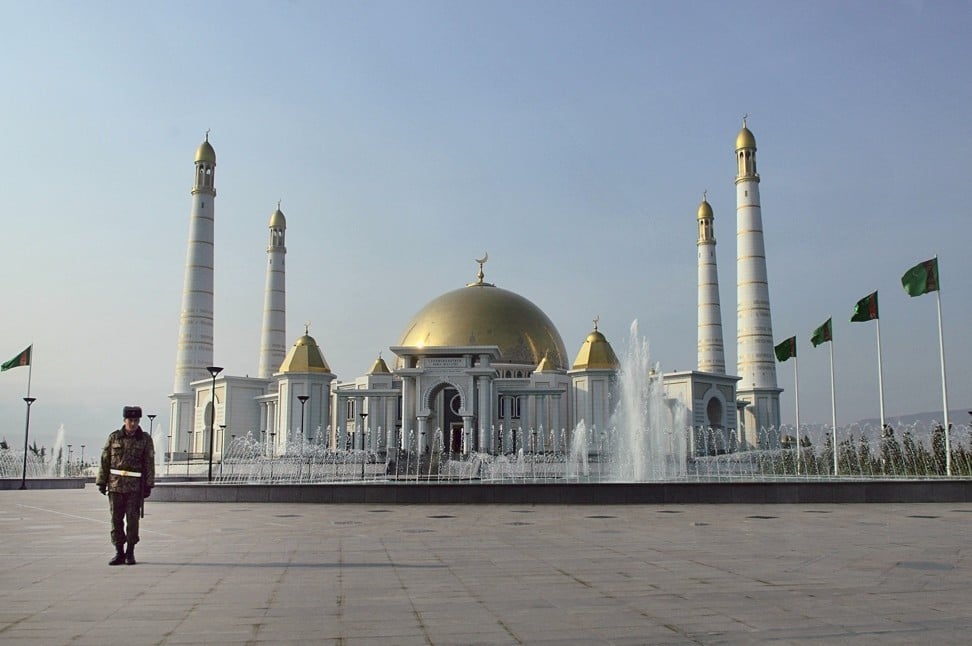 This behemoth can't compete with the mosques over the mountains in Iran for elegance and history but what it lacks in refinement it makes up for in size and ostentation. Surrounded by lush grass, flags and fountains, the whites and golds of the buildings hurt my eyes in the bright desert sun. Water cascades down each wall of the main building in an impressive but rather irresponsible feat of engineering in such an arid country – and one that makes it appear as though there is something wrong with the plumbing.
We spend the night at the house of Burat's brother, in the village of Nokhur. I am served a generous meal of bread, pomegranate, rice, almonds, shashlik kebabs and extremely sour cherry juice. We eat on the floor, me shifting from elbow to elbow in an attempt to get comfortable, Burat sitting cross-legged and as relaxed as if chairs were the stuff of legend. The "table" cloth is removed and I sleep on the floor, on a thin divan. I toss and turn searching for comfort in a black mountain night diffused with the orange glow of two-bar electric fires.
The following morning I watch from the cemetery above the village as yellow light creeps up the valley, warming houses and rusty cars. The people of Nokhur claim to be descended from the Greek soldiers of Alexander the Great and speak a dialect unrecognisable to Turkmen speakers.
They are polygamous and follow a branch of mystical Islamic Sufism, but also practise animism, a belief that objects, places and creatures possess a distinct spiritual essence. The cemetery's graves are adorned with the curved horns of mountain goats to ward off evil spirits, and headstones marked with white letters and red tulips are set on top of uneven steps to help the deceased ascend to heaven.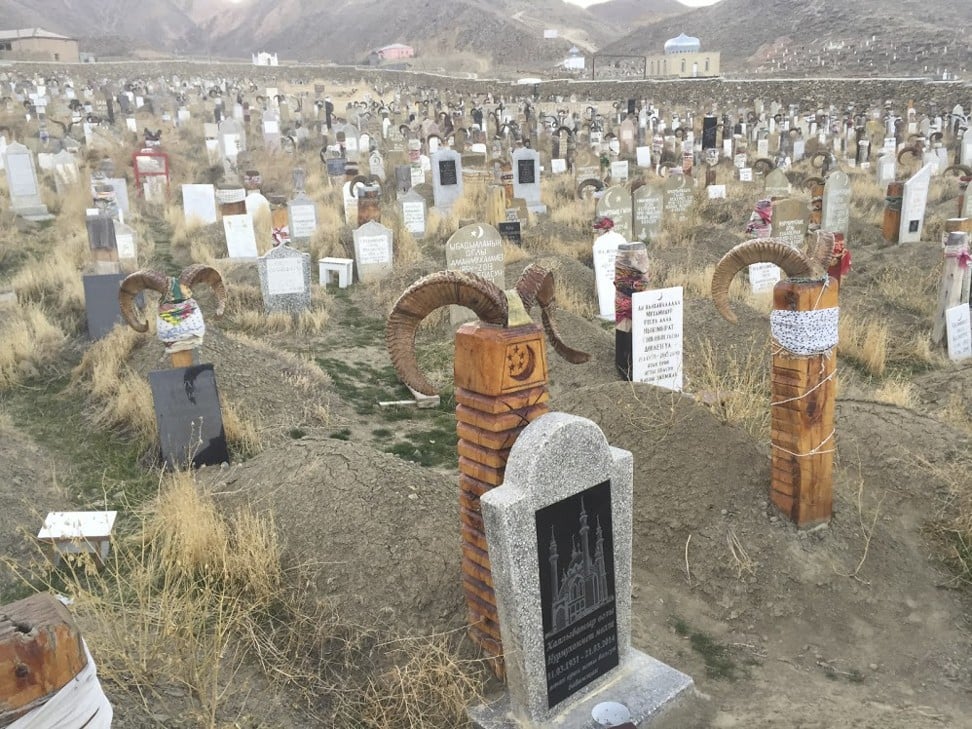 We're heading in roughly the same direction. Burat drives further up the mountain, through patches of late winter snow, past arrow-straight rows of telegraph poles to a rounded, gravelly summit. From here, views cast over Nokhur to the Karakum Desert, which stretches to an infinite horizon.
On our way back to Ashgabat, Burat pulls in at an
awtomoyka
, a roadside car wash, where an overweight boy in a track­suit turns a hosepipe on the car and pours a Coke bottle's worth of orange detergent onto the roof, creating a cloud of bubbles. Burat explains that his vehicle has to be clean to enter Ashgabat because Niyazov's successor,
President Gurbanguly Berdimuhamedov
, has banned dirty cars from the capital; anyone whose hubcaps don't gleam can expect a hefty fine.
Approaching the city, we're stopped by police anyway, who announce we cannot enter Ashgabat because Berdimuhamedov has now banned black cars from the capital. He considers them bad luck and believes they spoil the aesthetic of a city that is built in white. So we skirt the city again, to a huge, empty car park and swap our clean and shiny black car for a clean and shiny white one.
When it comes to eccentricity, it appears, Berdimuhamedov is determined not to let his predecessor down.