Mexico
Get more with myNEWS
A personalised news feed of stories that matter to you
Learn more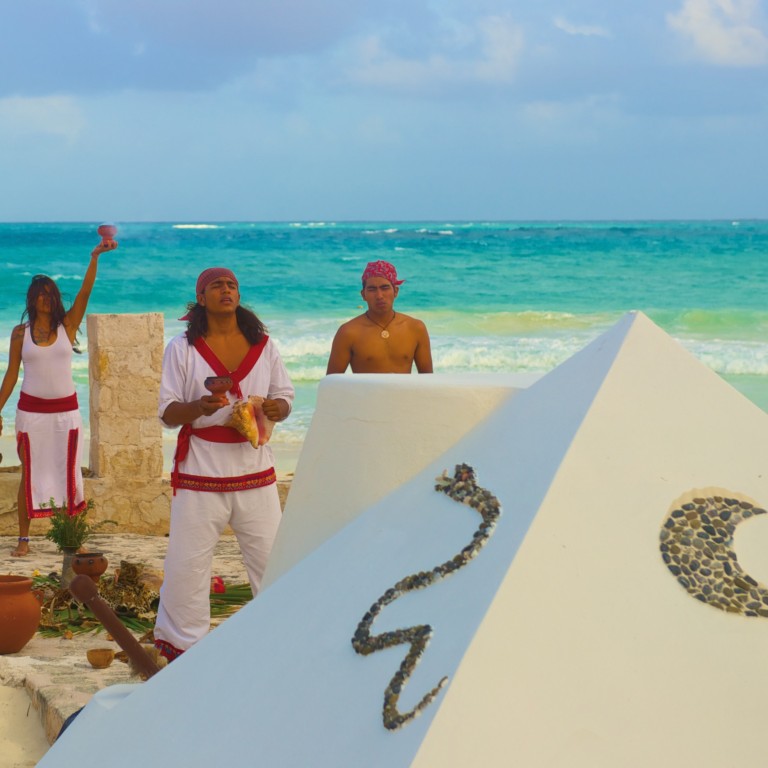 From shamans to seaweed on Mexico's Yucatán peninsula, where Lake Bacalar proves a worthy beach substitute
An algae invasion opens up a new world of amazing food, turquoise lakes, Mayan ruins and jungle pools
Look out for cenotes – sinkholes created when the limestone roof of an underground cavern collapses
The sweat is already lashing off me when the shaman instructs his assistant to add another red-hot, football-sized rock to the pit. The veins on the younger man's temple bulge with the strain as he carefully ferries a smoulder­ing boulder on a shovel and deposits it on top of the other volcanic stones, sending embers fluttering into the air like fireflies. He steps back into the daylight, closing the wooden shutter behind him and plunging us into sweltering darkness once again.
As the temperature rises, so does the shaman's chanting. Under his guidance, soon we are both swaying to and fro, invoking the spirits of our ancestors and beating out spasmodic rhythms on the traditional percussion instruments in our hands. In the glowing half-light, the condor tattooed across the shaman's glistening chest seems like it might burst into flight as the ritual builds to a crescendo, after which he throws open the doors and lets the light and a cool breeze – which seem to be one and the same – stream into the chamber.
Stepping out onto the beach, it takes me a few moments to reconcile what I've just experienced with the manicured gardens and elegant thatch-roofed structures to my right. As I'm handed a chilled hand towel and an ice-cool fruit juice, I can't say for certain that I've connected to the healing energy of the universe, as promised, but as hotel spa experiences go, it's hard to think of a more memorable one.
An ancient purification ceremony said to flush out toxins and improve circulation, the
temazcal
at the Belmond Maroma Resort & Spa, about an hour south of Cancun, is my final taste of Mayan culture on a two-week journey up the east coast of
Mexico
's Yucatán peninsula – a journey largely shaped by seaweed.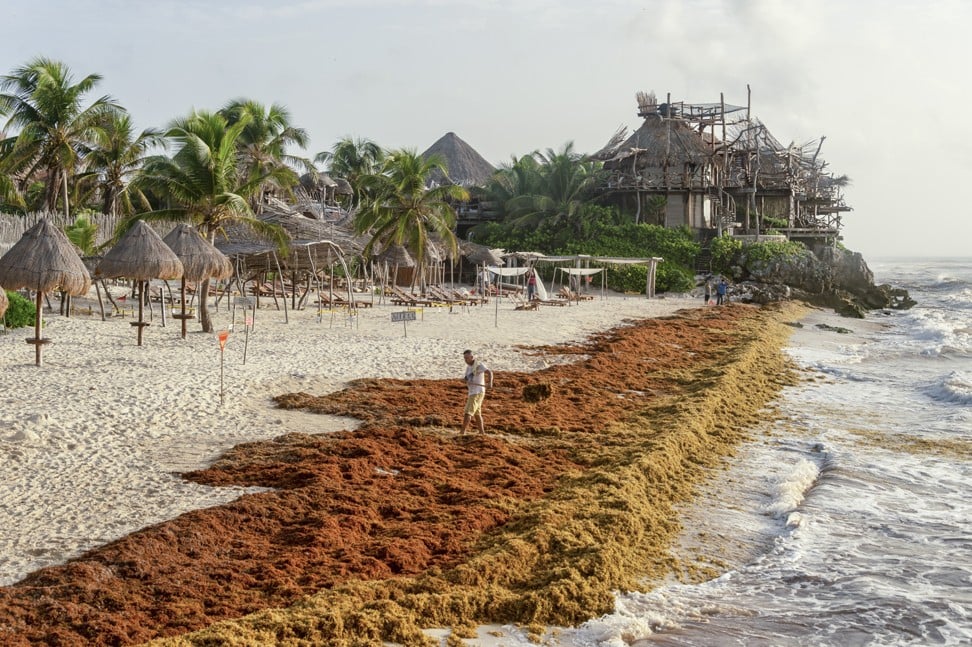 Coming after a sometimes-gruelling six-week jaunt around Guatemala, the Mexico leg of my trip was supposed to be spent lying on beaches, sipping cocktails and frolicking in the waves, an idyllic notion scuppered by murky tides of sargassum seaweed that plague this coastline from April to August.
Believed to be spurred by climate break­down and pollution, the pungent brown algae has been appearing in the North Atlantic in ever-growing quantities since 2011, and at its apex now stretches for more than 8,000km (5,000 miles), from Africa to the Caribbean, in a continuous belt that weighs more than 20 million tonnes (22 million short tons).
As well as having dire consequences for fishermen and certain types of sea life (including dolphins and turtles), the seaweed has been a calamity for the Yucatán tourism industry, with waist-high piles of the ugly, rotten-egg-smelling plant accumulating on the otherwise picture-perfect beaches faster than the hotels can clear them.
Online images of these seaweed-scourged sands have made me rethink my route, although I am not ready to abandon my pursuit of a sun-drenched Yucatán paradise altogether.
Known as the "lake of seven colours", Lake Bacalar is a body of fresh water about 40 minutes' drive from the Belize-Mexico border town of Chetumal. Forty-two kilometres (26 miles) long but less than 2km (1.2 miles) across at its widest point, and fringed with white sand and palm trees, it is a playground for swimmers, kayakers and sailors, and has a succession of tiny beaches that are not only quiet and picturesque but also, crucially, free from sargassum.
The lake is best explored from the small town of Bacalar, which has numerous public beaches, piers and lakeside bars and restaurants. The town is notable, too, for its 18th century fort and its cenotes – sinkholes created when the limestone roof of an underground cavern collapses.
The best known of these is Cenote Azul, a 200-metre-wide (656-foot-wide), 90-metre-deep (295-foot-deep) natural pool surrounded by thick vegetation that lies 3km (1.9 miles) south of the town.
The cenote can be reached only through a small restaurant that charges a 25 peso (US$1) entry fee, and also rents out masks, snorkels, towels and fluorescent life jackets. I eschew the accoutrements and dive straight into the cool, dark water, although the surface-level rope that bisects the cenote proves useful as something to hang onto while taking a breather and drinking in the surroundings.
Lake Bacalar's silky-soft sand and white limestone bottom combine with crystal-clear water that flows in from underground rivers to create a multihued waterscape. A kayak or boat trip to the shore oppo­site the town leads to an exfoliating mud bath in a shallow channel that leads to another lake.
It's not easy to leave Bacalar behind, but after a few days spent cycling between, and floating in, its aquatic attractions, I hop aboard a bus heading north.
Tulum's beach strip is usually the most coveted area in which to stay, but given the ominous-looking embankment of seaweed along the shore – not to mention the enor­mous mounds of the stuff pushed to the far end of the beach by mini bulldozers – I elect to stay in the main town, about 5km (3.1 miles) away.
Not only is accommodation considerably cheaper in central Tulum, it's also where the town's buzzing food scene comes alive. The main drag is unashamedly touristy, with countless stores selling every conceivable Mexican souvenir – sombreros, tequila, wrestling masks and brightly painted Day of the Dead model skulls – as well as a host of upscale bars. But wander down one of the many side streets and you'll find a seam of hole-in-the-wall eateries serving local food at bargain prices.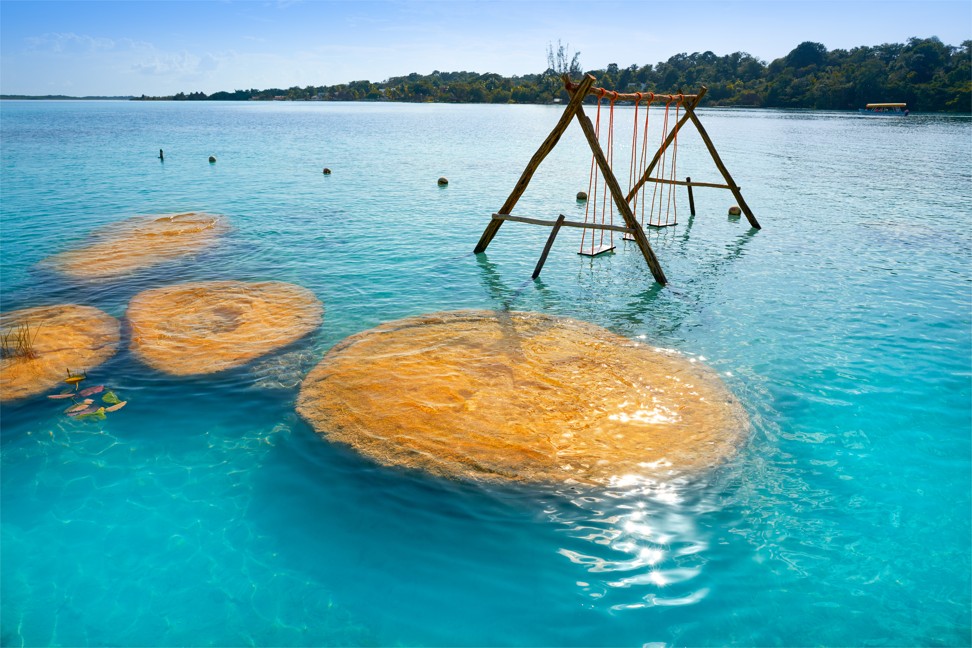 Tiny Sabor de Mar has built a word-of-mouth reputation as one of the best places in which to sample the freshest seafood without breaking the bank, and is known for its ceviches and torres (tostada "towers" piled high with shrimp, tuna and more). However, I find myself returning again and again to Taqueria Honorio, an unassuming roadside stall acclaimed by the likes of Travel + Leisure and The New York Times for its moreish cochinita (slow-roasted pulled pork) tacos and tortas.
Two mobile carts pushed together in front of a small kitchen, the stall's popular­ity has necessitated a covered seating area, where locals and tourists messily eat elbow to elbow over plastic red-and-white-check­ed tablecloths. While the pork is the main attraction, the relleno negro, a Yucatán delicacy of stewed and shredded turkey in ink-black chilli sauce, is also a must-try.
Although not as celebrated or as large as Chichen Itza, the sprawling Mayan temple complex that lies two hours' drive to the west, Tulum has its own 800-year-old build­ings and temples, and they are arguably more dramatic, set as they are against pan­o­ramic sea views punctuated by crashing waves. Built as a seaport fortress ("tulum" means "wall" in the Mayan language), this well-preserved archaeological site features more than 60 small buildings, the most celebrated of which is the Temple of the Wind God, a stocky stone structure that looks out across the ocean from a 12-metre-high cliff top.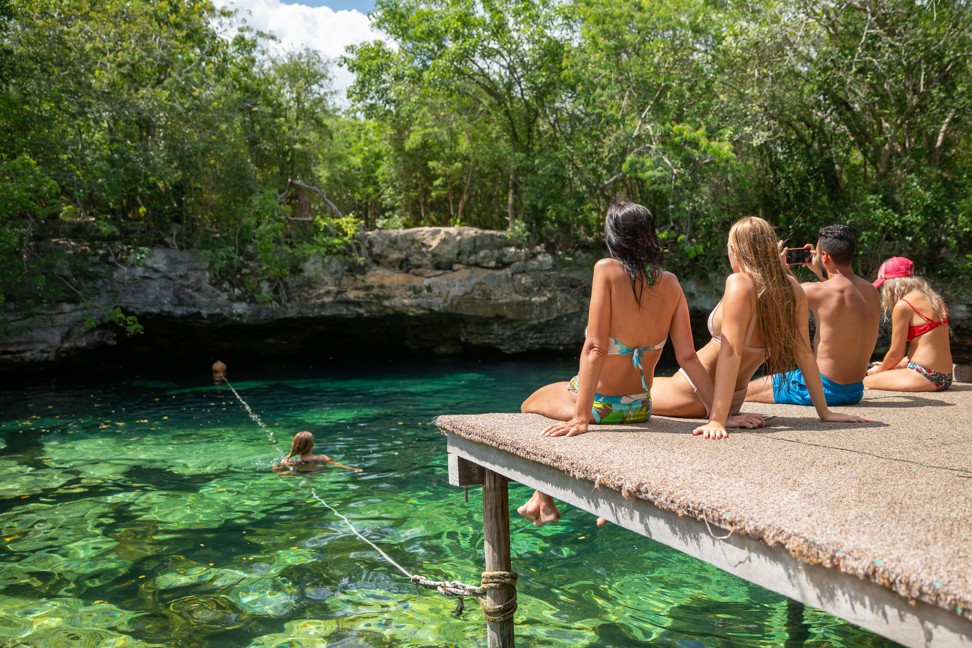 Suitably inspired, and determined not to let the seaweed have the last laugh, I head for the welcome luxury of the Riviera Maya, a series of secluded five-star resorts dotting a 130km (81-mile) stretch of coastline between Tulum and Cancun.
It is here, at the Belmond Maroma, that the shaman summons me to the white, symbol-covered concrete bunker – a cross between an igloo and a pyramid – in which the temazcal takes place, by blowing on a large seashell as if it's a bugle.
Ninety minutes later, as I emerge onto the beach covered in sweat, the temp­tation to go for a refreshing swim in the cool sea that I've been avoiding since I arrived in Mexico becomes overwhelming. The algae is once again thwarting the beach cleaners and piling up on the shore, but I splash recklessly into the water anyway, sending soggy sheaves of seaweed flying as I go.
The writer's stay on the Riviera Maya was hosted by the Belmond Maroma Resort & Spa.