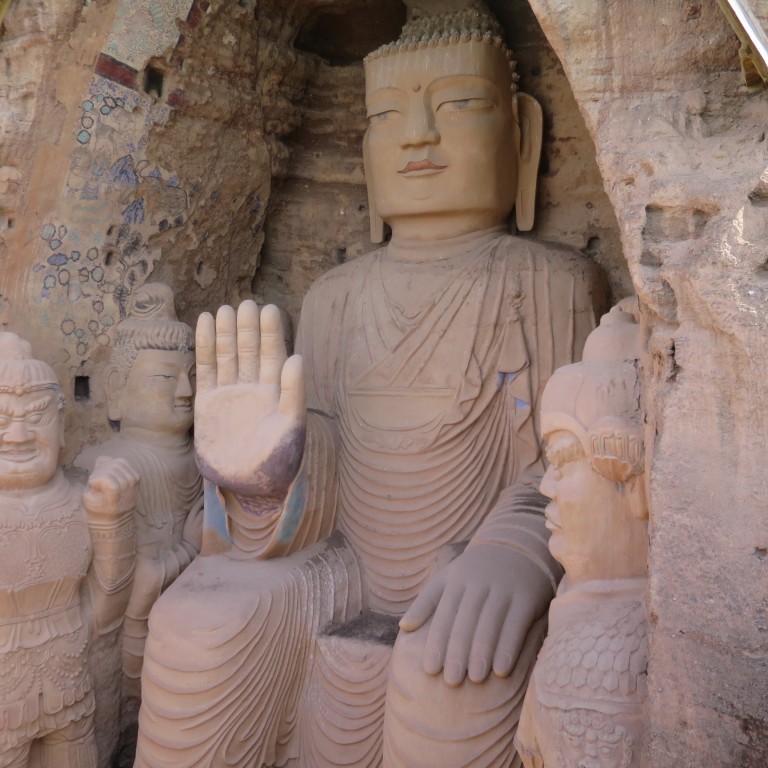 Divine intervention: China's Tiantishan giant Buddha and a lucky meeting with a monk with a van
The kindness of strangers rescued Lonely Planet's China editor when she was stranded on a research trip in Gansu, on the Silk Road
The spectacular Tiantishan Grottoes are protected from flooding by a half-moon wall, built when the Huangyang River was dammed
I have had a long, beautiful and occasionally rocky love affair with China. It has taught me many things, contributed the zaniest anecdotes in my storybook and dished out some of the biggest lessons and heartbreaks.
I started out studying Mandarin at university, and then worked for an extended period in small-town Zhejiang province as – what else? – an English teacher. For many years, I was the China editor at Lonely Planet, responsible for commissioning, editing and overseeing all of the travel guidebooks and digital content on North and Central Asia.
Back in 2016, LP's China guidebook was due for an update, so I took a month-long leave from my desk in London to put my boots on the ground researching the Gansu province chapter. This wasn't my first time working as an LP author, but this trip was a special return. Eleven years earlier, I had backpacked from Xian to Urumqi, travelling overland up the Hexi Corridor through Gansu and into Xinjiang.
Shaped like a gourd resting on the chicken's back of China, Gansu is a wild and dusty place, and it was particularly so in the summer of 2005, when there were no high-speed trains. Earlier that year, Zhang Chunxian, then the minister of transport, had set forth an ambitious plan to build 85,000km of expressways connecting all China's major cities and provincial capitals. But back then the only way to get from Jiayuguan to Dunhuang was an 11-hour bus journey along a dirt track next to which was being constructed a much bigger road – presumably the G30.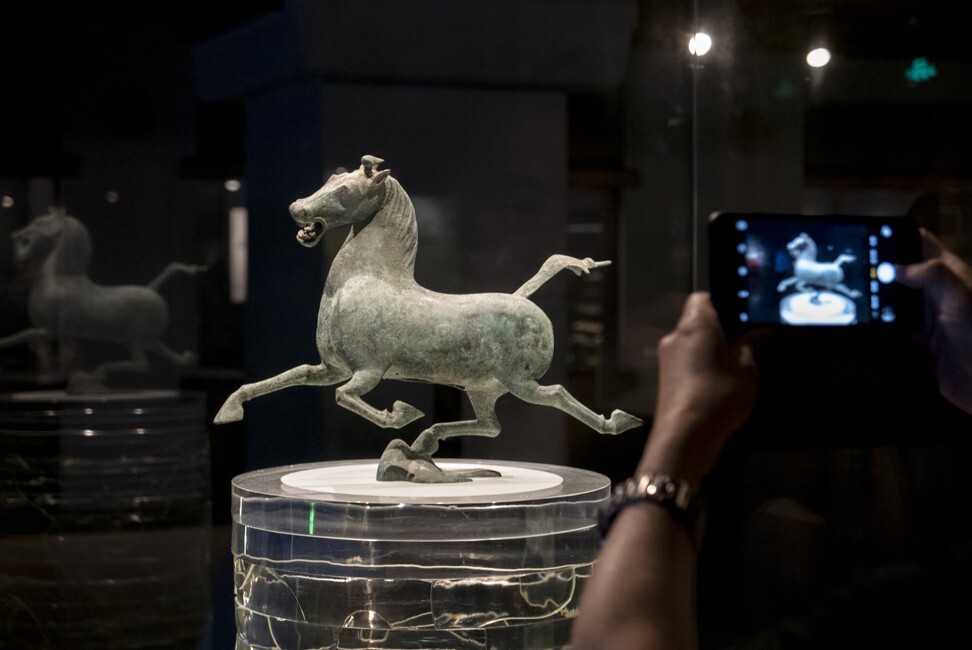 A decade later, my 2016 return trip would be by still-has-that-new-car-smell HSR trains, which would zip me around Gansu effortlessly and in no time at all.
I travelled for the better part of three weeks before reaching Wuwei, a historically important city where there is now genu­inely nothing to do. Wuwei is known for one thing: the Wuwei horse, or the Flying Horse of Gansu, an AD200 bronze statue of a rotund equine in soaring gallop that was plucked from a Han dynasty tomb just outside the city in 1969. But the Wuwei horse is no longer in Wuwei; it is in the Gansu Provincial Museum, in Lanzhou.
However, Lonely Planet writers have a talent for digging up obscure and wonder­ful treasures, and thanks to my predecessor, there was one such place near Wuwei on my list of "sights to update in Gansu": the not-so-well-known Tiantishan Grottoes, and one of the largest and most spectacular giant Buddhas on the Chinese section of the Silk Road.
In Wuwei, I hailed a taxi and asked the driver how to get to the remote cliff temple, about 60km south of town. His solution was to drop me at a bus station, which was not so much a station but more of a car park where private buses picked up passengers.
I approached a female security guard, who directed me to a female bus attendant, who told me hers was the bus to Tiantishan. I felt unsure but was comforted by the fact she was actually aboard the bus as it grumbled out of the car park and on to an empty four-lane highway that wound up into the arid Qilian Mountains, which form the border between Gansu and Sichuan.
About an hour into the journey, my new gal pal shouted to me, "Ai! Wai pengyou! Tiantishan daole!" We had, apparently, arrived at Tiantishan.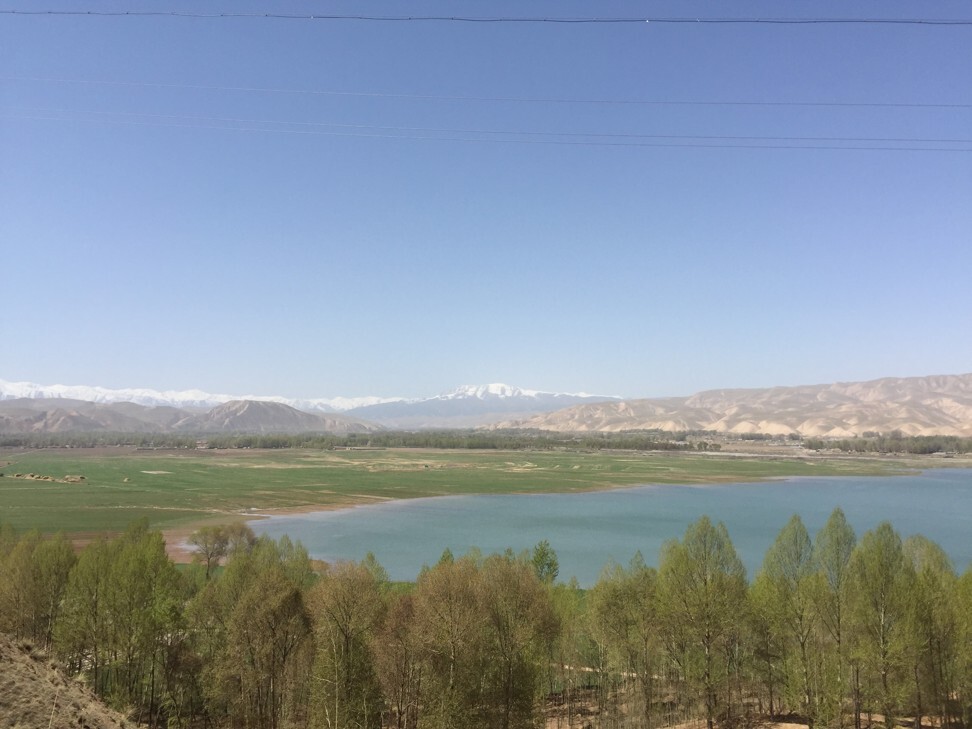 Through the window was a vast blue lake fringed by barren mountains. There were not, however, any buildings, town or sign of life. The bus bumped to a halt at the side of the road and I hauled myself past a line of passengers, with an odd assortment of boxes and bags, who'd planted themselves on tiny plastic stools down the bus' central aisle. The attendant pointed at a side road: "Tiantishan!"
The bus pulled away, leaving me on the hard shoulder. I looked at my phone and was glad to see 3G available, so I did what anyone would do in the circumstances and tweeted, "Guess I'll be hitching back to Wuwei then?" with a picture of the departing bus. People seem to think nothing can faze a Lonely Planet writer; that we are hardened backpackers who abide by a United States Postal Service-esque mantra that neither snow nor rain nor heat nor bad bus connec­tions will stop us from obtaining that last string of information or ticket price.
Maybe some LP writers are that superhuman. But in times of stranding and linguistic confusion, hunger from having eaten only a single steamed bun at 6am, of being told, Meiyou – no, there is no bus – too many times, or being left at the side of the road in the middle of nowhere, you can't help but feel frightened, frustrated, unsure or angry.
Many times in my career as a travel writer I have wanted to give up. Many times I've cried, shouted, lost perspective and probably been a bad guest. It's human. We get scared and go into "fight or flight" mode, which does not always incite behaviours the Buddha would condone. To my mind, this is the crux of travel: a frustrating moment offered by the universe in which you are meant to learn something about yourself and grow as a person.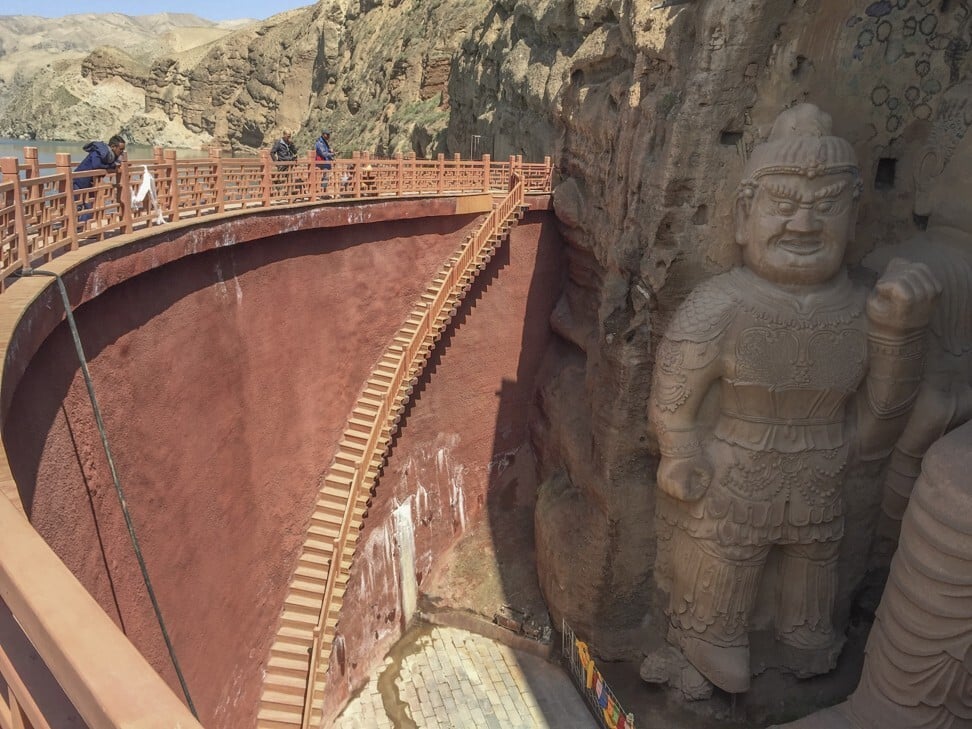 I stood on the side of that road and panicked for a few minutes. I shed a couple of tears and got really scared. Then I noticed a faded sign in Chinese characters, with mangled English underneath, that read, "The major cultural relic preservation unit of the nation/The originator of the grotto/Tianti shan Grotto 5km." An arrow pointed down the side road. I took a deep breath, gathered myself and set off on foot.
There were no sounds except the breeze blowing up a bit of dust and the occasional bee buzzing past. Silence is so rare in China and I was so skittish with adrenaline that even the sound of my own backpack strap hitting my leg made me jump.
The carving of the Tiantishan Grottoes began during the Northern Liang dynasty (AD397-439), a Sixteen Kingdoms state that covered a large portion of modern-day Gansu. This was around the time the better known Yungang and Longmen caves were taking shape, and together the sites form a triumvirate of important Buddhist cave temples.
Work continued at Tiantishan all the way into the Ming dynasty (1368-1644), resulting in 19 (discovered) caves painted with bodhisattvas, dragons and tigers in vivid Silk Road pigments, some containing intricate sculptures and scroll paintings. The grand Buddha, carved into a mud cliff, is enormous – a 15-metre-high seated statue with arm outstretched, surrounded by six smaller bodhisattvas.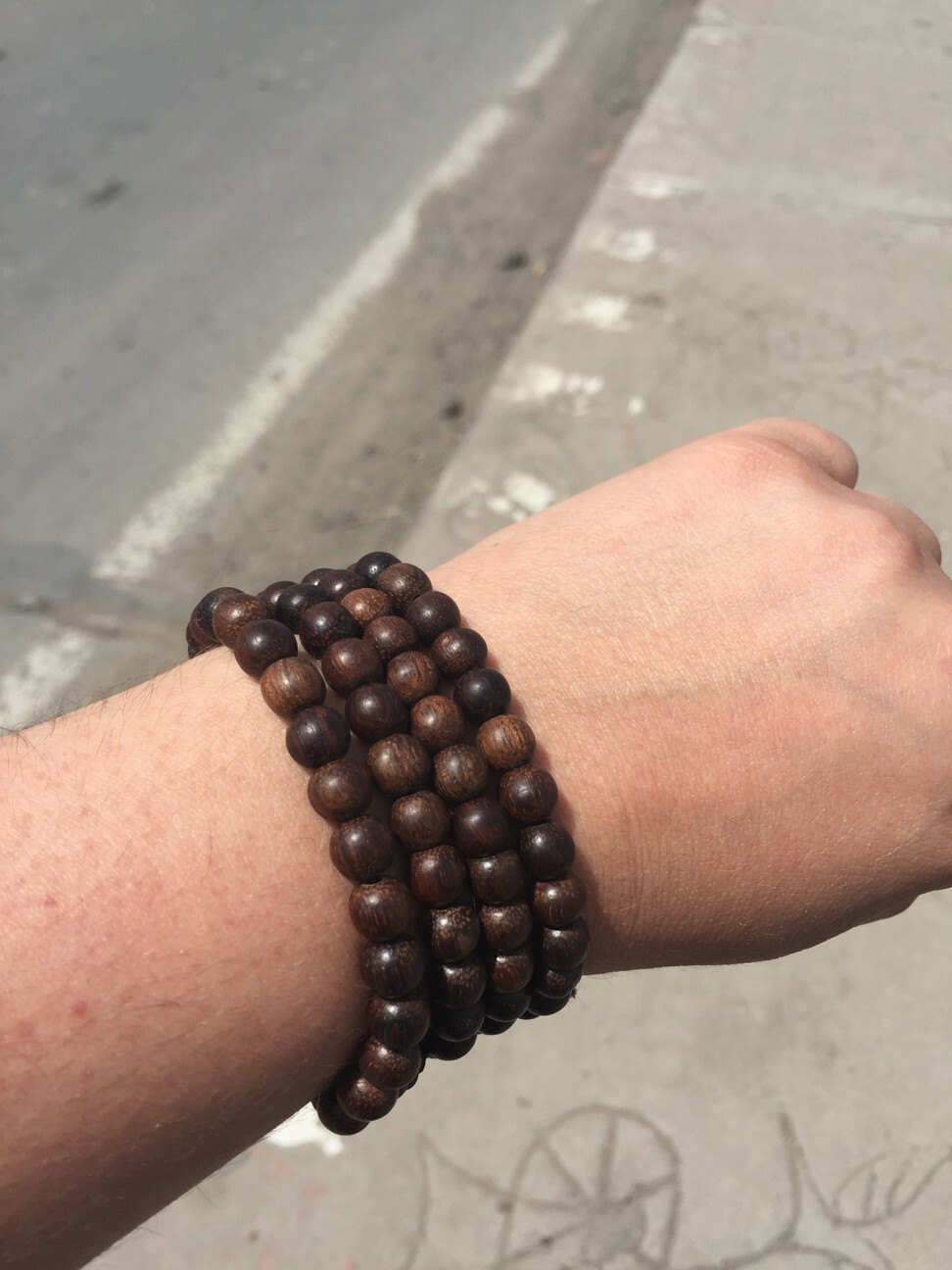 In 1960, the Gansu provincial govern­ment set out to dam the nearby Huangyang River into a reservoir for irrigation and power generation, threatening the grottoes. The giant Buddha would be partially submerged and many caves flooded, so steps were taken to remove murals and sculptures to the Gansu Provincial Museum and a protective dam was erected around the big guy.
I followed the road up and down hills, gazing off across the reservoir towards faraway mountains, some still snow­capped in late April. Finally, there was life – a ticket office and a few cars – lifting my hopes that someone could help me find a way back to Wuwei.
I bought a ticket and found my way along a stone-paved path beside the lake, through a tunnel lined with small up-lit Buddha carvings. At its end, the path opened onto a huge grotto surrounded by a half-moon dam, the three-storey Buddha looking out emotionless over the cerulean water, his hand aloft and his face drawn into a wry simper that gave me pause, and then hope, and then tears.
After many minutes trying to take in the statue's rather incomprehensible scale, I resolved to figure out a way back to town. First, I asked at the ticket window about a bus back to Wuwei. Meiyou, there wasn't one. I looked around the car park and saw no transport options. There had been no bus stop on the main road. I felt helpless and, stalling to avoid the inevitable – a 5km walk to the road to hitchhike – I wandered back for a final glimpse of the Buddha.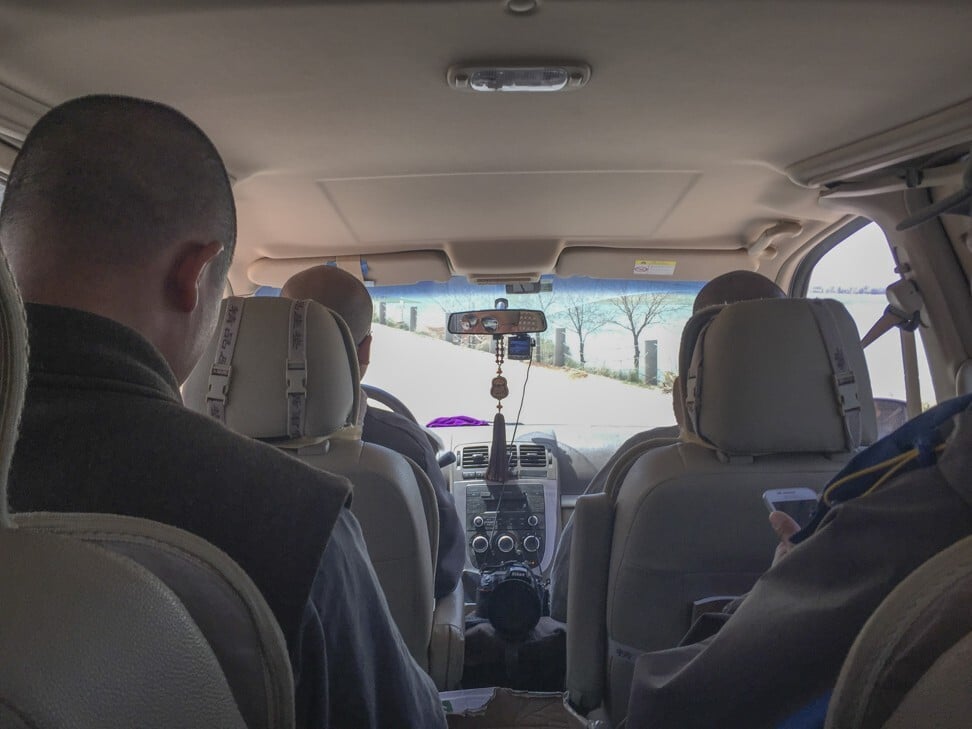 It was there that I heard a friendly voice calling, "Hello", in English. A shaven-headed monk in grey robes with a huge camera around his neck waved and smiled, asking me where I was from and why I was there. It turned out that Deru and another monk, along with two friends – one a painter and the other a photographer – were travelling around Gansu in a van they'd driven from southern China.
"You're stranded? No problem, we'll take you to Wuwei. Here, would you like a booklet on the Tiantishan Buddha?"
The monks loaded me into the back of their van, pushing aside boxes of tea and booklets collected from countless temples they'd visited during their journey. A bottle of water appeared. Was I hungry? Why yes, I was. Did I eat noodles? Why yes, I did.
The monks discovered a roadside noodle restaurant and I found myself answering questions about my life and why I had wanted to visit the Buddha that day.
As we arrived back in Wuwei, Deru took off a strand of dark-wood prayer beads he had been wearing wrapped around his wrist. "Here, please take these. They are a gift. Don't forget that Buddha will always take care of you, no matter where you go."
China has taught me many things, but the greatest lesson is how to relax, go with the flow and trust in the kindness of strangers – if not Buddha himself. And that you never know when a band of roving monks might appear to save the day.
This story is from Megan Eaves' series of essays, ' China as I have known it'.